High School:

Justise Winslow
November, 2, 2012
11/02/12
1:45
PM CT
[+] Enlarge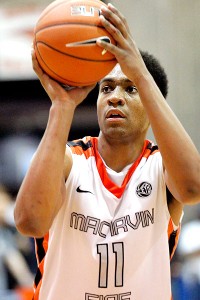 John F. Rhodes for ESPN.comJabari Parker is ranked No. 2 overall in the 2013 class.
Thanks to a pair of top 10
ESPN 100
prospects, Florida's Billy Donovan has already put together one of the
top recruiting classes
in the country.
With local products and AAU teammates
Kasey Hill
(Eustis, Fla./Montverde Academy) and
Chris Walker
(Bonifay, Fla./Holmes County) already on board, the
Gators
have one of the best point guards and power forwards in the country heading to Gainesville next year.
This weekend, the rich will look to get richer as the Gators host No. 2 senior
Jabari Parker
(Chicago/Simeon) officially and No. 9 junior
Justise Winslow
(Houston/Saint John's) unofficially.
Read the entire story
.

ABOUT THIS BLOG

Scott Powers
Scott Powers is an award-winning journalist and has been reporting on preps, colleges and pros for publications throughout the Midwest since 1997.
2014 TOP ILLINOIS FOOTBALL RECRUITS
BLOG ARCHIVE:
CATEGORIES:
IHSAScoreZone IL High School Assn
#IHSA SOB/3A Aurora (West Aurora) 2, Aurora (Waubonsie Valley) 1 (PK)
about 6 hours ago

IHSAScoreZone IL High School Assn
#IHSA SOB/1A Columbia 7, Anna (A.-Jonesboro) [Coop] 6 (PK)
about 6 hours ago

IHSAScoreZone IL High School Assn
#IHSA SOB/2A Norridge (Ridgewood) 3, Chicago (Prosser) 2 (PK)
about 7 hours ago

IHSAScoreZone IL High School Assn
#IHSA SOB/1A Peoria (P. Christian) 2, Somonauk 1
about 7 hours ago

IHSAScoreZone IL High School Assn
#IHSA SOB/2A Chicago (Noble/Bulls) 6, Chicago (Noble Street Charter) 2
about 7 hours ago

IHSAScoreZone IL High School Assn
#IHSA SOB/1A Monmouth (M.-Roseville) 4, Princeton 0
about 7 hours ago

IHSAScoreZone IL High School Assn
#IHSA SOB/2A Chicago (Hancock) 3, Burbank (St. Laurence) 1
about 7 hours ago

IHSAScoreZone IL High School Assn
#IHSA SOB/2A Maple Park (Kaneland) 3, Sycamore (H.S.) 0
about 7 hours ago

IHSAScoreZone IL High School Assn
#IHSA SOB/2A Hampshire 3, Burlington (Central) 1
about 7 hours ago

IHSAScoreZone IL High School Assn
#IHSA SOB/3A Geneva 3, Plainfield (North) 2
about 7 hours ago

IHSAScoreZone IL High School Assn
#IHSA SOB/3A Lisle (Benet Academy) 4, Oswego (East) 0
about 7 hours ago

IHSAScoreZone IL High School Assn
#IHSA SOB/2A Breese (Mater Dei) 2, Mascoutah 0
about 7 hours ago

IHSAScoreZone IL High School Assn
#IHSA SOB/1A Herscher 1, Crete (Illinois Lutheran) 0
about 7 hours ago

IHSAScoreZone IL High School Assn
#IHSA SOB/3A Highland Park 1, Arlington Heights (Hersey) 0
about 7 hours ago

IHSAScoreZone IL High School Assn
#IHSA SOB/3A Cary (C.-Grove) 2, McHenry 0
about 7 hours ago

IHSAScoreZone IL High School Assn
#IHSA SOB/3A Crystal Lake (South) 3, Algonquin (Jacobs) 2
about 7 hours ago

IHSAScoreZone IL High School Assn
#IHSA SOB/3A Lake Zurich 3, Palatine (H.S.) 1
about 7 hours ago

IHSAScoreZone IL High School Assn
#IHSA SOB/3A Schaumburg (H.S.) 2, Carol Stream (Glenbard North) 1
about 7 hours ago

IHSAScoreZone IL High School Assn
#IHSA SOB/3A Rockford (Guilford) 2, Machesney Park (Harlem) 1
about 7 hours ago

IHSAScoreZone IL High School Assn
#IHSA SOB/3A Rockford (Boylan Catholic) 7, Rockton (Hononegah) 0
about 7 hours ago

IHSAScoreZone IL High School Assn
#IHSA SOB/2A Freeport (H.S.) 3, Rochelle 0
about 7 hours ago

IHSAScoreZone IL High School Assn
#IHSA SOB/2A Sterling (H.S.) 6, Dixon (H.S.) 2
about 7 hours ago

IHSAScoreZone IL High School Assn
#IHSA SOB/2A Lake Villa (Lakes) 2, Chicago (Lake View) 1
about 7 hours ago

IHSAScoreZone IL High School Assn
#IHSA SOB/2A Sterling (H.S.) 4, Dixon (H.S.) 1
about 7 hours ago

IHSAScoreZone IL High School Assn
#IHSA SOB/2A Antioch 4, Woodstock (H.S.) 3
about 7 hours ago

IHSAScoreZone IL High School Assn
#IHSA SOB/3A Rockford (Jefferson) 4, DeKalb 1
about 7 hours ago

IHSAScoreZone IL High School Assn
#IHSA SOB/3A Park Ridge (Maine South) 5, Skokie (Niles West) 0
about 7 hours ago

IHSAScoreZone IL High School Assn
#IHSA SOB/3A East Moline (United) 4, Pekin 0
about 8 hours ago

IHSAScoreZone IL High School Assn
#IHSA SOB/2A Carbondale (H.S.) 4, Mt. Vernon (H.S.) 0
about 8 hours ago

IHSAScoreZone IL High School Assn
#IHSA SOB/2A Marion (H.S.) 5, Centralia (H.S.) 1
about 8 hours ago

IHSAScoreZone IL High School Assn
#IHSA SOB/3A Berwyn-Cicero (Morton) 6, Darien (Hinsdale South) 0
about 8 hours ago

IHSAScoreZone IL High School Assn
#IHSA SOB/3A Oak Park (Fenwick) 3, Downers Grove (North) 2
about 8 hours ago

IHSAScoreZone IL High School Assn
#IHSA SOB/3A West Chicago (H.S.) 1, Hoffman Estates (Conant) 0
about 8 hours ago

IHSAScoreZone IL High School Assn
#IHSA SOB/2A Jerseyville (Jersey) 1, Alton (Marquette) 0
about 8 hours ago

IHSAScoreZone IL High School Assn
#IHSA SOB/3A Franklin Park-Northlake (Leyden) 3, Chicago (Schurz) 0
about 8 hours ago

IHSAScoreZone IL High School Assn
#IHSA SOB/3A Tinley Park (Andrew) 4, Blue Island (Eisenhower) 3 (2 OT)
about 8 hours ago

IHSAScoreZone IL High School Assn
#IHSA SOB/3A Wheaton (W. Warrenville South) 2, Elmhurst (York) 0 (OT)
about 8 hours ago

IHSAScoreZone IL High School Assn
#IHSA SOB/2A Chicago (Noble/Muchin) 4, Chicago (Noble/Pritzker) 1
about 8 hours ago

IHSAScoreZone IL High School Assn
#IHSA SOB/3A Northbrook (Glenbrook North) 7, Des Plaines (Maine West) 1
about 8 hours ago

IHSAScoreZone IL High School Assn
#IHSA SOB/2A Streator (Twp.) [Coop] 2, LaSalle (L.-Peru) 0
about 8 hours ago

IHSAScoreZone IL High School Assn
#IHSA SOB/2A Charleston 2, Mt. Zion 0
about 8 hours ago

IHSAScoreZone IL High School Assn
#IHSA SOB/2A Mattoon 3, Effingham (H.S.) 0
about 8 hours ago

IHSAScoreZone IL High School Assn
#IHSA SOB/2A Carbondale (H.S.) 4, Mt. Vernon (H.S.) 0
about 8 hours ago

IHSAScoreZone IL High School Assn
#IHSA SOB/2A Chicago (Washington) 3, Chicago (St. Rita) 1
about 8 hours ago

IHSAScoreZone IL High School Assn
#IHSA SOB/2A Metamora 3, Washington 2
about 8 hours ago

IHSAScoreZone IL High School Assn
#IHSA SOB/2A Peoria (Notre Dame) 7, Peoria (Richwoods) 0
about 8 hours ago

IHSAScoreZone IL High School Assn
#IHSA SOB/2A Geneseo 3, Galesburg (H.S.) 2
about 8 hours ago

IHSAScoreZone IL High School Assn
#IHSA SOB/2A Dunlap 2, Orion [Coop] 1
about 8 hours ago

IHSAScoreZone IL High School Assn
#IHSA SOB/3A Mundelein (H.S.) 3, Round Lake 0
about 8 hours ago

IHSAScoreZone IL High School Assn
#IHSA SOB/3A Downers Grove (South) 3, Chicago (Curie) 0
about 8 hours ago

IHSAScoreZone IL High School Assn
#IHSA SOB/3A Chicago (Kelly) 3, Burbank (Reavis) 2
about 8 hours ago

IHSAScoreZone IL High School Assn
#IHSA SOB/3A LaGrange (Lyons) 6, Maywood (Proviso East) 0
about 8 hours ago

IHSAScoreZone IL High School Assn
#IHSA SOB/2A East Peoria 2, Bartonville (Limestone) 1
about 8 hours ago

IHSAScoreZone IL High School Assn
#IHSA SOB/3A Evanston (Twp.) 2, Mt. Prospect (Prospect) 0
about 8 hours ago

IHSAScoreZone IL High School Assn
#IHSA SOB/2A Chicago (Mt. Carmel) 3, Lansing (Illiana Christian) 0
about 8 hours ago

IHSAScoreZone IL High School Assn
#IHSA SOB/2A Belvidere (North) 5, Crystal Lake (Prairie Ridge) 0
about 8 hours ago

IHSAScoreZone IL High School Assn
#IHSA SOB/2A Belvidere (H.S.) 6, Crystal Lake (Central) 0
about 8 hours ago

IHSAScoreZone IL High School Assn
#IHSA SOB/1A Elmhurst (Timothy Christian) 5, Palos Heights (Chicago Christian) 2
about 8 hours ago

IHSAScoreZone IL High School Assn
#IHSA SOB/2A Chicago (Mather) 2, Vernon Hills 1
about 8 hours ago

IHSAScoreZone IL High School Assn
#IHSA SOB/2A Johnsburg 7, Chicago (CICS/Northtown) 1
about 8 hours ago

IHSAScoreZone IL High School Assn
#IHSA SOB/2A Bloomington (H.S.) 2, Normal (University) 1
about 8 hours ago

IHSAScoreZone IL High School Assn
#IHSA SOB/3A Palos Hills (Stagg) 1, Frankfort (Lincoln-Way North) 0
about 8 hours ago

IHSAScoreZone IL High School Assn
#IHSA SOB/1A Harvard 8, Stillman Valley 3
about 8 hours ago

IHSAScoreZone IL High School Assn
#IHSA SOB/3A Naperville (Neuqua Valley) 2, Aurora (Metea Valley) 1
about 8 hours ago

IHSAScoreZone IL High School Assn
#IHSA SOB/2A Grayslake (North) 3, Chicago (Northside) 1
about 8 hours ago

IHSAScoreZone IL High School Assn
#IHSA SOB/3A Hinsdale (Central) 7, Chicago (Lincoln Park) 0
about 8 hours ago

IHSAScoreZone IL High School Assn
#IHSA SOB/2A Morton 4, Canton 0
about 8 hours ago

IHSAScoreZone IL High School Assn
#IHSA SOB/2A Troy (Triad) 1, Highland 0
about 9 hours ago

IHSAScoreZone IL High School Assn
#IHSA SOB/2A Chicago Heights (Marian) 5, Oak Forest 1
about 9 hours ago

IHSAScoreZone IL High School Assn
#IHSA SOB/2A Marion (H.S.) 5, Centralia (H.S.) 1
about 9 hours ago

IHSAScoreZone IL High School Assn
#IHSA SOB/3A Lincolnshire (Stevenson) 1, Barrington 0 (2 OT)
about 9 hours ago

IHSAScoreZone IL High School Assn
#IHSA SOB/1A Catlin [Coop] 4, Hoopeston (H. Area) 3 (PK)
about 9 hours ago

IHSAScoreZone IL High School Assn
#IHSA SOB/2A Waterloo (H.S.) 6, Salem 0
about 9 hours ago

IHSAScoreZone IL High School Assn
#IHSA SOB/3A Chicago Heights (Bloom Twp.) 1, Romeoville (H.S.) 0
about 9 hours ago

IHSAScoreZone IL High School Assn
#IHSA SOB/3A Winnetka (New Trier) 4, Chicago (Von Steuben) 0
about 9 hours ago