High School:

Kentucky Wildcats
October, 6, 2013
10/06/13
5:04
PM CT
Chicago Whitney Young center
Jahlil Okafor
, ESPN's top-ranked senior, hasn't officially cut his list to four schools, but
Baylor
,
Duke
,
Kansas
and
Kentucky
have the best chance of landing him, Okafor's father said on Sunday.
Jahlil Okafor told Scout.com on Saturday he had narrowed his choices to Baylor, Duke, Kansas and Kentucky, but Chukwudi Okafor, Jahlil's father, said the list wasn't official.
"We haven't officially cut the list," Chukwudi said in a phone interview on Sunday. "Those four schools have the best chance. Anything can still happen."
Okafor participated in USA Basketball's national team developmental training camp in Colorado on Saturday and Sunday. Chukwudi said he and his son would discuss his recruiting when Okafor returns to Chicago.
In late May, Okafor released a list of eight schools he was considering. The list included
Arizona
, Baylor, Duke,
Illinois
, Kansas,
Michigan State
and
Ohio State
.
Okafor has said he'd like to attend the same school as Apple Valley (Minnesota) point guard
Tyus Jones
, who is ranked No. 4 by ESPN. Jones and Okafor have planned official visits to Duke and Kansas together later this month. They previously visited Baylor together.
September, 22, 2013
9/22/13
6:01
PM CT
NORRIDGE, Ill. -- Chicago Curie senior power forward
Cliff Alexander
, ESPN's No. 2-ranked prospect, said Sunday he has eliminated Kentucky from his list of schools.
"They just stopped communicating with me," said Alexander during the Mac Irvin Back to School Jam at Ridgewood High School on Sunday. "It's surprising. I haven't talked to [Kentucky coach John Calipari] in I don't know how long. I'm somewhat [disappointed,] but hey it's a business. You do what you have to do."
Alexander, a 6-foot-8, 240-pound power forward, said all the other schools he named in a top-10 list in June are still in play. His list included Arizona, Baylor, DePaul, Illinois, Indiana, Kansas, Louisville, Memphis and Michigan State.
Alexander said he's considering Connecticut and Oregon because they are also recruiting Huntington Prep senior point guard
JaQuan Lyle
, who is ranked No. 22 by ESPN. Alexander and Lyle have recently discussed attending the same school. Lyle recently decommitted from Louisville.
Alexander has made official visits to Arizona and DePaul. He will also make official visits to Kansas on Oct. 4, Memphis on Oct. 18 and Illinois on Oct. 26. He said he might take an unofficial visit to Michigan State.
Alexander said he expects to commit in mid-December and sign his letter of intent in the spring.
Alexander said DePaul and Illinois are among his finalists because he's interested in playing in state and in the direction the programs are headed.
DePaul's recent recruiting efforts in Chicago have helped their standing with Alexander. He said he'd like to play with former Chicago Public League players Billy Garrett, Tommy Hamilton,
Rashaun Stimage
and
Myke Henry
.
"I love [DePaul] coach Oliver Purnell," Alexander said. "He's a great guy. He's built a great relationship with my mom. We had a fun time. I'm really considering them. It helps a lot playing with Tommy, Myke, Billy and Rashaun. I know those guys."
Alexander said he also feel comfortable with the Illini's coaching staff and players.
"Coach [John] Groce since he got the job, he's been communicating with me well," Alexander said. "My mom loves him, that whole coaching staff. I've been down there a few times and just hanging with the guy.
August, 16, 2013
8/16/13
7:40
PM CT
Marian Catholic senior point guard
Tyler Ulis
received an offer from
Kentucky
while on an unofficial visit on Friday, according to his father.
Ulis, a 5-foot-9 point guard from Matteson, Ill., recently named
Iowa
Kentucky,
Michigan State
and
USC
his four finalists. He had previously received offers from the other three other schools, but not from Kentucky.
"[Kentucky made the list because] of the success they have had there recently," Ulis' father, James Ulis, recently said when his son cut his list. "John Calipari has produced the most point guards in recent years and has taken them right to the NBA. He obviously knows how to coach point guards. He knows how to put them in positions to lead the team. He's a tough coach. There's accountability from Day 1 to win and win at a high level."
Ulis is ranked No. 38 overall and the No. 8 point guard in the Class of 2014 by ESPN.
August, 8, 2013
8/08/13
9:24
PM CT
Marian Catholic senior point guard
Tyler Ulis
named Iowa, Kentucky, Michigan State and USC as his four finalists on Thursday, according to his father.
Ulis, a 5-foot-9 point guard from Matteson, Ill., is ranked No. 38 overall and the No. 8 point guard in the Class of 2014 by ESPN. He eliminated DePaul, Florida State, Northwestern and Purdue from the schools he was considering.
[+] Enlarge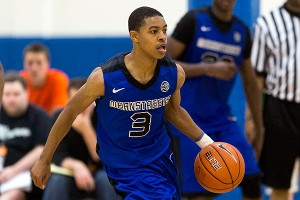 AP Photo/Damen Jackson/Triple Play New Media
DePaul, Florida State, Northwestern and Purdue are out for point guard Tyler Ulis, who has narrowed his prospective college choices to Iowa, Kentucky, Michigan State and USC.
"It's been a long time coming for him," Ulis' father, James Ulis, said in a phone interview on Thursday night. "He always felt like he could play at this level. It's nice for him to be rewarded and people can see it."
Ulis holds offers from Iowa, Michigan State and USC, but not from Kentucky. James said Kentucky coach John Calipari has expressed interest in Ulis and believes an offer could be coming.
"There's mutual interest," James said. "We've had the opportunity to talk to Coach Calipari, and they basically said Tyler is a great point guard, great leader and they would love to give him an opportunity to run their program. Coach Cal wants to get to know Tyler and us to get to know him."
Kentucky made the list because of its recent successes, James Ulis said.
"John Calipari has produced the most point guards in recent years and has taken them right to the NBA," he said. "He obviously knows how to coach point guards. He knows how to put them in positions to lead the team. He's a tough coach. There's accountability from Day 1 to win and win at a high level."
While Kentucky is the newest suitor of Ulis, Iowa has been on him the longest.
"What I love about [Iowa coach Fran McCaffery] is from the beginning he clearly stated Tyler was the point guard to lead his team," James said. "What is being said about Ty now is what Fran said about him last year. We also like the offense that Fran runs, and Fran is just a great guy. Tyler will get an opportunity to play the style he wants to play."
Style also factored in Ulis' decision to keep USC on his list. Ulis was attracted by the fast-paced game USC coach Andy Enfield used while previously at Florida Gulf Coast.
"Tyler really loves his offense, that open style of game -- pass, run-and-gun and open space," James said. "They get up and down the court. They get after it. He's coached in the NBA and obviously has some shooting videos out. He's a great shooting coach. I think for Ty to go to the next level he has to knock down the 3 consistently."
Michigan State also made the cut for a variety of reasons.
"Michigan State, obviously the tradition at point guard; I'm a big Magic Johnson fan," James said. "They've won. They're had success. You want your kid to play for Coach [Tom] Izzo. They always get some really good players. Obviously the family tie, [Tyler's cousin] Travis Walton played there."
James said no in-state schools made his son's final list because the other schools were better fits. DePaul and Northwestern had been recruiting Ulis, and his family created relationships with DePaul coach Oliver Purnell and Northwestern coach Chris Collins. The family also recently heard from Illinois, but James said it was too late in the process to consider Illinois.
"Illinois recently reached out to us concerning Tyler," James said. "It would be tough to go that direction because they were going another direction before. We respect that. I didn't know the reason they hadn't approached Tyler [previously]. We were told they weren't going to recruit another point guard in 2014. Once Tyler did what he did [on the club travel scene], Coach [John] Groce reached out."
James said his son plans to set up official visits in September and decide on a school before the early signing period in November.
January, 26, 2011
1/26/11
12:46
AM CT
Ten years have passed since the Chicago area claimed the consensus No. 1 senior in the country.
Simeon's Derrick Rose, Proviso East's Shannon Brown and Homewood-Flossmoor's Julian Wright all reached the top 10 in the last decade, but only Thornwood's Eddy Curry earned the top spot.
Perspectives' 6-foot-10 senior forward and Kentucky recruit Anthony Davis is now on the verge of giving the area the No. 1 player again. Davis remained at No. 2 in the Class of 2011 when ESPN Recruiting released its new rankings on Tuesday, but he has a great shot at being No. 1 when the final rankings are updated in the spring.
Duke recruit Austin Rivers held down the No. 1 spot in the recent rankings, and fellow Kentucky recruit Michael Gilchrist was No. 3.
"This class is really pushing us to figure out how we define the best player in the class," ESPN.com senior basketball recruiting analyst Dave Telep said. "We had three guys who are completely different, but we kind of came to the conclusion Anthony Davis is the best long-range prospect in the group. We just have 2-3 months to confirm our suspicions in some elite settings."
Whether Davis end ups No. 1 will likely be decided how he performs during workouts leading up to the McDonald's All-American game. It's been difficult to assess Davis during the high school season. He doesn't face much high-level competition with his high school team, and when Perspectives has played quality opponents, his teammates have been outmatched.
Telep and ESPN's other analysts want to see how Davis performs while playing with and against the country's other top players. During the spring and summer, Davis proved he belonged, and now they want to see him do it again.
"There's any eyeball test for him," Telep said. "When he's on the floor with the elite players in the class, we still want to see him conducting himself like a dominant player, not deferring to the other guys, just continuing to see that evolution."
Aside from Davis, eight other Illinois players were ranked in the new ESPNU 100. Davis was joined by Morgan Park's Wayne Blackshear (No. 17), Whitney Young's Sam Thompson (No. 45), Rock Island's Chasson Randle (No. 60), East Aurora's Ryan Boatright (No. 76), Orr's Mycheal Henry (No. 77), De La Salle's Mike Shaw (No. 79), St. Ignatius' Nnanna Egwu (No. 84) and Mount Carmel's Tracy Abrams (No. 87).
The state also has a shot at No. 1 in the Class of 2013. Simeon 6-foot-7 forward Jabari Parker is ranked No. 2 behind power forward Julius Randle, who is from Texas.
"There are a couple people on the staff who certainly feel the difference between the two is negligible, if there is any," Telep said. "I really think Julius Randle is the most improved guy in that class in terms just of shear production, ability and potential. I think I see things in Jabari Parker that are exciting. His body continues to change in little ways. I think he's the most cerebral forward in that class. He probably has the best basketball IQ in that class.
"There is a tighter gap now than when the season began. I think both guys are having very good years."</p?

Whitney Young sophomore Tommy Hamilton Jr. also made the ESPN's Terrific 25 at No. 15.
As loaded as Illinois' Class of 2011 and 2013 are, its 2012 class didn't anyone record in ESPN's Super 60.
November, 11, 2010
11/11/10
2:03
AM CT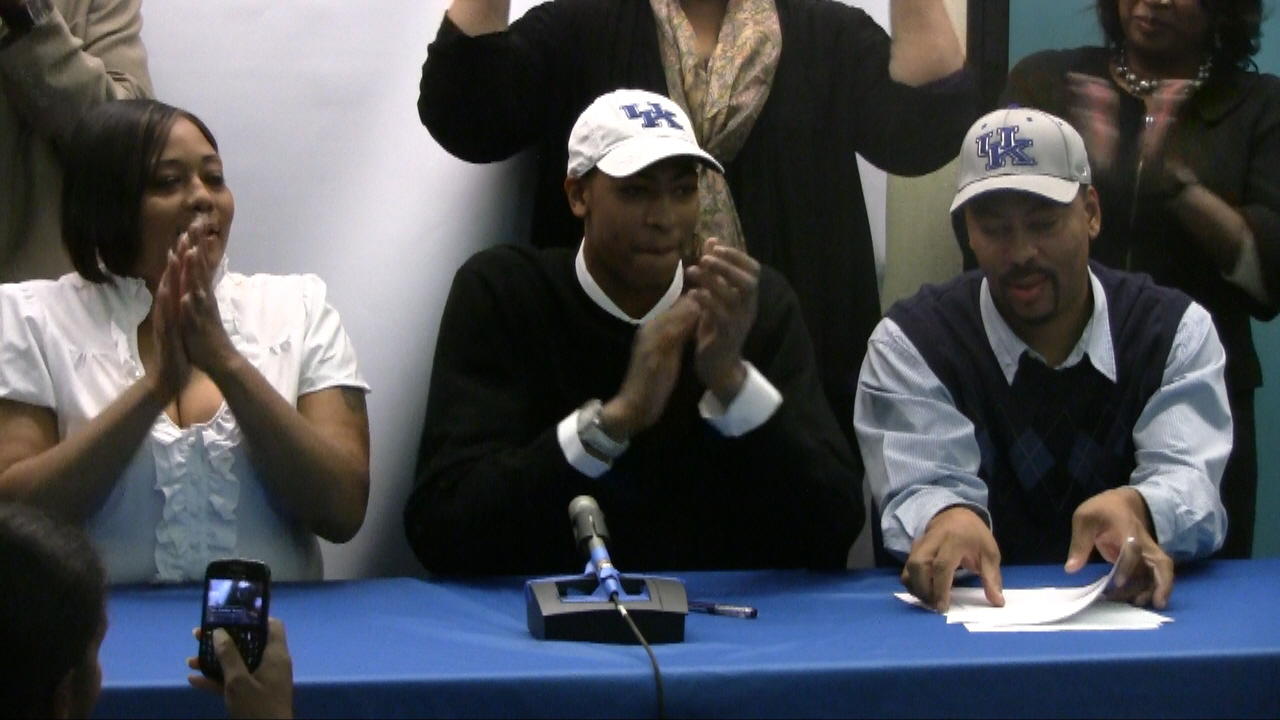 CHICAGO --
Anthony Davis
was almost an unknown in the basketball world as recently as seven months ago.
[+] Enlarge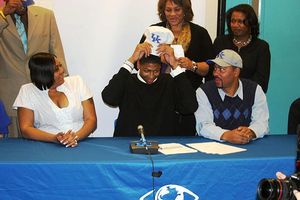 Scott Powers / ESPNChicago.comAnthony Davis, the nation's No. 2 recruit, signed a National Letter of Intent to play college ball at Kentucky on Wednesday.
The only reason Davis wasn't completely off the map was because there was one college basketball coach who had recognized the 6-foot-10 forward as a talent. While Davis flew under the radar to everyone else because he attended a school of only a few hundred students and didn't play club basketball, Cleveland State coach Gary Waters had caught of wind of Davis and went as far as offering a scholarship.
On Wednesday as 200-plus Perspectives' students chanted Davis' name while he signed his letter of intent to play at Kentucky, Davis reflected back on what had been an unforgettable seven months and what might have been if he hadn't been discovered.
Most likely, Wednesday, the first day of college basketball's early signing period, would have been a monument day at Cleveland State if the events didn't play out as they did.
"I was going to go there," said Davis, who is ranked No. 2 in the Class of 2011 by ESPN. "Playing AAU really helped me a lot. If I hadn't played AAU, I wouldn't be here today. There's a lot of people who doubted me, a lot of critics. I used that as motivation. [They said,] 'I wasn't going to go high D-I. I was going to go mid-major.'"
With what began with a decision to give club basketball a try as a way to gain more exposure, Davis and his versatile play became the talk of the hoops community nearly overnight. He skyrocketed up the national rankings, and nearly every coach in the country was falling over each other offering him a scholarship.
It was a series of events that rarely occurs in basketball recruiting in this day and age.
"I think it's a great story," ESPN Recruiting's Reggie Rankin said. "It's one of those you're glad to see a happy ending to. Here's a kid who is going from being a relatively unknown player in the spring time to going to play for the winningest program in the country. That's pretty extreme."
Davis' mother Erainer Davis said the same.
"I never would have thought that things like this would have happened," she said. "I knew he was good. I thought he was pretty good at basketball. We told him your turn will come around. Then all of sudden he went to play AAU with MeanStreets, and it blew up out of nowhere."
Davis chose Kentucky over DePaul, Ohio State and Syracuse in August because he felt the Wildcats and their coach John Calipari gave him the best opportunity to win a national championship and play in the NBA.
Kentucky's Class of 2011 is ranked No. 1 by ESPN -- the Wildcats signed four top 25 players on Wednesday. Along with Davis, the Wildcats brought in
Michael Gilchrist
,
Marquis Teague
and
Kyle Wiltjer
.
"We all think we're going to win a national championship, and I think that's going to happen as long as the four of us are there," Davis said. "That's one of our biggest goals, and something we need to accomplish. If our team this year wins, that'll be banner No. 8, and we're going to try and get No. 9. If they don't win, I guess we're going to get banner No. 8.
"Whatever Kentucky needs me to do and coach Calipari needs me to do to win a national championship, I'm going to do."
Davis' recruitment to Kentucky did involve some controversy. In August, the Chicago Sun-Times reported someone close to the Kentucky program had agreed to pay $200,000 to secure Davis' commitment, and that Davis' father, Anthony Davis Sr., had asked three other schools for $125,000-$150,000.
Kentucky and the Davis family have denied the allegations all along and continued to do so on Wednesday.
"I have no idea [why they wrote that,]" Davis Sr. said. "Maybe there were schools jealous of coach Calipari and Anthony picking Kentucky. That's my assumption. I'm not sure. I truly believe one of the other schools he didn't pick was upset.
"It wasn't difficult. We knew what they wrote wasn't true. Anthony was a little upset because he's been getting all the good, and he finally got a little bit of the bad. I had a talk with him and explained to him, 'That you know, you're going to get a lot of good, you're going to get a lot of bad, but it's how you take it and run with it.' So when the story came out, he still chose Kentucky. We're happy as a family."
Davis Sr. said they do still plan on suing the Sun-Times, and his attorney was still working through the situation.