High School:

Kevin Garnett
December, 19, 2012
12/19/12
4:59
PM CT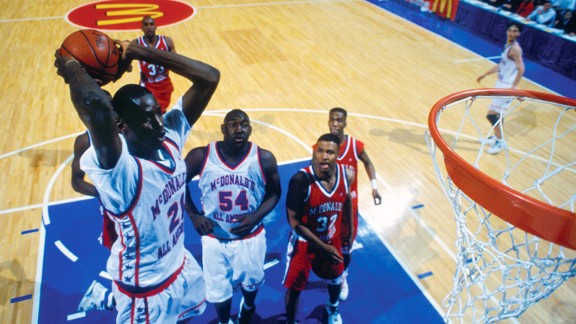 Courtesy of McDonald's All American GamesKevin Garnett was special even in high school, and he and Ronnie Fields formed an imposing tandem.
CHICAGO --
Kevin Garnett
's face lit up Tuesday when he saw a special visitor before the
Boston Celtics
' morning shoot-around.
It was former high school teammate Ronnie Fields. The reunion was 10 years in the making as their careers had gone in different paths since they last shared a basketball court, but as they threw their arms around each other it was apparent their friendship remained strong.
ABOUT THIS BLOG

Scott Powers
Scott Powers is an award-winning journalist and has been reporting on preps, colleges and pros for publications throughout the Midwest since 1997.
2014 TOP ILLINOIS FOOTBALL RECRUITS
BLOG ARCHIVE:
CATEGORIES:
IHSAScoreZone IL High School Assn
#IHSA BKB/2A Bloomington (Central Catholic) 76, Nashville 62 (3 OT)
about 6 hours ago

IHSAScoreZone IL High School Assn
#IHSA SCB/AA Carbondale (H.S.) 600, Belleville (West) 10
about 11 hours ago

IHSAScoreZone IL High School Assn
#IHSA SCB/AA Jerseyville (Jersey) 110, O'Fallon (H.S.) 80
about 11 hours ago

IHSAScoreZone IL High School Assn
#IHSA SCB/AA O'Fallon (H.S.) 170, Belleville (West) 140
about 11 hours ago

IHSAScoreZone IL High School Assn
#IHSA SCB/AA Carbondale (H.S.) 550, Jerseyville (Jersey) 40
about 11 hours ago

IHSAScoreZone IL High School Assn
#IHSA SCB/AA Jerseyville (Jersey) 80, Belleville (West) 60
about 11 hours ago

IHSAScoreZone IL High School Assn
#IHSA SCB/AA Carbondale (H.S.) 450, O'Fallon (H.S.) 80
about 11 hours ago

IHSAScoreZone IL High School Assn
#IHSA BKW Windy City Warriors 46, Rockford Jr. Chariots 26
about 12 hours ago

IHSAScoreZone IL High School Assn
#IHSA BKW Rolling Falcons 36, NEDSRA Jr. Bulls 32
about 12 hours ago

IHSAScoreZone IL High School Assn
#IHSA BKW Peoria Wildcats 29, GLASA Wave 12
about 12 hours ago

IHSAScoreZone IL High School Assn
#IHSA BKB/1A Mooseheart 63, Heyworth 47
about 13 hours ago

IHSAScoreZone IL High School Assn
#IHSA BKW NEDSRA Jr. Bulls 33, GLASA Wave 14
about 14 hours ago

IHSAScoreZone IL High School Assn
#IHSA BKW Rockford Jr. Chariots 48, Chicago Skyhawks 26
about 14 hours ago

IHSAScoreZone IL High School Assn
#IHSA SCB/AA Lincolnshire (Stevenson) 450, Barrington 280
about 14 hours ago

IHSAScoreZone IL High School Assn
#IHSA SCB/AA Aurora (Illinois Math and Science Academy) 400, Wheaton (W. Warrenville South) 180
about 14 hours ago

IHSAScoreZone IL High School Assn
#IHSA SCB/AA Aurora (Metea Valley) 340, St. Charles (East) 240
about 14 hours ago

IHSAScoreZone IL High School Assn
#IHSA SCB/AA Aurora (Illinois Math and Science Academy) 460, Aurora (Metea Valley) 220
about 14 hours ago

IHSAScoreZone IL High School Assn
#IHSA SCB/AA Wheaton (W. Warrenville South) 320, St. Charles (East) 250
about 14 hours ago

IHSAScoreZone IL High School Assn
#IHSA SCB/AA Wheaton (W. Warrenville South) 230, Aurora (Metea Valley) 170
about 14 hours ago

IHSAScoreZone IL High School Assn
#IHSA SCB/AA Aurora (Illinois Math and Science Academy) 330, St. Charles (East) 190
about 14 hours ago

IHSAScoreZone IL High School Assn
#IHSA BKB/1A Mendon (Unity) 59, Sesser (S.-Valier) 43
about 15 hours ago

IHSAScoreZone IL High School Assn
#IHSA SCB/A Lisle (Sr.) 200, Gardner (G.-South Wilmington) 70
about 15 hours ago

IHSAScoreZone IL High School Assn
#IHSA SCB/A Westmont 170, Seneca 160
about 15 hours ago

IHSAScoreZone IL High School Assn
#IHSA SCB/A Seneca 260, Gardner (G.-South Wilmington) 110
about 15 hours ago

IHSAScoreZone IL High School Assn
#IHSA SCB/A Lisle (Sr.) 240, Westmont 140
about 15 hours ago

IHSAScoreZone IL High School Assn
#IHSA SCB/A Seneca 120, Lisle (Sr.) 100
about 15 hours ago

IHSAScoreZone IL High School Assn
#IHSA SCB/A Westmont 110, Gardner (G.-South Wilmington) 60
about 15 hours ago

IHSAScoreZone IL High School Assn
#IHSA SCB/A Peoria (P. Christian) 200, Aledo (Mercer County) 180
about 15 hours ago

IHSAScoreZone IL High School Assn
#IHSA SCB/A Elmwood 240, Port Byron (Riverdale) 140
about 15 hours ago

IHSAScoreZone IL High School Assn
#IHSA SCB/AA Chicago (University) 400, Flossmoor (Homewood-F.) 210
about 15 hours ago

IHSAScoreZone IL High School Assn
#IHSA SCB/AA Palos Heights (Chicago Christian) 260, Flossmoor (Homewood-F.) 220
about 15 hours ago

IHSAScoreZone IL High School Assn
#IHSA SCB/AA New Lenox (Providence Catholic) 250, Flossmoor (Homewood-F.) 220
about 15 hours ago

IHSAScoreZone IL High School Assn
#IHSA SCB/AA New Lenox (Providence Catholic) 300, Palos Heights (Chicago Christian) 280
about 15 hours ago

IHSAScoreZone IL High School Assn
#IHSA SCB/AA Chicago (University) 400, New Lenox (Providence Catholic) 180
about 15 hours ago

IHSAScoreZone IL High School Assn
#IHSA SCB/AA Chicago (University) 370, Palos Heights (Chicago Christian) 170
about 15 hours ago

IHSAScoreZone IL High School Assn
#IHSA SCB/A Sterling (Newman Central Catholic) 350, Galena (H.S.) 150
about 15 hours ago

IHSAScoreZone IL High School Assn
#IHSA SCB/AA Oak Park (O.P.-River Forest) 380, LaGrange (Lyons) 280
about 15 hours ago

IHSAScoreZone IL High School Assn
#IHSA SCB/A Rockford (Keith Country Day) 260, Morrison 110
about 16 hours ago

IHSAScoreZone IL High School Assn
#IHSA SCB/AA Hinsdale (Central) 380, Bensenville (Fenton) 290
about 16 hours ago

IHSAScoreZone IL High School Assn
#IHSA SCB/A Carterville 280, McLeansboro (Hamilton County) 140
about 16 hours ago

IHSAScoreZone IL High School Assn
#IHSA SCB/A Nashville 260, Belleville (Althoff Catholic) 190
about 16 hours ago

IHSAScoreZone IL High School Assn
#IHSA SCB/A Nashville 170, McLeansboro (Hamilton County) 90
about 16 hours ago

IHSAScoreZone IL High School Assn
#IHSA BKW Rolling Falcons 34, Peoria Wildcats 10
about 16 hours ago

IHSAScoreZone IL High School Assn
#IHSA SCB/A Carterville 340, Belleville (Althoff Catholic) 170
about 16 hours ago

IHSAScoreZone IL High School Assn
#IHSA SCB/A Carterville 360, Nashville 80
about 16 hours ago

IHSAScoreZone IL High School Assn
#IHSA SCB/A Belleville (Althoff Catholic) 260, McLeansboro (Hamilton County) 70
about 16 hours ago

IHSAScoreZone IL High School Assn
#IHSA SCB/A Carrollton 170, Breese (Mater Dei) 130
about 16 hours ago

IHSAScoreZone IL High School Assn
#IHSA SCB/A Litchfield 310, Piasa (Southwestern) 80
about 16 hours ago

IHSAScoreZone IL High School Assn
#IHSA SCB/A Carrollton 190, Piasa (Southwestern) 150
about 16 hours ago

IHSAScoreZone IL High School Assn
#IHSA SCB/A Litchfield 350, Breese (Mater Dei) 150
about 16 hours ago

IHSAScoreZone IL High School Assn
#IHSA SCB/A Piasa (Southwestern) 150, Breese (Mater Dei) 120
about 16 hours ago

IHSAScoreZone IL High School Assn
#IHSA SCB/A Litchfield 300, Carrollton 120
about 16 hours ago

IHSAScoreZone IL High School Assn
#IHSA SCB/AA Palatine (Fremd) 520, Grayslake (Central) 110
about 16 hours ago

IHSAScoreZone IL High School Assn
#IHSA SCB/A Sterling (Newman Central Catholic) 330, Morrison 90
about 16 hours ago

IHSAScoreZone IL High School Assn
#IHSA SCB/A Maroa (M.-Forsyth) 220, Warrensburg (W.-Latham) 170
about 16 hours ago

IHSAScoreZone IL High School Assn
#IHSA SCB/A Athens 160, Mendon (Unity) 120
about 16 hours ago

IHSAScoreZone IL High School Assn
#IHSA SCB/A Urbana (University) 330, Downs (Tri-Valley) 170
about 16 hours ago

IHSAScoreZone IL High School Assn
#IHSA SCB/AA Springfield (H.S.) 380, Macomb 190
about 16 hours ago

IHSAScoreZone IL High School Assn
#IHSA SCB/AA Woodstock (Marian) 210, Cary (C.-Grove) 200
about 16 hours ago

IHSAScoreZone IL High School Assn
#IHSA SCB/AA Macomb 370, Rock Island (H.S.) 210
about 16 hours ago

IHSAScoreZone IL High School Assn
#IHSA SCB/AA Rockford (Auburn) 590, Maple Park (Kaneland) 90
about 16 hours ago

IHSAScoreZone IL High School Assn
#IHSA SCB/AA Dunlap 240, Macomb 230
about 16 hours ago

IHSAScoreZone IL High School Assn
#IHSA SCB/AA Maple Park (Kaneland) 270, Cary (C.-Grove) 250
about 16 hours ago

IHSAScoreZone IL High School Assn
#IHSA SCB/AA Rockford (Auburn) 370, Woodstock (Marian) 200
about 16 hours ago

IHSAScoreZone IL High School Assn
#IHSA SCB/A Fairfield 220, Newton 100
about 16 hours ago

IHSAScoreZone IL High School Assn
#IHSA SCB/AA Maple Park (Kaneland) 200, Woodstock (Marian) 130
about 16 hours ago

IHSAScoreZone IL High School Assn
#IHSA SCB/AA Normal (Community) 250, Normal (University) 140
about 16 hours ago

IHSAScoreZone IL High School Assn
#IHSA SCB/AA Rockford (Auburn) 380, Cary (C.-Grove) 110
about 16 hours ago

IHSAScoreZone IL High School Assn
#IHSA SCB/AA Bloomington (H.S.) 470, Champaign (Centennial) 100
about 16 hours ago

IHSAScoreZone IL High School Assn
#IHSA SCB/A Toledo (Cumberland) 280, Marshall 170
about 16 hours ago

IHSAScoreZone IL High School Assn
#IHSA SCB/AA Dunlap 220, Rock Island (H.S.) 210
about 16 hours ago

IHSAScoreZone IL High School Assn
#IHSA SCB/AA LaGrange (Lyons) 380, Bensenville (Fenton) 290
about 16 hours ago

IHSAScoreZone IL High School Assn
#IHSA SCB/AA Oak Park (O.P.-River Forest) 440, Hinsdale (Central) 200
about 16 hours ago

IHSAScoreZone IL High School Assn
#IHSA SCB/A Sterling (Newman Central Catholic) 330, Galena (H.S.) 90
about 17 hours ago

IHSAScoreZone IL High School Assn
#IHSA SCB/A Peoria (P. Christian) 270, Port Byron (Riverdale) 210
about 17 hours ago