October, 30, 2010
10/30/10
4:49
AM CT
By
John Venerable
| ESPNChicago.com
ELMHURST, Ill. -- Down seven with less than eight minutes remaining, York was at a crossroads.
"It was certainly gut check time for all of us on that side of the ball," said York senior quarterback Jim Nudera.
Two drives and 14 points later, the top-seeded Dukes narrowly avoided a first-round upset, defeating Lockport 21-14.
"We've been working at this since last summer, and tonight was just an example of what a team does under this type of adversity." said Nudera
The adversity Nudera was referring to was his Dukes' inconsistent first half, which began with a Dan Holman 82-yard touchdown run that put Lockport up early. York would respond, as Nudera guided the Dukes down the field mid second quarter, as the QB capped of the touchdown drive with a 3-yard TD run.
But it was two costly York turnovers that left the game tied 7-7 at half.
"It's tough to score points when we're turning the ball over whether it be in the red zone or not…it just kills you're rhythm offensively," said Nudera.
Both teams opened up the second half much like the first, with multiple three-and-outs until an unsportsmanlike penalty against the Dukes helped Lockport convert a second-and-14 en route to a go-ahead touchdown via Dexter Taylor's 8-yard run.
With time running out on the Duke's season, Nudera and his offense finally began to click, thanks to some tough running from Ryan Kent. Kent's 55-yard run followed by a 5-yard touchdown scamper tied the game at 14 all. After Lockport failed to convert a key third-and-3 with less than four minutes remaining, York promptly regained possession and never looked back. Facing second down from the Lockport 13, Nudera found David Byerley wide open in the back of the end zone for what would be the game winning touchdown.
"In my opinion, he's one of the best receivers in the state," said Nudera.
With the win, York advances to face Naperville North in the second round of the 8A playoffs.
Player of the game: Jim Nudera, QB, York. Although inconsistent at times, Nudera came up big when his team needed him the most. The senior directed two clutch 4th quarter drives, highlighted by his 13-yard touchdown pass that iced the game for the Dukes.
Stat of the game: After holding the York offense to just seven points in the first three quarters, the Lockport defense surrendered 14 points in the game's final eight minutes.
It was over when: Billy Reed and the Lockport offense failed to convert on a fourth-and-6 with less than a minute remaining.
Quote of the night:
"We obviously know we didn't play our best football tonight and to still come away with the win is a great feeling." -- York Senior Quarterback Jim Nudera
September, 18, 2010
9/18/10
4:40
AM CT
LOCKPORT -- Lincoln-Way East senior linebacker Pat Meehan would like to forget about the Griffins' loss to Wheaton North two weeks ago.
After No. 14 Lincoln-Way East's surprisingly lopsided 45-14 win over Lockport on Friday, he even insisted that the reason the Griffins played so well in their last two games was because they had moved on so quickly from their Week 2 defeat.
A second later, though, Meehan went back on that. As much as Meehan and Lincoln-Way East (3-1) would like to say that losing to Wheaton North meant nothing to them, that isn't truth.
"It was a big loss, but it taught us something," Meehan said. "We still have a sour taste in our mouth. It taught us to play every play as hard as we can. We got to be prepared more, spend more time in the weight room, spend more time watching film. We were taking it for granted."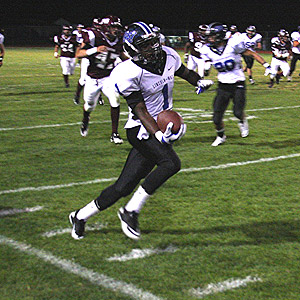 Scott Powers/ESPNChicago.comLincoln-Way East's Jason Robertson keeps his balance on his way to a touchdown.
On Friday night, the Griffins were as ready as could be. With Lockport having been previously ranked and battling Bolingbrook before losing 21-7 last week, Lincoln-Way East was anticipating a dogfight.
Early on, it looked as if it would be, too. With the game scoreless in the first quarter and Lockport (2-2) going on fourth-and-1, Porters star running back Dan Holman took the handoff, burst through the line and sprinted his way to a 68-yard touchdown to put his team ahead, 7-0.
It would the final highlight for Holman and the Porters.
From there, it was all Lincoln-Way East. The Griffins scored 45 unanswered points and ran away with the victory.
"One of our mottos is, 'Flush it'," Meehan said. "Once a bad play happens, we flush it, clear it from our minds. We play the next play like it's our first play.
"We came into this game thinking it was going to a hard one. Lockport is obviously a great football program and Bolingbrook is too. It was a close game last week between them. We thought we were in for a real good game."
Lincoln-Way East quarterback Blake Winkler hooked up with wide receiver Jason Robertson for a 65-yard touchdown pass to start the Griffins' roll. Winkler followed that up with an 84-yard touchdown pass to Kyle Buchbach and later hit Buchbach again for a 10-yard score to close out the first half.
Winkler finished 10 of 15 for 257 yards and three touchdowns. Buchbach had four catches for 106 yards, and Robertson caught four balls for 77 yards.
Buchbach's teammates and Lincoln-Way East coach Rob Zvonar raved about his performance after the game. But Buchbach, who only began to play high school football last season as a junior, wouldn't take any credit.
"Nothing would have happened without the O-line giving Winkler time," said Buchbach, who scored his first career touchdowns. "It takes 11 guys for it to happen."
Zvonar said, "He's just a self-made, hard-working kid. We're really proud of him."
Holman finished with 92 yards on 12 carries.
September, 11, 2010
9/11/10
4:08
AM CT
By
Willie Mullen
| ESPNChicago.com
LOCKPORT, Ill. -- Coming off a disappointing 31-8 defeat last week, the Bolingbrook (2-1, 1-0) defense made sure there would be no repeat performance Friday night against No. 18 Lockport (2-1, 0-1). Starting with Monday's practice, the Raiders defense was focused all week long and their efforts paid off with a 14-7 win in Lockport.
"You practice how you play," said junior defensive end Greg Gordon, who led the Raiders dominating defense. "And perfect practice makes you play perfect."
The Raiders defense controlled the line of scrimmage throughout this hard-hitting affair and forced a few timely turnovers to keep the Porters offense off-balance all evening. That's no easy task considering the level of competition on the Lockport side of the field, which is led by running back Dan Holman, affectionately referred to as "Tank."
"Our main goal was to stop 'Tank', to come out and hit him hard so when the fourth quarter rolls around, he doesn't want to play with us anymore," added Gordon.
Holman was limited to 80 yards on 15 carries on a night that turned out to be way more defensive than most anticipated. The Raiders offense, led by quarterback Aaron Bailey, had two long touchdowns in the first half, but was unable to add to its total in the second half. Bailey turned the ball over twice but finished the game with 153 total yards and one passing touchdown.
Unlike the past two weeks, however, Friday night was all about the Raiders defense and a group that lost most of its starters from a year ago may finally be coming together.
"We played a great game, there's room for improvement but we won this game and now it's on to the next game," said Gordon.
Player of the game:
Bolingbrook's defense
Stat of the game:
89 -- The Raiders scored two touchdowns on 89 yards total even though they were unable to move the ball the rest of the game.
It was over when:
Lockport wide receiver Mike Halderman was tackled at midfield as time expired.
Quote of the night:
"Practice, practice, practice" -- Gordon on the improvement of his team and himself