November, 26, 2011
11/26/11
4:07
PM CT
CHAMPAIGN, Ill. – Whoever coined the phrase "defense wins championships" would have had to eat his or her words on Saturday, when Joliet Catholic and Montini put on an offensive show that had never before been seen in an Illinois state football championship.
When the scoreboard operator was finally done adding up the numbers in the Class 5A state championship, Montini stood victorious for the third consecutive year with a 70-45 win over Joliet Catholic at Memorial Stadium in Champaign.
The two teams combined for a state-record 115 points, 16 touchdowns and 1,644 yards, including 1,013 rushing yards.
"Oh, my God," said Montini senior
Anthony Taylor
, who accounted for 113 receiving yards and one touchdown. "Our coach told us it was going to come down to the offense. He told us we had to keep scoring, keep scoring. No matter how far we got ahead, we had to keep scoring. That's what we did."
[+] Enlarge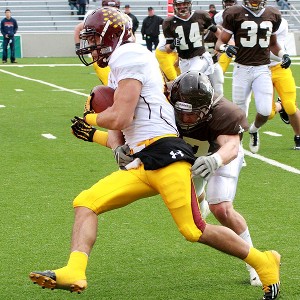 Scott Powers/ESPNChicago.comMontini's Jordan Westerkamp had 11 catches for 331 yards and five touchdowns against Joliet Catholic on Saturday.
The game will be remembered for its individual stars more than anything. Two players left their footprints all over Memorial Stadium's field unlike many high school or college players have done before.
Joliet Catholic junior running back
Ty Isaac
broke the state title game's rushing record in the first half alone on Saturday. He ran for 376 yards in the first two quarters, breaking the previous record of 373 yards, set by Dakota's Jake Apple in the Class 1A state championship on Friday.
Isaac finished with 515 rushing yards and six touchdowns on 26 carries. He had touchdown carries of 71, 63, 56, 66, 2 and 69 yards.
"That kid is an unbelievable football player," Montini coach Chris Andriano said. "We did everything we could to stop him, and we couldn't stop him."
Montini senior wide receiver
Jordan Westerkamp
's day was just as impressive. Westerkamp set the state title game record for receiving yards (331) and longest reception (94 yards).
Westerkamp, a
Nebraska
recruit, finished with 11 receptions for 331 yards and five touchdowns. He had touchdowns of 3, 54, 5, 69 and 94 yards.
"He made some great catches when we covered him, and there were some catches that we didn't cover very well that turned into big runs," Joliet Catholic coach Dan Sharp said.
Montini (12-2) won by a comfortable 25 points, but the Broncos didn't build that cushion on Joliet Catholic (11-3) until late in the game. Montini trailed for portion of the third quarter and only led 49-45 when the fourth quarter began.
Contrary to the rest of the game, Montini's defense proved the biggest difference down the stretch. The Broncos forced and recovered fumbles on two consecutive possessions at the end of the third quarter that allowed Montini to make it a two-score game early in the fourth quarter.
The Broncos' defense also held strong on Joliet Catholic's final four possessions and shut out the Hilltoppers in the fourth quarter.
Outside of that, the game was completely offensive. The teams were tied 14-14 after one quarter. Joliet Catholic led 31-28 at halftime. Montini led 49-45 after three quarters.
"It's very humbling when someone scores that many points on you," Sharp said. "That was a tremendous offense out there. We picked a bad day to not play well on defense. Their skilled people are as good as we've seen, especially Westerkamp."
Montini's state championship was the fourth in the history of the program. Andriano has coached the Broncos to all of them.
"We keep reaching and trying to get better, and all of guys and players believe," Andriano said. "It means a lot. We're at a level of football now that just says, 'Wow.'"
Montini junior wide receiver Joey Borsellino struggled to put his emotions into words afterward.
"I can't even stop crying," said Borsellino, who scored two rushing touchdowns and one receiving touchdown.
Montini quarterback John Rhode, who transferred from Marian Catholic for this year, was 29-of-45 passing for 587 yards, seven touchdowns and one interception.
Joliet Catholic running back
Malin Jones
, a
Northwestern
recruit, rushed for 197 yards. He also intercepted a pass.
Montini's Franklin Bruscianelli had a game-high 20 tackles, two tackles for loss and one forced fumble.
November, 21, 2011
11/21/11
4:32
PM CT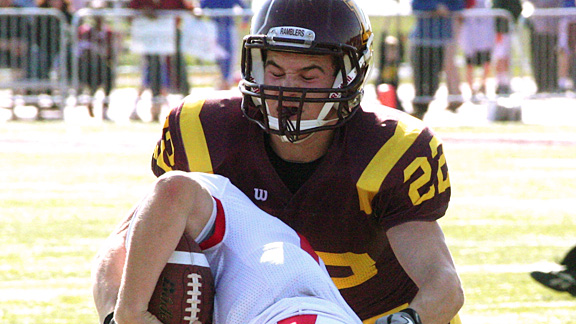 Scott Powers/ESPNChicago.comScotty Suhey intercepted two passes in the Ramblers' win over Glenbard North in the Class 8A semifinals.
Here are five players who stood out during the semifinals and received our weekly ESPNChicago.com helmet stickers.
Scotty Suhey, Loyola DB:
Suhey intercepted two passes in the Ramblers' win over Glenbard North in the Class 8A semifinals.
Malin Jones, Joliet Catholic, RB
: Jones rushed for 210 yards and two touchdowns on 18 carries in Joliet Catholic's win over Springfield Sacred-Heart Griffin in the Class 5A semifinals.
Connor Greenwald, Prairie Ridge RB
: Greenwald rushed for 231 yards and two touchdowns in the Wolves' win over Batavia in the Class 6A semifinals.
Dan Vitale, Wheaton Warrenville South RB
: Vitale rushed for 124 yards and three touchdowns in the Tigers' 21-14 win over St. Rita in the Class 7A semifinals.
Austin Van Meter, Bolingbrook, LB
: Van Meter had 14 tackles and four tackles for losses in Bolingbrook's win over Naperville Central in the Class 8A semifinals.
October, 25, 2011
10/25/11
12:41
AM CT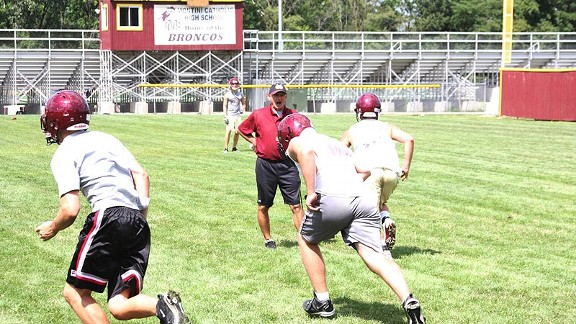 Scott Powers/ESPNChicago.comMontini is working toward winning its third straight Class 5A football championship.
Can anyone dethrone Montini?
That's the main question heading into the ISHA fooball Class 5A playoffs. Montini was beatable without John Rhode at quarterback, but with him back, the Broncos look invincible again.
Strange occurrences do happen in the playoffs. Three years ago Montini barely reached the playoffs but got hot and ended up winning the first of two consecutive state titles.
Is there an underdog out there this year? Which team could be Montini's biggest challenger? Here's a deeper look at Class 5A.
Best opening round game
No. 3 Sterling vs. No. 14 Julian:
Julian is one of a handful Chicago Public League teams which have a chance at advancing.
Top 10 Class 5A teams
1. Montini (7-2):
The Broncos were ranked No. 4 in ESPNChicago.com's preseason top 20, but lost two early games as starting quarterback John Rhode sat out with an injury he suffered prior to the season. Rhode has been back the last four games, and Montini appears to be the front-runner in Class 5A again.
2. Joliet Catholic (7-2):
The Hilltoppers boast as much talent on offense as any team in the state regardless of class. Their defense has to get it together if they're going to make a run at the program's 14th state title. They could meet Morris in the second round.
3. Springfield Sacred-Heart Griffin (9-0):
The Cyclones received a No. 1 seed in Class 5A last season and were upset in the first round. They should have a better showing this time. Their narrowest win came in a 34-27 victory over Chatham Glenwood in Week 1.
4. Marian Central (9-0):
The Hurricanes beat out Montini for the Suburban Christian Blue title. They've proven they can play with anybody with wins over Montini and Oswego. They could meet Montini again in the quarterfinals.
5. Kaneland (9-0):
The Knights reloaded this season after reaching the Class 5A state semifinals with a senior-laden group last year. They completed their perfect regular season with a win over Morris. They have the easiest path to the quarterfinals.
6. Morris (8-1):
The Redskins nearly rallied from a 24-0 deficit to beat Kaneland in the season's final week, but fell 31-28. They'll look to carry that late momentum into the playoffs.
7. Chatham Glenwood (8-1):
The Titans lost in the Class 5A state finals to Montini last season. That group included nine underclassman starters. Glenwood's only loss this season was to Sacred-Heart Griffin in the season opener.
8. Tinley Park (7-2):
The Titans know how to score. They averaged 37.4 points during the regular season and even put up 20 points in a loss to Lemont.
9. Metamora (7-2):
The Redbirds lost in the 4A semifinals last season. They defeated Washington 27-24 in Week 9. The two teams are likely to meet again in the second round.
10. St. Francis (7-2):
The Spartans finished third behind Marian Central and Montini in the Suburban Christian Blue.
Top 5 players to watch
1. Montini, SR, WR, Jordan Westerkamp:
Westerkamp, a
Nebraska
recruit, is the state's premier wide receiver.
2. Joliet Catholic, SO, RB, Ty Isaac:
Isaac has the potential to be one of the best running backs to come out of Illinois in some time.
Malin Jones
, a
Northwestern
recruit, is also a skilled running back for the Hilltoppers.
3. Marian Central, SR, OL, Scott Taylor:
Taylor is considered one of the top guards in the country. He's headed to
Northern Illinois
.
4. Springfield Sacred Heart Griffin, SR, QB, Pat Smith:
Smith has been one of the state's most accurate passers. He's thrown for 29 touchdowns and just one interception this season.
5. Kaneland, SO, QB, Drew David:
David may only be a sophomore, but he's played well beyond his years. He's thrown for 2,422 yards and 33 touchdowns with seven interceptions this season.
Sleeper team
Julian (6-3):
The Jaguars have been on a roll since quarterback Dae'Shaun Hurley was ruled eligible. They've scored 150 points in the last four games.
The road for the defending Class 5A state champions
Montini doesn't have the smoothest path back to the state championship. Being a No. 6 seed, the Broncos will have to beat a number of higher seeds to get there. They could meet Marian Central, which defeated Montini in the regular season, in the quarterfinals. They could play Kaneland, which Montini beat in the state semifinals last seasons, in the semifinal. If Montini and Joliet Catholic reached the title game, it would be a rematch of the 2009 state championship.
Fun fact
Montini is attempting to win its third consecutive state championship with its third different quarterback. Brandon Pechlof was the quarterback in 2009. Matt Westerkamp directed the Broncos last season. John Rhode is the man this season.
State championship prediction:
Montini defeats Joliet Catholic
August, 17, 2011
8/17/11
1:27
AM CT
Last season:
10-2 overall, 5-1 East Suburban Catholic, lost in the Class 5A quarterfinals to Peoria Richwoods, ranked No. 13 in the final ESPNChicago.com 2010 poll
Season ahead:
Joliet Catholic senior running back
Malin Jones
will only be satisfied with one outcome this season.
"I'll be disappointed this year if we don't win state," Jones said.
Like the last two seasons, Joliet Catholic will be among the Class 5A favorites. Last season, the Hilltoppers were upset by Peoria Richwoods in the state quarterfinals. Two years ago, they were upset by Montini in the championship game.
Jones doesn't plan on history repeating itself again.
"I care about conference," Jones said. "I care about a nice record. But if we don't win state, I won't be a happy guy."
Jones and Ty Issac are two of the main reasons why Joliet Catholic has a chance to win its seventh state title under coach Dan Sharp. Jones, who is headed to
Northwestern
, and Issac, who is highly recruited, make up arguably the state's best backfield. And that's despite the graduation of all-area running back
Josh Ferguson
.
"We're just going to be as dangerous as last season," Jones said. "They won't be able to key on any of us. If you do, someone else will take it the distance."
Star power:
Ferguson, who is now at
Illinois
, made a run for ESPNChicago.com Player of the Year last season, and it's expected Jones will do the same this season. He ran for 1,022 yards and 13 touchdowns last season and will likely pick up a few more carries this season. "I've more explosive, have more acceleration," Jones said.
Breakout performer:
Joliet Catholic graduated nearly its entire offensive line last season, but it does return starting tackle Jake Jankowski. His leadership and ability could be a key to the team's success this season.
Defensive difference-maker:
Austin Bolton returns as a starting linebacker for the Hilltoppers and should be a key contributor for the defense.
Newcomer to watch:
Sophomore offensive lineman J.B. Butler has a chance to be a good one. He'll step in this season and help out an inexperienced offensive line.
Schedule breakdown:
Joliet Catholic can avenge its two losses from last season during the opening three weeks. The Hilltoppers meet Carmel in their season opener and Peoria Richwoods in Week 3. The East Suburban Catholic should be among the state's top conferences again this season, and there won't be any easy games. The Hilltoppers close out the regular season at Marist.
Key game:
Aug. 26 vs. Carmel -- Carmel was the only regular-season opponent to defeat Joliet Catholic last year. Carmel defeated the Hilltoppers 31-28 at home. Carmel went on to an undefeated conference season, and Joliet Catholic finished one game behind. This season's East Suburban Catholic showdown comes in the opening week. "I'm glad they're our first game," Jones said. "They've been a lot of motivation for us in the summer."
What they're saying:
"We got to be (an) all-game team," Jones said. "We can't be a first-two-quarter team. We can't be a slow-start team. We need to learn to be a four-quarter team."
October, 25, 2010
10/25/10
7:40
PM CT
Joliet Catholic junior running back Malin Jones, who had offers from Illinois and Iowa, ended his recruitment early and verbally committed to
Northwestern Wildcats
coach Pat Fitzgerald.
"There are some other schools that didn't know he would commit this early and probably thought they had time," Joliet Catholic coach Dan Sharp said. "He's a kid who knows what he wants. He's very close to his family. He wants to stay in the state.
"He's very impressed with Pat Fitzgerald. Pat runs an unbelievable program. There's a family feeling around Northwestern a lot like there is here at Joliet Catholic."
The 6-2, 200-pound Jones has been key to the Hilltoppers' 8-1 record this season. He's rushed for 869 yards and nine touchdowns on 77 carries. He's averaging 11.3 yards per run. He's also had to share his carries with senior Josh Ferguson, an Illinois recruit.
"He has power and speed," Sharp said of Jones. "He hits the hole extremely hard. He uses his blocking well. He has deceptive speed. He has a similar style to Eric Dickerson and Adrian Peterson. He has the skills to be a great Big Ten football player."
Sharp, of course, will have a difficult time rooting for anyone when Northwestern and Illinois play in the future with Jones and Ferguson both carrying the ball.
"They're very good friends," Sharp said. "It definitely could be interesting the last week of the Big Ten when the rival teams meet up. That's going to be kind of special with those two guys. The great thing about the situation is we have Malin Jones for one more year. I'm the lucky one. I hate to lose Josh, but it'll be great to have one of those guys back for the Hilltoppers."