November, 9, 2010
11/09/10
1:02
AM CT
In most years, Montini's
Jordan Westerkamp
or Simeon's
Robert Gregory
would have been the story of the second round of the IHSA state football playoffs.
On Saturday, Westerkamp showed why he's become a major college recruit, catching 11 passes for 224 yards and three touchdowns in Montini's win over Sycamore in Class 5A. His single-day yardage ranks him in the top 50 in state history.
Gregory also put together a historic performance, scoring seven touchdowns in Simeon's 55-50 win over Schaumburg in Class 7A. Gregory completed 12-of-15 passes for 299 yards and five touchdowns and rushed for 139 yards and two touchdowns on nine carries. His seven scores ranks 25th in the record books.
But neither Westerkamp nor Gregory had the most memorable performance of the weekend.
That belonged to Glenbard West wide receiver Mark Hiben. Hiben caught 12 passes for 319 yards and four touchdowns in the Hilltoppers' 42-28 win over Lincoln-Way East in Class 7A. His single-game receiving yardage broke the state record.
"He's a very quiet, reserved kid, but inside he's as confident of a football player as I've ever seen in my life," Glenbard West coach Chad Hetlet said. "He'll never ever tell you that. He's just an amazing kid. He's just going to do his job. He believes no one cover him. He won't say that publicly. There are people who can cover him, but if he believes that, I'm not going to tell him any differently."
Aside from Hiben, Gregory and Westerkamp, there were other individuals who stepped up for their respective teams. Here's a look at the other star performers from the second round of the playoffs.
Class 8A
Loyola's Peter McGuire recovered a fumble and returned it 62 yards in the Ramblers' 14-7 win over Fremd.


Maine South quarterback Matt Alviti was 18 of 24 for 340 yards and four touchdowns in his team's 36-12 win over Bartlett.


Naperville North's Ron Coluzzi made three field goals in the Huskies' 29-10 win over York.


Homewood-Flossmoor's Malik Norman rushed for 230 yards and two touchdowns in the Vikings' 34-28 win over Waubonsie Valley.

Class 7A


Wheaton Warrenville South's Titus Davis caught five passes for 77 yards and a touchdown and rushed for a touchdown in the Tigers' 44-0 win over Wheaton North.


Minooka defensive lineman Alex Hamilton knocked down a pass at the line of the scrimmage and came up with a big tackle on Plainfield South's final drive to secure a 41-38 win.


St. Rita's Jahwon Akui rushed for 228 yards and five touchdowns in the Mustangs' 38-21 win over Harlem.

Class 6A


Marmion running back T.J. Lally rushed for 113 yards and two touchdowns and on defense helped prevent from Thornton Fractional South from scoring on a two-point conversion with 10.9 seconds remaining to give his team a 28-27 win.


Crystal Lake South quarterback Drew Ormseth rushed for three second-half touchdowns to rally the Gators to a 28-17 win over Lake Forest.


Prairie Ridge's Luke Lamar returned the opening kickoff for a 99-yard touchdown to set the tone for his team's 20-6 win over Morgan Park.


Lemont's Clayton Fejedelem scored three rushing touchdowns and intercepted a pass in the Indians' 28-10 win over Lemont.


Cary-Grove's Patrick O'Malley rushed for 233 yards and a touchdown in the Trojans' 35-0 win over Robeson.


Crete-Monee's Lexus Jackson returned a kickoff for an 86-yard touchdown with less two minutes remaining to give his team a 29-25 win over Rock Island.

Class 5A


Joliet Catholic's Josh Ferguson rushed for 165 yards and two touchdowns on nine carries in the Hilltoppers' 49-7 win over Sterling.


Vernon Hills' DaVaris Daniels scored three touchdowns in the Cougars' 37-22 win over Tinley Park.


Marian Central's Jared Koch ran for 217 yards and three touchdowns in his team's 40-7 win over Grayslake Central.
November, 7, 2010
11/07/10
12:14
AM CT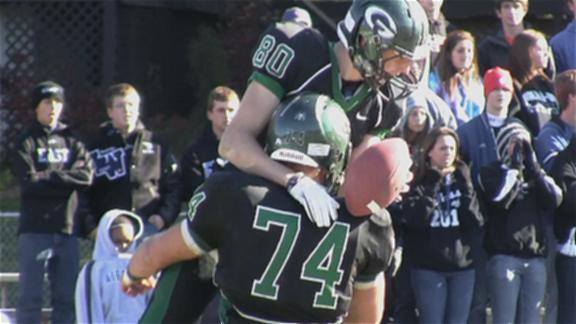 GLEN ELLYN, Ill. -- Patience is necessary to be a wide receiver in Glenbard West's offense, and senior Mark Hiben has understood that.
Hiben was a key target during last year's playoff run and was touted as an emerging player by Hilltoppers coach Chad Hetlet during the preseason, but Glenbard West's offensive philosophy this season has been the same as always. It'll run the ball until it can't.
[+] Enlarge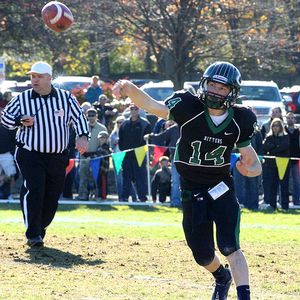 Scott Powers / ESPNChicago.comGlenbard West quarterback Daver Glawe threw four touchdown passes in a win over Lincoln-Way East on Saturday.
With the rushing game achieving consistent success this season, there hasn't been much reason to throw, leading to some quiet games for Hiben.
"I've just been waiting my turn all year," the 6-4, 195-pound Hiben said. "Against a lot of teams we've been able to capitalize on the run game. I've been lying in the weeds waiting for my chance."
On Saturday, Hiben's opportunity finally arrived, and it was beyond what he could have ever dreamed.
Hiben caught 12 passes for a state-record 319 yards and scored four touchdowns in No. 11 Glenbard West's 42-28 home win over No. 8 Lincoln-Way East in the second round of the Class 7A playoffs.
Hiben broke Hinsdale Central's Pete Bylsma's record of 317 yards that was set in 1971. Hiben's four touchdowns tied for 15th in state history.
"He was it," Hetlet said when asked to describe Hiben's game.
As reporters surrounded Hiben afterward, he was astonished to hear his own statistics.
"Really?" he said. "It's awesome. 319? It's special. It's special because as you guys probably all know Glenbard West is not known for its passing. Coach Hetlet just said to everyone, 'I would never have thought in a million years that one of my receivers would have over 300 yards.' "
Hiben's historical game started off slowly. His first reception was for nine yards. His second was for another nine. His third catch was for 18 yards.
Then, he took off. On the fourth one, Glenbard West (10-1) ran a halfback option to Justin Odom and Lincoln-Way East's defense bit, allowing Odom to connect with a wide-open Hiben down the field. Hiben did the rest, sprinting in for an 84-yard touchdown.
On Glenbard West's next drive, Hilltoppers quarterback Daver Glawe connected with Hiben for a 41-yard touchdown. Hiben followed that up with a 72-yard touchdown in the second half. Finally, he left his best for last as he leaped, reached over his defender's back, and snatched the ball away for a 19-yard touchdown in the corner of the end zone.
"He has the best hands in the state," Glawe said. "He's just unbelievable in what he does. His routes are just awesome. He always just finds a way to get open. No matter what, Mark Hiben's going to be open. Wherever I throw it, he's going to get it. That one down in the end zone, I just gave him a shot and kept it in play, and you could see what kind of an athlete he is."
[+] Enlarge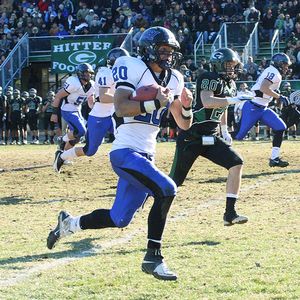 Scott Powers / ESPNChicago.comLincoln-Way East's Tyler Starke broke free for a 56-yard touchdown run on Saturday.
Glenbard West had plenty of chances to put away Lincoln-Way East (9-2) throughout the game, but the Griffins continued to fight back. The Hilltoppers built a 21-3 lead in the first half, and Lincoln-Way East responded with 10 consecutive points.
Glenbard West went back ahead 28-13 just before halftime when Glawe threw a 26-yard touchdown pass to
Nick Burrello
, but again Lincoln-Way East answered to start the second half. Quarterback
Blake Winkler
threw a 73-yard touchdown pass to Kyle Buchbach to pull within 28-20. Shortly later,
Tyler Starke
broke free for a 56-yard touchdown run, and the Griffins added the two-point conversion to tie the game at 28-28 in the third quarter.
Hiben scored the game's final touchdown to finally put the game away.
"He's an all-stater, and we knew that going in," Lincoln-Way East coach Rob Zvonar said. "The problem is they have a whole lot more than just him. We knew who he was, and he's been doing it for them for a couple years. He's a great player, a great football team. They have weapons all over the field. They exploited us and took advantage of it."
Glawe finished 13 of 24 for 269 yards and four touchdowns.
Lincoln-Way East kicker William Will made field goals of 22 and 40 yards.