May, 15, 2012
5/15/12
2:37
PM CT
Marshall senior guard
Milton Doyle
was prepared to commit to Kansas on Tuesday, but he was told to hold off because the Jayhawks are still waiting on the status of other recruits, Doyle's mother said.
Doyle, a 6-foot-4 guard, made an official visit to Kansas on Monday and Tuesday and is set to return to Chicago on Tuesday night. He met with Kansas coach Bill Self on Tuesday afternoon.
"They told him they were waiting on other recruits and whether they would qualify," Doyle's mother Lisa Green said. "He's disappointed. We have no choice but to wait because it's late in the game. They told him they'll let him know by Friday. We will be talking to other schools."
Doyle previously signed with Florida International, but he was let out of his letter of intent after the school fired coach Isiah Thomas. Doyle averaged 19 points, seven rebounds and five assists while playing in the Chicago Public League his senior season.
"This is the school of his dreams," Green said of Kansas. "He dreamed about Duke, Kansas and Kentucky."
Doyle flew under the radar for much of his high school basketball career. He attended Tilden his first two years and then transferred to Marshall. He broke his wrist and did not play his junior season. He also didn't play the summer club circuit prior to his senior season.
February, 27, 2012
2/27/12
9:30
PM CT
As the IHSA playoffs kick off, Simeon and Proviso East remained the top teams in ESPNChicago.com's boys basketball rankings.
Read the full story.
February, 1, 2012
2/01/12
8:39
PM CT
Here are five high school basketball thoughts for your Wednesday:
1. It's undoubtedly hard to go undefeated for an entire regular season: Andrew fell from the unbeaten ranks Tuesday when it was upset by Thornton on a buzzer-beating shot. Proviso East remains as the area's only unbeaten team. Proviso East's greatest challenges will likely come on Feb. 17 and 18 when the Pirates faces Downers Grove South and Warren on back-to-back nights. It is impressive how many one-loss teams there are this season. That list includes Simeon, Curie, Plainfield East, Metea Valley and now Andrew.
2. Speaking of Andrew, it'll likely fall a bit from the rankings after its only loss: The Thunderbolts had put together a nice run of 16 consecutive wins, but their schedule hasn't exactly been demanding. They looked as if they might run the table after defeating Thornwood on Sunday, but Thornton had other ideas. Andrew's overall profile took a hit with the loss.
[+] Enlarge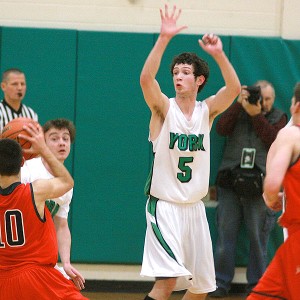 Scott Powers for ESPNChicago.comDavid Cohn and York are on a 10-game win streak.
3. Since the holidays, York has been one of the area's hottest teams: The Dukes have won 10 straight game, and junior star guard David Cohn has been a big reason for that. Among his feats, he scored 47 points on 13-of-17 shooting in a 75-64 win over Hinsdale Central recently.
4: The Catholic League has taken its lumps the last few weeks: First, De La Salle and St. Rita were upset last week. On Tuesday, St. Ignatius was the next top-ranked Catholic League team to fall. The Wolfpack were upset by Leo on Tuesday. It's hard to gauge the Catholic League right now.
5. The Red-West is still a mess at the top: Marshall, Orr and Farragut all have 7-2 records right now. Whitney Young could join them at the top if the Dolphins defeat Crane later this week. All four teams could make some noise come Public League and state playoff time.
January, 1, 2012
1/01/12
3:52
PM CT
How good is Chicago basketball right now?
From an individual player's standpoint, there's no denying Chicago is the premier hotbed for underclassmen right now. Simeon's
Jabari Parker
is the No. 1 junior in the country. Whitney Young sophomore
Jahlil Okafor
and Curie sophomore
Cliff Alexander
are two of the most desirable big men in the country.
There are plenty of other high-major prospects in the 2013, 2014 and 2015 classes.
But from a team perspective, how is Chicago matching up with the country? The best way to measure that is when Chicago teams match up against out-of-state opponents.
Simeon is the No. 1 team in the country, and no one has been able to prove otherwise in or out of state. The undefeated Wolverines have played one out-of-state opponent and have a few more upcoming national games.
Outside of Simeon, though, Chicago hasn't fared well against teams from outside Illinois, and that was especially true during the holidays. Six Chicago teams traveled to different parts of the country for tournaments, and only two of them returned with a winning record.
Whitney Young coach Tyrone Slaughter continued his massive national schedule, taking the Dolphins to the Beach Ball Classic in South Carolina. The Dolphins had the most impressive win of the six teams, defeating nationally-ranked No. 5 Prestonwood Christian from Texas, but finished 2-2 in the tournament. They ended up in sixth place after losing by 33 points to Bishop Gorman, another nationally-ranked team. Their other win was against Lexington from South Carolina and their other loss was against Lone Peak from Utah. Lexington is not ranked nationally or regionally by ESPN, and Lone Peak is ranked No. 5 in the West Region.


St. Rita coach Gary DeCesare took the Mustangs, who were ranked No. 18 in the area last week, to his old New York stomping grounds and went 1-2 against East Coast competition. They lost to New York's Mount Vernon and Christ the King. Mount Vernon is ranked No. 21 nationally, and Christ the King is No. 13 in the East Region. Their lone win was over Dixie Heights, which is not ranked.


Hyde Park, which was ranked No. 9 in the area last week, went to the Detroit Roundball Classic and finished 1-2. The Thunderbirds lost to Detroit Consortium, which is ranked No. 10 in the Midwest, and Romulus, which is not ranked. They defeated Lansing Eastern, which is also not ranked.


Orr also played in the Detroit Roundball Classic and went 3-0. It defeated Detroit Country Day, Detroit Central Catholic and Ottawa Hills. None of the teams were ranked regionally.


Marshall traveled to Normandy, Mo. for a tournament. Marshall lost in the semifinals to Memphis Ridgeway by 30 points and finished in fourth place with a 2-2 record. Ridgeway is ranked No. 19 in the country. The Commandos defeated Ridgeway Tech and Cardinal Ritter and also lost to Memphis Melrose. None of those teams are regionally ranked.


Foreman also competed at Normandy. The Hornets lost in the quarterfinals to Memphis Melrose, which finished in third place, and went on to take fifth place with a 3-1 record. There three wins were over Missouri teams, none of which are ranked regionally.

Overall, Chicago's teams played respectably in each out-of-state tournament, but it's hard to say Chicago deserves numerous nationally-ranked teams right now outside of Simeon and possibly Curie. From the suburbs, Proviso East deserves to be nationally ranked and currently is at No. 47.
October, 6, 2011
10/06/11
12:10
AM CT
Marshall senior guard Milton Doyle committed to Florida International on Wednesday.
Doyle, a 6-4 combo guard, didn't play on the club circuit this summer and had flown under the radar. He's been listed by a number of area scouts as a sleeper prospect in the state's Class of 2012.
Marshall coach Henry Cotton believed Doyle was among the city and state's best.
"He's an all-around player," Cotton said. "There's nothing he can't do. He didn't get a chance to get on the circuit. A lot of teams didn't get a chance to know about him, but he's a great player. Basically, he's the best player in the city. If he's not the best player in the state, he's in the top 3."
Doyle sat out last season at Marshall after transferring from Tilden. Cotton expected a breakout senior season for him.
"He's going to have a great season," Cotton said. "There's nothing he will do this season that will surprise me. He may surprise some other people, but not me."
Doyle will be the first Chicago product on Florida International coach Isiah Thomas' roster. Thomas, who starred at St. Joseph High School, is originally from Chicago.
June, 10, 2011
6/10/11
12:47
AM CT
Because of recruiting rules changes, college coaches are not able to watch club basketball in the spring any longer, but it doesn't mean players go unnoticed.
A number of Illinois high school player boosted their stock this spring. Here's a look at the top ones:
Cliff Alexander, Curie HS, Derrick Rose All-Stars, Class of 2014, 6-8, forward: Alexander began creating a buzz for himself during the high school season when he started on varsity for Curie. He's continued that this spring for the Derrick Rose All-Stars. He's currently being recruited by Connecticut, Illinois, Kentucky and a number of mid-major programs.
"He showed promise and potential this past winter, especially in the second half of the season, but when you combine his physical attributes and play this spring, Alexander's stock has shot through the roof as far as being one of the truly elite college prospects in the state of Illinois," said recruiting analyst Joe Henricksen, who publishes the City/Suburban Hoops Report. "Big men are absolutely coveted and Alexander is now right there among the state's best."
Milton Doyle, Marshall, Illinois Hawks, Class of 2012, 6-4, forward: Doyle sat out last season at Marshall. He caught a lot of people's eyes at last weekend's Reebok Headliner tryout camp in Chicago. His recruiting interest should skyrocket in July while playing with the Illinois Hawks.
"After sitting out last high school season after transferring from Tilden to Marshall, Doyle showed himself to be a very capable wing athlete with a high motor and tremendous ability to score off the dribble," said local recruiting analyst Scott Phillips, who runs Scott Phillips Hoops. "Milton has a smoothness about his game and is capable of finishing with both hands with an array of creative moves. His jumper needs some work, but an added bonus with Doyle is his willingness to defend."
Malcolm Hill, Belleville East, Southwestern Illinois Jets, Class of 2013, 6-4, guard: Hill has proven he can score on the biggest of stages during the spring for Southwestern Illinois Jets, and now more and more colleges are looking at him. Illinois recently offered him.
"After putting together a standout sophomore season, Hill was still a bit under the radar," Henricksen said. "However, he opened the eyes of national recruiting services this spring and, along the way, grabbed the attention of college coaches with his play and the high ceiling he has as a prospect.
Jalen James, Hope, Illinois Wolves, Class of 2013, 6-3, guard: James has become one of the most sought after point guards in the Class of 2013 after a strong spring with the Illinois Wolves. DePaul, Illinois, Marquette, Michigan, Michigan State, VCU Xavier, among others are recruiting him.
"He was on my radar this winter after taking in a couple of his games and seeing the smooth game he possessed, the size he brought to the point guard position and how he is barely scratching the surface," Henricksen said. "But he took it to another level as a prospect this spring playing against better, tougher competition. With his play this spring, James has solidified himself as a top 10 player in the loaded Class of 2013."
Marlon Johnson, Joliet West, Illinois T-Wolves, Class of 2012, 6-9, forward: Playing with the Illinois T-Wolves this spring, Johnson especially put his name on the map at the Chicago Classic during the Memorial Day weekend. DePaul, Illinois, Kansas, Loyola, Northern Illinois, Tennessee and a number of others have since expressed interest in him.
"He's burst on the scene rapidly as a run-and-jump athlete that can make plays on both ends of the floor," Phillips said. "Marlon grew six inches in a year, and he's just starting to figure out how to use his tremendous leaping ability to make an impact. His current strength is in an up-tempo game where he has room to outrun other forwards."
Marcus Posley, Winnebago, Class of 2012, 6-1, guard: Posley and point guard Fred VanVleet have become a backcourt tandem to watch on the club circuit for Pryme Tyme. Posley has a number of mid-majors looking at him.
"I've been a huge fan of Posley for awhile and now there are others that are appreciating all that he brings to the table after a stellar, consistent spring," Henricksen said. "He's tough, competes, plays with a big-time motor and physically is so strong. He's elevated his game by showing an ability to knock down shots from the perimeter.
Nathan Taphorn, Pekin, Class of 2013, 6-6, forward: Taphorn has what every college desires – someone with size and who can shoot. Taphorn is now drawing high-major interest after a productive spring with the Illinois Wolves. DePaul, Illinois, Marquette, Michigan, Michigan State, VCU Xavier, among others are recruiting him.
"There may not have been a player who did more for his stock than this sharpshooter with length and a high basketball IQ," Henricksen said. "He went from a relative unknown to a Division I prospect in a matter of weeks while playing with the Illinois Wolves this spring."
Xzavier Taylor, Morgan Park, Illinois Fire, Class of 2013, 6-9, center: Taylor has added a number of dimensions to his game and has been one of the state's best big men this spring for the Illinois Fire. He is receiving recruiting interest from DePaul, Illinois, Iowa, Missouri, Louisville, Northern Illinois, among others.
"The big thing with Xzavier is confidence," Phillips said. "His defense has always been ahead of his offense, but with some added reps he's become more of a scoring threat, especially in transition."
Others who improved their stock this spring:
Jubril Adekoya, Andrew HS, MeanStreets, Class of 2013, 6-6, forward

Austin Angel, New Trier, Rising Stars, Class of 2012, 6-4, guard

Brad Foster, Lincoln-Way Central, Illinois Warriors, Class of 2012, 6-8, forward
Mike LaTulip, Prospect, Full Package, Class of 2012, 5-11, guard

Erick Locke, Brooks, Illinois Fire, Class of 2014, 6-0, guard

Luke Norman, Freeport, Illinois Warriors, Class of 2012, 6-1, guard

Fred VanVleet, Auburn, Pryme Tyme, Class of 2012, 5-11, guard
Paul White, Whitney Young, Ferrari, Class of 2014, 6-7, guard

Russell Woods, Leo, Illinois Fire, Class of 2012, 6-8, forward
Malik Yarbrough, Zion-Benton, Ferrari, Class of 2014, 6-4, forward

January, 27, 2011
1/27/11
6:55
PM CT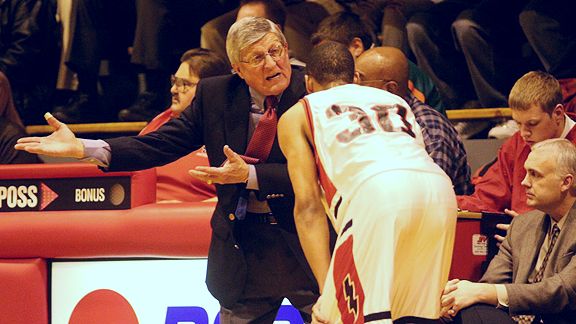 Scott Powers, ESPNChicago.com Gene Pingatore has 867 career wins, second-most in Illinois history.
Legendary Chicago area coaches Gene Pingatore of St. Joseph's and Dorothy Gaters of Marshall were named Thursday as the West team coaches for the McDonald's All-American games.
The 10th annual girls game and 34th annual boys game will be held at the United Center on March 30. The girls game will be televised at 6:30 p.m. on ESPNU and the boys game will be at 9 p.m. on ESPN.
Gaters, who is in her 36th year of coaching, holds Illinois' girls basketball record for most wins with 949 career victories. She has also won eight state championships.
Pingatore is in his 42nd year and has 867 career wins, which ranks second in state history. He has won one state championship.
Gators said she was honored to be involved in the game, but wasn't too worried about the actual coaching.
"It's definitely more pressure trying to win a state title," Gaters said. "This event won't be any pressure. It'll just be a fun time."
Pingatore agreed.
"The kids have to have a good time," Pingatore said. "We don't want to ruin it with coaching."
Pingatore has coached three McDonald's All-Americans at St. Joseph: Isiah Thomas (1979), Daryl Thomas (1983) and Deryl Cunningham (1989). Daryl Thomas, a current St. Joseph assistant, will be Pingatore's assistant at the McDonald's game.
"I have been blessed with a number of great players over the years, but never at the same time," Pingatore said. "That's going to be what's different. It's going to be an experience for me to coordinate something and put on a show for the fans at the United Center. I hope I don't screw it up. That's the big thing. I won't know what to do with all that size."
The boys and girls McDonald's All-American teams will be announced on Feb. 10.
January, 20, 2011
1/20/11
12:50
AM CT
The high school basketball season has reached the halfway point, so it's time to hand out the midseason awards.
Class 4A state favorite: Simeon has yet to slip from its preseason No. 1 ranking. The Wolverines have shown signs of being beatable, but have been dominant for the most part. It's still their state championship to lose. Benet is Simeon's greatest challenger at this point. The undefeated Redwings have also lived up to the hype. Top-10 ranked teams Homewood-Flossmoor, Proviso East, Glenbard East, De La Salle, Whitney Young and Farragut are also in Class 4A.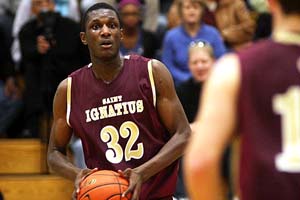 Scott Powers/ESPNChicago.comNnana Egwu, of St. Ignatius, will play his college ball at Illinois.
Class 4A sleeper:
St. Ignatius. Six-foot-10 center
Nnanna Egwu
has developed into one of the state's most dominant big men. The Wolfpack also have a strong supporting cast. Junior guard Jack Crepeau recently hit a key shot to beat Orr. Tyronne Staggers and Brian Howard are also capable of big games.
Class 3A state favorite: While Farragut, Simeon and fall in the loaded Class 4A from the Public League, Morgan Park sits in 3A. The Mustangs took a hit at Proviso West when they lost to Proviso East, but they're still one of the best teams in the state. Defending Class 3A state champ Hillcrest, Brooks, Orr, Marshall and T.F. North will be among the other contenders.
Class 3A sleeper: Marshall. The Commandos have been one of the state's most consistent programs over the last decade. They've won seven consecutive regionals, been downstate four of the last five years and won a state title in 2008. Marshall has had its ups and down this season with an 11-7 record, but it's starting to put it together. Led by Keifer Sykes' 35 points, the Commandos knocked off Whitney Young on Tuesday.
Best out-of-the-area team: Peoria Notre Dame could be the second or third best team in the state. The Irish are 17-0 and have already defeated a couple area teams. They defeated top-10 ranked Glenbard East at the State Farm holiday tournament and Niles Notre Dame, which was previously ranked, on Monday. Peoria Notre Dame will be in the Class 3A field. O'Fallon (14-3), Peoria Central (12-3), Rock Island (15-2) and Galesburg (16-3) are also other state-wide teams to watch.
Midseason ESPNChicago.com Player of the Year: East Aurora senior guard Ryan Boatright. The field is packed, but Boatright has consistently been the best player this season. He's averaging 30-plus points and carries his team every game. It doesn't hurt that he's also the most exciting player in the state.
First-team all-area: Morgan Park senior guard Wayne Blackshear – Blackshear could still make a push for player of the year. He has some big games coming up. He shined last season in the Public League playoffs.
East Aurora senior guard Ryan Boatright – See his player of the year credentials.
Perspectives senior forward Anthony Davis – Davis' team has struggled as expected, but he's lived up to the hype of being ESPN's No. 2 player in the Class of 2011. Injuries have kept him out of some games.
Simeon sophomore forward Jabari Parker – Parker's numbers aren't as astronomical as some of the state's stars, but he's just as good. He's the main reason why Simeon is still undefeated.
Benet guard David Sobolewski – Sobolewski continues to do whatever the Redwings need him to do at point guard. He scores. He passes. He defends. Benet is undefeated because of him.
The next best five: These aren't all the names you'd expect here, but these are the players who have produced game after game so far. Hillcrest senior guard Julius Brown, Notre Dame senior forward Quinton Chievous, Crete-Monee senior forward Jamee Crockett and St. Ignatius senior center Nnana Egwu, Benet senior center Frank Kaminsky make up the second team.
Best individual performance: Anthony Davis has had some big games. Wayne Blackshear has put up some numbers. But nothing beats Ryan Boatright's 63-point night in East Aurora's 113-104 win over Proviso West in Dec. 11. Boatright was 19 of 29 from the field and added eight rebounds, three steals and four assists. The second individual game would probably be Boatright's 55 points, 10 rebounds and 10 steals against St. Charles North in November.
Best game: Benet defeating Homewood-Flossmoor 54-50 in overtime to win the Proviso West holiday tournament. This game had everything. It had a comeback with Benet being down nine points in the half. It had drama with it going to overtime. It had star players on both teams. It had a hero in Benet guard David Sobolewski, who scored the game-winning basket, finished 19 points and was named the tournament MVP.
What to look forward to: Some of the biggest games are still on tap. Simeon and Morgan Park play on Saturday. Benet and Simeon face each other in the City/Suburban Showdown in February. Of course, there are also the Public League playoffs and the state playoffs. The race for player of the year should also be interesting. There are a number of players who are capable of taking the honor in March.