High School:

Metea Valley
February, 29, 2012
2/29/12
11:19
AM CT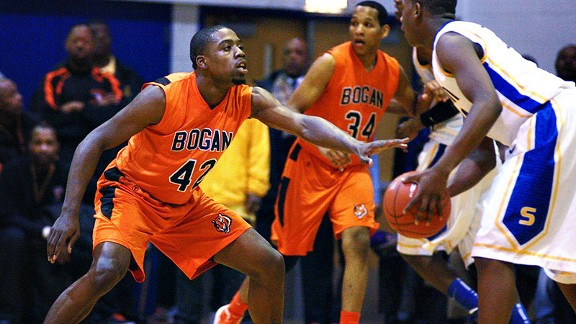 Scott Powers/ESPNChicago.comDevonte Smith scored 26 points and put Bogans ahead late to beat Mount Carmel on Tuesday.
Welcome to March Madness … in February.
There was plenty of excitement in Class 3A and 4A regional semifinals on Tuesday. If this is any indication of the games to come, it should be an interesting ride to Peoria for the state finals.
Thornton 39, Crete-Monee 37:
Thornton, the No. 13 seed in the Lockport section, upset No. 4-seed Crete-Monee at Thornton. Thornton's Marvin Jones scored on a layup with two seconds left for the game-winning basket. Joshua Russell scored 15 points in the win.
Bogan 65, Mount Carmel 64:
Bogan, the No. 3 seed in the Argo sectional, needed some late-game heroics by
Devonte Smith
to defeat host Mount Carmel. Smith scored a layup with 41 seconds left to give Bogan the lead and finished with 26 points. Mount Carmel led 56-47 in the fourth quarter.
New Trier 39, Niles West 35:
New Trier, the top seed in the Glenbrook South sectional, slipped past No. 15-seed Niles West at Niles West. Austin Angel secured the win with a steal with 21 seconds left. He had eight points, four steals and three blocks.
Downers Grove South 69, Oswego East 68:
Downers Grove South, the No. 2 seed in the East Aurora sectional, just got past Oswego East after leading by as many as double digits. Downers Grove South's Jamall Millison had 28 points, and Oswego East's Kenny Battle Jr. finished with a career-high 33 points.
Bloom 41, T.F. North 37:
Bloom, the top seed in the Lockport sectional, held on for a victory over No. 16-seed T.F. North. Donald Bloom secured the win by knocking down 11-of-13 free throws. He finished with 15 points.
Huntley 40, DeKalb 37:
Huntley, the top seed in its own regional, escaped with a win over DeKalb. Huntley has only lost three games this season, and DeKalb entered the game with 16 losses.
Metea Valley 45, Geneva 42:
Metea Valley, the No. 3 seed in the East Aurora sectional, had to battle No. 14-seed Geneva to pull out a victory. Geneva led 40-36 with 2:31 left, but Metea Valley went on a 9-2 run to close out the game.
Joliet West 64, Plainfield South 61:
Joliet West, the No. 5 seed in the Lockport sectional, edged Plainfield South at Thornton. Morris Dunnigan came through with a three-point play with nine seconds left for the win. Brian Edwards had 16 points and 12 rebounds off the bench for Joliet West. Eddie Presniakovas had 25 points for Plainfield South.
St. Joseph's 68, Glenbard South 65:
St. Joseph's Reggie Johnson and
Paul Turner
combined for 53 points to help the Chargers to a win over Glenbard South at Nazareth.
Brooks 60, Rich East 58:
Brooks defeated Rich East thanks to a buzzer-beating basket by sophomore Erick Locke, who finished with 26 points.
Johnsburg 60, Woodstock 54:
Johnsburg needed two overtimes to defeat Woodstock at Johnsburg.
Other games:
Thornridge defeated Tinley Park 60-58 behind Josh Hodges' 24 points ... Coming off its upset of Hillcrest, Lemont just got past Corliss with a 59-55 win ... Hersey defeated Buffalo Grove 57-56 at Stevenson ... In downstate Illinois, Collinsville, one of the favorites in its own sectional, was upset by Belleville West 61-57 at Belleville East.
January, 7, 2012
1/07/12
9:28
PM CT
AURORA, Ill. -- To be undefeated at this point of the season is no easy feat.
The number of unbeatens dwindles by the day now. Bloom and Glenbard West both fell from those ranks earlier this week.
Metea Valley never expected to be undefeated this late in the season. But as the Mustangs are learning now, to remain unbeaten only becomes harder. Opponents know their wins are piling up and their loss column still reads zero. With each victory, they turn into a bigger target.
That was certainly case when Lake Park came into Metea Valley on Saturday and took its best shot at knocking the Mustangs off. It wasn't pretty for the most part, but No. 8 Metea Valley pulled out a 61-45 win to improve their record to 14-0.
"Our coach talks about it a lot that we have the X on our backs right now," Metea Valley junior guard Ryan Solomon said. "We all know the first team to beat us is going to be our first loss. We have to step it up right now.
"It's definitely very nerve-wrecking where everyone's like, 'They're undefeated.' It's hard not to think about it."
Lake Park was on track early to upset Metea Valley. The Lancers played aggressive man-to-man defense and kept Metea Valley and its star Kenny Obendorf from finding any offensive rhythm throughout the first half.
Lake Park led 8-6 after one quarter, and Metea Valley was up 16-14 at halftime. Obendorf had two points at half and finished with nine for the game.
"We couldn't even get into plays, which is the worst," Solomon said. "We started getting lazy and not going out for screens and stuff. That really led to our issues in the first half with our offense."
Metea Valley's defense kept it into the game. The Mustangs only allowed six points and forced seven turnovers in the second quarter.
Led by that same tough defense, Metea Valley sparked its offense in the third quarter. The Mustangs forced seven more turnovers, and those turnovers led to nine points on the other end.
All together, Metea Valley outscored Lake Park 20-10 in the third quarter. Metea Valley junior forward Sean Davis had six points and three steals in the quarter.
Metea Valley was in control of the game throughout the final quarter.
"The whole year we've been stressing that defense wins game," Metea Valley senior forward Milan Bojanic said. "We had good defense the whole game, and we kept pushing in transition. We did a better job of turning our defense into offense."
Solomon led a balanced Metea Valley effort with 13 points. Bojanic (12 points) and Davis (11 points) also contributed in the win.
"We haven't played a perfect game," Metea Valley coach Bob Vozza said. "It's not even close to that. It's only going to get tougher as we move onto the second half of this conference and regionals and sectionals. We got to get better if we want to achieve the goals that we have."
January, 2, 2012
1/02/12
9:37
PM CT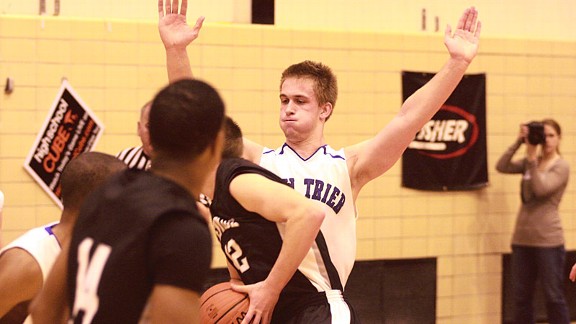 Scott Powers/ESPNChicago.comConnor Boehm led New Trier to the title game of the Proviso West tourney.
Here's a look back at this season's holiday tournaments:
Best tournament:
The honor goes to Pontiac this season. Having Simeon helped, but Pontiac was about much more than Simeon this season. On the final day alone, fans were treated to three overtimes games, two of which went to double overtime, and nearly witnessed Simeon upset by Peoria Manual. It would be hard to find two better holiday tournament semifinal games than Curie-Warren and Simeon-Manual anywhere in the country.
Runner-up tournament
St. Ignatius is the reason for York finishing second here. While the tournament favorites won at Proviso West, the McDipper, Pontiac and plenty of others tournaments, St. Ignatius added an element of surprise at York. The Wolfpack first fought back from a double-digit deficit to defeat Downers Grove South in the semifinals and then defeated De La Salle in the championship.
Top games:
Curie 77, Warren 68, 2 OT at Pontiac: In the first Pontiac semifinal, Warren forced a first overtime when JoVaughn Gaines drained a 3-pointer from the corner in the final seconds of regulation and then sent the game into a second overtime when Jon Geske dropped in a late layup. Curie won in the end. Devin Foster had 27 points in the win.
Simeon 48, Peoria Manual 47 at Pontiac: Not to be outdone by the first semifinal, Simeon and Peoria Manual went down to the buzzer to determine their game. Manual had two shots at overtaking Simeon on its final possession, but missed a shot around the basket and had the ball stolen in the game's final seconds. The game had 10 lead changes.
St. Ignatius 47, De La Salle 44, OT at York: In the championship game, St. Ignatius senior Brian Howard sent the game into overtime with an off-balance 3-pointer with four seconds left, and the Wolfpack prevailed in overtime again the tournament favorites.
St. Ignatius 52, Downers Grove South 50 at York: In the semifinals, St. Ignatius overcame a 12-point deficit to upset Downers Grove South. Abdoulie Contch scored the game-winner in the lane with 1.5 seconds left.
Elgin 57, Glenbard North 51 at Elgin: Before Elgin could win close semifinal and championship games, it had to win a tight quarterfinal matchup with Glenbard North. Former AAU teammates, Elgin's Kory Brown and Glenbard North's Josh Fleming, went head to head in the final minutes. Fleming had a game-high 21 points, but Brown, who had 19 points, came out with the victory.
Crete-Monee 67, Seton 66, OT at Rich South: In the semifinals, Crete-Monee's Marvie Keith sank two free throws with 35 seconds left to lift his team to the upset victory. Mark Conner scored 19 points off the bench for Crete-Monee. Crete-Monee squandered a nine-point lead in the fourth quarter to allow overtime.
Metea Valley 69, Rolling Meadows, OT at Hinsdale South: Metea Valley nearly saw its unbeaten season ruined by Rolling Meadows, which led 39-30 heading into the fourth quarter. Spearheaded by Kenny Obendorf and his 20 points, Metea Valley rallied in regulation and won in overtime.
New Trier 61, Homewood-Flossmoor 58 at Proviso West: The second-round matchup was expected to be a good one, and it didn't disappoint. The game went back and forth until New Trier got hot in the second half and connected on seven 3-pointers in the final quarters. Connor Boehm had 25 points in the win. Tyrone Sherman had 24 points for Homewood-Flossmoor.
All-tournament first team
New Trier senior forward Connor Boehm, Proviso West tournament: Boehm has been one of the most consistent players in the state this season. At Proviso West had 25 points and nine rebounds vs. Homewood-Flossmoor, 14 points and 14 rebounds vs. Morgan Park, 16 points and six rebounds vs. Proviso East and 17 points and seven rebounds vs. Von Steuben.
Elgin senior guard Kory Brown, Elgin: Brown stepped up game after game in the Maroons' run to their own holiday tournament championship. He had a 18 points, six rebounds, two blocks and two steals in Elgin's upset win over La Lumiere in the tournament championship.
Proviso East senior guard Keith Carter, Proviso West: Carter keyed the Pirates' run to their first Proviso West title since 1991 and was awarded the tournament MVP. He had 18 points and five steals in a win over Benet in the quarterfinals.
Bloom senior guard Donald Moore, Rich South: Carter's point guard play led the Blazing Trojans to their first McDipper title since 1995. He had 14 points and four assists in the title game. He was named the tournament MVP.
Simeon senior forward Steve Taylor, Pontiac: Jabari Parker may have won the MVP trophy at Pontiac, but many, including Parker, thought it should have gone to Taylor. Taylor had 11 points and seven rebounds to lead the top-ranked Wolverines over Curie in the championship game.
All-tournament second team
St. Ignatius senior guard Brian Howard, York: Howard and St. Ignatius surprised Downers Grove South and De La Salle on their way to the York title. Howard sent the championship game into overtime with a 3-pointer and finished with 20 points. He was named tournament MVP.
Metea Valley senior guard Kenny Obendorf, Hinsdale South: Obendorf continued to put up big numbers while helping Metea Valley to the Hinsdale South tournament championship. He had 24 points in the championship game and was named the tournament MVP.
Benet sophomore center Sean O'Mara, Proviso West: O'Mara isn't as hyped as some of the state's sophomores, but he's been more productive than most of them. He was impressive throughout Proviso West. He had 20 points, 13 rebounds, four assists and two blocks against Proviso East in the semifinals.
Simeon junior forward Jabari Parker, Pontiac: Parker didn't disappoint the sellout crowds at Pontiac. He hit difficult jumpers, swatted shots and threw down a few jaw-dropping dunks. In Simeon's one-point win over Peoria Manual, he scored 21 points and grabbed 12 rebounds.
Warren senior forward Darius Paul, Pontiac: Paul averaged 15.5 points and 12.5 rebounds in four games at Pontiac. With fellow post player Nathan Boothe in foul trouble against Curie, Paul scored 21 points and grabbed 15 rebounds.
Honorable mention
Andrew junior forward Jubril Adekoya, Kankakee

Plainfield East senior forward Brian Bennett, Pekin; Crane senior guard Willie Conner, Romeoville; De La Salle junior forward Alvin Ellis, York; Stevenson senior guard Michael Fleming; Curie senior guard Devin Foster, Pontiac; Morgan Park junior guard Billy Garret Jr., Proviso West; North Chicago senior guard Aaron Simpson, Bloomington; Crete-Monee junior forward LaQuon Treadwell, Rich South; Downers Grove South senior guard Jerron Wilbut, York

The unbeatens
Andrew (9-0): Won the Kankakee's holiday tournament, biggest upcoming test could be at Thornwood on Jan. 20.
Bloom (13-0): Won the McDipper, have plenty of tough games in the future, including at Homewood-Flossmoor on Jan. 24.
Immaculate Conception (12-0): Won its own holiday tournament, could still be undefeated heading into matchup at Elgin on Feb. 15.
Glenbard West (10-0): Won its own holiday tournament, could be challenged this week when playing at Bolingbrook and York.
Metea Valley (13-0): Won Hinsdale South's holiday tournament, will host Lake Park, which is also undefeated in the Upstate Eight Valley, on Saturday.
Plainfield East (11-0): Won the Pekin holiday tournament, hosts Wheeling tournament winner Naperville Central on Jan. 17.
Simeon (12-0): Won the Pontiac holiday tournament, face nationally-ranked No. 36 Miller Grove in West Virginia on Saturday.
December, 25, 2011
12/25/11
3:58
PM CT
Fresh off a close win over Whitney Young, Simeon remains No. 1 in the ESPNChicago.com prep hoops rankings. Who else is moving up and down in advance of this week's holliday tournaments.
Full story.
September, 14, 2010
9/14/10
11:27
PM CT
The high school football is flying by. Week 3 has come and gone, but here's one last look.
Powers' playmakers
1) South Elgin backup quarterback Zach Gross stepped in for the Storm and provided 114 passing yards, 95 rushing yards and four touchdowns in the team's 48-0 win over Lake Park.
2) Plainfield North's Kapri Bibbs rushed for 177 yards and five touchdowns in his team's 47-6 win over Plainfield East.
3) Stevenson's Stephen Salata caught six passes for 106 yards and two touchdowns in the Patriots' 24-7 win over Warren.
4) Glenbard West senior Nick Burrello accounted for three of the touchdowns in the Hilltoppers' 28-7 win over Hinsdale Central. He scored on runs of 24 and 44 yards and returned a 90-yard kickoff.
5) Thornton running back Damien Bell continued his big season, rushing for 183 yards and two touchdowns in the Wildcats' 27-24 overtime win over Andrew. He has 529 yards and six touchdowns on the year.
Defensive delights
1) Simeon defensive back Darius Scott intercepted two Morgan Park passes for touchdowns as the Wolverines rolled 48-16 in the marquee Public League match up.

2) Glenbard North safety Sean Fogarty provided the game's only score against Naperville North when he returned an interception for a touchdown. He also had another interception.

3) Barrington's Ben LeCompte had three interceptions in the Broncos' 35-14 win over Hersey.

4) Lake Zurich linebacker JJ Raffelson sacked North Chicago's quarterback twice, including a safety, in the Bears' 36-0 win.

5) Vernon Hills' defense posted its third consecutive shutout with a 47-0 win over Lakes. The Cougars have out-scored opponents 148-0 this season.

[+] Enlarge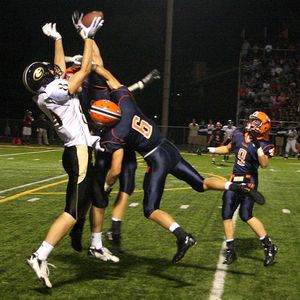 Scott Powers/ESPNChicago.comFor the second time this season, Glenbard North beat a ranked foe.
Five-star football
1) Glenbard North 10, Naperville North 3: The Panthers' defense came up huge in this upset win. It held Naperville North three times in the second half on fourth-down attempts in the red zone.
2) Lyons 38, Downers Grove North 28: The Lions remained undefeated thanks to sophomore Matthew Harris. He returned a kickoff for an 88-yard touchdown and intercepted a fourth-quarter pass that led to the game-winning touchdown.
3) Waukegan 34, Maine West 33: The Bulldogs prevailed in the Central Suburban League crossover battle behind the play of quarterback Reggie Richter and his four touchdown passes.
4) Loyola 21, Providence 7: The Ramblers avenged last season's loss to the Celtics in the Catholic League meeting. Loyola's defense contained Providence, and Malcolm Weaver threw his seventh and eighth touchdowns of the season in the win.
5) Metea Valley 39, East Aurora 6: The Mustangs won their first varsity game in school history. Tre'Sean Mackey led the way as he ran for 103 yards and three touchdowns on 13 carries.