February, 25, 2012
2/25/12
6:45
PM CT
The Class 3A and 4A boys basketball playoffs begin on Monday. Here's a glance at the top games and players to see this week.
Five regional semifinals to see
1. St. Charles East vs. St. Charles North at St. Charles North on Wednesday

2. Marist vs. Brother Rice at Marist on Tuesday

3. Stevenson vs. Prospect at Stevenson on Wednesday

4. Benet vs. Bolingbrook at Metea Valley on Wednesday

5. Neuqua Valley vs. Naperville Central at Neuqua Valley on Wednesday

Five potential regional championships to see on Friday
1. St. Rita vs. Whitney Young at Whitney Young

2. Bogan vs. De La Salle at Mount Carmel

3. Farragut vs. St. Joseph at Nazareth

4. Crane vs. Riverside-Brookfield at Riverside-Brookfield

5. Minooka vs. Bloom at Joliet Central

6. Crete-Monee vs. Joliet West at Thornton

7. West Aurora vs. Naperville North at Oswego

8. Harlan vs. Morgan Park at Rich Central

9. Evanston vs. Notre Dame at Notre Dame

10. Schaumburg vs. Glenbard West at Glenbard West

Ten to players to see in regional play (alphabetical order)
There will likely be plenty of time to see Simeon's Jabari Parker and some of the other stars in the area, but these players and teams may or may not be around come next week.
1. David Cohn, junior, York: It hasn't been a great year for high-scoring numbers, but Cohn has been one of the exceptions. He can drop 30-plus points on any night. He had 47 points just recently. York is a No. 4 seed in the Lake Park regional.
[+] Enlarge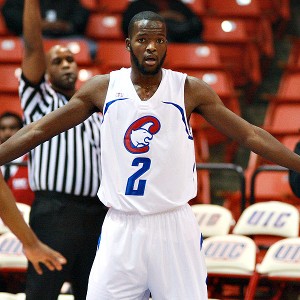 Scott Powers/ESPNChicago.comWillie Conner and Crane could be a tough out in the Riverside-Brookfield regional.
2. Willie Conner, senior, Crane: Conner improved his game this season and made himself a mid-major college prospect. Crane has been up and down this season, but Conner has been consistent. Crane is a No. 5 seed in the Riverside-Brookfield regional.
3. Tony Hicks, senior, St. Rita: Hicks, a Penn recruit, has been as good as any senior in the state. He's been averaging 25 points a game. St. Rita is a No. 4 seed in the Whitney Young regional.
4. Mike LaTulip, senior, Prospect: LaTulip is headed to Illinois next year as a preferred walk-on. He's been one of the area's top shooters and scorers this year. Prospect is a No. 9 seed in the Stevenson regional.
5. Jahlil Okafor, sophomore, Young: Okafor is the state's top sophomore and among the nation's top players in the Class of 2014. The state hasn't seen a big man as skilled as Okafor since possibly Eddy Curry. Whitney Young is a No. 5 seed in the Whitney Young regional.
6. Sean O'Mara, sophomore, Benet: O'Mara, a 6-9 center, has emerged as one of the state's top young prospects. He's a skilled big man and is following in the footsteps of former Benet center Frank Kaminsky. Benet is a No. 6 seed in the Metea Valley regional.
7. Michael Orris, senior, Crete-Monee: Orris, a 6-3 point guard, is headed to Illinois next season. He's expected to help backup Tracy Abrams there. Crete-Monee is a No. 4 seed in the Thornton regional.
8. Juwan Starks, senior, West Aurora: Starks is on the verge of West Aurora's career-scoring record of 1,613 points, which is owned by Billy Taylor (1987-1991). Starks is 60 points shy of matching Taylor. West Aurora is a No. 4 seed in the Oswego regional.
9. Tyler Ulis, sophomore, Marian Catholic: Ulis, a 5-8 point guard, is a scoring machine. He put up 38 points in a loss to St. Viator last month. Marian Catholic is a No. 7 seed and could face Andrew in the Andrew regional championship.
10. Milik Yarbrough, sophomore, Zion-Benton: Yarbrough could eventually be one of the nation's top players in the Class of 2014. He's a multi-skilled 6-6 guard/forward. Zion-Benton is a No. 16 seed in the Zion-Benton regional.
October, 8, 2010
10/08/10
12:02
AM CT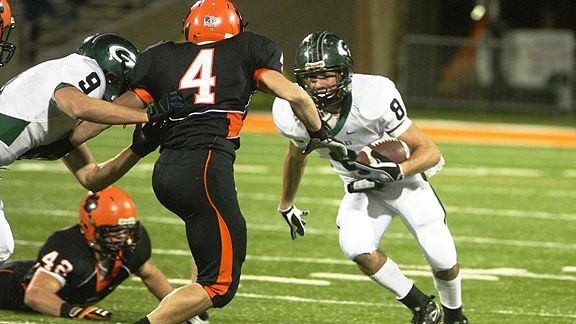 Scott Powers/ESPNChicago.com Glenbard West's Nick Burrello has more than 1,500 all-purpose yards this season.
No. 3 Glenbard West (6-0) at No. 20 York (6-0) on Friday
The story:
York has been one of the year's more surprising teams. After going 4-5 last year, the Dukes are off to their best start in school history and are coming off a big win over previously unbeaten Lyons. Despite their success, Glenbard West will still be a grand challenge. The Hilltoppers have been ranked in the top 5 all season and are dominant on both sides of the ball. York should benefit from being at home. ESPN 1000 will be in attendance.
Glenbard West player to watch:
Nick Burrello is in the running for the ESPNChicago.com Player of the Year award. He's dangerous in the running, passing and return game.
York player to watch:
Running back Ryan Kent leads York's offense. He ran for 180 yards and two touchdowns on 31 carries in last week's win.
Quotes:
"[Nick Burrello] has always had great speed, but now he has the vision to go along with it. He's played really confident and has had over 1,500 all-purpose yards." -- Glenbard West coach Chad Hetlet
"Ryan Kent is a kid who works hard, and he' s really matured over the years he has been at York. I think there is a solid cohesiveness within this group that makes them special." -- York coach Bill Lech
Prediction:
Glenbard West 34, York 21
No. 12 Vernon Hills (6-0) at Grant (3-3) on Friday
The story:
Vernon Hills has outscored its opponents 290-0. The 290 points scored was expected. The zero points allowed was not. The Cougars look to extend their unlikely shutout streak against Grant in a North Suburban Prairie game. The Bulldogs have put some points up this season. They've scored more than 40 twice and have 178 points on the season.
Vernon Hills player to watch:
DaVaris Daniels, who is committed to Notre Dame, is among the front-runners for the ESPNChicago.com Player of the Year award. He does a lot of everything for Vernon Hills.
Grant player to watch:
Fullback Steven Niewiedzial has been racking up yards and touchdowns all year. He ran for 244 yards and three touchdowns in a win two weeks ago.
Quote:
"Over the years our two programs have been the most consistent in the Prairie and [it] has kind of become our rivalry game. Everyone knows to win the Prairie you have to beat two teams, Grant and Vernon Hills. Two years ago, we beat them in the regular season and then they knocked us out in the playoffs in double overtime. We expect it to be a hard-hitting rivalry game Friday night with a playoff-type atmosphere." -- Vernon Hills coach Tony Monken
Prediction:
Vernon Hills 38, Grant 10
Waubonsie Valley (5-1) vs. Neuqua Valley (4-2) at North Central College on Friday
The story:
This is a key game in the Upstate Eight Valley. Waubonsie Valley is still undefeated in the conference, and Neuqua Valley is only a game back. Waubonsie Valley has been faced with a handful of injuries and illnesses over the past few weeks and have handled them well. Quarterback Matt Schapen has filled in for Tom Kolzow (concussion) the past three weeks and has kept the Warriors afloat. Neuqua Valley lost to South Elgin two weeks ago, but bounced back with a 42-0 win over Metea Valley last week. Both teams have quality defenses.
Waubonsie Valley player to watch:
Sophomore linebacker Austin Lacke is one to watch for the future. He's been among the Warriors' top defensive players this season.
Neuqua Valley player to watch:
Safety Sami Khalil is among the Wildcats' best defensive players. He had two interceptions, including one for a touchdown, in last week's win.
Quote:
"Our defense is averaging three turnovers per game. When they give the offense great field position, it is a lot easier to score. Our offense has also been able to get big plays during the games as well. So we basically can score from anywhere on the field, which makes it harder for the defenses to defend us." -- Waubonsie Valley coach Paul Murphy
"We have been playing well in all aspects of the game. Our defense has shown the ability to stop the run, and our offense has had success running the ball. When a team is able to do both of those things, it will have success." -- Neuqua Valley coach Bryan Wells
Prediction:
Waubonsie Valley 24, Neuqua Valley 21
Bolingbrook (4-2) at No. 9 Lincoln-Way East (5-1) on Friday
The story:
The Southwest Suburban Blue will likely be decided by this game. Lincoln-Way East has a one-game lead on Bolingbrook and Homewood-Flossmoor. The Griffins have already defeated Homewood-Flossmoor and will now host Bolingbrook. The Raiders will again be without quarterback Aaron Bailey, who also missed last week's loss to Homewood-Flossmoor with an ankle injury. Lincoln-Way East junior Blake Winkler is quickly becoming one of the area's better quarterbacks.
Bolingbrook player to watch:
Quarterback DJ Pruitt has been making strides since taking over for Bailey. He'll look to take another step in his progress against Lincoln-Way East.
Lincoln-Way East player to watch:
Wide receiver J.J. Robertson had two touchdown catches of 50-plus yards last week. He's one of the area's top wide receivers.
Quotes:
"Quarterback Blake Winkler has shown tremendous progress. He has stepped up time and time again in crucial situations and made the big plays. Most impressive is the way he responds to adversity or a negative play. He lets it go and usually makes a very positive play soon after." -- Lincoln-Way East coach Rob Zvonar
"No turnovers and being able to run the ball are the keys to the game." -- Bolingbrook coach John Ivlow
Prediction:
Lincoln-Way East 31, Bolingbrook 17
Minooka (5-1) at Plainfield North (5-1) on Friday
The story:
Two of the state's best running games will be on display in this Southwest Prairie matchup. Plainfield North running back Kapri Bibbs has ran for nearly 2,000 yards despite missing the season's first game and is coming off a state-record 520-yard performance. No one has been able to stop him this season. Minooka has a number of players capable of carrying the ball. Running backs Kalvin Hill and Kyle Banks and quarterback Mitch Brozovich have all been dangerous. Minooka's only loss was to undefeated Plainfield South. Plainfield North lost in its season-opener against West Chicago without Bibbs.
Minooka player to watch:
Indians running back Kalvin Hill rushed for 217 yards and two touchdowns in last week's win over Oswego East.
Plainfield North player to watch:
Kapri Bibbs is putting together an incredible season. He'll be playing at Colorado State next season.
Quotes:
"We won't stop Kapri, but we do hope to limit his touches. We also hope to limit his long plays. Our offense must put long scoring drives together that eats up clock. Special teams must play well. We are a much better football team than we have shown. We are still waiting to throw the ball consistently and kick the ball consistently. We need to improve our third-down defense and reduce the number of big plays on defense." -- Minooka coach Bert Kooi
"We need to find a way to stop their powerful running game. They have four very good weapons in the backfield. Their quarterback does an outstanding job faking and running the ball. Obviously, Minooka will be very aware of Kapri and have a game plan to stop him. We will need to make necessary in-game adjustments to be able to move the ball." -- Plainfield North coach Tim Kane
Prediction:
Plainfield North 55, Minooka 49
No. 4 Carmel (6-0) at Marian Catholic (5-1) on Friday
The story:
Carmel faces another difficult test as it travels to face Marian Catholic in the East Suburban Catholic matchup. Carmel is undefeated with a combination of strong offense and defense. The Corsairs lead the conference with 243 points scored and 78 points allowed. Marian Catholic enters the game on a five-game winning streak after losing to Homewood-Flossmoor in Week 1. Spartans coach Dave Mattio has been pleased with his team's effort, but said it has yet to put together a "signature" win, which he described as a "contest played with 48 minutes of intensity if all three phases of the game."
Carmel player to watch:
Running back Jordan Kos has been a nightmare for defenses for much of the season. He had 168 yards and two touchdowns last week.
Marian Catholic player to watch:
Junior running back Jeruel Taylor has a big reason for the Spartans' success. He had 221 yards in last week's 31-27 win over Crete-Monee.
Quotes:
"We need to run the ball well and prevent Marian from having big plays. We need to be sure their skilled backs do not have 20-yard-or-more plays. -- Carmel coach Andy Bitto
"Carmel plays with a great deal of energy and confidence. It is important for Marian Catholic to play with the same two attributes from the start of the contest. There have been a number of contests this year where the Spartans have shown a resiliency to come back from a deficit or to make big plays to change momentum of a contest." -- Marian Catholic coach Dave Mattio
Prediction:
Carmel 35, Marian Catholic 20
September, 21, 2010
9/21/10
4:49
PM CT
Here are the best of the best from Week 4.
Powers' playmakers


1) Mount Carmel running back Michael Banks is hard to catch when he gets going. He ran for 199 yards and two touchdowns in the Caravan's overtime win over Loyola. He had runs of 33, 57 and 82 yards against the Ramblers.

2) Plainfield North running back Kapri Bibbs has to be in the running for ESPNChicago.com's Player of the Year. He ran for another 306 yards and four touchdowns in the Tigers' win over Plainfield Central.

3) Minooka's 1-2 backfield punch was too much for Plainfield East. Running backs Kalvin Hill and Kyle Banks combined for 308 yards and six touchdowns in the Indians' win.

4) Prospect's Peter Bonahoom showed again why he's one of the area's most dynamic players. He ran for 206 yards and three touchdowns and returned a kickoff for a 97-yard touchdown in the Knights' win over Palatine.

5) Taft's Omar Ramirez, who is 5-4 and 145 pounds, ran for 148 yards and scored three touchdowns in the Eagles' win over Steinmetz.


Defensive delights

1) Lincoln-Way West's Kevin Kintzel had 11 tackles and one interception in the team's win over Thornridge. He also had two touchdown catches.
2) Glenbard North's defense held its fourth consecutive opponent to 14 points or less in Friday's 17-14 win over Wheaton North, which had scored 30-plus points heading into the game.
3) Notre Dame's Nick Bascom blocked a Benet punt, and Conner Gavin recovered the ball and scored for a key touchdown in the Dons' 35-31 win.
4) Stevenson's defense had seven sacks and forced three turnovers in the Patriots' shutout win over Mundelein.
5) Pat Foley recovered two Hinsdale Central fumbles, which both later lead to Lyons' touchdowns, in the Lions' conference win.


Five-star football

1) St. Rita 14, Fenwick 13: Mustangs defensive lineman Joe Filomeno stopped Fenwick quarterback Patrick Hart from entering the end zone for a 2-point conversion with 28.7 seconds remaining to give St. Rita the win.
2) Crystal Lake South 24, Prairie Ridge 20: Gators quarterback Drew Ormseth connected with Brad Walovitch for an 80-yard touchdown pass in the fourth quarter to provide the difference in the game.
3) Carmel 31, Joliet Catholic 28: The Corsairs' defense held Joliet Catholic scoreless for nearly three quarters after a rough start in the all-important East Suburban Catholic game.
4) Elk Grove 36, Schaumburg 34: Quarterback Nick Meyer threw for 231 yard and three touchdowns and ran for 142 yards and two touchdowns to lead the Grenadiers to the Mid-Suburban League upset win.
5) Richards 13, Shepard 12: Richards fought back from a 9-0 fourth-quarter deficit and pulled out the win when Andre Gallion dove for a 16-yard touchdown catch with 1:12 left in the game.

August, 28, 2010
8/28/10
5:07
AM CT
By
John Venerable
| ESPNChicago.com
MINOOKA, IL--The Minooka Indians and their wingback offense made a statement Friday night, scoring on four of their first five drives en route to a 42-14 senior night victory over rival Glenbrook. Quarterback Mitchell Brozovich got things going with a 39-yard TD pass to fellow senior Daniel Fox to put the Indians up early.
[+] Enlarge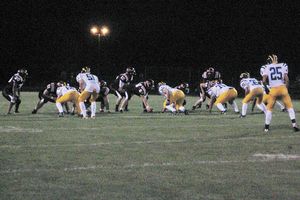 John VenerableMinooka had a major advantage up front on offense, and it showed -- the Indians rushed for more than 400 yards.
The Titans answered right, back however, as senior running back Kyle Kwasniewski bolted 47 yards for a touchdown that left the game tied at 7-7. Minooka would regain the lead in the second quarter courtesy of a pair of rushing touchdowns by Taylor Salazar and Kyle Banks. It would be more of the same in the second half, as the Indian offense scored 21 points in the third quarter alone.
The win for the Indians comes one year removed from a 38-14 loss at the hands of the Titans.
Player of the game: Kalvin Hill, RB, Minooka - The junior only managed 9 carries on the evening but turned those into an impressive 140 yards rushing as well as two touchdowns.
Stat of the game: Minooka's offense rushed for 422 yards through only three quarters of play Friday night.
It was over when: The Titan offense failed to convert a fourth-and-1 from their own 49 while down 21 points.
Quote of the night: "Being a defensive coordinator and looking at what we're doing offensively ... I wouldn't want to defend us."- Minooka head coach Bert Kooi
August, 26, 2010
8/26/10
10:43
PM CT
No. 15 Montini (0-0) at No. 5 Joliet Catholic (0-0) on Friday
The story: This is the perfect game to open the 2010 high school football season. These two teams met in the Class 5A state championship in November with Montini edging the Hilltoppers 29-28 with a touchdown and two-point conversion with 32 seconds remaining. Joliet Catholic would like to redeem itself with a win here, but Montini is also out to prove last year's victory wasn't a fluke. Both teams will be starting a new quarterback.
Montini player to watch: Senior Matt Westerkamp takes over at quarterback for the Broncos. He doesn't have the arm of last year's quarterback Brandon Pechloff, but he does have size at 6-2, some speed and knows the offense.
Joliet Catholic player to watch: Junior running back Malin Jones torched Montini for 141 yards and two touchdowns in last year's state championship game. He and fellow running back Josh Ferguson will be the keys to this game again.
Quote: "According to everyone, we are the underdogs again," Montini coach Chris Andriano said. "We don't care. We'll line up and play. We'll line up and play anytime, anywhere. We'll line up in the parking lot if you want."
Prediction: Joliet Catholic 40, Montini 35
No. 6 Fremd (0-0) at No. 9 Lake Zurich (0-0) on Friday
The story: Fremd and Lake Zurich played in one of the more dramatic season-opening games last season with Fremd pulling out a 10-7 win at home. The Bears will now get a chance to avenge that result at their place. Both teams lost a couple key pieces from last year, but they also return a couple key ones. Both teams should be in contention for a state title this season.
Fremd player to watch: Senior Justin Wallace came up big in last year's win over Lake Zurich with a blocked field goal and a fumble recovery. Wallace will be a key defensive player again this season, but will also be one of the main running backs.
Lake Zurich player to watch: Running back Jacob Brinlee is one of the state's most electrifying players. He has the speed and vision to pop a long one at any time. He had a 73-yarder last season against Fremd.
Quote: "We need to win the turnover battle, win in the special teams' phases of the game and negate their size with our speed," Lake Zurich coach Bryan Stortz said. "They're fundamentally sound and well coached.
Prediction: Fremd 14, Lake Zurich 13
No. 2 Wheaton Warrenville South (0-0) at No. 19 Hinsdale Central (0-0) on Friday
The story: Wheaton Warrenville South began its state championship run with a season-opening 34-26 win over Hinsdale Central last season. Wheaton Warrenville South returns a bulk of its team from last season and is the favorite to repeat in Class 7A. The Red Devils have some returnees, especially on the offensive line, but they did graduate all-state quarterback John Whitelaw. Hinsdale Central plans on using a platoon system at quarterback for now. Hinsdale Central could have a chance at home, but it needs to limit its errors.
Wheaton Warrenville South player to watch: All eyes will be on Illini recruit quarterback Reilly O'Toole. Everything points to him having a monstrous season for the Tigers.
Hinsdale Central player to watch: Center Jack Allen is one of the premier offensive linemen in the state. He's big, but he's also quick. He recently committed to Michigan State.
Quote: "Wheaton Warrenville South does everything well," Hinsdale Central coach Mike DiMatteo said. "They are not the great program they are for no reason. … We need to keep O'Toole in check as much as we can. He's the best QB in the state this year, and we will have our hands full."
Prediction: Wheaton Warrenville South 35, Hinsdale Central 20
Bolingbrook (0-0) at No. 14 Downers Grove South (0-0) on Friday
The story: This has turned into one of the more exciting non-conference rivalries. Last year, Bolingbrook blocked a late field goal attempt to beat the Mustangs in the season opener. Downers Grove South got its revenge during the playoffs by knocking Bolingbrook out with a late comeback win. This is the last scheduled meeting for the teams, but they could of course meet in the playoffs again this year and in the future.
Bolingbrook player to watch: Linebacker Antonio Morrison is one of the key defensive players the Raiders will be looking to this season.
Downers Grove South player to watch: Wide receiver Ryan Oruche can beat a team in a variety of ways. He can run, catch and even pass if needed. Bolingbrook's defense will have its hands full with him.
Prediction: Downers Grove South 28, Bolingbrook 17
No. 1 Maine South (0-0) at Schaumburg (0-0) on Friday
The story: Maine South is the team everyone is shooting for again. The Hawks are riding a 28-game winning streak into the season. They're not as offensively powered as the past few years, but their defense should be among the state's best. Schaumburg just missed the top 20. The Saxons have a lot of offense back, especially quarterback Mark Iannotti and running back Shepard Little.
Maine South players to watch: No decision was made on Maine South's quarterback, so sophomore Matt Alviti and junior Jimmy Frankos will both play against Schaumburg. Both have shown promise throughout the offseason.
Schaumburg player to watch: Shepard Little rushed for 1,700 yards and 17 touchdowns as a sophomore in 2008. He sat out last season due a disciplinary issue and is back again. If he can return to form, the Saxons will be a team to watch this season.
Quote: "They are obviously talented and play extremely hard," Schaumburg coach Mark Stilling said. "Our kids need to stay focused on doing their jobs and resist the temptation to try anything special."
Prediction: Maine South 31, Schaumburg 21
Glenbrook South (0-0) at No. 18 Minooka (0-0) on Friday
The story: Minooka is out to prove it belongs with the elite teams this season. Glenbrook South is out to show that it can reload after losing a number of stars from last season's quarterfinal team. After this game, we should know a little more about both teams. Minooka will look to control the ball. It will be important for Glenbrook South to stay away from turnovers. The Titans will be missing four players to injury and another due to suspension.
Glenbrook South player to watch: John Strickland steps into the spotlight for the Titans. He's moved from linebacker to fullback and will likely see a bulk of the carries.
Minooka player to watch: Zach Colvin, a Division I recruit, will be playing both ways to start the season. He's a dominant a defensive end, but it may slow him down having to be on offense as well.
Quote: "Week 1 is always tough," Minooka coach Bert Kooi said. "No matter how much time you have spent with your team, you never really completely know what to expect until you see them in a game situation."
Prediction: Minooka 20, Glenbrook South 14
No. 20 Oak Park at Glenbard North on Friday
The story: Oak Park is one of the sleeper picks for the 2010 season. The Huskies are coming off a 5-5 season and have a bulk of their team back. If they're going to take another step this season, this game would be a good start. Glenbard North beat them 33-21 last season. The Panthers lost some talent from last year's 11-2 team, but they're still among the area's best.
Oak Park player to watch: Running back Tony Stapleton rushed for 1,300 yards as a junior. He has a number of Division I schools looking at him.
Glenbard North player to watch: Running back/linebacker Evan Natick battled through injuries last season. Now healthy, he should make an impact on both sides of the ball.
Quote: "We need to be able to run the football and stop the run," Glenbard North coach Ryan Wilkens said. "They run the ball well."
Prediction: Oak Park 21, Glenbard North 20
Edwardsville (0-0) vs. No. 7 Lincoln-Way East (0-0) at Illinois State on Saturday
The story: Lincoln-Way East opens its season with a non-area opponent. Edwardsville is expected to be one of the top St. Louis-area teams this season. It went 6-4 last year and returns Rodney Coe, one of the state's top athletes. Lincoln-Way East is familiar with teams from that area. The Griffins defeated Belleville West in the opening round of the playoffs and then were upset by O'Fallon in the second round. Lincoln-Way East's defense should be among the state's best again this season.
Edwardsville player to watch: Running back Rodney Coe is being recruited by nearly every top program in the country. He will be a good first test for the Griffins' defense.
Lincoln-Way East player to watch: Quarterback Blake Winkler makes his debut. Winkler has drawn comparisons to former Griffins quarterback Anthony Kropp, who led the team to a state championship in 2005.
Prediction: Lincoln-Way East 30, Edwardsville 21
No. 11 Mount Carmel vs. Simeon at Soldier Field on Sunday
The story: These Chicago south side foes met twice last season with Mount Carmel winning both games. The Caravan won the season opener 53-27, but their second meeting was closer with Mount Carmel winning 19-14. Mount Carmel had an up-and-down 2009 season and is looking to return to dominance this year. Simeon just missed out of the top-20 rankings and should be the class of the Public League this season.
Mount Carmel player to watch: Michael Banks has moved from wide receiver to running back. He has great speed and could flourish in the Caravan's triple-option system.
Simeon player to watch: Chris Bryant is one of the state's top offensive linemen. He's also one of the biggest as he comes in at 6-5 and 330 pounds.
Prediction: Mount Carmel 28, Simeon 14
No. 8 Providence (0-0) vs. Morgan Park (0-0) at Soldier Field on Sunday
The story: Providence is coming off a dream season where nearly everything seemed to go the Celtics way. They return a strong offensive line and quality linebackers, but they need to replace stars Pete Houlihan and Tim Hanrahan. Morgan Park is coming off a 9-3 season. The Mustangs upset Brother Rice at Soldier Field last season.
Providence player to watch: Senior quarterback Joey Houlihan returns for the Celtics. He was key in Providence's run to the Class 6A state championship game last season.
Morgan Park player to watch: Junior Deshaun Hurley takes over at quarterback for Morgan Park. He did get some experience there last season.
Prediction: Providence 34, Morgan Park 19