May, 7, 2012
5/07/12
11:57
AM CT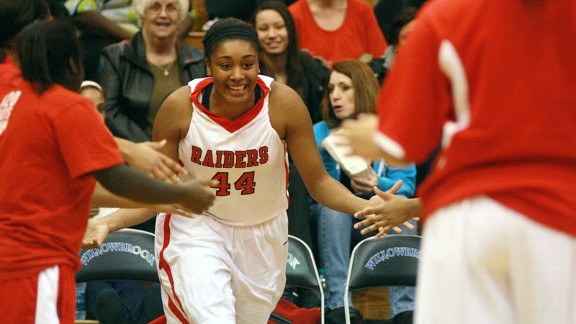 Scott Powers/ESPNChicago.comMorgan Tuck, a three-time all-area selection, averaged 31 points and 10 rebounds for Bolingbrook.
Just because we traditionally have posted our final rankings of the recruiting-relevant class (rising seniors) in August doesn't mean we forget the seniors and just focus on the underclassmen.
During the fall club tournaments and high school girls' basketball season, the seniors are difficult to ignore. They are the leaders, a step away from college careers, and typically the best players on the nation's best teams. As we follow the high school season closely, it's impossible not to notice them.
It's just that we've never felt moved enough to do anything about what we witnessed -- until now. Call this first-ever spring tweaking of the 2012 class rankings the "Jonquel Adjustment" because it was the 6-foot-3 Jones' season at Riverdale Baptist (Upper Marlboro, Md.) that opened our eyes to the necessity of making changes that reflect a new reality.
Let's be clear: While some may rank based on performance (number of points scored in a game or tournament, for example), we find performance to be beholden to so many variables as to be an unreliable predictor of success at the next level. Performance is not why we are making changes -- or ranked a player where we did in the first place. We are making changes because of attributes (physical, mental or attitudinal) that either were revealed or clarified.
We also only wanted to make adjustments that were substantial and clear-cut, so we settled on five.
Click here to read the entire story
.
March, 8, 2012
3/08/12
10:23
AM CT
Bolingbrook senior Morgan Tuck was named the 2011-2012 Gatorade Illinois Girls Basketball Player of the Year on Thursday.

Tuck, a 6-foot-2 forward, averaged 29 points, 10.2 rebounds, 3.1 assists and 2.7 steals for the Raiders this season. She led Bolingbrook to a 27-2 record in her final season. She won three state championships during her career. She will play at Connecticut next season.

"She is the perfect example of what an athlete should be and inspire to be," Joliet Central coach Brian Reed said in a statement. "She is gracious in victory, and she brings out the best in her team and her opponents. Also, she brings the same intensity in the classroom. Who could ask for more?"

Bolingbrook's Ariel Massengale won the award last year. Massengale now plays at Tennessee.

February, 9, 2012
2/09/12
4:46
PM CT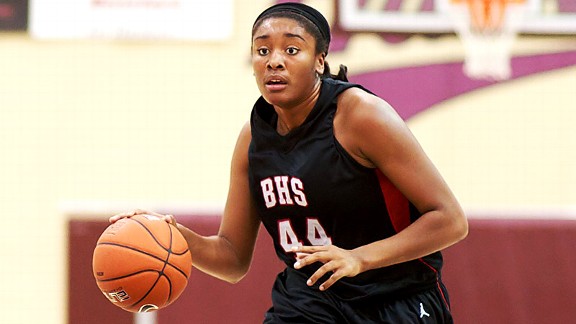 Glenn Nelson / ESPN.comConnecticut-bound Morgan Tuck is the second straight Bolingbrook player to be selected to the McDonald's All-American game.
Niles West guard
Jewell Loyd
, Whitney Young guard
Janee Thompson
and Bolingbrook forward
Morgan Tuck
were announced as selections to the McDonald's All-American girls game on Thursday.
Zion-Benton coach Tanya Johnson was also announced as the West Team girls head coach, and West Aurora coach Gordon Kerkman was named the West Team boys head coach.
Loyd, a 5-foot-9 shooting guard, is ranked the No. 5 player in the Class of 2012 by ESPN HoopGurlz. She'll play next season at Notre Dame.
Thompson, a 5-7 point guard headed to Kentucky, is ranked No. 35 in the Class of 2012.
The Connecticut-bound Tuck, a 6-2 forward, is ranked No. 15 in the Class of 2012. This is the second consecutive season Bolingbrook has had a player selected to the McDonald's game.
Ariel Massengale
, who is now at Tennessee, was chosen last year.
Illinois did not have a boys player selected for only the third time in the game's history. Illinois was also not represented in 1977 and 2009.
The McDonald's All-American Games will be held on March 28 at the United Center. The 11th annual girls game will be at 6 p.m. and shown on ESPNU. The 35th annual boys game will be at 8:30 p.m. on ESPN. Last year's games in Chicago set a McDonald's All-American Games' attendance record with 20,018 fans.
November, 17, 2011
11/17/11
10:19
PM CT
Here are 10 things to watch for in the 2011-2012 girls basketball season.
1. Bolingbrook vs. Whitey Young, Round V:
Bolingbrook and Whitney Young have met in the semifinals or state championship the last four seasons. Bolingbrook has won three of those times and Whitney Young once. They're the favorites again in 2011-2012.
2. The quest for No. 1:
The state of Illinois has a shot at having the No. 1 team in the country in boys and girls basketball. Simeon's boys team has already been ranked No. 1 by ESPN. Bolingbrook has a shot at the girls' top spot. The Raiders finished No. 2 in last season's final poll.
[+] Enlarge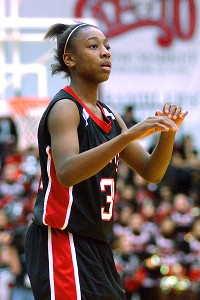 Scott Powers for ESPNChicago.comNiles West senior Jewell Loyd is the player to watch in Illinois high school girls basketball this season.
3. A valuable Jewell:
Niles West senior guard Jewell Loyd has put together an unforgettable career. She's scored 2,241 points in her first three seasons. The Notre Dame recruit averaged 30.1 points, 15 rebounds, 4.1 assists, 4.5 steals and 3.2 blocks last year. If you're to see one girls basketball player this season, she's the one.
4. Player of the year race:
Loyd has competition for the ESPNChicago.com player of the year. Bolingbrook forward and Connecticut recruit Morgan Tuck is also among the nation's best players. Surrounded by Division I talent, Tuck doesn't need to put up the numbers Loyd does to win. Tuck could win her fourth state championship this season. Both are expected to be McDonald's All-Americans.
5. New 3A champion?:
Montini has won the last two Class 3A state championships. With the Broncos graduating four players, including three Division I signees, they'll be a younger and less experienced squad this season. They still have talent, but will it come together this season to make another run at a title? Hillcrest, Morgan Park, Marshall and others believe it's someone else's turn at the crown.
6. Loaded ESCC:
The East Suburban Catholic Conference should be among the state's best conferences again. Marian Catholic ended Fenwick's run at conference titles last season. This season's title could end up with Marian Catholic, Fenwick, Benet or Marist. All four teams are among the area's best.
7. Run and gun:
It's hard to gauge whether Fenwick will be a state contender this season, but it should be one of the more exciting teams to watch. Friars coach Dave Power has decided to go full out run and gun. He wants his team to take 40 3-pointers and 30-40 2-pointers a game. He promised to be his own shot clock and yell out the final seconds of it. If his team doesn't shoot the ball quickly enough, he said he's going to replace everyone on the floor.
8. Nationally-ranked seniors:
Illinois has six players ranked in the Class of 2012 ESPNU 100. The six are Niles West's Loyd (No. 4), Bolingbrook's Tuck (No. 15), Whitney Young's Janee Thompson (No. 35), Whitney Young's Alexis Loyd (No. 81), Geneva's Ashley Santos (No. 89) and T.F. South's Dominique Brooks (No. 93)
9. The premier junior:
Whitney Young guard Linnae Harper is ranked No. 6 in ESPN'S Class of 2013. She is the only player in ESPN's Super 60.
10. Best of the rest:
Outside of ESPNChicago.com's top 20, other teams to watch out for are Benet, Grayslake Central, Loyola, Marshall, Naperville Central, Neuqua Valley, St. Joseph and Warren.
November, 18, 2010
11/18/10
2:51
AM CT
Bolingbrook junior forward
Morgan Tuck
has committed to Connecticut, according to ESPN HoopGurlz.
The 6-foot-2 Tuck is the second-ranked player in Illinois and ranked No. 12 overall in the Class of 2012 by ESPN HoopGurlz. She also considered Duke, Illinois and Tennessee.
Tuck averaged 18.2 points and 7.5 rebounds last season while helping the Raiders win their second consecutive Class 4A state title.