High School:

Nate Taphorn
July, 23, 2012
7/23/12
1:59
PM CT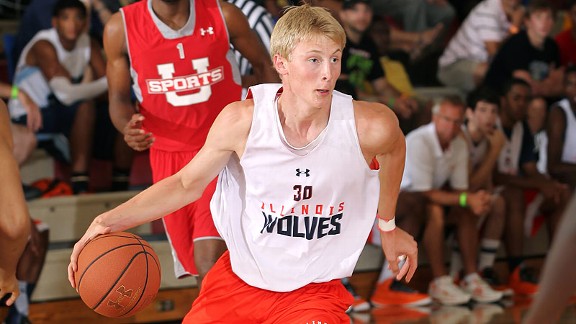 Courtesy of Kelly Kline/UnderArmour
Northwestern wing commit Nate Taphorn put on a show at the Under Armour Summer Jam with his outstanding shooting and ballhandling skills.
Click here to read the entire story
.

ABOUT THIS BLOG

Scott Powers
Scott Powers is an award-winning journalist and has been reporting on preps, colleges and pros for publications throughout the Midwest since 1997.
2014 TOP ILLINOIS FOOTBALL RECRUITS
BLOG ARCHIVE:
CATEGORIES:
IHSAScoreZone IL High School Assn
#IHSA Football Week 3 standings and first Playoff Outlook posted. http://t.co/onpghBqGLC
about 15 hours ago

IHSAScoreZone IL High School Assn
#IHSA FB Chicago Heights (Bloom Twp.) 23, Crystal Lake (South) 13
2 days ago

IHSAScoreZone IL High School Assn
#IHSA FB Pleasant Plains 55, Varna (Midland) [River Valley Coop] 12
2 days ago

IHSAScoreZone IL High School Assn
#IHSA FB Chicago (Westinghouse College Prep) 36, Chicago (Douglass) 18
2 days ago

IHSAScoreZone IL High School Assn
#IHSA FB Edwardsville (H.S.) 57, East St. Louis (Sr.) 32
2 days ago

IHSAScoreZone IL High School Assn
#IHSA FB Berwyn-Cicero (Morton) 26, Maywood (Proviso East) 24
2 days ago

IHSAScoreZone IL High School Assn
#IHSA FB Aurora (A. Christian) 35, Lake Forest (L.F. Academy) 33
2 days ago

IHSAScoreZone IL High School Assn
#IHSA FB St. Joseph (S.J.-Ogden) 34, Monmouth (M.-Roseville) 20
2 days ago

IHSAScoreZone IL High School Assn
#IHSA FB Carol Stream (Glenbard North) 37, Chicago (Brooks) 0
2 days ago

IHSAScoreZone IL High School Assn
#IHSA FB Chicago (Urban Prep/Englewood) 26, Chicago (Washington) 0
2 days ago

IHSAScoreZone IL High School Assn
#IHSA FB Chicago (Bowen) 22, Chicago (Lindblom) 13
2 days ago

IHSAScoreZone IL High School Assn
#IHSA FB Oak Park (Fenwick) 35, Chicago (De La Salle) 30
2 days ago

IHSAScoreZone IL High School Assn
#IHSA FB Chicago (Noble/Bulls) 14, Chicago (Hyde Park) 6
2 days ago

IHSAScoreZone IL High School Assn
#IHSA FB Pleasant Plains 55, Varna (Midland) [River Valley Coop] 12
2 days ago

IHSAScoreZone IL High School Assn
#IHSA FB Chicago (Collins Academy) 52, Chicago (C. Military Academy-Bronzeville) 6
2 days ago

IHSAScoreZone IL High School Assn
#IHSA FB Chicago (Westinghouse College Prep) 38, Chicago (Douglass) 18
2 days ago

IHSAScoreZone IL High School Assn
#IHSA FB Carrollton 61, Winchester [West Central Coop] 6
2 days ago

IHSAScoreZone IL High School Assn
#IHSA FB Chicago (Dunbar) 30, Chicago (Harper) 22
2 days ago

IHSAScoreZone IL High School Assn
#IHSA FB Kirkland (Hiawatha) 45, Arlington Heights (Christian Liberty Academy) [Coop] 0
2 days ago

IHSAScoreZone IL High School Assn
#IHSA FB Waukegan (H.S.) 47, Des Plaines (Maine West) 0
2 days ago

IHSAScoreZone IL High School Assn
#IHSA FB Elmhurst (IC Catholic) 35, Melrose Park (Walther Christian) 0
2 days ago

IHSAScoreZone IL High School Assn
#IHSA FB Chicago (Simeon) 14, Wheaton (North) 9
2 days ago

IHSAScoreZone IL High School Assn
#IHSA FB Chicago (DePaul College Prep) 25, Chicago (Hales Franciscan) 22
2 days ago

IHSAScoreZone IL High School Assn
#IHSA FB Glen Ellyn (Glenbard West) 38, Downers Grove (North) 0
2 days ago

IHSAScoreZone IL High School Assn
#IHSA FB Varna (Midland) [River Valley Coop] 55, Pleasant Plains 12
2 days ago

IHSAScoreZone IL High School Assn
#IHSA FB Chicago (Juarez) 26, Chicago (Hirsch) 8
2 days ago

IHSAScoreZone IL High School Assn
#IHSA FB Bolingbrook 56, Joliet (Central) 14
2 days ago

IHSAScoreZone IL High School Assn
#IHSA FB Flossmoor (Homewood-F.) 41, Joliet (West) 0
2 days ago

IHSAScoreZone IL High School Assn
#IHSA FB Rushville (R.-Industry) 34, Peoria Heights 20
2 days ago

IHSAScoreZone IL High School Assn
#IHSA FB Chicago (UCCS/Woodlawn) 13, Chicago (CICS/Longwood) 8
2 days ago

IHSAScoreZone IL High School Assn
#IHSA FB Wheaton (W. Warrenville South) 30, Chicago (Morgan Park) 6
2 days ago

IHSAScoreZone IL High School Assn
#IHSA FB Lawrenceville 41, Newton 28
2 days ago

IHSAScoreZone IL High School Assn
#IHSA FB West Chicago (Wheaton Academy) 36, River Grove (Guerin) 0
2 days ago

IHSAScoreZone IL High School Assn
#IHSA FB Waukegan (H.S.) 47, Des Plaines (Maine West) 0
2 days ago

IHSAScoreZone IL High School Assn
#IHSA FB Kirkland (Hiawatha) 45, Arlington Heights (Christian Liberty Academy) [Coop] 0
2 days ago

IHSAScoreZone IL High School Assn
#IHSA FB Elmhurst (IC Catholic) 35, Melrose Park (Walther Christian) 0
2 days ago

IHSAScoreZone IL High School Assn
#IHSA FB Chicago (South Shore International College Prep) 46, Chicago (Farragut) 0
2 days ago

IHSAScoreZone IL High School Assn
#IHSA FB Ottawa (Marquette) 34, Elgin (Westminster Christian) 8
2 days ago

IHSAScoreZone IL High School Assn
#IHSA FB Pleasant Plains 55, Varna (Midland) [River Valley Coop] 12
2 days ago

IHSAScoreZone IL High School Assn
#IHSA FB Bolingbrook 64, Joliet (Central) 14
2 days ago

IHSAScoreZone IL High School Assn
#IHSA FB Chicago (Noble Street Charter) 44, Chicago (Noble/Muchin) 16
2 days ago

IHSAScoreZone IL High School Assn
#IHSA FB Chicago Heights (Bloom Twp.) 23, Crystal Lake (South) 13
2 days ago

IHSAScoreZone IL High School Assn
#IHSA FB Park Forest (Rich East) 26, Chicago (C. Vocational) 6
2 days ago

IHSAScoreZone IL High School Assn
#IHSA FB LaGrange Park (Nazareth Academy) 52, Chicago (St. Patrick) 27
2 days ago

IHSAScoreZone IL High School Assn
#IHSA FB Chicago (Senn) 34, Chicago (Kelvyn Park) 0
2 days ago

IHSAScoreZone IL High School Assn
#IHSA FB Chicago (Noble/DRW Trading) 32, Chicago (Noble/Hansberry) 28
2 days ago