November, 24, 2010
11/24/10
11:30
PM CT
Naperville North senior linebacker
Nick Lifka
felt strange when a play ended without his presence this season.
Wherever the ball was, he believed he should be there, too.
"I feel like I need to get there or else something could happen," Lifka said. "It's more like I want to be there, so my teammates can see me. 'He's there every time.' It's like a leadership thing."
Fortunately for Lifka and his fellow Huskies, he didn't let them down often. With 168 tackles this season, the 6-2, 245-pound Likfa dominated the game unlike any other defensive player in the area, which is why he's the ESPNChicago.com Defensive Player of the Year.
[+] Enlarge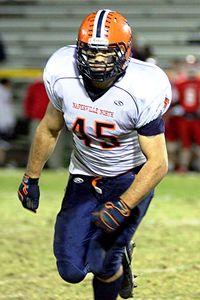 Scott Powers/ESPNChicago.comNaperville North linebacker Nick Lifka made 168 tackles this season.
Lifka was so successful at being one with the ball that his coaches even lost sight of what he was actually doing.
"When you watch the film, at the time, I felt bad for Nick," Naperville North coach Sean Drendel said. "We were like, 'Oh, he should have made that play', or 'He could have made that tackle,' and you look at the stat sheet and he has 17 tackles. Our expectations for him were outrageous. He's just a heck of a football player."
Lifka, a dominant linebacker throughout this career, had one area he wanted to work on this season. He led Naperville North in tackles the last three seasons, compiling 373 tackles in his career, but he'd never made an interception at the high school level.
Heading into the season, he had two interceptions in his entire football career. One when he was playing defensive line at an early age, and the other at linebacker in second grade.
Lifka concentrated this season on seeing the entire field, instead of just focusing on the one player he was covering on a particular play. His alteration led to an interception against Wheaton North and then another later in the playoffs against York.
"I have four interceptions in my career," Lifka said, laughing. "It was a good feeling to get two this season. It was one of my goals."
Lifka was better at breaking up the pass this season, but his strength continued to be tracking down the player with the ball and putting that person not so gently on the ground. There wasn't a game this season where he had less than 10 tackles. He had 18 against Glenbard North. Twice, he had 19.
All together, Lifka had 113 solo tackles, 55 assists, 13 tackles for loss, four sacks, three forced fumbles and three fumble recoveries.
"Obviously, his physical strength is quite visible," Drendel said. "More than anything, he has a great knack at getting off blocks and not getting blocked. He really smells the football. I don't know if that's taught or not. He's obviously played a lot of football and has a great ball sense."
Lifka credited his success this season to his growth in the mental aspect of the game as much as the physical one.
"My knowledge of football is growing," said Likfa, who will play at Boston College next season. "It's made it a lot easier. I'm noticing the little things in film and sort of picking them up in the game.
"I didn't notice it before, but I was a lot closer to the ball this year. I saw it on film compared to my sophomore and junior year. I don't want to sound self-confident or gloating, but it made me feel really good I could get to the ball like that."
Drendel expected nothing less.
"Anytime you have a three-year star, he has a full understanding of what we're trying to accomplish," Drendel said. "He has full understanding of what's in front of him and what's going to happen. I thought what he did this year was he had a greater knowledge of what the other team was doing.
"When you put those three things, you have a phenomenal season."
October, 29, 2010
10/29/10
12:26
AM CT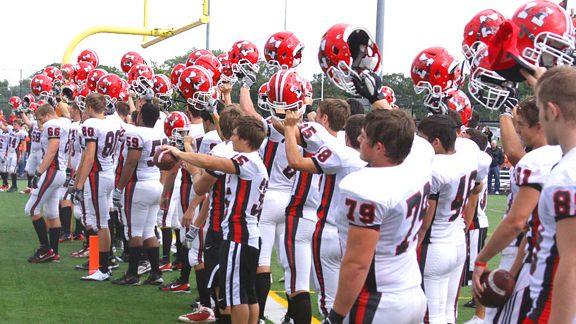 Scott Powers/ESPNChicago.com Maine South has won seven straight since dropping their first two games of the season.
There was little hope of winning the Class 8A state championship the past two years if your team name wasn't Maine South.
The Hawks possessed the state's best offensive weapon in 2008 (quarterback Charlie Goro) and 2009 (running back Matt Perez) and had plenty of talent around them to roll through their competition. Maine South went undefeated both years and won the state title in 2008 with a 41-21 win over Hinsdale Central and in 2009 with a 41-17 win over Marist.
In 2010, there's finally hope for everyone else. While Maine South is still a state contender, the Hawks aren't the same dominating team they were the past two seasons.
So who steps into the Hawks' place? It's up in the air. There are nearly a dozen teams capable of going all the way.
Here's a deeper look at Class 8A.
Best opening round game
No. 9 Naperville North at No. 8 Marist:
Both teams experienced similar seasons. They come from elite conferences. Both finished third behind highly-ranked teams. Both lost two close games. For Naperville North, it lost by seven points each to Glenbard North and Wheaton North and ended up third in the DuPage Valley. For Marist, it lost to Carmel and Joliet Catholic by a combined 11 points to take third in the East Suburban Catholic.
Top 10 Class 8A teams
1. Loyola (8-1):
Earned a share of the Catholic League title with upset of St. Rita
2. Glenbard North (8-1):
Only loss to Wheaton Warrenville South
3. Stevenson (9-0):
Finished regular season undefeated for second consecutive season
4. Lyons (8-1):
Earned a lot of respect with Week 9 win over Glenbard West
5. Mount Carmel (7-2):
Caravan roll into 25th consecutive playoff appearance
6. York (8-1):
Defeated Lyons during the regular season
7. Maine South (7-2):
Has won seven straight since rough start
8. Marist (6-3):
Experienced a few tough breaks this season
9. Naperville North (6-3):
One of the best defensive teams in the area
10. Downers Grove South (7-2):
Playing well after losing first two games of the season
Top 5 players to watch
1. Nick Lifka, SR, LB, Naperville North:
A Boston College recruit, he may be the state's best defensive player. He had 18 tackles against Glenbard North this season.
2. Malcolm Weaver, JR, QB, Loyola:
He has flourished in his first year starting for the Ramblers, throwing for almost 30 touchdowns.
3. Chris Sujka, SR, QB, Mount Carmel:
He operates the Caravan's option to perfection, breaking off runs of 50-plus yards nearly every game.
4. Stephen Salata, SR, WR, Stevenson:
He has been one of the area's top receivers this season with 100 yards receiving in almost every game.
5. Brian Bobek, SR, OL, Fremd:
At 6 foot 3 and 275 pounds, he is considered one of the nation's top offensive linemen and is committed to Ohio State.
Sleeper team
Fremd (5-4):
After being highly ranked to start the season, the Vikings dropped four of their first five games. With their backs against the wall, Fremd won its last four games, including a 26-12 victory over Barrington, and reached the playoffs for the 16th consecutive season. No one wants to face them right now.
Road for defending champions
Maine South began the season No. 1 in ESPNChicago.com's rankings. Young and inexperienced, the Hawks probably didn't deserve that ranking. There was an assumption that because they had won 28 consecutive games and back-to-back state titles that they would continue winning this season. They lost their first two games -- including a lopsided one to Wheaton Warrenville South -- and fell out of the rankings. Since then, Maine South has gained that needed experience and turned itself into a quality team. Led by sophomore quarterback Matt Alviti, the Hawks have won their last seven games all by 21 points or more and are heading into the playoffs with some momentum. They have the highest scoring average of all 8A teams with 40.4 points a game. Being a No. 4 seed, the road isn't easy, but it isn't impossible.
Fun fact
The Class 8A playoffs would like to welcome back Barrington, Bartlett, Brother Rice, Dunbar, Evanston, Homewood-Flossmoor, Neuqua Valley, Vocational, Whitney Young and York. All 10 teams missed the playoffs last season. Homewood-Flossmoor made the biggest turnaround from last year. After a 1-8 season in 2009, the Vikings were 7-2 this year.
Coaches' thoughts
Maine South coach David Inserra: "We must continue to take care of the ball offensively and generate the big play. Defensively, we must be able to defend the pass and provide field position for the offense. Mainly, we must keep doing what we have been doing for the last seven games -- play Hawk football and take care of ourselves. Hopefully, two years and 10 games of playoff experience for these seniors will help in the big picture of the playoffs -- high energy, intensity, focus -- that it takes to compete and survive."
Stevenson coach Bill McNamara:"Honestly, I think this can be a wide-open class. There are a lot of great football teams in 8A this year. You always have to take a close look at Maine South as the defending 8A champs. Their 7-2 record is very deceiving. Also, Loyola has had a very strong season. They are always a team that is very talented and well-coached. The Stevenson Patriots are looking forward to the IHSA state football playoffs. This is by far the best time of the year in high school athletics. Good luck to all the qualifying teams. Enjoy every moment."
Loyola coach John Holecek:"A Lyons-Mount Carmel quarterfinal likely will decide the South bracket. Stevenson-Maine South decides the semis with Glenbard North and us also as contenders. Fremd is playing extremely well and will be a good underdog."

State championship prediction: Loyola defeats Mount Carmel
October, 13, 2010
10/13/10
1:55
AM CT
Wheaton Warrenville South quarterback Reilly O'Toole has yet to have an off night through seven weeks.

With only a few games remaining, the ESPNChicago.com High School Football Player of the Year award is O'Toole's to lose. Either he'll need to have a really poor game or someone will need a really great one for that to change.

The number of candidates was cut down to 11 this week.

1. Wheaton Warrrenville South senior quarterback Reilly O'Toole (previously ranked No. 1)

Last week: O'Toole only needed to play one half in Wheaton Warrenville South's 56-0 win over West Chicago. He completed 8-of-9 passes for 145 yards and four touchdowns. Wheaton Warrenville South improved to 7-0.

Season: 79-of-107 passing for 1,518 yards, 23 touchdowns and one interception; two rushing touchdowns.

2. Vernon Hills senior wide receiver DaVaris Daniels (3)

Last week: Daniels' 86-yard punt-return touchdown against Grant was one of the more electrifying plays of his season. According to Vernon Hills coach Tony Monken, Daniels made 10 or 11 guys miss, and a couple of those missed a few times. Daniels also had four tackles, one forced fumble, one reception for 13 yards and 12 rushing yards on three carries.

Season: 4-of-6 passing for 71 yards and one touchdown; 11 receptions for 290 yards and four touchdowns; 258 rushing yards and six touchdowns; two punt return touchdowns; three interceptions and two defensive touchdowns.

3. Plainfield North senior running back Kapri Bibbs (2)

Last week: Bibbs was slowed down -- at least for his standards -- in Plainfield North's 35-34 loss to Minooka. He rushed for 198 yards and three touchdowns on 32 carries. Plainfield North fell to 5-2.

Season: 1,887 rushing yards and 29 touchdowns on 190 carries.

4. Elk Grove senior quarterback Nick Meyer (5)

Last week: Meyer was 18-of-20 for 225 yards and two touchdowns and ran for 71 yards and two touchdowns on 27 carries in Elk Grove's 28-13 win over Hersey. The Grenadiers improved to 6-1.

Season: 118-of-193 passing for 1,553 yards and 15 touchdowns; 679 yards and 11 touchdowns on 114 carries.

5. Naperville North senior linebacker Nick Lifka (4)

Last week: Lifka was his usual defensive beast in Naperville North's 49-21 win over Glenbard East on Friday. Lifka had 11 tackles to lead the Huskies. Naperville North improved to 5-2.

Season: 88 tackles, eight tackles for a loss, three sacks, four forced fumbles and one fumble recovery.

6. Simeon junior quarterback Robert Gregory (6)

Last week: Gregory was very efficient in Simeon's 55-6 win over Lincoln Park on Saturday. He completed 2-of-2 passes for 79 yards and ran for 63 yards and three touchdowns on seven carries. The Wolverines improved to 7-0.

Season: 41-of-71 passing for 787 yards and 10 touchdowns; 674 rushing yards and 16 touchdowns.

7. Schaumburg senior running back Shepard Little (7)

Last week: Little, the ESPNChicago.com Prep Athlete of the Week, rushed for 99 yards and four touchdowns on 12 carries in Schaumburg's 42-21 win over Conant. The Saxons improved to 5-2.

Season: 1,274 yards and 16 touchdowns on 155 carries; two receiving touchdowns.

8. Joliet Catholic senior running back Josh Ferguson (10)

Last week: Ferguson ran wild again. He scored three touchdowns, including an 80-yarder, in the Hilltoppers' 73-27 win over St. Patrick. Joliet Catholic improved to 6-1.

Season: 929 rushing yards and 15 touchdowns on 74 carries.

9. Lake Zurich senior running back Jacob Brinlee (9)

Last week: Brinlee scored one of his team's two touchdowns in a 14-0 win over Warren on Saturday. He finished with 114 rushing yards and one touchdown on 14 carries. Lake Zurich improved to 6-1.

Season: 949 rushing yards and 11 touchdowns on 90 carries; one receiving touchdown.

10. Loyola junior quarterback Malcolm Weaver (12)

Last week: Weaver completed 13-of-22 passes for 151 yards and two touchdowns in Loyola's 45-7 win over Fenwick. The Ramblers improved to 6-1.

Season: 97-of-172 passing for 1,513 yards and 22 touchdowns.

11. St. Rita senior running back Jahwon Akui (13)

Last week: Akui rushed for 195 yards and a touchdown on 34 carries in St. Rita's 31-19 win over Providence. The Mustangs improved to 7-0.

Season: 917 rushing yards and 11 touchdowns on 186 carries.
August, 20, 2010
8/20/10
7:43
PM CT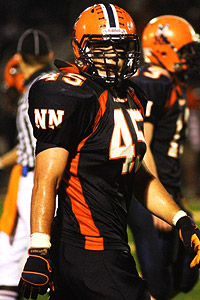 Scott Powers/ESPNChicago.comBoston College recruit Nick Lifka should have a bigger impact at linebacker this season because he won't be playing offense.
No. 10 Naperville North

Last season:
5-5 overall, 3-4 DuPage Valley, eliminated in 8A first round.
Season ahead:
What happened last year?
It's the question Naperville North has had to answer multiple times since going 5-5 last year. They had won a state championship in 2007 and went undefeated in 2008. The Huskies had the makings of another great team in 2009. They had Division I-caliber players, size and depth.
Unfortunately, they weren't injury proof.
"More than anything, I don't like to make excuses, but we had a lot of injuries, a lot we weren't accustomed to," said first-year coach Sean Drendel, who was a varsity assistant. "We are a big school, but anytime you lose 10 linemen up front it takes a big hit on your program and especially in our conference. As the year went on, people saw our vulnerability."
Entering the 2010 season, Naperville North has a lot of similarities to its 2009 team. The Huskies again look as if they could contend for state. This year, they just hope to stay away from the injuries.
Offensively, Naperville North's backfield is stacked. Senior running backs Antonio Owens and Nick Sianta are back. Juniors Danny Pukaitis and Raheem Martin should make an impact as well.
"We have three positions for running backs, and we'll rotate 6-9 guys in those positions," Drendel said. "We'll create proper match-ups and give them the ball in what they excel at the most. There will be more situational substitutes, which is not something we've done in the past."
The Huskies will have size on its line with the linemen averaging around 250 pounds. David Meyerhoff and Soern Osborne are returning starters. Quarterback Matt LaCosse, who is committed
to Minnesota as a tight end, also is returning and is expected to be the team's leader this season.
The team's depth in the backfield will allow linebacker Nick Lifka, who is committed to Boston College, to concentrate solely on defense. He played fullback as well last year. Defensive linemen Pat Meath and Brandon Williamson also return. Nick Krejci and Anthony Panagos have both moved to the defense after being offensive line starters last season.
Player to watch: Nick Lifka was one of the state's most dominant linebackers last year while also playing fullback. Watch for his numbers to increase now as he'll only be playing defense.
Newcomer to watch: Junior running backs Danny Pukaitis and Raheem Martin.
Key game: Sept. 24 at Wheaton Warrenville South -- The Tigers are still the team to go through in the DuPage Valley. Naperville North could make a large statement with a win at Wheaton Warrenville South.
What they're saying: "Anytime you have a year that doesn't reach your standards, everyone is motivated," Naperville North coach Sean Drendel said. "As coaches, it's motivated us to work a little bit harder and get our hands a little dirtier than we have before. It was kind of a wake-up call for us. I don't think we're doing anything differently, but it motivates you a little bit more."