High School:

Norm Van Lier
May, 4, 2012
5/04/12
10:19
AM CT
Even though Hillcrest senior Jayon'e Troutman witnessed Ryan Royall killed by a stray bullet in June of 2011, it took Troutman months to realize his close friend and high school basketball teammate was truly gone.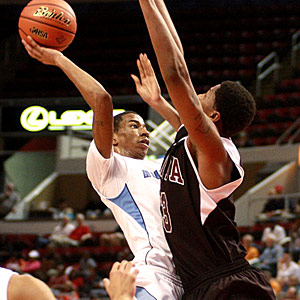 Scott Powers/ESPNChicago.comJayon'e Troutman will wear No. 30 at Southwestern Baptist University in Missouri next season to honor the memory of his friend Ryan Royall.
"I was in disbelief for two months," Troutman said on Thursday. "I couldn't believe it."
Nearly a year has passed since Royall's death, but Troutman hasn't forgotten Royall. Troutman's mission is to keep his friend's memory alive, and the Chicago United Hoops Classic, an annual Chicago-area all-star game, will help his cause on Saturday.
All of the game's participants, which include Troutman, are required to sign the Norm Van Lier Scholarship Fund non-violence pledge, a 125-word document vowing to avoid fighting with weapons, fists or language and declare, "The violence stops with me."
"Norman could not stand the fact that so many kids were in harm's way in their own neighborhoods where bullets fly frequently," said Susan Van Lier, the wife of the late Norm Van Lier, a former Chicago Bulls player and television commentator. "We are trying to create a new generation of leaders who believe violence should be eliminated."
The game will be held at the University of Chicago's Gerald Ratner Athletic Center at 3 p.m. on Saturday. The annual game is a primary funding source for the Norm Van Lier Scholarship Fund.
April, 28, 2011
4/28/11
9:06
PM CT
CHICAGO -- While the basketball world can debate the Chicago Bulls' chances to win the Eastern Conference and Derrick Rose's worthiness as Most Valuable Player, there is no question where Rose and the Bulls stand in Chicago.
Read the entire story.
ABOUT THIS BLOG

Scott Powers
Scott Powers is an award-winning journalist and has been reporting on preps, colleges and pros for publications throughout the Midwest since 1997.
2015 TOP ILLINOIS FOOTBALL RECRUITS
BLOG ARCHIVE:
CATEGORIES:
IHSAScoreZone IL High School Assn
#IHSA BKB/1A Chicago (Luther North) 50, Chicago (Ida Crown) 42
38 minutes ago

IHSAScoreZone IL High School Assn
#IHSA BKG/2A Kankakee (McNamara) 55, Breese (Central) 51
42 minutes ago

IHSAScoreZone IL High School Assn
#IHSA BKG/2A Bloomington (Central Catholic) 51, Elmhurst (IC Catholic) 29
about 2 hours ago

IHSAScoreZone IL High School Assn
#IHSA WR/3A Oak Park (O.P.-River Forest) 39, Orland Park (Sandburg) 16
about 2 hours ago

IHSAScoreZone IL High School Assn
#IHSA WR/2A Lombard (Montini) 34, Washington 25
about 2 hours ago

IHSAScoreZone IL High School Assn
#IHSA WR/2A Oak Forest 32, Crystal Lake (Central) 23
about 2 hours ago

IHSAScoreZone IL High School Assn
#IHSA WR/3A Carol Stream (Glenbard North) 42, Lockport (Twp.) 24
about 3 hours ago

IHSAScoreZone IL High School Assn
#IHSA WR/1A Dakota [Coop] 57, Aledo (Mercer County) 12
about 3 hours ago

IHSAScoreZone IL High School Assn
#IHSA WR/1A Coal City 40, Gibson City (G.C.-Melvin-Sibley) [Coop] 31
about 3 hours ago

IHSAScoreZone IL High School Assn
#IHSA WR/2A Washington 33, Oak Forest 28
about 7 hours ago

IHSAScoreZone IL High School Assn
#IHSA BKG/1A Moweaqua (Central A & M) 51, Hardin (Calhoun) 41
about 7 hours ago

IHSAScoreZone IL High School Assn
#IHSA WR/3A Orland Park (Sandburg) 34, Carol Stream (Glenbard North) 24
about 7 hours ago

IHSAScoreZone IL High School Assn
#IHSA WR/2A Lombard (Montini) 41, Crystal Lake (Central) 29
about 7 hours ago

IHSAScoreZone IL High School Assn
#IHSA WR/1A Dakota [Coop] 56, Coal City 16
about 7 hours ago

IHSAScoreZone IL High School Assn
#IHSA WR/3A Oak Park (O.P.-River Forest) 51, Lockport (Twp.) 21
about 7 hours ago

IHSAScoreZone IL High School Assn
#IHSA WR/1A Aledo (Mercer County) 36, Gibson City (G.C.-Melvin-Sibley) [Coop] 30
about 7 hours ago

IHSAScoreZone IL High School Assn
#IHSA BKG/1A Prophetstown 45, Gilman (Iroquois West) 28
about 9 hours ago

IHSAScoreZone IL High School Assn
#IHSA WR/3A Oak Park (O.P.-River Forest) 46, Aurora (Marmion Academy) 18
about 9 hours ago

IHSAScoreZone IL High School Assn
#IHSA WR/3A Lockport (Twp.) 33, Deerfield 30
about 9 hours ago

IHSAScoreZone IL High School Assn
#IHSA WR/2A Crystal Lake (Central) 41, Lemont (H.S.) 23
about 10 hours ago

IHSAScoreZone IL High School Assn
#IHSA WR/2A Lombard (Montini) 47, Carbondale (H.S.) 24
about 10 hours ago

IHSAScoreZone IL High School Assn
#IHSA WR/1A Coal City 45, Vandalia 24
about 10 hours ago

IHSAScoreZone IL High School Assn
#IHSA WR/1A Dakota [Coop] 70, Melrose Park (Walther Christian) 11
about 10 hours ago

IHSAScoreZone IL High School Assn
#IHSA WR/3A Carol Stream (Glenbard North) 42, Mt. Prospect (Prospect) 19
about 12 hours ago

IHSAScoreZone IL High School Assn
#IHSA WR/1A Aledo (Mercer County) 36, Herscher 29
about 12 hours ago

IHSAScoreZone IL High School Assn
#IHSA WR/2A Oak Forest 49, Troy (Triad) 12
about 12 hours ago

IHSAScoreZone IL High School Assn
#IHSA WR/3A Orland Park (Sandburg) 55, New Lenox (Lincoln-Way Central) 12
about 12 hours ago

IHSAScoreZone IL High School Assn
#IHSA WR/2A Washington 36, Geneseo 30
about 12 hours ago

IHSAScoreZone IL High School Assn
#IHSA WR/1A Gibson City (G.C.-Melvin-Sibley) [Coop] 34, Shelbyville 29
about 12 hours ago

IHSAScoreZone IL High School Assn
#IHSA BKB/2A Robinson 65, Mt. Carmel 56
2 days ago

IHSAScoreZone IL High School Assn
#IHSA BKB/1A LeRoy 52, Farmer City (Blue Ridge) 43
2 days ago

IHSAScoreZone IL High School Assn
#IHSA BKG/4A Edwardsville (H.S.) 53, Rock Island (H.S.) 51
2 days ago

IHSAScoreZone IL High School Assn
#IHSA BKB/1A Colfax (Ridgeview) 85, Normal (Calvary Christian Academy) 40
2 days ago

IHSAScoreZone IL High School Assn
#IHSA BKB/2A Niles (Northridge Prep) 49, Chicago (C. Math and Science Charter) 16
2 days ago

IHSAScoreZone IL High School Assn
#IHSA BKB/1A Brimfield 61, Elmwood 43
2 days ago

IHSAScoreZone IL High School Assn
#IHSA BKB/1A Peoria (P. Christian) 61, Delavan 51
2 days ago

IHSAScoreZone IL High School Assn
#IHSA BKG/3A Richton Park (Rich South) 62, Joliet (Catholic Academy) 56
2 days ago

IHSAScoreZone IL High School Assn
#IHSA BKB/1A Dwight 62, Gardner (G.-South Wilmington) 55
2 days ago

IHSAScoreZone IL High School Assn
#IHSA BKB/2A Roxana 57, Gillespie 47
2 days ago

IHSAScoreZone IL High School Assn
#IHSA BKG/4A Flossmoor (Homewood-F.) 62, Chicago Heights (Marian) 51
2 days ago

IHSAScoreZone IL High School Assn
#IHSA BKG/3A Antioch 58, North Chicago 43
2 days ago

IHSAScoreZone IL High School Assn
#IHSA BKG/3A Rochester 40, Normal (University) 39
2 days ago

IHSAScoreZone IL High School Assn
#IHSA BKG/3A Chicago (Bogan) 67, Chicago (South Shore International College Prep) 56
2 days ago

IHSAScoreZone IL High School Assn
#IHSA BKG/3A Rockford (Lutheran) 41, Aurora (Rosary) 29
2 days ago

IHSAScoreZone IL High School Assn
#IHSA BKG/3A Normal (University) 40, Rochester 39
2 days ago

IHSAScoreZone IL High School Assn
#IHSA BKG/4A Huntley 37, Rockford (Boylan Catholic) 33
2 days ago

IHSAScoreZone IL High School Assn
#IHSA BKG/4A Geneva 64, St. Charles (East) 39
2 days ago

IHSAScoreZone IL High School Assn
#IHSA BKB/2A Hillsboro 48, Litchfield 41
2 days ago

IHSAScoreZone IL High School Assn
#IHSA BKG/4A River Forest (Trinity) 37, Chicago (Whitney Young) 36
2 days ago

IHSAScoreZone IL High School Assn
#IHSA BKG/4A Winnetka (New Trier) 41, Evanston (Twp.) 39
2 days ago

IHSAScoreZone IL High School Assn
#IHSA BKB/1A Patoka 48, Centralia (Christ Our Rock Lutheran) 45
2 days ago

IHSAScoreZone IL High School Assn
#IHSA BKG/3A Metropolis (Massac County) 36, Bethalto (Civic Memorial) 31
2 days ago

IHSAScoreZone IL High School Assn
#IHSA BKG/4A Lisle (Benet Academy) 87, Oswego (H.S.) 60
2 days ago

IHSAScoreZone IL High School Assn
#IHSA BKG/4A Palatine (Fremd) 50, Arlington Heights (Hersey) 29
2 days ago

IHSAScoreZone IL High School Assn
#IHSA BKG/3A Morton 47, Galesburg (H.S.) 44
2 days ago

IHSAScoreZone IL High School Assn
#IHSA BKG/3A Lombard (Montini) 54, Chicago (Marshall) 45
2 days ago

IHSAScoreZone IL High School Assn
#IHSA BKB/2A Lawrenceville 78, Flora 55
2 days ago

IHSAScoreZone IL High School Assn
#IHSA BKB/1A Cissna Park 40, Fisher 32
3 days ago

IHSAScoreZone IL High School Assn
#IHSA BKB/1A Rockford (Christian Life) 88, Hebron (Alden-H.) 68
3 days ago

IHSAScoreZone IL High School Assn
#IHSA BKB/1A South Beloit 44, Pecatonica 41
3 days ago

IHSAScoreZone IL High School Assn
#IHSA BKB/1A Campbell Hill (Trico) 66, Goreville 58
3 days ago

IHSAScoreZone IL High School Assn
#IHSA BKB/1A Moweaqua (Central A & M) 65, Bethany (Okaw Valley) 61
3 days ago

IHSAScoreZone IL High School Assn
#IHSA BKB/2A Chicago (Leo) 79, Chicago (Richards) 52
3 days ago

IHSAScoreZone IL High School Assn
#IHSA BKB/2A Chicago (Harper) 56, Chicago (CICS/Ellison) 36
3 days ago

IHSAScoreZone IL High School Assn
#IHSA BKB/2A Chicago (Collins Academy) 53, Chicago (Tilden) 49
3 days ago

IHSAScoreZone IL High School Assn
#IHSA BKB/2A Chicago (Hales Franciscan) 86, Chicago (C. Tech Academy Charter) 38
3 days ago

IHSAScoreZone IL High School Assn
#IHSA BKB/2A Chicago (John Hope) 53, Chicago (TEAM Englewood) 28
3 days ago

IHSAScoreZone IL High School Assn
#IHSA BKB/2A West Frankfort (Frankfort) 59, Anna (A.-Jonesboro) 50
3 days ago

IHSAScoreZone IL High School Assn
#IHSA BKB/2A Carterville 60, Benton 35
3 days ago

IHSAScoreZone IL High School Assn
#IHSA BKB/1A St. Anne 76, Cullom (Tri-Point) 56
3 days ago

IHSAScoreZone IL High School Assn
#IHSA BKB/1A Chicago (Ida Crown) 50, Arlington Heights (Christian Liberty Academy) [Coop] 44
3 days ago

IHSAScoreZone IL High School Assn
#IHSA BKB/1A Chicago (Luther North) 73, Chicago (St. Benedict) 51
3 days ago

IHSAScoreZone IL High School Assn
#IHSA BKB/2A Fairfield 58, Carmi (C.-White County) 49
3 days ago

IHSAScoreZone IL High School Assn
#IHSA BKB/1A White Hall (North Greene) 55, Winchester [Coop] 45
3 days ago

IHSAScoreZone IL High School Assn
#IHSA BKB/2A Pleasant Plains 58, Riverton 46
3 days ago