February, 13, 2013
2/13/13
1:48
PM CT
Watch Simeon take on Morgan Park in a Public League semifinal at 5 p.m. CT Wednesday at Chicago State followed by Orr vs. Whitney Young at 7 p.m. Click
here
to watch the games live.
February, 27, 2012
2/27/12
9:30
PM CT
As the IHSA playoffs kick off, Simeon and Proviso East remained the top teams in ESPNChicago.com's boys basketball rankings.
Read the full story.
February, 1, 2012
2/01/12
8:39
PM CT
Here are five high school basketball thoughts for your Wednesday:
1. It's undoubtedly hard to go undefeated for an entire regular season: Andrew fell from the unbeaten ranks Tuesday when it was upset by Thornton on a buzzer-beating shot. Proviso East remains as the area's only unbeaten team. Proviso East's greatest challenges will likely come on Feb. 17 and 18 when the Pirates faces Downers Grove South and Warren on back-to-back nights. It is impressive how many one-loss teams there are this season. That list includes Simeon, Curie, Plainfield East, Metea Valley and now Andrew.
2. Speaking of Andrew, it'll likely fall a bit from the rankings after its only loss: The Thunderbolts had put together a nice run of 16 consecutive wins, but their schedule hasn't exactly been demanding. They looked as if they might run the table after defeating Thornwood on Sunday, but Thornton had other ideas. Andrew's overall profile took a hit with the loss.
[+] Enlarge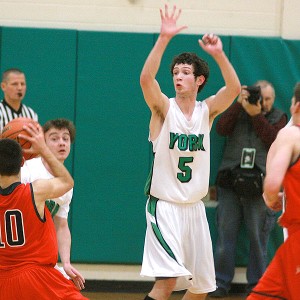 Scott Powers for ESPNChicago.comDavid Cohn and York are on a 10-game win streak.
3. Since the holidays, York has been one of the area's hottest teams: The Dukes have won 10 straight game, and junior star guard David Cohn has been a big reason for that. Among his feats, he scored 47 points on 13-of-17 shooting in a 75-64 win over Hinsdale Central recently.
4: The Catholic League has taken its lumps the last few weeks: First, De La Salle and St. Rita were upset last week. On Tuesday, St. Ignatius was the next top-ranked Catholic League team to fall. The Wolfpack were upset by Leo on Tuesday. It's hard to gauge the Catholic League right now.
5. The Red-West is still a mess at the top: Marshall, Orr and Farragut all have 7-2 records right now. Whitney Young could join them at the top if the Dolphins defeat Crane later this week. All four teams could make some noise come Public League and state playoff time.
January, 9, 2012
1/09/12
6:29
PM CT
Thirty-two schools had their IHSA membership suspended Monday due to failing to attend a principals' rules meeting for two consecutive years.

The list includes 26 schools from the Chicago area, most notably Julian, Morgan Park, North Lawndale and Orr.

The IHSA has invited all the schools to attend a make-up meeting on Thursday. Whichever schools do not attend Thursday's meeting will be banned from postseason play for one year.

The other schools suspended are Brussels, Academy of Scholastic Achievement, ACE Tech Charter, Math and Science Charter, Talent Development Charter, CICS/Larry Hawkins Charter, Clemente, Dunbar, EPIC Academy Charter, Fenger, Hirsch, Kenwood, Las Casas, Robeson, Schurz, Senn, South Shore, St. Francis de Sales, (UCCS/Woodlawn, Chicago Westinghouse College Prep, Harvest Christian Academy, Grayville, Hardin Calhoun, Ridgewood, Orangeville, Christ Lutheran Academy, Rockford Lutheran and Virginia.
January, 1, 2012
1/01/12
3:52
PM CT
How good is Chicago basketball right now?
From an individual player's standpoint, there's no denying Chicago is the premier hotbed for underclassmen right now. Simeon's
Jabari Parker
is the No. 1 junior in the country. Whitney Young sophomore
Jahlil Okafor
and Curie sophomore
Cliff Alexander
are two of the most desirable big men in the country.
There are plenty of other high-major prospects in the 2013, 2014 and 2015 classes.
But from a team perspective, how is Chicago matching up with the country? The best way to measure that is when Chicago teams match up against out-of-state opponents.
Simeon is the No. 1 team in the country, and no one has been able to prove otherwise in or out of state. The undefeated Wolverines have played one out-of-state opponent and have a few more upcoming national games.
Outside of Simeon, though, Chicago hasn't fared well against teams from outside Illinois, and that was especially true during the holidays. Six Chicago teams traveled to different parts of the country for tournaments, and only two of them returned with a winning record.
Whitney Young coach Tyrone Slaughter continued his massive national schedule, taking the Dolphins to the Beach Ball Classic in South Carolina. The Dolphins had the most impressive win of the six teams, defeating nationally-ranked No. 5 Prestonwood Christian from Texas, but finished 2-2 in the tournament. They ended up in sixth place after losing by 33 points to Bishop Gorman, another nationally-ranked team. Their other win was against Lexington from South Carolina and their other loss was against Lone Peak from Utah. Lexington is not ranked nationally or regionally by ESPN, and Lone Peak is ranked No. 5 in the West Region.


St. Rita coach Gary DeCesare took the Mustangs, who were ranked No. 18 in the area last week, to his old New York stomping grounds and went 1-2 against East Coast competition. They lost to New York's Mount Vernon and Christ the King. Mount Vernon is ranked No. 21 nationally, and Christ the King is No. 13 in the East Region. Their lone win was over Dixie Heights, which is not ranked.


Hyde Park, which was ranked No. 9 in the area last week, went to the Detroit Roundball Classic and finished 1-2. The Thunderbirds lost to Detroit Consortium, which is ranked No. 10 in the Midwest, and Romulus, which is not ranked. They defeated Lansing Eastern, which is also not ranked.


Orr also played in the Detroit Roundball Classic and went 3-0. It defeated Detroit Country Day, Detroit Central Catholic and Ottawa Hills. None of the teams were ranked regionally.


Marshall traveled to Normandy, Mo. for a tournament. Marshall lost in the semifinals to Memphis Ridgeway by 30 points and finished in fourth place with a 2-2 record. Ridgeway is ranked No. 19 in the country. The Commandos defeated Ridgeway Tech and Cardinal Ritter and also lost to Memphis Melrose. None of those teams are regionally ranked.


Foreman also competed at Normandy. The Hornets lost in the quarterfinals to Memphis Melrose, which finished in third place, and went on to take fifth place with a 3-1 record. There three wins were over Missouri teams, none of which are ranked regionally.

Overall, Chicago's teams played respectably in each out-of-state tournament, but it's hard to say Chicago deserves numerous nationally-ranked teams right now outside of Simeon and possibly Curie. From the suburbs, Proviso East deserves to be nationally ranked and currently is at No. 47.
December, 21, 2011
12/21/11
6:34
PM CT
Here are five thoughts on the high school boys basketball scene for your Wednesday afternoon.
1. The early scholarship offer trend is getting way out of hand: It's been ridiculous for a while, but an offer the other day reminded me of that. Cal Poly recently became the first school to offer Simeon freshman D.J. Williams. Nothing against Cal Poly -- I'm not that familiar with the program -- but why does it need to be offering a freshman who hasn't even played varsity basketball yet? I don't see the point. If Williams is as good as projected, he'll land way out of Cal Poly's league. If he doesn't pan out, does Cal Poly need to be offering low- to mid-major players as freshmen to secure them? Maybe the offer was given to attract publicity. If so, mission accomplished. I'm writing about Cal Poly for the first time.
2. There's a good chance Thursday's Simeon-Whitney Young contest could be a one-sided game in front of an empty house: Simeon has lived up to the hype so far as the No. 1 team in the country and has only gotten better with the return of point guard Jelani Neely from injury. Whitney Young fell out of ESPNChicago's rankings after losing to Orr 45-29 last week. Orr turned around and lost to Farragut this week. Whitney Young was without Tommy Hamilton Jr., Jermaine Morgan and Jordan Smith due to injuries, but it will be without at least Hamilton Jr. for the Simeon game as well. Whitney Young, especially its guards, will have to step it up Thursday if it's going to compete with Simeon. As for Thursday's attendance, the price tag of $15 and $33 for seats through Ticketmaster and the fact the game was moved from its original date could lead to a small crowd.
3. The location for the City-Suburban Showdown is still up in the air: It is supposed to be played at the UIC Pavilion on Feb. 18, but promoter Bob Rylko and UIC athletic director Jim Schmidt are awaiting word from the NCAA whether the event can be held at the UIC. The NCAA has been enforcing a rule this season that non-scholastic events can't be held at Division I facilities. Every similar event around the country has had to move to another location. People may want to hold off buying tickets until the location is finalized.
4. Jabari Parker needed only 21 minutes to do something no Simeon player had done: His 40-point, 21-minute performance against Perspectives-Calumet on Monday was the most points ever by a Simeon player in a game. Parker eclipsed Tim Flowers' record of 35 points.
5. Outside of Jabari Parker, the players who have been the most impressive in the area so far haven't been the nationally-ranked ones: Crane's Willie Conner, St. Rita's Tony Hicks, Andrew's Jubril Adekoya, Bloom's Donald Moore, New Trier's Connor Boehm and Curie's Devin Foster are among those who have been the most consistent so far this season.
February, 8, 2011
2/08/11
1:28
AM CT
The IHSA announced Monday it will permit Orr and Henry Ford Power House Charter to participate in the state playoffs after attending a recent make-up meeting for the schools' principals.
The IHSA had ruled on Jan. 27 that the two Chicago-based schools, along with Academy of Scholastic Achievement, Best Practice, Las Casas, Christ Luther Academy in Plainfield and Rockford's Our Lady of the Sacred Heart, were suspended from state series playoffs after their principals failed to attend a mandatory rules meeting for a second consecutive year.
The principals for the other five penalized schools did not attend last week's special meeting and are still suspended for the remainder of the school year.
Orr's boys basketball team will likely benefit the most from its school's readmission. The Spartans are considered to be a Class 3A state contender behind the play of Illinois recruit
Mycheal Henry
and Ball State recruit C.J. Jones.
January, 27, 2011
1/27/11
4:54
PM CT
[+] Enlarge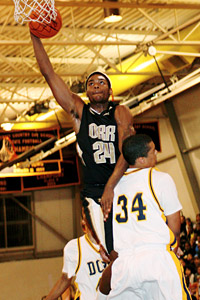 Paul SnyderMycheal Henry may not get an opportunity to win state this year because of Orr's suspension.
Seven high schools, including six from the Chicago area, were suspended from all state series by the IHSA on Thursday after their principals failed to attend an annual mandatory rules meeting for a second consecutive year.
The list includes Chicago-based schools Orr, Academy of Scholastic Achievement, Best Practice, Henry Ford Power House Charter and Las Casas, Christ Luther Academy in Plainfield and Rockford's Our Lady of the Sacred Heart.
The principals missed the originally scheduled meeting in November and failed to show up for a pair of make-up meetings at the IHSA's office earlier this month.
"It is always disappointing when students are punished for the failure of adults to take care of responsibilities," IHSA executive director Marty Hickman said. "We value the time of the administrators at all of our member schools and want them to be in their buildings as much as possible. Thus, we wouldn't conduct these meetings if we didn't believe they were vital to educating our schools on recent and forthcoming rule changes, many of which directly impact how they maintain their compliance within the IHSA."
Orr's boys basketball team was one of the squads hit the hardest by the suspension. Orr was considered a Class 3A contender with Illinois recruit Mycheal Henry and Ball State recruit C.J. Jones.
Orr coach Lou Adams hoped there was a chance to fix the problem.
"We're requesting a special meeting," Adams said. "I don't think [our principal] knew about it. He's from Memphis. There are schools within schools here. We hope to rectify it now. I'm just the coach. I had no idea about it.
"We've worked so hard and want to go to state. We got a real chance to get to state."
Hickman said Orr hadn't set up a meeting as of 11 a.m. Thursday. He also said he'd be surprised if Orr hadn't received the IHSA's previous letters.
"Anything's possible, but we have well-documented history of notifications to the school about the situations," Hickman said. "It's the same place we sent the letter they would have just gotten. It's their responsibility to go to these meeting. We'll try to accommodate an additional meeting, but I can tell you that it's not set up or approved. Their situation is they're suspended, and they're not eligible to be in any varsity tournaments. That could change."
Messages left for Orr principal Jammie Poole Jr. and Best Practice principal Stephen Parker were not returned immediately.