High School:

Peoria Central
March, 20, 2012
3/20/12
10:05
PM CT
Class 3A state champion Peoria Central believes it can defeat Simeon.
Class 4A state champion Simeon believes it can defeat Peoria Central.
Who's right? We'll never know.
[+] Enlarge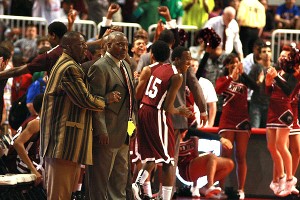 Scott Powers/ESPNChicago.comPeoria Central celebrates its win in the Class 3A championship game.
Peoria Central and Simeon never played during the 2011-12 regular season and did not meet in the state playoffs because they were in different classes. Prior to the IHSA going to four classes in the 2007-08 season, the two teams would have met in Class AA and could have decided it on the court.
"It is one of the pitfalls," Peoria Central coach Dan Ruffin said of the four-class system on Tuesday. "The question still comes up, 'Are you still seeing the best Illinois has to offer with the system we have with the classes divided up. Are we giving the best teams an opportunity to perform at state?'"
Simeon coach Robert Smith went through a similar debate in 2010 when Hillcrest won the Class 3A state championship and Simeon won the Class 4A state title.
"I guess that's why some people like only the two classes, so you can figure it out and everybody can play everyone," Smith said. "I don't think they had that many debates when it was A and AA."
Smith does believe the two best teams in Illinois played for a state championship this year with his Wolverines facing Proviso East in the Class 4A title game. Simeon was ranked No. 1 the entire season and didn't lose to an in-state team. Proviso East was ranked No. 2 and was undefeated before losing to Simeon 50-48 in Peoria on Saturday.
"It's not even close who the best team in the state is," Smith said. "The best two teams in the state played and [other teams weren't] close."
Ruffin, whose team went 28-3 this season, disagrees with Smith. Ruffin believes Peoria Central could beat Simeon. Peoria Central defeated Hillcrest and North Chicago, two Chicago-area teams, on its way to the Class 3A state championship over the weekend.
"Do I think we could give them a game? That's funny," Ruffin said. "I think we would be able to hold on, and we could really probably beat them as often as they could beat us. I think we match up well.
"I think our guards are better. We have big men who can guard their big men. They don't have a big advantage there.
Jabari [Parker
], we have someone who could guard him on the floor and when he comes to the basket. We're going to bring some problems to them because they don't handle pressure well."
Although Peoria Central and Simeon can't determine which team is better this season, both would like the IHSA consider a way of doing so in the future.
"Maybe there could be something where the state champions play each other?" Smith said. "Maybe the second-place teams play each other, too? There wouldn't be a problem with that."
Ruffin did agree with Smith on that.
"That would be a great idea," Ruffin said. "What teams are best? You'll know. Bring all your champions together, and that would be a great weekend. That's another weekend the IHSA could make some money. It would be the tournament of champions."
March, 17, 2012
3/17/12
8:59
PM CT
PEORIA, Ill. --
UIC
coach Howard Moore, a former Chicago prep star, expressed his displeasure with four-class Illinois high school basketball during the state tournament on Saturday.
Moore graduated from Taft in 1990, and his high school career was played when the state only had two classes. The IHSA expanded basketball to four classes during the 2007-08 season.
"I'm not a fan of four classes," said Moore, who attended the state tournament on Friday and Saturday. "I just think it really takes away from the strength of the state. When you split everyone up and dissect the talent and make different classes play against one other, I just think it really dilutes what we got in our state. I think it takes away from some of the natural rivalries and matchups that you would historically see."
Moore watched in the front row of Carver Arena as Peoria Central defeated North Chicago in the Class 3A state championship on Saturday afternoon. Despite its state title, Peoria Central will likely still be considered to rank behind Class 4A finalists Simeon and Proviso East.
Moore was disappointed Peoria Central wouldn't have the opportunity to prove whether it was better than the two Class 4A teams. Peoria Central had won three previous state titles in the two-class system.
"I just think if you get back down to two classes, then it's even more competitive," Moore said. "It's even more exciting to see these kids go at it and compete. Why not see Peoria Central play against Proviso East in matchup? That's a great matchup. It's too bad they had to go to two more classes."
Despite disagreeing with the four-class system, Moore enjoyed being at the state tournament.
"I think it's great down to be here," Moore said. "I think it means a lot. It's our state's Final Four if you want to put in that nature. It means a lot to our kids, our programs, our schools. This is a great venue."
March, 17, 2012
3/17/12
6:34
PM CT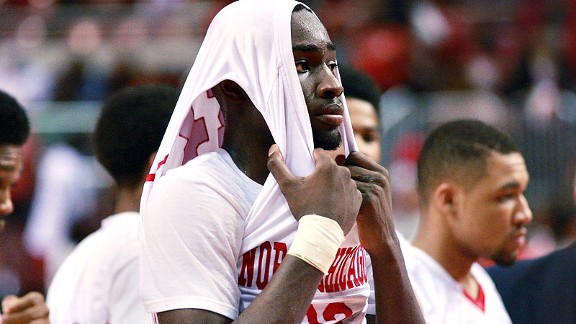 Scott Powers/ESPNChicago.comKurt Hall and North Chicago came up short against Peoria Central in Saturday's 3A title game.
PEORIA, Ill. -- North Chicago's JaVairius Amos-Mays was already tearing up when he approached the bench and sat beside fellow sophomore Kurt Hall in the final seconds of the Class 3A state championship on Saturday.
Hall was feeling the same crushing emotions and threw his left arm around Amos-Mays to comfort him. It was a picture of disappointment, but also of hope for North Chicago.
While North Chicago fell short of its goal, losing 72-64 to Peoria Central in the state championship on Saturday, the Warhawks had also been to consecutive state tournament appearances. Their two star sophomores, who had combined for 28 points, 16 rebounds, two steals and two blocks in the title game, cared as much as anyone about not reaching their ultimate goal.
North Chicago senior Aaron Simpson, who will go down as one of the school's all-time greats, was comfortable with whom he was leaving the program to.
"They know what they have to do," said Simpson, who will continue his career at Illinois State. "They know what coach expects of them. I think they'll take care of it."
Simpson did his part in his career to elevate North Chicago. North Chicago won four regional titles, three sectionals, two super-sectionals and finished second and fourth at state in Simpson's four years. The Warhawks had never placed in state before Simpson arrived. He also averaged 23 points as a junior and 26 points as a senior.
"We're going to miss Aaron," North Chicago coach Gerald Coleman said. "It's a sad day for me to have such a player like Simpson for four years. I've been waiting on him since sixth grade. To just coach him for four years is really awesome.
"I don't see another player coming right now who is capable of playing like Simpson. It's like when he's on the floor I know we have 25 points before the tip-off."
Simpson ended up right at his average of 26 points in Saturday's loss, but it wasn't enough against Peoria Central (28-3).
North Chicago (25-7) actually led Peoria Central 18-16 after one quarter. But the second quarter was a different story, and it would be that quarter that would eventually decide the game.
The Warhawks extended their lead to 24-19 with an offensive putback by Amos-Mays with 5:25 left in the quarter. From there, it was all Peoria Central.
North Chicago's shots stopped falling, and Peoria Central's continued. The Lions went on a 20-7 run and were 8 of 15 from the field, 2 for 6 from 3-point range and 6 of 9 from the free-throw line in the quarter. North Chicago was 5 of 15 from the field.
Peoria Central never ran away with the game in the second half, but it kept North Chicago at a comfortable distance. As the final seconds ran off the clock, Peoria Central's Jerrell White launched the ball into the air, and the city of Peoria celebrated its first championship since 2004.
"It's a great day for our program, for our school, for the city," Peoria Central coach Dan Ruffin said. "We had a new slogan this year, 'Pride of Peoria,' and I think today we lived up to that slogan."
Peoria senior Aldonis Foote especially gave the large Peoria crowd something to cheer about Saturday. He acted as a one-man highlight film. On consecutive possessions in the first quarter, he threw down a one-handed alley-oop dunk off an inbound pass and then put home another alley-oop while being fouled. In between the dunks, he blocked a North Chicago 3-pointer attempt six rows deep into the crowd.
"I didn't know he could do it," Simpson said. "It surprised us."
Foote led Peoria Central with a team-high 17 points. Trey Kellum (14 points, 15 rebounds) and White (13 points) also contributed in the win.
Amos-Mays (17 points, eight rebounds, two steals) and Hall (11 points, eight rebounds, two blocks) contributed with Simpson.
"To put it in a nutshell, there would be plenty of teams who would want to be in second place," Coleman said. "It was great for our community. It was great for our county. We're representing very well in Peoria."
• Hillcrest defeated Springfield Lanphier 72-67 in the third-place game. Jayon'e Troutman (15 points), Jalen Loving (15 points, 13 rebounds), Brent Buchanan (15 points) and Jovan Mooring (12 points) led Hillcrest (25-6). Sophomore Larry Austin had a team-high 16 points for Lanphier (28-5).
March, 16, 2012
3/16/12
5:42
PM CT
[+] Enlarge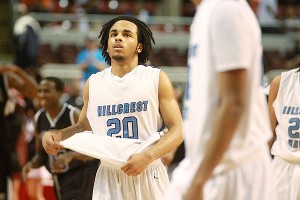 Scott Powers for ESPNChicago.comHillcrest shot just 18-of-49 from the field on Friday.
PEORIA, Ill. -- Hillcrest junior Jovan Mooring's explanation for his team's 60-50 loss to Peoria Central in the Class 3A state semifinals Friday was as simple and precise as possible.
"Shots just weren't falling like they were during the season," Mooring said.
Mooring, an ESPNChicago.com all-area selection, was 0 for 8 from the field. Virgil Fleming was 3 for 11. Kyle Oden was 1 for 10. As a team, Hillcrest was 18 of 49.
It was just one of those days.
Peoria Central (27-3) will play North Chicago for the championship on Saturday. Hillcrest (26-6) will face Springfield Lanphier in the third-place game.
Hillcrest did hang with Peoria Central for a quarter. But with the game tied at 15 after the first eight minutes, the two teams went their separate ways. Peoria Central out-scored the Hawks 14-4 in the second quarter and went ahead 29-19 at halftime. Hillcrest shot 0 for 6 from the field in the second quarter.
The third quarter wasn't any better for Hillcrest. Its offensive woes continued, and Peoria Central extended its lead to 42-26 heading into the fourth quarter.
Hillcrest coach Don Houston thought Peoria Central's large front line did have something to do with some of its problems. The Lions' roster included 6-10 Kevin Jordan, 6-5 Aldonis Foote, 6-7 Trey Kellum and 6-6 Shamar Hill.
"We got to give some credit to Peoria," Houston said. "They have a lot of length in there, and they altered a lot of shots. We've seen some length throughout the season, but them altering a lot of those shots it made us miss some shots that we normally make."
Hillcrest did find some life in the final quarter. The Hawks' shots started finally finding the net, and Hillcrest was able to cut Peoria Central's lead to single digits in the final minutes. Hillcrest outscored Peoria Central 24-18 in the fourth quarter, but it was too late for the Hawks.
"We came out and played a strong fourth quarter, and it shows the character of my players that they've had all season," Houston said. "I'm just extremely proud of them. I'm proud that they didn't lay down, and I'm proud that they went out ahead and fought all the way to the end."
Jayon'e Troutman (13 points, four steals) and Jalen Loving (16 points) led Hillcrest.
Foote (21 points, four steals), Kellum (11 points), Kevin Jordan (10 rebounds) and Myles Boone (10 points) contributed for Peoria Central.
March, 15, 2012
3/15/12
8:59
PM CT
Here's a look at Friday's Class 3A state semifinals:
North Chicago (24-6) vs. Springfield Lanphier (28-3) at noon
The story: Both teams are powered by their guards and will be looking to get out and run on a college floor. Both teams often score 70-plus points, so this could be a high-scoring affair. North Chicago is led by two-time all-area selection Aaron Simpson. He's talented enough to get to the basket whenever he wants, but he often prefers to pull from NBA range. North Chicago sophomore forward JaVairius Amos-Mays is also a star in the making. Sophomore Larry Austin and seniors T.J. Davis and Everett Clemons all score in double figures for Springfield Lanphier. Clemons averages a team-best 18.9 points and went off for 40 points in a game early this season.
North Chicago player to watch: Simpson may just be the most entertaining player in the state. He likes to shoot from long distance and put on a show, and his coach allows him to do so. He's averaging 26.3 points.
Springfield Lanphier player to watch: Clemons is Lanphier's best player now, but sophomore Larry Austin is the team's biggest college prospect. He already has a number of high-major schools after him.
Pick: North Chicago
Hillcrest (24-5) vs. Peoria Central (26-3) at 2 p.m.
The story: These are two programs that have been here before. Hillcrest won a state championship just two years ago. Peoria Central hasn't been to state since 2004, but has four state championships under its belt. Peoria Central has succeeded thanks to its size. The Lions have four starters who are 6-5 or taller. They've balanced with five players averaging between 6.8 points and 12.6 points. Hillcrest doesn't have the height Peoria Central does, but it's not small. Senior starters Delmon Brame and Jalen Loving are both 6-6. Hillcrest wins often by its defense. It's held opponents to less than 50 points in 15 games this season.
Hillcrest player to watch: All-area selection Jovan Mooring is willing to take any shot whenever he's got an inch of space. He was of 156-of-396 shooting this season. He also attempted 191 3-pointers.
Peoria Central player to watch: Forward Trey Kellum leads the Lions in scoring at 12.6 points and rebounds with 7.0 rebounds.
Pick: Peoria Central