October, 29, 2011
10/29/11
3:28
AM CT
By
John Paschall
| ESPNChicago.com
WHEATON, Ill. -- The Wheaton Warrenville South Tigers took their first step toward defending their Class 7A state championship by holding on to beat Providence 23-16 on Friday. Running back Dan Vitale plowed through the Celtic defense with 35 carries for 224 yards and three touchdowns in the winning effort.
In the first half, the Tigers brought out the ground-and-pound early and often. Vitale surpassed the 100-yard mark by halftime, which included touchdown runs of 7 and 24 yards. Sophomore QB Ryan Graham started for the Tigers but was soon replaced by senior QB Thadeus Armstrong, who is still recovering from an injury.
Senior defensive back Zach Kyllonen provided a huge momentum swing when he intercepted Celtics QB Chris Salazar in Celtic territory shortly after the Tigers fumbled at the goal line. The Tigers were able to capitalize by scoring on the ensuing play to go up 14-3 midway through the second.
The Celtics responded on the next drive as Salazar threw a bullet down the seam to junior wide receiver Chad Weaver for a 34-yard touchdown.
Vitale picked up where he left off in the second half carrying the ball on each play of the first drive, which ended in a tough 3-yard touchdown run.


<
The Tigers had a difficult time putting away Providence. Two fumbles (one by Vitale and another a miscommunication on a toss play between Armstrong and Vitale) stalled drives for the WWS and gave the Celtics hope.
But Providence had its own turnover issues as Salazar threw another interception, this time to senior linebacker Adam Dansdill.
"I saw the receiver break into a skinny post," Dansdill said. "Then, I saw the quarterback staring right at him and I shuffled outside then back inside and then he threw it right my way."
With a 3rd-and-2 coming up late in the fourth, head coach Ron Muhitch called on Vitale to seal the deal and the senior did just that.
Save for a few false start penalties, the Tigers' young offensive line answered the call against the Celtics defense and was able to open up some holes for Vitale.
"I got to give a lot of credit to my offensive line," Vitale said. "I wouldn't have gotten that many carries had our coach not trusted them."
"Danny's been getting some holes out there," Muhitch said. "So they must be doing something right."
Wheaton Warrenville South will have to cut down on the turnovers and learn how to close games if the Tigers plan on having a chance against Lincoln-Way East next week.
Players of the Game: Vitale found holes when they were given and when they weren't, he made his own. Every yard was earned for this star as he was able to control the pace of the game. For the Celtics, Chad Weaver finished the game leading his team with nine catches for 112 yard and a touchdown.
Stat of the Game: Vitale had 35 carries for 224 yards and three touchdowns, as he was the only offense the Tigers were able to get going. Coach Muhitch will have to put the load on Vitale's shoulders again next week if they have any shot of winning.
It was over when: Vitale plunged for four yards on a 3rd-and-2 with 1:23 left in the fourth. The Tigers had trouble stringing together a touchdown drive late in the second half that would have put the game away for good.
Quote of the day: "I've given him the ball about 30 times the past couple of games. He's strong, steady and physical, a guy you can count on. He's everything to this team. He's the offensive weapon. He had 100 yards by half time and should've had 30 points but that's the name of the game." – WWS coach Ron Muhitch about Vitale
October, 19, 2011
10/19/11
10:28
PM CT
Here's a look at the final regular-season week of action in ESPNChicago.com's top 20.
Glenbrook South (7-1) at No. 1 Maine South (8-0)


When:
Friday at 7 p.m.
The story:
Maine South takes a 54-game Central Suburban South winning streak into this game. The Hawks' last division loss was in 2000 to New Trier. Glenbrook South has often finished second to Maine South and is hopeful to change that this year. The Titans' lone loss this season was to Stevenson early in the year. Glenbrook South has gone undefeated in conference and put up similar overall numbers to Maine South.
Glenbrook South player to watch:
Fullback Kevin Schroeder has been key to the Titans' offense.
Maine South player to watch:
Running back Paul Preston has been stellar all season for the Hawks.
Prediction:
Maine South 38, Glenbrook South 28
---
No. 2 Glenbard West (8-0) at Downers Grove North (2 6)


When:
Friday at 7:30 p.m.
The story:
Glenbard West has already clinched the West Suburban Silver title. The Hilltoppers have shut out their last two opponents. Downers Grove North is better than its record. The Trojans have been in every game this season, but just haven't found a way over the hump.
Glenbard West player to watch:
Senior offensive lineman Johnny Caspers recently committed to Stanford.
Downers Grove North player to watch:
Quarterback Riley McGinnis has a big arm.
Prediction:
Glenbard West 31, Downers Grove North 7
---
No. 3 Lincoln-Way East (8-0) at Joliet West (2-6)


When:
Saturday at 12 p.m.
The story:
Lincoln-Way East should close out its Southwest Suburban Blue title run with an easy win. The Griffins had no trouble last week and beat Joliet Central 42-0. Joliet West has won two conference games, but is coming off a 56-19 loss to Homewood-Flossmoor.
Lincoln-Way East player to watch:
Defensive end Joel Magrum returned an interception for a touchdown last week.
Joliet West player to watch:
Wide receiver Korey Rogers knows how to find holes in a secondary.
Prediction:
Lincoln-Way East 42, Joliet West 7
---
No. 5 St. Rita (7-1) at No. 4 Loyola (8-0)


When:
Saturday at 1 p.m.
The story:
The Catholic League Blue championship comes down to this game. Loyola has had St. Rita's number for the past few years. A season ago, the Ramblers beat St. Rita on its home field and forced a three-way tie for the conference crown. Both teams have stellar defenses. It could be a game decided by a field goal or a lone touchdown.
St. Rita player to watch:
Defensive back Ryan Leonard is a big hitter.
Loyola player to watch:
Quarterback Malcolm Weaver got dinged up last week, but will be needed this week.
Prediction:
Loyola 17, St. Rita 14
---
No. 6 Downers Grove South (8-0) at Addison Trail (7-1)


When:
Friday at 7:30 p.m.
The story:
Downers Grove South hasn't been tested in the West Suburban Gold in recent years. That could change this week. Addison Trail has proven to be among the area's top teams, especially with its defense. Its only loss was a narrow one to Glenbard West. Addison Trail will have to find a way to stop Josh Williams, who is approaching 2,000 yards for the season.
Downers Grove South player to watch:
Defensive lineman Jeremy Ulrich had a sack and a fumble recovery in last week's win.
Addison Trail player to watch:
Anthony Messina had three touchdown runs in last week's win.
Prediction:
Downers Grove South 24, Addison Trail 10
---
Cary-Grove (6-2) at No. 7 Prairie Ridge (8-0)


When:
Friday at 7:15 p.m.
The story:
Prairie Ridge has been one of the state's most dominant teams this season. The Wolves have out-scored their opponents 360-65 through eight weeks. Cary-Grove is out of the Fox Valley Valley title race, but it could spoil Prairie Ridge's outright championship. The Trojans did upset Lake Zurich early in the season and possess one of the area's top defenses.
Cary-Grove player to watch:
Junior quarterback Quinn Baker has the Trojans' option offense running smoothly.
Prairie Ridge player to watch:
Corey Barcoft is one of the key players on the Wolves' defense.
Prediction:
Prairie Ridge 31, Cary-Grove 14
---
Lockport (6-2) at No. 8 Bolingbrook (7-1)


When:
Friday at 7:30 p.m.
The story:
Bolingbrook will likely have to settle for second place in one of the area's toughest conferences. The Raiders have allowed only three points since losing to Lincoln-Way East. Lockport is headed to the playoffs, but hasn't fared well against the top talent in the conference. The Porters lost to Homewood-Flossmoor and Lincoln-Way East by a combined 66 points.
Lockport player to watch:
Dexter Taylor scored two rushing touchdowns in last week's win over Sandburg.
Bolingbrook player to watch:
Quarterback Aaron Bailey will be in consideration for ESPNChicago.com's Offensive Player of the Year.
Prediction:
Bolingbrook 35, Lockport 14
---
Providence (5-3) at No. 9 Mount Carmel (6-2)


When:
Friday at 7 p.m. at Gately Stadium
The story:
Mount Carmel fell out of the Catholic League Blue race last week with a loss to rival St. Rita. The Caravan will be looking to get back on track against Providence. Mount Carmel's offense has struggled in its defeats this season. Providence is 0-3 against conference opponents this season.
Providence player to watch:
Running back Andrew Hoffmeister leads the Celtics' offense.
Mount Carmel player to watch:
Brandon Greer scored the Caravan's lone touchdown last week against St. Riva.
Prediction:
Mount Carmel 28, Providence 20
---
No. 10 Crete-Monee (8-0) at Rich East (6-2)


When:
Saturday at 12 p.m.
The story:
Crete-Monee can win the Southland title outright with a win over Rich East, which has one conference loss. Crete-Monee hasn't scored less than 30 points in a game this season. Rich East has allowed more than 30 points just once. Something will have to give in this game.
Crete-Monee player to watch:
Recruiting attention is picking up for wide receiver LaQuan Treadwell.
strong>Rich East player to watch: Running back Rondell Willingham has been key to the team's offensive success this season.
Prediction:
Crete-Monee 35, Rich East 20
---
Oak Forest (6-2) at No. 11 Lemont (8-0)


When:
Friday at 7 p.m.
The story:
Lemont has already secured itself the South Suburban Blue title. The Indians have put together a memorable defensive season. They've allowed one opponent more than six points. Oak Forest should be another challenge. The Bengals have scored 40 or more points five times this season.
Oak Forest player to watch:
Running back Tevin Coleman is one of the state's best.
Lemont player to watch:
Jake Lemming is among the Indians' defensive playmakers.
Prediction:
Lemont 31, Oak Forest 14
---
Streamwood (6-2) at No. 12 Batavia (8-0)


When:
Friday at 7:30 p.m.
The story:
Batavia can put the finishing touches on its Upstate Eight River title this week. The Bulldogs have held six opponent to seven points or less and are coming off back-to-back shutouts. Streamwood guaranteed itself a playoff spot with a win last week. It'll be the Sabres' first playoff appearance since 2002.
Streamwood player to watch:
Running back Alex Morrow rushed for 228 yards in last week's win.
Batavia player to watch:
Quarterback Noel Gaspari has been among the area's best this season.
Prediction:
Batavia 42, Streamwood 14
---
St. Viator (2-6) at No. 13 Nazareth (7-1)


When:
Saturday at 1 p.m.
The story:
Nazareth will earn a share of the East Suburban Catholic title with a victory over St. Viator. The Roadrunners' offense and defense have been clicking the past few weeks and out-scored their last two opponents 86-19. St. Viator's defense has struggled this season, but did shut out Benet in a 28-0 win last week.
St. Viator player to watch:
John Balas had four receptions for 129 yards and two touchdown in last week's win.
Nazareth player to watch:
Joshua Moore has been having some remarkable rushing performances.
Prediction:
Nazareth 42, St. Viator 14
---
No. 14 Joliet Catholic (7-1) at Marist (6-2)


When:
Friday at 7:30 p.m.
The story:
There's a good chance that this could be a high-scoring affair. Marist put up 64 points in last week's win over Carmel. Joliet Catholic is among the state's offensive leaders with 376 points this season. The winner will get at least a share of the East Suburban Catholic title.
Joliet Catholic player to watch:
Defensive back Brody Wilhelmi blocked a punt last week.
Marist player to watch:
Ian Woodworth threw eight touchdowns in last week's win.
Prediction:
Joliet Catholic 49, Marist 42
---
No. 15 Wheaton North (7-1) at Wheaton Warrenville South (5-3)


When:
Friday at 7:30 p.m.
The story:
Wheaton North can win the DuPage Valley outright with a win over Wheaton Warrenville South. The Falcons haven't done much against Wheaton Warrenville South in recent years. Their last win over the Tigers came in 2002. Last year, Wheaton Warrenville South beat them twice. The Tigers are riding a four-game winning streak since their early struggles.
Wheaton North player to watch:
Running back Patrick Sharp gives the Falcons a balanced offensive attack.
Wheaton Warrenville South player to watch:
Running back Dan Vitale is one of the area's most versatile players.
Prediction:
Wheaton North 17, Wheaton Warrenville South 14
---
Wheaton Academy (1-7) at No. 16 Montini (6-2)


When:
Friday at 7:30 p.m.
The story:
Montini's offense has been scary lately. Last week, the Broncos put up 75 points. Two weeks ago, they scored 59 points. They should have another big offensive day against Wheaton Academy. The Warriors lost 42-0 to Aurora Central Catholic last week.
Wheaton Academy player to watch:
Isaiah Rosas is an offensive threat for the Warriors.
Montini player to watch:
Wide receiver Jordan Westerkamp is in the running for ESPNChicago.com Player of the Year.
Prediction:
Montini 49, Wheaton Academy 0
---
Conant (6-2) at No. 17 Palatine (7-1)


When:
Friday at 7:30 p.m.
The story:
Palatine can win the Mid-Suburban League West outright with a win over Conant. Aside from a narrow win over Schaumburg, the Pirates have been dominant against conference competition. Conant should be up for the test. The Cougars are playoff bound and their two losses came by a combined five points.
Conant player to watch:
Tim Manckzo is the Cougars' premier offensive weapon.
Palatine player to watch:
Linebacker Kurt Becker is playmaker on defense.
Prediction:
Palatine 28, Conant 17
---
Grayslake Central (7-1) at No. 18 Crystal Lake South (7-1)


When:
Friday at 7:15 p.m.
The story:
This could be an interesting Fox Valley crossover game. Crystal Lake South has proven itself throughout the season and will be favored. The Gators are one of the area's top defensive teams and have allowed only one opponent more than 12 points this season. Grayslake Central has the same record, but hasn't played the same level of competition. This will be a chance for the Rams to earn some respect.
Grayslake Central player to watch:
Joel Valdivia was unstoppable last week. He rushed for 365 yards and six touchdowns against rival Grayslake North.
Crystal Lake South player to watch:
Reese Dziedzic rushed for two touchdowns in last week's win over Jacobs.
Prediction:
Crystal Lake South 20, Grayslake Central 10
---
No. 19 Marian Central (8-0) at Marmion (5-3)


When:
Friday at 7:30 p.m.
The story:
Marian Central will take the Suburban Christian Blue with a win. The Hurricanes have proven themselves with narrow wins over Montini and Oswego this season, and they've dominated everyone else. Marmion has been up and down this season after reaching the Class 6A title game last year. It defense has been its strength and will need to be again against Marian Central. The Hurricanes have scored 40-plus points in their last four games.
Marian Central player to watch:
Quarterback Chris Streveler has been consistent throughout the season.
Marmion player to watch:
Running back Jake Ruddy is a threat to run or catch the ball out of the backfield.
Prediction:
Marian Central 24, Marmion 14
---
Kaneland (8-0) at No. 20 Morris (8-0)


When:
Friday at 7:30 p.m.
The story:
This game will decide the Northern Big 12 East championship. Both teams have been dominant most of the season. Morris' defense has probably been slightly better than Kaneland's, and Kaneland's offense probably has the edge between the two teams. They both were tested last week and prevailed. Kaneland rolled in last year's meeting, winning 47-7. There isn't much separating the two teams this season.
Kaneland player to watch:
Wide receiver Quinn Buschbacher scored five touchdowns in a game earlier this season.
Morris player to watch:
Quarterback Austin Feeney was the difference in last week's 14-10 win over Rochelle. He scored on a 58-yard run to give his team the lead.
Prediction:
Morris 28, Kaneland 24
September, 17, 2011
9/17/11
3:29
AM CT
By
Caleb Benoit
| ESPNChicago.com
NEW LENOX -- In its biggest test so far this season, No. 6 Loyola passed with flying colors.
Quarterback Malcolm Weaver and running back Will Palivos each rushed for two touchdowns, and Loyola's defense held its ground in a 32-6 win on Friday over Providence Catholic in both team's Catholic League Blue opener.


The Ramblers' hurry-up no-huddle offense failed to rack up 40 points for the first time this season -- something that wasn't overlooked by the coaches after the game -- but their defense more than made up the difference. After rushing for more than 300 yards the week before, Providence managed less than 50 on its own turf on Friday.
The defensive effort included a highlight-reel sack by Eric Hauser, a late interception by Patrick McDonough and a fourth-quarter safety by a team of tacklers — icing on the cake for the Ramblers (4-0, 1-0).
"They always prepare [the offense] in practice with their stunts and the crazy stuff they do on defense," Weaver said, "so I know once they get on these other teams, they're going to come out here and do a lot. They things that they can do — stunts, schemes, all that — it's great. It's a really good defense."
Weaver shook off an interception of his own on the Ramblers' first drive, and that miscue was the high-powered offense's only speed bump. Taking nearly every snap out of the shotgun formation, he connected with all his receivers and led the team on five straight scoring drives.
Still, the Loyola coaching staff reminded its players that their play wasn't perfect.
"We expect perfection every time," said wide receiver Marquese Martin-Hayes, who led the team with six catches. "Every time we come out here, our goal is perfection. We feel we should have had 60 (points) — at least 40 — and we dropped the ball there."
Loyola may not have reached its scoring goal, but its victory was never in doubt. Up 16-6 to start the second half, Loyola scored right away when Weaver capped a 12-play drive with a 7-yard score. Dylan Brennan kept the Ramblers' next drive alive with 27-yard run on a fake punt on fourth down, his second successful fake punt of the game. Palivos took the next play up the middle of the defense and 32 yards for his second touchdown.
Then, Loyola forced Providence to punt for a fifth time, the second-string offense replaced Weaver and the rest of the starters with more than nine minutes left in the game.
Providence (3-1, 0-1) has already won more games that it did all of last year, the program's first losing season since 1980. Defensive back Troy Sheppard notched his fifth interception of the season, and wide receiver Sean Fitzgerald made several impressive catches. But the few bright spots weren't enough against one of the state's top teams.
"It's really good to come in the Catholic Blue and play some physical ball again," said Weaver, who remembers last year's win over Providence, too. "Providence is a great team. They're humongous. and they're really physical ... so it's good to come out here and play a really physical team and come out of here with a W."
Players of the game: Loyola -- QB Malcolm Weaver (Sr.) 17-for-28, 150 passing yards, 52 rushing yards, 2 TDs; RB Will Palivos (Sr.) 15 attempts, 125 yards, 2 TDs. Providence -- WR Sean Fitzgerald (Sr.) 6 catches, 89 yards.
Stat of the game: One week after Providence racked up more than 300 rushing yards in a win over St. Laurence, Loyola's defense held the Celtics to 46.
It was over when: One play after a successful fake punt, Will Palivos rambled 32 yards untouched to put Loyola up 30-6 with 3:38 left in the third quarter.
Quote of the night: "We had to set the tone," said Loyola wide receiver Marquese Martin-Hayes about the importance of the win. "Everyone always underestimates us. To come out here in the Catholic League Blue — the best conference in the nation — to come out here and get a win, that's very important. It sets the tone for the year, and it sets the tone for us personally."
July, 23, 2011
7/23/11
7:54
PM CT
April, 24, 2011
4/24/11
2:02
AM CT
BURBANK, Ill. -- The word around St. Laurence's dugout before Saturday's baseball game was a few of Providence's players had already stated they were going to roll to a win over the Vikings and eventually to the Catholic League Blue crown.
[+] Enlarge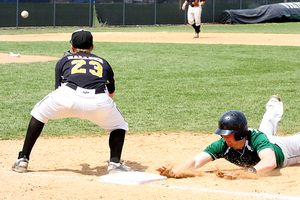 Scott Powers for ESPNChicago.comWith Saturday's win, St. Laurence moved ahead of Providence in Catholic League.
St. Laurence senior catcher Bryan Villanova hadn't heard anyone say that first hand, but he believed the source as a number of his teammates were good friends with Providence's players.
Whether the trash-talking was actually true or not, Villanova and company used it to fuel them to an 8-5 comeback win over nationally-ranked and previously-unbeaten Providence at St. Laurence on Saturday afternoon.
Providence, which was ranked No. 19 in ESPN RISE's latest national rankings, fell to 14-1 overall and 4-1 in the Catholic League. The Vikings improved to 17-3 overall and 7-0 in conference.
"They thought they were going to walk all over us, walk all over the Catholic League, but we got them," Villanova said. "We heard them say how they were going to walk through everyone.
"Everybody kind of wrote us off after the first couple of weeks after losing to Marist, thinking we're not going to do anything. We're going to prove them wrong."
Villanova did his part in Saturday's win.
After driving in two runs with a double in the fifth inning, Villanova came to bat with the bases loaded and St. Laurence down by 5-4 in the sixth. He sent the second pitch, a fastball from Providence reliever Cristian Ochoa, over the center-field wall for a grand slam and ultimately the win.
"That was awesome," St. Laurence senior pitcher Charlie Naso said. "That was one of the best hits I've ever seen in my life."
Villanova finished the day 2 for 4 with six RBIs.
After Villanova's heroics, Naso, an Illinois recruit, took care of the rest in the seventh inning. He retired Providence's 3-4-5 hitters on a total of nine pitches for the complete-game effort.
Naso pitched seven innings, allowed six hits, five runs and three earned runs, struck out eight and walked four. He often pitched out of trouble Saturday. He retired the side in just two innings against the Celtics.
"It's a little stressful being out of the stretch all day," said Naso, who also went 2 for 4 at the plate. "I could have done better, but I'm just happy we got the win today. I battled through. That's what coach tells us to do, and that's what I was trying to do all game. I know they're all good hitters, but I just tried to fight and get my team the win today."
Naso especially had to keep his cool in the top of the sixth inning. Two fielding errors by St. Laurence's defense led to a three-run inning and gave the Celtics a 5-3 advantage.
St. Laurence's Kevin Smith kicked off the bottom of sixth inning with a single to left field. Mike Solofra, who previously hit a solo home run, continued the rally with a walk. No. 9 hitter Steve Fiorella followed with a single up the middle to drive in Smith and pull the Vikings within a run.
"I don't know if there's a guy more clutch than Steve Fiorella," St. Laurence coach Pete Lotus said. "He hits nine for us, but he's not the typical nine hitter. He just doesn't feel pressure."
Leadoff hitter Brandon Mallder came up next and walked to put the bases loaded for Villanova.
Providence starting pitcher Brandon Magallones, a Northwestern recruit, picked up the loss. He pitched 5 1/3 innings and allowed six hits and seven earned runs, struck out six, walked four and hit three batters.
Kevin DeFilippis hit a solo home run for Providence, and Joe Houlihan went 2 for 3 with two RBIs for the Celtics.
St. Laurence will travel to Providence for a rematch on Monday.
September, 14, 2010
9/14/10
11:27
PM CT
The high school football is flying by. Week 3 has come and gone, but here's one last look.
Powers' playmakers
1) South Elgin backup quarterback Zach Gross stepped in for the Storm and provided 114 passing yards, 95 rushing yards and four touchdowns in the team's 48-0 win over Lake Park.
2) Plainfield North's Kapri Bibbs rushed for 177 yards and five touchdowns in his team's 47-6 win over Plainfield East.
3) Stevenson's Stephen Salata caught six passes for 106 yards and two touchdowns in the Patriots' 24-7 win over Warren.
4) Glenbard West senior Nick Burrello accounted for three of the touchdowns in the Hilltoppers' 28-7 win over Hinsdale Central. He scored on runs of 24 and 44 yards and returned a 90-yard kickoff.
5) Thornton running back Damien Bell continued his big season, rushing for 183 yards and two touchdowns in the Wildcats' 27-24 overtime win over Andrew. He has 529 yards and six touchdowns on the year.
Defensive delights
1) Simeon defensive back Darius Scott intercepted two Morgan Park passes for touchdowns as the Wolverines rolled 48-16 in the marquee Public League match up.

2) Glenbard North safety Sean Fogarty provided the game's only score against Naperville North when he returned an interception for a touchdown. He also had another interception.

3) Barrington's Ben LeCompte had three interceptions in the Broncos' 35-14 win over Hersey.

4) Lake Zurich linebacker JJ Raffelson sacked North Chicago's quarterback twice, including a safety, in the Bears' 36-0 win.

5) Vernon Hills' defense posted its third consecutive shutout with a 47-0 win over Lakes. The Cougars have out-scored opponents 148-0 this season.

[+] Enlarge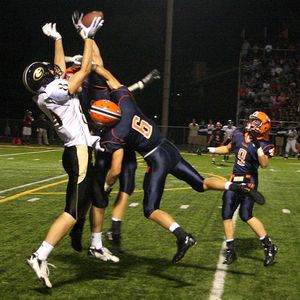 Scott Powers/ESPNChicago.comFor the second time this season, Glenbard North beat a ranked foe.
Five-star football
1) Glenbard North 10, Naperville North 3: The Panthers' defense came up huge in this upset win. It held Naperville North three times in the second half on fourth-down attempts in the red zone.
2) Lyons 38, Downers Grove North 28: The Lions remained undefeated thanks to sophomore Matthew Harris. He returned a kickoff for an 88-yard touchdown and intercepted a fourth-quarter pass that led to the game-winning touchdown.
3) Waukegan 34, Maine West 33: The Bulldogs prevailed in the Central Suburban League crossover battle behind the play of quarterback Reggie Richter and his four touchdown passes.
4) Loyola 21, Providence 7: The Ramblers avenged last season's loss to the Celtics in the Catholic League meeting. Loyola's defense contained Providence, and Malcolm Weaver threw his seventh and eighth touchdowns of the season in the win.
5) Metea Valley 39, East Aurora 6: The Mustangs won their first varsity game in school history. Tre'Sean Mackey led the way as he ran for 103 yards and three touchdowns on 13 carries.
September, 10, 2010
9/10/10
3:35
AM CT
No. 13 Glenbard North (2-0) at No. 6 Naperville North (2-0) on Friday
The story: Naperville North was thrown near the top of the rankings by everyone this season because of what the Huskies had returning on both sides of the ball, not their 5-5 record last season. So far, they've lived up to expectations with back-to-back wins. This week, though, they'll face their toughest challenge to date. Glenbard North was one of the state's best defensive teams last season and has continued that reputation this season. The Panthers allowed six points in their opening-week win over Oak Park and eight in last week's victory Plainfield East. If Naperville North is going to win this game, quarterback Matt LaCosse, a Minnesota recruit, will have to put points on the board.
Glenbard North player to watch: It's pick your poison with Phil Jackson and Evin Natick at running back. Both are capable of giving a defense headaches.
Naperville North player to watch: Naperville North senior Nick Lifka is one of the best linebackers in the state. He's headed to Boston College next year.
Quotes: Glenbard North coach Ryan Wilkens -- "Our defense is playing well, only giving up two touchdowns late in the fourth quarter of our last two games. Our run game needs to be more cohesive with one returning starter up front."
No. 17 Loyola (2-0) at Providence (0-2) on Friday
The story: Providence's schedule doesn't get any easier this week. After losing to Morgan Park and Joliet Catholic , who are now both highly ranked, the Celtics have to face another tough team in Loyola. The Ramblers have outscored their opponents 66-9 after two games. Providence will need for its offense to limit its turnovers for it to have a chance.
Loyola player to watch: Ramblers quarterback Malcolm Weaver has been one of the top newcomers this season. He's thrown six touchdowns.
Providence player to watch: Linebacker Ray Ames is one of the best defensive players in the Catholic League. He had 124 tackles last season.
Quote: Loyola coach John Holecek – "Our strength has been a balanced offensive attack with lots of playmakers. Defensively, we have played disciplined and smart and guys have been giving great efforts."
Prediction: Loyola 21, Providence 20
Notre Dame (2-0) at Marist (2-0) on Friday
The story: For anyone who thought Marist's run to the Class 8A state championship was a fluke last season, this year's team is out to prove otherwise. Despite graduating all-state quarterback Mike Perish, the RedHawks' offense has picked up where last year's team left off. Marist defeated Plainfield 31-6 last week and Urban Prep 48-6 in the opening week while rotating two quarterbacks. Notre Dame should be more of a match for the RedHawks. The Dons have looked impressive in their wins over Fenwick and Mt. Vernon.
Notre Dame player to watch: Jeremy Burgos is a load on both sides of the ball. He plays running back and linebacker.
Marist player to watch: If Friday's game comes down to a last-second kick, Marist has the man for the job in Ben Falloon. A three-year starter, Falloon has connected on a number of clutch playoff kicks and has made field goals from 40, 43 and 50 yards this season.
Quotes: Notre Dame coach Mike Hennessey – "Our opponent Marist is a tough, physical team. They're well-balanced on offense and have an aggressive, hard-hitting defense. They have no weak spots."

Marist coach Pat Dunne – "This year's team is creating their own identity. Last year, there were obviously a lot of great moments. Last year is in the past. This year's group took the great work ethic and leadership of those seniors, and now they want to create their own identity."
Prediction:
Marist 24, Notre Dame 21
Warren (1-1) at Stevenson (2-0) on Friday
The story: Stevenson hasn't lost a beat under new coach Bill McNamara. The Patriots have out-scored their opponents 84-7 in two games, and their offense has been equally good in the air and on the ground. This will be Stevenson's biggest challenge this season. Warren has struggled a bit so far this season, but is still among the area's best. The Blue Devils' defense has been keeping them in games.
Warren player to watch: Fullback Tom Lindal hasn't had the season so that people expected out of him. He's rushed for 52 yards on 23 carries. Watch for this to be his breakout game. He has the ability to be among the area's best running backs.
Stevenson player to watch: Joe Cassata has carried on Stevenson's running tradition. He ran for 266 yards and five touchdowns in last week's win over Glenbrook South.
Quotes: Stevenson coach Bill McNamara – "After two weeks, I am pleased with the progress of our football team. Our players work very hard and seem to be getting better each week. The greatest positive is that we play as a team in all three phases of the game – offense, defense, and special teams. I would like to see us improve our consistency from play to play. We play very hard, but at times make small mental mistakes."
Prediction: Stevenson 34, Warren 27
Bolingbrook (1-1) at No. 18 Lockport (2-0) on Friday
The story: Lockport surprised many when it ran over Bolingbrook for a 41-14 win last season. This season, the Raiders will be looking for revenge. Bolingbrook opened the year with an upset win over Downers Grove South, but fell last week 31-8 to Belleville East. The big plays hurt Bolingbrook in the loss. Lockport is coming off a close win over Richards and could really prove itself as a state contender with a win here.
Bolingbrook player to watch: Sophomore quarterback Aaron Bailey showed off his ability in the opening week when he ran for 191 yards on 18 carries against Downers Grove South.
Lockport player to watch: Dan Holman is one of the state's top running backs. Few teams have been able to contain him the past two seasons.
Prediction: Lockport 33, Bolingbrook 26

No. 3 Glenbard West (2-0) at Hinsdale Central (1-1) on Friday
The story: Hinsdale Central gave the Hilltoppers their toughest regular-season challenge last year with Glenbard West pulling out a 28-25 win at home. Glenbard West has been impressive on both sides of the ball so far this season. Hinsdale Central has gone through some growing pains with a young team. The Red Devils bounced back from their opening-week loss to Wheaton Warrenville South with a 28-0 win over Proviso East last week. They did commit four turnovers in the win, though.
Glenbard West player to watch: Junior offensive lineman Johnny Casper has played well for the Hilltoppers. Coach Chad Hetlet described his early play as "absolutely dominating."
Hinsdale Central player to watch: Quarterback Alex Hodakowski threw two touchdown passes and ran for another in last week's win over Proviso East.
Quotes: Hinsdale Central coach Mike DiMatteo – "I think that we are still in the process of discovering who we are. We have the vast majority of our kids without varsity playing experience, and we begin the season against the top two teams in the state. It is an opportunity for growth. We have made some strides, but not as many as I would like. The hope is that we will be better prepared for our conference schedule in totality as a result of our schedule. We do have a solid work ethic and a willingness to do well … we just have to get it done."

Glenbard West coach Chad Hetlet – "We're getting better. We have great team speed, and we've been very physical in our first two games. What needs to improve is penalties have really plagued us the first two weeks. We must clean that up."
Prediction: Glenbard West 28, Hinsdale Central 10

Elk Grove (1-1) at Fremd (0-2) on Friday
The story: This game was once highly anticipated, but lost some steam with Elk Grove being upset last week and Fremd losing its first two games of the season. Right now, it appears Barrington and Schaumburg are the teams to beat in the Mid-Suburban League. If Elk Grove and Fremd are going to get back in the picture, a win here would be nice for either. Fremd will be looking to get its offense going after scoring a combined 24 points in its first two games. The Grenadiers will need to step up defensively after last week's loss.
Elk Grove player to watch: Quarterback Nick Meyer is the key to everything the Grenadiers do offensively. He can run and pass with the best of them. Barrington disrupted his rhythm last week and pulled off the upset.
Fremd player to watch: The Vikings' running game was held to 44 yards in last week's loss to Prospect. For Fremd to bounce back, running back Justin Wallace will be the key. He did rush for 100-plus yards in the season-opener.
Quotes: Elk Grove coach Brian Doll – "We've played extremely well in the first two weeks, and we lost a heartbreaker last week after completely dominating the game. Two big plays cost us in an overtime game. Our offense has outgained our opponents by a yardage totals of 838 yards to 386 yards. We need to improve our consistency on special teams and limit the big plays."
Prediction: Elk Grove 34, Fremd 17
Jacobs (2-0) at Prairie Ridge (2-0) on Friday
The story: Coach Bill Mitz has Jacobs believing. After coming over from Stevenson following last season, Mitz has already had an impact in his short time at Jacobs. The Golden Eagles are 2-0 after having only won two games in each of the past two seasons. Prairie Ridge will be the most talented team they've seen this year. The Wolves have won their games by the scores of 55-0 and 26-6. Their defense has been dominant, and their offense has been scoring early and often.
Jacobs player to watch: Linebacker Grant Rizza has emerged as one of Jacobs' top defensive players. He had three sacks in last week's win over Johnsburg.
Prairie Ridge player to watch: Senior nose guard Tyler Bebber has been a key to Prairie Ridge allowing six points over the first two games.
Quotes: Prairie Ridge coach Chris Schremp – "We need to get off to quick start. Their kids are confident. Both teams are coming into the game 2-0. I really think this game will be dictated by how you start. Hopefully, we can start fast again this week."

Stevenson coach Bill Mitz – "We have come together and believe in each other. Our tackling and blocking have improved a ton since June. I feel we have the players in the right position. We are eager for the game Friday."
Prediction: Prairie Ridge 14, Jacobs 10
No. 11 Morgan Park (2-0) vs. No. 9 Simeon (2-0) at Gately on Saturday
The story: This should be the biggest Public League game of the season. Both teams are coming in undefeated after knocking off Catholic League teams in the opening week and following up those wins with strong Week 2 victories. Both have athletic quarterbacks and proven they can put up points. Whichever team steps up defensively could decide this game.
Morgan Park player to watch: Dae-Shaun Hurley is one of the area's top dual-threat quarterbacks. He's been beating defenses the past two week in a variety of ways.
Simeon player to watch: Quarterback Robert Gregory has been of the state's top players after two weeks. He accounted for more than 500 yards of offense in the team's opening-week win over Mount Carmel.
Prediction: Simeon 40, Morgan Park 33
August, 26, 2010
8/26/10
10:43
PM CT
No. 15 Montini (0-0) at No. 5 Joliet Catholic (0-0) on Friday
The story: This is the perfect game to open the 2010 high school football season. These two teams met in the Class 5A state championship in November with Montini edging the Hilltoppers 29-28 with a touchdown and two-point conversion with 32 seconds remaining. Joliet Catholic would like to redeem itself with a win here, but Montini is also out to prove last year's victory wasn't a fluke. Both teams will be starting a new quarterback.
Montini player to watch: Senior Matt Westerkamp takes over at quarterback for the Broncos. He doesn't have the arm of last year's quarterback Brandon Pechloff, but he does have size at 6-2, some speed and knows the offense.
Joliet Catholic player to watch: Junior running back Malin Jones torched Montini for 141 yards and two touchdowns in last year's state championship game. He and fellow running back Josh Ferguson will be the keys to this game again.
Quote: "According to everyone, we are the underdogs again," Montini coach Chris Andriano said. "We don't care. We'll line up and play. We'll line up and play anytime, anywhere. We'll line up in the parking lot if you want."
Prediction: Joliet Catholic 40, Montini 35
No. 6 Fremd (0-0) at No. 9 Lake Zurich (0-0) on Friday
The story: Fremd and Lake Zurich played in one of the more dramatic season-opening games last season with Fremd pulling out a 10-7 win at home. The Bears will now get a chance to avenge that result at their place. Both teams lost a couple key pieces from last year, but they also return a couple key ones. Both teams should be in contention for a state title this season.
Fremd player to watch: Senior Justin Wallace came up big in last year's win over Lake Zurich with a blocked field goal and a fumble recovery. Wallace will be a key defensive player again this season, but will also be one of the main running backs.
Lake Zurich player to watch: Running back Jacob Brinlee is one of the state's most electrifying players. He has the speed and vision to pop a long one at any time. He had a 73-yarder last season against Fremd.
Quote: "We need to win the turnover battle, win in the special teams' phases of the game and negate their size with our speed," Lake Zurich coach Bryan Stortz said. "They're fundamentally sound and well coached.
Prediction: Fremd 14, Lake Zurich 13
No. 2 Wheaton Warrenville South (0-0) at No. 19 Hinsdale Central (0-0) on Friday
The story: Wheaton Warrenville South began its state championship run with a season-opening 34-26 win over Hinsdale Central last season. Wheaton Warrenville South returns a bulk of its team from last season and is the favorite to repeat in Class 7A. The Red Devils have some returnees, especially on the offensive line, but they did graduate all-state quarterback John Whitelaw. Hinsdale Central plans on using a platoon system at quarterback for now. Hinsdale Central could have a chance at home, but it needs to limit its errors.
Wheaton Warrenville South player to watch: All eyes will be on Illini recruit quarterback Reilly O'Toole. Everything points to him having a monstrous season for the Tigers.
Hinsdale Central player to watch: Center Jack Allen is one of the premier offensive linemen in the state. He's big, but he's also quick. He recently committed to Michigan State.
Quote: "Wheaton Warrenville South does everything well," Hinsdale Central coach Mike DiMatteo said. "They are not the great program they are for no reason. … We need to keep O'Toole in check as much as we can. He's the best QB in the state this year, and we will have our hands full."
Prediction: Wheaton Warrenville South 35, Hinsdale Central 20
Bolingbrook (0-0) at No. 14 Downers Grove South (0-0) on Friday
The story: This has turned into one of the more exciting non-conference rivalries. Last year, Bolingbrook blocked a late field goal attempt to beat the Mustangs in the season opener. Downers Grove South got its revenge during the playoffs by knocking Bolingbrook out with a late comeback win. This is the last scheduled meeting for the teams, but they could of course meet in the playoffs again this year and in the future.
Bolingbrook player to watch: Linebacker Antonio Morrison is one of the key defensive players the Raiders will be looking to this season.
Downers Grove South player to watch: Wide receiver Ryan Oruche can beat a team in a variety of ways. He can run, catch and even pass if needed. Bolingbrook's defense will have its hands full with him.
Prediction: Downers Grove South 28, Bolingbrook 17
No. 1 Maine South (0-0) at Schaumburg (0-0) on Friday
The story: Maine South is the team everyone is shooting for again. The Hawks are riding a 28-game winning streak into the season. They're not as offensively powered as the past few years, but their defense should be among the state's best. Schaumburg just missed the top 20. The Saxons have a lot of offense back, especially quarterback Mark Iannotti and running back Shepard Little.
Maine South players to watch: No decision was made on Maine South's quarterback, so sophomore Matt Alviti and junior Jimmy Frankos will both play against Schaumburg. Both have shown promise throughout the offseason.
Schaumburg player to watch: Shepard Little rushed for 1,700 yards and 17 touchdowns as a sophomore in 2008. He sat out last season due a disciplinary issue and is back again. If he can return to form, the Saxons will be a team to watch this season.
Quote: "They are obviously talented and play extremely hard," Schaumburg coach Mark Stilling said. "Our kids need to stay focused on doing their jobs and resist the temptation to try anything special."
Prediction: Maine South 31, Schaumburg 21
Glenbrook South (0-0) at No. 18 Minooka (0-0) on Friday
The story: Minooka is out to prove it belongs with the elite teams this season. Glenbrook South is out to show that it can reload after losing a number of stars from last season's quarterfinal team. After this game, we should know a little more about both teams. Minooka will look to control the ball. It will be important for Glenbrook South to stay away from turnovers. The Titans will be missing four players to injury and another due to suspension.
Glenbrook South player to watch: John Strickland steps into the spotlight for the Titans. He's moved from linebacker to fullback and will likely see a bulk of the carries.
Minooka player to watch: Zach Colvin, a Division I recruit, will be playing both ways to start the season. He's a dominant a defensive end, but it may slow him down having to be on offense as well.
Quote: "Week 1 is always tough," Minooka coach Bert Kooi said. "No matter how much time you have spent with your team, you never really completely know what to expect until you see them in a game situation."
Prediction: Minooka 20, Glenbrook South 14
No. 20 Oak Park at Glenbard North on Friday
The story: Oak Park is one of the sleeper picks for the 2010 season. The Huskies are coming off a 5-5 season and have a bulk of their team back. If they're going to take another step this season, this game would be a good start. Glenbard North beat them 33-21 last season. The Panthers lost some talent from last year's 11-2 team, but they're still among the area's best.
Oak Park player to watch: Running back Tony Stapleton rushed for 1,300 yards as a junior. He has a number of Division I schools looking at him.
Glenbard North player to watch: Running back/linebacker Evan Natick battled through injuries last season. Now healthy, he should make an impact on both sides of the ball.
Quote: "We need to be able to run the football and stop the run," Glenbard North coach Ryan Wilkens said. "They run the ball well."
Prediction: Oak Park 21, Glenbard North 20
Edwardsville (0-0) vs. No. 7 Lincoln-Way East (0-0) at Illinois State on Saturday
The story: Lincoln-Way East opens its season with a non-area opponent. Edwardsville is expected to be one of the top St. Louis-area teams this season. It went 6-4 last year and returns Rodney Coe, one of the state's top athletes. Lincoln-Way East is familiar with teams from that area. The Griffins defeated Belleville West in the opening round of the playoffs and then were upset by O'Fallon in the second round. Lincoln-Way East's defense should be among the state's best again this season.
Edwardsville player to watch: Running back Rodney Coe is being recruited by nearly every top program in the country. He will be a good first test for the Griffins' defense.
Lincoln-Way East player to watch: Quarterback Blake Winkler makes his debut. Winkler has drawn comparisons to former Griffins quarterback Anthony Kropp, who led the team to a state championship in 2005.
Prediction: Lincoln-Way East 30, Edwardsville 21
No. 11 Mount Carmel vs. Simeon at Soldier Field on Sunday
The story: These Chicago south side foes met twice last season with Mount Carmel winning both games. The Caravan won the season opener 53-27, but their second meeting was closer with Mount Carmel winning 19-14. Mount Carmel had an up-and-down 2009 season and is looking to return to dominance this year. Simeon just missed out of the top-20 rankings and should be the class of the Public League this season.
Mount Carmel player to watch: Michael Banks has moved from wide receiver to running back. He has great speed and could flourish in the Caravan's triple-option system.
Simeon player to watch: Chris Bryant is one of the state's top offensive linemen. He's also one of the biggest as he comes in at 6-5 and 330 pounds.
Prediction: Mount Carmel 28, Simeon 14
No. 8 Providence (0-0) vs. Morgan Park (0-0) at Soldier Field on Sunday
The story: Providence is coming off a dream season where nearly everything seemed to go the Celtics way. They return a strong offensive line and quality linebackers, but they need to replace stars Pete Houlihan and Tim Hanrahan. Morgan Park is coming off a 9-3 season. The Mustangs upset Brother Rice at Soldier Field last season.
Providence player to watch: Senior quarterback Joey Houlihan returns for the Celtics. He was key in Providence's run to the Class 6A state championship game last season.
Morgan Park player to watch: Junior Deshaun Hurley takes over at quarterback for Morgan Park. He did get some experience there last season.
Prediction: Providence 34, Morgan Park 19