High School:

Public League
February, 17, 2012
2/17/12
10:20
PM CT
CHICAGO -- Simeon prefers to have
Jabari Parker
, the nation's No. 1 junior, on the floor, but the Wolverines proved Friday they're still pretty good without him.
While Parker sat the bench for 11 minutes, 34 seconds in the first half with two fouls, Simeon extended what was a one-point lead to double digits.
It would be an advantage No. 1 Simeon would never relinquish as the Wolverines held on for a 53-49 win over No. 3 Curie at Chicago State to capture their first city championship since 2007. It was the second time Simeon defeated Curie this season.
[+] Enlarge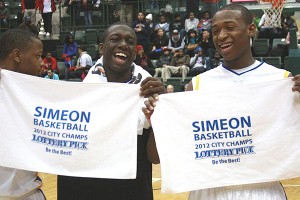 Scott Powers/ESPNChicago.comSimeon celebrates its Public League championship after beating Curie on Friday.
"This is real big for us," said Simeon senior Jaleni Neely, who had nine points. "We haven't won a city title since Derrick Rose has been here. It's not something we would settle for less. We wanted to win city, and we knew we could get it done."
They even knew it with Parker on the bench. While most coaches would be worried about having their star player on the bench for such a long period, Simeon coach Robert Smith said his expectations never changed.
"I'm never concerned about us losing," said Smith, whose team improved to 25-1. "Every time we step out here we expect to win. No matter who's out here playing, what the foul situation is. That's the difference in our team and everyone else's. I think no matter who's here, who's hurt, we expect to win every time we step out here."
Simeon proved him right again on Friday. With Parker on the bench, other Simeon players took it upon themselves to lift the load. During that run,
Steve Taylor
contributed two points, three rebounds, two steals and one block while
Kendrick Nunn
scored six points. Defensively, Simeon held Curie to three points in the quarter.
"When Jabari went down, I just had to say I got to step up and be a senior and be a leader and carry my team on my back," Taylor said. "That's basically what was going through my mind. We didn't miss a beat. That's the good thing about our team, once Jabari goes down, we still be rolling."
Taylor's offense was helpful, but his defense was also essential against Curie's 6-9 sophomore center
Cliff Alexander
. He limited Alexander to four points.
Taylor finished with 11 points, 11 rebounds, two steals and one block. Nunn had 15 points.
Parker returned to the court in the third quarter and still left his mark, scoring nine of his 11 points in the second half.
Curie (24-2) was able to make it interesting down the stretch. After trailing by as many as 18 points in the third quarter, the Condors pulled within single digits with under a minute left and even trimmed the lead to 47-44 with 12 seconds remaining when
Devin Foster
banked in 3-pointer while falling to the ground.
Foster, who scored nine of his game-high 20 points in the fourth quarter, hoped Curie would see Simeon again come the state playoffs.
"Defense wins games," Foster said. "We got to stop the ball, but we should have won the game. We're going to get them the next time when we play them for state."
February, 19, 2011
2/19/11
6:12
AM CT
CHICAGO -- From nearly the moment George Marshall, Mike Powell, Kevin Gray and Keith Gray stepped on the floor as freshmen on varsity four years ago for Brooks, people have been talking about the day they would win a Chicago Public League championship.

On Friday, they finally proved those people correct.

After failing to meet expectations for most of their first three seasons, the senior quartet led No. 9 Brooks to the city title with a 67-54 win over No. 18 Whitney Young at Chicago State on Friday.

"People didn't think we could do this," said Marshall, who scored a game-high 23 points. "We knew we could. We knew this day was going to come. This means a lot. You could say we kind of underachieved the past few years. It means a lot that we finally got it done."

"Everyone expected us to lose because we're Brooks," Keith Gray said. "We never lost confidence."

Brooks showed that confidence from the opening tip. The Eagles jumped out to a 14-7 lead after one quarter and never trailed the rest of the way.

Whitney Young put itself in position to take the lead when senior Sam Thompson cut Brooks' advantage to 27-26 with a fast-break dunk to start the second half. With the game beginning to sway against them, the Eagles caught the break of the game.

On one possession, Brooks junior Xavier Wells sank a 3-pointer, a foul was called on Whitney Young, Brooks was given the ball again, and Kevin Gray capitalized with a layup to complete the five-point play. The Eagles went up 32-26 and didn't look back.

Wells, who came off the bench, clinched the win with two more key 3-pointers in the fourth quarter. He scored all 13 of his points in the second half.

"Xavier has hit some shots, but he's never had a breakout game," Marshall said. "He hit some big shots today."

Brooks' road to the title wasn't an easy one. The Eagles had to defeat North Lawndale, Bogan, Farragut and Curie to reach the championship game. Four of the five teams they faced during the playoffs were ranked at some point this season.

Brooks first-year coach Bobby Locke believed from the moment he was hired in August his team had this potential to win it. As a former Whitney Young player himself, Locke never experienced a city championship.

"I'm at a loss for words," Locke said. "I don't think it'll hit me until tomorrow."

Powell contributed 15 points for Brooks. Thompson finished with 13 points and seven rebounds.
January, 11, 2011
1/11/11
1:12
AM CT
Here's what we learned on the boys high school basketball scene last week.
1. The season likely won't end with an undefeated team.
Neuqua Valley and Thornton recently left the ranks of the unbeatens, leaving just Benet and Simeon. Benet's schedule still includes three highly-ranked teams in Glenbard East, Notre Dame and Simeon. Simeon still has to face Benet, Morgan Park and Whitney Young. It's unlikely either of those teams will come out unscathed when it's all said and done.
2. It's hard to figure out how good the Public League is this season.
Sure, Simeon, Morgan Park, Whitney Young and Brooks are all implanted into the rankings. But what about Crane, Curie, Farragut, Hyde Park, Marshall, North Lawndale and Orr? Where do they all fit in with the rest of the top 20 teams? In just the past few weeks, here are some of the confusing results -- Farragut and North Lawndale beat Hyde Park; Hyde Park defeated Orr; Farragut defeated Crane twice, but lost to Orr; Crane and Marshall beat Orr and Marshall defeated North Lawndale. And then on Sunday, North Lawndale knocked off No. 3 Thornton, a non-Public League team that had been unbeaten. The Public League could end up with a lot more ranked teams, but too many of them are beating up each other to figure it all out for now.
3. Mundelein is a team to keep an eye on.
The Mustangs haven't entered the rankings yet, but they're getting close. With their 75-68 overtime win over Zion-Benton on Saturday, their winning streak reached 12 games and they improved to 18-2.
Ryan Sawvell
and Robert Knar make for a tough 1-2 combo. Against Zion-Benton, Sawvell had 26 points, 16 rebounds and five blocks, and Knarr finished with 25 points, four 3-pointers and nine rebounds. Mundelein's biggest challenge ahead will be Warren on Jan. 29.
4. De La Salle's loss to Fenwick on Friday makes it difficult to believe De La Salle is a state contender at the moment.
Not that Fenwick is awful, but the Meteors shouldn't have any trouble with a team like the Friars if they're going to compete for a state championship. It didn't help that Fenwick lost the following day to Ridgewood. De La Salle has talent, but it needs to be more consistent.
5. Everyone knows about Vernon Hills senior DaVaris Daniels' football ability, but he's got a basketball game, too.
Despite still juggling football duties -- he recently played in the Under Armour All-American Game -- Daniels has been scoring 20-plus points on a consistent basis for the Cougars. He had 27 points in his latest game on Saturday. When Daniels' father,
Washington Redskins
defensive end
Phillip Daniels
, was asked Monday if his son could play basketball at Notre Dame as well, Phillip said he thought with Daniels' shooting ability and hops it was a possibility.
6. St. Charles East sophomore guard Kendall Stephens is a hot recruiting commodity.
Northwestern was the first to offer him a scholarship. Wisconsin followed in late December. Lately, even more schools are checking him out. Purdue coach Matt Painter was at his game last week. It isn't surprising the Boilermakers are interested in the 6-4 Stephens. His father, Everette Stephens, starred for Purdue before playing in the NBA.