High School:

Robert Smith
May, 7, 2013
5/07/13
3:18
PM CT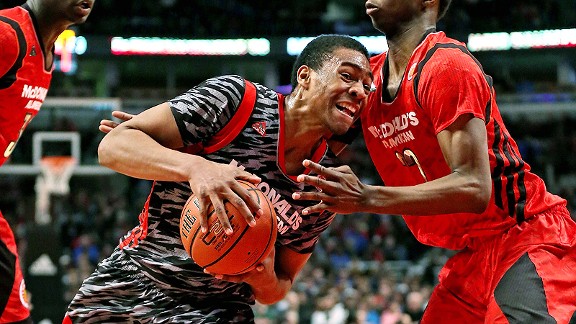 Jonathan Daniel/Getty ImagesJabari Parker might have gone to Illinois if John Groce had more time to recruit him.
Simeon coach
Robert Smith
believes Illinois' John Groce is on the right path as far as recruiting top talent out of Chicago.
In fact, Smith believes if Groce had been hired sooner, he might have had a shot at Jabari Parker.
Groce replaced Bruce Weber, who was fired, after the 2011-2012 season. Parker was already cutting his list of schools and eliminated Illinois from his choices. Parker had a good relationship with Weber, who had been recruiting him for years, but the uncertainty of change didn't sit well with the top recruit. Parker ultimately committed to Duke over BYU, Florida, Michigan State and Stanford.
Parker's teammates, Simeon senior guards Jaylon Tate and Kendrick Nunn, are both signed to play at Illinois next season.
"If Illinois had hired John Groce earlier, they would have had chance with Jabari," Smith said. "He was hired too late and Jabari was already looking at other schools. He wanted to play for his home state and win a national championship here.
"[I think Groce had a chance with Parker] because of his personality, him as a coach -- he let his players play -- and his charisma. I know Jaylon and Kendrick love him as a coach and person. I think that has a lot to do with them going there."
Smith believes those characteristics that will lead to Groce receiving future commitments from Chicago's premier players. One of the biggest criticisms of Weber was he failed to retain the state's top talent. Derrick Rose, Jon Scheyer, Sherron Collins, Evan Turner and Julian Wright chose to play out of state during Weber's Illinois tenure.
Curie forward Cliff Alexander, who is ranked No. 8 in the Class of 2014, is currently one of Illinois' main recruiting targets.
"I think it can happen with Cliff and getting him there and some of the other guys over there," Smith said. "I think Illinois has a real chance in the next three or four years to really do some things. I could see them go to the Final Four and possibly win a national championship in the next three or four years.
"It's just like the vision I had for Illinois when I was interested in the job. It's playing out without me being there. Coach Groce is doing a great job with that."
Groce was given a one-year contract extension and salary raise after this past season. He led Illinois to a 23-13 record, 8-10 in the Big Ten and to the NCAA tournament in his first year.
Groce's 2013 recruiting class is ranked No. 15 by ESPN. The class includes Nunn, Tate, small forward
Malcolm Hill
, power forward Austin Colbert and center Maverick Morgan. Illinois will also add three transfers -- Seton Hall sophomore guard
Aaron Cosby
, Illinois State junior forward Jon Ekey and Western Michigan forward
Darius Paul
.
April, 22, 2013
4/22/13
8:06
PM CT
Simeon Career Academy coach Robert Smith said Monday he has decided to bypass college coaching opportunities to make a run at a fifth consecutive Illinois state title with the Wolverines next season.

Smith has accumulated a 260-40 record, won six state titles and had one runner-up finish in nine seasons with Simeon. He said after the high school season he would consider leaving Simeon for a college assistant position.


December, 13, 2012
12/13/12
6:41
PM CT
Chicago Simeon Career Academy's players are paying tribute to former Simeon star Ben Wilson this season by wearing custom-made Nike shoes with his name and number printed on them.


November, 15, 2012
11/15/12
4:22
PM CT
CHICAGO -- If a college basketball coach is going to have one close relationship with any high school in Chicago, Simeon would be the desirable place.

The Wolverines have owned Illinois high school basketball for nearly a decade. Simeon has won five state championships and has had one runner-up finish in the past seven years. It has produced two players ranked in the nation's top 5 during that span and will have delivered at least 16 players since 2006 to Division I programs after the upcoming season.


April, 5, 2012
4/05/12
1:15
PM CT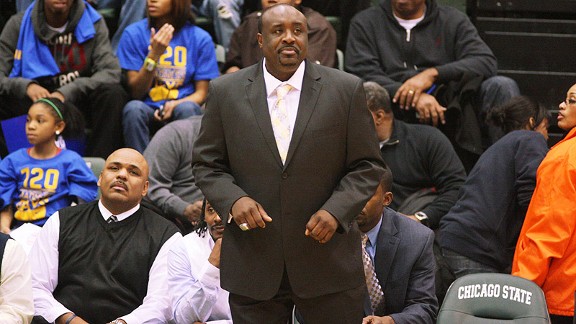 Smith_Robert 111212Robert Smith liked what he heard from John Groce.
Simeon coach Robert Smith said Thursday he recently had a positive conversation with new Illinois coach John Groce, but he didn't anticipate being asked onto Groce's staff.
Smith was contacted during Illinois' coaching search and previously said he would listen if offered an assistant position. Smith has compiled a 230-37 record and won an IHSA record five state championships in eight years at Simeon. His current players include the nation's No. 1 junior
Jabari Parker
,
Kendrick Nunn
, who was previously committed to Texas A&M, and Marquette recruit
Steve Taylor
.
"No, we didn't get into (his staff)," Smith said. "Basically, we had a conversation about him being the coach and what his views were. It wasn't anything about coaching. Right now, I'm happy where I'm at. It looks like I'm going to be here, and I'm basically getting ready for next year."
Smith was unfamiliar with Groce, who was previously Ohio's coach, before being hired at Illinois. Groce contacted Smith since being named Illinois' coach on March 29, and Smith was pleased with what he heard.
"We had a great conversation," Smith said. "I think he's going to be able to come in and relate to the guys. I think the guys will take to him. He has that charisma like some of the big-time coaches do."
March, 30, 2012
3/30/12
1:02
PM CT
DEERFIELD, Ill. --
Chicago Bulls
guard
Derrick Rose
put his support Friday behind his former high school coach, Simeon's Robert Smith, to be hired as an Illinois assistant.
"I think he would be great as an assistant," said Rose, who won two state championships at Simeon under Smith. "I think on the high school level he did everything possible -- win championships, state championships. It would be great for him to go onto the college level and see what he can do then."
March, 27, 2012
3/27/12
9:43
PM CT

Simeon coach Robert Smith joined "Chicago's GameNight" on ESPN 1000 to discuss the possibility of John Groce getting hired at Illinois.


Click here for more audio from ESPN Chicago
.
March, 20, 2012
3/20/12
5:43
PM CT
A University of Illinois representative contacted Chicago's Simeon Career Academy coach Robert Smith regarding the Illini's coaching vacancy, according to a source, but it wasn't a formal interview.
Read the entire story.
March, 19, 2012
3/19/12
1:38
PM CT
Chicago's Simeon Career Academy coach Robert Smith on Monday suspended nine underclassmen for one game next season after they removed their shoes and placed them on the court following their third straight Class 4A state championship in Peoria, Ill.
Read the entire story
.
March, 9, 2012
3/09/12
11:22
AM CT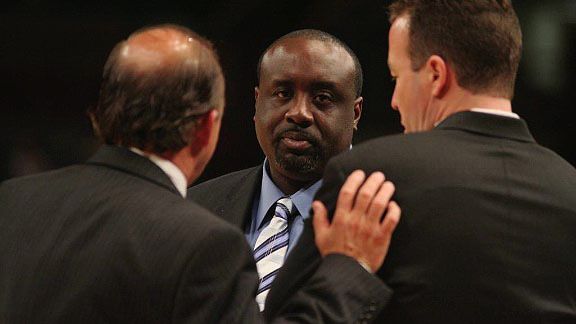 Scott Powers/ESPNChicago.comSimeon's Robert Smith is confident he could attract the state's top talent to Illinois.
Simeon coach Robert Smith realizes he's an unlikely candidate to be Illinois' next basketball coach.
High school coaches rarely make the jump to becoming college head coaches, especially at the high-major level. But Smith believes he's worth at least a look because he can provide the Illini with something they've struggled to get in recent years -- Chicago's premier players.
"One thing they haven't done is keep the top players at home," Smith said. "People say it's very hard. I think it's not very hard if you have a plan. I've developed relationships with the players and parents. My track record proves what I can do at a program and where I can put it."
January, 25, 2012
1/25/12
8:50
PM CT
CHICAGO --
Derrick Rose
's shadow continues to loom over Simeon's basketball program.
Simeon coach Robert Smith doesn't let his 2011-12 team forget what Rose and his teammates did when they were wearing blue and gold earlier this century. If the current Wolverines are ever going to impress Smith, they need to exceed what Rose and company accomplished.
On Wednesday, Smith was again happy, but not ecstatic. While No. 1 Simeon defeated No. 11 Bogan 68-57 in a matchup of Red-West unbeatens, Smith still wasn't completely satisfied with his team's play.
[+] Enlarge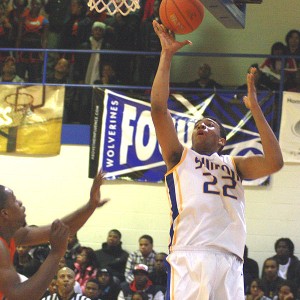 Scott Powers/ESPNChicago.comSF Jabari Parker's versatile game helped him win multiple state titles at Simeon.
"This team doesn't have that killer instinct," said Smith, whose team improved to 19-1 overall and 8-0 in conference. "When Derrick was here, if they had you down by 30, they wanted to get to it 50. They didn't get bored.
"No, I don't think we've played a complete game yet. I hope it comes. It would be scary if we could get firing on all cylinders and play all four quarters."
For a half Wednesday, Simeon was at full tilt.
Simeon opened the game playing aggressive defense and contesting every Bogan attempt. After each Bogan miss, the Wolverines snatched the rebound, pushed the ball other way and quickly got the ball into the hoop.
Before five minutes had passed, Simeon already held a 16-3 lead. The Wolverines went up by as many as 15 points in the first quarter and extended it to a 34-12 advantage by halftime.
"That's a good team," Smith said. "They can shoot 3-pointers. We just wanted to get out in front and build a cushion before they started making them."
From the other bench, Bogan coach Arthur Goodwin couldn't believe his eyes. The Bengals were playing their worst basketball at the worst time. They shot 4-of-29 from the field and 3-of-13 from the free-throw line in the first half.
Goodwin thought his team was possibly intimidated by the packed crowd at Simeon.
"We didn't play Bogan basketball in the first half," said Goodwin, whose team fell to 19-2 and 7-1. "You got to hit free throws to beat a good basketball team. In the second half, we played Bogan basketball."
Bogan was able to make it interesting in the final two quarters. The Bengals began taking the ball to the hoop for easy buckets and then went back to their outside shooting, which finally began to work.
Behind 10 points from Devonte Smith and two 3-pointers by Kendall Wesley, Bogan outscored Simeon 27-16 in the third quarter and cut the lead to 11.
In the end, though, the deficit was too much to make up. Simeon wasn't going to collapse that far as
Kendrick Nunn
and
Steve Taylor
combined for 12 fourth-quarter points to seal the win.
Nunn, Taylor,
Jabari Parker
and Jaleni Neely each took turns stepping up for Simeon. Parker finished with 20 points, 12 rebounds and five blocks. Nunn had 20 points and eight rebounds. Neely had 11 points and Taylor had 10 points and seven rebounds.
"They each came through with big plays," Smith said. "That's nice to have."
Smith had a team-high 13 points and nine rebounds for Bogan. Ronnell Buckner and Donte Jackson contributed 11 points each.
December, 12, 2011
12/12/11
5:10
PM CT
[+] Enlarge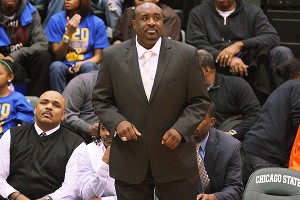 Smith_Robert 111212Robert Smith said if he left Simeon, it would have to be for college head coaching job.
Nationally top-ranked Simeon could have more than its players looking to make a jump to the next level.
Simeon coach
Robert Smith
said Monday he would consider leaving the Wolverines if he were offered the right college head coaching position after the season.
Smith has distinguished himself as one of the state's all-time great coaches in just eight seasons. He has a 200-36 record, won four state championships and coached in five title state games. The Wolverines are currently undefeated and are ESPN's No. 1 team in the country.
"I've been thinking about it lately," Smith said. "It's been coming up a lot. I love Simeon, and I love coaching high school basketball. I love teaching young men. It would have to be the right job. I would have to be a head coach. It would have to be in the mid-major nature."
Smith said he's been frustrated with high school basketball as of late. One of the reasons is the IHSA lumped Chicago's top Class 4A teams in one sectional, allowing at most one Public League team to reach the state tournament. Smith was also displeased Simeon had a game moved from Duke's Cameron Indoor Stadium to another location because of an NCAA rule.
"It's starting to wear on me," Smith said. "Every two weeks it's something else. I know on the college level they have different problems."
Smith was confident he could coach college basketball. He believed his team's successes at the high school level and his players' success at the college level helped prove that.
Smith coached
Chicago Bulls
guard
Derrick Rose
and a number of current college players, including Memphis'
Stan Simpson
, UCLA's
Lazeric Jones
and Kansas State's
Jeremy Jones
. Simeon junior Jabari Parker is considered the No. 1 player in the Class of 2013.
"I watch some of those guys all the time," Smith said of college coaches. "I think what they're doing is similar to what I'm doing just at a different level. We try to make this a college type of environment, so when they get to college they're ready to play."
Although Smith is not allowed to recruit in high school, he was sure he could get players to come play for him in college.
"Definitely, that wouldn't be a problem at all," Smith said.
It is uncommon for college coaches to be hired out of high school, but it has occurred. In 2010, Dan Hurley went from coaching St. Benedict's Prep in New Jersey for nine seasons to being Wagner College's head coach. Wagner had an eight-win improvement last season under Hurley and finished 13-17.
November, 8, 2011
11/08/11
3:41
AM CT
Simeon coach Robert Smith didn't feel like he was coaching the No. 1 team in the country when the Wolverines took the floor Monday for the first practice of the 2011-2012 season -- but in a good way.
Given all the hype surrounding the Wolverines, it wouldn't have been surprising if some of it had gone to their heads. Smith discovered that wasn't the case.
"They came out there like they weren't even ranked," Smith said following practice. "They were diving for balls. They're hungry and still feel like they have something to prove."
[+] Enlarge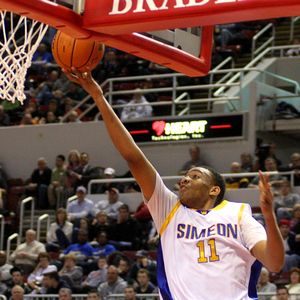 Scott Powers for ESPNChicago.comJabari Parker and Simeon are ready to begin their title defense.
While all the individual skill is undeniable, Smith's concern right now is developing team chemistry. It wasn't often this summer that Simeon played as a full team with
Jabari Parker
and
Kendrick Nunn
out of town with Team USA responsibilities.
"We're very talented, but as far as experience we're a young team," Smith said. "The chemistry is not good right now."
Smith began his eighth season as Simeon's head coach on Monday. He's gone 197-36 and has won four state championships. First day of practices are old hat to him.
For Proviso East coach Donnie Boyce, the first day of practice Monday was something special. It was his inaugural one as the Pirates' coach.
"All day yesterday and all day today, I couldn't wait until 3:40 p.m.," said Boyce, who starred at Proviso East and went on to play in the NBA. "It was very exciting to say the least."
Like Simeon, Proviso East is expected to be among the top teams in the state. The Pirates return point guard
Keith Carter
, who recently committed to
Saint Louis
, rising junior star
Sterling Brown
and a number of other experienced players.
Boyce spent his first day dealing with an open tryout, which is school policy. He had about 50 players come out. But aside from evaluating talent, Boyce also began the framework of teaching the type of defense he expected from his team this season.
"The one thing I always felt our teams were known for was our pressure," Boyce said. "We gave them 32 minutes of hell. I'd like to bring that back here."
Teams will hold practices for the next two weeks, and games will begin on Nov. 21.
September, 14, 2011
9/14/11
7:07
PM CT
Let the Simeon-to-DePaul pipeline begin.

Simeon coach Robert Smith believed he and DePaul coach Oliver Purnell had repaired their programs' relationship after the two Chicago coaches met last week and again on Tuesday. Smith had previously felt the programs were on different wavelengths.

"It was great," Smith said of last week's meeting with Purnell. "DePaul was the first one in [Tuesday.] Coach Purnell, we had a brief conversation again. It went well. We were able to talk and communicate on things we weren't able to communicate on before. We have a great fresh start."

Smith is hopeful the new beginning will lead to DePaul attracting his players.

"Hopefully, they can get into Simeon and recruit our guys and maybe someone will commit to go there," Smith said.

Purnell attended Simeon's open gym on Tuesday and has been actively recruiting Simeon junior forward Jabari Parker and junior point guard Jaylon Tate. Both hold offers from the Blue Demons.

DePaul has previously missed on Simeon's top players. Senior forward Steve Taylor chose to commit to rival Marquette last month. Simeon junior guard Kendrick Nunn also held a DePaul offer before recently committing to Texas A&M.

Bobby Simmons, a Class of 1998 recruit, is the last Simeon star to play for DePaul.