March, 24, 2011
3/24/11
3:15
AM CT
The ballots are in for Illinois' Mr. Basketball, and it's only a matter of time before the winner is announced.
Here's a look at the top candidates for this year's prize:
Max Bielfeldt, Peoria Notre Dame, Senior, Forward
Bielfeldt, a 6-8 power forward, averaged 23 points, 11 rebounds and five blocks for the Irish. Notre Dame went 28-0 and was nationally ranked before losing in the sectional semifinals. Bielfeldt was the Peoria area's best player this season. He isn't as highly touted as the other candidates, but he could steal a number of downstate votes. He is being recruited by Illinois and Michigan.
"Bielfeldt was such a huge mismatch for opponents at the high school level due to his combination of size, strength, craftiness and ability to step out and knock down a shot when he had to," City/Suburban Hoops Report recruiting analyst Joe Henricksen said. "What sticks out is his consistent high level of production. He is such a presence and force, which enabled his teammates to thrive with so much attention paid to him every trip down the floor."
Odds of winning: 15-1
Wayne Blackshear, Morgan Park, Senior, Guard
Blackshear, a 6-6 shooting guard, averaged 32 points, 15 rebounds, five assists and five blocks for the Mustangs this season. He had 56 points, 21 rebounds, eight blocks and seven steals in a win over Ellison. He played through a knee injury late in the year and kept up his production. Morgan Park did have a disappointing season as it was unable to defend it Public League title and didn't advance to state. Blackshear was named the Chicago Sun-Times' Player of the Year. He's a two-time ESPNChicago.com all-area selection. He's ranked No. 17 in the Class of 2011 by ESPN Recruiting. He was selected to play in the McDonald's All-American game. He is a Louisville recruit.
"Wayne is the best player in the state of Illinois regardless of class," Morgan Park coach Nick Irvin said. "He's a leader. He gets his team involved. It's not about Wayne getting 40 points. It's not about Wayne getting 20 rebounds. He's about winning."
Odds of winning: 3-1
Ryan Boatright, East Aurora, Senior, Guard
Boatright, a 5-11 point guard, averaged 32 points, six rebounds, three assists and three steals this season for the Tomcats. His team had its ups and downs, but won 24 games, defeated rival West Aurora for the first time in four seasons, gave Benet its only loss and reached the sectional title game. Boatright scored 63 points against Proviso West and had 55 points, 10 rebounds and 10 steals against St. Charles East. He was the ESPNChicago.com Player of the Year and is a two-time all-area selection. He is ranked No. 76 in the Class of 2011 by ESPN Recruiting. He'll play at Connecticut next season.
"We've kind of compared him a little bit to Isiah Thomas," East Aurora coach Wendell Jefferies said. "What he is really is a shorter Michael Jordan with his mentality and competitiveness. He can do it all on the court."
Odds of winning: 5-1
Anthony Davis, Perspectives, Senior, forward
Davis, a 6-10 forward, averaged 32 points, 19 rebounds and seven blocks. He had one game of 30 points, 15 rebounds, 10 assists and 11 blocks. His team had a tough season, winning six games. On a better team, he would have likely swept all the year's awards. He's was an ESPNChicago.com all-area selection. He was chosen to be in the McDonald's All-American game. He is ranked No. 2 in the Class of 2011 by ESPN Recruiting. He's a Kentucky recruit.
"Davis came on the scene last spring and has never looked back," ESPN recruiting coordinator Reggie Rankin said. "From an unknown to being considered for the top spot in the class and signing with Kentucky, Davis has off-the-charts' upside and is the toughest match up in high school basketball because of his size, length and guard skills."
Odds of winnings: 50-1
Jabari Parker, Simeon, Sophomore, Forward
No underclassman has ever won Mr. Basketball, but Parker isn't your ordinary underclassman. Parker, a 6-7 forward, averaged 15 points, six rebounds and two assists while leading Simeon to its second consecutive state title. He was an ESPNChicago.com all-area selection. He is ranked the No. 2 player in the Class of 2013 by ESPN Recruiting and is being recruited by nearly top college program.
[+] Enlarge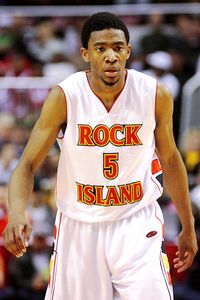 Scott Powers for ESPNChicago.comChasson Randle is among the front-runners for Illinois' Mr. Basketball award.
"When all is said and done, he could be a dominant player like LeBron or Amare Stoudemire," Simeon coach
Robert Smith
said. "He has the potential to be one of those dominant individual players."
Odd of winning: 75-1.
Chasson Randle, Rock Island, Senior, Guard
Randle, a 6-2 point guard, averaged 22 points, eight rebounds and three assists while leading the Rocks to the Class 3A state championship. He was named the state's Gatorade Player of the Year. He is ranked No. 60 in the Class of 2011 by ESPN Recruiting. He will play at Stanford next season.
"Chasson Randle has done more for the state of Illinois high school basketball in the past year than any candidate," Illinois Wolves club coach Mike Mullins said. "He has represented the USA, winning gold in the under-17 world championships. He recently was the only top candidate to lead his team to a state title in Peoria. All this while maintaining a perfect 4.0 GPA and No. 1 class ranking. Chasson represents the ideal of Illinois high school basketball and is Mr. Basketball."
Odds of winning: 2-1
David Sobolewski, Benet, Senior, Guard
Sobolewski, a 6-1 point guard, averaged 15.2 points, 6.1 assists, 3.8 rebound and 2.7 steals while leading Benet to a memorable season. The Redwings won their first 29 games, defeated top-ranked Simeon and was ranked No. 1 in the area and top 10 in the country at one point. Benet was upset in the sectional semifinals by East Aurora. Sobolewski's individual stock could have benefitted from making a trip downstate. He's a two-time ESPNChicago.com all-area selection. He'll play at Northwestern next season.
"Dave was outstanding at handling pressure, scoring, and creating shots for his teammates," Benet coach Gene Heidkamp said. "He consistently made others better. His leadership and decision making were important factors in our success."
Odds of winning: 40-1
March, 20, 2011
3/20/11
12:57
AM CT
Rock Island-Centralia GameCast

PEORIA, Ill. -- Rock Island senior forward Romal Davis briefly panicked like nearly every Rocks' supporter in Carver Arena when star guard Chasson Randle fouled out with 57.8 seconds remaining in the first overtime on Saturday.

"I was like, 'Man,'" Davis said. "I didn't know what to think. He's our leading scorer. But when he fouled out, man, it was like, 'Wow.'"



[+] Enlarge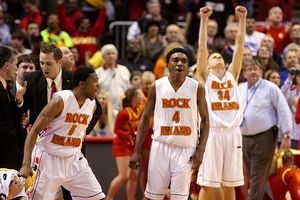 Scott Powers for ESPNChicago.comRock Island defeated Centralia to earn its first 3A title in Peoria, Ill. on Saturday.

Davis may not have been feeling confident at that point, but neither he nor his teammates wavered in their play from the moment their leader left the floor. The Rocks forced a second overtime in Randle's absence and outscored Centralia 10-0 in the final period to defeat the Orphans 50-40 and capture their first Class 3A state championship.

"This is a lifetime dream, and the dream has come true," said Davis while being mobbed by friends and family. "I can't even explain the feeling."

In the second overtime, Davis (10 points, nine rebounds) took charge first for the Rocks. He sank a jumper to give Rock Island a 42-40 lead with 3:36 left. It would be the game-winner.

From there, the Rocks took care of business at the free-throw line. After going 3 of 8 at the line in the first overtime, Rock Island redeemed itself in the final four minutes.

Royce Muskeyvalley sank two free throws to put them ahead 44-40. Denzel McCauley hit two more to give them a 46-40 lead. Muskeyvalley drained four more, and Rock Island had a 50-40 advantage.

"After the first overtime, we got in the huddle, and we told each we had to start playing hard, go for the loose balls and start hitting our free throws," said McCauley, who had nine points and 17 rebounds.

On the other end, Centralia lost its scoring touch. The Orphans missed two free throws and three field-goal attempts and turned the ball over twice in the second overtime.

Randle had led Rock Island (30-3) to a number of wins this season, but he was relieved his teammates had picked him up when it was needed most.

"Man, it was just great," said Randle, who finished with 13 points, seven rebounds, three assists and three steals. "The team did a great job of sticking together and staying in the game, and that's what we did.

"I'm just happy right now. I'm speechless."

R.J. Kwiatkowski (15 points) and Bryan Betts (13 points) led Centralia (30-5).


March, 18, 2011
3/18/11
8:12
PM CT
[+] Enlarge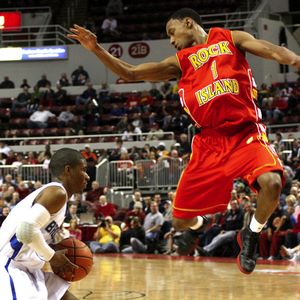 Scott Powers, ESPNChicago.com Brooks' Mike Powell struggled to find his shooting touch against Rock Island on Friday.
PEORIA, Ill. – Brooks senior guard
George Marshall
was just waiting for his shot to start falling through the net on Friday.
Like any shooter, Marshall has experienced off days in his career, but he also knew if he kept putting shots up some of them would eventually drop. It was always the case.
That was until Friday taught him otherwise.
Marshall and backcourt mate Mike Powell tried couldn't get their offense going Friday as Rock Island topped the Eagles 55-36 in a Class 3A semifinal at Carver Arena.
Marshall, a Wisconsin recruit, didn't score his first point until he sank a free throw with 1:18 left in the fourth quarter and didn't make his first field goal until 25 seconds remained. He finished 1 of 12 from the field for five points.
Powell, who is being recruited by a number of Division I schools, also struggled. He shot 1 of 14 from the floor and scored three points.
Together, they shot 2 of 26 and combined for eight points. They had been averaging just under 36 points a game.
"Really, I'm not sure exactly what it was," Marshall said. "We had good looks. The concentration was there. There's no particular reason. I've had off games, but as far an entire game like that, no."
The Eagles shot of 1 of 7 and trailed 12-1 after one quarter. Their second quarter was slightly better, but they still shot just 3 of 21 from the field and went into halftime down 23-11.
"Obviously, the first quarter killed us," Brooks coach Bobby Locke said. "We couldn't overcome that."
Brooks missed its share of open looks, but Rock Island also factored into the Eagles' woes.
"They're a great team, average a lot of points, and I'm sure their guys feel like they missed some looks they make most of the year," Rock Island coach Thom Sigel said. "And it's probably true, but I think we had a lot to do with that. I thought we had good help, great team defense."
Rock Island's star
Chasson Randle
wasn't feeling it Friday, either. He shot 5 of 15 from the field and scored 12 points. Randle, who signed with Stanford, was named the state's Gatorade player of the year earlier in the week.
The lone bright spot for Brooks was the play of senior forward
Keith Gray
. One of the state's top uncommitted players, Gray had 12 points and 12 rebounds. His twin brother
Kevin Gray
had seven points and five rebounds.
Rock Island was led by Denzel McCauley's 14 points, nine rebounds and three blocks.
October, 27, 2010
10/27/10
9:50
PM CT
Stanford coach Johnny Dawkins landed a good one on Wednesday with the verbal commitment of ESPNU's No. 8-ranked point guard Chasson Randle (Rock Island, Ill./Rock Island H.S.). The 6-foot-1, 170-pounder chose the Pac-10 program over in-state Illinois and Purdue.
Read the entire story.