High School:

Round 1 recaps
October, 30, 2010
10/30/10
5:19
AM CT
CHICAGO -- Naperville North's Matt LaCosse and Nick Lifka were only sophomores when the Huskies were upset by Marist in the 2008 playoffs, but it was a memory they carried heavily with them on Friday night.
The 2008 Huskies had gone undefeated in the regular season and were considered to be a state favorite heading into the Class 8A playoffs. In the second round, they ran into Marist, the No. 7 seed. Naperville North appeared as if it was going to advance to the quarterfinals with a 12-point lead in the fourth quarter, but Marist rallied with back-to-back scores in the final minutes and pulled off a 28-25 shocker.
LaCosse and Lifka can still remember the crushing feeling of that defeat, and it was what they wanted Marist to experience on Friday.
The pair succeeded.
Naperville North jumped to an early lead, and this time didn't relinquish it as the No. 9-seeded Huskies defeated No. 8 Marist 27-14 in the first round of the Class 8A playoffs.
Naperville North (7-3) will host top-seeded Lyons (9-1) in the second round.
"It was devastating in the second round," Lifka said of the 2008 loss. "We had an undefeated team, and it was huge. We're playing for the program here. We won it for those guys. They talked to me all week about how they needed me to get that vengeance. We got the redemption."
LaCosse had those same players on his mind, too.
"We did this for the '08 team," LaCosse said. "I know some of them were here tonight. I'm glad we got it done for them."
LaCosse played a major factor in Naperville North being able to do that.
On the opening drive, LaCosse, the quarterback, orchestrated a 13-play, 65-yard drive that ended with an eight-yard touchdown run by Alex Kinne. LaCosse accounted for 32 rushing yards, including a four-yarder to pick up a first down on fourth down, and completed one pass for three yards on the drive.
"We came off the bus with a lot of fire in our hearts," LaCosse said. "We knew this could be our last game as seniors in high school. We didn't want that to happen, so we pounded the ball, our defense played great, and we end up going home happy."
[+] Enlarge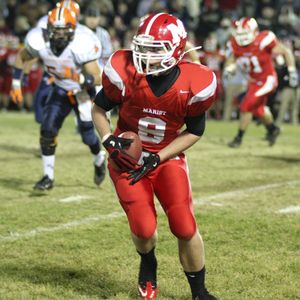 Scott Powers/ESPNChicago.comCostly turnovers were too much for Marist to overcome Friday.
Naperville North's defense did do its part. On back-to-back possessions after Naperville North's initial score, the Huskies forced Marist to turn over the ball in the RedHawks' territory.
LaCosse and the offense capitalized on the second turnover. Starting on Marist's 26-yard line, LaCosse carried the ball for 15 yards. On the next play, Antonio Owens scored from 11 yards out, and Naperville North had itself a 14-0 lead with 2:56 remaining in the first quarter.
"They obviously had the momentum," Marist coach Pat Dunne said. "It was pretty quick how they jumped out to 14-0. They did a good job of executing and running the clock out there."
Naperville North kept Marist a few touchdowns behind the rest of the way. Lifka and Nick Sianta each added touchdown runs for the Huskies.
Marist quarterback Luke Oosterbaan hooked up with Mike Skalitzky on two nine-yard touchdown passes for their team's scores. Oosterbaan, a junior, was 23 for 32 for 165 yards, two touchdowns and one interception.
LaCosse (94 rushing yards), Sianta (47 rushing yards) and Owens (76 rushing yard) led a balanced Naperville North offense.
Marist's loss was especially difficult for its seniors. A year ago, that same group saw its season in the state championship game. This year, it was in the opening round.
"I'll tell you what, this group we're so proud of just as much as we were the state championship," Dunne said. "These are great kids. They work so unbelievably hard. I'm so absolutely proud of them."
October, 30, 2010
10/30/10
5:04
AM CT
By
Andrew Braverman
| ESPNChicago.com
NORTHBROOK, Ill. -- For just the fifth time in school history, the Harlem Huskies have reached the second round of the IHSA football playoffs.
After traveling 85 miles from Machesney Park, the 10th-seeded Huskies left Northbrook with a 31-21 upset victory over the No. 7 seed Glenbrook North Spartans in a Class 7A first round matchup that featured plenty of big plays and costly turnovers. After a safety gave Harlem the early lead, 2-0, its rushing attack took over, totaling 398-yards on the ground, including all four touchdowns.
"Those kids ran hard tonight," said Harlem head coach, Jim Morrow. "Everybody in the backfield ran hard and the offensive line did a great job blocking for them."
But even with Harlem's effective ground game, Glenbrook North held on right until the very end.
Harlem would score the game's first 16 points (all in the first quarter), thanks to touchdown runs from seniors Brandon Rogers and Keith Purifoy. But after Purifoy's 35-yard scamper midway through the first quarter, Glenbrook North came alive. Phil Crawford took the ensuing kickoff 75-yards for a touchdown.
In the second quarter, the Spartans went trick-or-treating as quarterback Zack Hilgendorf would threw a lateral to running back Grant Rushing who then found receiver Armin Batang down the sideline for a 73-yard gain. Four plays later, Hilgendorf would draw the Spartans within two-points on a 1-yard sneak. More Glenbrook North fireworks would go off at the conclusion of the first half as Hilgendorf again took to the air, finding Nick Freund for a 20-yard touchdown, and the 21-16 lead as time expired.
"I'm really proud of the way our kids responded," Glenbrook North head coach, Bob Pieper said. "They'd take a punch and we'd answer right back with one."
Unfortunately for the Spartans, the second half did not have the same back-and-forth result. Harlem would score on its first possession of the third quarter on a Kevin Witcik 22-yard run, and ice the contest with under one-minute remaining in the fourth thanks to another Witcik effort of 29-yards.
Harlem quarterback, Brandon Rogers, who finished the game with 191-rushing yards and a touchdown, still couldn't catch his breath as the final horn sounded. "I'm at such a loss for words right now," said Rogers. "I give a lot of credit to Glenbrook North, they played a hell of a game, but man, I'm just proud of these guys, of my team." Now, Harlem gets to sit back and wait for its next opponent, St. Rita, to make the trek to Machesney Park. "We stayed positive the whole time because we knew this game wasn't over and we just fought until the end," Rogers added. " "We fought through adversity, we won and it's the greatest feeling in the world to go home next week and face St. Rita."
Glenbrook North (8-2) has nothing to be ashamed of according to Pieper. "I'm calling this season a success." he said. "We were 8-1 before tonight, went undefeated and won the conference championship. That conference championship is something these kids will have forever."
The Spartans were lead by Hilgendorf (189-passing yards, TD, rushing TD) and senior wide receiver, Armin Batang (153-receiving yards).
Players of the game: Harlem QB, Brandon Rogers (23-car, 191-yards, TD), Sr. RB Keith Purifoy (11-car, 108 yards, TD), So. RB Kevin Witcik (9-car, 94-yards, 2 TD).
Stat of the game: Harlem outgained the Spartans 398-80 in rushing yards.
It was over when: Harlem sophomore running back Kevin Witcik ran for a 29-yard touchdown with less than a minute remaining in the game.
Quote of the night: Harlem head coach, Jim Morrow, "when you're at a school that doesn't have a great playoff history, this win really means a lot."
October, 30, 2010
10/30/10
4:49
AM CT
By
John Venerable
| ESPNChicago.com
ELMHURST, Ill. -- Down seven with less than eight minutes remaining, York was at a crossroads.
"It was certainly gut check time for all of us on that side of the ball," said York senior quarterback Jim Nudera.
Two drives and 14 points later, the top-seeded Dukes narrowly avoided a first-round upset, defeating Lockport 21-14.
"We've been working at this since last summer, and tonight was just an example of what a team does under this type of adversity." said Nudera
The adversity Nudera was referring to was his Dukes' inconsistent first half, which began with a Dan Holman 82-yard touchdown run that put Lockport up early. York would respond, as Nudera guided the Dukes down the field mid second quarter, as the QB capped of the touchdown drive with a 3-yard TD run.
But it was two costly York turnovers that left the game tied 7-7 at half.
"It's tough to score points when we're turning the ball over whether it be in the red zone or not…it just kills you're rhythm offensively," said Nudera.
Both teams opened up the second half much like the first, with multiple three-and-outs until an unsportsmanlike penalty against the Dukes helped Lockport convert a second-and-14 en route to a go-ahead touchdown via Dexter Taylor's 8-yard run.
With time running out on the Duke's season, Nudera and his offense finally began to click, thanks to some tough running from Ryan Kent. Kent's 55-yard run followed by a 5-yard touchdown scamper tied the game at 14 all. After Lockport failed to convert a key third-and-3 with less than four minutes remaining, York promptly regained possession and never looked back. Facing second down from the Lockport 13, Nudera found David Byerley wide open in the back of the end zone for what would be the game winning touchdown.
"In my opinion, he's one of the best receivers in the state," said Nudera.
With the win, York advances to face Naperville North in the second round of the 8A playoffs.
Player of the game: Jim Nudera, QB, York. Although inconsistent at times, Nudera came up big when his team needed him the most. The senior directed two clutch 4th quarter drives, highlighted by his 13-yard touchdown pass that iced the game for the Dukes.
Stat of the game: After holding the York offense to just seven points in the first three quarters, the Lockport defense surrendered 14 points in the game's final eight minutes.
It was over when: Billy Reed and the Lockport offense failed to convert on a fourth-and-6 with less than a minute remaining.
Quote of the night:
"We obviously know we didn't play our best football tonight and to still come away with the win is a great feeling." -- York Senior Quarterback Jim Nudera
October, 30, 2010
10/30/10
3:05
AM CT
By
Willie Mullen
| ESPNChicago.com
WHEATON, Ill. -- From the opening kickoff to the final whistle, the Wheaton North Falcons' offense was in high-gear on Friday night against the visiting Marian Catholic Spartans. Led by senior quarterback Reece Butler, the Falcons (8-2, 5-2) scored on five of their first six possessions en route to a 27-12 win in the opening round of the Class 7A playoffs.
Butler converted on 12 of his first 13 passes for 129 and two touchdowns to start the game as the Falcons scored every time they had the ball in the first half. In fact, the only thing that slowed down the Falcons offense was self-inflicted wounds. They missed a field goal in the third quarter and fumbled away a drive in the fourth, accounting for two of the three times Wheaton North did not score when it had the ball. The Falcons punted just once.
"Every game you want to start out fast and doing it in the playoffs is huge," said Reece, who led the Falcons on a 14-play drive to start the game. "And we built on that throughout the night."
Butler finished the game with 193 passing yards, 78 rushing yards and three total touchdowns. Running back Patrick Sharp and senior wide receiver Richard Finley complemented their ace quarterback throughout the night as Sharp ran for 56 yards while Finley caught nine passes for 89 yards and touchdown.
The Spartans (6-3, 4-0) opened their night with an equally impressive 14-play drive, but struggled to move the ball for much of the game00. Aside from the opening drive, the only points Marian Catholic scored the rest of the night came on a 48-yard touchdown reception by Randall Wells with six minutes left in the game. Wells finished the game with 91 receiving yards.
With the win, the Falcons advance to the second round of the playoffs where they will play archival Wheaton Warrenville South. The Falcons lost in their regular-season matchup with the state's top team 42-14 earlier this season.
Player of the game: Butler
Stat of the game: 1. The number of times Marian Catholic forced the Falcons into a three-and-out.
It was over when: Junior Marcin Gawlak connected on a 29-yard field goal at the end of the first half to give the Falcons at 20-6 lead.
Quote of the night: "It's going to be a good one. We're excited to get another shot at [Wheaton Warrenville South] and it's going to be fun." - Butler after the game on next week's matchup against the top-ranked Tigers.