High School:

Sam Thompson
March, 8, 2011
3/08/11
7:00
PM CT
Here are five things to watch for in Tuesday's boys basketball playoffs:
[+] Enlarge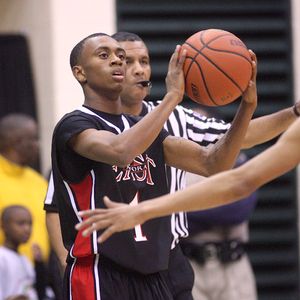 Scott Powers for ESPN.comEast Aurora's Ryan Boatright, a Connecticut recruit, will match up against another elite guard, Benet's David Sobolewski.
1. All-state guards square off:
Two of the state's best guards in Benet's
David Sobolewski
, a Northwestern recruit, and East Aurora'
Ryan Boatright
, a Connecticut recruit, will meet up in the East Aurora sectional semifinals. Benet is undefeated and the No. 1 team in the state. East Aurora has been up and down, but Boatright can go off for 40-plus points on any night. A year ago, Benet defeated East Aurora 72-60 in the same round. Sobolewski had 21 points in that game, and Boatright finished with 18.
2. Oh, the talent:
The entire court will consist of nearly all Division I-caliber players at times during the De La Salle-Whitney Young sectional semifinal at York. De La Salle is led by seniors
Mike Shaw
, an Illinois recruit, and Dre Henley, who is one of the area's top unsigned players, and sophomore stars
Alex Foster
and
Jaylon Tate
. Whitney Young has even more Division I talent.
Sam Thompson
is headed to Ohio State. Tommy Hamilton Jr. is one of the nation's top sophomores.
Jahlil Okafor
and
Paul White
are two of the country's premier freshmen.
Gabriel Snider
recently committed to UIC, and he comes off the bench.
3. South Side showdown:
Tuesday's schedule is packed with potentially great games, and Mount Carmel vs. Simeon in the Argo sectional semifinals is one of them. Illinois recruit
Tracy Abrams
leads the Caravan, and
Jabari Parker
, one of the nation's top sophomores, heads up Simeon.
4. Unsigned stars:
Niles North's
Abdel Nader
and Notre Dame's
Quinton Chievous
are two of the state's top unsigned players, and they will face each other in the New Trier sectional semifinals. Notre Dame defeated Niles North 61-50 in the Wheeling holiday tournament earlier this season. Chievous had 17 points and 17 rebounds, and Nader finished with 18 points and seven rebounds.
5. Downstate affair:
If there's a game to watch outside of the Chicago area on Tuesday, it's Peoria Central vs. Peoria Notre Dame in a sectional semifinal. Peoria Notre Dame is undefeated and is among the favorites to win the Class 3A title. Peoria Central is playing some of its best basketball and has the talent to compete with Notre Dame. The winner will likely advance to the state tournament.
December, 11, 2010
12/11/10
9:12
PM CT
The Chicago area is stacked with nationally-ranked players, and it should make for a very interesting race to ESPNChicago.com's Player of the Year award.
Here's a look at the early front-runners:
1. Morgan Park senior guard Wayne Blackshear
Blackshear may no longer be the highest ranked prospect in the state, with the arrival of Kentucky recruit
Anthony Davis
to the scene, but he still is the front-runner for the player of the year award. Unlike Davis' Perspectives team, Morgan Park is a state contender, and that makes Blackshear more relevant. Blackshear can score, and there may not be a more clutch player in Illinois. He's signed with Louisville.
2. Orr senior forward Mycheal Henry
Of all the candidates, Henry is the most gifted shooter. He's drawn comparisons to former Public League star Bobby Simmons with his ability. Henry is going to put up numbers, and that will keep him among the race leaders. He had 30 points, 14 rebounds, four steals and two blocks in his season opener last week. Even with foul trouble on Sunday, he dropped 21 points on T.F. North. He's signed with Illinois.
3. East Aurora senior guard Ryan Boatright
Boatright is the most exciting player to watch. He not only scores, but he scores in dramatic fashion. He not only passes, but he makes those passes look pretty. He not only drives to the lane, but he gets there after crossing over his opponent, spinning past another and acrobatically laying the ball into the net. He's already dropped 55 points in a game this season, which some other basketball minds have raved about. He's signed with Connecticut.
4. Perspectives senior forward Anthony Davis
While Davis is considered the No. 2 prospect in the country by ESPN, he is No. 4 on this list simply because of the school he plays for. Perspectives is a tiny school and has an even smaller basketball program. Davis is like a whale in fish bowl there. His team can't compete with the rest of the area's powers, and it'll likely affect Davis' player of the year stock. Of course, if he averages 30-plus points and 20-plus rebounds, which he is almost doing now, he'll be hard to ignore. He's signed with Kentucky.
5. Benet senior guard David Sobolewski
Sobolewski isn't as highly regarded nationally as some of the players on this list, but locally there's few better at doing whatever his team needs to win. He can score in bunches when asked to, but he can also dish it. Benet is the No. 3 team in the area because of him. He's signed with Northwestern.
6. Simeon sophomore forward Jabari Parker
Parker is considered one of the top sophomores in the country. The son of former NBA player Sonny Parker, he's the perfect mixture of size, skill and intelligence. Simeon is the area's top team, and Parker is its star player. What may hold him back are his numbers. The Wolverines are more balanced than any team around, and Parker's numbers aren't flashy due to that. He's uncommitted and is being recruited by nearly every top program.
7. Whitney Young senior guard Sam Thompson
Thompson is the jack of all trades. He isn't going to put up gaudy scoring numbers, like Boatright, or rebounding ones, like Davis, but he's going to fill up the whole stat sheet with points, rebounds, assists, steals and blocks. He's long and one of the area's best defenders. Like Jabari Parker, Thompson plays for a very balanced team. He is signed with Ohio State.
[+] Enlarge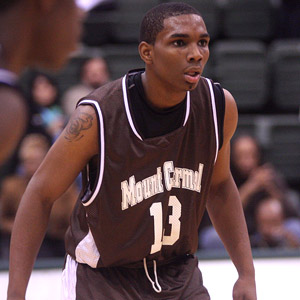 Scott Powers/ESPNChicago.comMount Carmel senior guard Tracy Abrams is an Illinois recruit.
8. Mount Carmel senior guard Tracy Abrams
Abrams was once considered the top player in Illinois' loaded Class of 2011, but an early commitment and injuries knocked him off the map for a bit. Now with one last season, he'll be looking to place himself back up there. He has the skill set to do so. He's an all-around point guard and is considered to be the successor to Demetri McCamey at Illinois. He is signed with the Illini.
9. Glenbard East senior guard Jon Hill
Hill is the one mid-major player on this list. Hill is a versatile guard for one of the top teams in the state. He can fill it up, especially from deep. In an early win over Glenbard North, he scored 28 points on 9-of-10 shooting and added five assists and four steals. He had a game-high 25 points in a recent win over Wheaton Warrenville South. He's signed with Illinois State.
10. De La Salle senior forward Mike Shaw
Shaw has been one of the area's top big men throughout his career. He can score, rebound and alter shots, and he's done it pretty consistently. What people expect out of him this year, though, is for him to begin dominating. He'll be looked to take over games with his versatile ability. If he can do that, he'll move up these rankings. He is signed with Illinois.
Others to watch:
Hales senior guard
Aaron Armstead
(Wisconsin-Green Bay), Hillcrest senior guard
Julius Brown
(Toledo), Rich South senior guard
Macari Brooks
(DePaul), Proviso East junior guard
Keith Carter
(uncommitted), Notre Dame senior forward Quinton Chievious (uncommitted), St. Ignatius senior center Nnana Egwu (Illinois), Brooks senior guard
George Marshall
(Wisconsin), Niles North senior forward
Abdel Nader
(New Mexico), Homewood-Flossmoor junior forward
Delvon Rencher
(uncommitted), York senior guard Will Sullivan (uncommitted).
September, 20, 2010
9/20/10
4:14
AM CT
Whitney Young senior forward
Sam Thompson
understood that committing to Ohio State on Sunday means he won't be liked when he travels to Illinois and Northwestern in the years to come.
Read the entire story.