February, 27, 2012
2/27/12
9:30
PM CT
As the IHSA playoffs kick off, Simeon and Proviso East remained the top teams in ESPNChicago.com's boys basketball rankings.
Read the full story.
December, 26, 2011
12/26/11
2:42
PM CT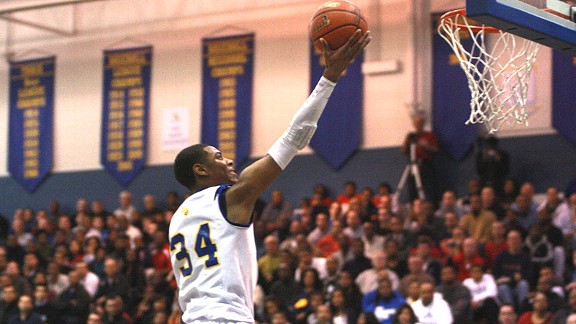 Scott Powers/ESPNChicago.comAlex Foster and De La Salle should be one of the favorites at York.
The holiday tournament season is upon us. Here's a guideline to the week ahead.
Five tournaments to attend
1) Pontiac, Dec. 28-30: It helps that Pontiac has the country's top team in Simeon and top player in Jabari Parker, but that's just the start. Curie and Warren have both been ranked in the top 5 this season and could give Simeon a game. Peoria Manual is one of the top teams outside of the Chicago area this season and has a number of Division I players. The semifinals could include all four teams.
2) Proviso West, Dec. 27-30: This could be an interesting year at Proviso West because of the parity. Proviso East, which is ranked No. 2, is the favorite, but it's wide open after that. Glenbrook North, Homewood-Flossmoor, Morgan Park, New Trier and St. Joseph have all been ranked at some point this season.
3) Rich South, Dec. 26-27, 29-30: The McDipper could include a top-10 championship game between No. 5 Seton and No. 7 Bloom. Both enter the tournament undefeated. Crete-Monee, Evanston, Hales, Leo, Marian Catholic and Rich South give the tournament depth.
4) York, Dec. 27-30: The Jack Tosh Tournament added De La Salle this season. The Meteors should be the favorites, and they could see Downers Grove South in the championship. Maine South, Naperville North, Riverside-Brookfield and St. Ignatius should be competitive, too.
5) Wheeling, Dec. 27-30: Wheeling has become a whole lot more interesting with the rise of Notre Dame, St. Viator and Stevenson this season. Notre Dame and Stevenson are ranked, and St. Viator is 10-0 heading into the tournament.
Five players to see
1) Jabari Parker, Simeon at Pontiac: If you haven't already seen Parker, the No. 1 junior in the country, see him. If you've already seen him, see him again. Friday is the best day to be at Pontiac. Simeon is likely to play at 2:30 p.m. in the semis and 9 p.m. in the championship.
2) Billy Garrett Jr., Morgan Park at Proviso West: Garrett Jr. is the future of DePaul. His game has continued to develop, and he has a chance to be one of the nation's top guards when he arrives to Lincoln Park.
3) Gavin Schilling, De La Salle, York: There are actually a number of De La Salle players to see, but Schilling has been the hot name as of late.
4) Tyler Ulis, Marian Catholic, Rich South: Ulis, a sophomore guard, has been receiving rave reviews. This could be a good chance to witness him against other top players.
5) Jewell Loyd, Niles West at Stevenson and Loyola: If you're to see one girls basketball player all season or even possibly all decade, Loyd is the one to watch. She puts up 40 points and 20 rebounds on a regular basis. Niles West plays at Stevenson on Tuesday and Loyola on Wednesday.
Recommend itinerary
Monday: Rich South is the only tournament running. If you're looking to go to just one or two game, the late afternoon (4 p.m.) is a good place to start.
Tuesday: The first day of Proviso West is always interesting. The Rich South quarterfinals start at 4p.m. York vs. Riverside-Brookfield at York at 7:15 p.m. could be a fun first-round matchup.
Wednesday: It's the first day of Pontiac if you want to be there the entire time. New Trier and Homewood-Flossmoor could meet in Proviso West's second round at 5:15 p.m. Neighborhood rivals Proviso East and St. Joe's could also meet at 8:30 p.m. at Proviso West.
Thursday: Warren and Waukegan is a potential second-round game at Pontiac at 11 a.m. St. Ignatius vs. Downers Grove South could be a York semifinal at 7:15 p.m. Stevenson and Notre Dame are aligned to meet in a Wheeling semifinal at 7:15 p.m.
Friday: Pontiac is the place to be, but you can double-dip by going there for the semifinals at 1 p.m. and 2:30 p.m. and head back toward the city for another championship game. Rich South's championship is at 7 p.m. York's championship is at 7:15 p.m. Proviso West's championship is at 8 p.m. Wheeling's championship is at 8:45 p.m.
Five storylines
1) Morgan coach Nick Irvin's father, Mac Irvin, passed away on Saturday. Mac was a legendary figure in Chicago basketball. Morgan Park opens the Proviso West tournament at 9 a.m. on Tuesday.
2) Simeon's road to another Pontiac title won't be easy. The Wolverines could see a talented Peoria Manual team in the semis and either Curie or Warren in the championship game. Warren lost to Simeon in the Pontiac and state title games last year. If Simeon survives, it will remain the No. 1 team in the country.
3) Proviso East hasn't won a Proviso West championship since it won it in back-to-back years in 1990 and 1991. First-year Proviso East coach Donnie Boyce was a senior on the 1990 team. It would be fitting for him to coach the Pirates to a title this year.
4) How many undefeated teams will remain after this week? Bloom and Seton are undefeated at Rich South. Curie and Simeon are undefeated at Pontiac. St. Viator takes it undefeated record into Wheeling. Bogan travels to Centralia with an unbeaten mark. Andrew (at Kankakee) Plainfield East (Pekin) and Metea Valley (Hinsdale South) are also undefeated.
5) Some players will make stars out of themselves after this week. Who will we be talking about next week?
December, 25, 2011
12/25/11
3:58
PM CT
Fresh off a close win over Whitney Young, Simeon remains No. 1 in the ESPNChicago.com prep hoops rankings. Who else is moving up and down in advance of this week's holliday tournaments.
Full story.
December, 7, 2011
12/07/11
7:20
PM CT
Here are five early observations to the 2011-2012 high school boys basketball season.
1: It's going to be a crazy year: The preseason assumption was it was top-ranked Simeon and everyone else, and that couldn't be truer through a few weeks of action. Try to follow these early results. Second-ranked Warren, which was thought to be Simeon's biggest competitor, lost to Stevenson on Tuesday. Stevenson previously lost to Elgin, which lost to Geneva, which lost to Oswego, Naperville Central and Oswego East. Other teams which have at least one loss already include Crane, De La Salle, Downers Grove South, Farragut, Homewood-Flossmoor and Morgan Park.
2 So, who's good: Well, of course, Simeon. The Wolverines are a work in progress as they figure out a few new roles, but they still rolled in their first two games against decent competition. Outside of Simeon, Proviso East, Andrew, Bloom, Plainfield East, Marist and Seton have proven to be the most consistent teams so far. Proviso East won its invitational at the Tournament of Champions in downstate Washington. Andrew won Crete-Monee's tournament. Marist has a quality win over St. Rita. Seton knocked off Crane on Tuesday. Bloom has a win over Homewood-Flossmoor. Plainfield East defeated Downers Grove South.
3 Just good high school players: The Chicago area has its share of nationally-ranked players, but it also has a lot of simply good high school players. Some of the guys who been impressive so far are Crane's Willie Conner, St. Rita's Tony Hicks, Bloom's Donald Moore and Seton's J.R. Tolliver. Conner's stock could especially rise as the season unfolds. He's become a lot more than a shooter.
4 Catch Young while you can: Whitney Young only plays 11 games in Illinois and only four times at home this season. The Dolphins have a true national schedule, which takes them to California, Kentucky, New Jersey, North Carolina, South Carolina and West Virginia. They travel to North Carolina twice. Their biggest in-state game will be against Simeon at UIC on Dec. 22.
5 Eligible transfers: Crane received good news Monday when it discovered Markee Williams was eligible after transferring from Morgan Park. Hyde Park also had all four of its transfers, including Moshawn Thomas, approved. Crane and Hyde Park should be among the state contenders with those players on the floor.
December, 6, 2011
12/06/11
11:08
PM CT
SOUTH HOLLAND, Ill. – Seton is going to play the role of underdog as long as it can.
Unfortunately for the Sting, their hourglass has almost expired on that, especially after No. 19 Seton upset No. 9 Crane 73-66 before plenty of watchful eyes on Tuesday.
[+] Enlarge
Scott Powers for ESPN.comRussell Robinson Jr. and Seton put together a complete game in Tuesday's upset of Crane.
"We had nothing to prove," Seton coach Brandon Thomas said afterward. "They were the higher ranked team. They're the team that some even possibly have picked to win state in 3A. We didn't have anything to prove other than the fact that if somebody comes into our house we can defend it."
Few teams will likely be ranked higher than Seton (8-0) a week from now, and Thomas won't be able to hide behind that thought process. Whether he likes it or not, Seton has proven quickly this season it's among the state's elite teams.
Crane coach Chris Head certainly left Seton's gym impressed how the Sting dissected his team with 3-pointers, rebounding, inside play, defensive pressure and overall teamwork.
"They do some things that remind of my old Westinghouse team," said Head, who coached Westinghouse to a state title. "They get up and down the court. They press. They run and jump. They shoot the 3 in transition. They do some real untraditional things."
Seton's unique style was on full display while it overtook Crane (1-1) in the third quarter. After trailing 34-33 at halftime, the Sting pushed ahead for good late in the third quarter by forcing Crane into turnovers and knocking down 3-pointers. When the quarter was up, Crane had committed nine turnovers to Seton's one, and the Sting had drained five 3-pointers to go ahead 59-51.
"This is the first game we were down at halftime," Thomas said. "We've been waiting for some adversity. This is the first time we faced any adversity, and we were okay."
Seton junior guard Mark Weems Jr. especially came through in the deciding third quarter. He scored 10 points, made two 3-pointers and had one steal. He finished with 16 points.
But Seton was more than one-man wrecking ball against Crane. The Stings had four players in double figures and went six deep on their bench.
Senior guard Jordan Foster (13 points, three steals), senior forward J.R. Tolliver (17 points, nine rebounds) and junior guard Kamai Shasi (14 points) contributed for Seton.
Being only Crane's second game, Head wasn't too down about the loss.
"What I really tried to do was prolong the season as long as possible to get as many reps, as many practices with the kids as possible," Head said. "We couldn't wait until Christmas. We're playing a heck of a schedule. We knew coming in it wasn't going to be easy."
Crane junior guard Markee Williams had 13 points, including eight in the fourth quarter, in his season debut. He was ruled eligible on Monday.
Senior guard Willie Conner led Crane with 23 points.