High School:

Shepard Little
October, 9, 2010
10/09/10
3:41
AM CT
By
Willie Mullen
| ESPNChicago.com
PLAINFIELD, Ill. -- The Minooka Indians thought they had won the game after kicker Jason Lizalek's extra point sailed through the uprights in overtime against the Plainfield North Tigers. However, a dead-ball penalty forced the celebrating Indians back to the sidelines and Lizalek once again had to make the conversion. He did, and the Indians defeated the host Tigers 35-34 in a thrilling overtime battle between Southwest Prairie Conference foes. The Tigers missed their extra point to start the extra session.

"You have a job to do and you just go out there and do it," Lizalek said.

The night did not start off great for Minooka, as Plainfield North running back Kapri Bibbs sparked the capacity crowd on the game's first play. Bibbs broke a 79-yard touchdown run just seconds into the game, picking up right where he left off after last week's near record-setting 520-yard, seven touchdown performance.

But the Indians responded, thanks to the efficient play of senior quarterback Mitch Brozovich. Brozovich finished the game with 171 total yards and a touchdown, but his biggest contributions came in crucial situations.

Time and time again Brozovich and his running back trio of Kyle Banks (42 yards, TD), Kalvin Hill (122 yards, 2 TDs) and Taylor Salazar (21 yards, 2 TDs) converted on key downs, keeping the ball away from Bibbs and the Tigers.

"Offensively we knew we were going to have to step up and make plays," said Brozovich. "They have such an explosive offense, we had to keep them off the field."

Bibbs finished with 206 yards on 33 carries, a mediocre night by his other-worldly standards. In the end, however, it was an unlikely hero who propelled the Indians to victory.

"This was my first game-winning field goal," Lizalek added. "And it feels pretty good."

Player of the game: Brozovich, with a lot of help from his trio of running backs

Stat of the game: 7. That's the number of plays the Tigers ran in the second quarter, a testament to the steadiness of the Minooka offense.

It was over when… Lizalek's second point-after sailed through the uprights.

Quote of the night: "Our offense was more physical than their defense." Brozovich, on how his team was able to move the ball so effectively.

October, 8, 2010
10/08/10
5:44
AM CT
SCHAUMBURG, Ill. -- Schaumburg senior Shepard Little didn't like where his life was leading a year ago.
Little had already paid a price for one of his mistakes and was suspended from playing in games last football season due to an undisclosed disciplinary reason. He wasn't sure it was going to end there. He wasn't in danger of falling into a life of crime or anything that extreme, but he was concerned about the person he was becoming.
[+] Enlarge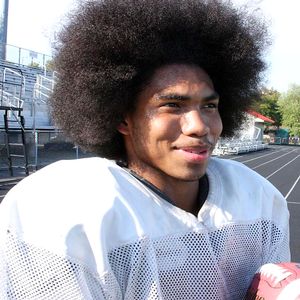 Scott Powers/ESPNChicago.comSchaumburg's Shepard Little has rushed for 1,175 yards and 12 touchdowns in six games.
Little wanted to be someone different than who he perceived himself to be. He wanted to be a role model for his three younger siblings. He wanted to play his senior season and have his teammates trust him. He wanted to play college football and not have to worry about a coach questioning his character when recruiting him.
For all those wants to become reality, Little knew changes had to be made.
"I wasn't really heading down a good road when I got into trouble," Little said. "I got into trouble and started making big mistakes. I had an attitude. I had an attitude toward my parents. I felt I needed to change that.
"I stopped being a sneaky kid and stopped hiding stuff. I'm more of an honest person. I decided I was going to a great big brother, great family member, a great teammate and a great friend."
It's what Little, the ESPNChicago.com Prep Athlete of the Week, has become. While much of his headlines these days have been generated from being one of the state's top running backs, Little has impressed Saxons coach Mark Stilling the most with his actions off the field.
"I do think what happened to Shepard was extremely important," Stilling said. "I'm a believer in things happen for a reason. It wasn't like he was an awful kid, but part of becoming an adult is learning how your decisions not only affect yourself, but how they affect others. I think what happened was he had a pattern of making choices and making decision and not thinking of the consequences."
Little did have to face the consequence of his decision -- which Stilling described as non-malicious -- when he was suspended last season. The one positive in the situation was Little was still allowed to practice if he chose to.
Little didn't hesitate. He was there on the practice field every day. Fridays weren't easy to watch from the sideline, but he understood that was his punishment.
"I hated it on Friday nights, but during the week I was there to make my team better," said Little, a 5-foot-9, 170-pound halfback. "Friday night I would hate seeing plays where I would think, 'You should have made this play, made this read.' It was my fault that I wasn't playing. Everything happens for a reason."
Stilling was glad to have Little there, but he also never expected otherwise. Little's work ethic has never been questioned.
"He was the best scout-team tailback in America," Stilling said. "I know how important football is to Shepard. I guess I wasn't surprised when he came every day despite knowing he couldn't dress on Friday nights. I guess it was reassuring to know that it was important to him. Throughout the process of suspending him, on a daily basis my thought process was I hope this changes his life."
Coming into the season, Little was getting his personal life in order, but he worried about his football game as well. He was afraid that he couldn't be the same running back he was as a sophomore when he rushed for 1,700-plus yards on varsity. His fear was he had lost too much of his game by being away for the year.
One game in, he proved otherwise, rushing for 244 yards and a touchdown in the Saxons' upset of No. 1-ranked Maine South. Two games in, Little took it even further, running for 331 yards and two touchdowns against Buffalo Grove.
Through six games, Little has compiled 1,175 rushing yards and 12 touchdowns and has put himself in the running for ESPNChicago.com High School Football Player of the Year award. The Saxons have also been ranked for much of the season.
"I think his vision is good," Stilling said. "I think he's sneaky powerful for his size. I don't think you expect someone of his size to hit you like he does. His ability to hit you and make you miss, that's the tough part. His speed is good, but it's not great. He's not going to run past everyone on Friday night, but he's going to make everyone miss."
Colleges have taken notice, too. Eastern Illinois has offered him. Others are evaluating him. Stilling believes Little could play in the MAC if given the opportunity.
A lot has changed for Little in the past year, but it's all been for the better. He doesn't miss his old life.
"It feels a lot different playing football," Little said. "My name is in paper, and my picture is in the paper. I have to be more careful where I'm going. I don't have to worry about that. I lost the attitude that I had being a negative person, being a tough guy and all that.
"It's not about being cool. It's about being respectful and doing what's right. It's not cool to be one of those kids who's getting in trouble. That's what I gained out of this."
September, 7, 2010
9/07/10
2:27
PM CT
[+] Enlarge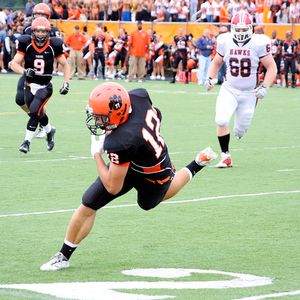 Scott Powers/ESPNChicago.comWheaton Warrenville South's rout of Maine South was just part of an exciting weekend of football.
The Maine South-Wheaton Warrenville South game on ESPN received much of the press in Week 2, but there was plenty of other quality football played.


Here's a look back at the notables of the weekend.


Powers' playmakers

1. Schaumburg running back Shepard Little ran for 331 yards and two touchdowns in the Saxons' 28-6 win over Buffalo Grove.
2. South Elgin quarterback John Menken threw for 303 yards and four touchdowns and ran for 143 yards and four touchdowns in his team's 49-26 win over Metamora.
3. Wheaton North quarterback Reece Butler threw for 315 yards and four touchdowns in his team's win over Lincoln-Way East.
4. St. Charles North quarterback Matt Shiltz threw for 361 yards and six touchdowns in his team's 62-49 win over McHenry. Wide receiver Josh Mikes caught six of those passes for 212 yards and four touchdowns.
5. St. Rita running back Jahwon Akui rushed for 222 yards and four touchdowns in the Mustangs' win over Jefferson City, Mo.


Defensive delights

1. Wheaton Warrenville South's Caleb Bednarz had an interception and returned a kickoff for 88 yards in the Tigers' win over Maine South.
2. Barrington safety Rob Wagner made a diving interception to seal the Broncos' overtime win over Elk Grove.
3. Naperville North's Dan Pinkerton blocked a punt to spark Naperville North 17-0 win against St. Charles East.
4. Mount Carmel linebacker Brian Moore had two sacks in the Caravan's win over Lake Forest Academy.
5. Westinghouse's Taquan Smith has six sacks in his team's 17-14 win over Kenwood.


Five-star football

1. Neuqua Valley 20, Naperville Central 18: A late field goal miss gave the Wildcats their win. Trent Snyder rushed for 224 yards and two touchdowns for Neuqua Valley.
2. Wheaton North 33, Lincoln-Way East 20: Wheaton North had one of the weekend's biggest upsets as it knocked previously-ranked No. 6 Lincoln-Way East. Quarterback Reece Butler was on fire, and John Bloss, Montrell Williams and Clemonte Dossie made key defensive play for the Falcons.
3. Barrington 30, Elk Grove 23 OT: Barrington safety Rob Wagner dove and intercepted a pass in overtime as the Broncos prevailed. Elk Grove kicker Matt Brandt sent the game into overtime with a 31-yard field goal with 2.2 seconds left.
4. Crystal Lake South 10, Bartlett 9: The Gators' Kenny King and Joe Coriaci stopped Bartlett's Russell Martin from scoring on a 2-point conversion with 1:18 left in the game for the win.
5. Lockport 28, Richards 21: A year after Lockport beat Richards 37-36, the Porters pulled out another close game. Daniel Holman ran for 118 yards and three touchdowns in the win.

September, 2, 2010
9/02/10
8:04
PM CT
[+] Enlarge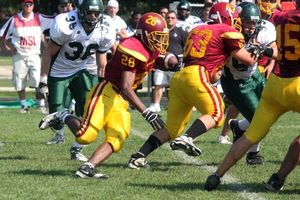 Scott Powers/ESPN.comSchaumburg and Shepard Little are now the hunted ones after their impressive season-opening win.
No. 10 Maine South (0-1) at No. 1 Wheaton Warrenville South (1-0) on Friday

The story:
The excitement for this game waned slightly with Maine South's loss last week, but there is still plenty to talk about. Maine South will be looking to redeem itself after its first loss in 29 games, and there's no better way of doing that than defeating the No. 1-ranked team. The Hawks will continue to go with two quarterbacks, and they will need to stop Wheaton Warrenville South's versatile offense. For the Tigers, there is also redemption to be gained. A year ago, Wheaton Warrenville South's only loss came at the hands of Maine South. To win this time, quarterback Reilly O'Toole will need a big game, and the defense will have to keep Maine South's running game in check. ... Oh yeah, this game is on ESPNU.
Maine South player to watch:
The Hawks have to get their running game going against Wheaton Warrenville South. That means Justin Czerwionka needs to flourish. Maine South's offensive line had its troubles last week, and it led to Czerwionka running for one yard on six carries. He has the ability to rush for 100-plus on Friday.
Wheaton Warrenville South player to watch:
Senior wide receiver Titus Davis has 4.5 speed, and defenses can be burned if they're not careful. He beat Hinsdale Central's secondary for two touchdowns last week. Watch for O'Toole to continue to look to him against Maine South.
Quotes:
Wheaton Warrenville South senior quarterback Reilly O'Toole – "Being on ESPN is nice for both teams. It shows off both sides. It's great to get some exposure and show what Illinois football is all about."
Maine South coach David Inserra:
"There's definitely distractions this week. ESPN is around. Nike has been around all week. But what's better? Not being talked about and thought about whatsoever and people not caring about your program or this?"
Prediction:
Wheaton Warrenville South 43, Maine South 42
No. 3 Glenbard West (1-0) at Downers Grove South (0-1) on Friday

The story:
Glenbard West's opening week went as planned. The Hilltoppers dominated on both sides of the ball and defeated Glenbard South 41-7. Downers Grove South's opening week wasn't as smooth. The Mustangs had trouble stopping Bolingbrook's offense, and they were upset 28-21. They must now prove it was just a bad week, and they can hang with the state's best. Glenbard West won't be looking to change must from last week. Its defense limited Glenbard South to 36 first-half yards, and its offense was clicking.
Glenbard West player to watch:
It was talked about in the offseason that wide receiver Mark Hiben could have a big season. After one week, he's proved everyone correct so far. He caught touchdown passes of 44 and 60 yards against Glenbard South.
Dowers Grove South player to watch:
Ryan Oruche may be the state's most exciting player. He's a threat to score any time he touches the ball. He had a 91-yard kick return touchdown and a one-yard rushing touchdown last week.
Quote:
Glenbard West coach Chad Hetlet – "What impressed me about my team last week was how well we executed for Game 1. Our team speed was as good as I thought."
Prediction:
Glenbard West 24, Downers Grove South 14
No. 6 Lincoln-Way East (1-0) at Wheaton North (1-0) on Friday

The story:
Lincoln-Way East and Wheaton North weren't challenged in Week 1. This game should be different for both. Lincoln-Way East is favored and is led by its dominating defense and versatile offense. Quarterback Blake Winkler showed promise in his debut for the Griffins. Wheaton North started slow, but picked up its momentum throughout last week's 31-0 win over Addison Trail. Its defense allowed just 126 yards, and its offense gained 334.
Lincoln-Way East player to watch:
Pat Meehan is one of the area's most dominant linebackers. He showed that in last week's win with two fumble recoveries, one sack and a blocked punt.
Wheaton North player to watch:
Reece Butler was thrown in the fire last year and held his own as the starting quarterback. Now a year older and more experienced, Butler has developed into a more consistent quarterback. In last week's win, he ran for two touchdowns and threw for two.
Quote:
Lincoln-Way East coach Rob Zvonar – "We were pleased overall with our Week 1 performance as we had at least 15 players starting their first varsity game. However, in many ways, it was a typical Week 1 sloppy performance and after film breakdown, we know that we have a tremendous amount of things that we need to improve upon."
Wheaton North coach Joe Wardynski – "For us to have a chance on Friday night, we know that we are going to have to be at our very best. This will be a big challenge for us but it will let us know how we'll stack up against the teams in our own conference.
Prediction:
Lincoln-Way East 24, Wheaton North 10
No. 20 Providence (0-1) at No. 4 Joliet Catholic (1-0) on Friday

The story:
Joliet Catholic lived up to the hype last week, knocking off defending 5A state champ Montini 21-7. Providence failed to live up to expectations, losing to Morgan Park 16-14. The Celtics can prove they deserved their preseason Top 10 rankings with a win here, but they'll need to play better and especially make fewer mental mistakes. Joliet Catholic proved last week its running game is as good as advertised, but also that first-year quarterback Breshion Tucker has ability. The Hilltoppers' defense pressured Montini throughout the win as well.
Providence players to watch:
Wide receiver Sean Fitzgerald and Mitch Vejvoda were among the few bright spots for the Celtics in last week's loss. They both look to be reliable targets for quarterback Joey Houlihan.
Joliet Catholic player to watch:
Running back Josh Ferguson was only able to show a glimpse of his ability last week before sitting out due to a minor injury. If he's healthy, he's among the best in the state. Providence could have its hands full with Joliet Catholic's entire backfield.
Quote:
Providence coach Mark Coglianese – "We must contain their very talented backfield. One mistake by us, and they are off to the races. We cannot allow big plays."
Prediction:
Providence 24, Joliet Catholic 21
Lockport (1-0) at Richards (1-0) on Friday
The story: Lockport defeated Richards in a classic last season. The Porters held on for 37-36 win when they kept Richards out of the end zone on a 2-point conversion in overtime. This one has the makings of another good one. Neither team is ranked, but both are on the cusp. Both played so-so in the opening week and will look to improve in Week 2. Richards' defense carried it in the opening week, and Lockport's offense did the same.
Richards player to watch:
The Bulldogs hope to get their offense running early , and that means getting the ball to Andre Gallion. Once he gets it, he usually can take care of the rest.
Lockport player to watch:
Dan Holman racked up 206 rushing yards in last year's win over Richards. The Bulldogs shouldn't feel bad, though. He does it against everybody. Last week, Holman ran for 271 yards and four touchdowns.
Quotes:
Richards coach Tony Sheehan – "The defense played really well [last week]. They bailed us out of some tough situations right off the start and continues to do so all day long."
Lockport coach Bret Kooi -- "We fell behind early Friday, and I don't think at any point of time did I feel there was a state of panic. That was a good sign. Obviously, the other thing was the [42] points we put up. Anytime you're going to do something like that you're going to have a chance to win."
Prediction:
Lockport 28, Richards 27
Buffalo Grove (1-0) at No. 9 Schaumburg (1-0) on Friday

The story:
Schaumburg was the story of the opening week with the Saxons ending Maine South's 28-game winning streak. Now, Schaumburg finds itself in a similar spot. Schaumburg is now the hunted, and it's going up against a hungry and talented team in Buffalo Grove. The Bison went 5-4 last season with their four losses coming by a combined 19 points. They return plenty from that team. Buffalo Grove showed what it's capable of last week as it ran off 35 points in the first quarter against Mundelein.
Buffalo Grove player to watch:
Mike Garrity hasn't received a whole lot of press, but he's one of the area's top quarterbacks. He has size at 6-2, can throw the ball and is athletic. He ran for two touchdowns and threw for one last week. He's been receiving some interest from MAC schools.
Schaumburg player to watch:
What can Shepard Little do for an encore? Little ran all over Maine South last week for 244 yards and a touchdown. If Buffalo Grove is going to pull off the upset, it needs to contain much of Little.
Quote:
Schaumburg coach Mark Stilling – "[Buffalo Grove] already has a chip on their shoulder because they missed the playoffs last year, and this year they want to turn the tables. Whatever level you expected them to want to beat us on Friday, you can probably double that now because of what we accomplished [beating Maine South.]"
Buffalo Grove coach Jim Farrell -- "I think it's a win-win game for us. I don't think too many people think we have a chance. Sixty guys on our team think we do. We know Schaumburg is going to be a great football team this year. This will give us a chance to see where we stand."
Prediction:
Schaumburg 38, Buffalo Grove 30
No. 5 Lake Zurich (1-0) at Cary-Grove (0-1) on Friday

The story:
Lake Zurich is coming off an exhilarating, come-from-behind win over Fremd. The Bears' offense didn't score until the fourth quarter, so they'll be looking to get that moving early this game. Cary-Grove, the defending 6A champs, fell behind 20-0 to Crystal Lake Central last week, and never could get its offense going. The Trojans may not be the same team they were last year, but they still have skilled players back. Lake Zurich isn't overlooking Cary-Grove.
Lake Zurich player to watch:
Quarterback Zach Till had his moments in his debut. Look for him to get more comfortable this game and for the Bears' offense to improve.
Cary-Grove player to watch:
Senior Rich Kersten was solid on both sides of the line. He could be a difference-maker at offensive tackle and defensive end this season.
Quote:
Cary-Grove coach Bruce Kay – "We understand that in order to become a better football team, we will need to play more disciplined football on offense. Other than a sack in the second half, every possession on offense was stopped because of what we did to ourselves rather than our opponent stopping us by getting off blocks."
Prediction:
Lake Zurich 31, Cary-Grove 14
Loyola (1-0) at Montini (0-1) on Saturday
The story: The Ramblers, especially their defense, were impressive in last week's 35-0 win over Evanston. Loyola did graduate some of its defensive talent, but apparently has reloaded. First-year quarterback Malcolm Weaver threw three touchdowns in his debut. Montini hung with Joliet Catholic last week, but couldn't capitalize on any of its opponent's mistakes. The Broncos' offense needs to produce more.
Loyola player to watch:
Running back Will Palivos stepped in for injured starter Spencer Perry and rushed for 151 yards and two touchdowns.
Montini player to watch:
Sophomore wide receiver Joey Borsellino could be the guy the Broncos look to keep defenses from concentrating too much on Jordan Westerkamp. Borsellino had five catches for 54 yards last week.
Quote:
Loyola coach John Holecek – "We need to keep Montini from having big plays to their big-play receivers, deep ball safe and keeping their offense off the field by ground control defense."
Prediction:
Loyola 21, Montini 14