High School:

St. Ignatius
January, 2, 2012
1/02/12
9:37
PM CT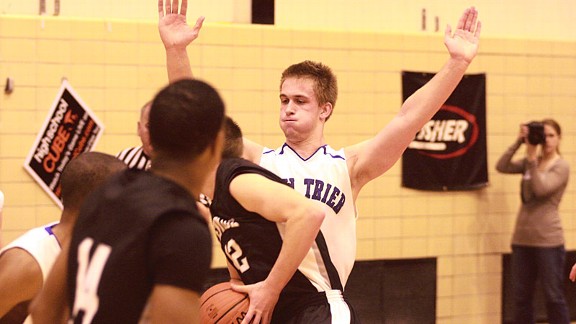 Scott Powers/ESPNChicago.comConnor Boehm led New Trier to the title game of the Proviso West tourney.
Here's a look back at this season's holiday tournaments:
Best tournament:
The honor goes to Pontiac this season. Having Simeon helped, but Pontiac was about much more than Simeon this season. On the final day alone, fans were treated to three overtimes games, two of which went to double overtime, and nearly witnessed Simeon upset by Peoria Manual. It would be hard to find two better holiday tournament semifinal games than Curie-Warren and Simeon-Manual anywhere in the country.
Runner-up tournament
St. Ignatius is the reason for York finishing second here. While the tournament favorites won at Proviso West, the McDipper, Pontiac and plenty of others tournaments, St. Ignatius added an element of surprise at York. The Wolfpack first fought back from a double-digit deficit to defeat Downers Grove South in the semifinals and then defeated De La Salle in the championship.
Top games:
Curie 77, Warren 68, 2 OT at Pontiac: In the first Pontiac semifinal, Warren forced a first overtime when JoVaughn Gaines drained a 3-pointer from the corner in the final seconds of regulation and then sent the game into a second overtime when Jon Geske dropped in a late layup. Curie won in the end. Devin Foster had 27 points in the win.
Simeon 48, Peoria Manual 47 at Pontiac: Not to be outdone by the first semifinal, Simeon and Peoria Manual went down to the buzzer to determine their game. Manual had two shots at overtaking Simeon on its final possession, but missed a shot around the basket and had the ball stolen in the game's final seconds. The game had 10 lead changes.
St. Ignatius 47, De La Salle 44, OT at York: In the championship game, St. Ignatius senior Brian Howard sent the game into overtime with an off-balance 3-pointer with four seconds left, and the Wolfpack prevailed in overtime again the tournament favorites.
St. Ignatius 52, Downers Grove South 50 at York: In the semifinals, St. Ignatius overcame a 12-point deficit to upset Downers Grove South. Abdoulie Contch scored the game-winner in the lane with 1.5 seconds left.
Elgin 57, Glenbard North 51 at Elgin: Before Elgin could win close semifinal and championship games, it had to win a tight quarterfinal matchup with Glenbard North. Former AAU teammates, Elgin's Kory Brown and Glenbard North's Josh Fleming, went head to head in the final minutes. Fleming had a game-high 21 points, but Brown, who had 19 points, came out with the victory.
Crete-Monee 67, Seton 66, OT at Rich South: In the semifinals, Crete-Monee's Marvie Keith sank two free throws with 35 seconds left to lift his team to the upset victory. Mark Conner scored 19 points off the bench for Crete-Monee. Crete-Monee squandered a nine-point lead in the fourth quarter to allow overtime.
Metea Valley 69, Rolling Meadows, OT at Hinsdale South: Metea Valley nearly saw its unbeaten season ruined by Rolling Meadows, which led 39-30 heading into the fourth quarter. Spearheaded by Kenny Obendorf and his 20 points, Metea Valley rallied in regulation and won in overtime.
New Trier 61, Homewood-Flossmoor 58 at Proviso West: The second-round matchup was expected to be a good one, and it didn't disappoint. The game went back and forth until New Trier got hot in the second half and connected on seven 3-pointers in the final quarters. Connor Boehm had 25 points in the win. Tyrone Sherman had 24 points for Homewood-Flossmoor.
All-tournament first team
New Trier senior forward Connor Boehm, Proviso West tournament: Boehm has been one of the most consistent players in the state this season. At Proviso West had 25 points and nine rebounds vs. Homewood-Flossmoor, 14 points and 14 rebounds vs. Morgan Park, 16 points and six rebounds vs. Proviso East and 17 points and seven rebounds vs. Von Steuben.
Elgin senior guard Kory Brown, Elgin: Brown stepped up game after game in the Maroons' run to their own holiday tournament championship. He had a 18 points, six rebounds, two blocks and two steals in Elgin's upset win over La Lumiere in the tournament championship.
Proviso East senior guard Keith Carter, Proviso West: Carter keyed the Pirates' run to their first Proviso West title since 1991 and was awarded the tournament MVP. He had 18 points and five steals in a win over Benet in the quarterfinals.
Bloom senior guard Donald Moore, Rich South: Carter's point guard play led the Blazing Trojans to their first McDipper title since 1995. He had 14 points and four assists in the title game. He was named the tournament MVP.
Simeon senior forward Steve Taylor, Pontiac: Jabari Parker may have won the MVP trophy at Pontiac, but many, including Parker, thought it should have gone to Taylor. Taylor had 11 points and seven rebounds to lead the top-ranked Wolverines over Curie in the championship game.
All-tournament second team
St. Ignatius senior guard Brian Howard, York: Howard and St. Ignatius surprised Downers Grove South and De La Salle on their way to the York title. Howard sent the championship game into overtime with a 3-pointer and finished with 20 points. He was named tournament MVP.
Metea Valley senior guard Kenny Obendorf, Hinsdale South: Obendorf continued to put up big numbers while helping Metea Valley to the Hinsdale South tournament championship. He had 24 points in the championship game and was named the tournament MVP.
Benet sophomore center Sean O'Mara, Proviso West: O'Mara isn't as hyped as some of the state's sophomores, but he's been more productive than most of them. He was impressive throughout Proviso West. He had 20 points, 13 rebounds, four assists and two blocks against Proviso East in the semifinals.
Simeon junior forward Jabari Parker, Pontiac: Parker didn't disappoint the sellout crowds at Pontiac. He hit difficult jumpers, swatted shots and threw down a few jaw-dropping dunks. In Simeon's one-point win over Peoria Manual, he scored 21 points and grabbed 12 rebounds.
Warren senior forward Darius Paul, Pontiac: Paul averaged 15.5 points and 12.5 rebounds in four games at Pontiac. With fellow post player Nathan Boothe in foul trouble against Curie, Paul scored 21 points and grabbed 15 rebounds.
Honorable mention
Andrew junior forward Jubril Adekoya, Kankakee

Plainfield East senior forward Brian Bennett, Pekin; Crane senior guard Willie Conner, Romeoville; De La Salle junior forward Alvin Ellis, York; Stevenson senior guard Michael Fleming; Curie senior guard Devin Foster, Pontiac; Morgan Park junior guard Billy Garret Jr., Proviso West; North Chicago senior guard Aaron Simpson, Bloomington; Crete-Monee junior forward LaQuon Treadwell, Rich South; Downers Grove South senior guard Jerron Wilbut, York

The unbeatens
Andrew (9-0): Won the Kankakee's holiday tournament, biggest upcoming test could be at Thornwood on Jan. 20.
Bloom (13-0): Won the McDipper, have plenty of tough games in the future, including at Homewood-Flossmoor on Jan. 24.
Immaculate Conception (12-0): Won its own holiday tournament, could still be undefeated heading into matchup at Elgin on Feb. 15.
Glenbard West (10-0): Won its own holiday tournament, could be challenged this week when playing at Bolingbrook and York.
Metea Valley (13-0): Won Hinsdale South's holiday tournament, will host Lake Park, which is also undefeated in the Upstate Eight Valley, on Saturday.
Plainfield East (11-0): Won the Pekin holiday tournament, hosts Wheeling tournament winner Naperville Central on Jan. 17.
Simeon (12-0): Won the Pontiac holiday tournament, face nationally-ranked No. 36 Miller Grove in West Virginia on Saturday.
December, 26, 2011
12/26/11
2:42
PM CT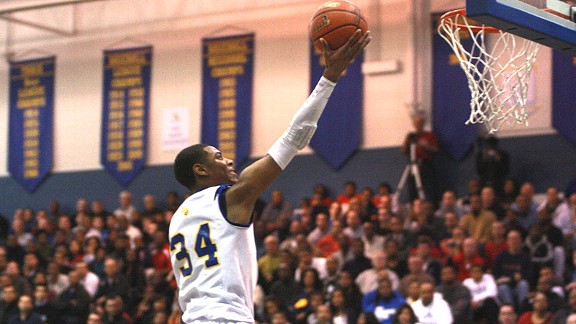 Scott Powers/ESPNChicago.comAlex Foster and De La Salle should be one of the favorites at York.
The holiday tournament season is upon us. Here's a guideline to the week ahead.
Five tournaments to attend
1) Pontiac, Dec. 28-30: It helps that Pontiac has the country's top team in Simeon and top player in Jabari Parker, but that's just the start. Curie and Warren have both been ranked in the top 5 this season and could give Simeon a game. Peoria Manual is one of the top teams outside of the Chicago area this season and has a number of Division I players. The semifinals could include all four teams.
2) Proviso West, Dec. 27-30: This could be an interesting year at Proviso West because of the parity. Proviso East, which is ranked No. 2, is the favorite, but it's wide open after that. Glenbrook North, Homewood-Flossmoor, Morgan Park, New Trier and St. Joseph have all been ranked at some point this season.
3) Rich South, Dec. 26-27, 29-30: The McDipper could include a top-10 championship game between No. 5 Seton and No. 7 Bloom. Both enter the tournament undefeated. Crete-Monee, Evanston, Hales, Leo, Marian Catholic and Rich South give the tournament depth.
4) York, Dec. 27-30: The Jack Tosh Tournament added De La Salle this season. The Meteors should be the favorites, and they could see Downers Grove South in the championship. Maine South, Naperville North, Riverside-Brookfield and St. Ignatius should be competitive, too.
5) Wheeling, Dec. 27-30: Wheeling has become a whole lot more interesting with the rise of Notre Dame, St. Viator and Stevenson this season. Notre Dame and Stevenson are ranked, and St. Viator is 10-0 heading into the tournament.
Five players to see
1) Jabari Parker, Simeon at Pontiac: If you haven't already seen Parker, the No. 1 junior in the country, see him. If you've already seen him, see him again. Friday is the best day to be at Pontiac. Simeon is likely to play at 2:30 p.m. in the semis and 9 p.m. in the championship.
2) Billy Garrett Jr., Morgan Park at Proviso West: Garrett Jr. is the future of DePaul. His game has continued to develop, and he has a chance to be one of the nation's top guards when he arrives to Lincoln Park.
3) Gavin Schilling, De La Salle, York: There are actually a number of De La Salle players to see, but Schilling has been the hot name as of late.
4) Tyler Ulis, Marian Catholic, Rich South: Ulis, a sophomore guard, has been receiving rave reviews. This could be a good chance to witness him against other top players.
5) Jewell Loyd, Niles West at Stevenson and Loyola: If you're to see one girls basketball player all season or even possibly all decade, Loyd is the one to watch. She puts up 40 points and 20 rebounds on a regular basis. Niles West plays at Stevenson on Tuesday and Loyola on Wednesday.
Recommend itinerary
Monday: Rich South is the only tournament running. If you're looking to go to just one or two game, the late afternoon (4 p.m.) is a good place to start.
Tuesday: The first day of Proviso West is always interesting. The Rich South quarterfinals start at 4p.m. York vs. Riverside-Brookfield at York at 7:15 p.m. could be a fun first-round matchup.
Wednesday: It's the first day of Pontiac if you want to be there the entire time. New Trier and Homewood-Flossmoor could meet in Proviso West's second round at 5:15 p.m. Neighborhood rivals Proviso East and St. Joe's could also meet at 8:30 p.m. at Proviso West.
Thursday: Warren and Waukegan is a potential second-round game at Pontiac at 11 a.m. St. Ignatius vs. Downers Grove South could be a York semifinal at 7:15 p.m. Stevenson and Notre Dame are aligned to meet in a Wheeling semifinal at 7:15 p.m.
Friday: Pontiac is the place to be, but you can double-dip by going there for the semifinals at 1 p.m. and 2:30 p.m. and head back toward the city for another championship game. Rich South's championship is at 7 p.m. York's championship is at 7:15 p.m. Proviso West's championship is at 8 p.m. Wheeling's championship is at 8:45 p.m.
Five storylines
1) Morgan coach Nick Irvin's father, Mac Irvin, passed away on Saturday. Mac was a legendary figure in Chicago basketball. Morgan Park opens the Proviso West tournament at 9 a.m. on Tuesday.
2) Simeon's road to another Pontiac title won't be easy. The Wolverines could see a talented Peoria Manual team in the semis and either Curie or Warren in the championship game. Warren lost to Simeon in the Pontiac and state title games last year. If Simeon survives, it will remain the No. 1 team in the country.
3) Proviso East hasn't won a Proviso West championship since it won it in back-to-back years in 1990 and 1991. First-year Proviso East coach Donnie Boyce was a senior on the 1990 team. It would be fitting for him to coach the Pirates to a title this year.
4) How many undefeated teams will remain after this week? Bloom and Seton are undefeated at Rich South. Curie and Simeon are undefeated at Pontiac. St. Viator takes it undefeated record into Wheeling. Bogan travels to Centralia with an unbeaten mark. Andrew (at Kankakee) Plainfield East (Pekin) and Metea Valley (Hinsdale South) are also undefeated.
5) Some players will make stars out of themselves after this week. Who will we be talking about next week?
January, 20, 2011
1/20/11
12:50
AM CT
The high school basketball season has reached the halfway point, so it's time to hand out the midseason awards.
Class 4A state favorite: Simeon has yet to slip from its preseason No. 1 ranking. The Wolverines have shown signs of being beatable, but have been dominant for the most part. It's still their state championship to lose. Benet is Simeon's greatest challenger at this point. The undefeated Redwings have also lived up to the hype. Top-10 ranked teams Homewood-Flossmoor, Proviso East, Glenbard East, De La Salle, Whitney Young and Farragut are also in Class 4A.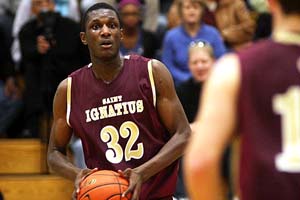 Scott Powers/ESPNChicago.comNnana Egwu, of St. Ignatius, will play his college ball at Illinois.
Class 4A sleeper:
St. Ignatius. Six-foot-10 center
Nnanna Egwu
has developed into one of the state's most dominant big men. The Wolfpack also have a strong supporting cast. Junior guard Jack Crepeau recently hit a key shot to beat Orr. Tyronne Staggers and Brian Howard are also capable of big games.
Class 3A state favorite: While Farragut, Simeon and fall in the loaded Class 4A from the Public League, Morgan Park sits in 3A. The Mustangs took a hit at Proviso West when they lost to Proviso East, but they're still one of the best teams in the state. Defending Class 3A state champ Hillcrest, Brooks, Orr, Marshall and T.F. North will be among the other contenders.
Class 3A sleeper: Marshall. The Commandos have been one of the state's most consistent programs over the last decade. They've won seven consecutive regionals, been downstate four of the last five years and won a state title in 2008. Marshall has had its ups and down this season with an 11-7 record, but it's starting to put it together. Led by Keifer Sykes' 35 points, the Commandos knocked off Whitney Young on Tuesday.
Best out-of-the-area team: Peoria Notre Dame could be the second or third best team in the state. The Irish are 17-0 and have already defeated a couple area teams. They defeated top-10 ranked Glenbard East at the State Farm holiday tournament and Niles Notre Dame, which was previously ranked, on Monday. Peoria Notre Dame will be in the Class 3A field. O'Fallon (14-3), Peoria Central (12-3), Rock Island (15-2) and Galesburg (16-3) are also other state-wide teams to watch.
Midseason ESPNChicago.com Player of the Year: East Aurora senior guard Ryan Boatright. The field is packed, but Boatright has consistently been the best player this season. He's averaging 30-plus points and carries his team every game. It doesn't hurt that he's also the most exciting player in the state.
First-team all-area: Morgan Park senior guard Wayne Blackshear – Blackshear could still make a push for player of the year. He has some big games coming up. He shined last season in the Public League playoffs.
East Aurora senior guard Ryan Boatright – See his player of the year credentials.
Perspectives senior forward Anthony Davis – Davis' team has struggled as expected, but he's lived up to the hype of being ESPN's No. 2 player in the Class of 2011. Injuries have kept him out of some games.
Simeon sophomore forward Jabari Parker – Parker's numbers aren't as astronomical as some of the state's stars, but he's just as good. He's the main reason why Simeon is still undefeated.
Benet guard David Sobolewski – Sobolewski continues to do whatever the Redwings need him to do at point guard. He scores. He passes. He defends. Benet is undefeated because of him.
The next best five: These aren't all the names you'd expect here, but these are the players who have produced game after game so far. Hillcrest senior guard Julius Brown, Notre Dame senior forward Quinton Chievous, Crete-Monee senior forward Jamee Crockett and St. Ignatius senior center Nnana Egwu, Benet senior center Frank Kaminsky make up the second team.
Best individual performance: Anthony Davis has had some big games. Wayne Blackshear has put up some numbers. But nothing beats Ryan Boatright's 63-point night in East Aurora's 113-104 win over Proviso West in Dec. 11. Boatright was 19 of 29 from the field and added eight rebounds, three steals and four assists. The second individual game would probably be Boatright's 55 points, 10 rebounds and 10 steals against St. Charles North in November.
Best game: Benet defeating Homewood-Flossmoor 54-50 in overtime to win the Proviso West holiday tournament. This game had everything. It had a comeback with Benet being down nine points in the half. It had drama with it going to overtime. It had star players on both teams. It had a hero in Benet guard David Sobolewski, who scored the game-winning basket, finished 19 points and was named the tournament MVP.
What to look forward to: Some of the biggest games are still on tap. Simeon and Morgan Park play on Saturday. Benet and Simeon face each other in the City/Suburban Showdown in February. Of course, there are also the Public League playoffs and the state playoffs. The race for player of the year should also be interesting. There are a number of players who are capable of taking the honor in March.
October, 15, 2010
10/15/10
2:02
AM CT
No. 6 Glenbard North (7-0) at No. 1 Wheaton Warrenville South (7-0) on Friday
The story: Wheaton Warrenville South has faced four ranked teams this season and has defeated them by a combined score of 155-40. Now, the Tigers will meet possibly their greatest challenge of the season in Glenbard North. The Panthers have remained undefeated thanks to a versatile running game and one of the area's best defenses. They've allowed 73 points this season and have also defeated three ranked teams. Quarterback Reilly O'Toole and Wheaton Warrenville South's offense will be unlike anything Glenbard North has seen this season. ESPN 1000 will be in attendance.
Glenbard North player to watch: Offensive right tackle Paul Wisniewski has been a major reason for the Panthers' running success. He recently received an offer from Wyoming.
Wheaton Warrenville South player to watch: The Tigers' passing game receives a lot of attention, but running back Matt Rogers has also done his part. He's burned plenty of opponents this season.
Quotes: Glenbard North coach Ryan Wilkens – " Offensively, they do everything. They run the ball from under center and the gun with Rogers and O'Toole. They use play-action pass, sprint outs and straight drop backs using multiple receivers. Defensively, they rally to the football, they fight the pressure well and take down double-teams."
Wheaton Warrenville South coach Ron Muhitch – "Glenbard North is a very good power-running team. Their offensive line is very big and good at the run game. [Phil] Jackson and [Evin] Natick are very solid
runners and can break a long run anytime. Their defense is a solid unit that has been very good at keeping people out of the end zone with less than 10 points a game. Their defensive backs match up well with our offensive skills. It's going to be a tough game for the Tigers."
Prediction: Wheaton Warrenville South 35, Glenbard North 20

St. Ignatius (5-2) at No. 2 St. Rita (7-0) on Friday
The story: St. Rita won't be overlooking crossover opponent St. Ignatius, but the Mustangs are fully aware that they close out the regular season with Loyola next week. The Ramblers are the only team keeping them from an outright Catholic League championship.
Prediction: St. Rita 41, St. Ignatius 10

Downers Grove North (1-6) at No. 3 Glenbard West (7-0) on Saturday
The story: Glenbard West will be looking to put together a clean game from opening kick to final whistle this week. They had their share of miscues in last week's win over York. The Hilltoppers have another test in Lyons next week.
Prediction: Glenbard West 40, Downers Grove North 14

Notre Dame (5-2) at No. 4 Carmel (7-0) on Friday
The story: If someone's looking for a possible upset this week, this could be one. Notre Dame has hung with everyone it has played this season. The Dons lost by 12 to Marist and by one to Marian Catholic. The Corsairs have shown, though, not to be a team that overlooks opponents. They would win the East Suburban Catholic title outright with a victory.
Prediction: Carmel 31, Notre Dame 20

Lane (3-4) vs. No. 5 Simeon (7-0) at Gately on Thursday
The story: Simeon hasn't been tested since the opening week. That might not change until the playoffs either. The Wolverines look as if they can make a real run this season.
Prediction: Simeon 50, Lane 20

Marist (5-2) at No. 7 Joliet Catholic (6-1) on Friday
The story: These two teams created a great one last year with Marist pulling out a 24-17 win. The RedHawks went on to the Class 8A state championship game while Joliet Catholic advanced to the Class 5A one. That could happen again this season with both being contenders in their respective classes. Joliet Catholic has been putting up a whole lot of points all season. The Hilltoppers scored 73 of them in last week's win over St. Patrick. Marist has only one in-state loss and is on the verge of being in the top 20 again.
Marist player to watch: RedHawks quarterback Luke Oosterbaan displayed his running ability in last week's win over St. Viator. He scored three rushing touchdowns.
Joliet Catholic player to watch: Josh Ferguson is one of 11 remaining players in the running for the ESPNChicago.com Player of the Year award. He had three touchdowns in last week's win.
Prediction: Joliet Catholic 38, Marist 34

Cary-Grove (5-2) at No. 8 Crystal Lake South (7-0) on Friday
The story: Crystal Lake South has won't the Fox Valley Conference title since 1992. With two games remaining, the Gators are nearing that achievement, but they have to go through Cary-Grove as always for it. After winning the Class 6A state championship last season, the Trojans had a rough start to this season, losing their first two games. They've since won their last five, including a 23-20 overtime win over McHenry last week. On paper, Crystal Lake South may be the better team, but this is one of those games where anything can happen.
Cary-Grove player to watch: Quarterback Corey Latkas has continued to improve as the season has unfolded. He's been consistent in running the team's option attack and completing key passes when needed.
Crystal Lake South player to watch: Quarterback Drew Ormseth has been one of the area's best this season. He's a threat to run and pass the ball.
Quotes: Cary-Grove coach Bruce Kay – "The key to the game is ball control and turnovers. Their defense is very talented, and it will be difficult to make big plays. We need to keep the South QB on the sideline. Our kicking game has been very good all year, and we will need to make South play on long fields."
Prediction: Crystal Lake South 28, Cary-Grove 27

Lincoln-Way Central (1-6) at No. 9 Lincoln-Way East (6-1) on Friday
The story: Lincoln-Way East is on the verge of winning the Southwest Suburban Blue. The Griffins' next two opponents have a combined record of 1-13.
Prediction: Lincoln-Way East 49, Lincoln-Way Central 7

No. 10 Barrington (7-0) at Fremd (3-4) on Friday
The story: Fremd's season hasn't gone as expected. The Vikings were thought to be a state contender before the season, but now they must defeat highly-ranked Barrington just to keep their playoff hopes alive. Fremd has made 15 consecutive playoff appearances. As for Barrington, it has been one of the season's bigger surprises. Just a year ago, the Broncos missed the playoffs after going 3-6.
Barrington player to watch: Running back Nico Martinez is returning to his old form after breaking his hand and missing the season's first four games. He and Chase Murdock make up a tough backfield.
Fremd player to watch: Offensive lineman Brian Bobek is considered one of the best in the country. He's headed to Ohio State.
Quote: Barrington coach Joe Sanchez – "As for keys for both teams, it will come down to which group can sustain and finish drives. I also believe special teams will play a key part in the game with regards to field position for both teams. Turnovers, which team can create extra opportunities and take advantage of them, will be big."
Prediction: Barrington 24, Fremd 17

No. 11 Stevenson (7-0) at Libertyville (3-4) on Friday
The story: Stevenson looks to remain undefeated while Libertyville hopes to stay in the playoff hunt. Stevenson is known for its offense, but the Patriots have only allowed 83 points this season.
Prediction: Stevenson 35, Libertyville 17

Lake Forest (5-2) at No. 12 Vernon Hills (7-0) on Friday
The story: Can Vernon Hills shut out an opponent for the eighth consecutive week? This is will be its toughest challenge. Lake Forest has scored 256 points this season, which ranks second in the North Suburban Lake, and hasn't been held to less than 13 points all season. The Cougars should be happy with just a win against Lake Forest.
Lake Forest player to watch: Junior running back Owen Williams can be tough to stop. He had 272 yards on 18 carries against Libertyville earlier this season.
Vernon Hills player to watch: Do-everything senior DaVaris Daniels has scored in almost every way possible this season. It'll be interesting to see if he can find another way against Lake Forest.
Quote: Vernon Hills coach Tony Monken – "The difference in Lake Forest is they have a better balanced offense than we've played this year. When we crossover over to the big-school North Suburban division, we only play them once every seven years. It's an uphill battle for us because they have more numbers than our program. When we have a crossover game, we try to sneak up on them. I don't think we can sneak up on anyone this year. I think it's going to be a heck of a ballgame."
Prediction: Vernon Hills 34, Lake Forest 21

No. 20 Prospect (6-1) at No. 13 Elk Grove (6-1) on Friday
The story: The winner of this clinches at least a share of the Mid-Suburban East title. Prospect lost its season-opener, but has been winning big ever since. The Knights have one of the state's most potent offenses with 292 points this season. Elk Grove's offense isn't too shabby itself. Led by quarterback Nick Meyer, the Grenadiers have scored 212 points a game. Prospect has won the last five meetings between the two teams.
Prospect player to watch: Quarterback Steve Dazzo threw for two touchdowns and ran for four in last week's win over Wheeling. This will be a chance to really make a name for himself.
Elk Grove player to watch: Joey Bishoff has been Meyer's favorite target this season. He has 33 catches for 455 yards and three touchdowns.
Quote: Elk Grove coach Brian Doll – "Prospect is very sound on offense. With great offensive line play and two strong running backs in Steve Dazzo and Peter Bonahoom, they force you to defend both of them on every play."
Prediction: Elk Grove 42, Prospect 38

Mundelein (0-7) at No. 14 Lake Zurich (6-1) on Friday
The story: Lake Zurich's defense has held opponents to 59 points this season. Outside of Libertyville and Stevenson, the Bears' opponents have only scored 13 points.
Prediction: Lake Zurich 31, Mundelein 0


Naperville North (5-2) at No. 15 Wheaton North (5-2) on Friday
The story: Neither team may still be in the running for the DuPage Valley title, but there are playoff points to still be earned. Neither team wants to fall to 5-3 either. Both have lost to Glenbard North and Wheaton Warrenville South this season.
Naperville North player to watch: Antonio Owens can score in a variety of ways. He caught a touchdown pass and rushed for one last week.
Wheaton North player to watch: Wide receiver Johnny Daniels was the hero last week. He caught a game-winning touchdown as time expired.
Quote: Wheaton North coach Joe Wardynski – "We don't have the big-name players that Naperville North does, but I do feel that we're coming together well as a team right now. I'm hoping that the kids are starting to see that it takes offense, defense and special teams to win close ball games. In addition, it takes solid backups at several positions for a team to get good results on Friday nights."
Prediction: Naperville North 27, Wheaton North 20

No. 16 Mount Carmel (5-2) at St. Laurence (4-3) on Friday
The story: The Caravan still have an outside hope of earning a share of the Catholic League title. The Corsairs have defeated Loyola and fell to St. Rita this season.
Prediction: Mount Carmel 35, St. Laurence 13

Gordon Tech (1-6) at No. 17 Loyola (6-1) on Saturday
The story: Like St. Rita, Loyola has taken Gordon Tech seriously this week, but also has taken a peak at next week's all-important Catholic League game.
Prediction: Loyola 42, Gordon Tech 6

Plainfield East (1-6) at No. 18 Plainfield South (7-0) on Friday
The story: Plainfield South is tied for third in the state with 342 points this season. The Cougars have scored 50 or more points three times this year.
Prediction: Plainfield South 52, Plainfield East 10

No. 19 Schaumburg (5-2) at Palatine (4-3) on Friday
The story: Palatine may not have the record to show for it, but it's been a handful for every one of its opponents this season. The Pirates' losses have included a 28-21 to Lake Forest, 41-27 to Prospect and 17-16 to Fremd. They close out the season with Schaumburg and Barrington.
Prediction: Schaumburg 35, Palatine 17