February, 27, 2012
2/27/12
9:30
PM CT
As the IHSA playoffs kick off, Simeon and Proviso East remained the top teams in ESPNChicago.com's boys basketball rankings.
Read the full story.
February, 25, 2012
2/25/12
6:45
PM CT
The Class 3A and 4A boys basketball playoffs begin on Monday. Here's a glance at the top games and players to see this week.
Five regional semifinals to see
1. St. Charles East vs. St. Charles North at St. Charles North on Wednesday

2. Marist vs. Brother Rice at Marist on Tuesday

3. Stevenson vs. Prospect at Stevenson on Wednesday

4. Benet vs. Bolingbrook at Metea Valley on Wednesday

5. Neuqua Valley vs. Naperville Central at Neuqua Valley on Wednesday

Five potential regional championships to see on Friday
1. St. Rita vs. Whitney Young at Whitney Young

2. Bogan vs. De La Salle at Mount Carmel

3. Farragut vs. St. Joseph at Nazareth

4. Crane vs. Riverside-Brookfield at Riverside-Brookfield

5. Minooka vs. Bloom at Joliet Central

6. Crete-Monee vs. Joliet West at Thornton

7. West Aurora vs. Naperville North at Oswego

8. Harlan vs. Morgan Park at Rich Central

9. Evanston vs. Notre Dame at Notre Dame

10. Schaumburg vs. Glenbard West at Glenbard West

Ten to players to see in regional play (alphabetical order)
There will likely be plenty of time to see Simeon's Jabari Parker and some of the other stars in the area, but these players and teams may or may not be around come next week.
1. David Cohn, junior, York: It hasn't been a great year for high-scoring numbers, but Cohn has been one of the exceptions. He can drop 30-plus points on any night. He had 47 points just recently. York is a No. 4 seed in the Lake Park regional.
[+] Enlarge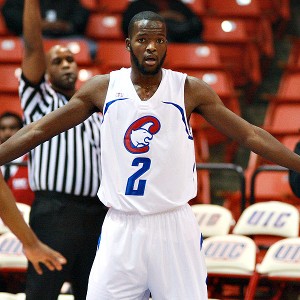 Scott Powers/ESPNChicago.comWillie Conner and Crane could be a tough out in the Riverside-Brookfield regional.
2. Willie Conner, senior, Crane: Conner improved his game this season and made himself a mid-major college prospect. Crane has been up and down this season, but Conner has been consistent. Crane is a No. 5 seed in the Riverside-Brookfield regional.
3. Tony Hicks, senior, St. Rita: Hicks, a Penn recruit, has been as good as any senior in the state. He's been averaging 25 points a game. St. Rita is a No. 4 seed in the Whitney Young regional.
4. Mike LaTulip, senior, Prospect: LaTulip is headed to Illinois next year as a preferred walk-on. He's been one of the area's top shooters and scorers this year. Prospect is a No. 9 seed in the Stevenson regional.
5. Jahlil Okafor, sophomore, Young: Okafor is the state's top sophomore and among the nation's top players in the Class of 2014. The state hasn't seen a big man as skilled as Okafor since possibly Eddy Curry. Whitney Young is a No. 5 seed in the Whitney Young regional.
6. Sean O'Mara, sophomore, Benet: O'Mara, a 6-9 center, has emerged as one of the state's top young prospects. He's a skilled big man and is following in the footsteps of former Benet center Frank Kaminsky. Benet is a No. 6 seed in the Metea Valley regional.
7. Michael Orris, senior, Crete-Monee: Orris, a 6-3 point guard, is headed to Illinois next season. He's expected to help backup Tracy Abrams there. Crete-Monee is a No. 4 seed in the Thornton regional.
8. Juwan Starks, senior, West Aurora: Starks is on the verge of West Aurora's career-scoring record of 1,613 points, which is owned by Billy Taylor (1987-1991). Starks is 60 points shy of matching Taylor. West Aurora is a No. 4 seed in the Oswego regional.
9. Tyler Ulis, sophomore, Marian Catholic: Ulis, a 5-8 point guard, is a scoring machine. He put up 38 points in a loss to St. Viator last month. Marian Catholic is a No. 7 seed and could face Andrew in the Andrew regional championship.
10. Milik Yarbrough, sophomore, Zion-Benton: Yarbrough could eventually be one of the nation's top players in the Class of 2014. He's a multi-skilled 6-6 guard/forward. Zion-Benton is a No. 16 seed in the Zion-Benton regional.
January, 2, 2012
1/02/12
8:15
PM CT
Bolingbrook's multi-year run a top the Girls basketball rankings continues this week. The Raiders won their only contest against St. Mary's (Canada) this past week. Whitney Young, Marist, Trinity and Bartlett round out the top five.
Read the full rankings.
December, 26, 2011
12/26/11
2:42
PM CT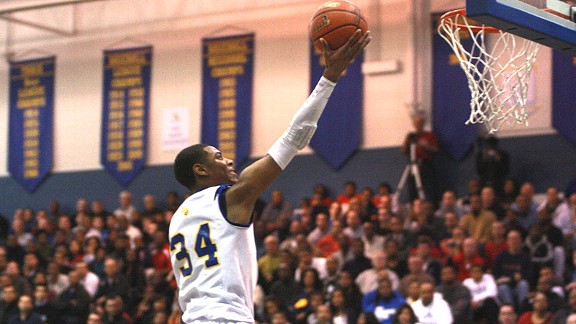 Scott Powers/ESPNChicago.comAlex Foster and De La Salle should be one of the favorites at York.
The holiday tournament season is upon us. Here's a guideline to the week ahead.
Five tournaments to attend
1) Pontiac, Dec. 28-30: It helps that Pontiac has the country's top team in Simeon and top player in Jabari Parker, but that's just the start. Curie and Warren have both been ranked in the top 5 this season and could give Simeon a game. Peoria Manual is one of the top teams outside of the Chicago area this season and has a number of Division I players. The semifinals could include all four teams.
2) Proviso West, Dec. 27-30: This could be an interesting year at Proviso West because of the parity. Proviso East, which is ranked No. 2, is the favorite, but it's wide open after that. Glenbrook North, Homewood-Flossmoor, Morgan Park, New Trier and St. Joseph have all been ranked at some point this season.
3) Rich South, Dec. 26-27, 29-30: The McDipper could include a top-10 championship game between No. 5 Seton and No. 7 Bloom. Both enter the tournament undefeated. Crete-Monee, Evanston, Hales, Leo, Marian Catholic and Rich South give the tournament depth.
4) York, Dec. 27-30: The Jack Tosh Tournament added De La Salle this season. The Meteors should be the favorites, and they could see Downers Grove South in the championship. Maine South, Naperville North, Riverside-Brookfield and St. Ignatius should be competitive, too.
5) Wheeling, Dec. 27-30: Wheeling has become a whole lot more interesting with the rise of Notre Dame, St. Viator and Stevenson this season. Notre Dame and Stevenson are ranked, and St. Viator is 10-0 heading into the tournament.
Five players to see
1) Jabari Parker, Simeon at Pontiac: If you haven't already seen Parker, the No. 1 junior in the country, see him. If you've already seen him, see him again. Friday is the best day to be at Pontiac. Simeon is likely to play at 2:30 p.m. in the semis and 9 p.m. in the championship.
2) Billy Garrett Jr., Morgan Park at Proviso West: Garrett Jr. is the future of DePaul. His game has continued to develop, and he has a chance to be one of the nation's top guards when he arrives to Lincoln Park.
3) Gavin Schilling, De La Salle, York: There are actually a number of De La Salle players to see, but Schilling has been the hot name as of late.
4) Tyler Ulis, Marian Catholic, Rich South: Ulis, a sophomore guard, has been receiving rave reviews. This could be a good chance to witness him against other top players.
5) Jewell Loyd, Niles West at Stevenson and Loyola: If you're to see one girls basketball player all season or even possibly all decade, Loyd is the one to watch. She puts up 40 points and 20 rebounds on a regular basis. Niles West plays at Stevenson on Tuesday and Loyola on Wednesday.
Recommend itinerary
Monday: Rich South is the only tournament running. If you're looking to go to just one or two game, the late afternoon (4 p.m.) is a good place to start.
Tuesday: The first day of Proviso West is always interesting. The Rich South quarterfinals start at 4p.m. York vs. Riverside-Brookfield at York at 7:15 p.m. could be a fun first-round matchup.
Wednesday: It's the first day of Pontiac if you want to be there the entire time. New Trier and Homewood-Flossmoor could meet in Proviso West's second round at 5:15 p.m. Neighborhood rivals Proviso East and St. Joe's could also meet at 8:30 p.m. at Proviso West.
Thursday: Warren and Waukegan is a potential second-round game at Pontiac at 11 a.m. St. Ignatius vs. Downers Grove South could be a York semifinal at 7:15 p.m. Stevenson and Notre Dame are aligned to meet in a Wheeling semifinal at 7:15 p.m.
Friday: Pontiac is the place to be, but you can double-dip by going there for the semifinals at 1 p.m. and 2:30 p.m. and head back toward the city for another championship game. Rich South's championship is at 7 p.m. York's championship is at 7:15 p.m. Proviso West's championship is at 8 p.m. Wheeling's championship is at 8:45 p.m.
Five storylines
1) Morgan coach Nick Irvin's father, Mac Irvin, passed away on Saturday. Mac was a legendary figure in Chicago basketball. Morgan Park opens the Proviso West tournament at 9 a.m. on Tuesday.
2) Simeon's road to another Pontiac title won't be easy. The Wolverines could see a talented Peoria Manual team in the semis and either Curie or Warren in the championship game. Warren lost to Simeon in the Pontiac and state title games last year. If Simeon survives, it will remain the No. 1 team in the country.
3) Proviso East hasn't won a Proviso West championship since it won it in back-to-back years in 1990 and 1991. First-year Proviso East coach Donnie Boyce was a senior on the 1990 team. It would be fitting for him to coach the Pirates to a title this year.
4) How many undefeated teams will remain after this week? Bloom and Seton are undefeated at Rich South. Curie and Simeon are undefeated at Pontiac. St. Viator takes it undefeated record into Wheeling. Bogan travels to Centralia with an unbeaten mark. Andrew (at Kankakee) Plainfield East (Pekin) and Metea Valley (Hinsdale South) are also undefeated.
5) Some players will make stars out of themselves after this week. Who will we be talking about next week?