High School:

St. Joseph's
February, 29, 2012
2/29/12
11:19
AM CT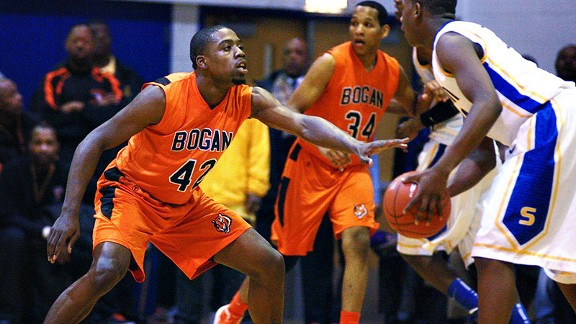 Scott Powers/ESPNChicago.comDevonte Smith scored 26 points and put Bogans ahead late to beat Mount Carmel on Tuesday.
Welcome to March Madness … in February.
There was plenty of excitement in Class 3A and 4A regional semifinals on Tuesday. If this is any indication of the games to come, it should be an interesting ride to Peoria for the state finals.
Thornton 39, Crete-Monee 37:
Thornton, the No. 13 seed in the Lockport section, upset No. 4-seed Crete-Monee at Thornton. Thornton's Marvin Jones scored on a layup with two seconds left for the game-winning basket. Joshua Russell scored 15 points in the win.
Bogan 65, Mount Carmel 64:
Bogan, the No. 3 seed in the Argo sectional, needed some late-game heroics by
Devonte Smith
to defeat host Mount Carmel. Smith scored a layup with 41 seconds left to give Bogan the lead and finished with 26 points. Mount Carmel led 56-47 in the fourth quarter.
New Trier 39, Niles West 35:
New Trier, the top seed in the Glenbrook South sectional, slipped past No. 15-seed Niles West at Niles West. Austin Angel secured the win with a steal with 21 seconds left. He had eight points, four steals and three blocks.
Downers Grove South 69, Oswego East 68:
Downers Grove South, the No. 2 seed in the East Aurora sectional, just got past Oswego East after leading by as many as double digits. Downers Grove South's Jamall Millison had 28 points, and Oswego East's Kenny Battle Jr. finished with a career-high 33 points.
Bloom 41, T.F. North 37:
Bloom, the top seed in the Lockport sectional, held on for a victory over No. 16-seed T.F. North. Donald Bloom secured the win by knocking down 11-of-13 free throws. He finished with 15 points.
Huntley 40, DeKalb 37:
Huntley, the top seed in its own regional, escaped with a win over DeKalb. Huntley has only lost three games this season, and DeKalb entered the game with 16 losses.
Metea Valley 45, Geneva 42:
Metea Valley, the No. 3 seed in the East Aurora sectional, had to battle No. 14-seed Geneva to pull out a victory. Geneva led 40-36 with 2:31 left, but Metea Valley went on a 9-2 run to close out the game.
Joliet West 64, Plainfield South 61:
Joliet West, the No. 5 seed in the Lockport sectional, edged Plainfield South at Thornton. Morris Dunnigan came through with a three-point play with nine seconds left for the win. Brian Edwards had 16 points and 12 rebounds off the bench for Joliet West. Eddie Presniakovas had 25 points for Plainfield South.
St. Joseph's 68, Glenbard South 65:
St. Joseph's Reggie Johnson and
Paul Turner
combined for 53 points to help the Chargers to a win over Glenbard South at Nazareth.
Brooks 60, Rich East 58:
Brooks defeated Rich East thanks to a buzzer-beating basket by sophomore Erick Locke, who finished with 26 points.
Johnsburg 60, Woodstock 54:
Johnsburg needed two overtimes to defeat Woodstock at Johnsburg.
Other games:
Thornridge defeated Tinley Park 60-58 behind Josh Hodges' 24 points ... Coming off its upset of Hillcrest, Lemont just got past Corliss with a 59-55 win ... Hersey defeated Buffalo Grove 57-56 at Stevenson ... In downstate Illinois, Collinsville, one of the favorites in its own sectional, was upset by Belleville West 61-57 at Belleville East.
January, 27, 2011
1/27/11
6:55
PM CT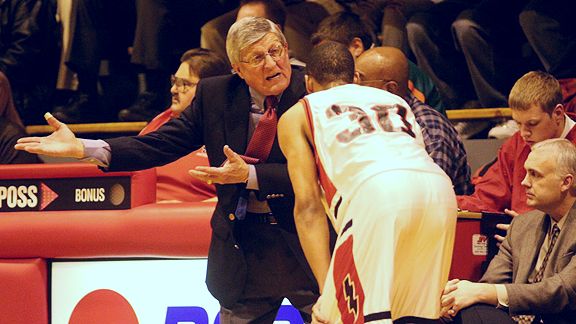 Scott Powers, ESPNChicago.com Gene Pingatore has 867 career wins, second-most in Illinois history.
Legendary Chicago area coaches Gene Pingatore of St. Joseph's and Dorothy Gaters of Marshall were named Thursday as the West team coaches for the McDonald's All-American games.
The 10th annual girls game and 34th annual boys game will be held at the United Center on March 30. The girls game will be televised at 6:30 p.m. on ESPNU and the boys game will be at 9 p.m. on ESPN.
Gaters, who is in her 36th year of coaching, holds Illinois' girls basketball record for most wins with 949 career victories. She has also won eight state championships.
Pingatore is in his 42nd year and has 867 career wins, which ranks second in state history. He has won one state championship.
Gators said she was honored to be involved in the game, but wasn't too worried about the actual coaching.
"It's definitely more pressure trying to win a state title," Gaters said. "This event won't be any pressure. It'll just be a fun time."
Pingatore agreed.
"The kids have to have a good time," Pingatore said. "We don't want to ruin it with coaching."
Pingatore has coached three McDonald's All-Americans at St. Joseph: Isiah Thomas (1979), Daryl Thomas (1983) and Deryl Cunningham (1989). Daryl Thomas, a current St. Joseph assistant, will be Pingatore's assistant at the McDonald's game.
"I have been blessed with a number of great players over the years, but never at the same time," Pingatore said. "That's going to be what's different. It's going to be an experience for me to coordinate something and put on a show for the fans at the United Center. I hope I don't screw it up. That's the big thing. I won't know what to do with all that size."
The boys and girls McDonald's All-American teams will be announced on Feb. 10.