High School:

Sterling Brown
November, 12, 2012
11/12/12
8:21
PM CT
[+] Enlarge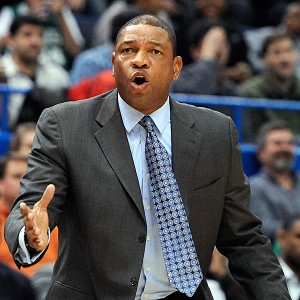 AP Photo/Jessica HillDoc Rivers keeps track of the continued success at Proviso East.
CHICAGO --
Boston Celtics
coach Doc Rivers may be 20-plus years removed from his playing days at Proviso East High School in Chicago's western suburbs, but he's still loyal to the program.
Prior to Monday's game against the
Chicago Bulls
, Rivers was asked how he felt about Proviso East being back on the rise after reaching the IHSA Class 4A state championship last season. It was the first return trip to the finals since 1992.
"What do you mean on the rise?" Rivers said in a harsh tone. "They're always on the rise."
Rivers was only joking, but he does really still keep close tabs on Proviso East. And the Pirates, for the most part, have been one of Illinois' most consistently successful programs. They've reached 14 state tournaments, won four titles and have produced past and present NBA players like Rivers, Jim Brewer,
Donnie Boyce
,
Sherell Ford
,
Michael Finley
,
Shannon Brown
,
Dee Brown
,
Reggie Jordan
and
Steven Hunter
.
Plus, like in Rivers' day, Proviso East still wears jerseys with sleeves.
"Proviso East is what it is," Rivers said. "You know what it is. It's a heck of a school. For basketball, I don't know if there's any place better in the country, not only in the state, as far as the history of it."
Rivers does still keep close tabs on Proviso East, too. He often talks with his brother Grady Rivers, who still attends games, and Boyce, the current Proviso East coach, about the team.
Boyce said their conversations are important to him and his players.
"It means a lot," Boyce said. "He's not only a friend, but a mentor to me. I'm always taking things from him and watching him coach. He helps pass my message to the players and show what the program is all about when he talks to them.
Boyce even one day hopes to follow Rivers' footsteps into the NBA as a coach.
"I want to coach at the highest level," Boyce said. "I want to attack it just as when I was a player."
Proviso East enters this season as one of the state favorites again. The Pirates' roster includes
SMU
recruit
Sterling Brown
, Shannon's younger brother, and
Illinois State
recruit
Paris Lee
.
October, 15, 2012
10/15/12
2:01
PM CT
Proviso East senior shooting guard
Sterling Brown
committed to Southern Methodist on Monday.
Brown, a 6-4 guard, visited SMU over the weekend and informed SMU and the other schools recruiting of his decision on Monday. He also considered DePaul, Miami, Northwestern, Providence, South Carolina, Tennessee and Xavier.
September, 7, 2012
9/07/12
10:52
PM CT
Proviso East senior guard Sterling Brown has set up official visits to Memphis, Miami and Missouri, his father said on Friday.
Brown, a 6-foot-4 guard, will visit Missouri on Oct. 12, Miami on Oct. 19 and Memphis on Oct. 26, according to his father Chris Brown. Chris said his son was considering all three schools along with many others, including Colorado, DePaul, Illinois, Michigan State, Northwestern and Oregon State.
"He's still wide open," Chris said. "His radar is still open."
Brown's older brother Shannon Brown starred at Michigan State, and Spartans coach Tom Izzo has been recruiting Sterling. Chris believed Michigan State would offer Sterling next week when the Spartans visit Proviso East.
"It's not about what school Shannon went to," Chris said. "It's about what schools are recruiting Sterling. Michigan State has shown interest in him."
Shannon recently said he didn't care where Sterling ended up.
"I'm just letting Sterling do him," Shannon said last month. "I'm letting Sterling make his own decisions. Let him go out there and play his game the way he wants. If he wants my opinion on something, I'll definitely give it to him. I want to see him want to go to a school he wants to go play at."
Chris said he was hopeful Brown would commit and sign with a school in November.
Brown averaged 13 points and nine rebounds last season. In a state championship loss to Simeon and its star Jabari Parker, Brown scored a game-high 25 points on 10-of-18 shooting, hit two 3-pointers, grabbed five rebounds and had one steal and one assist.
July, 28, 2012
7/28/12
8:29
PM CT
There was a time in Proviso East senior guard Sterling Brown's childhood he would have accepted a scholarship offer from Michigan State in a heartbeat.
[+] Enlarge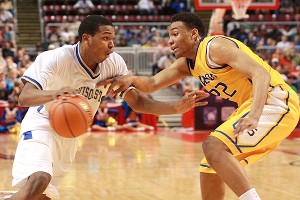 Scott Powers for ESPNChicago.comProviso East's Sterling Brown has shown his stuff against elite competition.
"It was definitely the school I liked growing up," Brown said leading up to this week's recruiting period. "Going to a lot of my brother's (Shannon Brown) games, as a kid, I said I wanted to be a Spartan. I wanted to play for Tom Izzo."
Brown, a 6-foot-4 shooting guard, could still end up playing for Izzo, but the Spartans will have to recruit him like every program pursuing him as his stock continues to rise in July.
Brown's list of suitors has grown in recent weeks, and he now names Colorado, DePaul, Georgia Tech, Illinois, Memphis, Miami, Michigan State, Minnesota, Nebraska, Northwestern, Oregon State and USC as schools who are recruiting him.
"Everyone is in the picture right now," Brown said. "Right now, I don't have any set schools. Any school looking at me, I'm interested in also.
"Michigan State is still recruiting me, too. They're talking to my dad and my brother. They attend all the games. We'll see where that one goes. If they come with an offer, it's not a done deal. There are other schools looking at me. If Michigan State comes with an offer, they're going to be right in line with everyone else."
Brown's club coach Mike Irvin of the Mac Irvin Fire said he wouldn't be surprised if they began hearing from even more high-major programs after July because the way Brown has performed.
"He's been playing unbelievable," Irvin said. "He's playing like one of the top guards in the country. He's doing it at both ends of the court. He's definitely stepped up. He's playing with a lot of confidence. His confidence is out of the building."
Brown's confidence began to build back in the high school season. In Illinois' Class 4A state championship game, Brown matched up against Simeon's Jabari Parker, the country's No. 1 senior, and Brown was arguably the best player on the court that day.
Brown scored a game-high 25 points on 10-of-18 shooting, hit two 3-pointers, grabbed five rebounds and had one steal and one assist. Parker had 15 points, though his team did defeat Proviso East.
"It just gave me confidence that any way I needed to help my team I was going to do regardless of who I was playing against," Brown said.
Brown also recently went up against Julius Randle, the nation's No. 2 senior, at Nike's EYBL Peach Jam, and according to Irvin, Brown held more than his own despite giving up five inches. Randle had 18 points and 10 rebounds, and Brown had 16 points and five rebounds.
ESPN senior recruiting coordinator Dave Telep has been impressed by Brown this summer.
"He's a solid high-major level player who is the type that could start 2-3 years at a big program and contribute all four," Telep said. "He's a versatile kid, solid outside shooter who can get to the rim. Different player than his brother, but a guy who will wind up in a big conference."
Brown doesn't mind being different than Shannon, who has been in the NBA since 2006. Brown's been working all of his life to separate himself from his older brother.
"That's what it's all about being a younger brother or a son of someone who previously played," Brown said. "You want to get out of their shadows. You want to make a name for yourself. That's what I'm striving to do. Anytime in the paper, I read I'm Shannon Brown's little brother. I try to get out there. I do feel I'm getting there."
March, 18, 2012
3/18/12
12:04
AM CT
PEORIA, Ill. -- Simeon's players took their shoes off and laid them side by side on the basketball floor at Carver Arena as their fans surrounded them on Saturday night.
It was a sight unseen at the state tournament before. But then again, Simeon just got finished doing something no program in the state had done before.
[+] Enlarge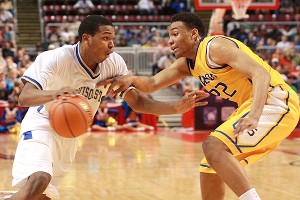 Scott Powers for ESPNChicago.comProviso East's Sterling Brown, who scored a game-high 25 points, drives against Simeon's Jabari Parker.
With Simeon's 50-48 victory over previously-unbeaten Proviso East in the Class 4A state championship on Saturday, Simeon became the first program in state history to win six state titles, surpassing Peoria Manual's and Peoria Central's five trophies.
"The kids wanted to leave their footprints on the floor," Simeon coach Robert Smith explained of the shoes.
Simeon and Smith did set themselves apart on Saturday. The Wolverines won their third consecutive title and fifth in the last seven years. Smith also became the first Illinois coach to win five titles.
"This is not it," Smith said. "We're on our way to try to come back again here next year."
March, 16, 2012
3/16/12
10:43
PM CT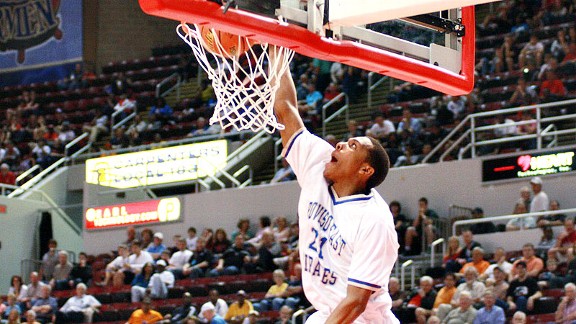 Scott Powers/ESPNChicago.comProviso East's Sterling Brown throws down a dunk in Friday's 4A semifinal win.
PEORIA, Ill. –Proviso East junior
Sterling Brown
has a ways to go to match the accomplishments of his older brother
Shannon Brown
, a
Phoenix Suns
guard who starred at
Michigan State
.
But on Friday, Sterling finally found a way to one-up Shannon, first simply playing in the state tournament and then by starring in it. Brown led Proviso East to a 55-45 win over Rockford Auburn in the Class 4A state semifinals.
"It is really big," Sterling said. "He was never able to get down here. He lost in the super-sectionals his junior year [at Proviso East]. It just feels good to do something he never did and hopefully we can win a championship like he never did."
Sterling had begun separating himself from Shannon during his junior season, and he continued to do so Friday. While Sterling's teammates felt the butterflies of playing on the big stage and struggled early against Auburn, Sterling acted as he had been there before.
Sterling scored all four of Proviso East's points in the first quarter, had six points and seven rebounds by halftime and kept on producing the rest of the way. He finished with 13 points, 15 rebounds, two blocks and one steal.
[+] Enlarge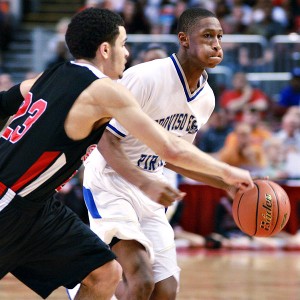 Scott Powers/ESPNChicago.comProviso East's Javon Carter pushes the ball up the court in Friday's semifinal.
"I think Sterling understands what it's all about," Proviso East coach Donnie Boyce said. "I think with Shannon being his older brother, he's played in his shadows. I think he has really stepped out of Shannon's shadows and has made his own identity.
"I think Sterling has a better overall feeling for the game [than Shannon]. Shannon is more athletic, better outside shooter. I think Sterling, when it's all said and done, will be the better player because of his length and the many different things he can do on the court."
With Sterling the only player clicking early, Proviso East (32-0) had to rely on its defense to get it by Auburn. The Pirates threw two defenders at Auburn star guard
Fred Van Vleet
, a
Wichita State
recruit, and forced his teammates to beat them.
The plan worked to perfection. Proviso East held Van Vleet to two points and forced him into six turnovers in the first half while the Pirates went ahead 20-13 at halftime. The Pirates extended their advantage to double digits in the third quarter.
Van Vleet got his points by the end of the game, finishing with 18 points, 10 rebounds and five assists, but it was too late for Auburn. Proviso East's lead was never trimmed to less than seven points.
"I thought it obviously wasn't the best played game," Boyce said. "I thought in the first half and part of the third quarter we did a great job of shutting down and containing Van Vleet, but he's such a great point guard.
Paris Burns
(14 points) and Javon Carter (nine points) contributed for Proviso East.
It was the second time Proviso East defeated Auburn (31-3) this season. The Pirates first knocked off Auburn off in the Proviso West holiday tournament semifinals in December.
November, 8, 2011
11/08/11
3:41
AM CT
Simeon coach Robert Smith didn't feel like he was coaching the No. 1 team in the country when the Wolverines took the floor Monday for the first practice of the 2011-2012 season -- but in a good way.
Given all the hype surrounding the Wolverines, it wouldn't have been surprising if some of it had gone to their heads. Smith discovered that wasn't the case.
"They came out there like they weren't even ranked," Smith said following practice. "They were diving for balls. They're hungry and still feel like they have something to prove."
[+] Enlarge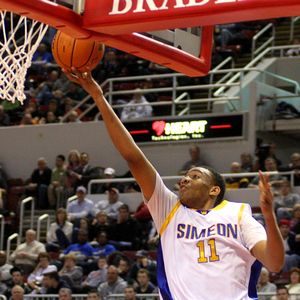 Scott Powers for ESPNChicago.comJabari Parker and Simeon are ready to begin their title defense.
While all the individual skill is undeniable, Smith's concern right now is developing team chemistry. It wasn't often this summer that Simeon played as a full team with
Jabari Parker
and
Kendrick Nunn
out of town with Team USA responsibilities.
"We're very talented, but as far as experience we're a young team," Smith said. "The chemistry is not good right now."
Smith began his eighth season as Simeon's head coach on Monday. He's gone 197-36 and has won four state championships. First day of practices are old hat to him.
For Proviso East coach Donnie Boyce, the first day of practice Monday was something special. It was his inaugural one as the Pirates' coach.
"All day yesterday and all day today, I couldn't wait until 3:40 p.m.," said Boyce, who starred at Proviso East and went on to play in the NBA. "It was very exciting to say the least."
Like Simeon, Proviso East is expected to be among the top teams in the state. The Pirates return point guard
Keith Carter
, who recently committed to
Saint Louis
, rising junior star
Sterling Brown
and a number of other experienced players.
Boyce spent his first day dealing with an open tryout, which is school policy. He had about 50 players come out. But aside from evaluating talent, Boyce also began the framework of teaching the type of defense he expected from his team this season.
"The one thing I always felt our teams were known for was our pressure," Boyce said. "We gave them 32 minutes of hell. I'd like to bring that back here."
Teams will hold practices for the next two weeks, and games will begin on Nov. 21.
January, 22, 2011
1/22/11
1:40
AM CT
MAYWOOD, Ill. -- Proviso East sophomore
Sterling Brown
is out to obtain everything his older brother
Shannon Brown
already has.
Brown seeks to be Illinois' Mr. Basketball and a McDonald's All-American. He'd like to attend
Michigan State
and excite the Izzone with mouth-dropping dunks. He wants to be drafted and win a NBA title.
Brown would like it all, plus a little more. All the achievements Shannon hasn't reached – a state title at Proviso East, all-American status and national championship at Michigan State, NBA lottery pick and all-star selection -- Brown also wants.
[+] Enlarge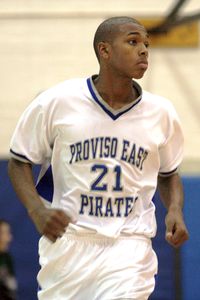 Scott Powers/ESPNChicago.comProviso East sophomore Sterling Brown scored 22 points in a win over Glenbard East last week.
"That's my goal -- I want to be even better than what he's doing," said Brown, who is 9 ½ years younger than Shannon. "I told him that. He said in order to get there I have to put in a lot of hard work and extra hours in the gym."
Brown has begun making that push toward stardom. His sophomore season has been full of inconsistencies, but in the last week Brown showed his potential, scoring 22 points in a win over highly-ranked Glenbard East and following that up with 15 points in a win over a tough North Lawndale team. For his performances, he is the ESPNChicago.com/Muscle Milk Prep Athlete of the Week.
"The one thing he's doing now is he's playing with a lot of confidence," said Proviso East coach David Chatman, who also coached Shannon. "Sometimes a player can have a good game and take it and run with it. That's exactly what he's doing now.
"There's a lot of hype around his name, being the younger brother of Shannon Brown. He's still a sophomore. He's going to be a sophomore on some nights and some nights pop up like he has. It's part of the growing pains, growing process."
For Brown, there's no escaping his older brother's shadow. Even inside Proviso East's gym, there hangs a banner commemorating Shannon being Gatorade's high school player of the year on one wall, and on the opposite wall, another honors him for being on the
Los Angeles Lakers
.
Brown doesn't mind all the attention for the most part. The only drawback is when some people try to use who his brother is against him.
"Everywhere I go, Batavia, Addison Trail, they say Shannon is doing better than me," Brown said. "I just use it as motivation to play. Everyone thinks I get where I am because of my brother. They think I get my starting spot because of him. They think I get my minutes because of him. I want to prove to everybody I am where I am because of me."
Chatman can assure everyone Brown would be starting for nearly every high school team in the state. At 6-foot-5 and growing, Brown has great size. He can handle the ball, shoot it from deep or mid-range, drive it and score inside.
In comparison to Shannon as a sophomore, Chatman doesn't think Brown is as aggressive, but he is a better shooter and matches his brother's high basketball IQ.
"He makes a lot of good decisions with the ball," Chatman said. "That's what makes him so tough and so hard to guard. He knows the game. He can see the floor really good. He does a good job of mixing it up.
"They're two totally different players. He knows Shannon had his time, and Sterling's time is coming."
As much as the brothers are different, Sterling does want to follow in Shannon's footsteps in most ways. Brown really enjoyed Michigan State when he visited Shannon there and could see himself playing for coach Tom Izzo. The Spartans have sent Brown a recruiting questionnaire, but nothing more as of now.
Brown also mentioned
Louisville
and
North Carolina
as two other dream schools. He has received interest from
Dayton
,
Oregon State
and a few other schools.
Brown isn't a big name on the recruiting scene yet. He hasn't drawn the attention of some of the other players in Illinois' Class of 2013, particularly Simeon's
Jabari Parker
and Whitney Young's Tommy Hamilton Jr., both nationally-ranked players.
Chatman believes Brown will ultimately be included in that discussion.
"The sky's the limit for this kid," Chatman said. "I don't tell him that too much. In the next year or so, his name will be right next to those guys. He's growing leaps and bounds. The way he's going now it's going to be hard to separate them."