High School:

Tommy Schutt
December, 12, 2011
12/12/11
9:02
PM CT
Glenbard defensive tackle and ESPNU 150 recruit
Tommy Schutt
decommitted from
Penn State
and opted instead for
Ohio State
on Monday, according to his high school coach Chad Hetlet.
Schutt was Penn State's top-ranked Class of 2012 recruit. He changed his commitment after visiting Ohio State over the weekend.
Read the entire story.
December, 7, 2011
12/07/11
4:17
PM CT
Penn State's top recruit
Tommy Schutt
, a defensive tackle from Illinois, will visit Ohio State this weekend, his high school coach Chad Hetlet confirmed on Wednesday.
Read the entire story
.
November, 29, 2011
11/29/11
8:47
PM CT
ESPNChicago.com's high school football reporters hand out their "Best of 2011" awards.
BEST GAME
Scott Powers: Joliet Catholic 32, Carmel 31 in Week 1 -- I nearly repeated my choice of last year -- Lake Zurich-Stevenson -- but I couldn't go against the drama-packed affair between Carmel and Joliet Catholic. It was only Week 1, but it felt like a playoff game between two of the area's best teams. Carmel looked as if it was going to scratch out a 31-25 victory when Michael Panico scored on a 56-yard touchdown and Brian Brennan added the 2-point conversion with 2:55 remaining. But Joliet Catholic's Ty Isaac, whose name will appear a few times in this entry, changed that when he scored a 75-yard touchdown with 35.3 second left. Isaac Grashoff made the extra point, and Joliet Catholic won 32-31.


John Paschall: Lake Zurich 10, Glenbard West 3 in Week 11 -- In a gritty, spectacular defensive performance, Lake Zurich dug in and put a cap on the high-powered Hilltoppers' offense. When your punter steals the show in the second half, you know your offense is struggling. That was the case for Lake Zurich which didn't convert a first down in the second half until the game was on the line with 2:47 left.


Caleb Benoit: Nazareth 24, Joliet Catholic 21 in Week 6 -- Nazareth lost to Joliet Catholic 57-0 in 2010, but Week 6 this year was a complete turnaround. Despite losing its top running back to injury on its first play from scrimmage, Nazareth earned a 24-21 road win over the Hilltoppers. It was a landmark win for the Nazareth program, which didn't lose again until the Class 6A quarterfinals.


Andrew Braverman: Stevenson 24, Maine South 22 in Week 11 -- Without question, the best game I saw was Stevenson's upset of No. 1 Maine South in the second round of the Class 8A playoffs. The atmosphere was unbelievable, the weather was perfect and the game had plenty of drama. From Stevenson quarterback Matt Micucci getting injured during the Patriots' first drive to him leading his team to victory with the help of a sophomore and freshman wide receiver, there were too many ups and downs to count. Maine South quarterback Matt Alviti did all he could to keep the Hawks alive, but Stevenson made every big play it needed to end an 0-7 playoff draught against the former three-time defending state champions. An instant classic.


Andy Frye: Marist 56, Joliet Catholic 51 in Week 9 -- It was a 15-touchdown thriller in which Marist quarterback Ian Woodworth threw for 557 yards and helped upset Joliet Catholic and capture part of the East Suburban Catholic League title. After its eighth touchdown in a mostly offensive battle, Marist held Joliet Catholic from scoring at fourth and 1 near the goal line in front of a roaring home crowd.


BEST INDIVIDUAL PERFORMANCE
[+] Enlarge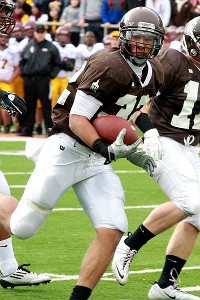 Scott Powers/ESPNChicago.comJoliet Catholic's Ty Isaac had 515 rushing yards and six touchdowns against Montini on Saturday.
Powers: No one had a bigger day than Joliet Catholic's Ty Isaac in the Class 5A state championship. He broke the state record for rushing yards in a game in the first half alone and finished with 515 yards and six touchdowns. I don't think I've ever seen anything like it.


Braverman: The best individual performance was a tough one for me. I was able to take in plenty of "team" victories as opposed to sheer dominance shown from one player. However, Maine South's Matt Alviti scored five touchdowns in the Hawks' come-from-behind win at New Trier in Week 5 and spoiled the Trevians' homecoming. After trailing by 10 points at halftime, Alviti and the Hawks woke up and rolled to a 40-24 win in Northfield. The junior quarterback finished with 195 yards through the air and four touchdowns while also running for 36 yards and a score.


Benoit: After starting running back Rudy Romagnano was injured in the first quarter, Nazareth junior Josh Moore stepped in and rushed for 167 yards on a career-high 37 carries to beat then-No. 5 Joliet Catholic in Week 6. Moore wasn't the most skilled running back on the field that night, but with encouragement from Romagnano and Nazareth coach Tim Racki, he sustained drives and helped keep the Hilltoppers' high-powered offense off the field.


Frye: Nazareth quarterback Sam Poulos drove quietly but creatively as his team won 24-0 in their playoff performance against Cary-Grove. The 5-foot-9 quarterback hit three different receivers and kept the pace frantic against their rivals. He also had a little help from his protective Roadrunner offensive line.


Paschall: This one's easy -- Batavia's Cole Gardner. The 6-6, 250-pound tight end/defensive end did a little bit of everything for the Bulldogs in their 42-0 smashing of Lakes. He had a sack, forced fumble, block punt and his two receptions went for touchdowns. Talk about stat stuffing.


BEST OVERALL PLAYER
[+] Enlarge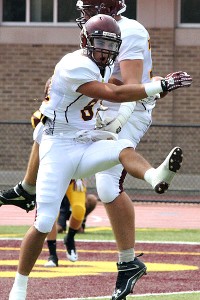 Scott Powers/ESPNChicago.com Montini's Jordan Westerkamp might go down as the best receiver in state history.
Powers: Montini wide receiver Jordan Westerkamp was my choice for the ESPNChicago.com Player of the Year for a reason. He was as good as it got this year in Illinois. He may go down as the state's greatest wide receiver.


Benoit: It's obvious Joliet Catholic's Ty Isaac will end up playing major college football. The junior running back has size, speed and offers from several schools, including Illinois and Notre Dame.


Frye: Bolingbrook's Aaron Bailey got going slowly and was held to 26 yards in the first half by Naperville Central in the 8A semis. But I wasn't surprised when he turned it on late with his speed. Bailey added 126 rushing yards in the fourth quarter to seal Bolingbrook's passage to the 8A final and their eventual state championship.


Paschall: I would have said Josh Williams of Downers Grove South if Addison Trail had not bottled him up the whole game, so my choice is Glenbard West's Tommy Schutt.


FAVORITE PLAYER TO WATCH
Powers: There's nothing like a defensive player who can impact nearly every play. That was Glenbard West's Tommy Schutt this season. He was not only skilled and dominant this season, but he also brought a fire to Glenbard West's defense that his teammates fed on.



[+] Enlarge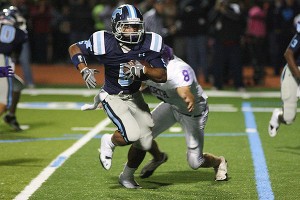 Scott Powers for ESPN.comDowners Grove South's Josh Williams scored 36 touchdowns this season.
Benoit: There were few players who could change a game like Downers Grove South's Josh Williams. His lack of size (5-9, 175) may be limiting the number of college offers he's receiving, but there's no arguing with his performance. The senior running back finished the season with 2,338 rushing yards and 36 total touchdowns.


Braverman: Though Matt Alviti may be the most highly-touted prospect I saw all season, Prairie Ridge's Jordan Getzelman gets my vote for most fun to watch player. "Getz" was a big-play threat any time he stepped on the field and was almost able to score at will when rushing or on kick returns. Maine South senior running back Paul Preston was a close second for "most fun."


Frye: After covering Brother Rice three times, I've come to assume that their all-time leading rusher Martez Walker possesses his own internal jet engine. His 95-yard kickoff return against Mount Carmel in September was reminiscent of Devin Hester, and every time Walker got the ball he was a threat.


Paschall: It was funny watching the Wheaton Warrenville South vs. Providence game because every time Wheaton Warrenville South had the ball, everyone in the stadium knew it was just going to hand it off to Dan Vitale. But even when Providence stacked the box, Vitale either made guys miss or plowed right through them to carry his team into the next round. It was exciting and mesmerizing to watch.


MOST MEMORABLE PLAY
Powers: Crystal Lake South kicker Brad Walovitch's 51-yard field goal to beat Cary-Grove was the most memorable for me. It wasn't just the kick, but the fact he had missed a 46-yarder badly before. It took a lot of confidence by his coach and in himself to get back out there and make the second attempt in a clutch situation.


Benoit: In what was predicted to be a close game, Naperville Central junior Nick Thomas ran back the opening kickoff 76 yards for a touchdown in his team's 42-14 win over Homewood-Flossmoor in the Class 8A state quarterfinals. The big play fired up the home crowd on a cold November night and served as a catalyst for the Redhawks' win.


Braverman: The most memorable play also belongs to Prairie Ridge. The 6A champs hosted Nazareth in the quarterfinals, and after the Roadrunners walked on to the field and basically taunted the home team and their fans, Prairie Ridge forced a fumble on the first play from scrimmage and senior defensive back John Borst took the return 18 yards to the house. The opening momentum shift led to a 35-7 Prairie Ridge route.


Frye: I guess I prefer the gritty and imperfect plays in football. During the start of Nazareth's playoff game against Cary-Grove, Aeneas White -- who claimed he doesn't get to catch much in practice -- ran a straight route up the center and plucked an over-the-shoulder catch for a 56-yard touchdown, giving Nazareth its first of four scores in the win.


Paschall: Loyola's Charlie Dowdle made an outstanding one-handed catch streaking down the sidelines against Glenbard North in the Class 8A semifinals. Not only did he score on the play, he also put the Ramblers, who trailed 13-0 at halftime, on top for good and sent them to the championship game.
November, 22, 2011
11/22/11
10:11
PM CT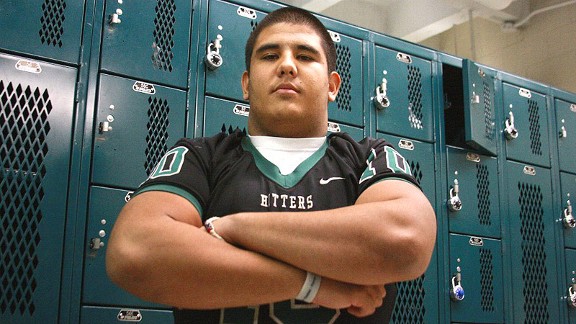 Scott Powers for ESPN.comPenn State-bound Tommy Schutt was a dominant force on defense for Glenbard West.
Someone from Wheaton Warrenville South was going to absorb the impact of 6-foot-3, 305-pound
Tommy Schutt
in the season opener.
Schutt was as determined to make that happen as he was anything in his high school career.
He spent the entire offseason storing up his frustration and anger over Wheaton Warrenville South ending Glenbard West's season in the 2009 and 2010 playoffs. Schutt wanted payback, and it so happened Glenbard West was opening its 2011 season at Wheaton Warrenville South.
"We weren't talking about being state champions or conference champions," Schutt said. "We wanted to beat Wheaton South on their field, and that doesn't happen."
On the game's first play from scrimmage, the ball was snapped, and Wheaton Warrenville South's left tackle attempted to slow down Schutt by chop blocking him. The agile Schutt leaped over the lineman, hit the ground running, picked up speed and threw his body at the Wheaton Warrenville South quarterback as he was releasing the ball.
The result was like witnessing a train smash into an idle object. Anyone who the saw the hit won't ever forget it.
"That was one of the biggest hits I've ever seen," Glenbard West linebacker Andrew Larkin said.
Wheaton Warrenville South coach Ron Muhitch said, "It was a phenomenal play. He ended up literally knocking the helmet off of [our quarterback.]"
Schutt said: "That's one I'll never forget."
It was just the start. From that hit on, Schutt put together one dominant defensive performance after another, causing havoc on offensive linemen, running backs, quarterback sand anyone else who dared to get in his way.
For that, Schutt is the 2011 ESPNChicago.com Defensive Player of the Year.
Schutt's path to success this season wasn't a clear one. After making himself a household name in Illinois high school football as a sophomore and junior, opposing offenses schemed to avoid Schutt in every creative way they could this season.
The problem was Schutt spent the offseason preparing for it. Following a junior season where he believed he had a become dominant run stopper, he devoted himself in the spring and summer to becoming an equally tough pass rusher.
Putting the two skills together, Schutt turned himself into a complete player for his final high school season.
"The fact is he's the entire package," Hetlet said. "He's smart. He's strong. He's physical, athletic, has a nose for the ball. There aren't too many areas where you say, 'He doesn't have that.' "
Opposing coaches echoed Hetlet.
"Schutt was tough to block," York coach Bill Lech said. "He made their entire defense better. If you doubled him, that freed up another linebacker. If you tried to solo him, you couldn't do it. Won't miss him a bit here at York."
Lyons coach Kurt Weinberg said: "I believe Tommy Schutt is one of the best point-of-attack defenders I have coached against in 18 years. He is very sudden and explosive. If the ball gets near him, he will gobble it up. He explodes into blockers and sheds very well. He has a low center of gravity and uses leverage very well."
Muhitch said: "He's a dynamic player. He's an athlete in a big man's body. They've used him in so many ways. I think he's just a great football player."
Schutt's numbers reflect that. Despite all of the attention paid to him, he still had 14 sacks, 19 tackles for loss, 19 batted balls and one interception this season. For his career, he has 33 sacks, 45 tackles for loss, 21 batted balls, 11 forced fumbles, eight fumble recoveries and one interception.
Because Schutt was producing at a high level even back to his sophomore season, colleges took notice of him at a young age. Illinois was the first to offer him, and that came just days after he played in the state championship in 2009. Schutt's recruitment only escalated from there.
Schutt was going to commit to Notre Dame, but the Irish's class filled up just before he had a chance to do so. Schutt's reopened his recruitment, and his first visit was to Penn State. From the academics to the football program, Schutt felt like Penn State was the place for him and committed to the Nittany Lions in early August.
"It's every kid's dream to play in college," Schutt's father Dave Schutt said. "As a parent, it's humbling and proud. He wanted to go a school with great academics and football tradition. It's a school a lot like Glenbard West."
Schutt and his parents are closely watching what unfolds at Penn State now following the child sexual abuse charges against former Penn State defensive coordinator Jerry Sandusky. Schutt said he's 100 percent committed to Penn State as of now.
"I'm not going to make any changes right now," Schutt said. "I'm going to see how it plays out and go from there."
The uncertainty of Penn State's program coupled with Glenbard West's second-round exit in the Class 7A playoffs put a damper on Schutt's offseason. Yet, like his personality, he tends to focus on the positive.
"I couldn't have asked for a better career," Schutt said. "I obviously would have loved to have a ring, but it was an unbelievable career. I played with great guys, played for a great coaching staff. I couldn't ask for anything more."
Hetlet feels the same. He couldn't have asked more from one player's career.
"I'm going to miss him," Hetlet said. "It's hard to believe we're not going to have a Tommy Schutt on defense."
November, 10, 2011
11/10/11
5:49
PM CT
Glenbard West senior defensive lineman
Tommy Schutt
is still committed to Penn State and has had communication with its coaching staff, his father said on Thursday.
Read the entire story
.
November, 9, 2011
11/09/11
1:49
AM CT
Glenbard West senior defensive lineman
Tommy Schutt
is still committed to
Penn State
, but he and his family are monitoring the current situation at the university, according to his father.
Penn State's football program is currently in turmoil after former defensive coordinator Jerry Sandusky was arrested Saturday on 40 criminal counts of child sex abuse. The scandal has made the future of Penn State coach Joe Paterno and his staff uncertain.
Schutt, who is 6-3 and 305 pounds, committed to the Nittany Lions in August. He's ranked No. 130 in the ESPNU 150 and is the 12th-ranked defensive tackle in the Class of 2012.
"I don't think it's fair to comment because we haven't talked to Penn State," his father Dave Schutt said on Tuesday. "We just need to talk [Penn State defensive line] coach Larry Johnson. We're aware of the situation."
Johnson recruited Schutt. Penn State was said to be Schutt's childhood dream school when he committed in August. He had over 20 offers when he made his decision.
August, 28, 2011
8/28/11
10:12
PM CT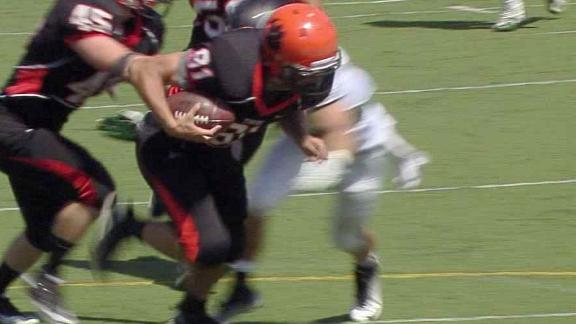 WHEATON, Ill. – Glenbard West's
Tommy Schutt
delivered a message on the opening play of Sunday's game against Wheaton Warrenville South.
With the snap, Schutt, a
Penn State
recruit, ran over Wheaton Warrenville South's offensive tackle and quickly came up on Tigers quarterback Thaddeus Armstrong. From Armstrong's blind side, Schutt flew into him and sent him crashing to the ground.
"That was one of the biggest hits I've ever seen," Glenbard West linebacker Andrew Larkin said.
Schutt and his defensive mates were relentless from the start, leading No. 3 Glenbard West to a 21-7 road win over No. 2 Wheaton Warrenville South on national television on Sunday.
[+] Enlarge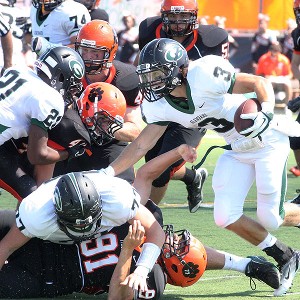 Scott Powers/ESPNChicago.comGlenbard West's Avery Balogh rushed for 108 yards and a touchdown on Sunday.
The loss snapped Wheaton Warrenville South's 27-game winning streak. It was also the Tigers' first home loss since Oct. 31, 2008.
Wheaton Warrenville South had been a thorn in Glenbard West's side the past few years. The Tigers ended Glenbard West's season in 2009 in the Class 7A state title game and in the 7A quarterfinals in 2010.
Glenbard West coach Chad Hetlet didn't downplay the significance of his team's victory.
"This is Wheaton South at Red Grange (Field)," Hetlet said. "You don't beat them here. You just don't beat them here. I don't care what you say. It's one of the best programs in the country year in and year out, great coaching staff. You just don't beat them here."
Wheaton Warrenville South had plenty of chances to continue its winning streak. The Tigers recovered four Glenbard West fumbles and began in the Hilltoppers' territory on three of those instances. But only once was Wheaton Warrenville South able to capitalize.
With Glenbard West leading 7-0, the Tigers were given a gift to open the second half. Glenbard West quarterback
Justice Odom
lost his grip on the ball, and Wheaton Warrenville South defensive end Mark Rooney recovered it on the Hilltoppers' five-yard line.
On four consecutive running plays, Glenbard West stopped Wheaton Warrenville South from reaching the end zone and kept its lead.
"That's something we preach a lot throughout the week of practice is facing adversity," said Schutt, who missed most of the fourth quarterback with cramps. "The offense turns the ball over; the defense has to step up. We did. That was a great stand."
Glenbard West had its own share of offensive struggles until the fourth quarter, when senior Avery Balogh began to find his groove. Balogh rushed for a 31-yard gain that led to a 2-yard touchdown run by Joe Zito with 9:07 left in the fourth quarter, and later scored himself with 1:45 remaining on an 18-yard scamper.
The game featured nine plays of 10 or more yards, and Balogh accounted for three of them. He finished with 108 yards and one touchdown on 11 carries.
"It felt great to get the ball after I blocked for a great running back last year in
Nick Burrello
, who is at
Harvard
now," Balogh said. "It just felt great to finally get my chance and take advantage of it."
Wheaton Warrenville South pulled within 14-7 with 6:31 left when Dan Vitale, a
Northwestern
recruit, found a hole up the middle and rushed for a 22-yard touchdown. The Tigers were stopped on their next two possessions.
Vitale was one of the few bright spots for the Tigers' offense, rushing for 45 yards on 12 carries and catching six passes for 25 yards.
Wheaton Warrenville South coach Ron Muhitch thought the game came down to Glenbard West's dominant defense and his own team's lack of experience.
"Credit to Glenbard," Muhitch said. "They played tough defense. They played aggressive, tough defense. Chad told me, 'We're not going to back off because you got a new quarterback,' and that's exactly what he should have done. That's exactly what they're good at.
"I struggled to call a play today. I really did. Because every play that we called, somebody had a run-through or a scheme mistake. We practiced it, but I'll be honest with you, you can't practice lack of experience. All junior line, new quarterback, basically new offense, and I thought it showed."
Odom connected with Max Bruere for a 12-yard touchdown in the first quarter to give Glenbard West a 7-0 advantage.
Michael Marston and Larkin had interceptions for Glenbard West.
August, 11, 2011
8/11/11
2:08
AM CT
Glenbard West senior defensive tackle
Tommy Schutt
committed to
Penn State
on Wednesday.
Schutt, who is 6-3 and 295 pounds, chose Penn State over
Florida
and
Wisconsin
. He is ranked the No. 12 defensive tackle in the Class of 2012 and the 132nd overall player by ESPN. Schutt is Illinois' second highest-ranked prospect.
"As a child, that was his favorite school," Glenbard West coach Chad Hetlet said. "I think he wanted to be at a disciplined program, a good academic school. It's JoePa [Penn State coach Joe Paterno.] He's a legend. He's still in the game. To be able to play for him, that's going to be absolutely amazing for him. It's Penn State. It's a great, traditional program."
Schutt had been strongly considering
Notre Dame
earlier in the month, but the Irish pulled their scholarship after receiving another commitment.
"I'm sure it was a tough pill to swallow," Hetlet said. "You're getting to the point where you're going to commit. The next month they say, 'Someone else is coming, and we're not taking another interior lineman.' That's tough for anybody, but really tough for a high school kid. I think he handled it well.
"I think everything happens for a reason. I think Penn State is where he wanted to be."
As a junior, Schutt was among the state's top defensive linemen. He recorded 67 tackles, 23 tackles for loss and 15 sacks.
"I think from a playing standpoint, Penn State is getting a kid who isn't like a lot of other kids coming out of high school with his size and athleticism," Hetlet said. "He's powerful and strong enough. He's got the physical tools to play right away."
Penn State now has 15 Class of 2012 commitments.
June, 8, 2011
6/08/11
6:14
PM CT
Simeon offensive tackle Jordan Diamond and Glenbard West defensive tackle Tommy Schutt were named to the Class of 2012 ESPNU 150 on Wednesday.

Diamond, who is 6-6, 291 pounds, is ranked No. 103 in the country. He is considering Auburn, Iowa, Michigan, Michigan State, Notre Dame, Ohio State and Wisconsin, among others.

"Diamond is a big and versatile offensive line prospect," ESPN recruiting coordinator Craig Haubert said. "He possesses good size, and in addition to playing tackle he could certainly slide inside and be a productive guard as well.

"He is a physical run blocker, but maybe the thing that jumped out to us most about Diamond was his ability to play on his feet in space. He moves well for a big man, exhibiting good balance and agility and does a good job when asked to pull or get down-field and block on the move at the second-level."

Schutt, who is 6-3, 305 pounds, is ranked No. 135 in the Class of 2012. He is considering Florida, Oregon, Penn State and Wisconsin, among others.

"Schutt is a good-sized kid who is physical, gives good effort, and is simply a pretty good football player," Haubert said. "He is not a quick penetrating disruptive force, but he seems to play with a passion for the game and plays it well and can be a stout, tough, and a productive football player in the trenches."

Although they didn't make the ESPNU 150 list, other Illinois players who were highly graded were Barrington offensive tackle Dan Voltz, Providence offensive tackle Ryan Ward, Lake Forest Academy defensive end Faith Ekakitie, Curie athlete Maurice Fleming, Montini offensive guard Jaleel Johnson, Bolingbrook outside linebacker Antonio Morrison, Edwardsville defensive tackle Vincent Valentine, Montini wide receiver Jordan Westerkamp, Rochester quarterback Wes Lunt and Simeon quarterback Robert Gregory.