February, 12, 2012
2/12/12
12:49
PM CT
Bolingbrook and Whitney Young seem destined for a show down in the Hinsdale Central super-sectional. The two powerhouses remain atop the final regular season of edition of ESPNChicago.com's girls basketball rankings.
Read the entire top 20.
January, 16, 2012
1/16/12
5:21
PM CT
VILLA PARK, Ill. – The plan growing up was for Taylor Nazon, Jetaun Rouse, Randyll Butler, Asiana Bey and Leah Bolton to all attend the same high school after attending Sutherland Elementary in Chicago.
When it came time to decide on a school, the plan didn't play out. Rouse, Butler, Bey and Bolton chose Marist, but Nazon opted for Trinity.
[+] Enlarge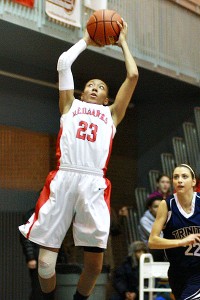 Scott Powers/ESPNChicago.comMarist's Jetaun Rouse helped Marist rally but it wasn't enough on Monday.
On Monday, the quintet reunited, but this time as foes. In their first meeting as high school opponents, Nazon and No. 4 Trinity got the best of the Sutherland foursome and previously-unbeaten No. 3 Marist with a 57-52 win at the McDonald's Shootout at Willowbrook High School.
If Nazon does ever decide to remind her friends about Monday's outcome, her fourth-quarter performance would be a good place to start.
After Marist erased Trinity's 13-point second-half advantage and took a 42-41 lead in the fourth quarter, Trinity turned to Nazon to calm the storm. She drained two 3-pointers in transition to give Trinity a 49-44 lead and later sank two free throws.
Nazon had eight points in the fourth quarter and finished with 15 points for the game.
"When we beat the pressure, we got nice shots, and Taylor just absolutely shot the heck out of the ball," said Trinity coach Eddie Stritzel, whose team improved to 17-1.
The problem for Trinity was it didn't always beat the pressure. Marist (19-1) got back into the game by forcing turnovers and creating fastbreak opportunities off of them. Trinity committed 14 turnovers in the second half.
Bolton and Rouse keyed Marist's comeback. The duo combined for 23 points and five steals in the second half.
"I thought we scouted them and knew their sets inside and out," Stritzel said. "I knew they weren't going to be able to score in the half court. I just worried about the open court, and that's where they hurt us. Stupid turnovers by us. It was all layups they got."
Trinity's Megan Podkowa, a DePaul recruit, emerged early and late in the game. She began the day by scoring nine points and grabbing four rebounds to lead Trinity to a 17-10 lead after one quarter. She was quieted in the second and third quarter, but then came alive again when Trinity needed her down the stretch.
Podkowa scored on an up-and-under move to give Trinity a 52-49 lead with 1:24 left and was 4-of-4 from the free-throw line in the final 7.8 seconds.
"Megan was double-teamed, and our perimeters didn't play well the first three quarters," Stritzel said. "They really caved in on Megan. It really makes it hard on Megan. To Megan's defense, she didn't get down, she didn't disgusted. When she had an opportunity, she had a huge bucket for us."
Podkowa finished with a team-high 17 points and nine rebounds.
Rouse scored a game-high 18 points. Bolton had 14 points and seven rebounds.
January, 16, 2012
1/16/12
3:55
PM CT
Bolingbrook and Whitney Young continued to hold strong in the top two spots of the ESPNChicago.com top 20 girl basketball teams while Loyola and Geneva moved into the rankings.
Read the full story.
January, 2, 2012
1/02/12
8:15
PM CT
Bolingbrook's multi-year run a top the Girls basketball rankings continues this week. The Raiders won their only contest against St. Mary's (Canada) this past week. Whitney Young, Marist, Trinity and Bartlett round out the top five.
Read the full rankings.
December, 25, 2011
12/25/11
4:34
PM CT
In spite of suffering it's first loss of the season in a national tournament this past week, Bolingbrook maintains its position as the top-ranked team in ESPNChicago.com's girls basketball rankings. Who else moved in?
Read the full story.
November, 18, 2011
11/18/11
9:10
PM CT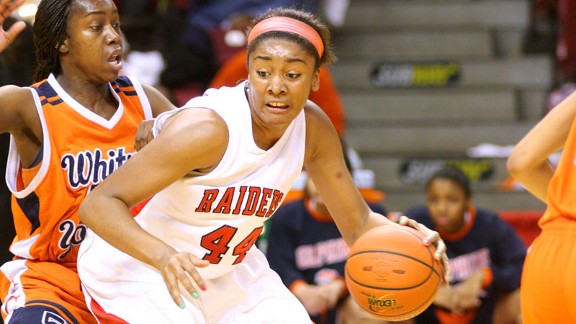 Scott Powers / ESPNChicago.comtbd
1. Bolingbrook:
The Raiders are shooting for their fourth consecutive state title this season, but they also are seeking something even bigger. They want to be the No. 1 team in the country. "That's the kids' goal," Bolingbrook coach Anthony Smith said. "They want to finish off the season No. 1." From top to bottom, Bolingbrook is as talented as ever. It had eight players sign recently with Division I programs. That list is led by senior forward
Morgan Tuck
, who is headed to Connecticut. She averaged 21 points last season. Forward
Cabriana Capers
(Auburn), forward
Nia Moore
(Illinois), forward Annaya Moore (UAB), forward ChaRosese Williams (Stetson), guard Keiera Ray (Pennsylvania), guard Allie Hill (Texas-Pan American) and guard DeLacy Anderson (George Washington) are also signed. Bolingbrook will have to replace ESPNChicago.com 2010 player of the year
Ariel Massengale
, who now plays at Tennessee, and hope to do so with junior
Kennedy Cattenhead
.
2. Whitney Young:
The Dolphins haven't been able to get past Bolingbrook the past three seasons. Last year's Class 4A semifinal game was an instant classic with Bolingbrook pulling out a 50-49 win. They'll be the favorites to get another shot at the defending champs. Whitney Young will be led by its backcourt of
Linnae Harper
, one of the country's top juniors, and
Janee Thompson
, a nationally-ranked senior and Kentucky recruit. Whitney Young will also look to sophomores Khaalia Hillsman and Taylor Brame and seniors Tessa Haldes and
Alexis Lloyd
.
3. Trinity:
The Blazers are looking to make that jump into the state's elite teams this season and appear to have the talent and experience to do so. They went 29-4 last season and return DePaul recruit and all-area selection
Megan Podkowa
, who averaged 17 points and nine rebounds last season, junior guard Taylor Nazon, who averaged 11 points, senior guard
Alyssa Dengler
, junior forward Shannon McGinnis and senior center Vickie Harris. Lauren Prochaska and Mikayla Leyden should also contribute.
4. Maine South:
The Hawks pulled off one of last season's biggest upsets when they knocked off Whitney Young in the Class 4A third-place game. Whitney Young may not have been as motivated after losing in the semifinals to Bolingbrook, but it still was a big win for Maine South and could propel it this season. The Hawks return all five starters and their top six players from last year's team. Senior guard
Michelle Maher
, who has signed with Western Illinois, and junior forward Jacqui Grant, who has an offer from DePaul, both averaged around 12 points last season.
5. Marist:
The RedHawks look to be a state contender this season with all five starters back from last year's squad that went 27-6 and lost to Marian Catholic in a Class 4A sectional championship game. Among Marist's returnees is junior guard JeTaun Rouse, who was the lone sophomore on last year's ESPNChicago.com all-area team. The other returning starters are seniors
Randyll Butler
, a Colgate recruit, and
Asianna Bey
, a Memphis recruit, and juniors Leah Bolton and
Claire Ryan
. All five starters will likely play Division I basketball.
6. Hillcrest:
The Hawks have finished second in Class 3A the last two years. The goal this season is finally to win the title. They return four starters and four key reserves from last year's 29-3 team. The group is led by Seton Hall recruit and all-area selection Shanise Heady and Southern Mississippi recruit
Samirah Ali
. Seniors
Jasmine Sanders
and
Jahmia Phillips
also are returning starters.
7. Morgan Park:
The Mustangs return three of their top players from last season's 27-5 team. Morgan Park will be led by small forward
Kendyl Nunn
, a Toledo recruit, center
Gabrielle Richmond
, a St. Bonaventure recruit, and point guard Debra Jenkins, the glue of the team. Sophomore guard Shami Goodman and freshman Marsha Howard are also expected to receive major minutes. Morgan Park's sophomore team won the city championship last year.
8. Montini:
The Broncos graduated four starters, including three Division I players, from last year's Class 3A state championship team. This is a program that reloads, though. Senior forward Tianna Brown is the lone returning starter, and she averaged eight points last season. Center
Diamond Thompson
was just a contributor on last year's team, but recently committed to Notre Dame.
Nikia Edom
, a versatile 5-6 junior, and forward
Malayna Johnson
will also contribute this season. Some of the newcomers to watch will be sophomores
Jasmine Lumpkin
,
Kelly Karlis
,
Kateri Stone
and Sara Ross and freshmen Kelsey Bogdan and
Rainey Kuykendall
.
9. Bartlett:
The Hawks lost all-area selection
Jacki Gulczynski
to graduation, but still return plenty of talent and depth from last year's 28-2 team. The group is led by
Haley Videckis
, an Indiana recruit, who averaged 10 points last year. Senior Kristin Conniff also averaged 10 points last season. Bartlett also returns forward Lisa Palmer and guard Janessa Baker. Seniors Ashley Johnson, Nicole Gobbo, Natalia Grodzki and Kate Gutzwiller will also be looked to this season. Videckis' sister Kendra, a sophomore, will also play on varsity this season.
10. Waubonsie Valley:
The Warriors return five starters from last year's 24-5 team. Senior guard Tami Morice leads the returnees after averaging 13 points last season.
Becky Williford
, Eric Jordan,
Rachael Ross
and Gratia Brooks are also back. Williford will be back from ACL surgery in December. Waubonsie Valley will also look to a sophomore and three freshmen to contribute this season.
11. Niles West:
The Wolves only have two returning starters, but one of them is
Jewell Loyd
, and that's all that matters. Loyd, a Notre Dame recruit, is one of the nation's most electrifying players. She averaged 30 points, 15 rebounds, four assists, four steals and three blocks last season. She gives Niles West a chance in every game. For it to truly compete for a state title, it'll need junior guard Molly Kleppin, the other returning starter, senior Jackie Cardena, sophomores Dashae Shumate and Alex Galanopoulous and others to contribute as much as they can.
12. Lincoln-Way East:
The Griffins should again be one of the area's top teams this season after going 25-6 last year. They return Loyola recruit
Taylor Johnson
, who averaged 13 points last season, and senior center Caitlin McMahan, who had 10 double-doubles last year. Senior Amy Jacobsen and juniors Meaghan McMahon and Natalie Hill should be key contributors this season as well.
13 Zion-Benton:
The Zee-Bees are coming off their second-place finish in Class 4A. They return all-area selection Octavia Crump, who averaged a near double-double last season, sophomore guard Samantha Rodriguez, who started as a freshman, senior Aaliyan Smith, senior guard Morgan Franklin, and junior guard Kaitlyn Stabenow, the team's best shooter. Senior Jessica Williams didn't play basketball last season, but was the sophomore team's MVP two years ago. She'll be heavily relied on this season.
14. Fremd:
The Vikings should possess one of the state's best backcourts with senior shooting guard Jessi Wiedemann, a Valparaiso commitment, and junior point Ashley McConnell returning and the arrival of highly-touted freshman point guard
Haley Gorecki
. Fremd is coming off a 25-7 season and lost just one game this summer.
15. Fenwick:
The Friars could be the most entertaining team to watch this season. Coach Dave Power is going full run-and-gun this year. His goal every game is to take almost 80 shots, including 40 3-pointers. Fenwick will be led by senior forward and Yale recruit
Meredith Boardman
, sophomore point guard Jade Owens, junior guard Maggie Reilly and senior guard Marek Burchett.
16. Geneva:
Sarah Meadows replaces longtime coach Gina Nolan this season. Meadows will have a lot to work with this season.
Ashley Santos
, a Marquette recruit, will be the Vikings' go-to player. She averaged 15.8 points, 5.7 rebounds, 3.2 steals and 1.1 blocks last season. Geneva also returns starting guard Rachel Hinchman and junior forward Sami Pawlak from last year's 25-7 team. Sophomores
Michaela Loebel
and
Morgan Seberger
should also contribute this year.
17. Homewood-Flossmoor:
After winning 22 games in coach Dana Noble's first year, the Vikings are out for more this year. They'll be led by 5-10 guard
Charnelle Reed
, who averaged 13 points, 3.6 rebounds, three assists and 2.4 steals last season. They also return junior guards Syndi Johnson and
Lauren Parker
and senior forward
Amena Brent
.
18. New Trier:
The Trevians were a bit of a rollercoaster last season. With nine seniors and 12 returnees back this season, they hope to be up more than down. The group is led by 6-1 guard
Maggie Lyon
, a Northwestern recruit, who averaged 17 points, eight rebounds and four assists last season. Senior forward Jessica Blackwell also averaged eight points and six rebounds last year.
19. Marian Catholic:
The Spartans graduated a bulk of their talent, but this won't be a rebuilding season. Their roster is full of young and talented players. Among those upcoming stars are sophomore guard Ashton Millender, sophomore guard Brianna Morrison and freshman guard Teniya Page. Seniors
Alanna Ferry
,
Amber Williams
and
Sarafina Handy
and junior Megan Walsh are back from last season, and their leadership will be key.
20. Cary-Grove:
The Trojans hope to carry over the momentum of last year's playoff run, which ended in a narrow sectional loss to Geneva. Cary-Grove returns three starters -- senior versatile guard Paige Lincicum, junior forward
Olivia Jakubicek
and junior guard Joslyn Nicholson -- from that 27-4 team.