High School:

Week 2 roundup
September, 3, 2011
9/03/11
3:58
AM CT
By
Caleb Benoit
| ESPNChicago.com
WESTERN SPRINGS -- Last week, Josh Williams' record-breaking performance carried No. 13 Downers Grove South. On Friday, it was the team's bend-but-not-break defense that made the difference.
South's defense allowed more than 375 yards of total offense but made a big goal-line stand in the fourth quarter and got a boost from Williams and Danny Leach in a 28-0 shutout win over host No. 17 Lyons on Friday.


"[The offense] put them in a bad situation a number of times," South coach John Belskis said, "and they had great resolve."
Holding onto a 14-0 lead with less than 10 minutes left, South (2-0) stuffed a plunge from Lyons running back Jaime Jones at the goal line — the Lions' best chance to score. Linebacker Korey Higgins then sealed the win with a fumble recovery with just over five minutes left.
"Our defense stepped up tremendously for us," said Williams, who broke the school record with 336 rushing yards in last week's win over South Elgin. "When our offense was down, they were up. They helped us out so much."
If Higgins sealed the win, Williams put an exclamation point on it. After being held to just 32 rushing yards on six carries in the first half, the senior broke off a pair of 47-yard touchdown runs, both in the last five minutes of the game. He finished with 193 yards and has 529 yards and five touchdowns through two games.
Lyons coach Kurt Weinberg calls him one of the of the best five running backs he's seen in 18 years of coaching.
"I knew coming into the game they were keying in on me," Williams said. "[They had] so many people inside the box, within 10 yards, and it's just a matter of breaking them in, and eventually we did it."
It took a while, though, and Lyons (1-1) stood its ground. After John Wauer's 2-yard touchdown on South's first drive and Leach's 60-yard punt return two minutes later, Lyons' defense held South scoreless for seven straight possessions.
The performance was even more impressive considering safety Will Konstant, a captain, stayed on the sidelines. He injured his ankle last week and dressed on Friday but did not play.
Still, it wasn't enough to overcome an offense that had committed too many penalties, dropped too many passes and made too many poor throws. And lost two fumbles.
Lyons' offense also threatened twice in the second quarter, but one drive stalled at South's 26-yard line and another ended with a lost fumble on a snap inside the 10.
"We just put too much pressure on our defense," Weinberg said. "Our offense wasn't functioning or executing. And credit their defense. They kicked our butts."
South's win could have been even bigger, but a would-be 85-yard punt return for a touchdown by Marco Scalzetti was called back. During the third-quarter play, an official ran into Belskis, who was standing too close to the sideline while trying to protest what he thought was a penalty.
South didn't need the points, though. After losing its first two games in each of the last three seasons, the program is streaking into the conference schedule. And everyone's contributing.
"It's not individuals," Williams said. "We're doing it as a team. Without one another, we just can't do it. You can't win games individually."
Players of the game: Downers Grove South -- RB Josh Williams (Sr.) 19 carries, 193 yards, 2 TDs; DB Danny Leach (Sr.) 60-yard punt return for TD. Lyons -- WR Rennick Thompson (Sr.) 7 catches, 112 yards.
Stat of the game: Williams rushed for 161 of his 193 yards after halftime.
It was over when: Downers Grove South linebacker Korey Higgins recovered a fumble with 5:06 left in the fourth quarter. Two plays later, Williams' first of two touchdowns gave South a 21-0 lead.
Quote of the night: "It's a team effort," Williams said when asked about his individual performance. "I couldn't care less how many yards I get, how many touchdowns I get. As long as we get a win, that's what's most important."
September, 3, 2011
9/03/11
3:45
AM CT
By
Andrew Braverman
| ESPNChicago.com
It was hot, overly-muggy and insects were flying everywhere, but of the thousands in attendance on Friday night in Lake Zurich, no one looked more uncomfortable than the Bears' offense. After running all over Fremd in Week 1, No. 8 Lake Zurich (1-1) was held to 45 yards on the ground as the visiting Cary-Grove Trojans (2-0) left Mel Eide Field with a 10-7 upset victory over the Bears.


The Trojans, who posted an impressive 28-0 shutout over St. Charles East last week, found themselves outside of the Week 2 ESPNChicago.com poll, but that's not the type of locker-room material Cary-Grove used as inspiration. Junior defensive back Zach Marszal made this much clear after his team's upset win: the Trojans are out to earn respect with their physicality, work ethic and determination.
"We try not to pay attention to any of that," said Marszal, who collected a pair of interceptions in the contest. "We just go out and do our thing every game. We practice hard every week and we don't look at the rankings - we know we're a very talented team that can do damage."
Doing damage is an understatement; the Lake Zurich running back tandem of Mike Shield and Connor Schrader, who each ran for over 100-yards one week ago, tallied just 12 and 6 yards respectively. LZ backup quarterback Steven Kuhn (9-23, 106 yds, 2 INT) was also limited, finishing with 21 yards on the ground and a touchdown pass, all of which came on the Bears' second to last series from scrimmage.
Trailing 10-0 with 2:42 to play, Kuhn led the Bears on a 9-play touchdown drive, capped off by a five-yard pass to Brandon Markert (5 rec, 49 yes). Following a Cary-Grove three-and-out, however, Kuhn's final two throws fell incomplete to end the game.
Though Lake Zurich had plenty of missed opportunities and a multitude of bad-snaps, head coach Bryan Stortz credited his team's effort in the loss.
"Cary-Grove played a great football game and they deserved to win, but I know that our kids walk out of here knowing that there are things we did not do well enough to earn a victory," Stortz said. "But they gave everything that they had and laid everything out on the field. There were plenty of people here who thought this one was wrapped up but our kids kept fighting - they kept fighting and I think that's definitely something to take pride in and build off of."
Despite being held scoreless in the second half, Cary-Grove wasted no time scoring its only touchdown of the game. The Trojans reached the end zone on the 10th play of their opening drive, a 21-yard reverse to senior John Pearl; kicker Josh Buckingham added the Trojans' final three points on a 31-yard field goal with 1.6 seconds remaining in the first half.
CG relied heavily on the ground game, totaling 184 yards on the ground to just 17 through the air; Trojans' quarterback Corey Laktas (34 yds, FUM), threw just a single pass in the game, a 17 yard completion to Pearl.
Trojan work-horse, Patrick O'Malley led the victors with 81 yards on 16 carries.
Player of the game: Cary-Grove junior DB, Zach Marszal: 2 INT's (one in the end zone).
Stat of the game: After entering halftime with a 10-0 lead, Cary-Grove went three-and-out on all of its seven second-half possessions and still earned the "W."
It was over when: Though it's cliche, this one was over when the clock struck 0:00 after Kuhn's final two passes fell incomplete.
Quote of the night: "We just got to the football. We didn't really have a secret." - Cary-Grove head coach, Brad Seaburg on how the Trojans thwarted Lake Zurich's rushing attack.
September, 3, 2011
9/03/11
3:33
AM CT
PARK RIDGE, Ill. -- On most Friday nights this season, Maine South's offense will be able to take care itself and put plenty of points on the board.
On this Friday, the offense found itself in an unfamiliar place. It needed not just a little bit of assistance from its defense; it needed a lot.
Often overshadowed by its counterpart, Maine South's defense gladly came to the rescue. The Hawks held No. 3 Wheaton Warrenville South scoreless on 12 of its 13 possessions and carried No. 1 Maine South to a 13-9 non-conference win.
"We knew they were going to have a tough defense, so it was going to be on our shoulders a lot," Maine South senior linebacker Tyler Fahey said. "It was just an offensive struggle both ways. We just played our hearts out, watched a lot of film, and that's what we dream of."
Maine South's defense discovered quickly how much of a factor it would have to play on Friday. Maine South received the opening kickoff, and its offense was stopped on three consecutive plays and was forced to punt. After a short punt, the Tigers took the ball over at Maine South's 25-yard line, and three players later found the end zone on a one-yard run by Patrick Garner.
Like that, Wheaton Warrenville South was up 7-0 less than three minutes into the game.
"I think we were shocked on the first drive," Maine South coach David Inserra said. "Three and out, bad punt and we were shocked."
Maine South's defense shrugged off the feeling. Wheaton Warrenville South (0-2) would have many more opportunities to score, but the Hawks never allowed again inside the end zone.
Wheaton Warrenville South's best chance to score again came after a blocked punt, which gave it the ball on Maine South's 16-yard line. After a first down, the Tigers had first and goal from the six-yard line. On four consecutive plays, Maine South didn't allow them a yard.
"We have just been practicing those short down-by-the-goal-line type plays," said Fahey, who later made a one-handed interception to halt a fourth-quarter drive. "We just wanted it more than them at the time. We knew that we were going to have to make a stand because our offense was struggling. We just played like we could."
[+] Enlarge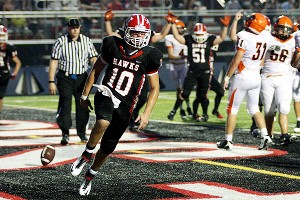 Scott Powers for ESPNChicago.comMatt Alviti and the Maine South offense managed 13 points, but they were helped by a stellar defensive effort.
Maine South's offense struggled throughout the evening, but did score just enough to pull out the win. Quarterback Matt Alviti accounted for the first touchdown with a two-yard run with 23 seconds left in the first quarter, and running back Paul Preston scored from one yard out to give the Hawks a 13-7 lead with 7:35 remaining in the first half.
Alviti was 12-of-25 passing for 114 yards and rushed for 72 yards. Preston rushed for 100 yards on 18 carries and had three receptions for 40 yards.
"Defense, hell of a game for them," Alviti said. "They stepped up really big. They carried us all of game."
Wheaton Warrenville South coach Ron Muhitch felt his team mishandled another priceless opportunity to pull out a quality win. The Tigers had numerous chances to defeat Glenbard West last week, but also weren't able to capitalize.
"If we've played No. 1 [Maine South] and truly played No. 2 [Glenbard West], the problem with it all is we can't beat No. 3, which is us," Muhitch said. "We're beating ourselves in every game. I feel really bad for our team in the way we're self-destructing in key moments. That's a sign of young guys. That's a sign of pressure moments."
Muhitch tried it all offensively against Maine South. He went with starting quarterback Thaddeus Armstrong until the third quarter and then turned to sophomore quarterback Ryan Graham. Graham was of 8-of-18 passing for 44 yards, and Armstrong was 5 of 15 for 41 yards.
Wheaton Warrenville South scored its other points when it blocked a Maine South punt into the back of the end zone for a safety in the third quarter.
The Tigers' defense was what kept them in the game. Defensive lineman Mark Rooney and linebacker Brandon Peterson were near the ball on almost every play, and Maine South's offense couldn't find a rhythm throughout the game.
"I want to tell you that effort tonight by our team was exceptional," Muhitch said. "If that's the top passing game in the land, I would say our defense showed up tonight."
Wheaton Warrenville South will now try to duplicate what last year's Maine South team by going 0-2 to start the season and then winning a state championship.
Inserra was pleased to be 2-0 and went as far as comparing his team's win on Friday to the sort Ozzie Guillen's squad pulled out during its championship run.
"It was an ugly 2005 White Sox type of win and they won a championship," Inserra said. "I'll take it."