High School:

Week 3 recaps
September, 11, 2010
9/11/10
5:14
AM CT
By
John Venerable
| ESPNChicago.com
CHICAGO -- In a battle of the unbeaten, the Marist Red Hawks used steady quarterback play as well as a stifling defensive effort to top Notre Dame 27-15.
Junior running back Mike Skalizky got things going early for the Hawks, as his 53 yard run step up a Ben Fallon 28-yard field goal that put Marist up early.
[+] Enlarge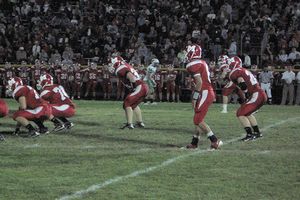 John Venerable Marist's Luke Oosterbaan threw for 104 yards and two touchdowns.
Niles would respond the very next drive when Notre Dame Quarterback Tim Whalen hit Connor Thomas for the 6-yard TD pass, giving them a 6 to 3 lead. Following a three-and-out by the Hawks, Notre Dame was in prime position to begin another scoring drive until a muffed punt gave rival Marist the ball at the Hawks' 31. Two plays later, Marist Senior Quarterback Luke Oosterbaan connected with tight end John Caraher for a 31-yard strike that helped the Hawks regain the lead at 10-6.
"They were playing so tight with their coverage, it was a no brainer to keep going deep," Oosterbann said.
The next Marist series, Oosterbaan was at it again, this time hitting Alex Puhar 55 yards down the sideline for yet another touchdown. The Dons managed only a field goal to close the first half, while still trailing 17-9.
Notre Dame's offensive woes continued in the second half, as they were limited to only six points thanks to the relentless play of the Hawk's font seven. Whalen manage to connect on another touchdown pass though, this time to receiver Jack Meyer to close the gap at two. Thanks to a 10 points fourth quarter however, capped off by back-up quarterback Ryan Meyer's 22 yard scamper to the endzone, the Red Hawks sealed the "W"while moving to 3-0 on the young 2010 season.
"It's great to get out of here with a win knowing we didn't play our best football," said Oosterbann.
Player of the game:
Oosterbann, In a game lacking big plays, Oosterbann accounted for most of his teams. The senior went 6 of 12 for 104 yards and two touchdowns heading into half time.
Stat of the game:
The Red Hawks ran the ball eight straight times en route to their final touchdown.
It was over when:
Marist back-up Quarterback Ryan Meyer rumbled 22 yards for a late 4th quarter touchdown that essentially put the game out of reach.
Quote of the night:
"I'm ready to come in whenever my number is called, and everyone supports me as well as Luke … we're the ultimate team." -Marist backup quarterback Meyer in regards to closing out the game for the Hawks on offense.
September, 11, 2010
9/11/10
5:04
AM CT
NAPERVILLE, Ill. -- Known for its defense, Glenbard North's program has memorably thwarted a number of opponents over the years.
None of the Panthers' defensive performances, though, may have been as impressive as their one in Friday's 10-3 upset win over No. 6 Naperville North on the road.
Despite missing a few starters due to injury, another to suspension and having others defensive players get banged up and leave during Friday's game, the No. 13 Panthers (3-0) stood up to every challenge Naperville North (2-1) presented them with on Friday.
[+] Enlarge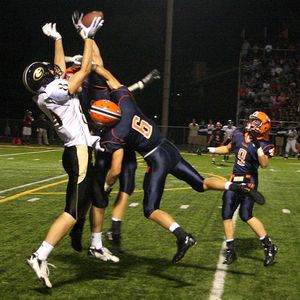 Scott Powers/ESPNChicago.comFor the second time this season, Glenbard North beat a ranked foe.
In the second half alone, the Huskies went three times on fourth down in the red zone, and Glenbard North was there to halt them in each effort.
The first stop came on fourth-and-2 on the Panthers' 20, Naperville North running back Dan Puknitas was knocked down at the line of scrimmage. On Naperville North's next drive, it went for it on 4th-and-5 from the 20, and Glenbard North's Phil Jackson laid a monster hit on Nick Sianta and dropped him for a loss. Finally in the fourth quarter, the Huskies had the ball on the 8-yard line on 4th-and-4, and the Panthers tackled Sianta for another loss.
"We kept putting our defense back out there," Glenbard North coach Ryan Wilkens said. "It was fourth-and-3, fourth-and-2- fourth-and-1, and we kept stopping them. Our defense played extremely well."
Panthers junior defensive end Zachary Durkee was a factor in most of those stops. From his perspective, he felt as if the defense had something to prove every time Naperville North attempted a fourth-down conversion.
"We just step up and go after them," Durkee said. "We didn't want to lose. We just go after them. It's a big win. It's huge win. It's like coach said, it's one of the best games we've played in a couple years. They're in the red zone 4-6 times, and we stop them.
"It's a happy feeling. It's a happy feeling."
With the defense being the story of the game, it was only fitting it was a play by defensive back Sean Fogarty that decided the outcome.
In the second quarter, Fogarty picked off a pass at Naperville North's 34-yard line and returned it all the way to end zone to put the Panthers ahead 7-3. Fogarty also had another interception and made a diving 34-yard catch that eventually set up a 26-yard field goal by Mark Ng.
"I saw the No. 2 receiver going for a whip route, saw the quarterback look at him," Fogarty said. "I kind of just read it, stepped up in front, caught it and went for 6. It was a bullet."
Jackson helped the Panthers hold onto the ball in the second half as he rushed for 108 yard in the final two quarters. He finished with 112 yards total.
Naperville North quarterback Matt Lacosse, a Minnesota recruit, sat out the second half due to a shoulder injury. Sianta ran for a game-high 119 yards.
Naperville North kicker Ron Coluzzi kicked a 26-yard field goal in the second quarter for the Huskies' lone score.
The Huskies' defense held Glenbard North's offense to three points and 187 yards. Naperville North gained 208 yards.
September, 11, 2010
9/11/10
4:16
AM CT
By
Andrew Braverman
| ESPNChicago.com
LINCOLNSHIRE, Ill. --In the past 10 years of the North Suburban Lake rivalry between Stevenson and Warren, the Patriots and Blue Devils haven't moved without one another: five wins apiece, no win streak longer than two-years and no more than one other school between them in the standings at the conclusion of each regular season. Friday night in Lincolnshire, the proximity of the two programs was nowhere to be found as Stevenson jumped on the board early and never trailed in its 24-7 win over the Blue Devils.
[+] Enlarge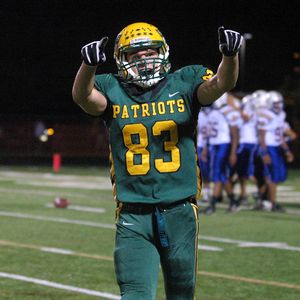 Gene Schnar Stephen Salata had a pair of touchdown grabs Friday night.
Stevenson scored on its first possession, an 11-play, 68-yard drive capped off by an Joe Cassata 3-yard touchdown run, and then forced its first of three Warren turnovers on the ensuing possession. On their second drive, the Patriots took to the air as seniors Kevin Earl and Stephen Salata connected on the first of two picture-perfect touchdown passes, a 12-yard strike with 2:42 remaining in the first quarter. With momentum riding high, Stevenson would pick off Warren quarterback, Bob Boesch, on the very next play thanks to a highlight reel tipped-ball interception by senior, Chris Duffey; (It's worth pointing out that Duffey's second interception was just as impressive.)
In total, Warren ran just 4-plays in the first quarter, and would trail 21-0 at the half.
"We won the first tournament, but now we go for 2-0," said first-year Stevenson head coach, Bill McNamara. "We want to break the season down into three 3-game tournaments, and we've just accomplished our first goal."
The Blue Devils' offense tried to spark a rally in the second half, but after its lone score (a 50-yard halfback pass from Nolan Sordyl to Mitch Munda), the Patriots ground game took over, controlling the ball and the clock down the stretch. Junior Matthew Micucci's 26-yard 3rd quarter field goal sealed the deal; SHS senior, Brian Wood, would finish with 10 tackles and two sacks despite playing with a broken-hand suffered last week at Glenbrook South.
Player of the game:
Stevenson WR Stephen Salata
Stat of the game:
Stevenson WR Stephen Salata: 6 Rec. 113-yards, 2 TD; Stevenson LB Brian Wood: 10 Tackles, 2 Sacks; Stevenson DB Chris Duffey: 2 INTs;
It was over when:
Matthew Micucci nailed a 26-yard Field Goal with :57 left in the third quarter.
Quote of the night:
"Yeah, our running game wasn't opening up in the first half, but we were able to get on the board through the air. It's ok though, we're just happy to get the win." – Stephen Salata, on Stevenson's failed attempt to keep up it's 42 PPG average
September, 11, 2010
9/11/10
4:08
AM CT
By
Willie Mullen
| ESPNChicago.com
LOCKPORT, Ill. -- Coming off a disappointing 31-8 defeat last week, the Bolingbrook (2-1, 1-0) defense made sure there would be no repeat performance Friday night against No. 18 Lockport (2-1, 0-1). Starting with Monday's practice, the Raiders defense was focused all week long and their efforts paid off with a 14-7 win in Lockport.
"You practice how you play," said junior defensive end Greg Gordon, who led the Raiders dominating defense. "And perfect practice makes you play perfect."
The Raiders defense controlled the line of scrimmage throughout this hard-hitting affair and forced a few timely turnovers to keep the Porters offense off-balance all evening. That's no easy task considering the level of competition on the Lockport side of the field, which is led by running back Dan Holman, affectionately referred to as "Tank."
"Our main goal was to stop 'Tank', to come out and hit him hard so when the fourth quarter rolls around, he doesn't want to play with us anymore," added Gordon.
Holman was limited to 80 yards on 15 carries on a night that turned out to be way more defensive than most anticipated. The Raiders offense, led by quarterback Aaron Bailey, had two long touchdowns in the first half, but was unable to add to its total in the second half. Bailey turned the ball over twice but finished the game with 153 total yards and one passing touchdown.
Unlike the past two weeks, however, Friday night was all about the Raiders defense and a group that lost most of its starters from a year ago may finally be coming together.
"We played a great game, there's room for improvement but we won this game and now it's on to the next game," said Gordon.
Player of the game:
Bolingbrook's defense
Stat of the game:
89 -- The Raiders scored two touchdowns on 89 yards total even though they were unable to move the ball the rest of the game.
It was over when:
Lockport wide receiver Mike Halderman was tackled at midfield as time expired.
Quote of the night:
"Practice, practice, practice" -- Gordon on the improvement of his team and himself