High School:

Week 4 roundup
September, 17, 2011
9/17/11
3:49
AM CT
HOMEWOOD, Ill. -- Lincoln-Way East wasn't anywhere near its best Friday as it fumbled, snapped balls too high for even the tallest of punters and miscued in a variety of others ways.
But like a little kid who calls his bigger brother to protect him in a fight, the Griffins again turned to Blake Winkler and JJ Robertson to save the day.
Winkler connected with Robertson five times for 226 yards and two touchdowns, and the duo led No. 3 Lincoln-Way East to a 38-21 road win over No. 9 Homewood-Flossmoor.


"Blake to JJ, that's something we've been saying for two years now, and hopefully it'll keep up because it's a pretty special combo," Lincoln-Way East coach Rob Zvonar said.
Homewood-Flossmoor (2-1) was able to move the ball against Lincoln-Way East all evening, but it came with short pass after short pass. The time of possession fell well in the Vikings' favor, but their problem was Lincoln-Way East (3-0) was able to accomplish what they had in 10 plays in a couple of plays.
Winkler and Robertson hooked up on three occasional for 50 or more yards. The first pass Winkler hit Robertson with was for 50 yards, and two plays later Tyler Starke scored on a one-yard run.
Later in the first half, Winkler threw a quick ball out to Robertson near the right sideline. Robertson zigzagged his way by a few defensive backs and took it to the house for a 66-yard touchdown to give Lincoln-Way East a 14-13 lead. It wouldn't trail again.
"We needed that," Winkler said. "We had been waiting for that the whole game. We needed that spark. JJ made a great play."
Both did equal work on their next big pass play early in the third quarter. Robertson sprinted past his defender, and Winkler dropped the ball to him right in stride for a 67-yard touchdown. The Griffins went ahead 24-13 and kept a double-digit advantage the rest of the way.
"We know we have to be on the same page," Winkler said. "It shows in this game and in all games. It's great having him out there. I know we have a great trust."
Homewood-Flossmoor coach Craig Buzea didn't give any excuses.
"It comes to a point where their guy is better than your guys," Buzea said. "Their receivers are better than our defensive backs."
Winkler finished 9-of-17 passing for 291 yards and two touchdowns.
[+] Enlarge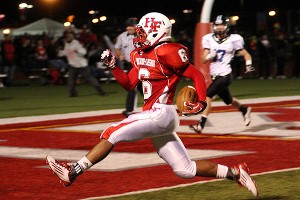 Scott Powers/ESPNChicago.comHomewood-Flossmoor controlled the clock Friday, but its defense had no answers for Lincoln-Way East's air attack.
Homewood-Flossmoor quarterback Tim Williams kept up with Winkler for most of the day. Williams took advantage of the Griffins' soft defense with quick, short passes. It wasn't until Lincoln-Way East started pulling away in the second half that Williams began trying to do much and started throwing interceptions.
Williams finished 29-of-42 for 281 yards, three touchdowns and three interceptions.
Homewood-Flossmoor trailed 17-13 at halftime, but came out in the third quarter and efficiently moved the ball down the field. But after seven plays and three first downs, the Vikings mishandled a handoff and Lincoln-Way recovered the fumble. Three plays later, Winkler and Robertson got together for a touchdown.
"Biggest play of the game right there," Buzea said of the fumble. "There's no question. We were moving the ball. We came out of the locker room doing exactly what we wanted to do. They didn't do anything. We just dropped the ball. I have no idea what happened."
Homewood-Flossmoor's Sheldon Jones caught 10 passes for 71 yards and two touchdowns. Sean Jones had nine receptions for 88 yard and one touchdown.
Starke scored two touchdowns for the Griffins. Lincoln-Way East fullback Nick Colangelo rushed for 102 yards and one touchdown on nine carries in the second half.
Lincoln-Way East kicker William Will made a 42-yard field goal.
September, 17, 2011
9/17/11
3:29
AM CT
By
Caleb Benoit
| ESPNChicago.com
NEW LENOX -- In its biggest test so far this season, No. 6 Loyola passed with flying colors.
Quarterback Malcolm Weaver and running back Will Palivos each rushed for two touchdowns, and Loyola's defense held its ground in a 32-6 win on Friday over Providence Catholic in both team's Catholic League Blue opener.


The Ramblers' hurry-up no-huddle offense failed to rack up 40 points for the first time this season -- something that wasn't overlooked by the coaches after the game -- but their defense more than made up the difference. After rushing for more than 300 yards the week before, Providence managed less than 50 on its own turf on Friday.
The defensive effort included a highlight-reel sack by Eric Hauser, a late interception by Patrick McDonough and a fourth-quarter safety by a team of tacklers — icing on the cake for the Ramblers (4-0, 1-0).
"They always prepare [the offense] in practice with their stunts and the crazy stuff they do on defense," Weaver said, "so I know once they get on these other teams, they're going to come out here and do a lot. They things that they can do — stunts, schemes, all that — it's great. It's a really good defense."
Weaver shook off an interception of his own on the Ramblers' first drive, and that miscue was the high-powered offense's only speed bump. Taking nearly every snap out of the shotgun formation, he connected with all his receivers and led the team on five straight scoring drives.
Still, the Loyola coaching staff reminded its players that their play wasn't perfect.
"We expect perfection every time," said wide receiver Marquese Martin-Hayes, who led the team with six catches. "Every time we come out here, our goal is perfection. We feel we should have had 60 (points) — at least 40 — and we dropped the ball there."
Loyola may not have reached its scoring goal, but its victory was never in doubt. Up 16-6 to start the second half, Loyola scored right away when Weaver capped a 12-play drive with a 7-yard score. Dylan Brennan kept the Ramblers' next drive alive with 27-yard run on a fake punt on fourth down, his second successful fake punt of the game. Palivos took the next play up the middle of the defense and 32 yards for his second touchdown.
Then, Loyola forced Providence to punt for a fifth time, the second-string offense replaced Weaver and the rest of the starters with more than nine minutes left in the game.
Providence (3-1, 0-1) has already won more games that it did all of last year, the program's first losing season since 1980. Defensive back Troy Sheppard notched his fifth interception of the season, and wide receiver Sean Fitzgerald made several impressive catches. But the few bright spots weren't enough against one of the state's top teams.
"It's really good to come in the Catholic Blue and play some physical ball again," said Weaver, who remembers last year's win over Providence, too. "Providence is a great team. They're humongous. and they're really physical ... so it's good to come out here and play a really physical team and come out of here with a W."
Players of the game: Loyola -- QB Malcolm Weaver (Sr.) 17-for-28, 150 passing yards, 52 rushing yards, 2 TDs; RB Will Palivos (Sr.) 15 attempts, 125 yards, 2 TDs. Providence -- WR Sean Fitzgerald (Sr.) 6 catches, 89 yards.
Stat of the game: One week after Providence racked up more than 300 rushing yards in a win over St. Laurence, Loyola's defense held the Celtics to 46.
It was over when: One play after a successful fake punt, Will Palivos rambled 32 yards untouched to put Loyola up 30-6 with 3:38 left in the third quarter.
Quote of the night: "We had to set the tone," said Loyola wide receiver Marquese Martin-Hayes about the importance of the win. "Everyone always underestimates us. To come out here in the Catholic League Blue — the best conference in the nation — to come out here and get a win, that's very important. It sets the tone for the year, and it sets the tone for us personally."
September, 17, 2011
9/17/11
2:36
AM CT
By
Andrew Braverman
| ESPNChicago.com
Crystal Lake, Ill -- Without question, No. 14 Prairie Ridge looked as good as advertised on Friday night. The host Wolves wasted no time in dismantling visiting Dundee-Crown (0-4), claiming their second Fox Valley conference win in as many weeks, 55-0.

Prairie Ridge scored on six of its eight first half possessions while forcing the Chargers to punt on all seven of their own. Though Dundee-Crown forced a second quarter fumble, the Wolves held the visitors to a single first-half first down, and outgained the Chargers 350-3 in total first-half yardage. The Wolves led 41-0 at halftime, forcing the use of a running clock over the final 24 minutes of the game.
"We've been emphasizing since the season started to get better every game," Prairie Ridge head coach Chris Schremp said. "We analyze a lot of film - we're looking from play to play to get better and that was our goal tonight. We had the plays that we knew we wanted to run and get better at and I think we did that."
Prairie Ridge running back Jordan Getzelman scored on touchdown runs of 15, 4 and 55 yards and caught a 21-yard touchdown pass from QB Nick Nissen as the first-half expired. Nissen finished 6-of-11 through the air for 151 yards and a pair of touchdowns before joining the Wolves' first team on the sidelines for the final two quarters.
"We try and do that every week - we try and score as many points as we can," Getzelman said. "At the same time, we still have to get better. We got better from last week and we have to keep going."
Prairie Ridge has had plenty of success recently, reaching the Class 6A semifinals in both 2009 and 2010. Dundee-Crown, on the other hand, is trying to build its program under first-year head coach Vito Andriola. Even with optimism for the future, Friday's outcome failed to produce any positives for Andriola.</p


"We're not a good football team right now," he said in disappointment.
The loss extended Dundee-Crowns' losing streak to 21 games while Prairie-Ridge improved to 11-0 all time against the Chargers.
Senior running back Matt Reedy led Dundee-Crown with 39 yards on the ground.
Player of the game: Prairie Ridge Jr. RB, Jordan Getzelman posted 6 carries for 80 yards, 3 rushing TDs and 3 receptions for 45 yards with a TD.


Stat of the game: Prairie Ridge outgained Dundee-Crown 350-3 in first-half total yardage. The 14th-ranked Wolves also scored three of their six first-half touchdowns on drives lasting under 1:00.
It was over when: Prairie Ridge scored its first touchdown.
Quote of the night: "We never talk about running clocks or score or anything. We specifically talk about plays and execution - that's what we focus on." - Prairie Ridge head coach, Chris Schremp, on whether he challenged his first-team offense to build a 40-point lead by halftime.