High School:

Week 8 recaps
October, 16, 2010
10/16/10
4:54
AM CT
WHEATON, Ill. -- How the history books will judge Wheaton Warrenville South's 2010 team will largely depend on how the Tigers fare in the playoffs.
Whether Wheaton Warrenville South can repeat as Class 7A state champions won't be known until late November. But through eight weeks of regular-season play, it's hard not to start measuring this year's Tigers with some of the best teams in recent Illinois history.
On Friday, No. 1 Wheaton Warrenville South continued to make a case for itself as it ran away with a 49-6 win over No. 6 Glenbard North, giving the Tigers their fifth lopsided victory over a ranked opponent this season.
[+] Enlarge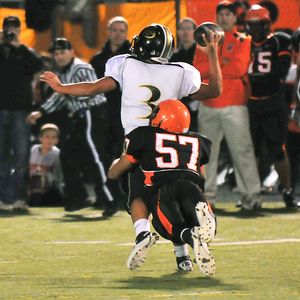 Scott Powers/ESPNChicago.comWheaton Warrenville South crushed another top-10 foe on Friday night.
"I would tell you that this is a very good football team," Wheaton Warrenville South coach Ron Muhitch said. "With Reilly [O'Toole] at the quarterback healthy, we're a pretty special team. We can do a lot of things with his leadership and our senior leadership. We got a lot of weapons, and all the weapons contribute. Week in and week out, you've been able to see that."
Glenbard North (7-1) was thought to be the best team that the Tigers (8-0) have faced this season. The Panthers had come into Friday's game undefeated with wins over three ranked opponents and was ranked among the best defenses in the state.
Early on, the Panthers did hang with Wheaton Warrenville South. They put together two solid drives to start off the game, one resulting in a five-yard touchdown pass from Mark Ng to Mark Szwan, and had forced the Tigers to punt after three unsuccessful plays on their opening drive.
After one quarter, Glenbard North was winning 6-0, and it appeared as if Wheaton Warrenville South was going to be in for its first real fight of the season.
"It was kind of a slow start," O'Toole said. "We want to emphasize to get on a fast start. That's what we got to work on for next week. We don't want to get in a hole."
That changed quickly, though, on Friday.
Tigers running back Matt Rogers put his team ahead 7-6 with a touchdown with 10:28 left in the second quarter. One drive later, O'Toole hooked up with Travis Kern for a four-year touchdown to go ahead 14-6. After forcing Glenbard North into fumble, the Tigers capitalized with a 15-yard touchdown pass from O'Toole to Titus Davis with 48.8 seconds remaining. Then on the kickoff, Adam Dansdill stole the ball cleanly from the Panthers' kick returner and carried it into the end zone with 40.2 seconds remaining.
Just like that, Wheaton Warrenville South was up 28-6, and the game was decided.
O'Toole found Kern again for another score in the second half, and Patrick Garner rushed for two touchdowns to put the final touches on the victory.
Kern's performance was the one that stood out the most on the day. He finished with eight catches for 138 yards and two touchdowns.
"He's a great player," O'Toole said of Kern. "He's easy to find. He never drops the ball, runs great routes. He's kind of in the shadows of Titus because Titus is such a big-time player. It was just Travis just getting open and making big plays."
O'Toole, an Illinois recruit, continued his dominant ways. He was 14 of 22 for 207 yards and three touchdowns.
Evin Natick (90 rushing yards) and Phil Jackson (66 rushing yards) led the Panthers' offense.
October, 16, 2010
10/16/10
4:41
AM CT
ELK GROVE VILLAGE, Ill. -- The 20th-ranked Prospect Knights entered their game against the 13th-ranked Elk Grove Grenadiers with the reputation of being an offensive powerhouse but it took a while for the juggernaut to get rolling on Friday night. Once it did, however, the Knights were virtually unstoppable.
After gaining just three yards in the first quarter and failing to score on their first three possessions, Prospect (7-1, 4-0 Mid-Suburban East) ripped off seven straight touchdown drives en route to a 42-41 overtime win over the Grenadiers (6-2, 4-1). Senior quarterback Steve Dazzo led the way with 321 total yards and three touchdowns.
"At the beginning we were wondering what was going on," Dazzo said after the game. "We changed that sequence and everything just rolled from then on."
A big moment swing occurred right before halftime. With just seven seconds remaining in the first half, Dazzo heaved a 36-yard pass in the direction streaking wide receiver Sam Frasco, and Frasco made a spectacular catch for the touchdown to bring his squad within a point at the intermission.
"I thought I overshot him but Sammy made an awesome catch. It was unbelievable," said Dazzo.
The game appeared to over after running back Grant DePalma scored his second touchdown of the night with four minutes to go as the Knights took a 35-21 lead. But Elk Grove quarterback Nick Meyer, who finished the game with over 350 total yards and six touchdowns, led a furious Grenadiers comeback, scoring the game-tying touchdown as time expired.
The Knights scored first in overtime and the Grenadiers matched with their first possession. It looked like the game may never end until Elk Grove coach Brian Doll decided to go for the two-point conversion. Meyer's pass on the attempt fell incomplete and the Knights rushed the field.
With the win Prospect earns at least a share of the Mid-Suburban East conference title.
Players of the game:
Dazzo & Meyer
Stat of the game:
21. The number of points that were scored in the final five minutes of regulation.
It was over when:
Meyer's pass fell incomplete in overtime
Quote of the night:
"The conference title is awesome but we are hoping for bigger and better things" -- Dazzo on his team's surprising 7-1 start and conference title share.
October, 16, 2010
10/16/10
4:14
AM CT
By
Andrew Braverman
| ESPNChicago.com
PALATINE, Ill. -- Take your pick: seven straight wins for Barrington or 15-straight post season appearances for Fremd; five straight losses to Fremd for the Broncos or seven straight MSL Championships for the Vikings.
One way or another, multiple streaks were bound to be snapped Friday night in Palatine, and fortunately for the host Vikings, not only did they hand Barrington its first loss of the season, but their playoff hopes stayed alive going into Week 9 with an impressive 26-12 upset.
The Vikings, who were ranked No. 6 on ESPNChicago.com's preseason poll, have now evened their record at 4-4, after starting the season 1-4.
"This was a playoff game for us," Fremd coach Mike Donatucci said. "It's win or go home and we had to win. We did the things that were necessary and I think we dominated in all facets of the game."
Behind the play of senior running back, Justin Wallace, and freshman quarterback, Sam Beutler, Fremd struck early and never trailed in the contest.
Beutler was first to light the scoreboard, running for a 29-yard keeper seven-minutes into the game. The point after was no good, and Fremd took a 6-0 lead into the second quarter. With just 37 seconds left until halftime, it was Buetler again, this time through the air as he found junior, Matt Metzen for a 15-yard touchdown pass. With that, Fremd would lead 12-0 at the intermission.
In the second half, it was all Wallace. In fact, it was so much of Wallace on the ground, that Beutler didn't attempt a pass the entire second half. Run up the middle after run up the middle, Wallace controlled the ball and the clock, crediting his offensive line the entire way.
Wallace would score on runs of 5 and 25-yards respectively, finishing the contest with 222-rushing yards on 31-carries.
"They did a hell of a job," Wallace said. "Between me and Sam, they didn't even know who had the ball, they just went out and blocked anyone in front of them."
For Barrington (7-1), junior running back, Chase Murdock, lead the way, totaling 165-yards on 30-carries, while backup quarterback, junior, Mark Bennett, would complete 5-of-6 passes for 72-yards and Barrington's first touchdown; Murdock's 1-yard run with 12 seconds remaining would cap off the scoring for the Broncos.
Player of the game:
Fremd Sr. RB Justin Wallace: 31-car, 222-yds, 2 TD.
Stat of the game:
Barrington's QB Matt LeMire completed just two of his nine pass attempts for six yards.
It was over when:
Wallace ran for a 25-yard touchdown with 1:36 remaining in the 4th, increasing the Vikings' lead to 26-6 following the successful PAT.
Quote of the night:
"We'll enjoy this for about two hours. It's not like we're in the playoffs because we have another playoff game next week." - Fremd Head Coach, Mike Donatucci on handing Barrington its first loss of the season.