July, 31, 2012
7/31/12
10:46
PM CT
York senior guard David Cohn committed to Colorado State on Tuesday, according to his club coach.
Cohn, a 6-2 shooting guard, had offers from nearly 20 schools. He visited Colorado State twice before making his decision.
"Coach (Larry) Eustachy and (assistant Niko) Medved did a great job," Illinois Wolves club coach Mike Mullins said. "David's an explosive scorer, athletic and gritty defender. His best days are ahead of him as he gains strength to match his skills and athletic ability."
Cohn was an ESPNChicago.com all-area selection last season. He averaged 22 points, five rebounds and five assists for York and shot 51 percent from the field and 48 percent from 3-point range. He scored a school-record 47 points in a game last season.
Cohn is Colorado State's second Class of 2013 commitment.
February, 25, 2012
2/25/12
6:45
PM CT
The Class 3A and 4A boys basketball playoffs begin on Monday. Here's a glance at the top games and players to see this week.
Five regional semifinals to see
1. St. Charles East vs. St. Charles North at St. Charles North on Wednesday

2. Marist vs. Brother Rice at Marist on Tuesday

3. Stevenson vs. Prospect at Stevenson on Wednesday

4. Benet vs. Bolingbrook at Metea Valley on Wednesday

5. Neuqua Valley vs. Naperville Central at Neuqua Valley on Wednesday

Five potential regional championships to see on Friday
1. St. Rita vs. Whitney Young at Whitney Young

2. Bogan vs. De La Salle at Mount Carmel

3. Farragut vs. St. Joseph at Nazareth

4. Crane vs. Riverside-Brookfield at Riverside-Brookfield

5. Minooka vs. Bloom at Joliet Central

6. Crete-Monee vs. Joliet West at Thornton

7. West Aurora vs. Naperville North at Oswego

8. Harlan vs. Morgan Park at Rich Central

9. Evanston vs. Notre Dame at Notre Dame

10. Schaumburg vs. Glenbard West at Glenbard West

Ten to players to see in regional play (alphabetical order)
There will likely be plenty of time to see Simeon's Jabari Parker and some of the other stars in the area, but these players and teams may or may not be around come next week.
1. David Cohn, junior, York: It hasn't been a great year for high-scoring numbers, but Cohn has been one of the exceptions. He can drop 30-plus points on any night. He had 47 points just recently. York is a No. 4 seed in the Lake Park regional.
[+] Enlarge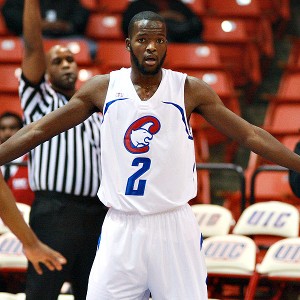 Scott Powers/ESPNChicago.comWillie Conner and Crane could be a tough out in the Riverside-Brookfield regional.
2. Willie Conner, senior, Crane: Conner improved his game this season and made himself a mid-major college prospect. Crane has been up and down this season, but Conner has been consistent. Crane is a No. 5 seed in the Riverside-Brookfield regional.
3. Tony Hicks, senior, St. Rita: Hicks, a Penn recruit, has been as good as any senior in the state. He's been averaging 25 points a game. St. Rita is a No. 4 seed in the Whitney Young regional.
4. Mike LaTulip, senior, Prospect: LaTulip is headed to Illinois next year as a preferred walk-on. He's been one of the area's top shooters and scorers this year. Prospect is a No. 9 seed in the Stevenson regional.
5. Jahlil Okafor, sophomore, Young: Okafor is the state's top sophomore and among the nation's top players in the Class of 2014. The state hasn't seen a big man as skilled as Okafor since possibly Eddy Curry. Whitney Young is a No. 5 seed in the Whitney Young regional.
6. Sean O'Mara, sophomore, Benet: O'Mara, a 6-9 center, has emerged as one of the state's top young prospects. He's a skilled big man and is following in the footsteps of former Benet center Frank Kaminsky. Benet is a No. 6 seed in the Metea Valley regional.
7. Michael Orris, senior, Crete-Monee: Orris, a 6-3 point guard, is headed to Illinois next season. He's expected to help backup Tracy Abrams there. Crete-Monee is a No. 4 seed in the Thornton regional.
8. Juwan Starks, senior, West Aurora: Starks is on the verge of West Aurora's career-scoring record of 1,613 points, which is owned by Billy Taylor (1987-1991). Starks is 60 points shy of matching Taylor. West Aurora is a No. 4 seed in the Oswego regional.
9. Tyler Ulis, sophomore, Marian Catholic: Ulis, a 5-8 point guard, is a scoring machine. He put up 38 points in a loss to St. Viator last month. Marian Catholic is a No. 7 seed and could face Andrew in the Andrew regional championship.
10. Milik Yarbrough, sophomore, Zion-Benton: Yarbrough could eventually be one of the nation's top players in the Class of 2014. He's a multi-skilled 6-6 guard/forward. Zion-Benton is a No. 16 seed in the Zion-Benton regional.
February, 15, 2012
2/15/12
5:14
PM CT
Here are a few prep hoops observations as the season reaches its most crucial weeks.
1. I was torn on whether or not to rank St. Viator this week: It has been the most dominant team in the East Suburban Catholic Conference, but the conference hasn't been stellar this season. It's also had a few questionable losses, including Naperville Central and Prospect. With St. Viator having three games this week, including back-to-back contests on Monday and Tuesday, I decided to rank the Lions and see if they were worthy of staying there. So far, they're two for two. They needed to fight for both wins, but they did pull out victories against Nazareth and Prospect. Tuesday's win also did come with some added adversity as its leading scorer Ore Arogundade was on the bench for most of the game with an ankle injury.
2. Plainfield East, which is ranked No. 6 in ESPNChicago.com's poll , continued to prove itself as an elite team on Tuesday: The Bengals defeated St. Charles East 79-69 in overtime despite shooting 21-of-36 from the free-throw line. Brian Bennett (24 points) and Jawan Slaughter (20 points) led the way for Plainfield East. The Bengals (23-1) have shown throughout the season they have the inside and outside players to make a legitimate run come the playoffs.
3. While St. Viator and Plainfield East continued to validate themselves on Tuesday, York took a step back: After winning 13 consecutive games, the Dukes had a tough time against a quality Oak Park team on Tuesday night. Oak Park limited York's offense and its star David Cohn in a 57-35 win. Cohn was 5-of-13 shooting and scored 14 points. With the win, the Huskies took the West Suburban Silver title. They're also a team who could make a run in the playoffs.
4. Any remaining available tickets for Saturday's City-Suburban Showdown will be on sale Saturday from 10 a.m.-1 p.m. at Proviso West High School: Tickets are only currently available at the participating schools. The game was moved from the UIC Pavilion to Proviso West because of a NCAA rule, and the seating capacity dropped from 8,184 seats to around 2,000.
February, 1, 2012
2/01/12
8:39
PM CT
Here are five high school basketball thoughts for your Wednesday:
1. It's undoubtedly hard to go undefeated for an entire regular season: Andrew fell from the unbeaten ranks Tuesday when it was upset by Thornton on a buzzer-beating shot. Proviso East remains as the area's only unbeaten team. Proviso East's greatest challenges will likely come on Feb. 17 and 18 when the Pirates faces Downers Grove South and Warren on back-to-back nights. It is impressive how many one-loss teams there are this season. That list includes Simeon, Curie, Plainfield East, Metea Valley and now Andrew.
2. Speaking of Andrew, it'll likely fall a bit from the rankings after its only loss: The Thunderbolts had put together a nice run of 16 consecutive wins, but their schedule hasn't exactly been demanding. They looked as if they might run the table after defeating Thornwood on Sunday, but Thornton had other ideas. Andrew's overall profile took a hit with the loss.
[+] Enlarge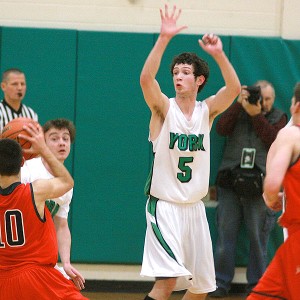 Scott Powers for ESPNChicago.comDavid Cohn and York are on a 10-game win streak.
3. Since the holidays, York has been one of the area's hottest teams: The Dukes have won 10 straight game, and junior star guard David Cohn has been a big reason for that. Among his feats, he scored 47 points on 13-of-17 shooting in a 75-64 win over Hinsdale Central recently.
4: The Catholic League has taken its lumps the last few weeks: First, De La Salle and St. Rita were upset last week. On Tuesday, St. Ignatius was the next top-ranked Catholic League team to fall. The Wolfpack were upset by Leo on Tuesday. It's hard to gauge the Catholic League right now.
5. The Red-West is still a mess at the top: Marshall, Orr and Farragut all have 7-2 records right now. Whitney Young could join them at the top if the Dolphins defeat Crane later this week. All four teams could make some noise come Public League and state playoff time.
January, 2, 2012
1/02/12
9:37
PM CT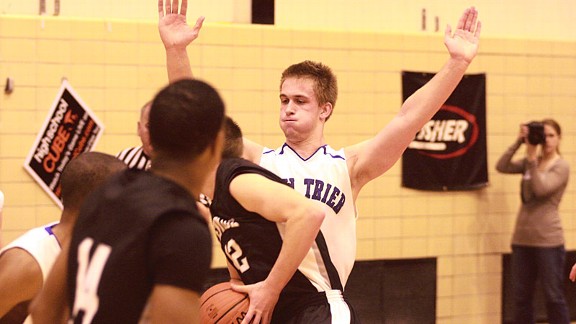 Scott Powers/ESPNChicago.comConnor Boehm led New Trier to the title game of the Proviso West tourney.
Here's a look back at this season's holiday tournaments:
Best tournament:
The honor goes to Pontiac this season. Having Simeon helped, but Pontiac was about much more than Simeon this season. On the final day alone, fans were treated to three overtimes games, two of which went to double overtime, and nearly witnessed Simeon upset by Peoria Manual. It would be hard to find two better holiday tournament semifinal games than Curie-Warren and Simeon-Manual anywhere in the country.
Runner-up tournament
St. Ignatius is the reason for York finishing second here. While the tournament favorites won at Proviso West, the McDipper, Pontiac and plenty of others tournaments, St. Ignatius added an element of surprise at York. The Wolfpack first fought back from a double-digit deficit to defeat Downers Grove South in the semifinals and then defeated De La Salle in the championship.
Top games:
Curie 77, Warren 68, 2 OT at Pontiac: In the first Pontiac semifinal, Warren forced a first overtime when JoVaughn Gaines drained a 3-pointer from the corner in the final seconds of regulation and then sent the game into a second overtime when Jon Geske dropped in a late layup. Curie won in the end. Devin Foster had 27 points in the win.
Simeon 48, Peoria Manual 47 at Pontiac: Not to be outdone by the first semifinal, Simeon and Peoria Manual went down to the buzzer to determine their game. Manual had two shots at overtaking Simeon on its final possession, but missed a shot around the basket and had the ball stolen in the game's final seconds. The game had 10 lead changes.
St. Ignatius 47, De La Salle 44, OT at York: In the championship game, St. Ignatius senior Brian Howard sent the game into overtime with an off-balance 3-pointer with four seconds left, and the Wolfpack prevailed in overtime again the tournament favorites.
St. Ignatius 52, Downers Grove South 50 at York: In the semifinals, St. Ignatius overcame a 12-point deficit to upset Downers Grove South. Abdoulie Contch scored the game-winner in the lane with 1.5 seconds left.
Elgin 57, Glenbard North 51 at Elgin: Before Elgin could win close semifinal and championship games, it had to win a tight quarterfinal matchup with Glenbard North. Former AAU teammates, Elgin's Kory Brown and Glenbard North's Josh Fleming, went head to head in the final minutes. Fleming had a game-high 21 points, but Brown, who had 19 points, came out with the victory.
Crete-Monee 67, Seton 66, OT at Rich South: In the semifinals, Crete-Monee's Marvie Keith sank two free throws with 35 seconds left to lift his team to the upset victory. Mark Conner scored 19 points off the bench for Crete-Monee. Crete-Monee squandered a nine-point lead in the fourth quarter to allow overtime.
Metea Valley 69, Rolling Meadows, OT at Hinsdale South: Metea Valley nearly saw its unbeaten season ruined by Rolling Meadows, which led 39-30 heading into the fourth quarter. Spearheaded by Kenny Obendorf and his 20 points, Metea Valley rallied in regulation and won in overtime.
New Trier 61, Homewood-Flossmoor 58 at Proviso West: The second-round matchup was expected to be a good one, and it didn't disappoint. The game went back and forth until New Trier got hot in the second half and connected on seven 3-pointers in the final quarters. Connor Boehm had 25 points in the win. Tyrone Sherman had 24 points for Homewood-Flossmoor.
All-tournament first team
New Trier senior forward Connor Boehm, Proviso West tournament: Boehm has been one of the most consistent players in the state this season. At Proviso West had 25 points and nine rebounds vs. Homewood-Flossmoor, 14 points and 14 rebounds vs. Morgan Park, 16 points and six rebounds vs. Proviso East and 17 points and seven rebounds vs. Von Steuben.
Elgin senior guard Kory Brown, Elgin: Brown stepped up game after game in the Maroons' run to their own holiday tournament championship. He had a 18 points, six rebounds, two blocks and two steals in Elgin's upset win over La Lumiere in the tournament championship.
Proviso East senior guard Keith Carter, Proviso West: Carter keyed the Pirates' run to their first Proviso West title since 1991 and was awarded the tournament MVP. He had 18 points and five steals in a win over Benet in the quarterfinals.
Bloom senior guard Donald Moore, Rich South: Carter's point guard play led the Blazing Trojans to their first McDipper title since 1995. He had 14 points and four assists in the title game. He was named the tournament MVP.
Simeon senior forward Steve Taylor, Pontiac: Jabari Parker may have won the MVP trophy at Pontiac, but many, including Parker, thought it should have gone to Taylor. Taylor had 11 points and seven rebounds to lead the top-ranked Wolverines over Curie in the championship game.
All-tournament second team
St. Ignatius senior guard Brian Howard, York: Howard and St. Ignatius surprised Downers Grove South and De La Salle on their way to the York title. Howard sent the championship game into overtime with a 3-pointer and finished with 20 points. He was named tournament MVP.
Metea Valley senior guard Kenny Obendorf, Hinsdale South: Obendorf continued to put up big numbers while helping Metea Valley to the Hinsdale South tournament championship. He had 24 points in the championship game and was named the tournament MVP.
Benet sophomore center Sean O'Mara, Proviso West: O'Mara isn't as hyped as some of the state's sophomores, but he's been more productive than most of them. He was impressive throughout Proviso West. He had 20 points, 13 rebounds, four assists and two blocks against Proviso East in the semifinals.
Simeon junior forward Jabari Parker, Pontiac: Parker didn't disappoint the sellout crowds at Pontiac. He hit difficult jumpers, swatted shots and threw down a few jaw-dropping dunks. In Simeon's one-point win over Peoria Manual, he scored 21 points and grabbed 12 rebounds.
Warren senior forward Darius Paul, Pontiac: Paul averaged 15.5 points and 12.5 rebounds in four games at Pontiac. With fellow post player Nathan Boothe in foul trouble against Curie, Paul scored 21 points and grabbed 15 rebounds.
Honorable mention
Andrew junior forward Jubril Adekoya, Kankakee

Plainfield East senior forward Brian Bennett, Pekin; Crane senior guard Willie Conner, Romeoville; De La Salle junior forward Alvin Ellis, York; Stevenson senior guard Michael Fleming; Curie senior guard Devin Foster, Pontiac; Morgan Park junior guard Billy Garret Jr., Proviso West; North Chicago senior guard Aaron Simpson, Bloomington; Crete-Monee junior forward LaQuon Treadwell, Rich South; Downers Grove South senior guard Jerron Wilbut, York

The unbeatens
Andrew (9-0): Won the Kankakee's holiday tournament, biggest upcoming test could be at Thornwood on Jan. 20.
Bloom (13-0): Won the McDipper, have plenty of tough games in the future, including at Homewood-Flossmoor on Jan. 24.
Immaculate Conception (12-0): Won its own holiday tournament, could still be undefeated heading into matchup at Elgin on Feb. 15.
Glenbard West (10-0): Won its own holiday tournament, could be challenged this week when playing at Bolingbrook and York.
Metea Valley (13-0): Won Hinsdale South's holiday tournament, will host Lake Park, which is also undefeated in the Upstate Eight Valley, on Saturday.
Plainfield East (11-0): Won the Pekin holiday tournament, hosts Wheeling tournament winner Naperville Central on Jan. 17.
Simeon (12-0): Won the Pontiac holiday tournament, face nationally-ranked No. 36 Miller Grove in West Virginia on Saturday.
October, 29, 2011
10/29/11
3:51
AM CT
By
Andrew Braverman
| ESPNChicago.com
LINCONLNSHIRE, Ill. --Although Stevenson still has to wait until Saturday's games are final, the Patriots got the first half of what they were after on Friday night, holding off York 31-28 in the first round of the IHSA Class 8A playoffs in Lincolnshire.
Now the Pats will anxiously wait for another shot at three-time defending state champion Maine South, whom they would host next week if the Hawks get past Curie.


"The past three years, the road to the state championship has gone through Maine South," said Patriots head coach Bill McNamara. "We'd be happy to see them."
Maine South has never lost to Stevenson and has also ended the Patriots' season six-times since 2001. However, according to senior quarterback Matt Micucci, knowing a second-round date with the Hawks was on the horizon only added motivation for the Hawks to come out strong against the visiting Dukes.
Sure enough, Stevenson (8-2) forced a three-and-out on York's first possession of the game and quickly jumped on top 7-0 when senior running back Kevin Foley ran for a 20-yard touchdown on the ensuing possession. Stevenson then made it 14-0 just seven-seconds later when fellow senior Jon Way intercepted a Joe Lucca pass and ran 22-yards for the pick-six. Stevenson would collect three Lucca interceptions in total.
"Our defense played really well," said McNamara. "They [run] that spread package, they have really good athletes at wide out, they have a great quarterback and [we knew] they were going to put pressure on us. I'm very proud of the way our defense played tonight."
Lucca, who threw five-touchdowns in York's Week 9 victory over Hinsdale Central, started 0-5 with two interceptions on Friday. He did, however, get his team on the board with a 12-yard touchdown run late in the first quarter, but a Micucci touchdown pass and field goal gave the Patriots a 24-7 lead at halftime.
In the third, York (6-4) would pull within 10-points as Lucca threw the first of three second-half touchdown passes to Jordan Preuss (10 catches, 98-yards, TD), but Stevenson answered once again with a seven-play, 80-yard touchdown drive on the ensuing possession.
Lucca and the Dukes would again battle back, scoring 14-unanswered points in the fourth quarter, but after recovering one onside-kick following its third touchdown, York was unable to do so after its fourth. Though the Dukes would hold Stevenson and receive one last chance at a heroic comeback, the Dukes went three-and-out and Micucci took a knee to end the game.
"The back breaker was scoring a touchdown and then watching them go 80 yards for a touchdown [of their own]," said York head coach Bill Lech. "We had just gained some momentum and then we gave the damn momentum back. We had just chipped away, but again, they're a great team. They're physical, they're strong and I'm proud of our kids. Our kids persevered."
Lucca would finish 24-51 through the air for 259 yards and three touchdowns. Despite also throwing a trio of picks, Lech wasn't sure if he'd ever been more proud of a player's performance.
"Joe's a tough kid. He's got one of the nastiest coaches in the state of Illinois," said a humbled Lech. "I am not nice to Joe, but Joe is very thick skinned and he knows that this is a game of short memories. I don't know that I've ever been more proud of a kid than I am of Joe Lucca. He's been beaten, he's been knocked out, he's suffered concussions, but he kept coming back."
On the other hand, McNamara was plenty proud of his senior offensive combo of Micucci and Foley, who combined for 322-yards of total offense and three touchdowns as well.
"Kevin is a really hard runner - he's our work horse," he said. "I give credit to our offensive line for opening up some holes and making things happen for him. And I thought Micucci played great tonight. He managed the game really well and took advantage of opportunities when he had them."
Stevenson is now set to host its second-round game as well, but with all due respect to Curie High School, the Patriots' student-section made it very clear as to who they want to see next week... the question is, could the chants of "We Want Maine South," be heard all the way in Park Ridge?
Players of the game: Stevenson RB. Kevin Foley had 30 had carries for 150 yards and a TD. York QB Joe Lucca was 24-of--51 for 259-yards with 3 TDs, 3 INTs and 14-carries for 51 yards and a TD.
Stat of the game: Lucca started 0-for-5 with a pair of INTs and Stevenson scored 14-points in a span of :20 seconds in the first quarter.
It was over when: Lucca's 51st pass attempt fell incomplete on fourth down with 15 seconds left to play.
Quote of the night: "Now it's like Lake Zurich week all over again. Maybe it's even more intense because we've never beaten Maine South. I really hope this is the year we're going to do it." - Stevenson Sr. RB Kevin Foley on possibly getting the chance to play Maine South next weekend.
October, 13, 2011
10/13/11
2:40
AM CT
Here's a look at the eighth week of action in ESPNChicago.com's top 20.
No. 1 Maine South (7-0) at Waukegan (3-4)


When:
Saturday at 1:30 p.m.
The story:
Maine South is on the verge of another unbeaten regular season. The Hawks should be fine this week, but could be tested against Glenbrook South next week. Waukegan has lost its last two games, including a 56-14 loss to Glenbrook South last week.
Maine South player to watch:
Danny Allegretti had an interception against Evanston last week.
Waukegan player to watch:
Maurice Childs provides the running threat for the Bulldogs.
Prediction:
Maine South 49, Waukegan 14
---
York (5-2) at No. 2 Glenbard West (7-0)


When:
Saturday at 1 p.m.
The story:
Glenbard West faces its second quality team in as many weeks. The Hilltoppers defeated Addison Trail 14-0 last week. York has lost it two games this season by a combined three points. Its 27-point total in last week's loss was its lowest of the season. Glenbard West hasn't allowed more than 14 points in a game this season.
York player to watch:
Quarterback Joe Lucca threw 225 yards and ran for 75 yards against Lyons last week.
Glenbard West player to watch:
Joe Zito is one of the Hilltoppers' many reliable running backs.
Prediction:
Glenbard West 28, York 14
---
Joliet Central (0-7) at No. 3 Lincoln-Way East (7-0)

When:
Friday at 7:30 p.m.
The story:
Lincoln-Way East will likely roll in its last two regular-season games. The Griffins' next two opponents have combined for two wins this year. Joliet Central has been out-scored 291-20 through seven weeks.
Joliet Central player to watch:
Quarterback Carlos Curry will look to get his offense going this week.
Lincoln-Way East player to watch:
Quarterback Blake Winkler is hearing from Ivy League and FCS schools.
Prediction:
Lincoln-Way East 49, Joliet Central 7
---
No. 4 Loyola (7-0) at Brother Rice (5-2)


When:
Friday at 7:30 p.m.
The story:
Loyola finishes out its regular season with two tough games with Brother Rice and St. Rita. The Ramblers will certainly earn their Catholic League Blue title if they win out. Brother Rice has been on the wrong end of two tights games against Mount Carmel and St. Rita. The Crusaders are still one of the area's top teams and should give Loyola a game.
Loyola player to watch:
Michael Paloian had two sacks and recovered a fumble against Fenwick last week.
Brother Rice player to watch:
Richard Mayer has been a nice complimentary back to Brother Rice's two star running backs.
Prediction:
Loyola 24, Brother Rice 17
---
No. 6 Mount Carmel (6-1) at No. 5 St. Rita (6-1)


When:
Friday at 7:30 p.m.
The story:
The Mount Carmel-St. Rita rivalry has one way in recent years. St. Rita has won the last three meetings, including 54-18 win in 2009 and last year's 35-14 victory. The Mustangs' offense doesn't look as potent this season. They scored a total of 40 points in their two other Catholic League Blue games. Mount Carmel's offense has put up numbers, but was held to seven points against Loyola. If St. Rita wins, Mount Carmel will fall out of the conference title race.
Mount Carmel player to watch:
Quarterback Don Butkus threw for three touchdowns and ran for one in last week's win over St. Laurence.
St. Rita player to watch:
Wide receiver Kenny Golladay scored the game-winning touchdown against Bishop McNamara last week.
Prediction:
St. Rita 21, Mount Carmel 20
---
Hinsdale South (4-3) at No. 7 Downers Grove South (7-0)


When:
Friday at 7:30 p.m.
The story:
For Downers Grove South to win another West Suburban Gold title, it will have to go through two quality opponents in the following weeks. Hinsdale South has one conference loss. It has been up and down for the Hornets all season. They haven't won or lost two games in a row. They did win last week.
Hinsdale South player to watch:
Safety Bryan Taheri forced one of five turnovers last week.
Downers Grove South player to watch:
Sophomore defensive back DeAndre Washington had an interception last week.
Prediction:
Downers Grove South 35, Hinsdale South 20
---
McHenry (3-4) at No. 8 Prairie Ridge (7-0


When:
Friday at 7:15 p.m.
The story:
Prairie Ridge was tested early against Jacobs last week and overcame a 14-0 deficit to win 35-14. It was the Wolves' smallest margin of victory this season. Cary-Grove could still present a challenge for them during the last week of the season, but Prairie Ridge should have no trouble this week. McHenry has allowed 40-plus points against all of the conference's top-tier teams.
McHenry player to watch:
Quarterback Robert Tonyan can be a difference-maker.
Prairie Ridge player to watch:
Linebacker Collin Corcoran had two sacks last week.
Prediction:
Prairie Ridge 49, McHenry 7
---
No. 9 Bolingbrook (6-1) at Lincoln-Way Central (1-6)


When:
Friday at 7:30 p.m.
The story:
Bolingbrook will likely have to settle for second place in the Southwest Suburban Blue. The Raiders bounced back from their loss to Lincoln-Way East with a 27-3 win over Sandburg last week. Their defense is among the area's best. Lincoln-Way Central has lost its last five games.
Bolingbrook player to watch:
Linebacker Anthony Morrison will be in the running for ESPNChicago.com Defensive Player of the Year. He had 14 tackles last week.
Lincoln-Way Central player to watch:
Brett Ditchman scored his team's lone touchdown against Lincoln-Way East last week.
Prediction:
Bolingbrook 42, Lincoln-Way Central 7
---
Rich South (3-4) at No. 11 Crete-Monee (7-0)


When:
Friday at 6 p.m.
The story:
Crete-Monee had its closest game of the season last week, beating Rich Central 34-20. The Warriors will hope to put away Rich South earlier this week. Rich South has four losses, but only one in conference and is in second place in the Southland.
Rich South player to watch:
Running back DeAndre Washington ran for 165 yards and two touchdowns against Rich East last week.
Crete-Monee player to watch:
Michigan recruit Anthony Standifer is one of the area's premier defensive backs.
Prediction:
Crete-Monee 42, Rich South 17
---
Marist (5-2) at No. 11 Carmel (5-2)


When:
Friday at 7:30 p.m.
The story:
There's a four-way tie for the East Suburban Catholic lead. Either Carmel or Marist won't be involved in that race any longer after Friday. Carmel won 20-16 at Marist last season. Carmel's offense is tough to stop, but Marist has proven it can score points this season, too. This could be another close one. Marist closes out its regular season with Joliet Catholic.
Marist player to watch:
Tom O'Neil kicked a game-winning 38-yard field goal against St. Patrick last week.
Carmel player to watch:
Running back Jordan Kos is coming off a five-touchdown performance.
Prediction:
Carmel 38, Marist 28
---
No. 12 Lemont (7-0) at T.F. North (5-2)


When:
Friday at 7 p.m.
The story:
Lemont will be favored the next two weeks, but it could be tested against T.F. North and Oak Lawn. Both opponents are 5-2 right now. The challenge against Lemont is trying to score on its defense. The Indiana have allowed 32 points in total this year, and 20 of those came in one game. T.F. North has scored 50-plus points twice this season.
Lemont player to watch:
Christos Giatras rushed for 106 yards on five carries in last week's win over Hillcrest.
T.F. North player to watch:
Anyone on T.F. North's kickoff team. The Meteors recovered three onside kicks last week.
Prediction:
Lemont 42, T.F. North 10
---
No. 13 Batavia (7-0) at St. Charles North (2-5)


When:
Friday at 7:30 p.m.
The story:
Batavia wasn't ranked in the preseason, but has been one of the area's most dominant teams. The Bulldogs have gotten it done on offense and defense. They've only allowed two opponents more than 13 points this season, and they've scored 35 or more points in every game. That trend should continue against St. Charles North. The North Stars dropped their first five games and have won their last two.
Batavia player to watch:
Tight end Evan Zeddies had a team-high three catches and a touchdown in last week's win.
St. Charles North player to watch:
George Edlund ran for 172 yards in last week's win over Larkin.
Prediction:
Batavia 49, St. Charles North 13
---
No. 14 Nazareth (6-1) at Riverside-Brookfield (2-5)


When:
Friday at 7 p.m.
The story:
Nazareth takes a step out of the East Suburban Catholic race for a week and plays Riverside-Brookfield in a non-conference game. Nazareth is on a five-game winning streak, and its offense has especially been rolling. Riverside-Brookfield defeated Elmwood Park 28-0 last week for its second win. The Bulldogs lost to No. 12 Lemont 48-0 earlier in the season.
Nazareth player to watch:
Kalium Ewing returned two interceptions for touchdowns in last week's win.
Riverside-Brookfield player to watch:
Quarterback Dylan Beketic threw for three touchdowns and ran for one against Elmwood Park last week.
Prediction:
Nazareth 45, Riverside-Brookfield 10
---
No. 15 Joliet Catholic (6-1) at St. Patrick (3-4)


When:
Friday at 8 p.m.
The story:
Joliet Catholic bounced back from its loss to Nazareth with a 64-13 win over Marian Catholic last week. The Hilltoppers' offense could have another field day against St. Patrick. The Shamrocks have allowed 30-plus points in their last four games. St. Patrick is also on a four-game losing streak after starting out 3-0.
Joliet Catholic player to watch:
Defensive end Josh Falk recovered a fumble and blocked a punt against Marian Catholic.
St. Patrick player to watch:
Quarterback Ryan Tentler is a threat to pass or run the ball.
Prediction:
Joliet Catholic 49, St. Patrick 20
---
No. 16 Geneva (6-1) at South Elgin (3-4)


When:
Saturday at 1:30 p.m.
The story:
Geneva responded after its loss to Batavia with a 42-0 win over Streamwood last week. The Vikings' offense could have another productive day against South Elgin. The Storm have had a rocky season after finishing 7-4 in 2010. South Elgin's defense recently struggled against Bartlett and Neuqua Valley in losses.
Geneva player to watch:
Running back Bobby Hess scored twice in last week's win over Streamwood.
South Elgin player to watch:
Adolfo Pacheco rushed for 39- and 85-yard touchdowns and caught a 40-yard touchdown pass against East Aurora last week.
Prediction:
Geneva 45, South Elgin 20
---
No. 17 Antioch (6-0) at Grant (5-2)


When:
Friday at 7:30 p.m.
The story:
This game will decide the North Suburban Prairie championship. Antioch is undefeated in conference, and Grant has one loss. Antioch pulled out some close wins early on, but has been dominant as of late. The Sequoits have won their last three games by 16 points or more. Grant's lone conference loss came against Lakes. The Bulldogs have won their last three games and scored 40-plus points in three of them.
Antioch player to watch:
Anthony Formella is 5-9 and 132 pounds, but he can make big plays at wide receiver.
Grant player to watch:
Kyle Whitman rushed for 115 yards and two touchdowns against North Chicago last week.
Prediction:
Antioch 38, Grant 21
---
Glenbard North (5-2) at No. 18 Wheaton North (6-1)


When:
Friday at 7:30 p.m.
The story:
Wheaton North holds a one-game lead in the DuPage Valley, but it faces back-to-back tough games with Glenbard North and Wheaton Warrenville South. Wheaton North's offense was limited in last week's 14-7 win over Naperville Central. Glenbard North has lost its last two games. The Panthers only scored a total of 13 points in those losses. Their defense is still among the area's best.
Glenbard North player to watch:
Running back Phil Jackson is Glenbard North's premier offensive player.
Wheaton North player to watch:
Wide receiver Johnny Daniels had a 46-yard touchdown catch last week. He's among the area's top receivers.
Prediction:
Wheaton North 17, Glenbard North 14
---
No. 19 Montini (5-2) at Walther Lutheran (2-5)


When:
Saturday at 1 p.m.
The story:
Montini is becoming the team it was expected to be in the preseason. With quarterback John Rhoden's return from injury, the Broncos' offense is clicking. Rhode threw eight touchdowns in last week's win over St. Edward. Walther Lutheran allowed 63 points to Byron earlier this season and has given up 40-plus points three times.
Montini player to watch:
Wide receiver Joseph Borsellini should become a larger threat with Rhode now throwing him passes.
Walther Lutheran player to watch:
Najee Toomer ran for two touchdowns, including a 90-yarder, in last week's win over Aurora Central.
Prediction:
Montini 49, Walther Lutheran 10
---
Hoffman Estates (0-7) at No. 20 Palatine (6-1)


When:
Friday at 7:30 p.m.
The story:
Palatine is two wins away from winning the Mid-Suburban West title. The Pirates should be able to cruise this week against Hoffman Estates. The Hawks have been out-scored 333-79 this year. Palatine is riding a six-game winning streak after losing to Montini in the season opener. It'll close out the regular season with Conant.
Hoffman Estates player to watch:
Quarterback Jordan Hudak rushed for three touchdowns and threw for two against Schaumburg last week.
Palatine player to watch:
Cam Kuska rushed for 167 yards and two touchdowns on 16 carries against Fremd last week.
Prediction:
Palatine 49, Hoffman Estates 7
June, 2, 2011
6/02/11
7:36
PM CT
Former DePaul star Tom Kleinschmidt was named the York boys basketball head coach on Thursday.

Kleinschmidt was a York assistant last season and was DePaul's director of men's basketball operations during the 2009-2010 season. He left DePaul after head coach Jerry Wainwright was fired.

Kleinschmidt replaces Dominic Cannon, who was the head coach for one season. UIC assistant coach Al Biancalana was York's head coach for five seasons prior to Cannon.

"To be honest, I was kind of in limbo after I left DePaul," Kleinschmidt said. "I was interested in the [York] job, but wasn't really thinking about applying because I thought they were looking for an educator first. I was asked to apply on Friday, and I was named today. It all happened quickly. It's a little bit of surprise, but good things happen when you don't expect them."

Following a 11-year playing career overseas, Kleinschmidt had been targeting a college coaching career, but he has since changed his mind. He's now set on creating a long, successful high school career.

"I figured out I wanted to take it to high school," Kleinschmidt said. "I want to be around kids and be around basketball. I'm committed to York, and York is committed to me."

Kleinschmidt was a McDonald's All-American out of Gordon Tech High School in Chicago. He starred at DePaul from 1991-1995 and was the only DePaul player to ever have 1,000 points, 500 rebounds, 300 assists, 100 steals and 100 3-pointers.

York went 20-9 and lost to De La Salle in the Oak Park regional championship game. The Dukes graduate nine seniors from that team and return 6-2 guard David Cohn, one of the state's top Class of 2013 prospects.
October, 30, 2010
10/30/10
4:49
AM CT
By
John Venerable
| ESPNChicago.com
ELMHURST, Ill. -- Down seven with less than eight minutes remaining, York was at a crossroads.
"It was certainly gut check time for all of us on that side of the ball," said York senior quarterback Jim Nudera.
Two drives and 14 points later, the top-seeded Dukes narrowly avoided a first-round upset, defeating Lockport 21-14.
"We've been working at this since last summer, and tonight was just an example of what a team does under this type of adversity." said Nudera
The adversity Nudera was referring to was his Dukes' inconsistent first half, which began with a Dan Holman 82-yard touchdown run that put Lockport up early. York would respond, as Nudera guided the Dukes down the field mid second quarter, as the QB capped of the touchdown drive with a 3-yard TD run.
But it was two costly York turnovers that left the game tied 7-7 at half.
"It's tough to score points when we're turning the ball over whether it be in the red zone or not…it just kills you're rhythm offensively," said Nudera.
Both teams opened up the second half much like the first, with multiple three-and-outs until an unsportsmanlike penalty against the Dukes helped Lockport convert a second-and-14 en route to a go-ahead touchdown via Dexter Taylor's 8-yard run.
With time running out on the Duke's season, Nudera and his offense finally began to click, thanks to some tough running from Ryan Kent. Kent's 55-yard run followed by a 5-yard touchdown scamper tied the game at 14 all. After Lockport failed to convert a key third-and-3 with less than four minutes remaining, York promptly regained possession and never looked back. Facing second down from the Lockport 13, Nudera found David Byerley wide open in the back of the end zone for what would be the game winning touchdown.
"In my opinion, he's one of the best receivers in the state," said Nudera.
With the win, York advances to face Naperville North in the second round of the 8A playoffs.
Player of the game: Jim Nudera, QB, York. Although inconsistent at times, Nudera came up big when his team needed him the most. The senior directed two clutch 4th quarter drives, highlighted by his 13-yard touchdown pass that iced the game for the Dukes.
Stat of the game: After holding the York offense to just seven points in the first three quarters, the Lockport defense surrendered 14 points in the game's final eight minutes.
It was over when: Billy Reed and the Lockport offense failed to convert on a fourth-and-6 with less than a minute remaining.
Quote of the night:
"We obviously know we didn't play our best football tonight and to still come away with the win is a great feeling." -- York Senior Quarterback Jim Nudera
October, 1, 2010
10/01/10
5:25
AM CT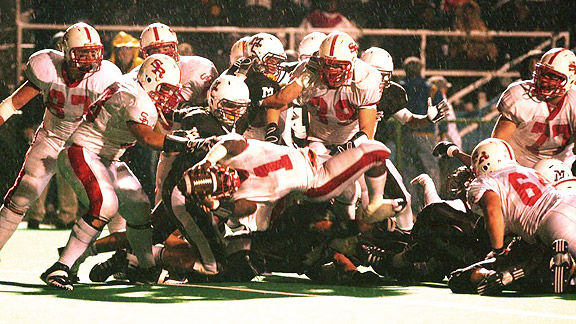 Scott Powers/ESPNChicago.comCatholic league powers St. Rita and Mount Carmel will face off Friday.
No. 12 Mount Carmel (4-1) at No. 2 St. Rita (5-0) on Friday
The story:
One of the best rivalries in high school sports will write a new chapter on Friday night. Last season, St. Rita took it to the Caravan and won 54-18 in one of the most lopsided games in the rivalry's history. Mount Carmel will be looking for revenge on St. Rita's ground. The Caravan have bounced back nicely since losing in the season-opener to Simeon. Their offense has been impressive all season. St. Rita has remained undefeated thanks to its defense and running game.
Mount Carmel player to watch:
Senior running back Michael Banks missed last week with a groin injury. When healthy, he's one of the fasted players in the state.
St. Rita player to watch:
Running back Jahwon Akui scored five times in last year's win over Mount Carmel. He'll look to add to that total on Friday.
Prediction:
St. Rita 48, Mount Carmel 42
No. 16 Schaumburg (4-1) at No. 13 Barrington (5-0) on Saturday
The story:
The Mid-Suburban League West will likely be determined here. Both teams enjoy giving the ball to their star running backs and letting them loose. Barrington's Chase Murdock has rushed for 740 yards and 10 touchdowns on 132 carries. Schaumburg's Shepard Little has run for 991 yards and eight touchdowns on 120 carries. Their one common opponent this season is Elk Grove. Barrington defeated Elk Grove 30-23 in overtime, and Schaumburg lost 36-34.
Schaumburg player to watch:
A lot of attention will go to both teams' running backs, but both also have capable quarterbacks. Schaumburg's Mark Iannotti has completed 10-or-more passes in all five games.
Barrington player to watch:
Broncos quarterback Matt LeMire has been proven to be an accurate passer. He was 8 of 12 for 100 yards in last week's win.
Prediction:
Schaumburg 28, Barrington 24
No. 18 Stevenson (5-0) at No. 4 Lake Zurich (5-0) on Friday
The story:
This game should decide the North Suburban Lake championship. Both teams have been putting up a lot of points this season with each averaging nearly 40 per game. Stevenson's Joe Cassata and Lake Zurich's Jacob Brinlee are two of the best running backs around. If the game does come down to the wire, Lake Zurich has pulled out two narrow wins this season while Stevenson has yet to be tested.
Stevenson player to watch:
Quarterback Kevin Earl doesn't receive enough recognition. He's one of the area's premier quarterbacks.
Lake Zurich player to watch:
Running back Jacob Brinlee is one of the area's most entertaining players to watch. He can score any time he touches the ball.
Quote:
Stevenson coach William McNamara – "Lake Zurich is a very aggressive team on defense and has the ability to strike at any time on offense. This game will be a tremendous challenge for our team. Brinlee is simply great with the ball in his hands. We have to get a complete team effort to try to keep him in check."
Prediction:
Lake Zurich 24, Stevenson 20
No. 10 Wheaton North (4-1) at No. 1 Wheaton Warrenville South (5-0) on Friday
The story:
Top-ranked Wheaton Warrenville South faces its second major DuPage Valley test in as many weeks. The Tigers had no trouble with last week's one as they cruised to a win over Naperville North. Wheaton Warrrenville South's offense and defense have been equally as good. The Tigers have out-scored their opponents 200-40 this season. Wheaton North's offense has slowed down in the last few weeks with a loss to Glenbard North and a narrow win over West Aurora. Either the Falcons' offense needs to get going or their defense will have to contain quarterback Reilly O'Toole and company.
Wheaton North player to watch:
Wheaton North quarterback Reece Butler has had some big games this season. He'll need another one here to pull off the upset.
Wheaton Warrenville South player to watch:
Quarterback Reilly O'Toole is the front-runner for ESPNChicago.com's Player of the Year award right now.
Prediction:
Wheaton Warrenville South 41, Wheaton North 24
Loyola (4-1) at Brother Rice (4-1) on Friday
The story:
Every game is vital in the Catholic League Blue. With a loss here, either Loyola or Brother Rice could find itself outside of contention for the conference title. Both teams have one conference loss heading into the match up. Loyola fell to Mount Carmel in overtime, and Brother Rice lost 24-0 to St. Rita.
Loyola player to watch:
Ramblers quarterback Malcolm Weaver has thrown 14 touchdowns passes this season.
Brother Rice player to watch:
Junior running back Martez Walker can give a defense fits with his ability.
Prediction:
Loyola 31, Brother Rice 14
York (5-0) at Lyons (5-0) on Saturday
The story:
Whether York or Lyons can hang with Glenbard West in the West Suburban Silver has yet to be seen, but both teams have remained unbeaten so far. They have had to fight to stay that way, though. York, which was 4-5 last season, has won its last two games by a combined eight points. Lyons defeated Oak Park 14-9 last week. This is the first time York has been 5-0 since 1984.
York player to watch:
Defensive back Joe Paparone has a knack for making big plays. He had an interception and recovered a fumble for a touchdown in last week's win.
Lyons player to watch:
Wide receiver Dylan Fiedler has stepped up in key situations. He had the game-winning touchdown against Oak Park last week.
Prediction: York 28, Lyons 20