Jon Greenberg Blog:

Chicago Blackhawks
June, 3, 2014
Jun 3
11:37
AM CT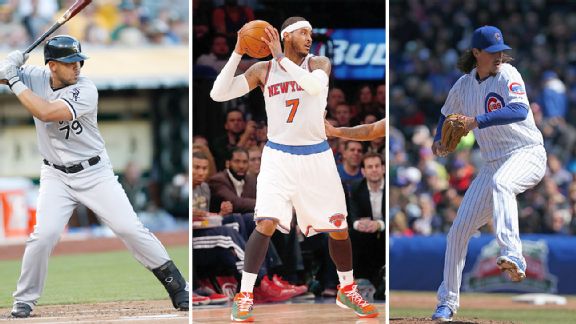 Getty ImagesJose Abreu's rookie power surge, the Bulls' pursuit of Carmelo Anthony and the trade market for Jeff Samardzija will keep Chicago busy until the Bears get back to work.
By now, you've come to terms with the end of the
Chicago Blackhawks
' season, an unceremonious suspension to the budding hockey dynasty.
So what's next for Chicago sports fans? Besides spending time with your friends or family. Unless, of course, they're also sports fans.
Here are some things to look forward to as you fight that aching inside your hockey soul and before you satiate that breach with Bears training camp minutiae.
CUBS
TBD, June, landmark commission meeting:
The city's commission on Chicago landmarks meets Thursday, but the Cubs' additions to the never-ending, never-starting renovation of Wrigley Field won't be on the table. Crain's reporter Danny Ecker wrote that the Cubs are hoping for a special session of Mayor Rahm Emanuel's handpicked board later this month so they can start digging the new home clubhouse sometime in July. Call me when a shovel hits the dirt.
June 5, MLB amateur draft:
This is the Cubs' World Series. They pick fourth. Hilariously enough, the White Sox could ice them out of a top pitching prospect by picking third. The Cubs tried to lose but still can't beat the Sox when it matters most.
From now until July 31, the Jeff Samardzija Trade Watch, presented by Cheap Baseball Team:
Samardzija wants a big free-agent payday, one that will assuredly make him the highest-paid Notre Dame athlete ever. The Cubs have tried to sign him to a club-friendly deal, but Samardzija wants ace money. The Cubs have ace money, but they act like a small-market team circa 2004. It'll be a shame for the team and its fans if Samardzija is dealt, but hopefully for him he heads to a team that cares about winning now.
WHITE SOX

Now until October, the summer of Abreu/Sale:
While Cubs fans count down the days until Javier Baez is called up, the Sox have stars ready now.
Chris Sale
and
Jose Abreu
are not only the best baseball players in town, but each is among the best in baseball. If they were Cubs ... well, that argument is tired. It'll be interesting to see whether the Sox's crowds pick up significantly during the summer, especially if the Sox keep pace in the playoff race. But attendance aside, it'll be a treat to watch Sale every five days and Abreu every game on TV, where the ol' Hawkaroo is certain to pin the future of the human race on this pair.
Now until Aug. 31, South Side Market:
In his days as general manager, Kenny Williams was always good for a win-now trade involving prospects. Now Williams is the executive vice president, and I'm sure he gets itchy around this time of year. Would he influence Rick Hahn to make a move to get a playoff berth?
BEARS
Um, forever and always:
You don't need my help here to find things to obsess about. The Chicago media will give you daily reasons, including a Twitter countdown to training camp, to pay attention to the Bears months before games begin. Organized team activities are covered like the Stanley Cup.
BULLS
June 26, July 1-10, the NBA draft and start of free agency:
One thing the Blackhawks' demise should do is prepare you for the epic disappointment that will be the Bulls' free agent/
Kevin Love
summer.
Carmelo Anthony
coming to play on the cheap? Love getting traded to Chicago? Maybe
Lance Stephenson
bringing his
Dennis Rodman
-esque style to the Bulls?
There's a good chance the draft will be the highlight of the Bulls' summer. But, hey, stranger things have happened. Potential additions aside, it just would be nice to see
Derrick Rose
make Team USA this summer, stay healthy and look game-ready come October.
April, 17, 2014
Apr 17
3:23
PM CT
Sports Business Journal released its much-anticipated annual review of NHL teams' local TV ratings Thursday.
What's that? You don't circle this day on your calendar?

While I have little idea what to make of Nielsen ratings, I always keep my eye on these kinds of stories.
With an ever-growing fan base spoiled by two Stanley Cups in four years, the Blackhawks remain a reliable draw on TV. They were fourth in average rating at 4.33, a 40 percent increase from the last full season in 2011-12. That's the third-biggest increase in the NHL.
Chicago, located in the third-biggest TV market, is first in average number of households tuned in to watch John McDonough and Rocky Wirtz, I mean
Jonathan Toews
and
Patrick Kane
, with 153,000 per game.
So, how do these numbers, obtained through public Nielsen data, compare to other teams?
The
Pittsburgh Penguins
have far and away the best local average rating at 7.57, averaging an amazing 89,000 households in the nation's 23rd TV market, according to Nielsen.
Hockey hotbeds Buffalo (5.56) and Boston (5.04) are also ahead of the Blackhawks.
Phoenix (+85 percent to 0.74) and the
New York Islanders
(+71 percent to 0.36) had bigger percentage increases, though absolutely miniscule ratings. Boston had the second-highest average number of households at 123,000. The
New York Rangers
were third at 96,000.
These numbers, along with a 267-game sellout streak, make the Blackhawks a monster in terms of drawing advertising and making money, and a team that everyone at NBC and the NHL is surely rooting for in the playoffs.
April, 9, 2014
Apr 9
3:15
PM CT
CHICAGO -- It was a beautiful day for a puck-around.
Yes, it was gorgeous outside the United Center, but more importantly, it was the the hockey equivalent of blue skies and sunshine inside at the
Chicago Blackhawks
' morning skate before Wednesday's regular-season home finale against the
Montreal Canadiens
.
[+] Enlarge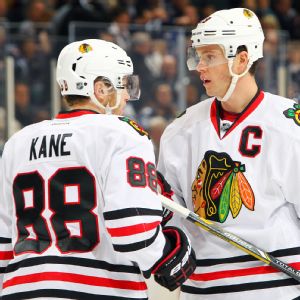 Jonathan Kozub/NHLI/Getty ImagesPatrick Kane and Jonathan Toews are on pace to return for the playoffs.
(I call a morning skate a puck-around. That's patent pending stuff, folks.)
Patrick Kane
, the slickest athlete in Chicago, returned to the team skate portion of the team's game-day warm-up session. After four days of working out with coaches, he skated, shot, scored and moved around with the relative elan of, well, Patrick Kane, Chicago's healthiest one-man show north of Chris Sale.
"He's been skating good," poet-warrior coach Joel Quenneville said.
Kane is expected back for the start of the postseason and will miss the final three games of the regular season, as planned. He hurt his knee in a game against St. Louis on March 19 and was put on long-term injured reserve two days later. The prognosis has been rosy from the start, but given hockey's Kremlin-like media policy about injuries, who knew for sure?
Quenneville chuckled and all but dodged a question about Kane's visible left knee brace.
"Everybody has some type of equipment enhancers," he said.
It's just precautionary, Kane said, and it won't hinder his unique blend of speed and grace.
The good news kept coming Wednesday. Captain
Jonathan Toews
(out with the nasty "upper body flu") is expected to skate Thursday. Quenneville said Toews and Kane will be 100 percent for the first game of the postseason. Not 97 percent, mind you. Someone should've asked why they won't be 110 percent.
Quenneville acquiesced to the media's party line of, "This could be a good thing, right?" and agreed that the extra rest afforded to the Blackhawks' two most important players could be a benefit for a run at repeating as Stanley Cup champions.
Of course, if both were back already, the storyline would be, "It's good that they're getting some games in before the playoffs."
"Yeah, it would've been nice to play some games before the playoffs, but it didn't work out that way due to the length of the injury and how long they wanted me to rest it," Kane said. "There's nothing you can do about it."
C'est la vie, as the Canadiens' media would say. They were in the house Wednesday morning, giving the media pack a playoff feel.
Hard to believe the postseason is finally here.
Maybe it's because the Blackhawks' post-Olympic muddle, complete with injuries to the team's two best players, has dimmed the Stanley Cup run-up a bit. The Hawks were 35-11-14 going into the Olympics and are 10-8-1 since, thanks to a three-game winning streak heading into Wednesday's game.

The nadir of the season was a 4-1 loss in Pittsburgh on March 30, their fourth loss in five games and, oh yeah, when Toews was knocked out by a hard
Brooks Orpik
hit.
The Blackhawks have picked it up a touch since then, but all that matters is what happens once the postseason begins.
All the talk about momentum and rest goes out the window and legacies are decided by lucky bounces, ricochets and power-play snipers.
The last time the Blackhawks tried to defend the Cup, the season was a lingering downer thanks to the salary-cap crunch. That team wound up exceeding expectations by taking Vancouver to seven games in the first round.
This season has been harder to define. As of Wednesday afternoon, it looks as though the Hawks won't have home-ice advantage in the first round, likely facing the
Colorado Avalanche
or St. Louis.
During the regular season, Chicago won one of five against Colorado and two of five against St. Louis. But unlike the previous defending team, Chicago has a full complement of Cup talent if Toews and Kane are healthy.
There is much to be excited about, even if skepticism is high in Chicago. Once Kane and Toews take the ice for a real game, then the real season can begin.