Jon Greenberg Blog:

Chicago White Sox
August, 6, 2014
Aug 6
1:25
PM CT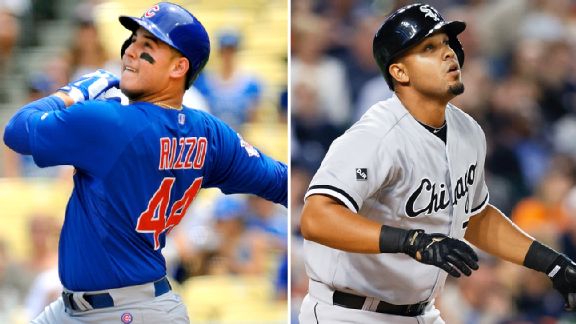 USA TODAY SportsAnthony Rizzo and Jose Abreu have helped bring some fun back to Chicago baseball this summer.
CHICAGO --
Anthony Rizzo
is having himself a season.
He's no
Jose Abreu
, but it's close.
If that gets Cubs fans' dander up, then I'm doing my job. Abreu versus Rizzo is my favorite debate on Twitter, where I like to waste away my mid-30s instigating arguments with Chicago sports fans.
And man, do Cubs fans, who outnumber Sox fans, get defensive about their guy. They talk about his age, his contract, his fielding prowess. It's not what he's doing now, they tell me, but what he'll do in the future as a young hitter.
[+] Enlarge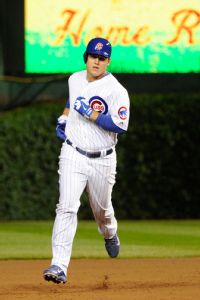 David Banks/Getty ImagesAnthony Rizzo is an All-Star in his second full major league season.
Cubs fans love to talk about the future. They're futurists, really. And we love them for that optimism, which given the state of the team's ballyhooed farm system, isn't that cockeyed these days. In two years, we'll still be having this argument, though Kris Bryant might replace Rizzo as the Cub.
But "who's better" is the classic fun sports argument to have. Remember fun, Chicago baseball fans? Ah, 2008 was so long, long ago.
On one team, you've got Abreu, the mysterious Cuban right-handed rookie slugger who speaks softly and hits everything.
On the other, you've got Rizzo, the clean-cut, Theo Epstein-approved blended left-handed hitter who is second in the National League in home runs, sixth in on-base percentage and first in Cubs fans' hearts. Well, until
Javier Baez
showed up this week. But he's still top two until
Jorge Soler
, Bryant ... you get the picture.
While Abreu got picked for the All-Star Game as a reserve, Rizzo made his first All-Star team thanks to an unyielding, hashtag blitzkrieg social media barrage. The next five times he'll make it will be on his own merits, or by the fan vote once Cubs fans wake up from their Ricketts-induced comas.
Abreu and Rizzo might not sell tickets -- the Sox couldn't even give away 20,000 free shirts for Jose Abreu T-shirt night! -- or drive ratings -- Baez's debut drew a whopping 2.0 rating on CSN Chicago's "plus" channel -- but if their teams can be built around them, they'll be in good shape.
As for now, they've got two months to pad their stats.
Maybe Baez and his Gary Sheffield swing puts on a show the last two months, but Abreu at-bats have already been must-watch performances all season.
I guess you could say he's tied with
Chris Sale
, the undisputed best pitcher, as the best baseball player in Chicago.
Fresh off becoming the first player to win AL player of the month and rookie of the month for the second time this season, Abreu, who missed two weeks with an ankle injury, leads baseball in home runs (31), RBIs (86), OPS (.986), slugging percentage (.624) and isolated power (.317), which measures "a hitter's raw power," according to FanGraphs.
He's third in weighted on-base average, or wOBA (.415), and fifth in weighted runs created plus, or wRC+ (164, or 64 percent better than the league average), also according to FanGraphs and seventh in WAR among AL position players at 4.
Lest you think he's just a slugger, Abreu is seventh in the AL in batting average (.307) and 17th in on-base percentage (.362). His recent surge has helped him gain about 30 points in batting average and OBP. He's gone hitless only twice since July 6 (Aug. 2-3), a stretch which includes a 21-game hit streak and 11 multihit games.
His six-year, $68 million contract looks like a bargain, as is Rizzo's arbitration-eating, seven-year, $41 million deal.
After Tuesday night's game, Rizzo's 25 homers were second to
Giancarlo Stanton
's 26 in the National League. His OBP (.387) was sixth and his batting average (.283) was 22nd. While his 60 RBIs were 14th, his 75 runs scored were fourth, a good measure of how being on base creates offense. His 3.5 WAR was 14th in the NL, while his wOBA (.391) was sixth and his wRC+ (149) was seventh.
While Rizzo, who turns 25 on Aug. 8, is still developing in his second full season in the majors, what's Abreu's ceiling as a 27-year-old rookie?
"I think you can get better," White Sox manager Robin Ventura said before Monday's game. "I don't think he's ever going to get to the point where he hits .500. His numbers are pretty damn good right now."
Even defensively, where the big man is a little better than you might think with a 2.2 UZR/150 (Ultimate Zone Rating).
Rizzo, who is considered a plus defender at first base, has a 0.7 UZR/150, though it's tough really to trust defensive metrics, which are constantly being refined.
Both players are starting to catch on, marketing-wise. Rizzo had the 15th best-selling jersey in baseball, as of early July. Abreu is the best-selling White Sox player. A local memorabilia dealer told me Abreu autographs were flying off the shelf this summer, while Rizzo's are picking up.
[+] Enlarge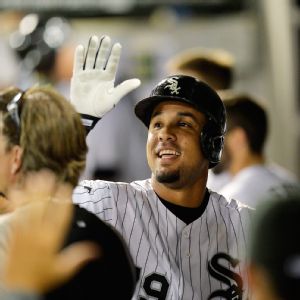 Brian Kersey/Getty ImagesJose Abreu is on pace to become the first rookie to hit 40 home runs and 40 doubles.
I hate to trot out the tired "Imagine if Abreu was a Cub!" line, but it's worth considering, if only for bar arguments' sake. The rooftops might have to put up windscreens of their own to protect their customers.
"You've seen it, when he comes to bat, everything stops," White Sox senior vice president for sales and marketing Brooks Boyer told me Monday night. "I was just out there, 'Well, I'm not leaving my spot until Abreu bats.' We haven't had that since Frank Thomas. The vendors stop. It's like time stops when he gets in the box."
On his aforementioned T-shirt night Monday, Abreu showed why he's more than a power hitter. In his first at-bat, he sliced a single to right field and in his second, he shot a bases-loaded single up the middle to score two runs.
Alas, only 17,040 showed up for the game, which includes around 1,500 tickets sold the day before, and that means the White Sox had nearly 3,000 extra shirts to give away.
How do you market a player who speaks English through a translator, mostly sticking to humble messaging, to a sluggish fan base? The Sox will have to find ways.
"You start instead of him being the pitchman that's out there in front, you don't need him to talk to show his skill," Boyer said. "That sells itself. That's something you want to come to see. When that guy gets in the box anything can happen."
Regardless of where you stand, one thing Chicago baseball fans can agree on is that this argument should be a fun one for the next five years. Wait until Bryant gets here to make it multiple choice.
July, 14, 2014
Jul 14
3:15
PM CT
The White Sox's ratings are up and the Cubs' ratings are down, but both teams share something in common: Very few people are watching either last-place team, at least not on Comcast SportsNet Chicago.
If CSN televised Marc Trestman watching mini-camp film, it would probably beat both teams in ratings.
Both the Cubs' and White Sox's local cable ratings at the All-Star break are in the bottom five of the 29 U.S.-based teams, according to a Sports Business Journal study of Nielsen ratings for regional sports networks.
The last-place Cubs rank No. 25 with a 1.48 average rating, that's down 7 percent from this point last season and 8 percent overall, according to information provided to ESPN Chicago by Sports Business Journal writer John Ourand.
Right now, the Sox, essentially tied with last-place Minnesota in the AL Central, have the fourth-highest gain in baseball, up 16 percent from this point last season and 24 percent from last year's final numbers.
Unfortunately, that's only good enough for a 1.39 rating, and only two teams are lower.
The two teams' household averages are stunningly close, 52,000 for the Cubs and 49,000 for the White Sox, Nos. 21 and 22, respectively, in baseball.
It's not like everyone's flocking to the ballparks either. The Cubs are down slightly (179 fans) from this point last season, averaging 32,469 in paid attendance, while the Sox are down around 1,700 fans per game from this point last season, and are the third-worst draw in baseball at 20,657.
The
Milwaukee Brewers
, whose ratings are up 32 percent, have more households watching games per average, 54,000, than both teams despite being the No. 34 Nielsen DMA market, compared to No. 3.
Last season, the Cubs ended with a dismal 1.6 rating, while the White Sox were essentially last with a 1.14. Only Houston, which had major carriage problems with its RSN, CSN Houston, was lower.
Comcast SportsNet Chicago senior director of communications Jeff Nuich told ESPN Chicago that Sox ratings are up 30 percent, compared to 2013 final numbers, in the key adults 25-54 demographic. The Cubs are down 11 percent in that demographic.
It didn't use to be this way.
Five years ago, the year after both teams last made the playoffs, Cubs' ratings were down 16.3 percent for the season, their last under Tribune Co. ownership, but their average rating was still a hearty 4.18. Their household average was 145,000, the fourth-highest in baseball.
In 2009, the Sox actually had an 8.1 percent jump with a 2.28 rating and were up 9.6 with 80,000 households tuned in.
The Cubs are the only team among the NL Central not in the top five of average ratings, according to SBJ. While the
Detroit Tigers
lead baseball with a 7.52, the next four teams are in the Central: the Cardinals (7.45), Pirates (6.37), Reds (6.37) and the Brewers (5.91).
This freefall comes at a particularly bad time for the Cubs, who are searching for a home for almost half of their TV inventory next season. The WGN portion of their TV deal is up and there has been no word on a new home yet.
In a recent Chicago Tribune article, contributor Ed Sherman wrote that WGN is losing a reported $200,000 per game because of low ratings. He also reported the Cubs could put those "70 to 75" WGN games on a multicast channel, a "sub-channel for local over-the-air broadcast stations," for a few years until they can put all their games on one branded network.
The Cubs have been promising their fans that more money for their now-middling major league payroll will come partly from new TV deals. which have exploded into multi-billion dollars megadeals across baseball.
Fans might have to wait for 2020 for owner Tom Ricketts' pocketbook to open, because that's when the Comcast deal ends and Wrigley Field renovations are expected to be done, to see that come to fruition.
Until then, both teams could use a few hours of your time a night.
July, 14, 2014
Jul 14
12:05
PM CT
A White Sox slugger will be at the Home Run derby Monday night, but it's the wrong one.
Frank Thomas
, the Big Hurt, the five-time All-Star and new Hall of Famer, will be sitting in centerfield during the home run derby at Target Field, as part of a promotional deal with Gillette. While Thomas is peddling a "Flexball" razor,
Jose Abreu
, an All-Star with 29 home runs at the break, will be watching, but not participating.
[+] Enlarge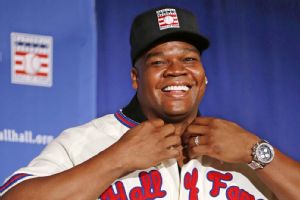 AP Photo/Kathy WillensFrank Thomas says his Hall of Fame speech is "95 percent" done with induction day coming up on July 27.
It was Abreu's choice, he felt like it would mess up his swing, but most feel like it's an opportunity lost for the Cuban slugger.
"I'm disappointed," Thomas said in a phone conversation from Minneapolis on Sunday. "He's a breakout star. He needs to let the world know who Jose Abreu is."
Abreu will have to wait for Tuesday's All-Star game for a few swings into the national consciousness. He doesn't speak much English, and he's not the flashy athlete like his countryman
Yasiel Puig
, but the rookie Abreu should be one of baseball's greatest stories.
I got to thinking about how one becomes a baseball star nowadays and if we'll ever see a baseball player achieve the kind of national recognition afforded basketball and football players.
Baseball is a regional game, and even with national cable TV deals and the connectivity of the Internet and social media, it's hard for a baseball player to get a national foothold. So much noise. To many, Abreu is just a name you see on Twitter, often accompanied by "home run."
When Thomas came up as a giant wunderkind in 1990, there was no way for a player to reach the world like there is now. But yet, Thomas was a national star at an early age. One main reason, it was the beginning of the trading card boom.
Thomas' popularity, in card form, made him my favorite player as a young kid.
As a kid in eastern Ohio, my older brother was a
Mark McGwire
fan. My younger brother was a
Ken Griffey Jr
. fan. So I picked the Big Hurt as my out-of-town favorite. Maybe I just liked the black White Sox hat. Maybe I just liked the idea of Frank Thomas. The only times I really remembered watching him play was during the All-Star Game.
But my brothers and I collected cards and put them in big binders. Topps, Upper Deck, Sportflics, Leaf, you name it.
As a Hall of Famer, Thomas' autograph is his greatest currency, but in his heyday, he signed cards as a professional courtesy.
"To be honest, I probably signed 50,000," Thomas said. "Kids would send mail to your house. It helped build a fan base nationwide. Early in my career, I tried to send back as many as I could."
Thomas is in the midst of recapturing his legacy this month as he prepares for induction into the Baseball Hall of Fame on July 27. He said he's "95 percent" done with his speech, which he's writing himself, a fairly vanilla thank you to all the people who helped him along the way.
"I'm blessed and proud to be a first ballot Hall of Famer," he said. "I've been blessed."
Thomas is busy these days, traveling from his northern suburban home to Los Angeles to work for Fox Sports 1, while still doing television at Comcast SportsNet Chicago. He's got his Big Hurt Beer and his exclusive memorabilia deal with MAB Celebrity Services.
While his career ended playing for Oakland and Toronto, Thomas will always be identified with the White Sox. To prepare for his speech, he said he went through every season, trying to spark memories.
It was quite a career, 20 years in the majors. There was the 1993 and '94 MVP seasons, the 2000 out-of-nowhere playoff team.
Thomas hit .301, with 521 home runs and 1,704 RBIs in his career. He's proud of his contributions to the 2005 World Series team, hitting 13 home runs on one leg for a team that had to hold on to make the playoffs.
But like many competitors, he said he thinks about what he didn't do.
"There were a couple MVP awards I missed out on, that's historical," he said. "Those are things you look back on. I look back at the teams that didn't win it all. We had four teams that could've won the championship. But we didn't get it done with those four teams."
Thomas looks now at Abreu, 27 and in the prime of his career.
"That's when you're at your best," he said. "He's showing you what he's got going."
One Sox slugger is arriving while another looks forward to the next phase of his career. It's a great time for baseball.
June, 13, 2014
Jun 13
9:00
AM CT
Chris Sale
is money in the bank for the
Chicago White Sox
when he takes the mound at U.S. Cellular Field. Metaphorically, at least.
The White Sox drew an announced crowd of 20,626 for Sale's start Thursday against the American League Central-leading
Detroit Tigers
, a 4-0 loss.
If you're a glass-half-full type of person, the stadium was half full.

Now, this isn't a screed aimed at no-show White Sox fans. That's old news.
The team's attendance problems are tied to a low season-ticket base, which withered away after the 2006 season. Buying season tickets is a costly, time-consuming investment and, without any fear of scarcity, there's no rush for spectators to guarantee themselves tickets.
But conventional wisdom would tell you that fans, eager to see one of the best pitchers in baseball, will be proactive and buy seats for Sale starts. Of course, conventional wisdom is usually wrong.
Through the first two months and three June starts, Sale hasn't provided much buzz in walk-up sales. There has been a strong showing for the "K Zone for Sale" sections in the outfield corners. Maybe the Sox should print up enough K cards for the whole stadium.
The Sox need to leverage one of their two marketable assets -- and you can't promise fans a
Jose Abreu
home run.
Would you believe the Sox draw worse than average when Sale starts? I didn't, and neither did a Sox official when I posited that fact.
If you throw out his Opening Day start -- you could start Southpaw and draw 37,422 for the opener -- the White Sox are averaging 18,464 fans in six Sale starts. Yes, that's actually worse than the Sox's abysmal average of 19,765.
Game days matter, particularly early in the season when it's cold and "the kids are in school."
So far at home, beside the opener, Sale has started three Thursday games, one Tuesday, one Friday and one Sunday. Sale's next start is slated for Wednesday against the visiting first-place
San Francisco Giants
.
Here's the breakdown: In his previous home start, June 1 (Sunday), the Sox drew 23,185. Against the Yankees on May 22 (Thursday), they drew just 21,677. On April 17 (Thursday), the Sox drew 17,454 against Boston. On May 27 (Tuesday), they drew 14,237 against Cleveland. Back on April 11 (Friday), also against the Indians, the Sox drew 13,605.
Sale's bobblehead day, however, drew 33,413 on May 24, a Saturday game against the Yankees.
Maybe that's the answer. Bobblehead dolls every time Sale pitches.
Get the bobblehead plant running, Sox marketing exec Brooks Boyer, and put Sale on a Saturday-only schedule. Sale, the maestro of the mound, deserves a packed house for his performance.
June, 6, 2014
Jun 6
2:13
PM CT
North Carolina State ace Carlos Rodon said it would "be kind of cool" to pair up with fellow left-hander
Chris Sale
at the top of the
Chicago White Sox
's rotation.
"He's a great pitcher, might be the Cy Young winner," Rodon said on an extremely chill conference call Friday, a day after being drafted third overall by the White Sox. "He's doing pretty well."
[+] Enlarge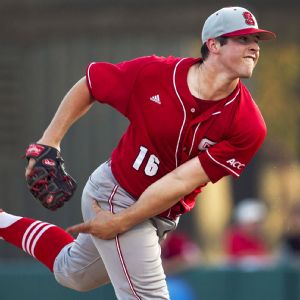 Robert Willett/Raleigh News & Observer/MCT/Getty ImagesCarlos Rodon could team with Chris Sale to form a nasty 1-2 punch atop the Sox's rotation.
Hey, at least he's heard of Sale. When I asked Rodon what he knew about White Sox pitching coach Don Cooper, the living legend himself, he said, "To be honest, nothing."
I can't wait to re-ask that question to Rodon next spring training.
"He's the guru," Rodon might say. "Kind of a close talker, too."
Rodon actually showed impressive knowledge of this White Sox team, which he labeled as a playoff contender, ticking off the names of a handful of players, including
Adam Eaton
and
Tyler Flowers
.
"Most of my interactions [with the team] are from watching them on TV and watching
Jose Abreu
hit some bombs," he said. "That's about it."
Rodon gives the White Sox another big name to market to its fanbase, not to mention a possible star in a lefty-heavy rotation. Imagine Sale, Rodon,
Jose Quintana
and
John Danks
as your top four? If Rodon is a fast riser next year, you might see it. I can't imagine he pitches too much this year, if at all, before some fall ball.
The Sox have to sign him first, and his agent Scott Boras isn't going to fast track it.
But the Sox have to be thinking of all the possibilities that come with this pick. Their 99-loss aberration was certainly worth the chance to get a pitcher with this much potential.
My idea: Go big.
Because Rodon is one letter from "Godzilla" movie monster Rodan, I'm thinking the White Sox market Rodon, Sale and Abreu as the Monster Trio. Abreu is Godzilla and Sale is Mothra. Get to work on the sketches, Brooks Boyer!
I was hoping for a spirited conversation with Rodon. He's supposedly pretty cocky, and given that he was the top draft prospect coming into the season after a spectacular sophomore season, why shouldn't he be?
This season, Rodon had a 2.01 ERA (22 earned runs in 98 ⅔ innings) with 117 strikeouts over 14 starts. Sounds pretty good to me. Not to him, though. The Wolfpack were bounced in the ACC tournament.
"My performance didn't live up to expectations," he said. "I guess that happens sometimes. Baseball is a tough sport. There's a lot of failure. You fail more than you succeed. That's baseball."
No one cares about his 6-7 record, but a concern is that Rodon threw three complete games and averaged 113 pitches a start. That kind of workload led to speculation he was being overused. Rodon denied it quite forcefully to the local media during the season.
"They don't know the inside of my arm," Rodon said, according to the Raleigh News & Observer. "They don't understand the way I throw. Maybe they do understand the mechanical situation, but they don't understand how my arm works or if I'm feeling tired."
Alas, Rodon didn't bite when I asked about those questions on the call.
But he did say dropping to third in the draft, however slight of a snub, would be motivation to succeed. Getting out of the minors as quickly as possible should be motivation enough.
The Sox don't play too many games with service time, and with a low season-ticket base and an ever-present need to sell tickets, expect Rodon to come up as soon as he's ready. Knowing the White Sox, maybe sooner.
June, 6, 2014
Jun 6
10:12
AM CT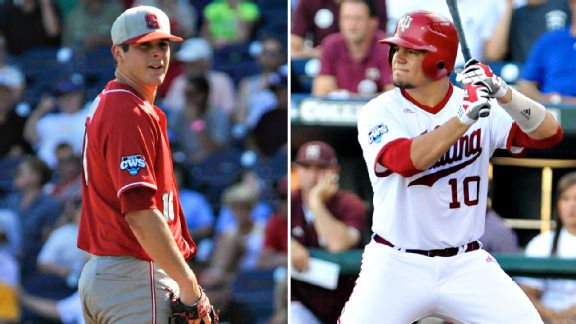 USA TODAY SportsCarlos Rodon was viewed by many as the top pitcher in the draft while the Cubs believe Kyle Schwarber is the best hitter.
As a Cuban-American and a left-handed starter, Carlos Rodon would fit right in on this
White Sox
team.
As a Big Ten student, Kyle Schwarber will fit right in with the Wrigleyville crowd.
The newly drafted first-round picks of the White Sox and
Cubs
, respectively, are perfect fits for their new teams, according to executives responsible for drafting them.
As rewards for miserable 2013 seasons, the White Sox and Cubs got rare back-to-back high draft picks during Thursday's amateur draft.
The Cubs, of course, lost big last year as part of a grand scheme to rebuild the franchise. The Sox lost because they were just bad. There was no plan in place.
With that in mind, it's amusing, to me anyway, that the Sox wound up picking third, one spot ahead of the Cubs, in a first-round highlighted by three top-notch pitchers. Also funny is that the Cubs swept all four games from the Sox last year and finished three games behind them.
For all the talk about the Cubs' rebuilding project, it was the Sox who got a pitcher with star power.
While Sox fans loved the #RoadtoRodon hashtag during last year's 99-loss season, no one started a hashtag #SuckforSchwarber last year during the Cubs' 96-loss campaign. Sights were set on a top prospect, because Cubs fans have nothing else to root for but prospects, but the Cubs played it safe with a signable bat they're touting as the best in the draft.
Going into this season, Rodon, the North Carolina State ace, was the overwhelming favorite to go first this year, though he slipped all the way down two spots. He's a 6-foot-3 lefty with a power slider and a mid-90s fastball. Paired with
Chris Sale
, they could make a devastating 1-2 combination.
Schwarber, a left-handed hitter, wasn't rated the fourth-best pick in the draft by the draftniks, nor the Cubs. While he was predicted to go later by the draft experts, the Cubs, wouldn't you know it, loved him all along.

Cubs director of scouting Jason McLeod told reporters they had Schwarber second on their draft list after high school pitcher Brady Aiken, who went first, because he's "hands down, the best hitter in the draft."
Second! What a stroke of luck to get him. He's also a former middle linebacker, so he'll be a fan favorite in Chicago, if he ever plays here.
Call me a pessimist, but the Cubs' press release on Schwarber, a 6-foot, 240-pound catcher in college who could switch to outfield, came quickly, which along with McLeod's confident assertion they can sign him lickety-split, gives credence to the idea the Cubs drafted him so high to save money for later picks.
Their second-round pick, pitcher Jake Stinnett, a University of Maryland right-handed pitcher, is a senior. With no options, he'll sign cheaper, too. Look for the Cubs to use their additional draft slot money to overpay someone in the third or fourth round Friday.
This could be the kind of deep draft the Cubs need, not only to compete whenever the "business and baseball sides sync up," as owner Tom Ricketts likes to say, but also to trade down the road for veteran players.
While the Cubs add to their resurgent farm system, the Sox will have to pony up some cash for a guy they want in the majors sooner rather than later. There likely won't be any service-time shenanigans with this pick.
Rodon, a junior, is expected to demand top money. His agent is Scott Boras, usually an anathema to the Sox at draft time. But Rodon was too good to pass up for a team that hasn't drafted that high since 1977. Rodon is expected to be a fast riser, though perhaps not quite as quickly as Sale, who acted as a reliever in September of his draft year.
Rodon could be a star for a team that is always fighting for headlines in its own city. If he pitches to his promise, he'll join Sale and
Jose Abreu
as the faces of the franchise.
As for the Cubs, Schwarber is just part of "the plan," a brick in the cobblestoned path of prosperity.
I wish I could tell you how it'll all play out, but I'm a Pirates fan still waiting on
Chad Hermansen
to blossom.
June, 3, 2014
Jun 3
11:37
AM CT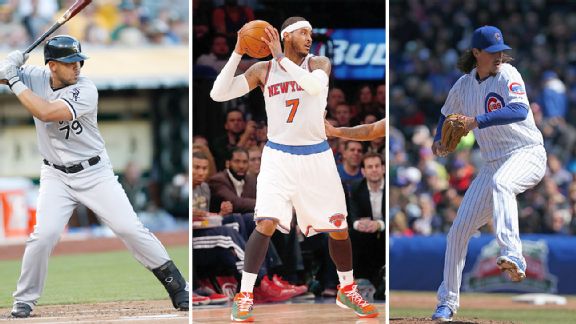 Getty ImagesJose Abreu's rookie power surge, the Bulls' pursuit of Carmelo Anthony and the trade market for Jeff Samardzija will keep Chicago busy until the Bears get back to work.
By now, you've come to terms with the end of the
Chicago Blackhawks
' season, an unceremonious suspension to the budding hockey dynasty.
So what's next for Chicago sports fans? Besides spending time with your friends or family. Unless, of course, they're also sports fans.
Here are some things to look forward to as you fight that aching inside your hockey soul and before you satiate that breach with Bears training camp minutiae.
CUBS
TBD, June, landmark commission meeting:
The city's commission on Chicago landmarks meets Thursday, but the Cubs' additions to the never-ending, never-starting renovation of Wrigley Field won't be on the table. Crain's reporter Danny Ecker wrote that the Cubs are hoping for a special session of Mayor Rahm Emanuel's handpicked board later this month so they can start digging the new home clubhouse sometime in July. Call me when a shovel hits the dirt.
June 5, MLB amateur draft:
This is the Cubs' World Series. They pick fourth. Hilariously enough, the White Sox could ice them out of a top pitching prospect by picking third. The Cubs tried to lose but still can't beat the Sox when it matters most.
From now until July 31, the Jeff Samardzija Trade Watch, presented by Cheap Baseball Team:
Samardzija wants a big free-agent payday, one that will assuredly make him the highest-paid Notre Dame athlete ever. The Cubs have tried to sign him to a club-friendly deal, but Samardzija wants ace money. The Cubs have ace money, but they act like a small-market team circa 2004. It'll be a shame for the team and its fans if Samardzija is dealt, but hopefully for him he heads to a team that cares about winning now.
WHITE SOX

Now until October, the summer of Abreu/Sale:
While Cubs fans count down the days until Javier Baez is called up, the Sox have stars ready now.
Chris Sale
and
Jose Abreu
are not only the best baseball players in town, but each is among the best in baseball. If they were Cubs ... well, that argument is tired. It'll be interesting to see whether the Sox's crowds pick up significantly during the summer, especially if the Sox keep pace in the playoff race. But attendance aside, it'll be a treat to watch Sale every five days and Abreu every game on TV, where the ol' Hawkaroo is certain to pin the future of the human race on this pair.
Now until Aug. 31, South Side Market:
In his days as general manager, Kenny Williams was always good for a win-now trade involving prospects. Now Williams is the executive vice president, and I'm sure he gets itchy around this time of year. Would he influence Rick Hahn to make a move to get a playoff berth?
BEARS
Um, forever and always:
You don't need my help here to find things to obsess about. The Chicago media will give you daily reasons, including a Twitter countdown to training camp, to pay attention to the Bears months before games begin. Organized team activities are covered like the Stanley Cup.
BULLS
June 26, July 1-10, the NBA draft and start of free agency:
One thing the Blackhawks' demise should do is prepare you for the epic disappointment that will be the Bulls' free agent/
Kevin Love
summer.
Carmelo Anthony
coming to play on the cheap? Love getting traded to Chicago? Maybe
Lance Stephenson
bringing his
Dennis Rodman
-esque style to the Bulls?
There's a good chance the draft will be the highlight of the Bulls' summer. But, hey, stranger things have happened. Potential additions aside, it just would be nice to see
Derrick Rose
make Team USA this summer, stay healthy and look game-ready come October.
May, 20, 2014
May 20
10:04
AM CT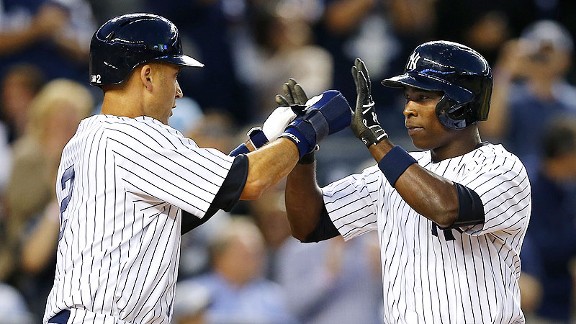 Rich Schultz/Getty ImagesDerek Jeter will get the attention Tuesday at Wrigley, but Alfonso Soriano is deserving of some hoopla as well.
CHICAGO --
Derek Jeter
is making his last-ever working trip to Chicago, a supersized week of games against the
Cubs
and the
White Sox
, starting Tuesday at Wrigley Field.
Jeter is a Yankees legend, a future Hall of Famer and the envy of men everywhere.
But does anyone in Chicago care about a pseudo-farewell tour of a past-his-prime winner? Aside from a bored baseball media, that is.
We've got our own problems here, mostly that no one wants to watch the Cubs and
Jose Abreu
's ankle hurts.
I was amused from afar when the Cubs went to the Bronx earlier this season and Jeter was asked about the Cubs' struggles and their rebuilding plan. As if Jeter has ever had a stray thought about either team. I do assume that Jeter, a single man of means, has enjoyed his annual trips to Chicago over the past two decades. Ask him about our clubs and restaurants, and he'll probably have a conversation for you.
While Jeter gets respect wherever he plays -- unless you're into defensive metrics -- I'd rather see some hoopla for
Alfonso Soriano
's return to Chicago.

All Soriano did was lead the Cubs to back-to-back division titles. That's akin to a World Series dynasty given the lesser standards at Clark and Addison.
But the Cubs will celebrate Jeter, practically a stranger, on Tuesday, not Soriano. Ah well, as Don Draper once said, "That's what the money is for!" The Cubs are still paying the bulk of Soriano's deal this season.
Like most teams, both Chicago clubs jacked up ticket prices for the Yankees series and ticket holders are trying to sell those tickets for inflated prices on the secondary market.
Given the quality of the Cubs and the typical disinterest on the South Side, it's a good time to make some money back for the weary season-ticket holders.
According to SeatGeek, the secondary ticket market website, the average listing price of a resale ticket for one of the four games on the South Side is $71. That's almost triple the team's average ticket price ($26.05), but it's still the cheapest American League option for the Jeter farewell tour so far.
It shouldn't be a surprise that Wrigley Field, home of high prices and low expectations, has the fourth-most expensive series ticket of Jeter's final season at an average of $111. But given the Yankees play only two games at Wrigley, with erstwhile Cubs free-agent target
Masahiro Tanaka
starting Tuesday, I'm guessing Jeter's farewell isn't the only factor. For example: I'm going Tuesday just to see Tanaka.
Thus far, this is the most expensive Cubs series on the secondary market, according to SeatGeek. The Cubs-Sox two-game series average listing price at Wrigley was only $57.
Cheap tickets are still available for all six games. As of Monday night, you could get upper-deck seats as cheap as $26 for Tuesday's game and $15 for Wednesday.
At the Cell, where the Sox have the second-worst attendance in baseball, tickets are as cheap as $7. And if you're not keen on navigating the secondary market, both teams will still be selling tickets at face value.
Welcome to Jeet Week, Chicago. Drink it in.
May, 5, 2014
May 5
12:08
PM CT
Contrary to popular opinion, you don't need good teams to have a memorable Cubs-White Sox series. That's a good thing, considering this is Chicago.
No, all you need are interesting personalities.
[+] Enlarge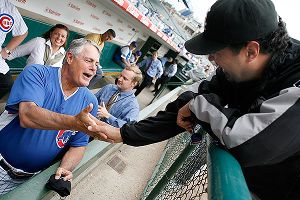 AP Photo/Nam Y. HuhThe current Cubs-White Sox series could use some of the unpredictability from the days of Ozzie Guillen and Lou Piniella.
Ozzie Guillen,
A.J. Pierzynski
,
Carlos Zambrano
,
Michael Barrett
's angry fist, Lou Piniella, the BP Cup.
They're all gone, except the Cup. But it's not the same, either.
Heck, I don't even think there are rats in the Wrigley batting cages anymore.
Where have all our good storylines gone?
With four games this week, two at Wrigley Field starting tonight and two at U.S. Cellular Field on Wednesday and Thursday, baseball is front-page news in Chicago.
I mean, it's not bigger than the Blackhawks or the Bears' draft, but still, somewhere on the front page, folks. Not bad for a sub-.500 team facing a last-place one.
Will we be entertained? That's up for debate. The notion that this series has seen better days isn't up for debate. When you don't even have a sponsor for your intramural championship trophy, the writing is on the wall, man.
Maybe Ozzie can write some jokes for Rick Renteria and Robin Ventura, but their delivery won't have the same panache.
Jose Abreu
might think he's back in Cuba when he sees the visitors clubhouse, but I don't see him complaining. Maybe
Jeff Samardzija
will talk about Hawk Harrelson's broadcast style again.
If a Sox player rips Wrigley Field, we'll have five Cubs executives agreeing with them:
That's why we need minority investors to start the rebuild!
The true purpose of the crosstown series isn't to proclaim the best team in baseball -- the 96-loss Cubs won their first "Cup" last year, beating the 99-loss White Sox. Rather, it's to get all the inmates in the city's baseball asylums in one place for a mass convention.
But of course, we're missing Randle McMurphy.
No, not Pierzynski. While he best represented the rivalry on the field, the Cubs-Sox series, as we knew it, died the day Guillen left town for a big payday in Miami.

It was Guillen who stirred up the city's internecine baseball rivalry during his eight years as White Sox manager. He would joke about the steroid-ingesting rats in the Wrigley batting cages ("I think the rats out there are lifting weights"); the intelligence of White Sox fans over Cubs fans ("Because our fans are not stupid like Cubs fans, they know we're [bleep]"); and Cubs players ("Tell that Triple-A [bleep] to shut the [bleep] up -- tell him to start throwing some strikes or he's going to get Dusty fired").
By the end, even Ozzie was sick of doing his Wrigley shtick, but he always performed.
And of course, we had Lou Piniella. Sweet Lou didn't have any problems, that I can recall, with the South Siders. During this series, he had a beef in his clubhouse and with the media.
Piniella had to kick out players in back-to-back years at the Cell after dugout tirades,
Milton Bradley
in 2009 and Carlos Zambrano in 2010.
"Boy, every time we come here," Piniella said with a chuckle after tossing Zambrano for nearly fighting
Derrek Lee
.
And then there was the time Piniella decided to rant about Sox broadcaster Steve Stone during the Cubs-Sox series. That was at Wrigley. Someone asked about the rookies and Piniella went off.
"And Steve Stone, he's got enough problems doing what he does with the White Sox," Piniella said that day in the home dugout, his voice rising. "What job has he had in baseball besides talking on television or radio? What has he done?"
As rants go, it was highly entertaining and furthered the notion that something always happens during this series.
I'm going to Wrigley on Monday hoping something does.
May, 1, 2014
May 1
12:22
PM CT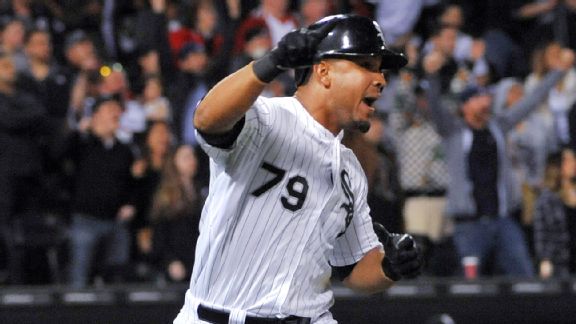 David Banks/Getty ImagesCuban slugger Jose Abreu is already giving White Sox fans cause to celebrate.
If you live in Chicago and are following baseball, even as background noise, you're aware that Cuban slugger
Jose Abreu
is the newest star in Chicago's baseball firmament.
Did you know that we have a firmament in the dim, smoggy world of Chicago baseball? We do, and Abreu is like our Big Dipper.
With 10 home runs and 32 RBIs, the most in baseball going into May 1, Abreu is a one-man show on the South Side. And, um, plenty of tickets are available.
The Sox are averaging 16,874 fans a game, the second worst in baseball, ahead of only Cleveland (13,086). Sure, the weather is terrible, but how are the Sox averaging 3,932 fewer fans per game than this point last season?
Certainly, the timing has been bad for Abreu's star turn. Or perhaps just not ideal.

His start has been overshadowed locally by the Bulls' (RIP) and Blackhawks' playoff runs, not to mention the Cubs' cake getting thrown away and Bears draft speculation.
But if Abreu continues his tear, he could overtake
Jeff Samardzija
trade speculation for the top baseball story in town.
Just kidding, Sox fans. He's already done that, but the Samardzija Watch is just percolating, folks. Wait 'til the Cubs really start losing.
While Abreu's first month has been amazing and is worthy of a longer column, how about the two other Cuban starters on the roster?
I knew they were doing well, but I've been admittedly absent from White Sox mania during their 14-15 start.
I knew
Alexei Ramirez
set a team record with 40 hits in a month. But upon further digging, and by that I mean going online, I found out he's also leading the league in singles and has four home runs (he hit just six last season). His OPS is .910, and he collected 61 total bases in April, while striking out just 11 times in 121 plate appearances.
Dayan Viciedo
is doing even better. While he's only homered once, the Jeep (let's chill on the "Tank" talk) has 11 doubles in 100 plate appearances and has walked 10 times. Last season he had 23 doubles and 24 walks in 473 plate appearances in 2013. He's hitting .348 with a .938 OPS.
This is part of the reason the White Sox are essentially the third-best hitting team in baseball with a team OPS of .764. Last April, they were 28th in OPS at .672 en route to a 99-loss season.
Now, if they could just do something about that pitching staff.
Gordon Beckham
for Samardzija, anyone?
April, 2, 2014
Apr 2
4:43
PM CT
CHICAGO -- Opening Day, or at least the home opener, is Christmas for baseball fans. Game 2 is like the day after Boxing Day.
[+] Enlarge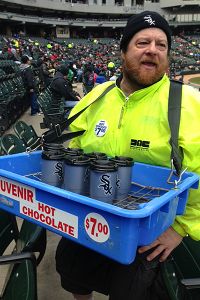 Jon Greenberg/ESPNChicago.comA vendor at U.S. Cellular Field sells hot chocolate on a blustery April 2.
Fans will bundle up and endure bad weather for the first game. But the second game is nothing but another day in Chicago.
I took the train to U.S. Cellular Field for the second game of the White Sox season. It was cold, sporadically sunny and mostly empty. There were few fans on my train and a couple sad scalpers outside the CTA station. One guy offered me "premium cigars."
"You know you want one," he said.
I didn't, but there was plenty of room to light up at the game. Empty crowds are par for the course for Game 2, especially on an April weekday afternoon for a team that doesn't traditionally draw well in midsummer.
Here's the secret about the Cell though: Small crowds make it more enjoyable to catch a game.
The sun warmed up the seats down left field, and lines were sparse. Tickets, I assume, were cheap, given the dynamic pricing model, and no usher hassled me as I moved as close as the second row behind the visitors' dugout. No surly octogenarians like at Wrigley Field.
With few people in the seats, there was more bacon on sticks for the die-hards. Aside from
Jose Abreu
and
Adam Eaton
, the meat and grit of the new White Sox lineup, the most talked-about addition to the White Sox this season is bacon.
No, not Gordon "Bacon" Beckham, but rather two strips of thick-cut bacon on a pointy stick for $5.
I'm pleased to announce that ballpark bacon is as good as outside-the-park bacon. The good news is the Sox fry it up fresh, sizzling before your eyes. The bad news is it comes with a pointy wooden stick.

Here's another shocker: Bacon goes well with beer.
Yes, in the interest of participatory journalism, I had a beer at the ballgame.
The Sox added cans of Revolution Brewing Anti-Hero IPA this season, though it's poured into a plastic cup. Revolution is a popular local brewery, and it makes some of my favorite beers. It's one of several craft beer additions to the Sox's Midwest Brews stands around the park.
For $7.25, you get a 12-ounce beer, the same price, crazy as it sounds, as a Big Hurt Beer. I know
Frank Thomas
is going into the Hall of Fame this season, but ...
On the outside, Anti-Hero is usually $10 for a six-pack, while Big Hurt is $8 for a 12-pack. So you're getting a deal with Revolution, relatively. For comparison's sake, a 16-ounce aluminum bottle of Miller Lite goes for $8 from the vendors.
I wasn't up for other new options like the bacon mac and cheeseburger, chicken waffle sandwich and adobe mango chicken sausage. I couldn't afford the $17 banana split sundae. But they seem like good options for gluttony.
[+] Enlarge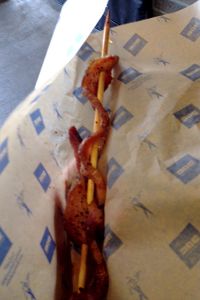 Jon Greenberg/ESPNChicago.comBacon on a stick at the Cell is as tasty as it sounds.
The Sox are also selling $12 carved turkey and corned beef sandwiches in the next Xfinity Zone bar area down the right-field line. That new dining/drinking option has a modern design and a good setup to watch a different game on TV. Check it out during hockey/basketball playoff time.
After my bacon experience, I wanted to try the new pizza at the Cell. Beggars Pizza, a South Side staple, has replaced DiGiorno's, and its DORP (Deliciousness Over Replacement Pizza) is high to very high. I had never tried Beggars before, and I was pleased with my $5.50 purchase. It wasn't quite as good as D'Agostino's at Wrigley Field (Giordano's has replaced them for this season), but it gets my recommendation.
While you should be used to high prices at a baseball game, I'm not sure I've ever seen a $7 hot chocolate, though it came in a Sox mug. Seems like dynamic pricing at its worst.
But even on a 100-degree day, I'm sure a $7 hot chocolate sold better than the $24.99 "100 Years of Wrigley Field" hat I saw in the New Era store.
Some things you have to see to believe.
April, 1, 2014
Apr 1
3:25
PM CT
I spent Opening Day at Halas Hall, where the team's PR staff was kind enough to turn on the Pirates game, I mean Cubs game, for me before the Jared Allen press conference.

The night before I was tweeting out the names of some mixed drinks available at Wrigley Field this season for the park's 100th anniversary celebration. "Were those real drinks or were you making them up?" a Bears PR staffer asked.

As if I could come up with something as hilarious as, "1980's Electric Ryno Margarita: a blue margarita ... served with a light-up straw" or "2000's Playoff Punch: A Cosmopolitan-inspired punch."

Hold the playoff punch this year. The Cubs opened up the season with a thrilling 1-0 loss to the Pirates which saw them strike out 11 times and go 0-for-11 with runners in scoring position.

As for the White Sox, I was told there were long security lines to get into the Cell during their win over the Twins. If marketing kingpin Brooks Boyer was worth his reputation, he would've had his minions selling that new bacon-on-a-stick on the outside and new beer option Revolution Anti-Hero once the fans entered the park.

Do I have to do everyone's job for them?

Here are my predictions for the season: White Sox 78 wins, Cubs 70. Anyone want to take the O/U 148 wins?