Jon Greenberg Blog:

Wrigley Field
May, 20, 2014
5/20/14
10:04
AM CT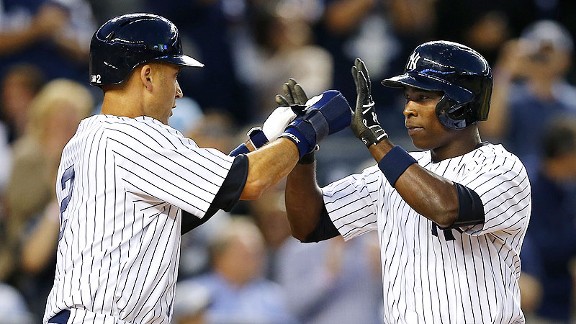 Rich Schultz/Getty ImagesDerek Jeter will get the attention Tuesday at Wrigley, but Alfonso Soriano is deserving of some hoopla as well.
CHICAGO --
Derek Jeter
is making his last-ever working trip to Chicago, a supersized week of games against the
Cubs
and the
White Sox
, starting Tuesday at Wrigley Field.
Jeter is a Yankees legend, a future Hall of Famer and the envy of men everywhere.
But does anyone in Chicago care about a pseudo-farewell tour of a past-his-prime winner? Aside from a bored baseball media, that is.
We've got our own problems here, mostly that no one wants to watch the Cubs and
Jose Abreu
's ankle hurts.
I was amused from afar when the Cubs went to the Bronx earlier this season and Jeter was asked about the Cubs' struggles and their rebuilding plan. As if Jeter has ever had a stray thought about either team. I do assume that Jeter, a single man of means, has enjoyed his annual trips to Chicago over the past two decades. Ask him about our clubs and restaurants, and he'll probably have a conversation for you.
While Jeter gets respect wherever he plays -- unless you're into defensive metrics -- I'd rather see some hoopla for
Alfonso Soriano
's return to Chicago.

All Soriano did was lead the Cubs to back-to-back division titles. That's akin to a World Series dynasty given the lesser standards at Clark and Addison.
But the Cubs will celebrate Jeter, practically a stranger, on Tuesday, not Soriano. Ah well, as Don Draper once said, "That's what the money is for!" The Cubs are still paying the bulk of Soriano's deal this season.
Like most teams, both Chicago clubs jacked up ticket prices for the Yankees series and ticket holders are trying to sell those tickets for inflated prices on the secondary market.
Given the quality of the Cubs and the typical disinterest on the South Side, it's a good time to make some money back for the weary season-ticket holders.
According to SeatGeek, the secondary ticket market website, the average listing price of a resale ticket for one of the four games on the South Side is $71. That's almost triple the team's average ticket price ($26.05), but it's still the cheapest American League option for the Jeter farewell tour so far.
It shouldn't be a surprise that Wrigley Field, home of high prices and low expectations, has the fourth-most expensive series ticket of Jeter's final season at an average of $111. But given the Yankees play only two games at Wrigley, with erstwhile Cubs free-agent target
Masahiro Tanaka
starting Tuesday, I'm guessing Jeter's farewell isn't the only factor. For example: I'm going Tuesday just to see Tanaka.
Thus far, this is the most expensive Cubs series on the secondary market, according to SeatGeek. The Cubs-Sox two-game series average listing price at Wrigley was only $57.
Cheap tickets are still available for all six games. As of Monday night, you could get upper-deck seats as cheap as $26 for Tuesday's game and $15 for Wednesday.
At the Cell, where the Sox have the second-worst attendance in baseball, tickets are as cheap as $7. And if you're not keen on navigating the secondary market, both teams will still be selling tickets at face value.
Welcome to Jeet Week, Chicago. Drink it in.
April, 8, 2014
4/08/14
11:11
AM CT
Welcome to the first edition of "Gettin' In," a regularly sporadic guide to getting into our city's baseball stadiums at a dirt cheap price.
Of course, the cheapest way to see a Cubs or White Sox game is to go for free. Make friends with season-ticket holders. Call that uncle from the CBOE.

If you don't know a season-ticket holder, look for Cubs fans with haunted eyes and muttering lips as they mentally calculate how much money they're wasting to feed Tom Ricketts' ego trip, I mean careful stewardship of a historic franchise.
Season-ticket holders still make money back on their investment by selling weekend games to rubes, but early season weekday series against the defending wild card champion
Pittsburgh Pirates
are a tougher sell.
I checked out SeatGeek.com, a secondary ticket aggregator/middleman, and I found a bounty of deals. For instance, as of Tuesday morning, there were 32 tickets for the series opener under $6. As dedicated StubHub users know, the Cubs implemented a $6 scalping floor last year to avoid those embarrassing "Cubs tickets are $1" stories. Optics and such. They also started a rule that you have to sell your tickets six hours before the game. It used to be three. Hey, the Cubs have tickets to sell, too.
But other scalpers don't have to follow those rules and they have plenty of inventory, along with StubHub.
For Tuesday, the sub-$6 tickets are in terrace reserved and the upper deck. But you could probably sneak down low by distracting one of the surly ushers. Have a friend hum a Glenn Miller tune and when they start to snap those bony fingers, make a break for the empty seats down close.
Or, spend a few more bucks, you cheapskate. You gotta know where to look, and SeatGeek is very helpful with a map of sellers marked by "deal scores."
The wealthy seat-owners of Section 19 seems to have some eager sellers. That's right behind home plate toward the Cubs dugout. On Tuesday, as the six-hour window was ready to close, there were two seats in row 9 going for $28. On Wednesday, you can sit in row 6 of section 19, that's right behind the plate, for $33. Those are $120 seats, folks.
Thursday, a day game, offers a slew of $20-something field box seats among other deals.
Prices will spike as the weather gets warmer, but this should be a banner buyers' seasons. Get ready for deals of the century for this party of the century.
April, 4, 2014
4/04/14
8:40
AM CT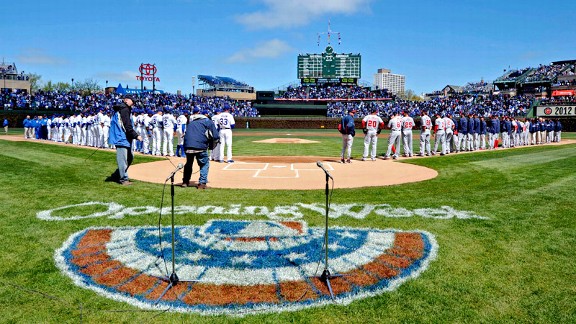 Rob Grabowski/USA TODAY SportsWrigley Field could look and feel a lot different by Opening Day 2015.
Cherish this moment, Cubs fans.
Yes, your team stinks. No, it's not going to win more than 70-something games this year. Yes, tickets are overpriced.
If you're a die-hard, you'll be glued to Twitter feeds and MILB.com and any morsel of news you can get out of Iowa, Tennessee, Daytona or Kane County.

Younger players are coming. Modernity at the ballpark is coming. A video board as big as
Antonio Alfonseca
's "deadly belly" is coming, likely in 2015.
More private clubs. More premium.
Outside of Wrigley, there will be a boutique hotel. A boutique hotel! Tens of thousands of square feet of advertising. Clutter. Money.
More of everything is coming. And that's not a bad thing. The world moves on. Wrigley needs the renovation. It needed it years ago. Decades ago, even.
But this is the calm before the storm. It's the time to enjoy Wrigley Field before the changes really begin.
The Ricketts family can market your nostalgia, sell it piece by piece. But it's still the people's ballpark.
Right now, it's still relatively -- almost foolishly -- unscathed. It's still charmingly authentic, a good crummy. Chicago crummy.
Walk around a little. Get there early. Put your phone away.
Listen. Watch. Drink. Tip your vendor. Repeat.
The upside about the team's lousiness? There will be plenty of seats available. Plenty of room to kick back and enjoy the only park not dominated by commercials, replays and noise, for another year, at least.
Yes, even during the 100th anniversary celebration, goofily marketed as "The Party of the Century." Even with the arrival of Clark the Cub, the so-called ambassador of the youth.
Clark is a fine mascot, I'm sure, but the whole notion that he'll attract young fans is nonsense. Chicagoans know how you make a Cubs fan. You bring kids to the park. You buy them giant pretzels and hats and point out players. Walking them up to the park, the grandness of a stadium in a city block, is enough.
And the most real way you make young fans is to put a winner on the field. I got my son interested in my hometown team, the
Pittsburgh Pirates
, last season. As they won, for the first time since I was in middle school, we enjoyed the Pirates together. In September, he walked around the Strip District in Pittsburgh, telling vendors to "raise the Jolly Roger."
My wife, like tens of thousands of her peers, became a Cubs fan because of the 1984 team. Jody Davis is still her favorite player.
The Cubs could use some new young fans. Some old ones, too.
[+] Enlarge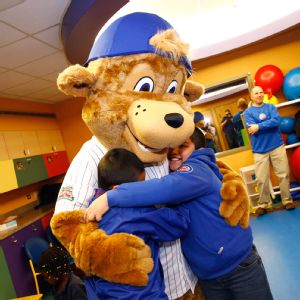 AP Photo/Courtesy of the Chicago Cubs, Steve GreenThere's at least one change at Wrigley that you can see right away -- new mascot Clark the Cub.
They lost 240,000 fans in paid attendance from a 101-loss season in 2012 to a 96-loss season in 2013. Empty seats are the norm for much of the season.
The addition of
Mike Olt
, exciting as it might be, won't bring them back. Javier Baez, if he comes up as expected this summer, will cause a minor stir. And then one by one, two by two, the Cubs will see talent trickle in and fans will rededicate themselves to the major league team.
But until then, Wrigley remains the draw.
I laughed at the rumors of the Cubs moving to the suburbs. So did executives at other teams. Every team that builds a new stadium tries to re-create Wrigleyville. (See Ballpark Village, St. Louis.) But it can't be done. Given the quality of some of the new bars around Wrigley, perhaps it shouldn't be.
But enough of the old school remains. And when the Cubs are good, the vitality of the neighborhood could light the park.
If you're in from out of town, thanks for your amusement tax dollars.
If you're from Chicago, treat yourself to a few games, especially if you can get tickets for free from sad-sack season-ticket holders.
And make sure you look around once in a while. Because, as a famous fictional Cubs fan once said, "If you don't stop and look around once in a while, you could miss it."
April, 1, 2014
4/01/14
4:33
PM CT
CHICAGO -- When the
Chicago Cubs
kick off the 100th anniversary of Wrigley Field celebration Friday, they'll do so without a giant Budweiser sign in the outfield.
The much-debated Bud sign won't be up for Opening Day, the Cubs confirmed to ESPN Chicago. The sign, and the planned videoboard in left field, have been at the forefront of the year-plus squabbling with the rooftop owners, who have a contract to protect their views. The Cubs had intimated the Budweiser sign, part of a new 10-year, $140 million exclusive marketing deal, will be up this season.
Instead, the Cubs will debut a much smaller outfield wall sign.
The Cubs inked a new multiyear partnership with Weber and the Chicago-based grill manufacturer is getting ad placement on a small outfield door. Joining Target and Under Armour, there will be a white silhouette of Weber's signature round grill mixed in the iconic ivy-covered wall.
"We think it's a company that's synonymous with baseball, the summer, drinking beer, and it's a local Chicago-based company," Cubs vice president of sales and partnerships Colin Faulkner said.