Jon Greenberg Blog:

Anthony Rizzo
August, 6, 2014
8/06/14
1:25
PM CT

By Jon Greenberg
ESPNChicago.com
Archive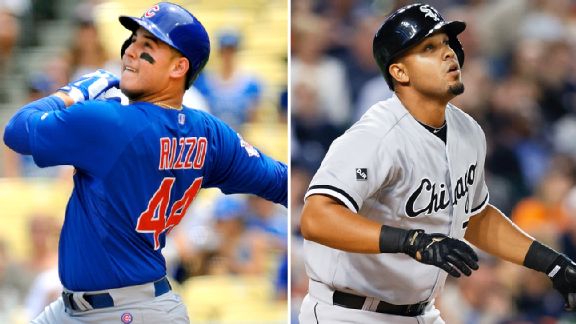 USA TODAY SportsAnthony Rizzo and Jose Abreu have helped bring some fun back to Chicago baseball this summer.
CHICAGO --
Anthony Rizzo
is having himself a season.
He's no
Jose Abreu
, but it's close.
If that gets Cubs fans' dander up, then I'm doing my job. Abreu versus Rizzo is my favorite debate on Twitter, where I like to waste away my mid-30s instigating arguments with Chicago sports fans.
And man, do Cubs fans, who outnumber Sox fans, get defensive about their guy. They talk about his age, his contract, his fielding prowess. It's not what he's doing now, they tell me, but what he'll do in the future as a young hitter.
[+] Enlarge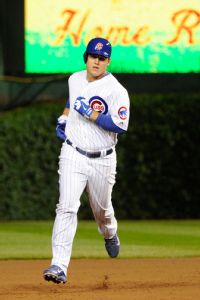 David Banks/Getty ImagesAnthony Rizzo is an All-Star in his second full major league season.
Cubs fans love to talk about the future. They're futurists, really. And we love them for that optimism, which given the state of the team's ballyhooed farm system, isn't that cockeyed these days. In two years, we'll still be having this argument, though Kris Bryant might replace Rizzo as the Cub.
But "who's better" is the classic fun sports argument to have. Remember fun, Chicago baseball fans? Ah, 2008 was so long, long ago.
On one team, you've got Abreu, the mysterious Cuban right-handed rookie slugger who speaks softly and hits everything.
On the other, you've got Rizzo, the clean-cut, Theo Epstein-approved blended left-handed hitter who is second in the National League in home runs, sixth in on-base percentage and first in Cubs fans' hearts. Well, until
Javier Baez
showed up this week. But he's still top two until
Jorge Soler
, Bryant ... you get the picture.
While Abreu got picked for the All-Star Game as a reserve, Rizzo made his first All-Star team thanks to an unyielding, hashtag blitzkrieg social media barrage. The next five times he'll make it will be on his own merits, or by the fan vote once Cubs fans wake up from their Ricketts-induced comas.
Abreu and Rizzo might not sell tickets -- the Sox couldn't even give away 20,000 free shirts for Jose Abreu T-shirt night! -- or drive ratings -- Baez's debut drew a whopping 2.0 rating on CSN Chicago's "plus" channel -- but if their teams can be built around them, they'll be in good shape.
As for now, they've got two months to pad their stats.
Maybe Baez and his Gary Sheffield swing puts on a show the last two months, but Abreu at-bats have already been must-watch performances all season.
I guess you could say he's tied with
Chris Sale
, the undisputed best pitcher, as the best baseball player in Chicago.
Fresh off becoming the first player to win AL player of the month and rookie of the month for the second time this season, Abreu, who missed two weeks with an ankle injury, leads baseball in home runs (31), RBIs (86), OPS (.986), slugging percentage (.624) and isolated power (.317), which measures "a hitter's raw power," according to FanGraphs.
He's third in weighted on-base average, or wOBA (.415), and fifth in weighted runs created plus, or wRC+ (164, or 64 percent better than the league average), also according to FanGraphs and seventh in WAR among AL position players at 4.
Lest you think he's just a slugger, Abreu is seventh in the AL in batting average (.307) and 17th in on-base percentage (.362). His recent surge has helped him gain about 30 points in batting average and OBP. He's gone hitless only twice since July 6 (Aug. 2-3), a stretch which includes a 21-game hit streak and 11 multihit games.
His six-year, $68 million contract looks like a bargain, as is Rizzo's arbitration-eating, seven-year, $41 million deal.
After Tuesday night's game, Rizzo's 25 homers were second to
Giancarlo Stanton
's 26 in the National League. His OBP (.387) was sixth and his batting average (.283) was 22nd. While his 60 RBIs were 14th, his 75 runs scored were fourth, a good measure of how being on base creates offense. His 3.5 WAR was 14th in the NL, while his wOBA (.391) was sixth and his wRC+ (149) was seventh.
While Rizzo, who turns 25 on Aug. 8, is still developing in his second full season in the majors, what's Abreu's ceiling as a 27-year-old rookie?
"I think you can get better," White Sox manager Robin Ventura said before Monday's game. "I don't think he's ever going to get to the point where he hits .500. His numbers are pretty damn good right now."
Even defensively, where the big man is a little better than you might think with a 2.2 UZR/150 (Ultimate Zone Rating).
Rizzo, who is considered a plus defender at first base, has a 0.7 UZR/150, though it's tough really to trust defensive metrics, which are constantly being refined.
Both players are starting to catch on, marketing-wise. Rizzo had the 15th best-selling jersey in baseball, as of early July. Abreu is the best-selling White Sox player. A local memorabilia dealer told me Abreu autographs were flying off the shelf this summer, while Rizzo's are picking up.
[+] Enlarge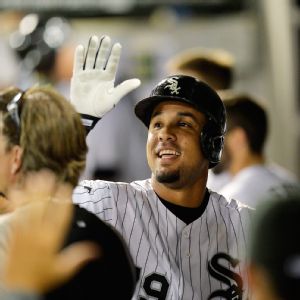 Brian Kersey/Getty ImagesJose Abreu is on pace to become the first rookie to hit 40 home runs and 40 doubles.
I hate to trot out the tired "Imagine if Abreu was a Cub!" line, but it's worth considering, if only for bar arguments' sake. The rooftops might have to put up windscreens of their own to protect their customers.
"You've seen it, when he comes to bat, everything stops," White Sox senior vice president for sales and marketing Brooks Boyer told me Monday night. "I was just out there, 'Well, I'm not leaving my spot until Abreu bats.' We haven't had that since Frank Thomas. The vendors stop. It's like time stops when he gets in the box."
On his aforementioned T-shirt night Monday, Abreu showed why he's more than a power hitter. In his first at-bat, he sliced a single to right field and in his second, he shot a bases-loaded single up the middle to score two runs.
Alas, only 17,040 showed up for the game, which includes around 1,500 tickets sold the day before, and that means the White Sox had nearly 3,000 extra shirts to give away.
How do you market a player who speaks English through a translator, mostly sticking to humble messaging, to a sluggish fan base? The Sox will have to find ways.
"You start instead of him being the pitchman that's out there in front, you don't need him to talk to show his skill," Boyer said. "That sells itself. That's something you want to come to see. When that guy gets in the box anything can happen."
Regardless of where you stand, one thing Chicago baseball fans can agree on is that this argument should be a fun one for the next five years. Wait until Bryant gets here to make it multiple choice.
May, 1, 2014
5/01/14
1:13
PM CT

By Jon Greenberg
ESPNChicago.com
Archive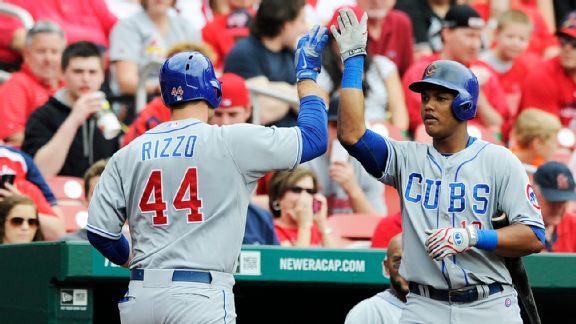 AP Photo/Bill BoyceAnthony Rizzo and Starlin Castro are well on their way to rebounding from disappointing 2013 seasons.
Carlos Zambrano
was certainly prescient with his famous "We stinks" line.
Three years later, the Cubs still "stinks." Worse than ever, in fact.
But, guess who hasn't stunk so far?
Starlin Castro
and
Anthony Rizzo
. So, they've got that going for them.
Unlike cake at the Field Museum, no one wants to toss his April stats in the dumpster.
Last season, both players struggled, to varying degrees, during the Cubs' woeful 96-loss season. Castro was one of the worst regulars in baseball, while Rizzo's hitting results were much too inconsistent.
I went through March/April stats for both players over the past two seasons to check out the differences. Both are doing much better this season, to no surprise.
Through 26 games this season, Rizzo's slash line (batting average/on-base percentage/slugging percentage) is .283/.407/.457. He has 26 hits (four homers, two doubles and one triple) with 18 walks and 18 strikeouts.

Through 26 games last season, Rizzo hit .224/.315/.531. He had 22 hits (eight homers, six doubles) with 11 walks and 27 strikeouts.
What to make of this comparison? Perhaps he's not trying to hit everything out of the park. Rizzo's power stats were decent for a guy in his first full season in the majors, but inconsistent. I mean, 35 percent of his homers came in the first month of the season, where he was truly boom or bust.
Last season, his BABIP (batting average, balls in play) was a meager .258. Some would say he was unlucky, but as former manager Dale Sveum told me last summer, that number was low because Rizzo wasn't squaring up enough, and he wasn't taking advantage of hittable pitches. In the end, he was one of the worst fastball hitters in the majors. Sveum had a more colorful term for the pitches Rizzo wasn't striking, but this is a family blog.
Rizzo's BABIP through one month is .310, and he has 11 more singles than he did at this point in 2013.
Now, how about Castro, who is trusting himself at the plate after organizational malfeasance and his own murky judgment sabotaged a season.
Through 26 games this season, Castro's slash line is .308/.339/.471. He has 32 hits (four homers and five doubles) with five walks and 13 strikeouts.
He wasn't awful last spring. In his first 26 games, he hit .277/.296/.420. Castro had 31 hits (five doubles, three homers) with three walks and 19 strikeouts. His season bottomed out later, but Castro looks more confident and comfortable all around. I think he's back to All-Star form, but it's early.
The good news for the Cubs is that both players' approaches are sound. That's a good foundation to begin another lost season for the club.
One worry the team had last season was that too much pressure was on both players, given the limitations of the lineup. The limitations haven't improved that much, but the Cubs have to hope these starts augur for better seasons.
The Cubs won't win much this season, as "The Plan" for another top draft pick continues unabated, but this bodes well for that future we keep hearing about.