Jon Greenberg Blog:

Javier Baez
August, 8, 2014
Aug 8
8:39
PM CT

By Jon Greenberg
ESPNChicago.com
Archive
CHICAGO -- It was Baez Day at the ol' ballyard, and even with a
Chicago Bears
preseason game to cover Friday night, how could I miss it?
Sources told me happy days are here at Wrigley Field again, so I had to see this for myself.
Javier Baez
is the first of the
Chicago Cubs
' so-called Core to make the majors, the last first-round draft pick of the pre-Theo Epstein regime. And after three home runs in his first three games -- the only other time that's happened was in 1954 -- Baez's Chicago arrival was met with the proper anticipation.
The Cubs don't want unreal expectations on Baez -- though his start made that fairly impossible -- but they do want fans to enjoy this moment.
[+] Enlarge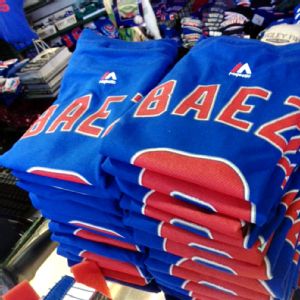 Jon Greenberg/ESPNJavier Baez T-shirts were on prominent display around Wrigley Field on Friday.
"It's great for the fans," Cubs president Epstein said before Friday's 4-3, 10-inning loss to the
Tampa Bay Rays
. "Our fans have been awful patient with us and with the entire organization. It's a nice day for them to get to see a player in person they've read a lot about. It's great for our players, too. The clubhouse has had a little bit of a buzz the last three games.
"Our fans deserve to get excited. I'm just happy for them that there are things for them to get excited about."
Baez singled off former Cubs prospect
Chris Archer
in the first. He moved to third on a towering double off the wall by
Anthony Rizzo
, who watched it soar like
Alfonso Soriano
, and scored on
Starlin Castro
's single.
Just like you draw it up, right?
Baez struck out four times after I left. Sorry, Cubs fans, but I had to go.
Baez -- and, next month, outfielder
Jorge Soler
-- should bring some extra eyeballs to a team that has seen serious attrition in attendance and ratings.
However, through one game, there was not much of a Baez Bump at the gate.
While there was a lot of movement on the secondary market, with season-ticket holders trying to get top dollar in another down season of trading, only 34,937 paid for this game (which was priced in the second-highest tier).
That's down from 41,534 in the Cubs' previous Friday home game, July 25 against the
St. Louis Cardinals
. It was only the sixth-best crowd out of 10 Friday home games, even with the team giving away a very cool "first night game" bobblehead of Rick Sutcliffe, complete with working lights.
One of the fans in the house was the general manager who signed Baez, Jim Hendry. I ran into him on my way out of the park to walk around and soak up the atmosphere.
The crowd outside was busy, with plenty of Rays fans milling about. I saw one dad and son in Rays gear ask rogue mascot Billy Cub for a picture. Not sure if they tipped him, though.
Baez jersey shirts were stacked neatly at the concession stand outside the home clubhouse Friday morning, on sale for $28.
While Baez shirts weren't available yet ("By the end of the homestand," a stand worker told me) at the independent stands outside the park, they were selling OK at Sports World Chicago on the corner of Clark and Addison.
"People are coming in and asking about them," a Sports World employee said.
Baez's authentic jersey was front and center when you walked into the Cubs' team store across the street.
For the next month, the Cubs will be trying to walk the fine line of promoting an exciting player but not overselling him.
It's a nice problem to have. The Cubs again have something to sell besides Wrigley Field.
August, 4, 2014
Aug 4
2:39
PM CT

By Jon Greenberg
ESPNChicago.com
Archive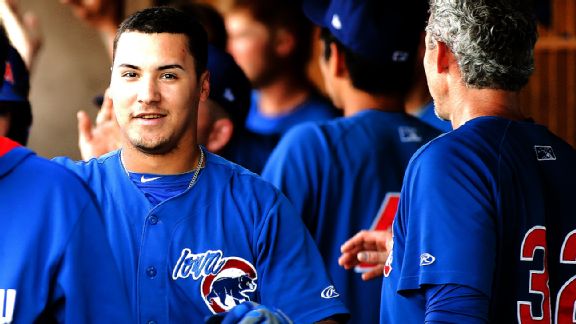 Cal Sport Media/AP ImagesIn the 20 games following the Triple-A All-Star break, Javier Baez hit .342 with nine homers and a 1.159 OPS.
When
Chicago Cubs
general manager Jed Hoyer met the media after trading infielder
Emilio Bonifacio
at the deadline last week, the giant middle infielder in the room was Javier Baez.
In the Wrigley Field lunchroom, reporters asked Hoyer if this move would presage the promotion of Baez, who has been tearing up Triple-A pitching after a slow start. It makes sense, right?
Hoyer first demurred at the question and talked about "whiteboarding" the organizational structure as if he was talking to the Harvard Business Review.
Then, realizing he was talking to sports writers, he reiterated the front office's most common talking point when it comes to prospects: You can't rush the maturing process due to outside events.
[+] Enlarge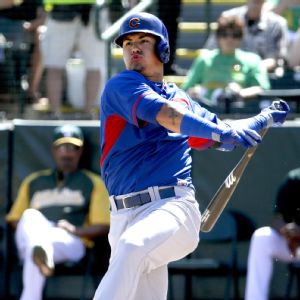 AP Photo/Chris CarlsonJavier Baez has 76 home runs in 319 minor league games.
"We're not going to change our timetable on any of our prospects based on a moves we made at the big league level," Hoyer said. "When we feel like those guys are ready to contribute, we'll do that."
Call me crazy, but the 21-year-old Baez was ready to contribute on July 31, just as he'll be ready when he joins the Cubs on Aug. 5 in Denver. Once he began playing second base on July 17, his prospect clock was ticking.
While we knew Baez, barring injury, would be up this month, the news was met with great excitement when it was leaked Monday afternoon.
When is the last time Cubs fans had something to be excited about on the major league level?
This move, and the added meaning it represents, certainly qualifies as welcoming news for a fan base that has had to focus more on minor league updates than the daily drudgery of the major league team since president Theo Epstein started his teardown rebuilding project in 2012.
It's apropos that Baez, considered one of the top power-hitting prospects in the minors, hit two homers in his last game for Iowa.
Baez proved he wasn't ready for the majors when he struggled to start the Triple-A season. But he showed the kind of step-by-step adjustment the organization expects out of prospects when he hit .300 in July with 10 homers and a .345 on-base percentage. Nineteen of his 33 hits last month were for extra bases, giving him a .655 slugging percentage.
In the 20 games following the Triple-A All-Star break, he hit .342 with nine homers and a 1.159 OPS. Baez finished his four-year minor league career hitting .260 with 24 doubles, 23 homers and 80 RBIs for the Iowa Cubs.
In summation, he was ready.
The Cubs knew this but there was no rush, considering the only race they are in is for a top-five draft pick in 2015.
The Cubs obviously wanted to play Bonifacio, one of their few certain trade chips, before the deadline. Once he was dealt, I figured the Cubs would wait a few days, maybe a week or two, to bring up Baez.
Less than a week and here we go. After a three-game series in Denver, the Cubs return home for a weekend series against Tampa Bay starting Friday. Good seats still available.
The Cubs had already priced that series at the two highest levels, with Friday and Sunday at "marquee" pricing and Saturday one of eight scheduled "platinum" games. The cheapest tickets were going for about $35 on the secondary market when the news was announced, or $41.66 with tax on the Cubs' website.

One thing is for sure, the Cubs will be watchable again, especially if Baez keeps hitting. The team is struggling to draw viewers, at least
according to Nielsen ratings
. I'm guessing Tuesday's game will set a season record on Comcast SportsNet.
While Epstein and his front office are getting their rightful due for the relatively quick transformation of the farm system, it's helpful to remember Baez is the last of the Jim Hendry draft picks, even though Hendry will take no credit for Baez.
Even if he were still the general manager, he'd credit the scouts and scouting director Tim Wilken. In this case, he already knew he was fired after a sitdown with Tom Ricketts and agreed to stay on through the draft before the firing was official.
In my column the day Hendry was canned, I quoted a source who was in the room when Baez was drafted ninth overall in 2011. He said Hendry "acted like this guy would be playing third base for him for the next 10 years."
Ironically, Baez's first home game will be against
Chris Archer
, whom Hendry traded in the
Matt Garza
deal, his unsuccessful last-ditch effort to save his job.
Now it's time for Cubs fans to celebrate, or at least it's time to enjoy watching games again, because the new era of Cubs baseball is really beginning.
Baez is up to bat, outfielder
Jorge Soler
is on deck (expect him up in September) and in the dugout, Kris Bryant is taking Wonder Boy out of its case.
The big league Cubs are almost ready to matter again. It should feel good.