Jon Greenberg Blog:

Nikola Mirotic
July, 12, 2014
Jul 12
5:53
PM CT

By Jon Greenberg
ESPNChicago.com
Archive
CHICAGO -- The best-laid schemes of Bulls and men often go astray, especially when it comes to the Kobes, LeBrons and Carmelos of the world.
A day after
LeBron James
surprised many by returning to Cleveland,
Carmelo Anthony
shocked exactly no one by spurning Chicago and negotiating to stay in New York.
If I had a dollar for every time the Bulls came up second in a chance to land a great NBA player, I'd have enough to self-publish my book, "The 50 Greatest Deals the Bulls Almost Made."
[+] Enlarge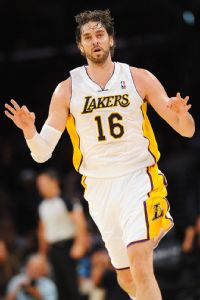 Noah Graham/NBAE/Getty ImagesThe Bulls won't be getting Carmelo Anthony, but Pau Gasol isn't a bad consolation prize.
I'm guessing that John Paxson, Gar Forman and the gang won't read that in hardcover, paperback or Kindle. They lived it.
Here's what the Bulls get for finishing second for Anthony:
Pau Gasol
, who
tweeted that he was joining the Bulls
on Saturday afternoon, likely Nikola Mirotic, probably
Kirk Hinrich
, again, and a swingman to be named sooner rather than later.
Good thing the Bulls saved all that cash on the
Luol Deng
exile last year. They can use it to pay
Carlos Boozer
's salary after he's amnestied. No sign and trade for you, Mr. Reinsdorf!
Expectations for the Bulls? Well, it's been title or bust since the 2010-11 Bulls won the No. 1 seed.
Four years after the Bulls went from 8-seed to championship contender behind Tom Thibodeau and the remaining core of
Derrick Rose
,
Joakim Noah
and
Taj Gibson
, the Bulls find themselves still contending, but with no clear prediction on how they match up with other contenders, let alone the Western Conference.
Anthony would have provided some clarity. His addition would have made the Bulls clear favorites in the East, as James tries to meld with his new young team and the
Washington Wizards
try to build off last season. (I'm not high on Indiana or Miami.)
With James' move home, the East is wide open. The Bulls join Cleveland, Washington, Indiana and sure, the Knicks, as the frontrunners to get mopped up by a Western Conference team.
I like the Bulls' chances, provided, of course, Rose stays healthy. Anthony would've been the perfect addition for an offensively challenged team, but Rose with a team full of "floor spacers" isn't bad. Now they just need one other guy who can create his own shot late in games.
Rose is due for some good fortune, right? Ever since he's got his money, Rose has dealt with bad knees and worse press, but I have a sneaking suspicion his return will be almost as electrifying as James' in Ohio.
Gasol isn't a bad consolation prize, given the Bulls are looking for an immediate title shot, and he's not getting Carlos Boozer money.
July, 11, 2014
Jul 11
3:01
PM CT

By Jon Greenberg
ESPNChicago.com
Archive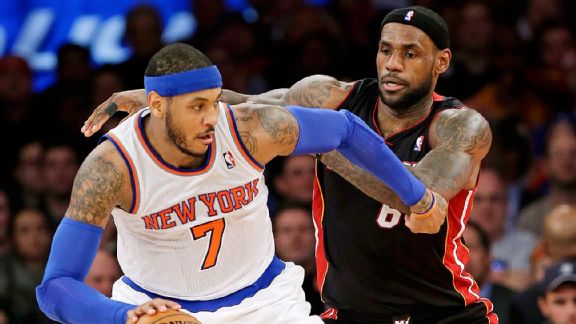 AP Photo/Frank Franklin IIWill LeBron James' decision to return to the Cavs make it easier for Carmelo Anthony to return to the Knicks?
Tom Thibodeau rarely cops to focusing on one player or one game.
All wins are equal, he says.
So he probably won't admit that the
Chicago Bulls
have to build their team in reaction to
LeBron James
' league-shaking announcement that he's returning to Cleveland.
With James going back to the Central Division, the Bulls have to combat James' presence only four times a year. But those four games will be epic and could very well decide important playoff seeding.

Joakim Noah
is getting excited for those playoff trips to Cleveland already.
Maybe I'm getting ahead of myself. The Cavs are a much younger, unproven team than the past four Heat teams, but with a few veteran additions (
Mike Miller
, maybe
Ray Allen
), they should be the favorites in the East. David Blatt is a strong coach and
Kyrie Irving
should be an All-Star second banana. If the Cavs get, say,
Kevin Love
, as the rumor du jour hints, well, the Bulls are in serious trouble.
So how do the Bulls combat this new threat?
Well, first they're waiting on
Carmelo Anthony
. By the time you read this, we might know his choice, which is reportedly
down to New York and Chicago
, a factoid we knew all along.
I know the popular response to James' decision is to say Anthony should sign with the Bulls, because his arrival would leapfrog Miami in the all-important preseason buzz race.
But I'm thinking this decision spurs Anthony to make the decision he's been leaning toward all along: Stay in New York. After all, if James is essentially going at it alone (in terms of veteran SuperFriends) in a place he feels most comfortable, why can't Anthony do the same and hope Phil Jackson draws some All-Star talent in the coming year?
So back to my question: What do the Bulls do? Does adding the Spanish Armada in
Pau Gasol
and Nikola Mirotic make the Bulls good, or tough enough to handle the new Cavs? Or do the Bulls need to add more brawn? Thibs would probably say "both." He wants scoring and toughness, and about 80-82 wins.
So who's out there?
Does
Lance Stephenson
, too wild for Gar Forman's and
John Paxson
's usual tastes, become a serious target? The blowing-in-LeBron's-ear kerfuffle made Stephenson look like an idiot, but I love the spirit behind it. He's not afraid of anyone, and his arrival -- combined with Noah's popularity in Cleveland -- would ratchet up the rivalry.
Stephenson fits the Bulls, as a player, and as Jeff Van Gundy said on ESPN Chicago 1000's "Waddle & Silvy" show Friday, "Tom Thibodeau would play a serial killer if it meant he could win games."
I've resisted touting Lance as an option, because I just don't see the BoringBulls front office going for him, and he'll take up most of their salary-cap space, but maybe now they should get aggressive and mix it up.
Taj Gibson
and Noah, fellow New Yorkers, could mentor him. Thibs would love Stephenson's defense.
Or how about good ol'
Luol Deng
? I haven't given his "return" much credence, after being disrespected (in his eyes) by the Bulls' take-it-or-leave-it offer last season. But he's had experience, and some success, going shoulder-to-shoulder with James.
People will talk about
Dwyane Wade
having a homecoming, but I don't see it. If he needs another full-season maintenance program, it's not worth it.
Is backup center a luxury anymore for the Bulls? The Cavs don't have much size as currently constituted, and the Bulls need to plan for their weaknesses. Hey, maybe the wild Aussie rookie
Cameron Bairstow
really will play this season!
One thing is for sure, LeBron James in Cleveland changes the complexion of the league and gives the Bulls a lot to think about in the coming days, weeks, months and years.
It's good to have you back in the Midwest, LeBron.