Jon Greenberg Blog:

Starlin Castro
May, 1, 2014
May 1
1:13
PM CT

By Jon Greenberg
ESPNChicago.com
Archive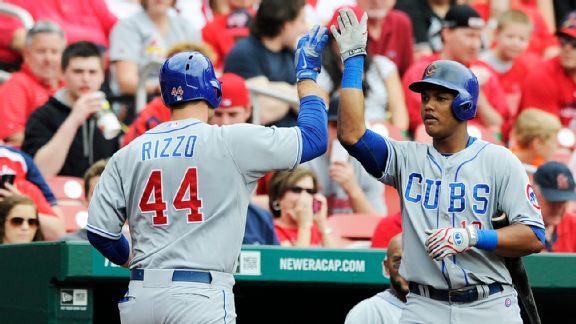 AP Photo/Bill BoyceAnthony Rizzo and Starlin Castro are well on their way to rebounding from disappointing 2013 seasons.
Carlos Zambrano
was certainly prescient with his famous "We stinks" line.
Three years later, the Cubs still "stinks." Worse than ever, in fact.
But, guess who hasn't stunk so far?
Starlin Castro
and
Anthony Rizzo
. So, they've got that going for them.
Unlike cake at the Field Museum, no one wants to toss his April stats in the dumpster.
Last season, both players struggled, to varying degrees, during the Cubs' woeful 96-loss season. Castro was one of the worst regulars in baseball, while Rizzo's hitting results were much too inconsistent.
I went through March/April stats for both players over the past two seasons to check out the differences. Both are doing much better this season, to no surprise.
Through 26 games this season, Rizzo's slash line (batting average/on-base percentage/slugging percentage) is .283/.407/.457. He has 26 hits (four homers, two doubles and one triple) with 18 walks and 18 strikeouts.

Through 26 games last season, Rizzo hit .224/.315/.531. He had 22 hits (eight homers, six doubles) with 11 walks and 27 strikeouts.
What to make of this comparison? Perhaps he's not trying to hit everything out of the park. Rizzo's power stats were decent for a guy in his first full season in the majors, but inconsistent. I mean, 35 percent of his homers came in the first month of the season, where he was truly boom or bust.
Last season, his BABIP (batting average, balls in play) was a meager .258. Some would say he was unlucky, but as former manager Dale Sveum told me last summer, that number was low because Rizzo wasn't squaring up enough, and he wasn't taking advantage of hittable pitches. In the end, he was one of the worst fastball hitters in the majors. Sveum had a more colorful term for the pitches Rizzo wasn't striking, but this is a family blog.
Rizzo's BABIP through one month is .310, and he has 11 more singles than he did at this point in 2013.
Now, how about Castro, who is trusting himself at the plate after organizational malfeasance and his own murky judgment sabotaged a season.
Through 26 games this season, Castro's slash line is .308/.339/.471. He has 32 hits (four homers and five doubles) with five walks and 13 strikeouts.
He wasn't awful last spring. In his first 26 games, he hit .277/.296/.420. Castro had 31 hits (five doubles, three homers) with three walks and 19 strikeouts. His season bottomed out later, but Castro looks more confident and comfortable all around. I think he's back to All-Star form, but it's early.
The good news for the Cubs is that both players' approaches are sound. That's a good foundation to begin another lost season for the club.
One worry the team had last season was that too much pressure was on both players, given the limitations of the lineup. The limitations haven't improved that much, but the Cubs have to hope these starts augur for better seasons.
The Cubs won't win much this season, as "The Plan" for another top draft pick continues unabated, but this bodes well for that future we keep hearing about.
April, 11, 2014
Apr 11
8:00
AM CT

By Jon Greenberg
ESPNChicago.com
Archive
CHICAGO -- If you're watching a
Cubs
game and you see a player get a hit and flash a sideways V over his eye, then "lo viste."
You saw "it."
[+] Enlarge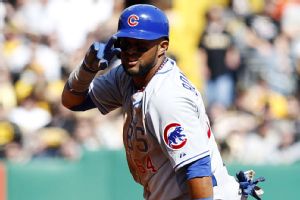 Charles LeClaire/USA TODAY SportsEmilio Bonifacio's enthusiasm and spirit have been well-received in the Cubs' clubhouse this season.
So, what is "lo viste?"
It's leadoff hitter/utility man
Emilio Bonifacio
's personal catchphrase, one of many things the team's one-man pep band brought over to the Cubs this season.
As Bonifacio explained, it means "'Did you see it?' or 'you see it.' It's not like a question."
Bonifacio started doing the "lo viste" during a 26-game hitting streak in 2011 with the
Marlins
, but it didn't really catch on until the 2012 season as the Marlins started doing it in spring training.
Plenty of teams have little inside jokes and rally gestures, like the
Pittsburgh Pirates
doing the "Zoltan" salute last season. Will this work to embody the new, fun-loving #CubsWay?
Well, it should be noted that the 2012 Marlins were a dumpster fire of a team that cost manager Ozzie Guillen his job, so it's not like this rally cry has a ton of success behind it.
But, hey, it's fun, and fun was in short supply the past two seasons as the Cubs lost 197 games combined.

"It's perfect,"
Starlin Castro
said. "We enjoy it a lot."
Bonifacio, a minor league spring training invite turned one-week folk hero, even had shirts printed for the season opener that feature a Cub (not Clark) doing the "lo viste."
"[Baseball] is a job, but it's still a game," he said after the Cubs blew a four-run lead in a 5-4 loss to Pittsburgh on Thursday. "You gotta enjoy it. When you enjoy it, it makes your life a little easier."
The addition of Bonifacio, who is hitting .452 with nine runs and seven stolen bases in his first nine games, has been a boon for what was expected to be a meager Cubs offense. Instead, the Cubs' offense is just …
meh
.
And in a clubhouse lacking that veteran mainstay leadership, he was the perfect addition.
"Yeah, he can change things," Castro said. "We're having fun here. He's one of the guys. He makes you enjoy the game, makes you play hard."
On Thursday, Bonifacio went 0-for-4 with a walk and a run, but he continued to wreak havoc on the basepaths. He walked to lead off the game, stole second and was thrown out at third. But then, he reached in the third on
Gerrit Cole
's throwing error, then stole second and scored on catcher
Tony Sanchez
's throwing error.
Five spots down in the order, the guy we thought might lead off continued to rake.
[+] Enlarge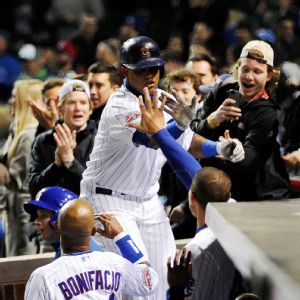 David Banks/USA TODAY SportsStarlin Castro says he's feeling comfortable hitting sixth in the lineup because "we got men in scoring position."
Castro has had success hitting leadoff, and manager Rick Renteria insinuated he might return him to that spot. Instead, Castro has hit second and third, and, on Thursday, he hit sixth for the third game. He's 7-for-12 with six RBIs in that spot. Small sample size, yes, but he's happy there.
"Yeah, we got men in scoring position," he said.
Castro, now hitting .342, had three hits -- all singles -- against the constantly shifting Pirates. He hit one past first base, one past third to score a run and one past shortstop in the Cubs' failed rally in the ninth.
While Bonifacio's early production is a nice surprise, getting Castro back to his 2011 form is key to the Cubs putting together at least a mediocre season, not to mention those grandiose future plans we hear so much about.
"Tough year," Castro said of a disastrous 2013 that helped cost the previous coaching staff their jobs. "I don't want to think about last year. This is a new year."
No more trying to get Castro to be a different hitter. He's doing him and it's working out, offensively and defensively.
"I'm trying to be me -- be aggressive," he said. "If I strike out, I strike out. If I get a hit, I get a hit. I come back the next game and be aggressive the same."
The Cubs are only 3-6 with a tough road trip on tap. No one is expecting much from this team, with good reason. But with Bonifacio at the top of the order and Castro feeling comfortable somewhere below, they could at least have some fun. That would be something we'd all like to see.