Jon Greenberg Blog:

Theo Epstein
December, 10, 2014
12/10/14
12:24
PM CT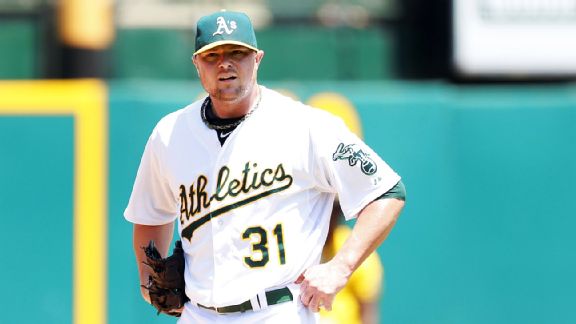 Bob Stanton/USA TODAY SportsWith Jon Lester now in tow, the Cubs can go into a season hopeful instead of hopeless.
CHICAGO -- We're used to waking up to snow in December, but on Wednesday morning,
Chicago Cubs
fans woke up to a rare ray of sunshine.
In the toddlin' hours, the Cubs and free agent pitcher
Jon Lester
agreed to a
six-year, $155 million deal
.
At the winter meetings in San Diego, Cubs manager Joe Maddon said, "It's not often you get to win the lottery," which makes me wonder if Maddon knows how the lottery works. They pay you, Joe.
[+] Enlarge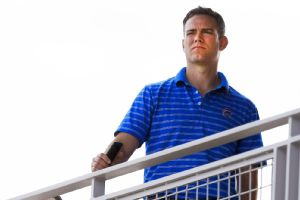 AP Photo/Rick ScuteriAfter bottoming out, the Cubs are on the way up under Theo Epstein.
It's Lester who won the lottery after turning down a $70 million offer from the Red Sox last season. He gets six years, with a vesting option for a seventh, and a reported $30 million signing bonus, which will be doled out over the life of the deal.
But yes, the Cubs won something this week: A better chance to win. Sure they won some respect too, but that isn't worth the price of a shot and a beer in the Hazleton Way.
While his signing is symbolic, more importantly, Lester represents something tangible.
Lester, who turns 31 in January, is a proven No. 1 starter coming off a fantastic season. He's not a savior, but rather a baseball missionary. He joins
Jake Arrieta
and
Jason Hammel
at the top of the rotation, with second-year man
Kyle Hendricks
. There's room for one more free-agent starter, if the Cubs desire.
The lineup is still maturing, as fans should expect hiccups from
Jorge Soler
and
Javier Baez
, but when
Kris Bryant
comes up it could become scary quickly with young power hitters.
The Cubs could use to add another veteran bat, a steady on-base guy, this offseason, but there aren't a lot of open spots.
While fans shouldn't bank on the playoffs in 2015, for the first time since the 2009 season, the Cubs go into a season hopeful instead of hopeless. That means something to the players, let alone the fans.
With Maddon already on board and a wave of young hitters here or on the way, the Cubs no longer have to peddle vague aspirational jargon about sacred seasons and the "Cubs Way."
Cubs president Theo Epstein can finally say, "Here's our team. Here's a real manager. Let's have fun and win some games."
Anthony Rizzo
started the talk about making the playoffs in 2015 and Epstein echoed it. When he was introduced, Maddon continued the optimistic talk, and, for the first time in awhile, no one mocked it.
But even Maddon admitted that Lester's signing enhances any message he gives in spring training.
"It definitely makes it more believable to everybody else in that room," he said. "I'll stand up and make the same speech regardless, but when you have it backed up by that particular kind of presence, it adds to it."
Don't worry about the money, the Cubs can afford it. Before arbitration-eligible players and pre-arb deals, the Cubs had less than $50 million in salaries on the books for next season. They stocked away money last season when they didn't land
Masahiro Tanaka
.
Even before a new TV deal is signed, the team is doing just fine. At least they should be.
It was a tough three years; OK, six years; OK, a century, to be a Cubs fan. After back-to-back playoff appearance, they lost in the traditional way. Then, on purpose.
Not all fans are content with watching minor league at-bats with their tongues wagging. Some just want to be entertained, especially when they're paying for tickets.
The Cubs weren't fun to watch.
The new front office, worshipped by some, understood that, and at times, empathized. One admitted to me last season that coming to the park to watch games was often difficult for them too. But they had a budget and a mission.
Wrigley Field won't be rebuilt in a day and neither will the Cubs.
After bottoming out, payroll-wise, the Cubs finally had money to spend, and that's what they're doing. Epstein and Co.'s grand plan, with more than a bit of fortune sprinkled in, had them compile young hitters, who will remain cost-controlled for years, in order to pay free-agent pitchers market value.
Epstein likes to say "free agency is not for the faint of heart," and Cubs fans who started at Twitter for two days would agree with him.
Epstein knew that landing Lester was no sure thing, and given how long it took for Lester to make a decision, it wasn't. At a Cubs season ticket holder dog-and-pony show this fall, Epstein hedged his bets to reporters, including myself, in his charming way.
"We're going to have pursuits of players that become public and we're not going to sign them and there are going to be columns written about how we failed and we have egg on our face and once again the Cubs can't land their guy," Epstein said. "Go ahead and write it now, that's fine, I look forward to reading it and yours will be particularly funny."
That last line was directed at me. Sorry to rob you of my witty bon mots, Theo.
Now, there are fewer reasons to laugh at the Cubs, but a lot of people are laughing with them.
It's a long road from the bottom to the playoffs, but the Cubs are on their way.
October, 31, 2014
10/31/14
4:27
PM CT
CHICAGO -- After a week of silence,
Chicago Cubs
president Theo Epstein had a lot to say. Or write.
On Friday afternoon, the Cubs sent out a 536-word press release, written by Epstein, explaining why the Cubs dumped current manager Rick Renteria to hire erstwhile Tampa Bay manager Joe Maddon.
Judging by the reaction Epstein's prose got from his fanboys/girls, you'd think he just wrote the next Great American Novel. Of course, Epstein could fire his closest supporters in a letter and they'd still love him the same. The Cult of Theo is something, man.
[+] Enlarge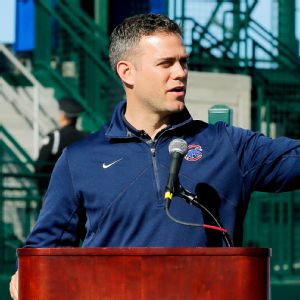 AP Photo/Matt YorkTheo Epstein wants to bring a winner to Chicago, and the aggressive move to hire Joe Maddon could mean that time comes sooner rather than later.
As Epstein has joked numerous times, hopefully he'll do something to really deserve those cheers, virtual or otherwise. And by that, he means run a playoff baseball team. I think that's coming sooner rather than later.
Judging by this aggressive move -- which was finalized later in the afternoon when the Cubs announced they would introduce Maddon as the 54th manager in team history on Monday -- the Cubs really do plan on winning games next year. They plan on mattering, and not just to the people who run top prospect lists.
Cubs fans should be excited about the future, and especially Maddon's hire. He's a culture changer, and there aren't a lot of those around professional sports.
His introductory press conference will be must-watch TV. I still remember Epstein's introduction, when one columnist asked why such a good-looking smart guy went into baseball (!!!). Joe's got a John Slattery thing going on, which fits with the "Maddon Men" theme.
As for this winter, most expect the Cubs to make a run at one high-priced pitcher and perhaps even catcher
Russell Martin
, who will be a major player in free agency.
All of a sudden, the Cubs are for real and well-positioned into the future with cost-controlled hitters.
As for this move, the breakdown of events, at least by Epstein's perspective, was refreshing, I suppose. All he really needed was the headline: Cubs Fire Manager Rick Renteria.
In the letter, Epstein set the record straight about how the team carefully, and personally, told Renteria they think very highly of him, just not as highly as they think of Maddon.
As for the timeline of events, Epstein wrote that Cubs general manager Jed Hoyer visited with Renteria on Friday in California to keep him abreast that they were pursuing someone better in Maddon. They continued calling him. What did they say? "Things are great with Joe! He really makes us happy. We'll send the divorce papers soon."
While neither side commented as the World Series finished up, Renteria's agent released a statement to a couple reporters on Monday that read, in part: "I continue to focus my offseason preparation on achieving the goal we established from the start: bringing a championship to Chicago."
Epstein and Hoyer were doing the same thing, apparently. But it involves Maddon managing the team, not Renteria.
Let's be clear. The Cubs absolutely made the right move in dumping Renteria for Maddon, who by all accounts is everything you want in a manager. Maddon knows how to manage disparate personalities, he understands how to use analytics in game situations and he can manage a game, which gets rightfully downplayed, but is still important. Renteria was a work in progress.
September, 30, 2014
9/30/14
3:36
PM CT
CHICAGO --
Chicago Cubs
president of baseball operations Theo Epstein, the architect of Chicago's greatest rebuilding project since the Great Fire, is understandably very optimistic on the team's long-term future, as he explained once again in a news conference Tuesday.
But he's also excited for next year, and not just for another top 10 pick in the amateur draft.
With young talent maturing and some already reaching the majors, Epstein believes the Cubs' goal is to win in 2015, which differs greatly from the past three rebuilding seasons: Lose enough to get a top 10 draft pick and build up the farm system with depth.
[+] Enlarge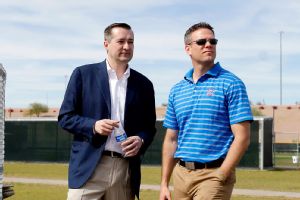 AP Photo/Rick ScuteriTheo Epstein's goal of going for a division title in 2015 would seemingly do wonders for Tom Ricketts' bottom line.
That plan seems to have worked quite well. The Cubs' farm system is very highly regarded and fans in Chicago are starting to see the fruit of the front office's labor. The idea is that the Cubs will add some free-agent pitching and a few veteran hitters this offseason.
If the Cubs can be competitive next season, that would be great news for the team's bottom line, as TV ratings and attendance pale in comparison to the team's glory days in 2007-08. Money lost in declining attendance has hurt the team's rebuilding efforts.
And as the Cubs try to lock up a TV deal for around 70 games in 2015, their final 2014 cable ratings are in and they are bad.
Sports Business Journal put out its annual list of regional sports network baseball ratings (numbers from Nielsen) and the Cubs had the fifth-worst average rating in baseball with a 1.50 on CSN Chicago, down 6 percent from last year.
The end of the season showed a slight increase in ratings as young hitters
Javier Baez
and
Jorge Soler
came up. Through the first week of July, when the
Jeff Samardzija
deal went down, the Cubs were averaging a 1.48 rating/52,000 homes, according to SBJ and Nielsen.
Why are ratings important for the Cubs? They're trying to increase revenue in every way as the Ricketts family embarks on a self-financed $375 million renovation of Wrigley Field. They need to show cable distributors and advertisers that this is a viable product now, and not just in the future.
Epstein didn't sound too optimistic about getting his share of a bump in TV revenue before the Comcast Sports Net Chicago deal expires after the 2019 season. The WGN portion of the TV deal expired this season and the Cubs are reportedly still shopping those games.
As for attendance, the Cubs sold 2,652,113 tickets to Wrigley Field (an average of 32,742). It was their first increase in attendance since 2008, when they set a club record with 3,300,200 fans. While the Cubs added 9,431 tickets sold this season, compared to last, most of that came on the last game of the season. This year, the Cubs sold 7,121 more tickets to their home finale against the Cardinals than in 2013 against the Pirates.
On the South Side, the
Paul Konerko
Farewell Tour didn't quite rally a flagging fan base.
The White Sox finished with the third-worst average rating, 1.15, actually up 4 percent and ahead of only the Dodgers and Astros, both of whom have severe distribution problems that limit their games in their market.
Sox ratings fell after the first week of July, when the team had a 1.39 rating/49,000 homes.
White Sox attendance plummeted to an average of 20,896, and 1,650,821 total. It was their worst attendance numbers since 1999. While the league attendance average was just more than 30,000 tickets sold, the White Sox drew crowds of more than 30,000 just six times: Opening Day, two Yankees games, the July 4 game and Konerko's last two home games.
August, 8, 2014
8/08/14
8:39
PM CT
CHICAGO -- It was Baez Day at the ol' ballyard, and even with a
Chicago Bears
preseason game to cover Friday night, how could I miss it?
Sources told me happy days are here at Wrigley Field again, so I had to see this for myself.
Javier Baez
is the first of the
Chicago Cubs
' so-called Core to make the majors, the last first-round draft pick of the pre-Theo Epstein regime. And after three home runs in his first three games -- the only other time that's happened was in 1954 -- Baez's Chicago arrival was met with the proper anticipation.
The Cubs don't want unreal expectations on Baez -- though his start made that fairly impossible -- but they do want fans to enjoy this moment.
[+] Enlarge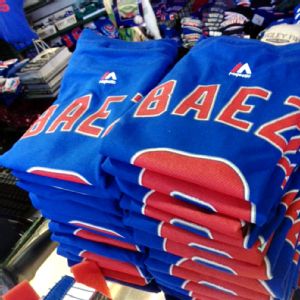 Jon Greenberg/ESPNJavier Baez T-shirts were on prominent display around Wrigley Field on Friday.
"It's great for the fans," Cubs president Epstein said before Friday's 4-3, 10-inning loss to the
Tampa Bay Rays
. "Our fans have been awful patient with us and with the entire organization. It's a nice day for them to get to see a player in person they've read a lot about. It's great for our players, too. The clubhouse has had a little bit of a buzz the last three games.
"Our fans deserve to get excited. I'm just happy for them that there are things for them to get excited about."
Baez singled off former Cubs prospect
Chris Archer
in the first. He moved to third on a towering double off the wall by
Anthony Rizzo
, who watched it soar like
Alfonso Soriano
, and scored on
Starlin Castro
's single.
Just like you draw it up, right?
Baez struck out four times after I left. Sorry, Cubs fans, but I had to go.
Baez -- and, next month, outfielder
Jorge Soler
-- should bring some extra eyeballs to a team that has seen serious attrition in attendance and ratings.
However, through one game, there was not much of a Baez Bump at the gate.
While there was a lot of movement on the secondary market, with season-ticket holders trying to get top dollar in another down season of trading, only 34,937 paid for this game (which was priced in the second-highest tier).
That's down from 41,534 in the Cubs' previous Friday home game, July 25 against the
St. Louis Cardinals
. It was only the sixth-best crowd out of 10 Friday home games, even with the team giving away a very cool "first night game" bobblehead of Rick Sutcliffe, complete with working lights.
One of the fans in the house was the general manager who signed Baez, Jim Hendry. I ran into him on my way out of the park to walk around and soak up the atmosphere.
The crowd outside was busy, with plenty of Rays fans milling about. I saw one dad and son in Rays gear ask rogue mascot Billy Cub for a picture. Not sure if they tipped him, though.
Baez jersey shirts were stacked neatly at the concession stand outside the home clubhouse Friday morning, on sale for $28.
While Baez shirts weren't available yet ("By the end of the homestand," a stand worker told me) at the independent stands outside the park, they were selling OK at Sports World Chicago on the corner of Clark and Addison.
"People are coming in and asking about them," a Sports World employee said.
Baez's authentic jersey was front and center when you walked into the Cubs' team store across the street.
For the next month, the Cubs will be trying to walk the fine line of promoting an exciting player but not overselling him.
It's a nice problem to have. The Cubs again have something to sell besides Wrigley Field.
May, 26, 2014
5/26/14
11:20
AM CT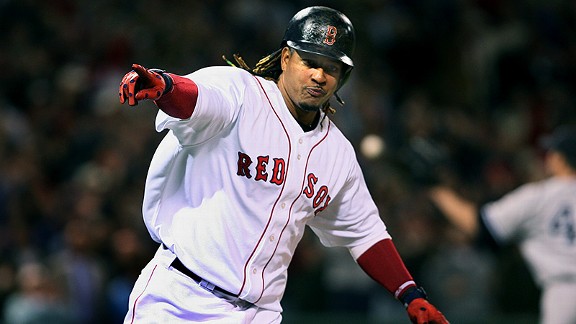 Jim Davis/Getty ImagesManny Ramirez' experience could help the Cubs' young hitters.
Here's a lesson for all you kids out there: If you want to be a successful baseball executive, you need to master three things.
One, you must be able to pull off the Ray Bans, tucked-in collared shirt, khaki pants combination. Two, you must be able to cultivate relationships among disparate groups of people. Three, you must be able to come up with creative solutions to the problems, both organic and man-made, that surround any baseball organization.
You need to be like Theo Epstein.
In Epstein's latest move aimed at strengthening the Cubs' minor league system, he hired
Manny Ramirez
to serve as Triple-A Iowa's "Crash Davis," a player/coach/sage for Javier Baez and other prospects possibly coming up the ladder.
Epstein said this was not a "PR move," though maybe film producer Joe Ricketts wants to do a remake of "Bull Durham."
Vilified by some, this was a quirky move that typified Epstein's creative approach and his old-fashioned dependence on baseball relationships.
It was an odd, newsworthy decision, only because no one expected it. It wasn't leaked to national writers. Baseball Prospectus couldn't predict it.
I love it. Do I think it'll have some grand effect on the development of Baez or the host of other prospects in the Cubs' system? Probably not. Will it make anyone worse? Probably not.
But the decision, spurred on by Ramirez, is certainly outside the norm and it's fun to talk about. Given the Cubs' reluctance to field a Major League club worth discussing -- That's so expensive! -- the minor leagues are all we have to obsess over.