Motorsports:

Chicago White Sox
August, 12, 2011
8/12/11
11:51
AM CT
By
Kurt Busch
| ESPNChicago.com
What a weekend in Pocono! Despite a little rain and some minor tension on the track Sunday, we came out with a third-place finish. We qualified fifth and ran upfront with the leaders just chugging along leading laps.
We made a pretty bold move right before the big rain delay, deciding to come into the pits even though we sacrificed our top-10 position, because the adjustments we'd been making weren't working as well as we'd hoped. The timing of the decision showed that the Penske guys were on top of their game Sunday.
[+] Enlarge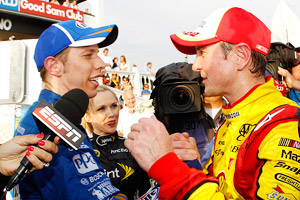 Todd Warshaw/NASCAR/Getty ImagesIt was a happy day for Penske Racing drivers Brad Keselowski, left, and Kurt Busch.
My teammate,
Brad Keselowski
, and I were on the front row for the restart after the hour and 40-minute delay. My car was really fast after the rain when the track was fresh. We battled down to the end, finished third and had a nice race with
Jimmie Johnson
. It was good, solid racing. Feuding on the racetrack can be very dangerous with such high speeds and multiple cars around you, but if you're racing hard within reason and both cars finish where they were running like Jimmie and I were, it's fine.
It's a sheer adrenaline rush -- trying to beat that other guy no matter what position it's for -- that's what drivers live for, you want to come out on top. For now, I'll just let things unfold with Jimmie, put a little message in my pocket to remind me, and focus on heading into this weekend at Watkins Glen.
I'm really excited to get on another road course and bring back the car that won at Sonoma back in June. I enjoy road course racing, and I want to try to check this one off the list. I finished second at Waktins Glen last year so I'm hoping to improve one position and make that trip to Victory Lane this Sunday!
With only five races left until the NASCAR Chase for the Sprint Cup kicks off at Chicagoland Speedway, we need to remain focused and keep the one thing in mind -- grabbing as many wins as possible. The Sprint Showdown is something to keep in the back of my head as well. It includes a $1 million bonus that will be awarded in Atlanta, which is just a few weeks away.
I'm glad to see the Chicago Cubs are doing well and pointing the needle in the right direction after the trade deadline on July 31. I can't wait to be back in Chicago, not only for the Chase to kick off but to soak in a Cubs game while I'm there. Especially when they are on a hot streak right now!
I just voted for the ESPN Chicago Hall of Fame. What a list to contenders, each with great significance to Chicago sports team success! I would have to say Michael Jordan is the most prolific sports figure in Chicago, leading the Bulls to six championships in the '90s. Walter Payton of course is a staple in Chicago's football world along with Mike Singletary. Ryne Sandberg is my favorite Cub of all time; Ernie Banks ranks high up there, too. Bobby Hull dominated in hockey, and I have to give credit where credit it due: Frank Thomas could hit homers all day, every day.
Vote for your favorites
here
.
July, 14, 2011
7/14/11
10:22
PM CT
By
Kurt Busch
| ESPNChicago.com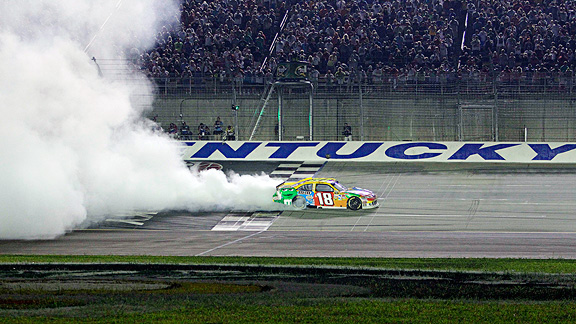 AP Photo/Ed ReinkeKyle Busch's win at the Quaker State 400 salvaged a victory for the family this week.
This past weekend was the inaugural NASCAR Sprint Cup Series race at Kentucky Speedway. We started the week off with an extra practice day on Thursday, which was great because we were able to get some critical track data.
Friday hosted more practice and qualifying, and it looked like we were going to get the NASCAR Pole, but rain canceled qualifying. The start order was then based on practice times, which meant my car would be starting in the No. 3 position. I ended up leading the first lap under green flag conditions which was a neat feeling for this inaugural event.
As the race settled in we knew we were a top five car and just needed to be in a better position at the end of the race to take home the win. However, towards the end of the race the rear of the car was sliding around too much in order to put together a strong run so we faded to ninth. There are so many great teams in NASCAR right now, and they took advantage of this to pass us.
My brother,
Kyle Busch
, took home the checkered flag for the Quaker State 400. I'm happy he was able to win the race and it bring it home for our family, but I would of course have loved to conclude the night in Gatorade Victory Lane and bring the win home for my team and sponsors. Kyle has been tough to beat all season, and that is why he's the NASCAR Sprint Cup series point's leader.
We don't get too many Sunday's off during the NASCAR season, so on Sunday I had a bunch of family and friends in town and we spent the day at Lake Norman. I got a game of golf in while talking business and I was also fortunate enough to be invited to a summer Navy Seal Camp that brings in inner city kids -- a lot from the Chicago area actually. I spoke with the kids about following your passions and that with hard work you can become anything you want to be.
This week I'll be at zMAX drag strip doing some testing with a 1970 and a 1972 Dodge Challenger before heading to Canada with Kyle for a late model race at Delaware Speedway. The testing we're doing at zMax is being filmed for a show that will air later this summer on Direct TV. The show will give a behind-the-scenes look at what drivers do during the week when they're away from the track.
Dale Earnhardt
Jr. is the show's producer.
With the Home Run Derby taking place this past week, I know there's a lot of chatter about who Chicago's 'Home Run King' is so I thought I'd share my two cents. I grew up when Ryne Sandberg played second base and he would fire off home runs. Andre Dawson -- "The Hawk" -- was a great outfielder who could hit some homers, and of course Sammy Sosa when he was rifling off all those home runs. Sandberg, Dawson and Sosa are some of my favorite Cubs to hit the long ball, but if I had to pick a 'Home Run King' it would have to be Sandberg.
Like any football fan, I'm waiting to see how this NFL lockout will unfold. The only time I can recall something similar in the world of racing and NASCAR was when Talladega Speedway first came onto the circuit in 1969 and some of the top drivers boycotted the race because they felt it was too dangerous. There is no union in NASCAR so NASCAR said, "That's fine, we'll find other drivers to race," and that's exactly what they did.
For me personally, I think it's important to muscle it up and get out there to race for the fans, no matter who's making money. Bottom line is it's about entertaining the fans and putting on a good race.
Well, I'm off to have some fun and do some testing with the 1970 and 1972 Challengers. I'll talk to you all next week!
June, 30, 2011
6/30/11
10:09
PM CT
By
Kurt Busch
| ESPNChicago.com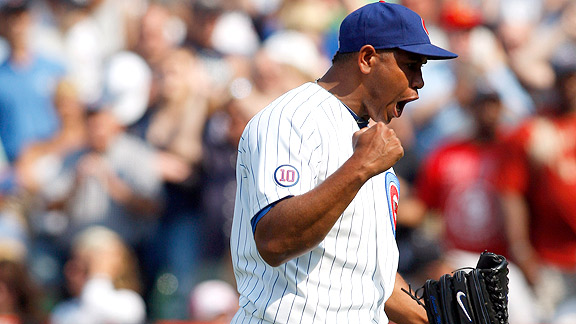 Jerry Lai/US PresswireKurt Busch has faith in Carlos Marmol and the Cubs' chances this weekend against the White Sox.
As someone who loves pyrotechnics, Independence Day is hands down my favorite holiday.
It is the true American red, white and blue weekend. This July 4th weekend brings Chicago baseball fans to the rivalry of all rivalries, the Crosstown Classic. Last week I was lucky enough to be at Monday's game when Cubs fans proudly displayed the "W" flag after defeating the White Sox, but coming out of the three-game series the Cubs are down two games to one, which means they have to sweep this weekend's series at Wrigley to have bragging rights. It's that time of year to get some wins prior the All-Star Break before getting rest and reloading for the later part of the season. I'll be wishing the Cubs the best of luck as they take on our Southside rivals in the Friendly Confines.
This past weekend was definitely a good one for me. With the Chase for the NASCAR Sprint Cup heating up, I couldn't be happier to ride away with the checkered flag at last weekend's race in Sonoma. It was a great weekend all the way around for me with good practice speed and qualifying and of course ending the weekend with a win. My car was a pleasure to drive, and it turned really well because of the rear tire's grip. Penske Racing had the perfect strategy. My crew chief, Steve Addington, and I had a two-pit-stop strategy while all the other teams were taking three or four pit stops. It's great to have everyone on our team on the same page and working hard together, because of this we're able to give the car the speed it needs to win.
I'm heading to Daytona later this week for Saturday night's NASCAR Sprint Cup Series race under the lights, the Coke Zero 400. I won the Gatorade Duel and Budweiser Shootout at Daytona during preseason in early February. Coming off a win last weekend in Sonoma, I'm heading into this weekend with confidence. I have a great Penske Racing teammate in Brad Keselowski, and we've done a terrific job helping each other on the track this season. Two car drafting will be the way to win and with Brad and I working so well together right now that only means good things. We need to replicate the strategy we had in Sonoma and during the preseason and hopefully we'll get the same type of results.
Sunday morning I'll head back home to North Carolina to enjoy the rest of the holiday with friends – some BBQing, fireworks and of course watching the Cubs take on the White Sox.
Until next time, I hope you all have a safe and fun 4th of July weekend.
June, 22, 2011
6/22/11
11:21
AM CT
By
Kurt Busch
| ESPNChicago.com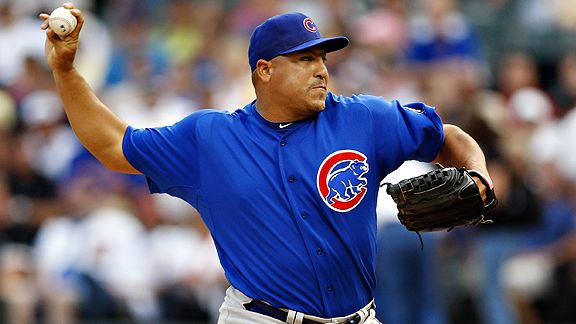 Jerry Lai/US PresswireCarlos Zambrano brings a unique intensity every time out.
Happy Summer, Chicago!
As everyone knows, there's no better place than Chicago in the summer. This week, I was reminded of that once again. Following Sunday's race at Michigan International Speedway, where I finished 11th after winning the pole, my Penske Racing Shell-Pennzoil team scheduled a few days of testing in Milwaukee. Work obviously comes first -- especially at this time of year when we're working our tails off to remain solidly in the Top 10 in NASCAR Sprint Cup point standings -- but you can bet, when track time and meetings were over, I was going to be in Chicago.
As I told you last week, I always try to get to at least one game at Wrigley Field each year. Knowing that we would be in Milwaukee testing on Monday and Tuesday, I arranged to go to Sunday night's Cubs game against the Yankees at the Friendly Confines. Following the race, I made it to the Cubby Bear by 6:00 p.m. and was in my seat at Wrigley just as the Cubs took the field. Seeing Nick Swisher hit a three-run homer to rally the Yankees past the Cubs was painful, but seeing the Yankees playing in my favorite nonracing sports venue was extremely cool.
Testing on Monday at the Milwaukee Mile went well. We were there to prep for the July 17th race at New Hampshire, which is a similar setup, and because NASCAR has restrictions on where testing can occur during the season.
The Crosstown Classic being in town was a wild bit of serendipity as far as I'm concerned, and I couldn't pass up the chance. I mean, I've won three straight poles in the NASCAR Sprint Cup Series, which rarely happens. I figure I've got to ride this train of good things. I have only been to U.S. Cellular Field once; for the All-Star Game in 2003, so I was pretty fired up to catch the opener of the series with the Cubs.
Joined by several good friends, I had a terrific time. I'm still partial to Wrigley, but we had a blast. I'm a Cubs fan through and through, so I will tell you I was pumped watching Carlos Zambrano settle down after a shaky first inning and then see Carlos Marmol pick up the save.
Z is my favorite player. I know he catches a lot of heat for his emotions, but man that guy is exciting and I actually like his attitude. He hates losing and doesn't give up. Sometimes he says things that get him in trouble, but I think those things are due to his passion. I can empathize with him somewhat as I've been criticized for similar things.
Well, I miss Chicago already, but it's time to start focusing on Sonoma and the road course, Infineon Raceway. This is one of two road course races on the NASCAR Sprint Cup Circuit, where we have to worry about a few left turns each lap and a whole series of left and right turns on which shifting prowess is at a premium. I'm hoping to keep my qualifying streak alive and this week hoping for a really strong finish. I'm more comfortable than some drivers on road courses because of my background, but you never know what's going to happen out there.
I'm also excited about the party that series sponsor Sprint is having for me and my team at a nice vineyard in honor of our win at the NASCAR All-Star race last year.
Folks, the maneuvering is heating up to make it into the Chase. Our goal is to continue racing hard and getting all facets of our program grading out at an "A" so when we get to Chicagoland Speedway, we are indeed in the Chase for the NASCAR Sprint Cup.