September, 1, 2011
9/01/11
3:16
PM CT
By
Kurt Busch
| ESPNChicago.com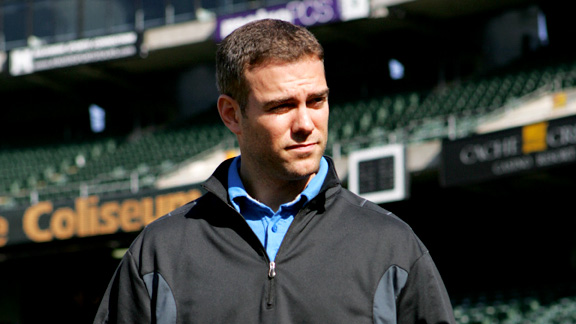 Michael Zagaris/Getty ImagesKurt Busch believes Theo Epstein is the best candidate to become the Cubs' next GM.
Only two races stand between the Penske Shell Dodge and the Chase for the NASCAR Sprint Cup at Chicagoland Speedway on September 18. Only two more races until I get to my favorite place under the sun, Chicago. But first, I have to lock in my Chase spot at Atlanta Motor Speedway.
This weekend is pretty vital for our team, and I hope that we can pull it off to officially lock ourselves in the Chase. We won the spring race last year at Atlanta, but racing this time of the year comes with hot, sticky and slick weather conditions which bring up several challenges for any driver on the track.
This past week at Bristol we started off strong and qualified tenth. Our car had speed -apparently a little too much when we got caught speeding on pit road not once but twice. Bristol's speeding segments are located every 300 feet while other tracks have segments 150 feet apart which make it hard to adjust when going down pit road. NASCAR needs to take a serious look at limited speed control from the driver's cockpit and make some changes. Needless to say, I was frustrated after the two speeding penalties.
Switching gears a bit, the Cubs look to be doing pretty well. I was in Phoenix on Monday testing Goodyear tires and was able to catch a Diamondback's game that night. I saw the Cubs vs. Giants score flash on the big screen and did a double take. I was so proud of my home team! I am even happier to hear talk about possibly having the Red Sox's GM heading over to help out and hopefully work his magic on this team. I think he's the best candidate.
I read about Kyle Korver on ESPN and his thoughts on the NBA lockout earlier this week. It's tough time for the league and for players. We finally have that great team momentum and positive energy rolling over from last season. I hope the players and the NBA are able to work through things because this could really be the Bulls year.
On a more positive note, the
Kurt Busch
Foundation is raffling off a 2011 Dodge Charger. Tickets are $100 each with only 5,000 being sold. All proceeds benefit the Kurt Busch Foundation which provides health care support, education, career training and rehabilitation for people in need along with military families in need. Tickets are available at www.kurtbusch.com/foundation. Not much could make me happier than seeing that red Charger driving around the streets of the Chicago!
Well, I'm off to Seattle to visit a children's hospital with Shell and to catch a Seattle Mariner's game with an old buddy I haven't seen in a long time. I actually haven't seen him since we roomed together back when we first started racing together.
Hopefully we have great news to share next week coming out of Atlanta and a secured spot in the Chase. Again, I can't wait to be in Chicago in two very short weeks!
August, 24, 2011
8/24/11
1:34
PM CT
By
Kurt Busch
| ESPNChicago.com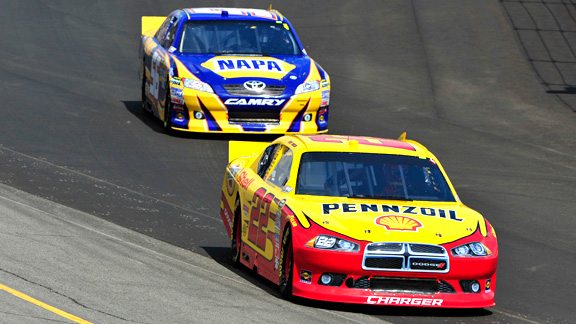 Warren Wimmer/Icon SMIAfter a disappointing weekend in Michigan, Kurt Busch watched his Bears lose in New Jersey.
Motorsports are always unpredictable. One week you have the best car on the track, they next week you're running 30th.
Sunday, at Michigan, we qualified 13th and before you could snap your fingers, we were running third.
The car was great early in the race, but as the day progressed I lost the handle on it. The car suddenly got very, very loose so getting into corners was hard. I even rubbed the fence a couple times.
On one of the later restarts on Sunday, I started 22nd and moved past ten cars in one lap and was hanging onto 12th with a few laps to go. My right front tire finally gave out from some of the damage my car sustained earlier. I went from 12th to 34th in just four laps -- there is nothing much more devastating than that. We lost our nice point cushion we worked so hard to build all year long so we're going to have to make sure we don't do anything stupid in the next few weeks to make certain we ensure our Chase spot at Chicagoland Speedway.
Wednesday of this week I spent the day in Detroit serving as the Honorary Chairman of the 2011 Motorsports Hall of Fame. I am the youngest Honorary Chairman in the Motorsports Hall of Fame history which is a distinct honor and privilege. It was a wonderful invite from Ron Watson (president of Motorsport HOF). This year's inductees included Ed Winfield,
Augie Pabst
, Bruce Penhall and Sid Collins.
I read about the exciting news Chicagoland Speedway released last week announcing Fast Five as their NASCAR Camping World Truck Series title sponsor -- the Fast Five 225. I have not seen the movie yet, but what other franchise would be better than them? Fast Five also has heavy involvement with Dodge -- both of which truly know what fast cars are all about.
On a different note, I got the opportunity to go to New York Monday night to support the Chicago Bears. It was exciting to go to the new stadium and watch my home team take the field. It was a little rough but hey, it's preseason and I'm sure they know what to work on. You can never expect wins in the preseason. I'm looking forward to watching the Bears build upon 2010 and take it all the way this year!
The
Chicago Cubs
have had an interesting week. I've been trying to keep up as much as I can with what's been going on regarding management changes. Jim Hendry took us down a good road. Sometimes decisions were made that didn't pan out exactly like he had hoped -- but that goes for everyone and every sport. For somebody like the Ricketts to make that change shows they are very committed to the Chicago Cubs and connected in the baseball world overall. I'm sure they will find the right fit within the team to bring a World Series to the North side. After all, at the end of the day, that's the ultimate goal -- in every sport!
August, 18, 2011
8/18/11
11:07
AM CT
By
Kurt Busch
| ESPNChicago.com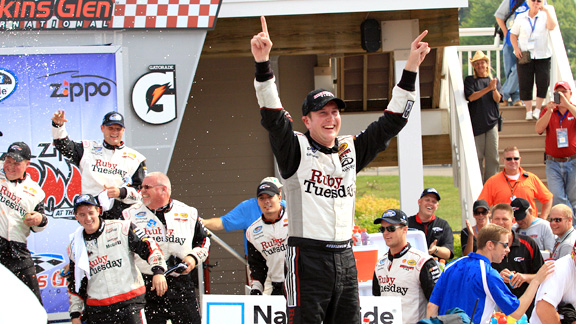 Kevin Hoffman/US PresswireKurt Busch celebrates Saturday, and he'd like to celebrate a Bears' win Monday.
This past weekend's NASCAR Nationwide Series and NASCAR Sprint Cup Series races were at Watkins Glen International in upstate New York. It was one of those perfect kinds of weekends for me and the Nationwide Series. I hadn't driven in a Nationwide Series race in over four years so when my teammate
Brad Keselowski
came to me earlier in the week to ask if I would drive his car for him I was excited. The No. 22 Dodge is a championship car, and it was opportunity that I just couldn't pass up. The Nationwide Series cars have a lot of power and down force so you can really get aggressive with your driving. Between me and my little brother [
Kyle Busch
], we led a lot of laps. It was fun racing against Kyle and going back and forth, and it was of course fun to come out on top and win the race.
I was really excited and amped up for Sunday's NASCAR Sprint Cup Series race. We had the car that I won with in Sonoma so I was feeling really good. There was rain in the forecast for that day so we were anticipating a delay and that's just what happened. Mother Nature isn't something you can control so you just have to go with it. When it comes to weather delays it's hard because you try to find things to do to pass the time and not focus too much on the race car, but at the same time you're trying to maintain your focus.
The rain kept coming down so eventually the race got bumped to Monday. It was one of those disastrous situations for us -- just one of those days that didn't start right. We had a rear break issue, and the only thing I could do is use the front break. By using the front breaks too much the front tries started heating up and I below out a front tire on Lap 49. That quickly ended the race for me and now it's time to focus on this weekend's race at Michigan International Speedway (MIS).
This is one of the last weekends of summer, and I'm looking forward to heading to MIS. The track has an old American feeling and you always see a lot of family and kids at the race which is great.
In the midst of zig zagging across the country racing, I've been keeping up with the Cubs (it's nice to see them win a few) and the Bears. What a great start to the season getting to see the Bear's win because of their strong defense. Heck, it's just good to see football out on the field. I'm actually headed with a buddy of mine to the Bears vs. Giants at Meadowlands coming up this Monday, and I'm hoping to see another win. More importantly, we need the Bears to beat the Packers.
Matt Kenseth
is a huge Packers fan, and we always have a lot of fun around the Bears vs. Packers games. Last year we were fortunate enough to catch the NFC Championship Game at Soldier Field. It's just too bad Kenseth's team walked away the victor. We'll get em' this year!
August, 12, 2011
8/12/11
11:51
AM CT
By
Kurt Busch
| ESPNChicago.com
What a weekend in Pocono! Despite a little rain and some minor tension on the track Sunday, we came out with a third-place finish. We qualified fifth and ran upfront with the leaders just chugging along leading laps.
We made a pretty bold move right before the big rain delay, deciding to come into the pits even though we sacrificed our top-10 position, because the adjustments we'd been making weren't working as well as we'd hoped. The timing of the decision showed that the Penske guys were on top of their game Sunday.
[+] Enlarge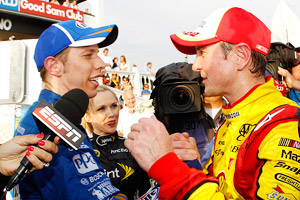 Todd Warshaw/NASCAR/Getty ImagesIt was a happy day for Penske Racing drivers Brad Keselowski, left, and Kurt Busch.
My teammate,
Brad Keselowski
, and I were on the front row for the restart after the hour and 40-minute delay. My car was really fast after the rain when the track was fresh. We battled down to the end, finished third and had a nice race with
Jimmie Johnson
. It was good, solid racing. Feuding on the racetrack can be very dangerous with such high speeds and multiple cars around you, but if you're racing hard within reason and both cars finish where they were running like Jimmie and I were, it's fine.
It's a sheer adrenaline rush -- trying to beat that other guy no matter what position it's for -- that's what drivers live for, you want to come out on top. For now, I'll just let things unfold with Jimmie, put a little message in my pocket to remind me, and focus on heading into this weekend at Watkins Glen.
I'm really excited to get on another road course and bring back the car that won at Sonoma back in June. I enjoy road course racing, and I want to try to check this one off the list. I finished second at Waktins Glen last year so I'm hoping to improve one position and make that trip to Victory Lane this Sunday!
With only five races left until the NASCAR Chase for the Sprint Cup kicks off at Chicagoland Speedway, we need to remain focused and keep the one thing in mind -- grabbing as many wins as possible. The Sprint Showdown is something to keep in the back of my head as well. It includes a $1 million bonus that will be awarded in Atlanta, which is just a few weeks away.
I'm glad to see the Chicago Cubs are doing well and pointing the needle in the right direction after the trade deadline on July 31. I can't wait to be back in Chicago, not only for the Chase to kick off but to soak in a Cubs game while I'm there. Especially when they are on a hot streak right now!
I just voted for the ESPN Chicago Hall of Fame. What a list to contenders, each with great significance to Chicago sports team success! I would have to say Michael Jordan is the most prolific sports figure in Chicago, leading the Bulls to six championships in the '90s. Walter Payton of course is a staple in Chicago's football world along with Mike Singletary. Ryne Sandberg is my favorite Cub of all time; Ernie Banks ranks high up there, too. Bobby Hull dominated in hockey, and I have to give credit where credit it due: Frank Thomas could hit homers all day, every day.
Vote for your favorites
here
.
August, 4, 2011
8/04/11
10:18
PM CT
By
Kurt Busch
| ESPNChicago.com
Heading into the Brickyard 400 at Indy we had our off weekend, and I took that opportunity to go to Spain. I enjoyed a lot of different cities, cultures and food, and even caught a bull fight in Seville. This time off is always nice because it breaks up the season and you have the chance to relax and recharge before getting ready for the final 17 races.
[+] Enlarge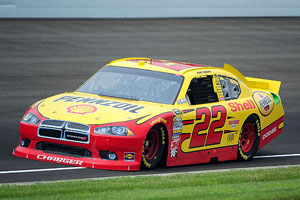 Andrew Weber/US PresswireKurt Busch has a love-hate relationship with the Indianapolis Motor Speedway.
Indy was a battle for us this past weekend like it always is. You could say that Indy and I haven't gotten along over the years. We qualified really well (fourth) and had a shot at the pole but came up just short. We started the race and just kind of faded to the back right away. We never really were in contention up front like we needed to, and our car sustained damage towards the end of the race which didn't help. In the final laps we had a chance to stretch the fuel, but we ended in 21st -- not the best of days by no means.
With six races left until the Chase for the NASCAR Sprint Cup kicks off at Chicagoland Speedway, we need to perform really well. We need to try new things and be as prepared as we can be. The Sprint Summer Showdow,n which includes a million dollar bonus that will be awarded in Atlanta, is a part of these next few races too. You can bet we're going to try and position ourselves well for that.
When you are approaching a fresh new season the outlook is somewhat unclear, and you want to work through some of the little things that will define the season. When you are approaching the second half of the season and heading into the 'playoffs' your mindset shifts. You know what you have, you know what need to do, and you work all season long to get into a position to win the championship. It's time to attack!
This coming weekend we head to Pocono, and I'm looking forward to it. We finished second there earlier this season. The goal is improve that second-place finish by one and come home with a win. Pocono has always been a good track for us so it should be a good weekend all around.
Off the race track, I'm really excited about the Dodge Charger raffle we're hosting through a joint effort with The Kurt Busch Foundation and The Armed Forces Foundation. For $100 you can purchase a raffle ticket for a chance to win a 2011 Dodge Charger. We're only selling 5,000 tickets so you have a 1/5,000 chance of taking home a brand new car. Check it out and best of luck!
July, 29, 2011
7/29/11
12:43
PM CT
By
Steve Addington
| ESPNChicago.com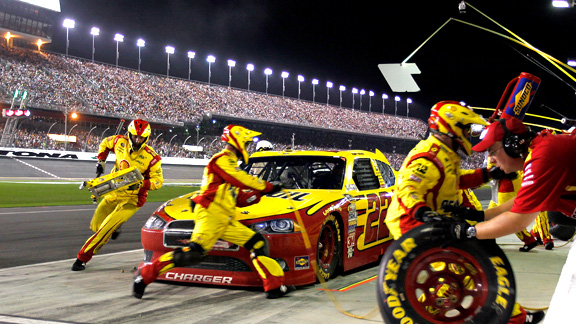 Geoff Burke/Getty ImagesThe job of a NASCAR crew chief is not confined to pit road on race day.
Heading into this past weekend's "off-weekend" for the NASCAR Sprint Cup Series, we had our cars that we'll be running in Indy this coming weekend, and Pocono the following weekend, in good shape. I tried to give my road guys an extra couple of days off last week so they could have a long weekend with their families before we hit the road for 17 straight weekends to close out the NASCAR Sprint Cup Series 2011 season. I went to South Carolina for the long weekend to spend time with my mom and friends, and relax at the lake. Indy was of course in the back of my mind the whole time, but I did my best to relax and enjoy the time with my family and friends.
The Indy 400 is big race for us. This is the hometown track of our team owner Roger Penske, who loves this place. Nothing could be more gratifying for the team than to get a win for Roger in Indianapolis. We are taking a brand new car to the Indy 400, and we did a tire test in Indy from which we got good information. I feel really good going into this weekend.
Switching gears a bit (no pun intended) I get this question from fans a lot, "What does a crew chief do during the week? And, what does a crew chief do during the race weekend?" What better time to break it down than now.
After a race weekend the crew and I will come into the shop on Monday and debrief. We look through our notes and write a list of what we can do better next time and what changes we can make that will help us on the race car.
On Tuesday the drivers, all the crew chiefs and management meet to discuss what everyone observed over the weekend and how we can make further improvements. Sometimes the drivers are in the shop for this meeting, but other times, because of their hectic schedules, they'll have to call in from the road. We'll talk through the entire race from the pit stops, to the set ups, to the engines, etc. From there well move on to the upcoming race and how we are going to approach it, and Paul Wolf and the race engineers will go over our set ups.
For our No. 22 Shell-Pennzoil team, Wednesday is spent at the K-rig with the race team, where my guys go through their weekly checklist to check the set up. Once everything from the checklist is accounted for, the cars go on the truck to head to that weekend's race.
Thursday we'll fly out, and by Friday we're at the track and unloading the cars. We'll go over what we want to start with to get the cars through inspection and then how we want to start the car for practice. All through practice, Kurt will provide us with feedback on how the car is driving and we'll make all the necessary adjustments heading into qualifying. I guess you could say my main responsibility is to get the car to go as fast as possible for qualifying.
I don't sleep much on Saturday night, because I'm thinking about the race on Sunday. It's a lot of work, time and effort by a lot of people all working towards one goal -- winning.
Well, there you have it -- a crew chief's average week at the shop and at the race track.
Kurt will be back next week with a full rundown of the Indy 400. Thanks for having me these past two weeks, Chicago. I'm excited to get see you all at Chicagoland Speedway this coming September for the Chase for the NASCAR Sprint Cup weekend.
July, 20, 2011
7/20/11
11:40
AM CT
By
Steve Addington
| ESPNChicago.com
I was born and raised in South Carolina. I have been around racing all my life. As a kid I was around cars all the time and that led me to wanting to be around the track on the weekends. It was a place to be around family and friends.
Eventually I decided I wanted to move forward and advance in the sport. So I started in dirt track racing, went to short track asphalt racing and then to what is now called the NASCAR Nationwide Series. By 2005 I was working with Joe Gibbs Racing in the NASCAR Sprint Cup Series. This path has led me to where I am today as the crew chief of No. 22 Shell-Pennzoil Dodge Charger for
Kurt Busch
.
[+] Enlarge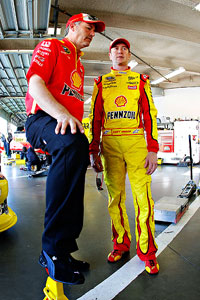 Jason Smith/Getty ImagesThe fiery Kurt Busch and calm crew chief Steve Addington have balanced each other out well.
From the time I started talking with Kurt he has been great. We hit it off right away because we have the same goals and passions for racing -- put in all that you have and do whatever it takes. Kurt is so passionate about his racing and because of that people can take him the wrong way when he gets upset on the radio. That's just his passion, and it's what makes him so good.
Our personalities match well. I'm calm -- Kurt will look at me sometimes like I'm crazy because I'm so calm. At the same time, Kurt gets me pumped up with his fiery energy. The fact that our personalities are so different helps make us strong crew chief/driver team.
Our season has been average so far from mine and the team's standpoint. We've had good results, but we've lacked consistency. We started the season well and then we went through eight weeks when we got into a slump and other teams had gotten stronger by this point. We hadn't made enough changes to keep up with the other teams so we sat down and figured out what we needed to do to be better. The last eight races we've been running above average, and we got a win in Sonoma.
For the remaining seven races before the Chase for the NASCAR Sprint Cup kicks off at Chicagoland Speedway our consistency has to be there, and we have to run in the top five. I would of course feel a lot better if we had a few more wins between now and the Chase.
The Chase for the NASCAR Sprint Cup and Chicagoland Speedway are on Kurt's radar with his ties to the city. He loves Chicago and every time he has the opportunity, he visits the city and takes in a Cubs game.
We've had one race at Chicagoland Speedway, and it wasn't really pretty. We struggled there, but we made that program better, and I'm looking forward to coming to Chicago. You can race on the top, and you can race on the bottom -- I love the race track.
I think we can come there and win the race, I really do. With these mile-and-a-half race tracks we all have a good shot of winning. Chicagoland Speedway is known for being great hosts to the race teams and fans, and I'm really looking forward to getting there.
July, 14, 2011
7/14/11
10:22
PM CT
By
Kurt Busch
| ESPNChicago.com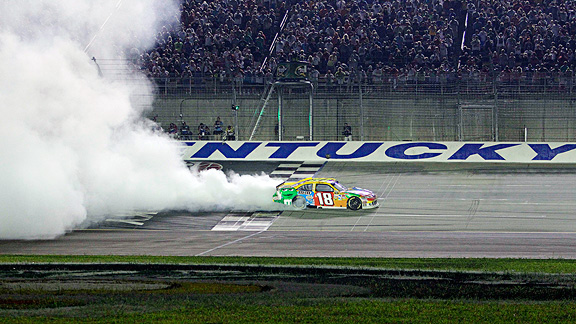 AP Photo/Ed ReinkeKyle Busch's win at the Quaker State 400 salvaged a victory for the family this week.
This past weekend was the inaugural NASCAR Sprint Cup Series race at Kentucky Speedway. We started the week off with an extra practice day on Thursday, which was great because we were able to get some critical track data.
Friday hosted more practice and qualifying, and it looked like we were going to get the NASCAR Pole, but rain canceled qualifying. The start order was then based on practice times, which meant my car would be starting in the No. 3 position. I ended up leading the first lap under green flag conditions which was a neat feeling for this inaugural event.
As the race settled in we knew we were a top five car and just needed to be in a better position at the end of the race to take home the win. However, towards the end of the race the rear of the car was sliding around too much in order to put together a strong run so we faded to ninth. There are so many great teams in NASCAR right now, and they took advantage of this to pass us.
My brother,
Kyle Busch
, took home the checkered flag for the Quaker State 400. I'm happy he was able to win the race and it bring it home for our family, but I would of course have loved to conclude the night in Gatorade Victory Lane and bring the win home for my team and sponsors. Kyle has been tough to beat all season, and that is why he's the NASCAR Sprint Cup series point's leader.
We don't get too many Sunday's off during the NASCAR season, so on Sunday I had a bunch of family and friends in town and we spent the day at Lake Norman. I got a game of golf in while talking business and I was also fortunate enough to be invited to a summer Navy Seal Camp that brings in inner city kids -- a lot from the Chicago area actually. I spoke with the kids about following your passions and that with hard work you can become anything you want to be.
This week I'll be at zMAX drag strip doing some testing with a 1970 and a 1972 Dodge Challenger before heading to Canada with Kyle for a late model race at Delaware Speedway. The testing we're doing at zMax is being filmed for a show that will air later this summer on Direct TV. The show will give a behind-the-scenes look at what drivers do during the week when they're away from the track.
Dale Earnhardt
Jr. is the show's producer.
With the Home Run Derby taking place this past week, I know there's a lot of chatter about who Chicago's 'Home Run King' is so I thought I'd share my two cents. I grew up when Ryne Sandberg played second base and he would fire off home runs. Andre Dawson -- "The Hawk" -- was a great outfielder who could hit some homers, and of course Sammy Sosa when he was rifling off all those home runs. Sandberg, Dawson and Sosa are some of my favorite Cubs to hit the long ball, but if I had to pick a 'Home Run King' it would have to be Sandberg.
Like any football fan, I'm waiting to see how this NFL lockout will unfold. The only time I can recall something similar in the world of racing and NASCAR was when Talladega Speedway first came onto the circuit in 1969 and some of the top drivers boycotted the race because they felt it was too dangerous. There is no union in NASCAR so NASCAR said, "That's fine, we'll find other drivers to race," and that's exactly what they did.
For me personally, I think it's important to muscle it up and get out there to race for the fans, no matter who's making money. Bottom line is it's about entertaining the fans and putting on a good race.
Well, I'm off to have some fun and do some testing with the 1970 and 1972 Challengers. I'll talk to you all next week!
July, 6, 2011
7/06/11
7:35
PM CT
By
Kurt Busch
| ESPNChicago.com
The Fourth of July has come and gone, and the Dark Side (that would be the White Sox) won too many games during this year's Crosstown Classic. However, the silver lining is the Cubs ended the series with a win.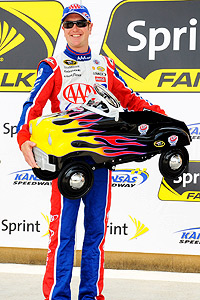 Jared C. Tilton/NASCAR/Getty ImagesKurt Busch finished 14th at the Coke Zero 400 on Saturday but was pleased with the way he raced.
This past weekend I was at Daytona International Speedway for the NASCAR Sprint Cup Series. I teamed up with
Regan Smith
as my drafting partner and was fortunate to have led some laps. Regan was my buddy on the track throughout the Coke Zero 400. At the end of the race it started getting really chaotic on the track, and we got in a fender bender with
Mark Martin
. Although I ended the race in 14th, I was happy with my car and how I raced on Saturday. These restrictor plate races just keep getting more and more unpredictable.
Sunday morning I was back in North Carolina to celebrate the Fourth of July. We had a bunch of friends over at the lake house and it just turned out to be a really fun day. Now we're preparing for our first NASCAR Sprint Cup Series ever at Kentucky Speedway, and with any inaugural event, there is a lot of buzz heading into this weekend.
A Chicago area sporting event coming up this weekend that I'll be keeping my eye on from afar is the O'Reilly Auto Parts Route 66 NHRA Nationals at Route 66 Raceway in Joliet. Last year I caught the bug to want to challenge myself to do something different and during one of the NASCAR Sprint Cup Series off weekends I went down to Gainesville to compete in the NHRA's Pro Stock class. When you feel the thrill of the launch and the speed, it's insane! You really have to respect the drag racer that shows up every week -- that is what makes a true racer. I certainly wish I had more time to run, but the oval track is where I make I make my living.
The best of the best will be at Route 66 Raceway this weekend, and I have plenty of friends in each of the classes that I'll be rooting for. A guy like Larry Dixon is sure to do well along with Allen Johnson. He showed me the ropes last year when I was in Gainesville, and he will always be one of my favorites to watch. You also have guys like Robert Hight and Steve Johnson that will be vying for the win.
Best of luck to all the racers that will be competing this weekend at Route 66 Raceway.
June, 30, 2011
6/30/11
10:09
PM CT
By
Kurt Busch
| ESPNChicago.com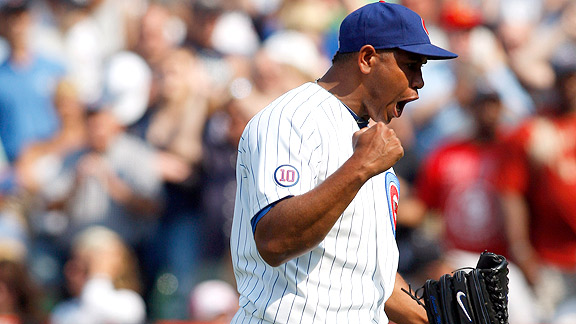 Jerry Lai/US PresswireKurt Busch has faith in Carlos Marmol and the Cubs' chances this weekend against the White Sox.
As someone who loves pyrotechnics, Independence Day is hands down my favorite holiday.
It is the true American red, white and blue weekend. This July 4th weekend brings Chicago baseball fans to the rivalry of all rivalries, the Crosstown Classic. Last week I was lucky enough to be at Monday's game when Cubs fans proudly displayed the "W" flag after defeating the White Sox, but coming out of the three-game series the Cubs are down two games to one, which means they have to sweep this weekend's series at Wrigley to have bragging rights. It's that time of year to get some wins prior the All-Star Break before getting rest and reloading for the later part of the season. I'll be wishing the Cubs the best of luck as they take on our Southside rivals in the Friendly Confines.
This past weekend was definitely a good one for me. With the Chase for the NASCAR Sprint Cup heating up, I couldn't be happier to ride away with the checkered flag at last weekend's race in Sonoma. It was a great weekend all the way around for me with good practice speed and qualifying and of course ending the weekend with a win. My car was a pleasure to drive, and it turned really well because of the rear tire's grip. Penske Racing had the perfect strategy. My crew chief, Steve Addington, and I had a two-pit-stop strategy while all the other teams were taking three or four pit stops. It's great to have everyone on our team on the same page and working hard together, because of this we're able to give the car the speed it needs to win.
I'm heading to Daytona later this week for Saturday night's NASCAR Sprint Cup Series race under the lights, the Coke Zero 400. I won the Gatorade Duel and Budweiser Shootout at Daytona during preseason in early February. Coming off a win last weekend in Sonoma, I'm heading into this weekend with confidence. I have a great Penske Racing teammate in Brad Keselowski, and we've done a terrific job helping each other on the track this season. Two car drafting will be the way to win and with Brad and I working so well together right now that only means good things. We need to replicate the strategy we had in Sonoma and during the preseason and hopefully we'll get the same type of results.
Sunday morning I'll head back home to North Carolina to enjoy the rest of the holiday with friends – some BBQing, fireworks and of course watching the Cubs take on the White Sox.
Until next time, I hope you all have a safe and fun 4th of July weekend.
June, 22, 2011
6/22/11
11:21
AM CT
By
Kurt Busch
| ESPNChicago.com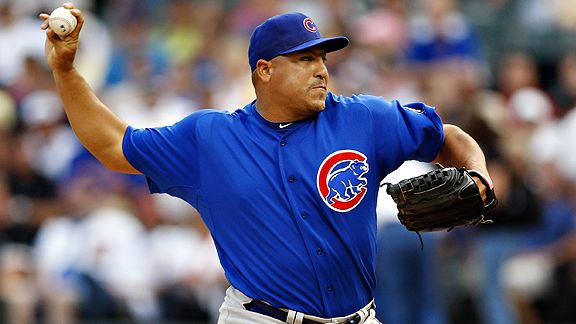 Jerry Lai/US PresswireCarlos Zambrano brings a unique intensity every time out.
Happy Summer, Chicago!
As everyone knows, there's no better place than Chicago in the summer. This week, I was reminded of that once again. Following Sunday's race at Michigan International Speedway, where I finished 11th after winning the pole, my Penske Racing Shell-Pennzoil team scheduled a few days of testing in Milwaukee. Work obviously comes first -- especially at this time of year when we're working our tails off to remain solidly in the Top 10 in NASCAR Sprint Cup point standings -- but you can bet, when track time and meetings were over, I was going to be in Chicago.
As I told you last week, I always try to get to at least one game at Wrigley Field each year. Knowing that we would be in Milwaukee testing on Monday and Tuesday, I arranged to go to Sunday night's Cubs game against the Yankees at the Friendly Confines. Following the race, I made it to the Cubby Bear by 6:00 p.m. and was in my seat at Wrigley just as the Cubs took the field. Seeing Nick Swisher hit a three-run homer to rally the Yankees past the Cubs was painful, but seeing the Yankees playing in my favorite nonracing sports venue was extremely cool.
Testing on Monday at the Milwaukee Mile went well. We were there to prep for the July 17th race at New Hampshire, which is a similar setup, and because NASCAR has restrictions on where testing can occur during the season.
The Crosstown Classic being in town was a wild bit of serendipity as far as I'm concerned, and I couldn't pass up the chance. I mean, I've won three straight poles in the NASCAR Sprint Cup Series, which rarely happens. I figure I've got to ride this train of good things. I have only been to U.S. Cellular Field once; for the All-Star Game in 2003, so I was pretty fired up to catch the opener of the series with the Cubs.
Joined by several good friends, I had a terrific time. I'm still partial to Wrigley, but we had a blast. I'm a Cubs fan through and through, so I will tell you I was pumped watching Carlos Zambrano settle down after a shaky first inning and then see Carlos Marmol pick up the save.
Z is my favorite player. I know he catches a lot of heat for his emotions, but man that guy is exciting and I actually like his attitude. He hates losing and doesn't give up. Sometimes he says things that get him in trouble, but I think those things are due to his passion. I can empathize with him somewhat as I've been criticized for similar things.
Well, I miss Chicago already, but it's time to start focusing on Sonoma and the road course, Infineon Raceway. This is one of two road course races on the NASCAR Sprint Cup Circuit, where we have to worry about a few left turns each lap and a whole series of left and right turns on which shifting prowess is at a premium. I'm hoping to keep my qualifying streak alive and this week hoping for a really strong finish. I'm more comfortable than some drivers on road courses because of my background, but you never know what's going to happen out there.
I'm also excited about the party that series sponsor Sprint is having for me and my team at a nice vineyard in honor of our win at the NASCAR All-Star race last year.
Folks, the maneuvering is heating up to make it into the Chase. Our goal is to continue racing hard and getting all facets of our program grading out at an "A" so when we get to Chicagoland Speedway, we are indeed in the Chase for the NASCAR Sprint Cup.
June, 15, 2011
6/15/11
7:56
PM CT
By
Kurt Busch
| ESPNChicago.com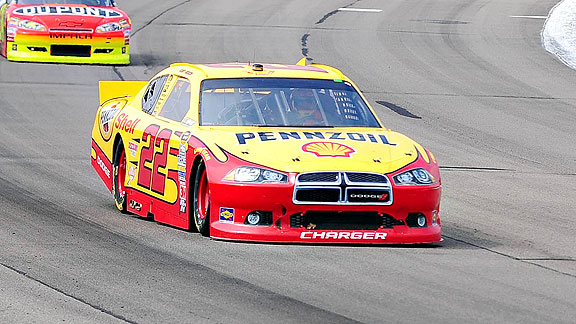 Andrew Weber/US PresswireKurt Busch (22) will write about his love of Chicago sports for ESPNChicago.com
Hello Chicago –
Kurt Busch
here.
This marks my first post in a weekly series of posts from now until the start of the Chase for the NASCAR Sprint Cup at
Chicagoland Speedway
this September. Many of you know me as the No. 22 Shell-Pennzoil NASCAR Sprint Cup Series driver, but off the race track I'm as big of a sports fan as anyone, especially when it comes to the Chicago Cubs and Bears. While I was born and raised in Las Vegas, my parents and relatives are from the Northwest suburbs of Chicago -- Schaumburg/ Arlington Heights area. With my ties to Chicago and no professional sports teams in Vegas, I became a diehard Cubs and Bears fan at a young age. And like any loyal Chicago sports fan, I haven't looked back.
In the 1980's I would rush home from school to watch the Cubs on WGN. When you're 7 years old, sports make a big impression on you. Rooting for the Cubs and becoming a part of that devoted fan base became a part of my identity. When we would come back to Schaumburg to visit my grandparents, my grandpa and I would drive to the "big" city for a Cubs game at the ivy covered walls of Wrigley Field. To this day, I make sure to get in one game at Wrigley and at least one road game each season.
Like any Bears fan, I can still vividly remember the 1985 Bears season with Ditka and the Monsters of the Midway. I watched all the games and to end that season with the sweet taste of victory was just the best feeling. I couldn't help but feel that me sitting at home in Vegas cheering for the Bears played a part in their successful season -- like
WE
won the championship.
This summer is flying by, and we're already past the halfway point in the NASCAR Sprint Cup Series 'regular' season. In the last few weeks my team and I have been running great and been very competitive. Coming out of last weekend at Pocono Raceway, we walked away with a second place finish maintaining sixth place in the
Chase for the NASCAR Sprint Cup standings
. This weekend we're off to Michigan International Speedway. Michigan is Dodge's headquarters and on Thursday I'll be heading out to their offices for an event with all their employees. Friday I'll have practice, Saturday is qualifying and Sunday is NASCAR Sprint Cup Series race. I'm feeling like we have a great shot to bring home the win -– it will be about leading laps and putting ourselves in the position to walk away with the win.