Motorsports:

Chicagoland Speedway
July, 20, 2012
7/20/12
8:37
PM CT
CHICAGO -- Kyle Busch said Friday he's optimistic he can bounce back from his recent struggles and finish the regular season strong enough to secure himself a spot in the Chase.
Busch has had one top-10 finish in the last seven weeks and has fallen to No. 13 in the NASCAR Sprint Cup Standings. He is in second place in the wildcard standings with one victory and would fill the final Chase position if the season were to end today.
[+] Enlarge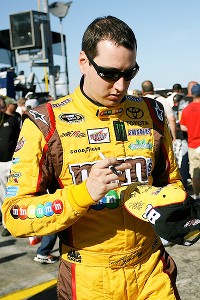 Kevin Liles/US PresswireKyle Busch has seven races to earn his spot in the Chase.
Busch will race for his own team, Kyle Busch Motorsports, in the Nationwide Series at the Chicagoland Speedway this weekend and will return to the Sprint Cup Series and the Joe Gibbs Racing team next week to compete in the Brickyard 400.
"I'm not sure at all [I'll qualify for the Chase,]" said Busch in Chicago on Friday. "All we can do is work as hard as we know how to do and get ourselves capable of finishing up front and winning a couple races before its starts.
"If you win one, you think you're going to be okay. If you win two, you're locked in. For us, we've got good tracks coming up. I think of the seven race tracks, we've won at six of them. It bodes well for us."
Busch has actually won at five of the remaining seven Sprint Cup tracks. He has won four times at Richmond International Raceway, once at Atlanta Motor Speedway, five times at Bristol Motor Speedway, once at Michigan International Speedway and once at Watkins Glen International. He has not won at Pocono Raceway or Indianapolis Motor Speedway.
Busch was among the hottest drivers heading into June with seven top-10 finishes and a victory under his belt. Since then, he's had finishes of 29th, 30th, 32nd, 17th, 10th, 24th and 16th place.
"We're not comfortable at all," Busch said of where he stood in the standings. "This Chase format is certainly stressful if you're back in the points as we are.
"We had a slow start to the year and then we got going. We won at Richmond and then we had five top 5s in a row and were up to eighth in points and just about ready to make a pounce for fifth in points and then bad luck struck, and we haven't been able to shake it yet."
If Busch can qualify for the Chase, he believes he'll be more energized for it than in years past after he deciding to cut down on his race schedule this year.
"Definitely not as fatigued this year, that's probably the main point," Busch said. "I say some weekends I'm a little bored not having as much running around doing back and forth between the garage areas.
"I do miss it. I would love to be out there on the racetrack running and getting as much knowledge for the weekend and what have you. If we make the Chase, it'll certainly feel a little bit different just being more relaxed and not being so wore out come Chase time."
One other incentive for Busch to quality for the Chase is a fan event called NASCAR Contenders Live, which Busch helped unveil in Chicago on Friday. Fans can win a chance to interact with all 12 Chase contenders at the House of Blues in Chicago on Sept. 12 prior to the Chase's first race, the Geico 400 on Sept. 14. Fans can find more info at nascar.com/contenderslive.
Busch expected the Contenders Live session to stir up the pot between all 12 drivers.
"There will be some trash-talking," Busch said. "There is always when you get all 12 of us together, especially some of the characters in the top 12. They're good at that stuff."
September, 18, 2011
9/18/11
8:45
PM CT
JOLIET, Ill. -- Chad Knaus stood behind the NASCAR hauler at about 7:40 p.m. ET on Sunday, a steady rain pouring behind him just outside door cover that kept him dry, and said, "Are we done yet?"
It would be about 30 minutes later when the governing body finally postponed the Chase opener at Chicagoland Speedway to noon ET (ESPN and WatchESPN) on Monday because of rain.
But the frustration already had set in for Knaus, the crew chief for five-time defending champion Jimmie Johnson.
It was a frustrating day for a lot of people.
It was frustrating for crew chiefs and crew members who had been in the garage since it opened at 7 a.m. It was frustrating for drivers who instead of beginning their run for the title spent the day cramped up in motorcoaches watching NFL games and movies.
It was a frustrating day for fans who sat rain-soaked in the stands hoping that the race eventually would begin, and for those at home waiting for it to begin on television.
"Just a pain in the ass on everybody," Chase newcomer Brad Keselowski said.
It was.
NASCAR did all it could to get the race in and keep teams from spending money on another day of travel. But in the end, postponing the race, the first time that has happened since the Chase began in 2004, was the right thing to do.
Read the entire story.
September, 15, 2011
9/15/11
6:37
PM CT
Alfred, Lord Tennyson might assess Jimmie Johnson's predicament at the outset of this Chase this way: cannon to the right of him, cannon to the left of him, cannon in front of him.
There's Kevin Harvick, living up mightily to team owner Richard Childress's projection, back in January, that "This is the year to kick Jimmie off that throne. We were close with Kevin last year, but this is the year to do it ... "
There's Kyle Busch, having grown up and settled down after several seasons of maturing in fits and starts, seeded first alongside Harvick. They have four wins each.
Most of all there is Johnson's teammate and mentor, seeded third, running well, feeling "rejuvenated" -- uh-oh, Jeff Gordon won four championships when he was young, under the old season-long points system, and he enters this Chase looking stronger, and certainly more enthusiastic, than he ever has for the playoffs.
Read the entire story.
September, 15, 2011
9/15/11
6:29
PM CT
CHICAGO -- First, I'm not a huge fan of Chicagoland Speedway hosting the first race of the Chase, which NASCAR already has said will happen again next season, too.
The third-largest media market in the country is too wrapped up in the Chicago Bears to get NASCAR on the front page of the local paper.
Imagine if the Cubs or White Sox were contenders.
Well, it could happen.
I'd rather see the Chase begin somewhere like Darlington or Bristol. They're smaller markets -- OK, tiny compared to Chicago -- but they would embrace the sport, and the style of racing at those tracks is more likely to create drama that captures the imagination.
Read the entire blog.
September, 7, 2011
9/07/11
11:17
AM CT
Chicagoland Speedway will be the site for the kickoff of the Chase for the NASCAR Sprint Cup for the second straight year during the 2012 season.
Read the entire story
.
August, 30, 2011
8/30/11
11:26
AM CT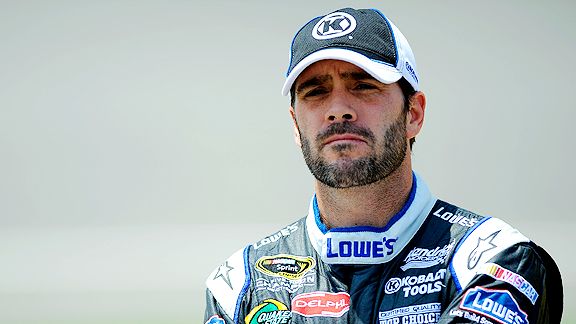 Jared C. Tilton/NASCAR/Getty ImagesJimmie Johnson hopes he can get a win at Chicagoland Speedway for crew chief Chad Knaus, a Rockford native.
Jimmie Johnson
is like a pitcher in the middle of a perfect game. He doesn't like to talk about how much success he is having, despite the fact that he could be on the way to his sixth consecutive Sprint Cup Championship in a few months. He realizes just how impressive the feat would be, but he doesn't want to do anything to jinx it.
Plus, as I found out last week while he was in town promoting the Sept. 18 Sprint Cup race at the Chicagoland Speedway, he's got plenty of other things on his mind.
Q: Jimmie, what have you gotten for advice about throwing out the first pitch at Wrigley?
A:
I'm here, and it's coming soon. I have not practiced or done anything. I've been too busy. I have a 13-month-old daughter at the house so my time has been occupied there. We're not really throwing things at this point. I'm just going to go up there and throw it. Heck, it's just a baseball, right?
Q: Whatever you do, do not call it Wrigley Stadium though, OK?
A:
That was the piece of advice I was going to mention. My teammate,
Jeff Gordon
, covered that base for me, and it didn't go so well.
Q: Yeah, did he get any flak from people around NASCAR about that?
A:
I think that was almost worldwide flak that he got from that (laughs).
Q: All right, speaking of somebody who's gotten lots of other flak in the last week or so -- Kyle Busch. If he calls you right now and says, 'Jimmie, I'm stuck. I need a ride. Can you please come pick me up?' You would say what?
A:
I'd go get him. I've got no issues with Kyle. He and I have been able to race very hard with one another over the years. Being teammates with him when he was at Hendrick, I think I understand him a little bit more than some. But I can tell by some responses, and some of the driver intros by the crowd's response that he might not be loved by all. But I'd go pick him.
Q: I know he said on Twitter the other day that he was going to have his wife chauffeur you guys around. Would you take him up on that?
A:
Yeah, we were having fun. After he got his sentencing, I asked him if he'd pick me up. I was at dinner, and I'd pay him 1,000 bucks to come grab me. So we were just having some fun there.
Q: Could you ever see you guys having like a "Days of Thunder" scene when they rent the cars and just go after for like half an hour and then roll up to the restaurant and they're just shattered.
A:
That stuff happens. I would say it's a little less now, but when I first came into this sport, rent-a-cars were a fun mode of transportation at any test session race. It didn't matter if you were a race car driver or a crew chief, crew member -- the rent-a-cars, there were some fun episodes that took place in all that. I don't think we beat them up like you saw in "Days of Thunder," but a little bit of rubbing never hurt anybody.
Q: How ironic is it for a guy who's in NASCAR, who drives for a living, to speed that fast and have his license taken away? Is that something else that he's just never going to hear the end of no matter what?
A:
Yeah, I think so. I think he realizes now the 35 mph zone he was in or whatever it was, that just isn't something you should be doing. I'm sure he's hoping it's behind him now, and he still has a little bit of work to do with community service and all that ahead. I'm sure the sooner it's behind him the better he's going to feel about it.
Q: I know you have the big race coming up in a few weeks at the Chicagoland Speedway. For you, what makes racing in Joliet different?
A:
For me, I spent a lot of time close by in Wisconsin through my years in ASA. I raced in this area some with ASA. [Crew chief] Chad [Knaus] is from the Rockford area, so there's a cool vibe when I come back. It's a great city, we love being here, and we spend a little bit of time out in downtown when we're out in Joliet. So I enjoy it a lot. I have nothing but good thoughts, and I've been awfully close to winning out at the track. It's a track that I enjoy to race on. I really want to get a win for Chad. We've been able to win quite a few times at my home track, and I'd love to get one for him.
Q: I know the playoff system is still fairly new. How much different is it, or do you consider it the same, as any other professional sports league?
A:
Well, playoffs are playoffs. It's the time of year when you need to play or drive and do the best job that you can. With our 10 races, we're challenged and have pretty much every type of race track you could imagine. It is different when we're racing all 43 guys, plus you have the 12 fighting for the championship. There's opinions that go either way on that and how that should be with point systems and on and on. We have our own complicated things we have to deal with, but at the end of the day you've got to run well. And if you're running in the top five and if you're winning races, it should take care of itself then. That's our focus. We've been able to do it the last five years, and we feel like we've got a good road map on how to win a championship. And now it's time to execute and try to do it.
Q: As a guy who has won five titles in a row, would you consider yourself the Michael Jordan of NASCAR?
A:
I don't know. I don't like to think about that stuff. It's really weird when you're talking about your stuff. It's so much easier to talk about someone else. I'm just obviously very happy with the way my career has turned out. There were a lot of slow years in the beginning and my success really started in my 30s. I'm just grateful to have this opportunity, and I'm very hungry to keep it going. At the end of my career when I hang up my helmet, I'll start thinking about where I rank with our sport and spend a little bit more time paying attention to comparisons of other athletes. But when you're in the moment and living it, it's real tough to talk about it, and you just want to keep going and doing your job.
Q: Is there one consistent key for you to being so dominant over this stretch of time here?
A:
Just work ethic. Every year it's been different. Every year the challenges have been different. Every year I've focused on different things within my skill set of driving and the team has had different challenges with what we're faced with. It's never the same, but the only thing that is the same is you better be ready to work, and that's what it's all about.
Q: As somebody who has been so dominant over such a long period of time, I was curious as to what your thoughts are on somebody like Tiger Woods who has been so dominant and now all of a sudden has kind of fallen off that pedestal for a while.
A:
When you watch anyone, whether it's a team sport or an individual sport, it is tough to link together [success] year after year after year. I guess Lance [Armstrong] with his seven Tour championships that he won, with the Tour de France might be the longest run in consecutive years of anything really taking place. It's just so tough to do year after year. Honestly, winning one championship, or being ranked No. 1 in the world once as a golfer over the course of a year, that's career stuff. And it's tough. You watch guys live through their peaks, and then unfortunately, you've got to come down from that peak.
It's a different path for everyone. And I'm hopeful that my path, I know at some point I'm going to be at the top of my peak. Some may think it's now. It could be a few years from now. I just don't know when, either. And I hope to handle it all with class and style and represent my sport in the right way.
Q: If Tiger did come to you though, and said, "Jimmie, you've been on top of your game for so long ..." What advice would you give to kind of get him back on track?
A:
First of all, I'd be shocked if he were coming to me for advice because I've been looking up to his success over the years. I really think it's about simplifying your life ... and he is a big brand with a lot of things going on, on top of [having] kids, on top of trying to work out his personal life, on top of trying to play his sport. There's just a lot going on. You may not think of it as a distraction, certain aspects of business and work and opportunities that's out there, but it all does add up. And it takes a toll on the individual. And keeping my life relatively simple has been, I think has been the key for success.
Q: I know you've been tweeting about football lately, when you're away from the track and you do have those moments to get out of your bubble, do you get a chance to put together a fantasy football team?
A:
I did one year, and man, that takes a lot of work. And a lot of e-mails. I don't anymore. But for me, especially in the heart of football season, that's when our racing season is over. And I'm finally home enjoying my house, and I really enjoy that time of the year. So I'm ready for preseason to be behind us and start watching games that count and watch the starters get out there and do their jobs and look forward to this winter and the fun on my own couch.
Q: Do you have a favorite team, pro or college?
A:
Well, I married into OU, so I'm a Sooner through marriage.
Q: Boomer.
A:
Yes sir. And I grew up in San Diego. It's hard to not keep an eye on the [Chargers], but at the same I really don't have a team that I've pulled for. I'm unfortunately one of those fair-weather fans from San Diego that just kind of enjoys sports in general.
August, 12, 2011
8/12/11
11:51
AM CT
By
Kurt Busch
| ESPNChicago.com
What a weekend in Pocono! Despite a little rain and some minor tension on the track Sunday, we came out with a third-place finish. We qualified fifth and ran upfront with the leaders just chugging along leading laps.
We made a pretty bold move right before the big rain delay, deciding to come into the pits even though we sacrificed our top-10 position, because the adjustments we'd been making weren't working as well as we'd hoped. The timing of the decision showed that the Penske guys were on top of their game Sunday.
[+] Enlarge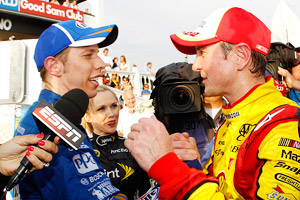 Todd Warshaw/NASCAR/Getty ImagesIt was a happy day for Penske Racing drivers Brad Keselowski, left, and Kurt Busch.
My teammate,
Brad Keselowski
, and I were on the front row for the restart after the hour and 40-minute delay. My car was really fast after the rain when the track was fresh. We battled down to the end, finished third and had a nice race with
Jimmie Johnson
. It was good, solid racing. Feuding on the racetrack can be very dangerous with such high speeds and multiple cars around you, but if you're racing hard within reason and both cars finish where they were running like Jimmie and I were, it's fine.
It's a sheer adrenaline rush -- trying to beat that other guy no matter what position it's for -- that's what drivers live for, you want to come out on top. For now, I'll just let things unfold with Jimmie, put a little message in my pocket to remind me, and focus on heading into this weekend at Watkins Glen.
I'm really excited to get on another road course and bring back the car that won at Sonoma back in June. I enjoy road course racing, and I want to try to check this one off the list. I finished second at Waktins Glen last year so I'm hoping to improve one position and make that trip to Victory Lane this Sunday!
With only five races left until the NASCAR Chase for the Sprint Cup kicks off at Chicagoland Speedway, we need to remain focused and keep the one thing in mind -- grabbing as many wins as possible. The Sprint Showdown is something to keep in the back of my head as well. It includes a $1 million bonus that will be awarded in Atlanta, which is just a few weeks away.
I'm glad to see the Chicago Cubs are doing well and pointing the needle in the right direction after the trade deadline on July 31. I can't wait to be back in Chicago, not only for the Chase to kick off but to soak in a Cubs game while I'm there. Especially when they are on a hot streak right now!
I just voted for the ESPN Chicago Hall of Fame. What a list to contenders, each with great significance to Chicago sports team success! I would have to say Michael Jordan is the most prolific sports figure in Chicago, leading the Bulls to six championships in the '90s. Walter Payton of course is a staple in Chicago's football world along with Mike Singletary. Ryne Sandberg is my favorite Cub of all time; Ernie Banks ranks high up there, too. Bobby Hull dominated in hockey, and I have to give credit where credit it due: Frank Thomas could hit homers all day, every day.
Vote for your favorites
here
.
July, 20, 2011
7/20/11
11:40
AM CT
By
Steve Addington
| ESPNChicago.com
I was born and raised in South Carolina. I have been around racing all my life. As a kid I was around cars all the time and that led me to wanting to be around the track on the weekends. It was a place to be around family and friends.
Eventually I decided I wanted to move forward and advance in the sport. So I started in dirt track racing, went to short track asphalt racing and then to what is now called the NASCAR Nationwide Series. By 2005 I was working with Joe Gibbs Racing in the NASCAR Sprint Cup Series. This path has led me to where I am today as the crew chief of No. 22 Shell-Pennzoil Dodge Charger for
Kurt Busch
.
[+] Enlarge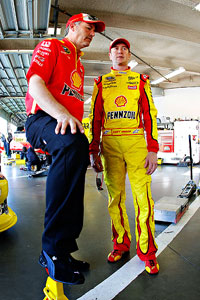 Jason Smith/Getty ImagesThe fiery Kurt Busch and calm crew chief Steve Addington have balanced each other out well.
From the time I started talking with Kurt he has been great. We hit it off right away because we have the same goals and passions for racing -- put in all that you have and do whatever it takes. Kurt is so passionate about his racing and because of that people can take him the wrong way when he gets upset on the radio. That's just his passion, and it's what makes him so good.
Our personalities match well. I'm calm -- Kurt will look at me sometimes like I'm crazy because I'm so calm. At the same time, Kurt gets me pumped up with his fiery energy. The fact that our personalities are so different helps make us strong crew chief/driver team.
Our season has been average so far from mine and the team's standpoint. We've had good results, but we've lacked consistency. We started the season well and then we went through eight weeks when we got into a slump and other teams had gotten stronger by this point. We hadn't made enough changes to keep up with the other teams so we sat down and figured out what we needed to do to be better. The last eight races we've been running above average, and we got a win in Sonoma.
For the remaining seven races before the Chase for the NASCAR Sprint Cup kicks off at Chicagoland Speedway our consistency has to be there, and we have to run in the top five. I would of course feel a lot better if we had a few more wins between now and the Chase.
The Chase for the NASCAR Sprint Cup and Chicagoland Speedway are on Kurt's radar with his ties to the city. He loves Chicago and every time he has the opportunity, he visits the city and takes in a Cubs game.
We've had one race at Chicagoland Speedway, and it wasn't really pretty. We struggled there, but we made that program better, and I'm looking forward to coming to Chicago. You can race on the top, and you can race on the bottom -- I love the race track.
I think we can come there and win the race, I really do. With these mile-and-a-half race tracks we all have a good shot of winning. Chicagoland Speedway is known for being great hosts to the race teams and fans, and I'm really looking forward to getting there.