July, 20, 2012
7/20/12
8:37
PM CT
CHICAGO -- Kyle Busch said Friday he's optimistic he can bounce back from his recent struggles and finish the regular season strong enough to secure himself a spot in the Chase.
Busch has had one top-10 finish in the last seven weeks and has fallen to No. 13 in the NASCAR Sprint Cup Standings. He is in second place in the wildcard standings with one victory and would fill the final Chase position if the season were to end today.
[+] Enlarge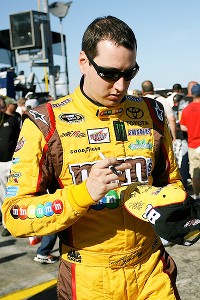 Kevin Liles/US PresswireKyle Busch has seven races to earn his spot in the Chase.
Busch will race for his own team, Kyle Busch Motorsports, in the Nationwide Series at the Chicagoland Speedway this weekend and will return to the Sprint Cup Series and the Joe Gibbs Racing team next week to compete in the Brickyard 400.
"I'm not sure at all [I'll qualify for the Chase,]" said Busch in Chicago on Friday. "All we can do is work as hard as we know how to do and get ourselves capable of finishing up front and winning a couple races before its starts.
"If you win one, you think you're going to be okay. If you win two, you're locked in. For us, we've got good tracks coming up. I think of the seven race tracks, we've won at six of them. It bodes well for us."
Busch has actually won at five of the remaining seven Sprint Cup tracks. He has won four times at Richmond International Raceway, once at Atlanta Motor Speedway, five times at Bristol Motor Speedway, once at Michigan International Speedway and once at Watkins Glen International. He has not won at Pocono Raceway or Indianapolis Motor Speedway.
Busch was among the hottest drivers heading into June with seven top-10 finishes and a victory under his belt. Since then, he's had finishes of 29th, 30th, 32nd, 17th, 10th, 24th and 16th place.
"We're not comfortable at all," Busch said of where he stood in the standings. "This Chase format is certainly stressful if you're back in the points as we are.
"We had a slow start to the year and then we got going. We won at Richmond and then we had five top 5s in a row and were up to eighth in points and just about ready to make a pounce for fifth in points and then bad luck struck, and we haven't been able to shake it yet."
If Busch can qualify for the Chase, he believes he'll be more energized for it than in years past after he deciding to cut down on his race schedule this year.
"Definitely not as fatigued this year, that's probably the main point," Busch said. "I say some weekends I'm a little bored not having as much running around doing back and forth between the garage areas.
"I do miss it. I would love to be out there on the racetrack running and getting as much knowledge for the weekend and what have you. If we make the Chase, it'll certainly feel a little bit different just being more relaxed and not being so wore out come Chase time."
One other incentive for Busch to quality for the Chase is a fan event called NASCAR Contenders Live, which Busch helped unveil in Chicago on Friday. Fans can win a chance to interact with all 12 Chase contenders at the House of Blues in Chicago on Sept. 12 prior to the Chase's first race, the Geico 400 on Sept. 14. Fans can find more info at nascar.com/contenderslive.
Busch expected the Contenders Live session to stir up the pot between all 12 drivers.
"There will be some trash-talking," Busch said. "There is always when you get all 12 of us together, especially some of the characters in the top 12. They're good at that stuff."
July, 14, 2011
7/14/11
10:22
PM CT
By
Kurt Busch
| ESPNChicago.com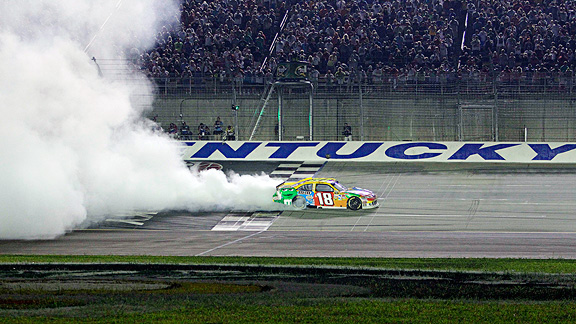 AP Photo/Ed ReinkeKyle Busch's win at the Quaker State 400 salvaged a victory for the family this week.
This past weekend was the inaugural NASCAR Sprint Cup Series race at Kentucky Speedway. We started the week off with an extra practice day on Thursday, which was great because we were able to get some critical track data.
Friday hosted more practice and qualifying, and it looked like we were going to get the NASCAR Pole, but rain canceled qualifying. The start order was then based on practice times, which meant my car would be starting in the No. 3 position. I ended up leading the first lap under green flag conditions which was a neat feeling for this inaugural event.
As the race settled in we knew we were a top five car and just needed to be in a better position at the end of the race to take home the win. However, towards the end of the race the rear of the car was sliding around too much in order to put together a strong run so we faded to ninth. There are so many great teams in NASCAR right now, and they took advantage of this to pass us.
My brother,
Kyle Busch
, took home the checkered flag for the Quaker State 400. I'm happy he was able to win the race and it bring it home for our family, but I would of course have loved to conclude the night in Gatorade Victory Lane and bring the win home for my team and sponsors. Kyle has been tough to beat all season, and that is why he's the NASCAR Sprint Cup series point's leader.
We don't get too many Sunday's off during the NASCAR season, so on Sunday I had a bunch of family and friends in town and we spent the day at Lake Norman. I got a game of golf in while talking business and I was also fortunate enough to be invited to a summer Navy Seal Camp that brings in inner city kids -- a lot from the Chicago area actually. I spoke with the kids about following your passions and that with hard work you can become anything you want to be.
This week I'll be at zMAX drag strip doing some testing with a 1970 and a 1972 Dodge Challenger before heading to Canada with Kyle for a late model race at Delaware Speedway. The testing we're doing at zMax is being filmed for a show that will air later this summer on Direct TV. The show will give a behind-the-scenes look at what drivers do during the week when they're away from the track.
Dale Earnhardt
Jr. is the show's producer.
With the Home Run Derby taking place this past week, I know there's a lot of chatter about who Chicago's 'Home Run King' is so I thought I'd share my two cents. I grew up when Ryne Sandberg played second base and he would fire off home runs. Andre Dawson -- "The Hawk" -- was a great outfielder who could hit some homers, and of course Sammy Sosa when he was rifling off all those home runs. Sandberg, Dawson and Sosa are some of my favorite Cubs to hit the long ball, but if I had to pick a 'Home Run King' it would have to be Sandberg.
Like any football fan, I'm waiting to see how this NFL lockout will unfold. The only time I can recall something similar in the world of racing and NASCAR was when Talladega Speedway first came onto the circuit in 1969 and some of the top drivers boycotted the race because they felt it was too dangerous. There is no union in NASCAR so NASCAR said, "That's fine, we'll find other drivers to race," and that's exactly what they did.
For me personally, I think it's important to muscle it up and get out there to race for the fans, no matter who's making money. Bottom line is it's about entertaining the fans and putting on a good race.
Well, I'm off to have some fun and do some testing with the 1970 and 1972 Challengers. I'll talk to you all next week!