Motorsports:

Steve Addington
July, 29, 2011
7/29/11
12:43
PM CT
By
Steve Addington
| ESPNChicago.com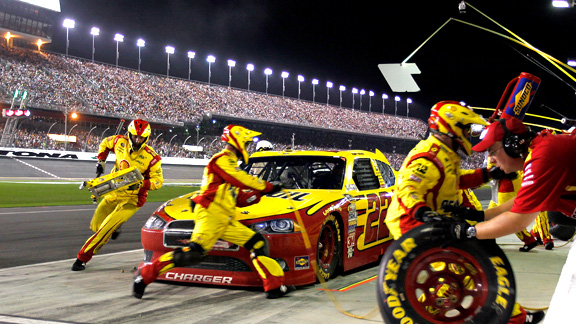 Geoff Burke/Getty ImagesThe job of a NASCAR crew chief is not confined to pit road on race day.
Heading into this past weekend's "off-weekend" for the NASCAR Sprint Cup Series, we had our cars that we'll be running in Indy this coming weekend, and Pocono the following weekend, in good shape. I tried to give my road guys an extra couple of days off last week so they could have a long weekend with their families before we hit the road for 17 straight weekends to close out the NASCAR Sprint Cup Series 2011 season. I went to South Carolina for the long weekend to spend time with my mom and friends, and relax at the lake. Indy was of course in the back of my mind the whole time, but I did my best to relax and enjoy the time with my family and friends.
The Indy 400 is big race for us. This is the hometown track of our team owner Roger Penske, who loves this place. Nothing could be more gratifying for the team than to get a win for Roger in Indianapolis. We are taking a brand new car to the Indy 400, and we did a tire test in Indy from which we got good information. I feel really good going into this weekend.
Switching gears a bit (no pun intended) I get this question from fans a lot, "What does a crew chief do during the week? And, what does a crew chief do during the race weekend?" What better time to break it down than now.
After a race weekend the crew and I will come into the shop on Monday and debrief. We look through our notes and write a list of what we can do better next time and what changes we can make that will help us on the race car.
On Tuesday the drivers, all the crew chiefs and management meet to discuss what everyone observed over the weekend and how we can make further improvements. Sometimes the drivers are in the shop for this meeting, but other times, because of their hectic schedules, they'll have to call in from the road. We'll talk through the entire race from the pit stops, to the set ups, to the engines, etc. From there well move on to the upcoming race and how we are going to approach it, and Paul Wolf and the race engineers will go over our set ups.
For our No. 22 Shell-Pennzoil team, Wednesday is spent at the K-rig with the race team, where my guys go through their weekly checklist to check the set up. Once everything from the checklist is accounted for, the cars go on the truck to head to that weekend's race.
Thursday we'll fly out, and by Friday we're at the track and unloading the cars. We'll go over what we want to start with to get the cars through inspection and then how we want to start the car for practice. All through practice, Kurt will provide us with feedback on how the car is driving and we'll make all the necessary adjustments heading into qualifying. I guess you could say my main responsibility is to get the car to go as fast as possible for qualifying.
I don't sleep much on Saturday night, because I'm thinking about the race on Sunday. It's a lot of work, time and effort by a lot of people all working towards one goal -- winning.
Well, there you have it -- a crew chief's average week at the shop and at the race track.
Kurt will be back next week with a full rundown of the Indy 400. Thanks for having me these past two weeks, Chicago. I'm excited to get see you all at Chicagoland Speedway this coming September for the Chase for the NASCAR Sprint Cup weekend.
July, 20, 2011
7/20/11
11:40
AM CT
By
Steve Addington
| ESPNChicago.com
I was born and raised in South Carolina. I have been around racing all my life. As a kid I was around cars all the time and that led me to wanting to be around the track on the weekends. It was a place to be around family and friends.
Eventually I decided I wanted to move forward and advance in the sport. So I started in dirt track racing, went to short track asphalt racing and then to what is now called the NASCAR Nationwide Series. By 2005 I was working with Joe Gibbs Racing in the NASCAR Sprint Cup Series. This path has led me to where I am today as the crew chief of No. 22 Shell-Pennzoil Dodge Charger for
Kurt Busch
.
[+] Enlarge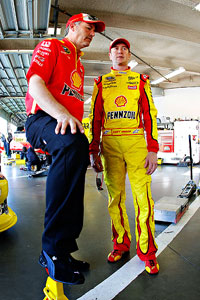 Jason Smith/Getty ImagesThe fiery Kurt Busch and calm crew chief Steve Addington have balanced each other out well.
From the time I started talking with Kurt he has been great. We hit it off right away because we have the same goals and passions for racing -- put in all that you have and do whatever it takes. Kurt is so passionate about his racing and because of that people can take him the wrong way when he gets upset on the radio. That's just his passion, and it's what makes him so good.
Our personalities match well. I'm calm -- Kurt will look at me sometimes like I'm crazy because I'm so calm. At the same time, Kurt gets me pumped up with his fiery energy. The fact that our personalities are so different helps make us strong crew chief/driver team.
Our season has been average so far from mine and the team's standpoint. We've had good results, but we've lacked consistency. We started the season well and then we went through eight weeks when we got into a slump and other teams had gotten stronger by this point. We hadn't made enough changes to keep up with the other teams so we sat down and figured out what we needed to do to be better. The last eight races we've been running above average, and we got a win in Sonoma.
For the remaining seven races before the Chase for the NASCAR Sprint Cup kicks off at Chicagoland Speedway our consistency has to be there, and we have to run in the top five. I would of course feel a lot better if we had a few more wins between now and the Chase.
The Chase for the NASCAR Sprint Cup and Chicagoland Speedway are on Kurt's radar with his ties to the city. He loves Chicago and every time he has the opportunity, he visits the city and takes in a Cubs game.
We've had one race at Chicagoland Speedway, and it wasn't really pretty. We struggled there, but we made that program better, and I'm looking forward to coming to Chicago. You can race on the top, and you can race on the bottom -- I love the race track.
I think we can come there and win the race, I really do. With these mile-and-a-half race tracks we all have a good shot of winning. Chicagoland Speedway is known for being great hosts to the race teams and fans, and I'm really looking forward to getting there.