October, 1, 2014
Oct 1
1:23
AM CT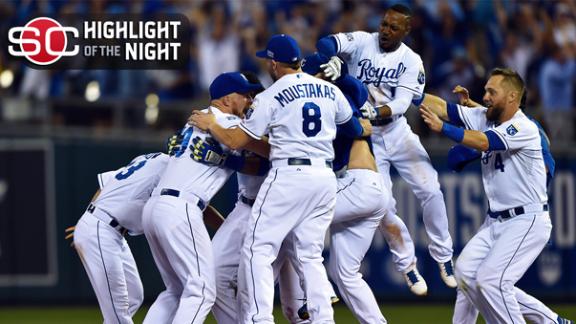 KANSAS CITY, Mo. -- Adam Dunn trekked 14 seasons and 2,001 games just to get to the postseason. But when his one and only playoff chance arrived Tuesday, he never got off the bench, and afterward he said he will retire.
The Oakland Athletics designated hitter, 34, told ESPN's Pedro Gomez that he has played his final game.
"I guess the computer got me," Dunn said, referring to the A's "Moneyball" tactics.
Long past midnight, after the Athletics' 9-8, 12-inning loss to the Kansas City Royals in the American League wild-card game, Dunn refused to take off his uniform, sitting in a back room instead of the clubhouse with most of his teammates.
He seemed to be soaking in the atmosphere one last time, even as the air around him was laced with disappointment.
When Dunn was traded to the A's in August from the Chicago White Sox, he said the final five weeks of the season would be his last hurrah. In the environment of an A's team grinding its way toward the playoffs, Dunn seemed to back off the retirement stance.
However, after a productive few games with the A's, Dunn's contributions were more like they had been with the White Sox, when he failed to reach base as often as he had in the past. Dunn batted .212 with a .316 on-base percentage for the A's and hit two home runs with 10 RBIs in 25 games.
September, 30, 2014
Sep 30
9:21
PM CT
Associated Press
ATLANTA -- The changes keep coming for the Atlanta Braves.
Already in the market for a general manager, they'll have to hire a new hitting coach as well.
Greg Walker resigned from the coaching staff Tuesday, a move that was expected after the Braves struggled through a miserable season offensively.
Atlanta batted .241 as a team and scored only 573 runs, the second-lowest total in the majors. Only seven teams hit fewer homers than the Braves (123), an especially troubling number because the team had the fourth-most strikeouts (1,369) and was supposedly built for power.
Down the stretch, the offense was especially feeble. The Braves lost 18 of their final 25 games to fall out of playoff contention, a stretch that included six shutouts and an average of less than 2.4 runs per game.
In a statement issued by the team, Walker said he told manager Fredi Gonzalez of the decision to quit during the final weekend of the season at Philadelphia.
"I grew up in south Georgia and have been a Braves fan my whole life," said Walker, a native of Douglas. "I am grateful for the opportunity they gave me."
Walker had been the hitting coach for three years, coming to Atlanta after serving in the same position with the Chicago White Sox from 2003-11.
Gonzalez is scheduled to meet Wednesday with interim general manager John Hart, a session that could lead to more changes on the coaching staff. Walker's assistant hitting coach, Scott Fletcher, is also thought to be in jeopardy.
"It's so easy to blame the coaches in any sport," Gonzalez said the day after the season ended. "Would I like to keep my staff completely? Absolutely. Is that going to happen? I'll call you as soon as I get out of the meeting."
September, 30, 2014
Sep 30
2:38
PM CT

By Scott Powers
ESPNChicago.com
Archive
CHICAGO --
Patrick Sharp
wouldn't mind ending his career with the
Chicago Blackhawks
just as
Paul Konerko
did with the
Chicago White Sox
.
Sharp, who has been with the Blackhawks since 2005, said Tuesday he's appreciated Konerko's loyalty to the White Sox. Konerko retired this year after 16 seasons with the White Sox. Sharp believes he and the Blackhawks have a similar bond.
Sharp
Konerko
"Absolutely, [I'd like to end my career here]," Sharp said. "Kind of similar to Paulie, I started in the minors in the NHL with a different organization and [have] been here since 2005. Enjoyed every year. There's been ups, there's been downs. But I certainly feel that same kind of loyalty to the organization. I know they've been loyal to me. The end of my career is hopefully a long time away, but I got no excitement, no reason to leave at this point at all.
"I think you certainly feel loyalty [with Konerko]. That's tough to come by in today's professional sports. It's a business now. That's the way things are. But the way Paulie has been loyal to the Sox and been willing to take a lesser role at the end of his career to help the younger players along for the betterment of the team and the organization, you don't see that every day in sports. I think that just speaks to the type of person and teammate he is."
Sharp went to watch Konerko play numerous times over the years at U.S. Cellular Field and also got to know him personally. Sharp said he respects Konerko on and off the field.
"I think he was a very underrated player whether it's his numbers, whether it's his consistency," Sharp said. "He came to the park every day and he was kind of just a rock in that lineup. Knowing him somewhat on a personal level, you could tell he was a good teammate, he cared about the Sox and wanted to do whatever he could to make that team win. It's a pretty impressive career he put together in this city."
Sharp believes Chicago's baseball landscape will be different for him now without Konerko.
"I'm a huge baseball fan," Sharp said. "I cheer for both Chicago teams. But Paulie is a guy that I've gotten to know away from the sport, spent some time with him. He's a great guy. He's got a great family. In some parts, it's sad to see him go. It's tough to go down to the Cell and see a Sox game without Paulie playing. On the other hand, you have to celebrate his career, what he's done for the city, what he's done for the organization, and I wish him the best of luck in the future."
September, 29, 2014
Sep 29
1:10
PM CT
CHICAGO -- Unlike last year, the
Chicago White Sox
seem open to heading into a new season with four left-handed starters.
General manager Rick Hahn confirmed that while not the ideal scenario, the team is open to having prospect Carlos Rodon compete for a rotation spot in the spring to join a starting staff that already includes lefties
Chris Sale
,
Jose Quintana
and
John Danks
.
[+] Enlarge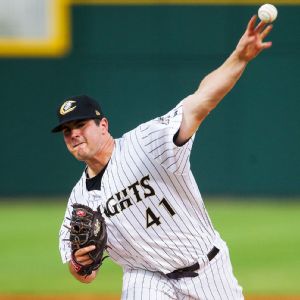 Brian Westerholt/Four Seam Images/AP ImagesWhite Sox general manager Rick Hahn isn't concerned that adding Carlos Rodon would give them four lefties in the rotation in 2015.
A year ago, the White Sox took a different route, breaking up a potential lefty foursome by including
Hector Santiago
in a three-team trade that landed leadoff man
Adam Eaton
. So far, that trade couldn't have worked out better for the White Sox.
The team's willingness to go the four-lefty route this time has more to do with the ability of Rodon, the No. 3 overall selection in this past summer's first-year player draft and widely regarded to be the player who would most likely reach the major leagues the fastest.
In fact, the White Sox considered adding Rodon to the major league club when rosters expanded in September. But after advancing the North Carolina State product to the Triple-A level, the White Sox felt it would be best to have the 21-year old call it a season. He turns 22 on Dec. 10.
"He's had, obviously, a busy professional season and professional debut, where we had him at numerous stops, so right now he's just resting," Hahn said. "In the not-too-distant future he's going to connect with (pitching coach) Don Cooper, and (minor-league pitching coordinator) Curt Hassler and some of our pitching coaches and come up with a specific program of what we'd like to see him work on this offseason.
"So, it was a tremendous debut for this kid. I think he's going to be an important part of what we've got going on here for the next several years."
It isn't out of the question that Rodon could return to the minor leagues or open next season in the White Sox's bullpen, but he will be pointed toward the starting rotation first, even if it means lefty overload.
"I'm more hung up on taking the five best guys that give you a chance to win on any given day," Hahn said. "Certainly, if we had four righties and one lefty, no one would say, 'You've got too many righties.' Perhaps you want a little more balance, but nobody goes out of his way to get rid of a quality righty to bring in a less or inferior option just because he throws from the left side. We're not going to do that from the left side given our situation.
"Is it ideally how you would draw it up? No. But at the same time, if Carlos is capable of filling his potential ..."
For now, the options with Rodon are wide open.
"It's conceivable he could be a member of the bullpen in 2015 at some point," Hahn said. "I do believe, much like when we had Chris Sale in a similar situation, that his long-term future is at the front end of a rotation, but we are not necessarily committed that it has to be on Day 1 as part of a rotation in order to get to that spot."
September, 28, 2014
Sep 28
6:14
PM CT
CHICAGO --
Paul Konerko
has played in six All-Star Games and a World Series and was an MVP of an American League Championship Series. Yet the three games he played this weekend against the
Kansas City Royals
may have been the toughest of his career.
The longtime team captain went 0-for-10 in his farewell weekend, grounding out to third base in the fifth inning on Sunday in his final major league at-bat.
With a sore hand after breaking a bone earlier this month and a tight back that stiffened up on him over the weekend, Konerko also had to deal with the emotions of his final start that included a statue presentation and other gifts, an on-field speech in front of a sold-out stadium and one standing ovation after another.
[+] Enlarge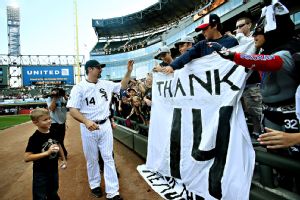 Jerry Lai/USA TODAY Sports
"It hasn't hit me yet," Paul Konerko said Sunday of the impact of no longer playing baseball. He said that might be different by the time spring training rolls around. "Maybe I'll find out then."
"Everything I did this weekend was something I really hadn't done the whole year as far as back-to-back games, [hitting against] righties, the whole nine yards," Konerko said. "It was kind of, I was beat mentally and physically. But I knew it and I tried to get ready as best I could, absorb all of it. I hung in there on Friday night, took a couple good swings, didn't get [a hit] and then the last two days it was just kind of, I was there but I wasn't kind of thing."
This weekend was never about what kind of production Konerko could give. It was a celebration of all the things he had done in the past. He leaves the game with the
Chicago White Sox
record for total bases (4,010) and is second in franchise history with 432 home runs and 1,383 RBIs.
That he was humble and so self-aware while doing it, all while being a determined leader in the clubhouse, only heightened his appeal with White Sox fans and baseball fans, in general. Konerko did it the right way all the way to the end and only in the final weekend of his career did he let outside factors get the best of him.
"That's such the beauty of this game, there is no switch," Konerko said. "You gotta be good. You gotta have your act together. And it's almost in a way for me, just a nice, gentle reminder on the way out you don't get what you want all the time when it comes to on the field stuff. But everything else couldn't have been [better]. This whole thing blew me away.
"I know I've been here awhile, and I knew there'd be something at the end that would be commemorating me being here for a while. But this whole thing, the fans and all that [celebrating Paul Konerko Day on Saturday] night, I never thought that I was one of those guys that gets that. I just didn't think I was, but I guess I was."
Konerko walked off the field the last time before the start of the sixth inning when he was replaced at first base by
Andy Wilkins
. He had one last curtain call before the sixth inning started, then watched his final game unfold from the bench. The White Sox fell 6-4 to the Royals.
"The thing is, I didn't feel it was such a dramatic thing to stop playing baseball," Konerko said. "And maybe it hasn't hit me yet; maybe it won't hit me until spring training rolls around and I'm not getting ready again, I'm not going with the team and all that. Maybe I'll find out then."
To show his appreciation, Konerko finished a postgame television interview and ran around the field to thank the fans, shaking hands for at least 20 minutes after the last out was made.
"You have the support as you're going through, you know the fans are there, you know it but you don't," Konerko said. "What just happened out there on the field like at the end there going around, you see other people doing that. You don't ever think that's you. I don't know. It's going to take me a while to digest all of this stuff. It's pretty crazy to me."
Perhaps Konerko's biggest show of thanks came early in the game, when he scratched the names of his family members in the infield dirt near first base. There was Nick and Owen for his two sons, J for his wife Jen and A for his daughter Amelia. Then he finished it off by drawing a heart.
"I thought about it probably 20 minutes before the game," Konerko said. "I don't know why, I just did. It was as a thank you, because your family is always in the back seat. Your mom, your dad, your wife, your kids. You do the best you can, but if you're a big league baseball player you have to be selfish. You have to leave the house early. You're traveling. You come home late. You just miss a lot.
"It's not a normal thing, so it was kind of a) a thank you and b) to remind me that when this all ends today, that's what really matters. That's what's waiting for me all the time on the other side, and that's pretty good."
September, 28, 2014
Sep 28
5:42
PM CT
CHICAGO -- Headed in a positive direction now, the
Chicago White Sox
still finished with a losing record in 2014, and the bar is set extremely high for general manager Rick Hahn as the offseason begins.
The additions of
Jose Abreu
and
Adam Eaton
last winter have the offense in better shape than it was a year ago. But those additions also are a tough act to follow for Hahn, as the fan base yearns for more improvement and a better 2015.
Is Hahn challenging himself to match and possibly exceed last year's roster maneuvering?
[+] Enlarge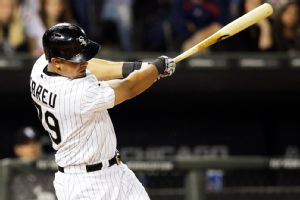 AP Photo/Nam Y. HuhThe addition of Jose Abreu was huge for the offense this season, but what do the White Sox have in store for next season?
"Absolutely, and there's sort of, I suppose, two categories of moves: Some that are sort of more short-term fixes that are going to improve the club and slightly move the chains, and then there's sort of the longer-term fits, such as Abreu or (
Avisail Garcia
) or Eaton or some of the other guys that we feel we have coming," Hahn said.
"The addition of (left-handed pitcher) Carlos Rodon in the last draft is another example, and we're never going to move our eye from those long-term targets being a priority. At the same time, we may be in a position where some shorter-term deals with some veteran-type players might make some sense in order to get this team closer to where we want to be."
While making some long-term roster additions in order to get better for the long run, the White Sox also have been creating financial flexibility. Payroll was down some $30 million from last year, and with big-money players like
Jake Peavy
,
Alex Rios
,
Adam Dunn
and
Paul Konerko
all gone now, Hahn said he expects to have some freedom to spend a little more to shore up roster spots.
"The flexibility helps a lot," Hahn said. "Having some important players signed long term, you have that cost certainty about what your obligations are going to be going forward, and we're in a position now where we've managed to create some economic flexibility going into the offseason. We can deploy that via free agency or via trade and really not be precluded from any opportunities right now due to economic reasons."
The White Sox still might not be ready to push past the $110 million mark in player salaries, but overall talent still could be younger and better than it has been the past two seasons. Just don't expect the White Sox to spend like the deep-pocket
Los Angeles Dodgers
,
New York Yankees
and
Boston Red Sox
.
"Our intent is to convert on the No.1 target at every spot and address every need with the ideal fit," Hahn said. "Realistically there are 29 other clubs, some of which have similar needs to ours and similar resources, whether it be from a player to trade standpoint or an economic standpoint. So, we're realistic and know that we're not going to be able to necessarily convert on every top guy.
"At the same time, our scouts and our analytics people are fairly well versed and skilled at being able to target, perhaps, I don't want to say second-tier, but perhaps less notable targets who have been able to develop into integral parts of championship clubs here. So, the list is long. It continues to be vetted. It'll continue to be vetted over the next few weeks."
Yet for all the positives, there is no getting around the fact that the White Sox finished with just 73 victories this season, a mark that was 15 games under .500. That is not a positive no matter how many long-term impact players have been added since the July 2013 trade deadline.
"If you're asking me for a pass-fail grade on the 2014 season, it's a failure," Hahn said. "The goal is to win a championship. The goal is always to win a championship, and we're not going to do that."
That's the black-and-white summary of the season. The gray area offers intrigue.
"'From the standpoint of putting ourselves in position to win multiple championships, there are some successes that we can feel happy about," Hahn said. "Obviously, last offseason we were able to acquire the rookie of the year (Abreu). It would be nice to do that again this offseason and continue that process.
"Adam Eaton is going to be the mainstay at the top of our order for a long time. Obviously,
Chris Sale
took another step forward, as did
Jose Quintana
. Avi Garcia has shown flashes. It would have been nice if he had been healthy the whole year to continue that development, but at the same time, he continues to be a very integral part of our plan going forward."
As for there the fixes that need to be made, a right-handed starter is a priority and a decision on a left fielder will be key. But one other area will have much of the emphasis.
"When you look at our bullpen, you wish that was better," manager Robin Ventura said. "You don't know if it's going to be guys that are improving or different people. That's just the way the game goes. You look at what you're weak at and try to figure out a way to improve it. There are quite a few things.
"When you end up 15 games back in your division, you look back at a lot of games you lost; see how you lost them, why you lost them. I think defensively for us, there's ways to improve. Offensively there's ways to improve. There are a lot of different things to it. We'll definitely go over that. We've been going over that as we move along and kind of start focusing on what we want to see this offseason."
While questions have been raised this season about Ventura's job stability, Hahn said he has no issues with his manager moving through the current roster rebuild.
"Robin continues to do an excellent job at the helm of the club," Hahn said. "Obviously, when you evaluate managers, you have to take into account the personnel that they're given. I don't think it's fair to expect them to have every player on the roster consistently overachieve or achieve at perhaps a level beyond the player's capabilities.
"So we judge it from the prism of what was he given and what did he get out of them. His communication continues to be outstanding, his ability to keep all the players involved, and keeps them on point to prioritize the things that we feel are important and respond to inevitable challenges."
September, 28, 2014
Sep 28
4:52
PM CT
Associated Press
CHICAGO -- Kansas City's chance for the AL Central title was erased by Detroit's victory on Sunday, and the Royals went on to a 6-4 comeback win over Chicago in the final game for retiring White Sox captain Paul Konerko.
Coming into the final day of the regular season, Kansas City was hoping for a one-game playoff on Monday in Detroit for the division crown. But the Tigers clinched the Central with a 3-0 victory over the Twins, sending the Royals to a home wild-card game against Oakland on Tuesday night in their first playoff appearance since 1985.
Right after Detroit secured its fourth straight division title, Kansas City manager Ned Yost started pulling some of his regulars from the lineup. Rookie right-hander Yordano Ventura was lifted after four innings and 73 pitches.
Kansas City (89-73) likely will have James Shields on the mound when the Royals take on the Athletics.

September, 28, 2014
Sep 28
4:47
PM CT
CHICAGO --
Paul Konerko
's career came to a close Sunday in the
Chicago White Sox
's 6-4 defeat to the
Kansas City Royals
.
How it happened:
Konerko ended his 18-year career Sunday with an 0-for-3 performance. He played 16 of those seasons in a White Sox uniform. With standing ovations in his honor all day long, Konerko struck out twice and grounded out to third base during his final at-bat in the fifth inning. Konerko took his position at first base before the sixth inning started, but he was replaced by
Andy Wilkins
before a pitch was thrown, getting a standing ovation as he left the field one last time.
What it means:
Although
Jose Abreu
played the majority of games at first base, Konerko's departure officially passes the torch to the new slugging first baseman. Abreu's numbers this season (.317 batting average, 36 home runs, 107 RBIs) are on par with what Konerko produced in his prime. Abreu already has one All-Star Game appearance to his credit. Konerko played in the All-Star Game six times.

Outside the box:
Konerko finished his career as the White Sox's all-time leader in total bases at 4,010. He ranks second in home runs (432), RBIs (1,383), games (2,268) and extra-base hits (846). He is third in team history in hits (2,292) and doubles (406). Konerko is the White Sox's leader in 20-homer seasons with 12, 30-homer seasons with seven and 100-RBI seasons with six. Konerko's 10 grand slams are tied with Robin Ventura for the club record.

Off beat:
Konerko had a touching tribute of his own to deliver as he recognized his family in the dirt. During the first inning, Konerko scratched the names of his sons Nick and Owen on the skin part of the infield near first base. As the game proceeded he added a letter "J" for his wife Jen and a letter "A" for his daughter Amelia. He finished it off with a heart. The names easily could be read from the Konerko family suite above first base.
Final record:
The White Sox finished 73-89 on the 2014 season, a 10-game improvement on last year's 63-99 mark. The White Sox had consecutive losing seasons for the first time since they finished under. 500 for three consecutive years from 1997-99.
September, 28, 2014
Sep 28
1:10
PM CT
CHICAGO -- With the
Chicago White Sox
rookie record for home runs already his,
Jose Abreu
was not in the starting lineup for Sunday's season finale.
Abreu broke a tie with Ron Kittle for the rookie mark when he launched his 36th home run in the first inning of Saturday's game against the
Kansas City Royals
.
Where it once looked like Abreu would be a lock to own the record, a significant power outage took the matter down to the final weekend of the season before the slam-dunk rookie of the year found the strength for one more long ball.
"I think we see great things," manager Robin Ventura said. "Any time a guy gets into his first year and has the impact that he had, you're very excited to see what comes of it. Just his mechanics, who he is and everything. You can sit here and say next year might be not as good, but with his work ethic and everything that he brings to the table on a daily basis, I see him staying consistent. I feel very fortunate that he's in the middle of our lineup."
Abreu headed into the final day with a .317 batting average, 107 RBIs, a .383 on-base percentage and 176 hits to go along with his 36 homers. All of those led the White Sox. In addition, Abreu's .581 slugging percentage was tops in baseball.
Those numbers have provided a smooth transition from
Paul Konerko
at his heyday, to the next generation of White Sox first basemen. Taking over first base from somebody like Konerko has not been lost on Abreu this season.
"It's very tough to replace a captain," Abreu said through an interpreter. "Everyone knows him and loves him here and all I can do is to go out there and do my best every day and hopefully the fans will grow to love me as well."
Outside of run production if there is a trait that runs deep in both Konerko and Abreu, it is modesty. Is there a leadership gene in both of them as well?
"I feel that if the team feels like I should be the captain of the leader of the team, I'll take that with great strides and with much respect that comes with that," Abreu said. "All I want to do is win as many ballgames [as possible] so we can have a championship here."
Spoken like a true leader.
September, 28, 2014
Sep 28
12:08
AM CT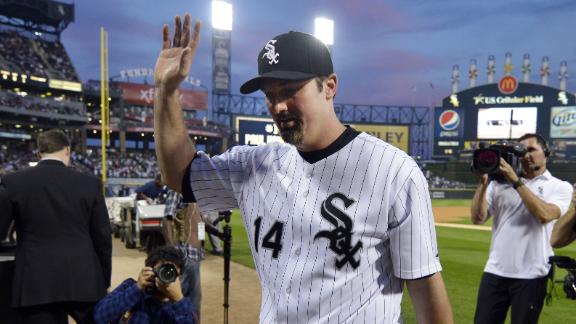 CHICAGO -- There was a moment early in the first game of the 2005 World Series when a
Houston Astros
player reached first base and remarked to
Paul Konerko
about the excitement of the pregame ceremonies.
At that point, Konerko has said, he knew the
Chicago White Sox
were better prepared mentally to win the championship.
Well, on Saturday at U.S. Cellular Field, Konerko was that Astros player, who he always has declined to name, except the stakes weren't nearly as high.
[+] Enlarge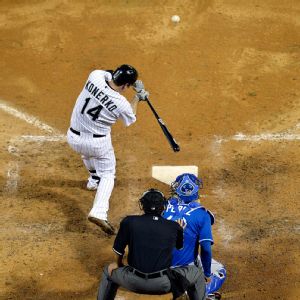 Brian Kersey/Getty ImagesFrom a farewell speech and his bronze being unveiled early to receiving a remarkable package of gifts and actually playing in a game, Paul Konerko had a night full of excitement at U.S. Cellular Field.
A 30-minute pregame ceremony designed to celebrate Konerko's storied career was filled with love, emotion and appreciation, and it left Konerko drained before the contest even started. That he went 0-for-3 with two strikeouts wasn't a surprise. In typical Konerko, self-aware fashion, he apologized for his performance.
"The place felt really small," said Konerko, who gave a nearly nine-minute speech of his own and received gifts that included the ball from his Game 2 grand slam in the 2005 World Series, while the club unveiled a statue of his likeness on the concourse.
"It felt like everybody was right on top of you. You know, for me, here, playing for the team and just everything that's gone on since I've been a player here, it's not like I needed anything. I have it right in my head and the fans, we have it in our heads. It has been good. That was kind of icing on the cake -- beyond icing on the cake. I have to apologize for the game. To go out and try to play a game after that, I mean, I'm pretty good about distractions, but no way. I was a mess out there."
By mess, Konerko did not mean sad or teary eyed, just a bundle of emotions all at once that he had a problem containing. Excitement, pride and embarrassment were probably just a few of those feelings.
"That was probably the toughest circumstances to go play against a good team, against good pitching and still trying to win a game," he said. "Hopefully, they will cut me some slack on that one. I apologize. It was just very odd. As many games as I've played, none of them ever felt like that going into it. It was awesome."
Because Konerko also has an ability to recognize things around him, he was hyper-aware of Saturday's opponent, the
Kansas City Royals
. Whether it was the ceremony or Friday night's celebration of their first playoff berth in 29 years, the Royals were unable to match the early energy of the White Sox, who used that advantage to ride to a 5-4 victory.
"Yeah, I mean, I expected maybe a couple of [Royals] guys to maybe be out there; their whole team was out there," Konerko said. "It was kind of an odd time. It threw things off. We're creatures of habit. It was kind of odd that there really was no start time. It was like, whenever it's done, we're going to play."
In front of Saturday's sold-out crowd, Konerko said the Royals look very similar to the 2005 White Sox team that stormed through the playoffs. After the game, he reiterated that thought.
"In some weird way, I've seen those guys grow up, too," Konerko said. "I've been around to see the [Eric] Hosmers and the [Mike] Moustakases and the [Alex] Gordons, and you play so many games against these guys. Of course, you're always trying to win, but you see their careers kind of happening, too, and now you see them going to the playoffs.
"What I told them was true. That team right there looks a lot like the team that won the World Series here, as far as how they're built. Good luck to them. I hope they do it. I hope they get the same feeling I had. It was great. But just for all of them to be out there, really cool. It was nice."
Along with the surprise of the World Series ball, the White Sox also unveiled a bronze Konerko statue on the left field concourse. He received an oil painting of his greatest moments, a framed collection of baseballs signed by every player on the 2005 team and two guitars -- a 1976 Gibson and a 1963 Fender Stratocaster.
During the game, the White Sox played video clips of current and former teammates congratulating him on a successful career. There were clips from opponents, opposing managers and even players in other sports, such as Blackhawks
Jonathan Toews
and
Patrick Sharp
and Bulls
Derrick Rose
and
Joakim Noah
.
Metallica's James Hetfield even offered his congratulations during the pregame ceremonies.
"I've done a really good job of keeping my head down and playing and not thinking I was anything while this whole career went on," Konerko said. "Now you look up, and you have all these people going out of their way for you and all that, it's just, I don't know.
"I feel uncomfortable about it sometimes, but to see
Derek Jeter
up there or Terry Francona. I mean James Hetfield from Metallica said my name. It's crazy. Just because you can hit a ball with a bat. It's pretty cool. I don't know how else to say. I'm blown away by it."
Konerko eventually left the game in the seventh inning and walked off the field after being replaced by
Andy Wilkins
at first base. The fans roared and Konerko took a curtain call, then was left with just one game to play before his career ends.
"I feel less anxiety about going into [Sunday] than I did today because of the ceremony and all that and having to talk and speak and all that stuff," Konerko said. "What am I going to do? Strikeout twice? I did that tonight. At this point, you're just going to go out there and try to go a couple at-bats, two, three at-bats, see how it goes.
"What I want to do is go out there and hit a couple of balls hard, [and] hopefully they'll get down. With this outfield, these guys that play for Kansas City, they seem to be everywhere, so hopefully if I hit a couple, they'll get down. But if they don't, that's fine. I think we all know at this point, it's kind of irrelevant the result, but I just want to go out there and attack for a couple more at-bats, a few more innings, and then I'll be seeing you guys."
September, 27, 2014
Sep 27
10:36
PM CT
Associated Press
CHICAGO -- Jose Abreu hit a two-run homer, and the Chicago White Sox kept Kansas City out of first place in the AL Central with a 5-4 victory over the Royals on Saturday night.
The Detroit Tigers, who lost 12-3 at Minnesota on Saturday, stayed one game ahead of the Royals entering the final day of the regular season. Kansas City clinched at least a wild card spot on Friday.
Danny Duffy (9-12) lasted only two innings for the Royals. He allowed four runs, five hits and one walk. The White Sox jumped on him, scoring three runs in the first inning. Abreu capped the rally with his 36th home run.
Abreu broke a 31-year-old franchise record for the most homers in a season by a rookie, previously held by Ron Kittle. They are the most by a rookie since St. Louis' Albert Pujols hit 37 in 2001.

September, 27, 2014
Sep 27
10:20
PM CT
CHICAGO -- In front of a sellout crowd that came to celebrate
Paul Konerko
's career, the
Chicago White Sox
powered their way to a 5-4 victory over the
Kansas City Royals
in the second to last game of the season.
How it happened:
Konerko went 0-for-3 with two strikeouts as the man of the hour, but others got into the swing of things for him.
Josh Phegley
hit two home runs and
Jose Abreu
added another in the victory. White Sox starter
John Danks
was solid in his final outing of the year, giving up two runs on five hits over seven innings. The bullpen bent but didn't break as
Javy Guerra
recorded the save.
What it means:
A 30-minute pregame ceremony for Konerko seemed to put a charge into the White Sox. And a night after clinching a spot in the playoffs as at least a wild-card team, the Royals' division chances took a blow. The Royals remained a game behind the
Detroit Tigers
for the American League Central top spot with one game to play.
Outside the box:
Abreu's power has diminished considerably over the last two months, but the rookie was able to deliver a dinger Saturday. His 36th home run of the season gave him the club rookie record all to himself. He entered the game tied with Ron Kittle for most home runs by a White Sox player in his rookie season.
Offbeat:
The Royals had plenty at stake Saturday with the division lead still in question, but could not have been classier with the Konerko celebration. The Royals' dugout was packed for the pregame salute, something Konerko acknowledged in his farewell speech. And when Konerko was taken off the field in the seventh inning, the Royals'
Alex Gordon
stayed far away from the batter's box, leaving the stage all to Konerko as he walked off the field, then took his curtain call.
Up next:
The White Sox will send right-hander
Chris Bassitt
(1-1, 3.65 ERA) to the mound Sunday in the final game of the season. The Royals will counter with right-hander
Yordano Ventura
(14-10, 3.07) in the 1:10 p.m. CT start from U.S. Cellular Field.
September, 27, 2014
Sep 27
9:24
PM CT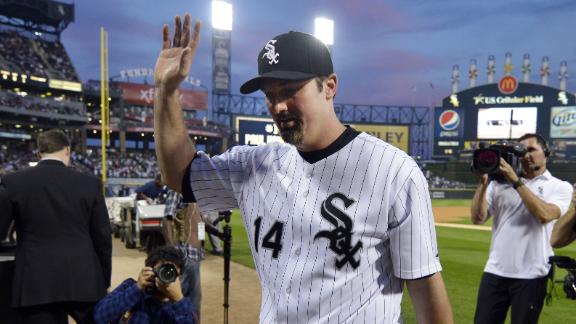 CHICAGO -- The ball
Paul Konerko
launched into the seats for a grand slam in Game 2 of the 2005 World Series got a new home Saturday.
The souvenir's owner,
Chicago White Sox
fan Chris Claeys, presented the ball, which had been displayed at Harry Caray's Italian Steakhouse for the better part of the past nine years, to Konerko as part of Saturday's pregame ceremony to celebrate the first baseman's career.
It was part of a package of gifts that included a bench of bases, bats and balls made by former White Sox player Ron Kittle, an original Konerko-themed oil painting and a display of baseballs signed by each of his 2005 teammates.
In addition, the music-centric Konerko received two guitars: a 1976 Gibson and a 1963 Fender Stratocaster.
On Friday, the team said a statue of Konerko was in the works. But the White Sox pulled ofF a surprise Saturday by unveiling a bronze of Konerko on the concourse, and they gave his family trophy-size replicas of the statue.
Claeys said it was a no-brainer to present the ball to the retiring team captain. The White Sox first approached him with the idea three weeks ago.
"I just totally agreed with the concept of Paul getting this ball," Claeys said. "I think Paul is a class guy. There was no money passed. The Sox just gave me perks: a suite tonight for 20 friends and family. I said I just really want a photograph of me and Paul, and Paul to write, 'Chris, thanks for my 2005 World Series grand slam ball. PK.' Whatever. That's really all I wanted was that."
Claeys said he was sitting in the left-field stands for Game 2 of the 2005 World Series just three days after shoulder surgery. The ball bounced off a fan, who was sitting where the now-popular blue seat is in Section 159, and rebounded right to Claeys, who was standing in the aisle.
The White Sox tried to make a deal with Claeys to get the ball before the game even ended. But when the
Houston Astros
tied the game, everybody in the room trying to make a deal with him scattered. He was with his friends on the field-level concourse when Scott Podsednik hit his eventual game-ending home run (also remembered with a blue seat in right-center field), and he left the ballpark with his buddies.
The ball had been his ever since, until Saturday. Claeys walked out to home plate during the Konerko ceremony, and in front of a sold-out crowd he turned over his cherished memento.
"I was nervous as heck out there," Claeys said. "I walked up to him, I gave him the ball, and I said, 'Paul, this has been my prized possession for nine years, and tonight it becomes yours. Thank you for 16 years of great memories.'
"He gave me a hug and said, 'You know, I think we're the two most nervous guys out here on the field.' And I said, 'I think you're right.'"