November, 21, 2014
Nov 21
9:54
PM CT
By ESPN Stats & Information
ESPNChicago.com
Archive
What are the statistical storylines tied to the
Chicago White Sox
agreeing to a two-year, $25 million deal with first baseman
Adam LaRoche
?
LaRoche is the team's second notable addition this offseason along with left-handed reliever
Zach Duke
.
The lefty power bat they needed
The White Sox were in need of a left-handed hitter to pair up with right-handed slugger
Jose Abreu
. White Sox lefties ranked 24th in MLB in slugging percentage (.373), 26th in home runs (38) and struck out the second-most often of any team (23.4 percent).
LaRoche has hit 79 home runs over the last three seasons, with at least 20 in each season. Seventy eight of those came as a first baseman, the most of anyone specifically while playing that position.
LaRoche has hit at least 20 home runs nine times since becoming a major leaguer in 2004. He's one of 10 major leaguers with at least nine 20-homer seasons in that 11-season span. He's a discerning hitter, ranking 15th in the majors in walk rate over the last two seasons.
He'll also be moving away from a home ballpark that isn't hitter friendly to one that is much more conducive to power. Nationals Park ranked 22nd for
"Park Factor"
for left-handed hitters for home runs last season. U.S. Cellular Field ranked 10th.
He can field reasonably well too
LaRoche would be a better defender at first base than Abreu would, which would allow the latter to move to designated hitter.
Over the last five seasons, LaRoche has 20 Defensive Runs Saved at first base, with a Gold Glove to his credit in 2012 (a year he finished sixth in the NL MVP voting). Last season, Abreu had -11 Defensive Runs Saved, worst for anyone at that position.
Weakness: Doesn't hit lefties well
LaRoche is a bit feeble when it comes to facing left-handed pitching. He's hitting .201 with eight home runs in 268 at-bats against them the last two seasons.
He misses on 27 percent of his swings against lefties compared to 20 percent of his swings against righties.
Windy City rivalry suits him well
LaRoche will fit in fine to the Windy City rivalry with the
Chicago Cubs
. He is a .273 career hitter with 22 home runs in 79 games against them. That's his second-most home runs against any team.
November, 21, 2014
Nov 21
8:47
PM CT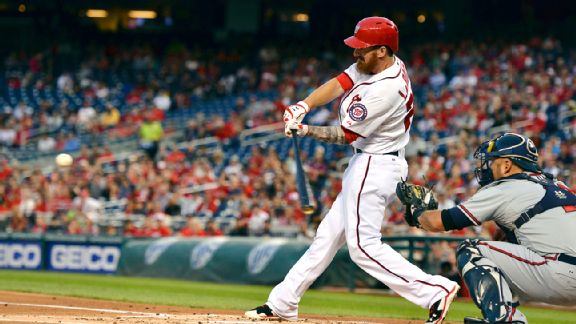 Tommy Gilligan/USA TODAY SportsWith a track record as a run-producer, Adam LaRoche isn't quite the gamble Jose Abreu was.
CHICAGO – If last winter was about taking chances on unproven commodities such as
Jose Abreu
and
Adam Eaton
, the
Chicago White Sox
have gone with proven options as their roster rebuild continues this offseason.
This week alone, the White Sox have added veterans in left-handed reliever
Zach Duke
and left-handed-hitting run-producer
Adam LaRoche
, with a number of other holes left to fill. Sources confirmed to ESPN.com on Friday that
LaRoche has agreed to a two-year, $25 million deal
.
It's clear the club must continue to address its bullpen situation. The White Sox also desire a right-handed starter and an outfielder who potentially could take over in left.
So far, general manager Rick Hahn has filled two major needs in solid fashion and hasn't broken the bank to do it. LaRoche will average $12.5 million over his two-year deal, and Duke will make $4.5 million in 2015, with slight raises in each of the following two seasons.
Not only does Hahn still have more money to spend, but trades remain a possibility to fill needs over the next four weeks, which is usually the prime time frame for making deals. Baseball's winter meetings are set for Dec. 8-11.
It was during last year's winter meetings that Hahn pulled off the trade for center fielder Eaton. The biggest piece the White Sox gave up in that deal was left-hander
Hector Santiago
, who was in and out of the
Los Angeles Angels
' rotation last season.
By this time in 2013, Hahn already had slugging first baseman Abreu in the fold. The six-year, $68 million deal to land the Cuban standout was considered risky at the time, but it's now looking like a steal after the disciplined power hitter was the first rookie in major league history to finish in the top five in all three Triple Crown categories.
With a farm system that had been much maligned in the recent past, Hahn now has the option of plugging some holes in next year's roster with highly regarded prospects. The second-base job could end up going to the speedy
Micah Johnson
, and first-round draft pick Carlos Rodon could end up helping the team out of the bullpen next year before he takes a spot in the rotation down the road.
While the White Sox are not believed to be shopping shortstop
Alexei Ramirez
to other teams, they have received inquiries on the 2014 All-Star. That kind of a deal doesn't figure to go down, though, unless the White Sox can receive, at bare minimum, a solid defensive shortstop to go along with either a late-inning reliever, a left fielder or a potential starter.
Trading Ramirez for top prospects seems less likely, since they have so many needs at the major-league level and the club has shown with the additions of Duke and LaRoche that it believes it can win sooner rather than later.
There remains a sense the White Sox can get at least one more key deal done before the winter meetings begin, if not more. Just this week club executive vice president Kenny Williams was sounding optimistic.
"I really cannot remember a time where so many good players have been discussed at the general managers' meetings leading up to the winter meetings," Williams said. "I think it's going to be awfully fun once the winter meetings kick off. You're going to have some scrambling going on and I like it like that.
"If it was left up to Rick and me, we'd have started in September and October filling out the roster, but agents and players don't seem to be on our timetable, they seem to be on their own timetable."
November, 21, 2014
Nov 21
7:41
PM CT
ESPN.com news services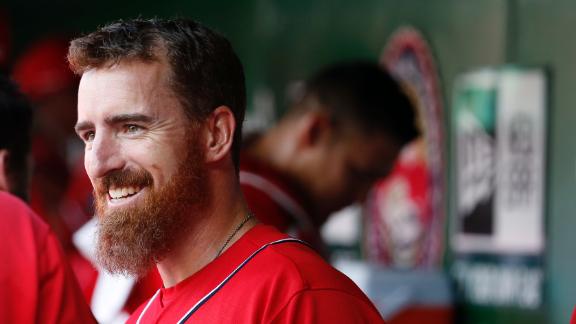 The Chicago White Sox snagged the lefty-hitting run producer they were looking for by agreeing to a two-year, $25 million deal with Adam LaRoche on Friday, sources confirmed to ESPN.
USA Today earlier reported the deal, which the White Sox have yet to confirm.
It would be the second free agent the White Sox have added this week. They brought on left-handed reliever Zach Duke for bullpen depth Tuesday.
A .264 hitter over 11 seasons, the 35-year-old LaRoche has 243 career home runs. He hit 26 of them this past season for the Washington Nationals to go along with 92 RBIs.
White Sox general manager Rick Hahn talked earlier this week about the team's desire to add a left-handed bat to complement the right-handed run production from Jose Abreu and Avisail Garcia.
"It's on the list of needs," Hahn said Tuesday. "Obviously we want to have the balance in the lineup and allow [manager] Robin [Ventura] the flexibility to play the right matchups when the opportunity arises. Right now we do tilt a little heavily right-handed, especially in the middle of the order."
LaRoche has played all but six of his nearly 1,500 career games in the National League. He played those six games with the Boston Red Sox in 2009.
In the NL, he has played for the Atlanta Braves
November, 21, 2014
Nov 21
4:41
PM CT
Associated Press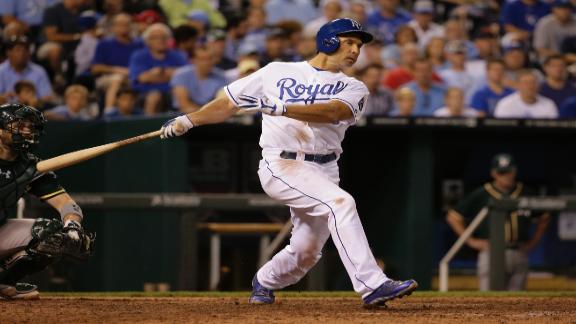 ST. PETERSBURG, Fla. -- Raul Ibanez, Kevin Cash and Don Wakamatsu are the finalists to replace Joe Maddon as manager of the Tampa Bay Rays.
Dave Martinez, the Rays' bench coach for the past seven seasons, was among seven candidates dropped Friday. Also cut were Barry Larkin, Doug Glanville, Manny Acta, Craig Counsell, Charlie Montoyo and Ron Wotus.
Tampa Bay said interviews with the finalists will be scheduled for the week of Dec. 1. Maddon left the Rays after nine seasons to manage the Chicago Cubs.
"The decision on Dave Martinez was especially difficult," Rays president of baseball operations Matt Silverman said in a statement. "He's played a key role in our organization's evolution, and he's done all he can to put himself in position to be a manager. In the end, we determined that our clubhouse would best benefit from a new voice that will add to our already strong and cohesive culture."
Ibanez, 42, has spent 19 seasons in the major leagues with Seattle, Kansas City, Philadelphia, the Yankees and the Los Angeles Angels and has 305 homers and 2,034 hits. He helped the Royals win this year's AL pennant.
The 36-year-old Cash played for Tampa Northside in the 1989 Little League World Series and was a big league catcher for eight seasons with Toronto, Tampa Bay, Boston, the New York Yankees and Houston from 2002 to 2010. He was a major league advance scout for Toronto in 2012 and Cleveland's bullpen coach in 2013-14.
November, 20, 2014
Nov 20
5:56
PM CT
CHICAGO -- Parting ways with reliever
Ronald Belisario
was one of seven moves the
Chicago White Sox
made Thursday.
The club also added four players to the 40-man roster: right-handed pitcher Frankie Montas, infielders Rangel Ravelo and Tyler Saldano and catcher
Kevan Smith
. Outfielder
Jared Mitchell
was outrighted to Triple-A Charlotte, while left-handed pitcher
Onelki Garcia
was claimed off waivers from the
Los Angeles Dodgers
.
The move to designate Belisario for assignment comes as no surprise as the right-hander had a 5.56 ERA over 66 1/3 innings. Signed to a $3 million deal for 2014, the right-hander was late to spring training because of his reoccurring visa issues, started the season in impressive fashion, but then crumbled when he was put in the closer role after an injury to
Matt Lindstrom
.
Belisario remains arbitration eligible for 2015, but he is now headed for free agency for the second consecutive season after the Los Angeles Dodgers cut him loose after the 2013 season.
Montas has become one of the standouts of the White Sox's system after coming to the club in the 2013 three-team deal that sent
Jake Peavy
to the
Boston Red Sox
and brought
Avisail Garcia
over from the
Detroit Tigers
.
Baseball America ranked Montas' fastball the best in the Carolina League as the 21-year old went a combined 5-0 with a 1.44 ERA, 80 strikeouts and a .182 opponents' batting average over three different minor-league levels.
Ravelo, a sixth-round draft pick by the White Sox in 2001 was rated by Baseball America as the 10th-best prospect in the club's system. Saldano, who batted .310 over 82 games for Triple-A Charlotte last season saw his season end early after elbow surgery. Smith, a former seventh-round draft pick in 2011 was a Southern League midseason all-star last season.
Garcia is a Cuba native, who was a third-round draft pick by the Dodgers in 2012. He appeared in three major league games in 2013 after just 36 games in the minor leagues. He had elbow surgery in November of 2013 and appeared in one minor league game last year.
The White Sox's 40-man roster is now at 40 players.
November, 18, 2014
Nov 18
7:33
PM CT
CHICAGO -- The Chicago White Sox hope that the
signing of left-handed reliever Zach Duke
on Tuesday is the beginning of a quick roster retooling this offseason.
While patience might be a virtue, executive vice president Kenny Williams believes there is a benefit to making offseason moves in a timely fashion, and he and general manager Rick Hahn are prepared to act fast if given a chance.
The addition of Duke, one of the top left-handed relievers on the market, is a step in the right direction for a team that struggled with its bullpen in 2014. Adding a hard-throwing right-hander with strikeout potential is another need, as is other assorted bullpen help, a right-handed starter and a left-handed power bat.
With some of the early moves that have happened in baseball already, from trades to free-agent signings, Williams is optimistic that things will start to move at a speed he and Hahn prefer. Baseball's winter meetings are less than a month away in San Diego.
"I really cannot remember a time where so many good players have been discussed at the general managers' meetings [last week] leading up to the winter meetings," Williams said. "I think it's going to be awfully fun once the winter meetings kick off. You're going to have some scrambling going on, and I like it like that.
"If it was left up to Rick and me, we'd have started in September and October filling out the roster, but agents and players don't seem to be on our timetable; they seem to be on their own timetable."
It isn't out of the question that the White Sox will be able to get multiple items scratched off their checklist before the winter meetings even begin.
"Some of the things Rick and I are talking about back there are exciting things, and some days they are more exciting than others," Williams said. "You kind of go back and forth with the possibilities, thinking something is closer at one point in time, then it kind of backs off, then it gets a little closer. [Signing Duke] is a good first step, and hopefully we can supplement the roster and get back into competition mode."
November, 18, 2014
Nov 18
7:09
PM CT
CHICAGO -- The Chicago White Sox gave the floor Tuesday to six members of their Amateur City Elite program to sign letters of intent to play baseball at the college level.

The ACE program, which is run in conjunction with the White Sox, is comprised of 11 travel baseball teams with players from under 12 to 18 years old, all of whom are talent from the inner-city. The program is a pride and joy of executive vice president Kenny Williams, given that it directly impacts the immediate area.

"There are so many people that work so hard, from their parents to teachers to principals, and not to mention all the coaches that put in all the work, to help get these guys to the point to where they can sit at a table and sign a letter of intent to go to college," Williams said. "Many of them, I'm sure, just a few short years ago probably could not visualize this. It's an honor for the White Sox to be part of the growth process, and we look forward to seeing what they have for the future."

Players from the program who signed letters of intent Tuesday include Jackson Edwards of Hope Academy, who will attend Judson University; Jamar McKinney of Simeon Career Academy, who will attend Chicago State University; Jalin McMillan of Simeon Career Academy, who will attend the University of Illinois; Lavezz Middleton of Marion Catholic, who will attend Bucknell University; Nelson Munoz of Mt. Carmel Academy, who will attend Grambling State University; and Torrium Towers of Harlan Academy, who will attend Claflin University.

Since the start of the White Sox's ACE program, 85 athletes have received athletic aid to play college baseball. A total of 14 of those players have been selected in the major league draft. Nine members of the 2014 United States-champion Jackie Robinson Little League team from the South Side of Chicago are members of the program.

"[ACE] has evolved with our teachings, and not just paying attention to the baseball side of things but the character-building side of things," Williams said. "To hear them talk about their possibilities in life and the focus on their education, it's really heartwarming. It's a result of a lot of hard work. It goes back to that it takes a village, and this program has been a shining example of what a village can do."
November, 18, 2014
Nov 18
4:19
PM CT
CHICAGO -- If teams are going to try and pry a core player away from the
Chicago White Sox
, it's going to come at a steep price.
As trade rumors begin to swirl regarding White Sox shortstop
Alexei Ramirez
, general manager Rick Hahn neither confirmed nor denied those inquiries Tuesday, but did not sound as if he was shopping his All-Star infielder.
A USA Today report via Twitter on Tuesday said that the
Los Angeles Dodgers
were actively pursuing Ramirez.
"We are certainly open minded on all of our players," Hahn said Tuesday, declining to talk about Ramirez specifically. "It's our obligation to listen. At the same time we have what feel are some very valuable commodities in the game right now and we're certainly not looking to move any of them without feeling very good that we are not only improving our competitiveness for 2015 but for '16 and beyond as well."
The Dodgers are in need of an everyday shortstop since they are not expected to re-sign free agent
Hanley Ramirez
, but if the White Sox move Alexei Ramirez, that would leave them in a similar shortstop bind. The White Sox do not have somebody waiting to take over at shortstop on an everyday basis, and their top prospect at the position,
Tim Anderson
, is two or three years away from arriving at the major league level.
The White Sox also have a team-friendly contract with their shortstop, who will make $10 million in 2015 and another $10 million in 2016 if a club option is activated. He made $9.5 million this past season.
November, 18, 2014
Nov 18
2:25
PM CT
By Mark Simon | Stats and Info
ESPNChicago.com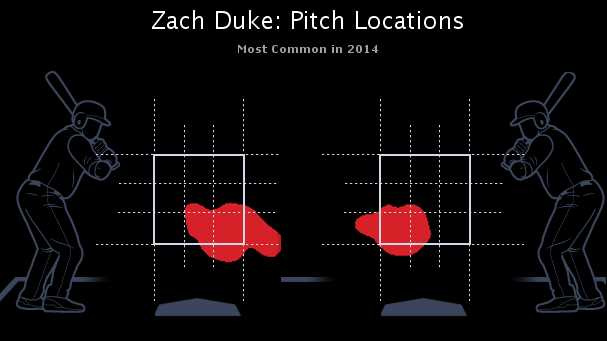 Zach Duke
excelled at keeping the ball down in 2014.
What are the White Sox getting in Zach Duke?
From our viewpoint, he was the second-best left-handed relief option available in free agency, behind
Andrew Miller
.
The 31-year-old Duke excelled in relief for the Brewers last season, posting a 2.45 ERA, with 74 strikeouts and only 17 walks in 58 2/3 innings pitched over 74 appearances.
Duke had previously pitched for the Pirates, Diamondbacks, Nationals and Reds but had never been able to perform at a level anywhere close to that which he did as a rookie in 2005, when he had a 1.81 ERA in 14 starts, until last season.
Duke changed things up prior to 2014 in two ways, dropping his arm slot to a siderarm delivery and increasing the use of his breaking pitches at the expense of his changeup (
as this article thoroughly details
).
That led to a sharp spike in his ground-ball rate and made him much tougher to hit home runs against. It also raised his strikeout rate to a level previously unseen in his career.
Duke handled both left and right-handed batters without issue with this new look. Lefties hit .198 against him. Righties hit .242. His opponents' slugging percentage was terrific- .302 against lefties, .298 against righties.
A look at the heat map atop this article shows where Duke most frequently threw pitches in 2014. He had the second-highest rate of pitches thrown in the lower-third of the strike zone or below among anyone who threw at least 50 innings (68 percent), trailing only submariner
Brad Ziegler
.
Steamer's projections for 2015
don't anticipate Duke replicating his 2014 success, but they don't project him to have a huge drop-off either. They put his ERA for 2015 at 3.10 and keep his strikeout-to-walk ratio at 3.5-to-1.
November, 18, 2014
Nov 18
12:57
PM CT
[+] Enlarge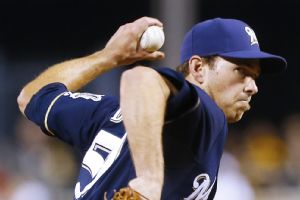 AP Photo/Keith SrakocicReliever Zach Duke posted a 2.45 ERA with 74 K's over 58 2/3 innings for the Brewers last season.
CHICAGO -- The White Sox started the process of rebuilding their bullpen Tuesday, signing left-hander Zach Duke to a three-year, $15 million deal.
Duke, a former starter who has pitched mostly in relief the last four seasons, posted a strong season out of the bullpen last season with the Milwaukee Brewers. He not only delivered a 2.45 ERA over 58 2/3 innings, but his 74 strikeouts were nearly double what he had recorded the past three seasons combined.
Duke limited opponents to a .223 batting average in 2014, including a .198 mark from the left side. He allowed just 19.5 percent of his inherited runners to score.
"In our opinion, he was one of the most desirable relievers out on the market," general manager Rick Hahn said. "It addresses a clear need for us given our performance last season. He was a player that we targeted very early in the process that we were aggressive on and needed to be given his popularity in the market."
November, 13, 2014
Nov 13
3:20
PM CT
Associated Press
EASLEY, S.C. -- Alvin Dark, a player and manager on World Series champions who sparked perhaps the most famous rally in baseball history, died Thursday. He was 92.
The Robinson Funeral Home in Easley, South Carolina, said Dark died at his home.
Dark was the 1948 Rookie of the Year and a three-time All-Star shortstop. He played alongside Willie Mays when the New York Giants won the 1954 title, and he guided Reggie Jackson and the Oakland Athletics to the 1974 crown.
Dark's relationship with his Latin players proved a source of friction during his time as manager of the San Francisco Giants in the `60s. He was said to have asked them to refrain from speaking Spanish at the ballpark -- among the Latin stars on those teams were future Hall of Famers Orlando Cepeda and Juan Marichal, plus Felipe Alou.
Cepeda told The Associated Press in a phone interview Thursday that he often saw Dark in later years and "every time he saw me he felt very sorry for what he did to the Latino players."
"He didn't know our background or where we came from. I said, `Alvin, that's in the past now, that's in the past," Cepeda said. "I don't have grudges against nobody."
Cepeda said that as he got older, he could better appreciate the baseball advice that Dark imparted to his players.
"He was ahead of his time," Cepeda said. "He was a great baseball man. He made me play hard, because he said I had so much talent."
In 1951, Dark was team captain when the Giants trailed the Brooklyn Dodgers 4-1 in the bottom of the ninth inning in the deciding Game 3 of their NL pennant playoff.
Dark hit a leadoff single against Don Newcombe, and Bobby Thomson capped the comeback at the Polo Grounds with a home run that became known as "The Shot Heard 'Round the World" for a 5-4 win.
November, 13, 2014
Nov 13
12:30
PM CT

By Calvin Watkins
ESPNChicago.com
Archive
PHOENIX -- The
Texas Rangers
are committed to
Robinson Chirinos
as their starting catcher for the 2015 season. But who will be the the No. 2 catcher remains uncertain.
Tomas Telis
, a switch-hitter who showed nice pop with his bat but struggled to throw base runners out last season (though in winter ball he's improved in that area immensely), is a possibility.
Top-rated prospect
Jorge Alfaro
will be added to the 40-man roster this winter. GM Jon Daniels doesn't expect Alfaro to make the club in spring training but noted there's a possibility of a September call-up.
If Daniels doesn't go with Telis, he's seeking a veteran backup to help Chirinos deal with such a demanding position. Chirinos started 88 games at catcher last season and participated in 784 innings. There were only eight catchers who logged 1,000-plus innings behind the plate last season.
The best catcher on the free-agent market is Pittsburgh's
Russell Martin
and after that the market is, as Daniels put it, "the whole position in the industry is pretty (weak). It's not a good list."
The Pirates acquired
Francisco Cervelli
in a trade with the
New York Yankees
on Wednesday. That trade could mean Martin crosses the Pirates off his list of teams he could play for in 2015. With the Rangers waiting on Alfaro to develop, it doesn't make too much sense to chase Martin, who is seeking a high-priced free-agent deal.
Former Rangers such as
A.J. Pierzynski
and
Gerald Laird
are on the market and Daniels said he's open to that possibility, but he didn't seem overly excited about the pair.
J.P. Arencibia
and
Geovany Soto
were the projected catchers for the Rangers last season, but injuries and ineffective play derailed them and the club didn't retain either player.
So Daniels can either stay with Telis as the backup or seek help elsewhere.
Pitchers bound for Japan:
The Rangers are in the final stages of selling the rights of right-handed starter
Miles Mikolas
and left-handed reliever
Aaron Poreda
to the Yomiuri Giants of the Japanese League for cash.
Mikolas was inserted into the starting rotation last season and in 10 starts went 2-5 with a 6.44 ERA. Mikolas made his last start Aug. 25 when he shut out Seattle over eight innings. But Mikolas had shoulder soreness and didn't pitch again the rest of the season.
Poreda was the
Chicago White Sox
's first-round draft pick in 2007, but he didn't pitch in the majors at all from 2010 to 2013 and then had a 5.91 ERA in 26 relief appearances for the Rangers last season.
International money:
The Rangers have expressed interest in two Cuban defectors, outfielder Yasmany Tomas and now infielder Yoan Moncada, whom the club scouted Wednesday. The Rangers, however, are limited in the amount of money they can spend on each player. The Rangers were penalized for spending above their allotted bonus pool money during the international free agent signing period the previous year. The most the Rangers can offer a player is $250,000. Daniels said those penalties will end next July.
November, 12, 2014
Nov 12
5:57
PM CT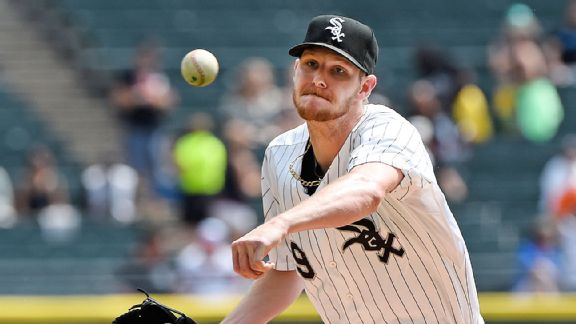 Mike DiNovo/USA TODAY SportsChris Sale finished 12-4 with a 2.17 ERA over 174 innings for the White Sox in 2014.
CHICAGO -- It might be another season without a Cy Young Award for
Chicago White Sox
starter
Chris Sale
, but things are undoubtedly moving in the right direction.
When voting results were released Wednesday,
Sale finished third in the Cy Young balloting
from baseball writers, but at this rate, the pitchers' most cherished prize figures to be his soon.
Sale's first year as a major league starter was in 2012 and the left-hander's 17-8 record, along with a 3.05 ERA over 192 innings led to a sixth-place finish in the Cy Young voting. Last season, Sale slipped to an 11-14 record with a 3.07 ERA, but he led the American League with four shutouts, pitched a career-best 214 1/3 innings and his Cy Young finish actually rose to fifth.
This year's finish in the voting came after a 12-4 record and a 2.17 ERA over 174 innings, with Sale compromised by the fact that he missed over a month of action with an early-season forearm strain.
As Sale keeps raising the bar on himself, he keeps making it tougher to improve on excellence. But completing his rise to eventual Cy Young winner is expected to require one more step up to greatness.
Sale, though, has always said that individual recognition means little without team success. And while the coaching staff and front office would love to cheer Sale on to a Cy Young Award, what they would really want to see out of their staff ace is continued consistency to go along with good health.
November, 12, 2014
Nov 12
5:55
PM CT
ESPN.com news services
Corey Kluber of the Cleveland Indians was named the American League's top pitcher, winning his first Cy Young Award.
Kluber captured 17 first-place votes and 169 points, narrowly edging out Felix Hernandez of the Mariners who earned the other 13 first-place votes and 159 points. White Sox LHP Chris Sale finished third with 78 points.
"I think I'm definitely surprised," Kluber said.
Kluber enjoyed a breakthrough 2014 season, his second full year as a starter, going 18-9 with a 2.44 ERA and 269 strikeouts in 235 2/3 innings. The right-hander led the league in wins, finished second in strikeouts, third in innings pitched and was third in ERA.
The 28-year-old Kluber was dominant down the stretch this season with the Indians (85-77), who fell just short of a postseason berth despite posting a winning record for the second straight year. He posted a 1.73 ERA after the All-Star break and won his last five starts, recording 54 strikeouts and a 1.12 ERA over that stretch.
Kluber became the fourth Indians pitcher to win the award, joining Cliff Lee (2008), CC Sabathia (2007) and Gaylord Perry.
When asked how he would celebrate the award, Kluber revealed plans far from flashy.
"Probably go home and give my daughters a bath," he said.
Hernandez said the tough loss will motivate him even more.
"I don't know what to say. That was tough,'' Hernandez said. "A little disappointed. Just give me more motivation to work harder and harder and be better next year."