December, 4, 2013
Dec 4
4:51
PM CT
CHICAGO --
Paul Konerko
admitted Wednesday that he wouldn't have returned if he didn't have a reduced role in 2014, with the challenge now placed on the shoulders of manager Robin Ventura to make the lighter load work to the team's advantage.
[+] Enlarge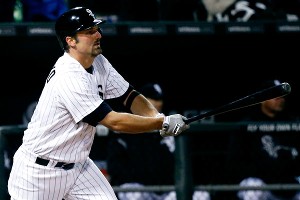 AP Photo/Charles Rex ArbogastPaul Konerko plans to seek advice on how to adapt to being a part-time player in his final season with the White Sox.
The White Sox announced Wednesday that Konerko will be back for his 16th and final season on the South Side in 2014, working out a deal where the team captain will earn $2.5 million, with $1 million of that deferred to 2021.
Konerko has always maintained that if he gets his regular 600-plus plate appearances his numbers will be there, yet he could be looking at half of that in the upcoming season. In the seasons where the numbers were not to Konerko's standards (2003, 2008 and 2013) he had 520 plate appearances or less each time.
Now comes the team's plan to essentially platoon Konerko and
Adam Dunn
at the designated hitter spot, with newcomer
Jose Abreu
taking over at first base. As a part-time player and pinch-hit threat Konerko could be facing 350 plate appearances or less.
In his final two seasons in a similar role, former White Sox slugger
Jim Thome
had 324 combined plate appearances in 2011 and 186 in 2012.
"From here on out, I'm on a quest to learn about the role a little bit, which I have some guys in mind that I'd like to talk to who have done this," Konerko said Wednesday. "I want to kind of learn. Every guy is different, everybody has a different routine."
December, 4, 2013
Dec 4
10:04
AM CT
CHICAGO -- White Sox team captain Paul Konerko will forgo retirement and return for a 16th season on the South Side.
Konerko, 37, will make $2.5 million next season, with $1 million of that deferred until 2021. Under terms of his previous contract signed in December 2010, Konerko will receive $1 million annually from 2014 to 2020.
He will have a limited role next season, however, with Jose Abreu and Adam Dunn also on the roster. He will platoon at DH with Dunn and back up Abreu at first base.
"It really wasn't a difficult process on our end," White Sox general manager Rick Hahn said. "It was more about giving Paulie all the information and the time and space to come to his own decision about how he felt about the new role. Really, it was just incumbent on us to be honest with him and tell him straight how the fit would work out and how we envisioned the club going forward."
As recently as early November, Konerko had yet to make a decision. But he started to inform teammates of his choice this past weekend. Hahn said last month that a roster spot would be available for Konerko if he wanted it.
Upon completing a disappointing season in 2013 that was marred by nagging injuries, including a lower back issue, Konerko said he needed time to decide if he wanted to keep playing. He could have signed elsewhere after his contract expired, but he seemed set on either returning to the White Sox or retiring.
December, 2, 2013
Dec 2
9:51
PM CT
Associated Press
CHICAGO -- The Chicago White Sox have agreed to a $950,000, one-year contract with catcher Tyler Flowers.
Flowers hit .195 with a career-high 10 homers and 24 RBIs in 84 games this year. He is a .200 hitter in 192 career games over five seasons with the White Sox.
The 27-year-old Flowers had season-ending right shoulder surgery on Sept. 5, but is expected to be ready for spring training.
Flowers' deal leaves the White Sox with three remaining arbitration-eligible players: second baseman Gordon Beckham and outfielders Dayan Viciedo and Alejandro De Aza.
Chicago also announced on Monday that it did not tender a 2014 contract to right-hander Dylan Axelrod, who went 4-11 with a 5.68 ERA in 30 games last season, including 20 starts.
December, 1, 2013
Dec 1
9:00
AM CT
OK, that little
Prince Fielder
-
Ian Kinsler
trade was nice, a good start to the offseason wheeling and dealing. But with the winter meetings approaching, what we'd
really
like to see is even more creativity from the general managers. Here are some three-team trades that actually make sense:
Diamondbacks-Mariners-Royals
Franklin
Diamondbacks: Trade Adam Eaton, acquire Kelvin Herrera, Tim Collins

Mariners: Trade Nick Franklin, acquire Eaton

Royals: Trade Herrera, Collins, acquire Franklin
The Royals are trying to contend with the likes of
Emilio Bonifacio
,
Chris Getz
or
Johnny Giavotella
playing second base, with Bonifacio the front-runner based on hitting .285 in a 42-game showing with the Royals last season. Please. Don't be fooled: That's the upside of Bonifacio's production and it still comes with no power and not enough walks. The Royals need power after finishing last in the American League in home runs, and Franklin is the rare middle infielder with 20-homer potential (
Alex Gordon
led the club with 20). The Royals have plenty of depth to deal from their league-best bullpen, and
Luke Hochevar
can assume the primary setup role and
Louis Coleman
and
Donnie Joseph
are available to replace Herrera and Collins.
The Mariners can afford to trade Franklin because they have
Dustin Ackley
, a very good defensive second baseman whose bat and glove don't profile as well in center field. Move him back to second base, hope his second half (.304/.374/.435) was for real and hand center over to the speedy Eaton.
The Diamondbacks are looking for bullpen help after tying the Astros for the most blown saves in the majors with 29. Attempting to rely again on veterans
Heath Bell
and
J.J. Putz
is risky. Herrera throws 100 mph and could develop into a dominating closer while Collins adds left-handed depth. In replacing Eaton, the D-backs can still play
A.J. Pollock
, a quality defender, in center or move Gold Glover
Gerardo Parra
over from right.
Cody Ross
is still around and
Martin Prado
could play left field with
Matt Davidson
taking over third.
Dodgers, Rays, Tigers
Price
Dodgers: Trade Andre Ethier (and cash), Corey Seager, Ross Stripling, acquire David Price

Rays: Trade Price, acquire Rick Porcello, Seager, Stripling

Tigers: Trade Porcello, acquire Ethier (and cash)
What, you think the Dodgers are done with the signing of
Dan Haren
? You know they'd love to add Price to slot alongside
Clayton Kershaw
and
Zack Greinke
. Imagine a rotation of those three, plus Haren and Hyun-jin Ryu. To get Price, they give up Ethier and millions in cash to help defray the cost of the minimum $71.5 million owed Either through 2017, their 2012 first-round pick in Seager, one of the top shortstop prospects in the minors, and pitcher Stripling, a fifth-round pick in 2012 out of Texas A&M, where he was a teammate of
Michael Wacha
.
The Rays replenish their farm system with Seager (.269/.351/.473 in Class A at age 19 with 16 home runs) and Stripling (127.2 IP, 115 H, 30 BB, 117 SO, five homers between Class A and Double-A). Even if Seager doesn't stick at shortstop, he has the bat to move over to second and eventually replace
Ben Zobrist
. Stripling is a polished college pitcher who should be ready in 2015. More importantly, the Rays add Porcello to help them contend the next two years. Get him away from some of that porous Detroit defense and over to Tampa and their infield shifts and watch his ERA drop. He should receive about $8 million in arbitration for 2014, not too expensive for the Rays, and still has another season after that until free agency.
The Tigers can play Ethier in left field while moving
Drew Smyly
into the rotation to replace Porcello, with Ethier providing a left-handed bat to help balance righties
Miguel Cabrera
,
Austin Jackson
, Kinsler and
Torii Hunter
.
Indians, Orioles, Reds

Bailey
Indians: Trade Asdrubal Cabrera, Joe Wendle, acquire Homer Bailey

Orioles: Trade Bud Norris, Mike Wright, acquire Cabrera

Reds: Trade Bailey, acquire Norris, Wright, Wendle
This one lines up like this: The Indians need a starting pitcher with
Ubaldo Jimenez
and
Scott Kazmir
likely departing as free agents, the Orioles need a second baseman, and the Reds may want to get something for Bailey as he enters his walk year.
The Orioles would slide Cabrera over to second base and hope he rebounds from a subpar 2013. The Indians get Bailey while throwing in second-base prospect Wendle, who hit .295 with some power in Class A. Wendle was old for the league, but scouts like his bat. The Reds give up the best player in the deal, but would still have a strong rotation with
Johnny Cueto
,
Mat Latos
,
Mike Leake
,
Tony Cingrani
and Norris (with
Aroldis Chapman
still a possibility with Bryan Price replacing Dusty Baker as manager). Moving back to the National League should help Norris; he has two years remaining until free agency and will cost about $5 million less than Bailey in 2014, money the Reds can spend elsewhere, maybe on an outfielder. Wright is a back-end rotation prospect and Wendle could replace
Brandon Phillips
down the road.
Marlins-Pirates-Rockies
Tulowitzki
Marlins: Trade Steve Cishek, Justin Nicolino, Jake Marisnick, acquire Dexter Fowler, Jordy Mercer

Pirates: Trade Gregory Polanco, Alen Hanson, Mercer, acquire Troy Tulowitzki
Rockies: Trade Tulowitzki, Fowler, acquire Polanco, Hanson, Cishek, Nicolino, Marisnick
It's time for the Rockies to end all those Tulowitzki trade rumors and do something about rebuilding this franchise. The Pirates need a middle-of-the-order bat. The Marlins need to acquire some major league players. One of the big problems the Rockies have is so much of their payroll is tied up in just two players, Tulowitzki and
Carlos Gonzalez
. The team is going nowhere, needs depth and the farm system isn't highly rated. Enter the Pirates.
The Rockies get one of the top outfield prospects in the minors in Polanco, who hit .285/.356/.434 with 38 steals while reaching Triple-A at the age of 21. He may need a little more seasoning but isn't far away from the majors. Hanson becomes the Rockies' shortstop of the future. For the Pirates, they have to absorb Tulowitzki's contract -- he's signed through 2020 (with a 2021 team option) -- and maybe it's too much for their taste, but they're not going to be a postseason regular riding just
Andrew McCutchen
. The MVP needs help. And with McCutchen and
Starling Marte
plus options like
Jose Tabata
,
Andrew Lambo
,
Travis Snider
and
Jerry Sands
, the Pirates can still piece together a good outfield trio for 2014 and beyond.
The Marlins would get a center fielder to put between
Giancarlo Stanton
and
Christian Yelich
, while the Rockies get a closer (they could then flip Cishek during the season if they wanted), a top pitching prospect in Nicolino and outfield prospect in Marisnick from the Marlins, and Mercer from the Pirates to help shore up their middle infield.
Cubs, White Sox, Yankees
Sale
Cubs: Trade Mike Olt, C.J. Edwards, Jorge Soler, Dan Vogelbach, acquire Chris Sale, David Phelps

Yankees: Trade Gary Sanchez, Zoilo Almonte, Vidal Nuno, Phelps, acquire Addison Reed, Olt, Vogelbach

White Sox: Trade Sale, Reed, acquire Edwards, Soler, Sanchez, Almonte, Nuno
OK, OK, OK, the White Sox aren't going to trade Sale -- especially to their city rivals. But we can dream, right? And there's no denying the White Sox are a franchise in need of a reboot, with talent issues on the 40-man roster and in the minors. Sale is an enticing trade bait since he's signed through 2019 and would help get some talent to the South Side as the team rebuilds.
The Cubs have a deep list of prospects, but what they don't have is an ace. They give the White Sox their top pitching prospect in Edwards, who came over from the Rangers in the
Matt Garza
trade last summer. Edwards dominated Class A, allowing just 76 hits in 116.1 innings while striking out 155 -- and giving up just one home run. The White Sox also get Cuban outfielder Soler, a powerfully built 21-year-old who could reach the majors in 2015. Desperately in need of a catcher, from the Yankees the White Sox get Sanchez, the Yankees' top prospect who can be dealt with the signing of
Brian McCann
. Almonte and Nuno are cheap roster fillers who have some potential to contribute.
Olt and Vogelbach are blocked in Cubs land by Kris Bryant and
Anthony Rizzo
, so they go to the Yankees. Olt can replace
Alex Rodriguez
at third base -- immediately -- and Vogelbach would give the Yankees a power-hitting prospect for first base or DH.
November, 22, 2013
Nov 22
5:04
PM CT
Associated Press
CHICAGO -- A federal judge has sentenced a former Chicago White Sox scout to eight months in prison in a kickback scheme that targeted players from Latin America.
Dominican-born Victor Mateo was sentenced for wire fraud Friday in Chicago.
Defense lawyer Damon Cheronis says his client apologized to Major League Baseball and the White Sox. Cheronis says he's disappointed Mateo didn't receive probation. And he calls the 42-year-old a good man who has recently been teaching youth baseball in his native country.
Prosecutors say Mateo and two others were supposed to pay signing bonuses matching a player's skill but fraudulently inflated amounts and took the added money.
Earlier this year, former White Sox scouting executive David Wilder was sentenced to two years in prison after pleading guilty in the same scheme.
November, 22, 2013
Nov 22
3:09
PM CT
Earlier this week, the Detroit Tigers and Texas Rangers got together to help each other out by exchanging contracts that neither team wanted any more. The Tigers dumped $138 million of the $168 million remaining on Prince Fielder's deal, and in exchange, they took back the $62 million guaranteed that Ian Kinsler has left on his contract. Perhaps this won't be the last deal like this we see this winter.
With all the new television money flowing into the game, teams have financial resources to absorb large contracts, but the supply of free agents worthy of such deals isn't getting any larger. As teams look to spend money but are either spurned by free agents or unimpressed with the available crop, they could very well look to other teams for chances to exchange overpriced contracts.
So, let's look at a few other big contract swaps that might actually benefit both teams.
Kemp's remaining contract: 6 years, $128 million
Sabathia's remaining contract: 4 years, $96 million
The Los Angeles Dodgers have a crowded outfield, and likely have to trade one of Matt Kemp, Andre Ethier or Carl Crawford due to the emergence of Yasiel Puig (and top prospect Joc Pederson isn't far behind). They reportedly are in the market for another starting pitcher, but don't want to part with a draft pick to sign one of the better starters on the market. By swapping Kemp for Sabathia, they could kill two birds with one stone.
To continue reading this article you must be an Insider
November, 22, 2013
Nov 22
9:25
AM CT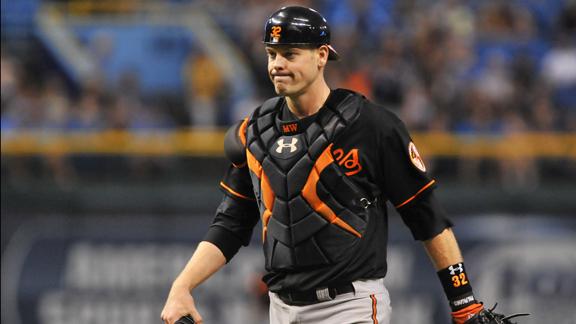 Matt Wieters
is one of the best all-around catchers in baseball. The Baltimore Orioles' 2007 first-round pick is entering what should be the prime years of his career. He is a 27-year-old switch-hitter, a two-time All-Star and has hit at least 20 home runs in each of the last three seasons. He's also a two-time Gold Glove Award winner who has thrown out at least 35 percent of runners trying to steal against him each of the last three seasons.
He's arbitration-eligible right now and will be a free agent after the 2015 season. The Orioles would love to tie him up to a long-term contract extension. But with the industry's revenue soaring along with player contracts, and Scott Boras as his agent, it's unlikely the Orioles will be able to extend Wieters before he reaches free agency.
Therefore, Wieters' trade value will never be higher than it is now.
Of course, the Orioles have a contending team, so trading Wieters doesn't make much sense unless they're able to get a top-level catcher back in a trade or they sign the best free-agent catcher on the market --
Brian McCann
, who will cost much less than what Wieters will ask for on his next deal. The return for Wieters must include one of these four options:
1. Top-of-the-rotation starter
2. Corner outfielder with power
3. Impact second baseman
4. Prospect package to help rebuild a thin farm system
Here are some possible trade partners for the Orioles in a Wieters blockbuster deal.
To continue reading this article you must be an Insider
November, 21, 2013
Nov 21
9:36
AM CT
In the second part of our look at bullpens, we examine the American League teams. You'll see a lot more movement this winter in the AL as seven teams are currently in need of a new closer -- either from within or via free agency -- and two or three other teams may be looking to upgrade. (Here are the
National League bullpen grades
.)
Boston Red Sox
2013 statistics:
3.70 ERA (10th in AL), .710 OPS (12th), 23.3% K rate (6th), 8.7% BB rate (7th)
Record:
30-23, 33 saves, 23 blown saves, 76-7 when leading after six innings
Closer:
Koji Uehara
Top setup guys:
Junichi Tazawa, Craig Breslow
Others:
Andrew Bailey, Brandon Workman, Franklin Morales, Andrew Miller, Rubby De La Rosa, Brayan Villarreal
Free agents:
Joel Hanrahan, Matt Thornton
GM Ben Cherington struck gold when he signed Uehara to a one-year, $4.25 million contract that included a vesting option for 2014; the Red Sox will end up paying $9 million to $10 million or so for two years of Uehara's services. When Hanrahan and Bailey went down with injuries, Uehara took over the closer's role and had one of the best relief seasons in history. Can he do it again? Probably not at that level, and while he's always been underrated the concern is he threw 88 innings in 2013 (including the postseason) after throwing just 103 innings combined over 2011 and 2012. Even if the oft-injured Bailey is brought back (teams have until Dec. 2 to tender a contract to players or they become free agents), I expect them to make a move for at least one free-agent reliever to bolster the depth.
Grade: B+.
There are some intriguing young arms like Workman and De La Rosa, who could start for some teams but don't have room in the Boston rotation. Villarreal is a guy who touched the upper 90s with the Tigers in 2012. Still, the depth behind Uehara, Tazawa and Breslow remains somewhat unknown and/or injury-prone.
Tampa Bay Rays
2013 statistics:
3.59 ERA (7th), .645 OPS (2nd), 24.9% K rate (2nd), 9.3% BB rate (9th)
Record:
27-24, 42 saves, 18 blown saves, 70-9 when leading after six innings
Closer:
Open
Top setup guys:
Joel Peralta, Jake McGee
Others:
Alex Torres, Wesley Wright, Josh Lueke, Brandon Gomes, Alex Colome, Enny Romero, Jeff Beliveau
Free agents:
Fernando Rodney, Jamey Wright, Jesse Crain
After two seasons of Rodney, who is the next reclamation project for Joe Maddon and pitching coach Jim Hickey? Can you say "Joba Chamberlain, Tampa Bay closer?" OK, maybe not. More likely, with the emergence of Torres, Maddon moves McGee to the closer role, with Torres and Peralta setting him up. Look for the Rays to make a minor signing or two here, or to pick up a reliever in a potential David Price trade.
Grade: B+.
The lack of a Proven Closer isn't the issue, as McGee and Peralta were both better pitchers than Rodney was in 2013. After two years of one of the best bullpens in the league, however, the Rays could simply be headed for a downturn in late-inning production.
Baltimore Orioles
2013 statistics:
3.52 ERA (6th), .697 OPS (9th), 21.5% K rate (11th), 7.3% BB rate (1st)
Record:
29-26, 57 saves, 27 blown saves, 61-18 when leading after six innings
Closer:
Jim Johnson
Top setup guys:
Darren O'Day, Tommy Hunter
Others:
Brian Matusz, Troy Patton, T.J. McFarland, Josh Stinson, Edgmer Escalona
Free agents:
Jairo Asencio
Check those losses when leading after six innings: Second most in the league behind the Astros. Johnson tied with Craig Kimbrel for the most saves in the majors, which only proves how saves are overrated. Johnson also lost eight games, although that late-inning record indicates he wasn't the only reliever blowing leads.
Grade: C.
Johnson has to be considered a shaky option at closer and Hunter allowed a .535 slugging percentage against lefties. Buck Showalter doesn't really trust Matusz against righties (65 games, 51 innings) and sidearmer O'Day allowed a .309 average to left-handers. It's a pen that works when Showalter manages to get the matchups but can be abused if he doesn't. It really needs a right-hander Showalter can trust against both sides. I could see the O's going after a guy like Joaquin Benoit, whose changeup makes him effective against left-handers.
New York Yankees
2013 statistics:
3.66 ERA (9th), .717 OPS (13th), 23.7% K rate (4th), 8.2% BB rate (4th)
Record:
30-14, 49 saves, 13 blown saves, 59-6 when leading after six innings
Closer:
Open
Top setup guys:
David Robertson, Preston Claiborne
Others:
David Phelps, Shawn Kelley, Adam Warren, Brett Marshall, David Huff, Cesar Cabral
Free agents:
Mariano Rivera (retired), Joba Chamberlain
With the Robertson/Rivera late-inning duo the Yankees were terrific in protecting leads and the bullpen managed to go 30-14 despite some otherwise mediocre numbers in ERA and OPS allowed. Robertson can certainly handle the ninth-inning role -- don't give me Proven Closer nonsense -- but don't be surprised if the Yankees go after one of the closers out there -- Joe Nathan, Grant Balfour or Rodney.
Grade: C-.
Robertson is great but until they lock in a closer and a lefty to replace Boone Logan, this doesn't look like a playoff pen.
Toronto Blue Jays
2013 statistics:
3.37 ERA (4th), .685 OPS (6th), 22.0% K rate (8th), 8.5% BB rate (5th)
Record:
28-31, 39 saves, 19 blown saves, 51-12 when leading after six innings
Closer:
Casey Janssen
Top setup guys:
Brett Cecil, Steve Delabar
Others:
Aaron Loup, Sergio Santos, Dustin McGowan, Chad Jenkins, Neil Wagner, Brad Lincoln, Jeremy Jeffress, Esmil Rogers
Free agents:
Darren Oliver (retired)
While Toronto's team -- a World Series favorite on paper -- was blowing up, the bullpen was actually doing pretty well. Setup guys Cecil and Delabar both made the All-Star team. My concern is the pen wasn't as effective in the second half, its ERA rising from 2.90 to 4.03; some of that could have been fatigue (only Twins relievers threw more innings) but some of the decline could have been regression from a hot first half. If Santos can ever get healthy he's another weapon, and Jeffress and Rogers (if he doesn't start) are power arms who could excel if the light suddenly goes on.
Grade: B-.
If everyone's healthy this could be a dominant pen, but Delabar, Santos, McGowan and Janssen all have significant injury histories in their past.
Detroit Tigers
2013 statistics:
4.01 ERA (12th), .709 OPS (11th), 23.7% K rate (5th), 9.5% BB rate (10th)
Record:
17-25, 39 saves, 16 blown saves, 77-12 when leading after six innings
Closer:
Open
Top setup guys:
Drew Smyly, Al Alburquerque
Others:
Bruce Rondon, Phil Coke, Luke Putkonen, Jose Alvarez, Jose Ortega, Evan Reed
Free agents:
Joaquin Benoit, Octavio Dotel, Jose Veras
Can you say "Please come to Detroit, Joe Nathan?" Smyly is the team's best reliever but he may move to the rotation if Rick Porcello is traded (although that is now less likely after the Prince Fielder-Ian Kinsler trade). Alburquerque has that killer slider but also the inability to throw it for strikes at times. Rondon, the closer-in-waiting, still throws 100 mph but needs to prove himself over an entire season before being handed the ninth inning. So that leaves the Tigers likely going after a closer plus maybe re-signing Benoit or another reliever like J.P. Howell or Oliver Perez.
Grade: D+.
I like Smyly and Rondon has big-time potential, but until more reinforcements are gathered this group is pretty weak.
Cleveland Indians
2013 statistics:
3.62 ERA (8th), .690 OPS (7th), 22.5% K rate (7th), 10.0% BB rate (10th)
Record:
33-16, 38 saves, 22 blown saves, 67-6 when leading after six innings
Closer:
Open
Top setup guys:
Cody Allen, Vinnie Pestano
Others:
Bryan Shaw, Marc Rzepczynski, Nick Hagadone, C.C. Lee, Preston Guilmet
Free agents:
Chris Perez, Joe Smith, Matt Albers, Rich Hill
Despite mediocre numbers, the Indians' pen excelled in tight games, as it went 33-16 and did a good job of holding leads. That wasn't because former closer Perez was anything special; in fact, he'd lost his job by the time the Indians played the wild-card game. With Perez gone and the valuable Smith also a free agent, that leaves Allen as the likely closer. He has the 95 mph heater that managers love late in games and should be solid in the job. The question: Who fills out the rest of the pen? Pestano, after a terrific 2012, was demoted back to the minors in 2013; maybe he resurfaces. Regardless, the Indians are going to have to spend some money here.
Grade: D+.
While I like Allen, I see the potential for this pen struggling in the seventh and eighth innings, especially if the Indians spend their available resources to re-sign Ubaldo Jimenez or another starter.
Kansas City Royals
2013 statistics:
2.55 ERA (1st), .628 OPS (1st), 26.2% K rate (1st), 8.6% BB rate (6th)
Record:
33-24, 54 saves, 21 blown saves, 63-12 when leading after six innings
Closer:
Greg Holland
Top setup guys:
Kelvin Herrera, Luke Hochevar
Others:
Aaron Crow, Tim Collins, Louis Coleman, Will Smith, Donnie Joseph
Free agents:
Bruce Chen, Luis Mendoza
First in ERA, first in OPS allowed, first in strikeout rate -- you can't do much better than that ... except the Royals still lost 12 games they led after six innings (Herrera lost seven games). So there's room for improvement if you look beyond the glossy statistics. If anything, the Royals have too much depth here -- Herrera pitched just 58 innings, Crow just 48 -- and then factor in more work for Coleman, who allowed two runs in 29 2/3 innings. The Royals should cash in one of these guys to get some help on offense.
Grade: A-.
What's not to like about this pen? It's deep, it's young, they throw hard and they don't cost much money. The only minor downgrades are that Holland may not be quite as dominant and more consistency is needed from Herrera.
Minnesota Twins
2013 statistics:
3.50 ERA (5th), .680 OPS (5th), 21.2% K rate (12th), 7.7% BB rate (3rd)
Record:
27-22, 40 saves, 18 blown saves, 41-8 when leading after six innings
Closer:
Glen Perkins
Top setup guys:
Jared Burton, Casey Fien
Others:
Brian Duensing, Anthony Swarzak, Caleb Thielbar, Ryan Pressly, Michael Tonkin
Free agents:
None
Quietly effective although Perkins is really the only top-shelf guy here. There's a good chance that guys like Fien and Thielbar take a step backward. The Twins are more likely to spend their resources on starting pitching -- the right decision -- and hope that this group can repeat.
Grade: B-.
Solid if unspectacular, but one more power arm in front of Perkins would be nice.
Chicago White Sox
2013 statistics:
4.00 ERA (11th), .705 OPS (10th), 20.8% K rate (14th), 10.3% BB rate (14th)
Record:
19-36, 40 saves, 20 blown saves, 49-13 when leading after six innings
Closer:
Addison Reed
Top setup guys:
Nate Jones, Matt Lindstrom
Others:
Donnie Veal, Dylan Axelrod, Jake Petricka, Daniel Webb
Free agents:
None
Ugh. The home park doesn't help, but the numbers don't lie: This group was not good. Reed's peripherals are better than his 3.79 ERA suggests but he still blew eight saves, including five in which he allowed two or more runs. Jones can touch 100 mph but struggled with runners on base (.288, four home runs), leading to an inflated ERA. After those two, the depth and quality falls off in a hurry. Looks for GM Rick Hahn to surf for some of the second-tier relievers like Matt Albers.
Grade: D.
Oakland A's
2013 statistics:
3.22 ERA (3rd), .657 OPS (4th), 21.5% K rate (10th), 7.7% BB rate (2nd)
Record:
24-18, 46 saves, 21 blown saves, 74-9 when leading after six innings
Closer:
Open
Top setup guys:
Sean Doolittle, Ryan Cook
Others:
Dan Otero, Jerry Blevins, Jesse Chavez, Evan Scribner, Pedro Figueroa
Free agents:
Grant Balfour, Pat Neshek
With Balfour likely departing after a strong season as the closer, who takes his place? In mid-August you would have said Cook, who closed some as a rookie in 2012. But he was hit hard the final six weeks, allowing 21 hits and 10 walks over his final 12 innings. That may give the edge to Doolittle, a lefty with power stuff who can get both sides out. Otero was the big surprise here, a guy picked up off waivers in late March from the Yankees (who had just claimed him a day earlier after the Giants let him go). He's not overpowering, which is why he spent seven years in the minors, but he had a 2.02 career ERA in the minors and 1.38 in 39 innings with the A's (no home runs allowed).
Grade: B-.
Doolittle or Cook can handle the closer role, but I could also see the A's making a pitch for Brian Wilson, who looked good in the postseason for the Dodgers and shouldn't be as expensive as the Nathan-Balfour-Rodney group.
Texas Rangers
2013 statistics:
2.91 ERA (2nd), .645 OPS (3rd), 21.1% K rate (13th), 8.8% BB rate (8th)
Record:
35-18, 46 saves, 11 blown saves, 69-5 when leading after six innings
Closer:
Open for battle
Top setup guys:
Tanner Scheppers, Joakim Soria
Others:
Neftali Feliz, Neal Cotts, Robbie Ross, Jason Frasor, Joseph Ortiz, Michael Kirkman, Chaz Roe, Josh Lindblom
Free agents:
Joe Nathan, Travis Blackley
With a deep arsenal of arms, the Rangers will let Nathan leave after he declined his player option. Feliz and Soria have been closers in the past and Scheppers will likely be considered due to his upper 90s fastball and 1.88 ERA. All three come with red flags, however: Feliz and Soria have to prove they're healthy, and while both were pitching at the end of the season they'll need to show they have the command to be trusted in the ninth inning; as for Scheppers, he struck out just 59 in 76 2/3 innings, so he'll be hard-pressed to repeat that .214 batting average allowed unless he misses more bats. Cotts may actually be the best reliever here, a guy who altered his mechanics after years of injuries and was dominant in his first stint in the majors since 2009. Ross adds more depth from the left side.
Grade: B+.
If Feliz and Soria can return to something close to what they were once, this could once again be the best pen in the AL even without Nathan.
Los Angeles Angels
2013 statistics:
4.12 ERA (13th), .692 OPS (8th), 21.8% K rate (9th), 10.1% BB rate (13th)
Record:
20-27, 41 saves, 17 blown saves, 56-14 when leading after six innings
Closer:
Ernesto Frieri
Top setup guys:
Dane De La Rosa, Michael Kohn, Sean Burnett, J.C. Gutierrez, Cory Rasmus, Kevin Jepsen, Nick Maronde, Robert Carson
Others:
Free agents:
None
Frieri is the closer for now, although the Angels may look to upgrade after he allowed 11 home runs in 68 2/3 innings. He does strike batters out, however, and finished with 37 saves in 42 chances. The bullpen woes you see in the numbers above came more from the setup guys. De La Rosa is a 30-year-old minor league vet the Angels picked up from the Rays and he had a decent year but has had battled control issues in the past. Kohn is another guy who throws in the mid-90s but must refine his command. Burnett missed most of the season with an elbow injury.
Grade: C-.
There is some upside here and some good arms, but the Angels will undoubtedly be in the market for relief help.
Seattle Mariners
2013 statistics:
4.58 ERA (14th), .724 OPS (14th), 24.2% K rate (3rd), 10.1% BB rate (12th)
Record:
16-33, 43 saves, 23 blown saves, 56-10 when leading after six innings
Closer:
Danny Farquhar
Top setup guys:
Charlie Furbush, Yoervis Medina
Others:
Tom Wilhelmsen, Carter Capps, Stephen Pryor, Lucas Luetge, Bobby LaFromboise, Hector Noesi, Chance Ruffin
Free agents:
Oliver Perez
After a strong showing in 2012 -- fifth in the AL in bullpen ERA -- the Mariners were excited about their pen heading into 2013, with Wilhelmsen closing, backed up by Capps and Pryor, three guys with high-octane fastballs. Instead, Pryor got hurt, Capps got torched by left-handers and Wilhelmsen's confidence fell to the point where he was sent down to Triple-A. Farquhar took advantage and became the closer and while his ERA was 4.20, he flashed good stuff and struck out 79 in 55 2/3 innings while allowing just two home runs.
Grade: C.
As indicated by that strikeout rate (third best in the AL), this is a group that has a good chance to bounce back from a horrible season. The Mariners' focus will be on upgrading the outfield and maybe adding a starting pitcher or two, so I wouldn't expect a major move here. Which means they'll probably give Rodney too much money to close.
Houston Astros
2013 statistics:
4.92 ERA (15th), .816 OPS (15th), 17.5% K rate (15th), 10.5% BB rate (15th)
Record:
14-40, 32 saves, 29 blown saves, 36-21 when leading after six innings
Closer:
To be determined
Top setup guys:
Josh Fields, Chia-Jen Lo
Others:
Jose Cisnero, Paul Clemens, Josh Zeid, Rhiner Cruz, Kevin Chapman, Darin Downs, Raul Valdes
Free agents:
None
The numbers say it: This was one of the worst bullpens in history, right up there with the 2007 Tampa Bay bullpen that went 21-34 with a 6.16 ERA. But that Rays team was 50-13 when leading after six innings; the Astros were an abysmal 36-21.
Grade: F.
Nowhere to go but up.
November, 20, 2013
Nov 20
2:58
PM CT
CHICAGO -- With the Rule 5 draft approaching, the
Chicago White Sox
made three moves Wednesday, claiming utility man
Jake Elmore
from the
Houston Astros
, while adding Carlos Sanchez and Trayce Thompson to the 40-man roster.
The annual Rule 5 draft, which is the final event of the winter meetings each year, allows players who have been in an organization for five years and are not protected on the 40-man roster to get a fresh start if they are selected by a team.
Sanchez, 21, and Thompson, 22, were both acquired by the White Sox in 2009 so both would have been available to other clubs if they were not on the 40-man roster.
The 26-year-old Elmore, who played all nine positions with the Astros last season, was a Pacific Coast League All-Star in 2010 when he batted .344 with 95 runs scored and a .442 on-base percentage. Known for a keen eye at the plate, he has batted .233 over 82 career major league games with the Astros and
Arizona Diamondbacks
.
Typically a middle infielder, Elmore's presence makes it possible for the White Sox to consider trading
Jeff Keppinger
in any deals that arise this offseason.
Sanchez and Thompson are both playing for La Guaira in the Venezuelan Winter League.
Sanchez batted .241 with 50 runs scored in 112 games at Triple-A Charlotte this past season. He entered the year ranked by Baseball America as the No. 3 prospect in the White Sox organization and is the system's best hitter for average and defensive infielder.
Thompson, a second-round draft pick in 2009, hit just .229 at Double-A Birmingham this past season, but was tied for third in the Southern League in runs scored (78) and was fourth in RBIs (73). He is the son of former NBA veteran Mychal Thompson and brother of
Golden State Warriors
guard
Klay Thompson
. Trayce Thompson entered 2013 as the White Sox's No. 2 overall prospect, according to Baseball America.
The White Sox's 40-man roster is now at 39 players.
November, 19, 2013
Nov 19
9:41
PM CT
CHICAGO -- It was signing day at U.S. Cellular Field on Tuesday as the
Chicago White Sox
helped to send 13 more student athletes to college.
All but one of the members of the organization's Amateur City Elite (ACE) travel baseball team was on hand to sign their letters of intent to either two- or four-year colleges. The program is designed for players form the inner-city.
Since the inception of the ACE program seven years ago, the White Sox have helped 85 student-athletes to receive athletic aid at their future schools. A total of 11 have gone on to be drafted by Major League Baseball teams.
The ACE players to sign letters of intent (with current school followed by future school): Christian Bland (Harlan; Purdue-North Central), David Calderon (Lincoln Way North; Morehead State), James Davison (Morgan Park; Howard Junior College), Darius Day (Simeon, Arizona), Diontrell Earls (Simeon, Purdue-North Central), Angel Figueroa (Bishop Knoll, Black Hawk College), Justin Freeman (Rich Central; Southern); Kevin Jones (Portage; Northern Illinois), Anthony Justiniano (Clemente; Wabash Valley College), Adam Kelly (Kenwood; Illinois Central College), Jamal Martin (Morgan Park; Alcorn State), Lavar Reed (Morgan Park; Hill Junior College), Rahman Williams (Mt. Verde Academy; Michigan).
The ACE program participants range in age from 13-18. The program boasts a 99-percent high-school graduation rate of participants.
"Part of the development is not just on the field but off, in terms of preparation and approach to the game and approach to balancing studies on top of that," White Sox general manager Rick Hahn said. "At the end of the day, the credit belongs to these kids. They're the ones who put themselves in the position to capitalize on the opportunity. The White Sox were able to play a hopefully not too small role in providing that opportunity for these kids."
November, 19, 2013
Nov 19
7:55
PM CT
CHICAGO -- With the uncertainty of trade talk looming above him and many other
Chicago White Sox
players,
Hector Santiago
has decided to not sit around to learn his fate.
The 25-year-old, who would be one of four left-handed starters if the White Sox left their rotation unchanged, has not only left his New Jersey roots to relocate permanently to Arizona, he already started throwing in preparation for next season.
Staying active is perhaps the best way to avoid thinking about roster uncertainty that surrounds the White Sox. As the club tries to retool a roster that underachieved in most areas last season, only a handful of players are untouchable.
It is believed only
Chris Sale
,
Jose Abreu
and
Avisail Garcia
are off the board when it comes to potential deals, and prying
Jose Quintana
away would take a deal that knocks the socks off the front office.
"I don't take anything too serious," Santiago said about trade rumors. "You're going to hear stuff and you don't know what's true and what's not. You don't know what to expect but just be ready for whether it's here or somewhere else."
Santiago said he met up recently with teammates
Matt Lindstrom
,
Addison Reed
and
Donnie Veal
at Lindstrom's wedding and trade rumors were a topic of conversation. Also discussed was the left-handed heavy rotation.
"I thought about that a bunch and I was like, 'Are they actually going to go with four left-handed pitchers?' " Santiago said. "I think they can. I think they can sit back and say there are four left-handed pitchers, but they are strong enough that they can get out right-handers because for the most part I think everybody gets out right-handers pretty well and we do a good job against lefties as well."
It isn't the way he would he would plan it, but Hahn claims he wouldn't object to starting four lefties next year.
"Ideally there's a little bit more balance, but we don't feel pressure to make a move to create that balance," Hahn said. "We've got some high-quality starting pitching here. It just happens a lot of it is left-handed."
Santiago says he expects to be one of those lefty starters and a telling sign seemed to come at the start of September, when pitching coach Don Cooper nixed the idea of winter ball.
Santiago pitched during the winter last season, but the White Sox felt his career-best 149 innings in 2013 were plenty.
"I think them shutting me down is leading to signs that they are saving my arm so hopefully I can get to 200 innings next year," Santiago said.
November, 19, 2013
Nov 19
7:46
PM CT
CHICAGO -- The
Chicago White Sox
should know within three weeks whether
Paul Konerko
will accept their offer of a roster spot for the 2014 season.
General manager Rick Hahn said Tuesday the team expects to have the situation resolved before the winter meetings begin Dec. 9, insisting that the wait isn't hurting the team's ability to put together next year's roster.
"It's not really hamstringing us in terms of our planning," Hahn said. "We have a plan, obviously, if he's back, and we have a plan if he's not back. We haven't missed on any opportunities to fill that role if he doesn't fill it himself. I think it's good to have it resolved for his own preparation, and for the terms of getting ready for spring training to have it set by December. I think we'll be able to do that."
Both Hahn and chairman Jerry Reinsdorf have said they will welcome Konerko back with open arms if he wants to forgo retirement, but there have been no indications about what the team would be willing to pay its team captain, who made $13.5 million in 2013.
Hahn and manager Robin Ventura met with Konerko in Arizona before this month's GM meetings to personally extend the offer of a roster spot.