July, 23, 2014
Jul 23
8:01
PM CT
Associated Press
OAKLAND, Calif. -- Houston Astros outfielder George Springer has been dealing with more than just soreness in his right leg.
The Astros placed their standout rookie on the 15-day disabled list Wednesday with a strained left quadriceps. The team recalled outfielder Marc Krauss from Triple-A Oklahoma City to take his place on the roster.
Astros manager Bo Porter and the team had originally said Springer's issue was with his right leg.
Springer cleared up the confusion before Houston played at Oakland on Wednesday night. He said he hurt his right knee and quad when he slammed into the wall after making a catch in Texas on July 9, but the injury to his left quad has been lingering for a couple of weeks and is more of a concern.
"It's just kind of in my best interest now to take some time and to rest and get back out there as soon as I can," Springer said.
Springer's stint on the DL is retroactive to Sunday because he hasn't played since Saturday at the Chicago White Sox. He leads the Astros with 20 home runs -- one short of Lance Berkman's club record for a rookie -- and is batting .231 with 51 RBIs through 78 games.
Porter said Springer could still bat and run lightly. The team just didn't want Springer risking further injury by pushing himself too hard, especially if the situation called for it on the bases.
July, 23, 2014
Jul 23
6:00
PM CT
CHCAGO – Eventually the White Sox would like to have a bullpen that is the envy of the league, or in other words, have one that closely resembles what the back end of the
Kansas City Royals
' relief corps looks like.
Thanks to a solid start by
James Shields
, the Royals only needed two innings from their relievers to hold back the White Sox in a 2-1 victory Wednesday, but those final two innings are where Kansas City does its best work, with setup man
Wade Davis
and closer
Greg Holland
.
Don't be fooled by the Royals' 3.48 ERA in the bullpen that is 13th-best in all of baseball. There might not be a finer setup man than Davis, who improved to 6-4 on Wednesday, and they have a dependable closer in Holland, who recorded his 26th save. Holland was an American League All-Star earlier this month.
"That's a good bullpen," said White Sox catcher
Tyler Flowers
, who had two hits off Shields and never got a chance against Davis or Holland since they combined to retire all six batters they faced. "It seems like once they get to the seventh, it's a challenge to get a runner on base, much less try to get a run in. That makes it more important to take advantage of the situations early on."
Contrast that to the White Sox's plan and there couldn't be two more different scenarios. The White Sox rotate their closer and setup man on a daily basis, a plan done out of necessity since nobody has been able to hold down the ninth-inning spot.
Zach Putnam
,
Jake Petricka
and
Daniel Webb
have been trusted with the late innings for White Sox manager Robin Ventura, with none of the three holding a steady major league job before this season.
Matt Lindstrom
had the closer job first before an ankle injury, with
Ronald Belisario
taking it over only to struggle and be removed, even though the White Sox didn't have a set replacement.
Bullpens can typically be rebuilt easier than other parts of the roster, but getting a dynamic back end won't come easy. A key target area for the White Sox at next week's trade deadline will be the bullpen. And what they can't fix at the end of the month will be addressed moving forward and on into the offseason.
Since the calendar last year has been about revamping the offense by getting Avisail Garcia,
Jose Abreu
and
Adam Eaton
, the same type of targets, only on the pitching side, will be sought next. It will tough to find an arm like Davis' though.
When the right-hander walked
Conor Gillaspie
to start the bottom of the eighth in Tuesday's game, it snapped his streak of 18 consecutive batters retired. He also had eight consecutive hitless innings before
Paul Konerko
singled in the same inning Tuesday. Davis still didn't give up a run in that game and came back with another scoreless inning Wednesday.
Konerko's two-out hit Tuesday also prevented the Royals' relievers from putting together a streak of nine consecutive hitless innings, otherwise known as a bullpen no-hitter.
Royals manager Ned Yost, who isn't afraid to boast about his bullpen, was asked if he could think of anybody in baseball who has a better group of relievers.
"Not off the top of my head," he said. "We're pretty good."
Ventura would like to say the same one day, but it's going to take some growth of from the current group, much better health and some key new additions heading into next year.
"They've got some good arms out there, so early on you're wanting to do anything you can to add a little pressure and push a little bit to score," Ventura said. "Not only to defend, but to be able to score."
July, 23, 2014
Jul 23
4:27
PM CT
Associated Press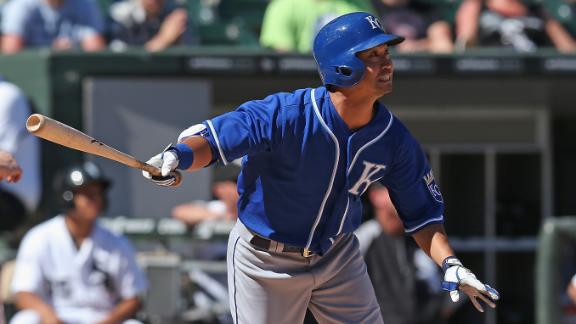 CHICAGO -- Mike Moustakas scored the tiebreaking run in the top of the ninth inning when White Sox catcher Tyler Flowers could handle a throw home and the Kansas City Royals beat Chicago 2-1 Wednesday in the rubber game of a three-game series.
Moustakas triggered the decisive rally with a lead-off single off Zach Putnam (3-2), the last of four White Sox pitchers. Alcides Escobar bunted Moustakas over before Aoki flared a single to center field.
Adam Eaton's strong throw beat Moustakas to the plate, but Flowers lost control of the ball when the runner slid into him. Flowers was charged with an error on the play.
Wade Davis (6-2) pitched a scoreless inning and Greg Holland retired the side in order in the ninth inning for his 26th save.

July, 23, 2014
Jul 23
4:17
PM CT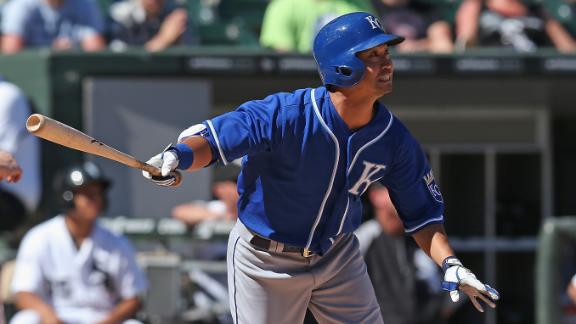 CHICAGO -- The
Chicago White Sox
were in it late but fell 2-1 on Wednesday in the series finale against the
Kansas City Royals
.

How it happened:
Norichika Aoki
drove in the go-ahead run in the ninth inning for the Royals against reliever
Zach Putnam
. An expected pitchers' duel between the White Sox's
Jose Quintana
and the Royals'
James Shields
came to fruition. Quintana gave up one run on seven hits over seven innings, while Shields gave up one run on six hits over seven innings. Both runs came home in the first inning as the Royals scored on
Eric Hosmer
's sacrifice fly and the White Sox tied it on
Adam Dunn
's single.
What it means:
On the cusp of winning a series against the Royals, the White Sox fell again to their division rival. The White Sox won the series opener, but lost the next two games and still haven't beat the Royals in a series at home since April of 2013. The White Sox are now 2-12 in their last 14 home games against Kansas City.
Outside the box:
Tyler Flowers
' hot run at the plate continued with two more hits. In an offensive funk heading toward the end of the first half that saw his batting average dip to .213 and his on-base percentage fall to .270, Flowers has turned things around quickly with three multi-hit games over his last five contests.
Off beat:
The incredible no-decision tally continued yet again for Quintana. The left-hander was left with a no-decision after a hard day of work for the ninth time this season. Since 2012, nobody in baseball has more than Quintana's 36 no-decisions. It was his 16th quality start of the season after entering the day fifth in the American League in that category. Opponents were hitting .43 home runs per nine innings against him, fifth best in the AL.
Up next:
The White Sox will send right-hander
Hector Noesi
(4-6, 4.55 ERA) to the mound Thursday at Minnesota in the opener of a four-game series. The Twins will counter with right-hander
Phil Hughes
(10-6, 4.05) in the 7:10 p.m. start from Target Field.
July, 23, 2014
Jul 23
3:16
PM CT
CHICAGO -- Pitching coach Don Cooper will not be with the White Sox when they open a seven-game road trip at Minnesota on Thursday.

Cooper has been away from the team since Monday with vertigo, but is believed to be at home resting after a stay in the hospital.

Bullpen coach Bobby Thigpen has been serving as pitching coach in Cooper's absence.

"He's not feeling that much better so we don't have him going on the flight today," manager Robin Ventura said. "How much longer, I don't know. I do know he's not feeling all that great so he won't be flying with us."
July, 23, 2014
Jul 23
3:01
PM CT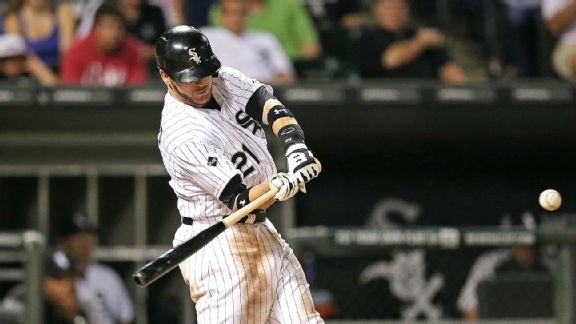 Jonathan Daniel/Getty ImagesTyler Flowers knew his wife was in labor by the sixth inning of Monday's game.
CHICAGO --
Tyler Flowers
was back in the starting lineup Wednesday, after a wild opening to the week, where he just managed to squeeze in Monday's
Chicago White Sox
game before the birth of his second child.
That towering drive Flowers hit right along the left field foul pole Monday that ultimately was ruled foul came after Flowers had already heard his wife was admitted to a downtown hospital while in labor. The fly ball that hit the facing of the suite level went under replay review by the umpires, but the foul call was not overturned.
"I knew like in the sixth (inning) that it was pretty much time to go," Flowers said. "That's why I was really hoping they would correct that (home run) call because it would put me in a good spot to where I was maybe coming out of the game. When that didn't happen, I was, 'I hope she can hold out a little bit,' and she did. A bunch of the (players') wives were there helping her out."
July, 23, 2014
Jul 23
2:34
PM CT
"Alexeeeeeeeeeiiiiiiiii … Yes … Yes … Yes … Yes … Yes … History!"
-- White Sox broadcaster Hawk Harrelson, on the air, at the completion of Mark Buehrle's perfect game, July 23, 2009.

CHICAGO -- A day bathed in bright sunshine greeted the
Chicago White Sox
on Wednesday afternoon, just as it did five years ago to the day when Mark Buehrle delivered his perfect game against the
Tampa Bay Rays
.
The left-hander, who couldn't throw a fastball through a wet paper bag, or so it seemed, used pinpoint control and his patented cutter to dispatch the Rays in order through nine innings.
It went 27 up and 27 down for a slice of history as Buehrle became the second White Sox pitcher, at the time, to deliver perfection. Charles Robertson had already done it in 1922, and
Philip Humber
repeated the feat three years later.
With 26 outs in the books, the Rays'
Jason Bartlett
was the final batter. He hit a ground ball to the left of shortstop
Alexei Ramirez
, who fielded the ball cleanly and threw to first base to end the game.
And what were Ramirez's thoughts before Bartlett came to the plate?
"I was hoping it wasn't coming at me," Ramirez admitted Wednesday through an interpreter. "If anything, I was hoping it was a fly ball, just not a grounder. I hadn't been feeling well. I had gotten a little injured before that. I was hoping it wasn't a grounder."
Buehrle finished his masterpiece in a tidy 2 hours, 3 minutes for his second career no-hitter. He blanked the
Texas Rangers
in 2007. But this was a perfect game, reaching the rarified air that only 20 other pitchers have in the history of the game.
And while the nerves must be on edge for the pitcher, at least they can dictate the game from the mound. The fielders end up playing an agonizing waiting game.
"I just tried to play my game and try not to make a bad play or think about it that much," Ramirez said. "When you get to the ninth inning, that's when you feel the pressure, when you feel like this is happening and trying to do everything you can to make sure Mark gets this."
Ramirez calls
Dewayne Wise
's ninth-inning grab at the left-center field the best catch he has ever seen. The only permanent sign of Buehrle's feat at U.S. Cellular Field is the small block lettering at the top of the wall in left-center that reads "THE CATCH."
Ramirez, though, doesn't need much to take his mind back five years ago.
"I remember it often," Ramirez said. "Whenever I see Buehrle, we signal each other and we recall that day and it's just such a special occasion that not that many pitchers have accomplished it. I remember it often."
July, 23, 2014
Jul 23
12:16
AM CT
CHICAGO -- Nearly four months into a transition season, the
Chicago White Sox
are still working on consistency.
When one part of their game is hot, all other areas seem to retreat, making it more than obvious why they are sitting at 48-53 on the year and have not been as high as .500 since June 11, when they were 33-33.
[+] Enlarge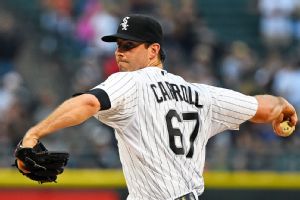 Mike DiNovo/USA TODAY SportsScott Carroll pitched decently Tuesday, but things caught up to him eventually in a home loss to the Royals.
After June 11, the club went through its roughest stretch of the season, immediately losing four consecutive before ultimately dropping nine out of 11 games and 11 out of 14.
The White Sox are better after pulling out of their tailspin with three consecutive victories at Toronto to end June, but a serious win streak has continued to escape the club.
On Tuesday, in a 7-1 defeat to the
Kansas City Royals
, there was no part of the White Sox's game that stood out. A lackluster offense was to be expected with
Jose Abreu
getting a day off, and the team is still trying to get a handle on the back end of the rotation.
Scott Carroll
got his first start of the second half, and, while he was solid through five innings, things finally caught up to him in the sixth, when the Royals broke loose.
The White Sox started the day a mere 5½ games out of the final wild-card spot, but their focus is better spent on matching up starting pitching with solid offense, great defense and smart baserunning for an extended period.
"We've played relatively well all season, but it seems like bad luck came our way or we've struggled in certain situations,"
Adam Eaton
said. "But if we can have one good month where we catch fire …"

July, 22, 2014
Jul 22
11:08
PM CT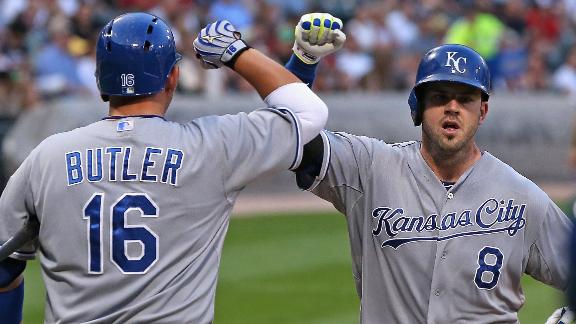 CHICAGO -- The
Chicago White Sox
's three-game series against the
Kansas City Royals
was evened at a game apiece after a 7-1 defeat Tuesday.

How it happened:
The White Sox managed to keep it close until the Royals broke it open with four runs in the sixth inning. White Sox starter
Scott Carroll
gave up one run over five innings but put the first three runners on base in the sixth before he was removed. He gave up five runs and 11 hits. Royals starter
Bruce Chen
allowed one run on five hits over five innings. White Sox designated hitter
Adam Dunn
hit a fourth-inning solo shot for his 15th home run on the season.
What it means:
The White Sox continued their stop-start, hot-cold season with Tuesday's loss. The White Sox haven't won more than four consecutive games or lost more than five in a row. A victory could have made them 4-1 on their homestand. Instead, it's 3-2 and more in line with how the rest of their season has gone. The 48-53 White Sox were last at .500 on June 11, when they were 33-33.
Outside the box:
Chen's mastery of the White Sox continued, albeit in a brief appearance. The left-hander might have a 4.53 career ERA and sit barely over the .500 mark in 16 seasons, but he is dominating when it comes to facing the White Sox. He entered Tuesday's outing with a 3.48 career ERA against the White Sox, but since 2011 that mark has been 3.00. The White Sox came in to the affair batting .207 against Chen in 242 at-bats at U.S. Cellular Field.
Offbeat:
Alexei Ramirez
didn't have much luck figuring out Chen's pickoff move, not that it ended up hurting him. Twice on Tuesday it looked as if Chen had Ramirez picked off as he threw to first base when Ramirez was breaking for second on a steal attempt. But both times Ramirez was able to make it safely to second. His second steal had to be confirmed via replay, as Ramirez's swim move on the dive into the bag made the difference.
Up next:
The White Sox will send left-hander
Jose Quintana
(5-7, 3.26 ERA) to the mound Wednesday in the series finale. The Royals will counter with right-hander
James Shields
(9-5, 3.70) in the 1:10 p.m. CT start from U.S. Cellular Field.
July, 22, 2014
Jul 22
10:55
PM CT
Associated Press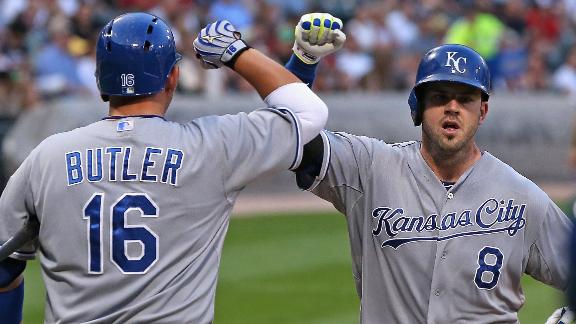 CHICAGO -- Mike Moustakas homered twice, Bruce Chen pitched five effective innings and the Kansas City Royals snapped a four-game losing streak with a 7-1 rout of the Chicago White Sox on Tuesday night.
Moustakas, who has 12 homers this season, went 3 for 5 with three RBIs.
The Royals entered the game with a major league-worst 55 homers and had managed a total of six runs during the losing streak.
Chen (2-2) allowed one run and five hits in five innings.
Adam Dunn went 2 for 4 with a solo homer for the White Sox, who had won three of four.
Chicago starter Scott Carroll (4-6) allowed five runs and 11 hits in five-plus innings.
July, 22, 2014
Jul 22
8:54
PM CT
CHICAGO --
Adam Eaton
prides himself on his grinder style and truly has been showing it of late.
The speedy leadoff man and center fielder has been playing with a jammed middle finger on his right hand, which is less of a problem since he throws with his left hand. It's has made gripping the bat a little tricky, though.
He was hesitant to talk about it.
"Gosh, yeah uh, no, I'm fine," he said. "It's not broke. It's just hurt. I'm fine. I don't even want to talk about it. Let's not talk about it. We're good."
Eaton, who suffered the injury diving into a base in Boston before the All-Star break, has been able to have success despite the pain. In the five games Eaton has played after the Boston series was completed he is 9-for-18 (.500) at the plate. He has at least two hits in each of the last three games before Tuesday and had reached base 11 times in 18 trips to the plate during the current homestand.
"There's nothing you can really do about it," manager Robin Ventura said. "He just continues to play. It's not on his throwing hand. He felt he could play through it where it wasn't going to really bother him that much. There is some pain with it, but he seems to manage it."
Eaton is showing a willingness to play through pain, having also endured leg injuries earlier this season. But the real key to his game is speed, defense, working counts and getting on base. That's what helped him to become the White Sox's recipient of the Major League Baseball Players Alumni Association's Heart and Hustle Award, an honor given to a player on each team.
"My wife and I talked about it today, and it's my first big league trophy, which is kind of cool. I'm honored," Eaton said. "I remember
Willie Bloomquist
getting it last year when we were in Arizona, and for me it's something you should get every year.
"If you're playing the right way and healthy and doing what you should be doing, you should definitely compete for that trophy every year. I'm very pleased, and I feel like I'm in with some good company. You've got to play hard every day, and I'm blessed to have the opportunity and I'm excited."
July, 22, 2014
Jul 22
5:18
PM CT
CHICAGO --
Jose Abreu
was held out of the Chicago White Sox's lineup Tuesday against the
Kansas City Royals
, as manager Robin Ventura elected to give his sensational rookie first baseman a day of rest.
Ventura acknowledged a sore back for Abreu as his main inspiration for making the move, but said it is nothing serious.
"(Monday) night I was watching him run around," Ventura said. "Going through the all-star stuff and everything else, not having a break, you just see little things, back stuff and him moving around. It looks like today is a good day to do it."
Ventura brought Abreu into his office after Monday's game for a little chat.
"I talked to him ... just being honest with him and him being honest with me so today was just a good day to do it," Ventura said.
Conor Gillaspie
was back up in the No. 3 spot of the lineup, while
Paul Konerko
was inserted at first base and slated to bat sixth.
Adam Dunn
was the designated hitter bating fifth, while
Dayan Viciedo
was the cleanup hitter.
It's not like any minor aches and pains Abreu might have been experiencing have affected him much. He is currently riding a 12-game hitting streak and has a hit in 30 of his last 31 games. He has 29 home runs but hasn't hit one since July 12 at Cleveland.
Ventura said Abreu would be available as a pinch hitter late in the game.
"We talked about this a few days ago that every once in a while when things come up just knowing that he's starting to get to the most games he's ever played in a year portion, when things like this happen, you just give him a day," Ventura said.
The regular season in Cuba, where Abreu has played the last 10 seasons, is less than 100 games. Abreu has already played 86 games this season.
"It's not like (Abreu) is from another planet and he can't do it," Ventura said about the 162-game schedule. "I think every time a player does it for the first time there will be adjustments and things will be different. Other guys have done it and been able to manage it. I don't think he will fall apart once he gets over 100 games."
July, 21, 2014
Jul 21
11:22
PM CT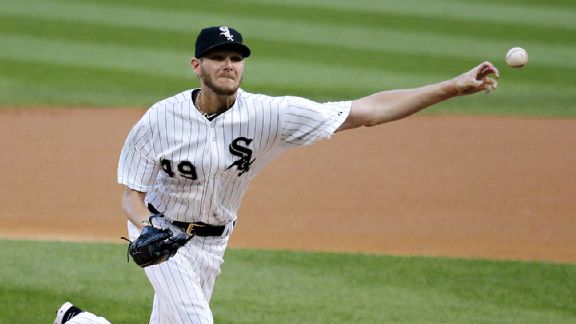 AP Photo/Charles Rex ArbogastChris Sale (9-1) is second in the AL in ERA (2.03) and tops in WHIP (0.86) among starters.
CHICAGO – While
Jose Abreu
looks to be headed toward rookie of the year recognition,
Chris Sale
is pointing himself in the direction of the Cy Young Award chase.
The
Chicago White Sox
staff ace didn't have his best stuff Monday night in a 3-1 victory over the
Kansas City Royals
, but it was enough to shut down his opponent, yielding just one run on seven hits over seven innings.
Despite missing a month early in the season with a sore arm, Sale improved to 9-1 with a 2.03 ERA that is second-best in the American League. He even has a 0.86 WHIP that leads all AL starters who qualify.
"All the good teams have a legitimate ace and not only are they good, but once every five days you have a really good chance to win, and that's the kind of pitcher [Sale] is," said
Adam Dunn
, who drove in the first two White Sox runs on a first-inning single and scored the third in the sixth inning.
Whether or not Sale is Cy Young-worthy is a question that will be answered over the final two months of the season. The left-hander will have a tough time battling a name-recognition guy like
Felix Hernandez
of the
Seattle Mariners
, with
Scott Kazmir
of the
Oakland Athletics
,
Garrett Richards
of the
Los Angeles Angels
and
Jon Lester
of the
Boston Red Sox
sure to have a say in the proceedings as well.
"There is no reason why [Sale] shouldn't be in the discussion," manager Robin Ventura said. "I don't care if you miss a month or not. I mean, he's good. That part [missing time], I don't care about."
When it comes to the Cy Young voting, Sale has been moving in the right direction in recent years. In his first season as a starter (2012), he finished sixth in the voting. Last season, he was fifth. If the voting took place today, it would appear to be a race between him and Hernandez.
Jake Petricka
doesn't get a vote, and he might be slightly biased as a White Sox reliever, but he knows who the Cy Young winner is this year.
"Oh yeah, every time he goes out there he shows he should be in contention for it," said the right-hander, who pitched the ninth inning Monday for his fourth save. "And I think this might be his year."
Sale might be willing to do everything for his team, but one thing he won't do is promote himself or pump up his chances for pitching's greatest annual prize. He said he wouldn't vote for himself in the Final Vote for the All-Star Game and still got a spot on the team. He will take a similarly silent route when the Cy Young talk starts to heat up.
"Like I've always said, I don't really pay too much attention to any of that," Sale said when the subject came up after Monday's game. "I have a job to do and I have to focus on doing that. We're right in the hunt right now. These are the dog days and you've got to bear down now. Now is not the time to be thinking about yourself or some whatever trophy."
It doesn't mean Sale wouldn't proudly display a Cy Young trophy on his mantel one day. He just doesn't want anything to do with talking about it.
"It's almost a new season from here on out," Sale said. "This is the most important part of the season. I think getting a little time off helped everyone relax a little bit and then get back to it."
There are plenty of key numbers to help make a case for Sale. Monday was his seventh consecutive quality start and he has recorded double digits in strikeouts four times this year, although just once over his past six starts.
Over his past three outings, he is 2-0 with a 1.47 ERA, so he is only getting better as the season progresses. And after a White Sox defeat, Sale is 4-0 with three no-decisions, proving to be an ultimate stopper. Then there are his 17 walks ... in 15 starts.
And as long as he can squeeze in more home starts, he will be in business. Sale is 7-1 this year at U.S Cellular Field with a 1.90 ERA.
"I'm just trying to get better day in and day out, not walking a lot of guys," Sale said. "That's something I really pride myself on: throwing strikes and working quick."