March, 1, 2015
Mar 1
4:26
PM CT

By Doug Padilla
ESPNChicago.com
Archive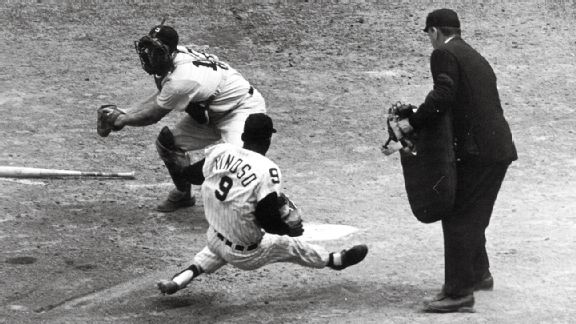 Chicago White SoxMinnie Minoso was a .298 hitter over his long major league career.
GLENDALE, Ariz. --
Chicago White Sox
chairman Jerry Reinsdorf described Minnie Minoso on Sunday as not only one of the best players baseball has seen, but an outstanding human being as well.
Minoso passed away in Chicago overnight of natural causes at the age of 90.
A career .298 hitter with 186 home runs, who finished fourth in the MVP voting on four separate occasions, Minoso has not been inducted into the Hall of Fame. That fate seemed to have bothered others more than it bothered him.
"In the 35 years I've known Minnie, he never complained about anything," Reinsdorf said. "Even in the two times in recent years when we thought he was going to get into the Hall of Fame, and when he didn't I was tremendously down. Minnie picked me up (emotionally), rather than me having to pick Minnie up. He just accepted everything."
Reinsdorf said he didn't get to know Minoso until purchasing the team in 1981, yet found out quickly what type of person and ambassador the seven-time all-star really was.
"The White Sox, really outside of his family, were the most important thing in his life," Reinsdorf said. "He was incredibly nice to everybody. He'd come around the ballpark, sometimes bringing his dog, and he had something nice to say to everybody. It didn't matter whether you were important or just a minor employee. Minnie treated everybody exactly the same."
Former teammates recalled Minoso's dedication to the game of baseball.
"I remember one year, Minnie hurt his shoulder very seriously," teammate Billy Pierce said. "He played for a whole month with a bad shoulder where he couldn't raise his arm above his shoulder and he hit .300 that whole month. I don't think I'll ever forget that I knew how he was hurting and he played.
"But it wasn't just his playing, it was being there and being part of the ballclub and just being a great all-around ballplayer and a good friend. I think everybody on the team liked Minnie and he got along with everybody."
Minoso, a left fielder, played alongside center fielder Jim Landis for four seasons.
"Playing alongside him was great, really," Landis said. "We never messed up that way, because Minnie was a good outfielder and we never had trouble that way."
Minoso's death comes just over one month after
Chicago Cubs
legend Ernie Banks passed away.
"With Ernie Banks passing and now Minnie passing, in many ways, they were very similar people in their love for the game," Reinsdorf said. "I know we are all going to go at some time, but I had gotten to the point where I really felt Minnie was going to live forever.
"There has never been a better ambassador for the game or for the White Sox. It's only fitting that when he did pass away, it was coming from a function where he was representing baseball and the White Sox."
Multiple reports said Minoso was found unresponsive in his vehicle early Sunday morning. He was pronounced dead at the scene.
"There's an old expression used when people die, 'When they made this guy, they broke the mold,'" Reinsdorf said. "Well, I don't think there was a mold for Minnie. Minnie was really a unique individual, and there was nothing bad about him."