Chicago White Sox:

2011 season preview
December, 9, 2011
12/09/11
6:36
PM CT
By Associated Press
ESPNChicago.com
Archive
MIAMI -- There was a moment of confusion Friday at the start of the
Miami Marlins
' news conference to introduce newcomer
Mark Buehrle
, with team officials unsure whether he should first pose for photos.
Following a brief discussion about how to proceed, president of baseball operations Larry Beinfest grinned.
"We've never done this before," he said.
Actually, the Marlins added a succession of All-Stars in the past week, with Buehrle the latest. After passing a physical, he signed a $58 million, four-year deal reached Wednesday, capping a whirlwind spending spree by the heretofore frugal Marlins.
Read the entire story.
October, 31, 2011
10/31/11
2:29
PM CT
CHICAGO -- The Chicago White Sox gave themselves one less move to make this offseason by picking up the 2012 option on reliever Jason Frasor for $3.75 million.
Read the entire story.

August, 13, 2011
8/13/11
11:21
PM CT
By Sahadev Sharma
ESPNChicago.com
Archive
CHICAGO -- Here's a quick look at how the White Sox snapped their home losing streak on Saturday.


How it happened: The White Sox jumped out to a lead in the bottom of the third when Paul Konerko hit a two-run homer. Jake Peavy was cruising along until he gave up five hits and four runs in the fifth inning, as the Royals took a 4-2 lead. Tyler Flowers, starting in the place of the injured A.J. Pierzynski, immediately cut the lead in half when he led off the bottom half of the inning with a home run. The White Sox completed the comeback in the seventh, when Carlos Quentin doubled in a run and Alejandro De Aza drew a bases loaded walk to give the White Sox the lead. Chris Sale threw a perfect ninth to earn the save and preserve the White Sox 5-4 victory.
What it means: The White Sox end their seven-game home losing streak and stay within five games of the victorious first-place Detroit Tigers.
Outside the box: The White Sox had the lead-off man reach seven times, including Flowers' fifth inning homer, which was the first long ball of his career.
What's next: John Danks (4-9, 4.00) takes on Jeff Francis (4-12, 4.51) as the White Sox try to win the series against the Kansas City Royals Sunday at U.S. Cellular Field at 1:10 pm.
April, 13, 2011
4/13/11
5:32
PM CT
By ESPNChicago.com
ESPNChicago.com

CHICAGO -- White Sox manager Ozzie Guillen said he'll spend his off day Tuesday at his home in Miami, but it's unlikely he'll be enjoying himself.
Read the entire story.
March, 30, 2011
3/30/11
11:58
AM CT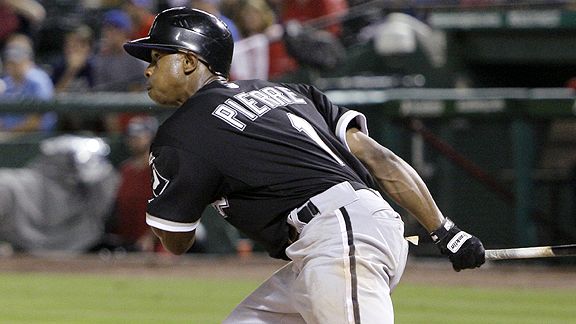 AP Photo/Tony GutierrezJuan Pierre led the American League with 68 stolen bases last season.
The season hasn't even started and already the Chicago White Sox's outfield is set to pull off a rare feat. For just the second time in the past 35 years, the club will employ the same outfield during consecutive seasons.
Juan Pierre
,
Alex Rios
and
Carlos Quentin
will do what only
Carlos Lee
,
Aaron Rowand
and
Magglio Ordonez
have done before them in the past three and a half decades. Of course, changing the outfield mix isn't always a bad thing. When Lee and Ordonez departed, the White Sox plugged in
Scott Podsednik
in left and
Jermaine Dye
right and won a World Series.
[+] Enlarge
AP Photo/Mark DuncanCarlos Quentin hit 26 home runs and drove in 87 runs last season.
Continuity can have its benefits, though. Pierre is widely viewed as a classic leadoff man capable of making contact and using his speed to drive opponents crazy. Rios has re-established himself as a productive run producer and Quentin showed in the past that he can produce with the best RBI men in the game if he stays consistent and healthy.
Pierre has the ability to make the White Sox roar out of the gate as the leadoff man, or he can leave the club stuck in the mud if he struggles. Last season Pierre couldn't get things going early in the season and the club sputtered. It wasn't all his fault. But Rios, the No. 3 hitter and
Paul Konerko
, the cleanup man, were the only ones to get off to a decent start, and they didn't have enough men on base to make a decent impact.
Like Pierre, Quentin has the unique ability to affect the lineup. Quentin can be crazy good at times, enough so that he can carry a club for stretches. Conversely, he can also go through mind-boggling dry stretches where he is virtually invisible at times. Neither Pierre nor Quentin will be confused for Gold Glove outfielders which makes steady contributions of offense more imperative.
Now that
Lastings Milledge
and
Brent Lillibridge
pulled off the unexpected by both making the Opening Day roster, what happens to them now? Neither is expected to get much playing time … or will they? Manager Ozzie Guillen used Milledge in the leadoff spot with frequency this spring, which seemed to suggest that he might go with the former minor-league phenom if Pierre struggles at the outset like he did in 2010.
Then again, Milledge can be used in right field if Quentin finds himself slogging through another injury-plagued season. Lillibride and
Mark Teahen
will also provide coverage in the outfield, but they also have the ability to play on the infield if needed, giving Guillen plenty of versatility.
March, 29, 2011
3/29/11
10:24
AM CT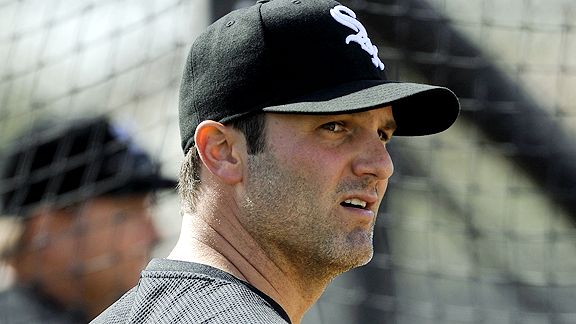 Ron Vesely/MLB Photos/Getty ImagesPaul Konerko, 35, anchors a young infield for the White Sox this season.
If you are only as young as the company you keep,
Paul Konerko
figures to be in pretty good shape this season. Not only did the coin flip land on Konerko returning to the South Side (he said at the end of last season there was a 50-50 chance he'd come back), the 35-year-old has defied a youth movement around the bases that includes
Gordon Beckham
at second,
Alexei Ramirez
at shortstop and now
Brent Morel
at third. In some ways, Konerko's return isn't a surprise.
Baseball's big spenders were either set at first base or looking to drop their cash on other needs. But his return still almost didn't happen. The White Sox were close to a youth movement that Konerko wouldn't have been a part of until a spending spree was approved. Konerko's last two contract years (2005 and 2010) were among the best of his career. But the first year after signing his just-completed five-year deal he did bat .313 with 35 home runs and 113 RBIs. His .381 on-base percentage and .551 slugging percentage in 2006 were the best of his career until last season. Several observers have remarked that Konerko looks thinner, but he denied that saying that he might be off "a pound or two either way," from last season.
[+] Enlarge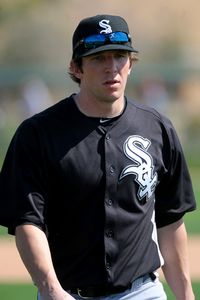 Kirby Lee/Image of Sport/US PresswireBrent Morel batted .231 with three home runs and 7 RBIs last season with the White Sox.
The White Sox believe that by adding Morel's defense at third base to Ramirez's at shortstop, they have one of the best left sides of the infield in baseball. Ramirez provides the flash while Morel is the steady sidekick. If this was a cop duo, it's not quite Turner and Hooch, but more like Riggs and Murtaugh, Crockett and Tubbs, Starksy and Hutch, or our personal favorite, Ponch and John. Ramirez combines his defense with a polished offensive game.
Morel is a work in progress with the bat, although it was a brief two-day tutorial this spring that got him on track, showing that he not only can listen but can apply what he has learned. The person happiest to see this duo work together, though, is every single pitcher on the White Sox's staff.
A less obvious infield duo for the White Sox is Gordon Beckham and
Adam Dunn
. Sure they might get a chance to play together on the right side of the infield (mostly when the sun is shining as Konerko rests), but where they might do most of their damage is back-to-back in the White Sox's lineup. If Dunn bats third as expected, look for the No. 2-hitting Beckham to get plenty to swing at this season. Nobody will want to walk Beckham with a potential two-run home run coming to the plate next.
Add that dynamic to Beckham's workman-like approach this spring and the chances of seeing him struggle in the first half like he did last season are the same as Kenny Williams going to bed early the week of the trade deadline. Dunn's power displays will earn him affection, but his penchant of striking out (199 times last season) will earn him detractors. The reality about Dunn is this, though: He has delivered 100 RBIs in six of his last seven seasons and has hit at least 38 home runs in all seven of them.
March, 28, 2011
3/28/11
9:59
AM CT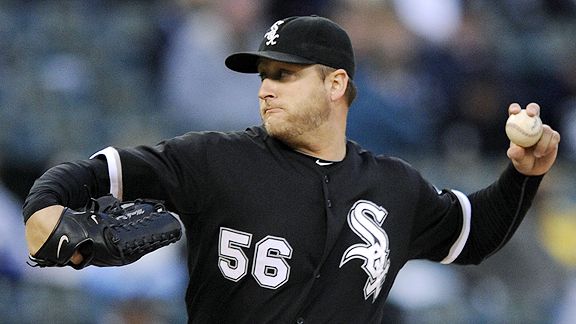 AP Photo/Paul BeatyMark Buehrle is the only major league pitcher to throw 200 innings each of the past 10 seasons.
Jake Peavy's roller-coaster ride during his road to recovery is merely the topic that drew the starting rotation the most attention this spring. Plenty of other significant secondary topics remain, including the potential final season on the South Side for
Mark Buehrle
, John Danks' attempt to move into an even more elite class of pitchers, Gavin Floyd's search for a full year of consistency and Edwin Jackson's first full season with pitching coach Don Cooper.
Then there is the effort to fill the No. 5 spot in the rotation until Peavy returns.
Philip Humber
looks to have won the honor. The White Sox need a healthy Peavy at some point in the first half so that he has a chance to round into top form by the second half. In an ideal world, Peavy becomes what
Jose Contreras
was in the second half of the 2005 season: A dominating pitcher that can take on anybody's staff ace during a Game 1 of a playoff series. It's a tall order but probably a necessity if this team hopes to make a deep October run.
[+] Enlarge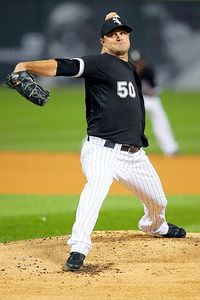 Dennis Wierzbicki/US PresswireJohn Danks has increased his win total in each of his four seasons.
Over the past decade it has been impossible to picture the White Sox without thinking of
Paul Konerko
and Buehrle. The reality is, though, that Buehrle, one of the on-field faces of the franchise, could get squeezed out next season. The White Sox already have commitments in 2012 to Peavy ($17 million) and
Gavin Floyd
($7 million).
Danks will be in his final year of arbitration in 2012 and will be in line to either get a raise on the $6 million he is making this season or negotiate a multi-year deal to take him beyond his initial free agent years. Buehrle just turned 32 and has never had arm trouble so it's hard to see him retiring after this year as he has mentioned.
His place in White Sox history has been secured with a World Series title, a perfect game and another no-hitter. He is the only major-league pitcher to throw more than 200 innings in each of the past 10 seasons, and his 2,220 innings since 2001 are the most, ahead of
Livan Hernandez
(2,173),
CC Sabathia
(2,127),
Barry Zito
(2,205 2/3) and
Javier Vazquez
(2,102 2/3). But will this be the last time he pitches on Opening Day for the only franchise he has ever known?
Danks' victory total has been inching up every season and another similar climb puts him in the 17-win range this season. His 3.72 ERA from a year ago was slightly better than his 3.77 mark from 2009, but he pitched 12 2/3 more innings last season and gave up 10 home runs less than the previous year. His spring had been bordering on dominating until the Dodgers knocked him around a bit in his second-to-last Cactus League outing.
Floyd has been focused on his own deficiencies, in particular a lifetime ERA of 6.30 in March/April and a 5.47 mark in May. When Jackson came to the White Sox at last year's trade deadline he had a 5.16 ERA and just six victories in 21 starts with the
Arizona Diamondbacks
. In 11 starts with the White Sox he had a 3.24 ERA and four victories, but in six of those 11 starts he gave up just two earned runs or less. Cooper has been reinforcing the slight mechanical change Jackson made when he first arrived with the White Sox.